Russian retail website E-Katalog just listed Pretty much all of the up and coming AMD Zen2 Matisse processors which includes detailed specifications of each including the new Ryzen 9 3800X. The timing definitely seems interesting considering that these new processors will slowly start being released this year during CES. The next edition higher, the Ryzen 9 3850X however is not set to be released until May 2019.
The flagship of the up and coming AMD 3rd Gen Ryzen processors, the Ryzen 9 3800X will feature a whopping 16 cores and 32 threads which will fall in direct competition with the new Intel i9 9900K processor. Speeds for the new processor are also impressive coming in at 3.9GHz base clock with a 4.7GHz boost clock. The new lineup will be built on AMD's new Zen2 CPU architecture which will use the 7nm technical process.
Since we don't know how long the page will stay up, here's a shot of the listing page for your viewing pleasure.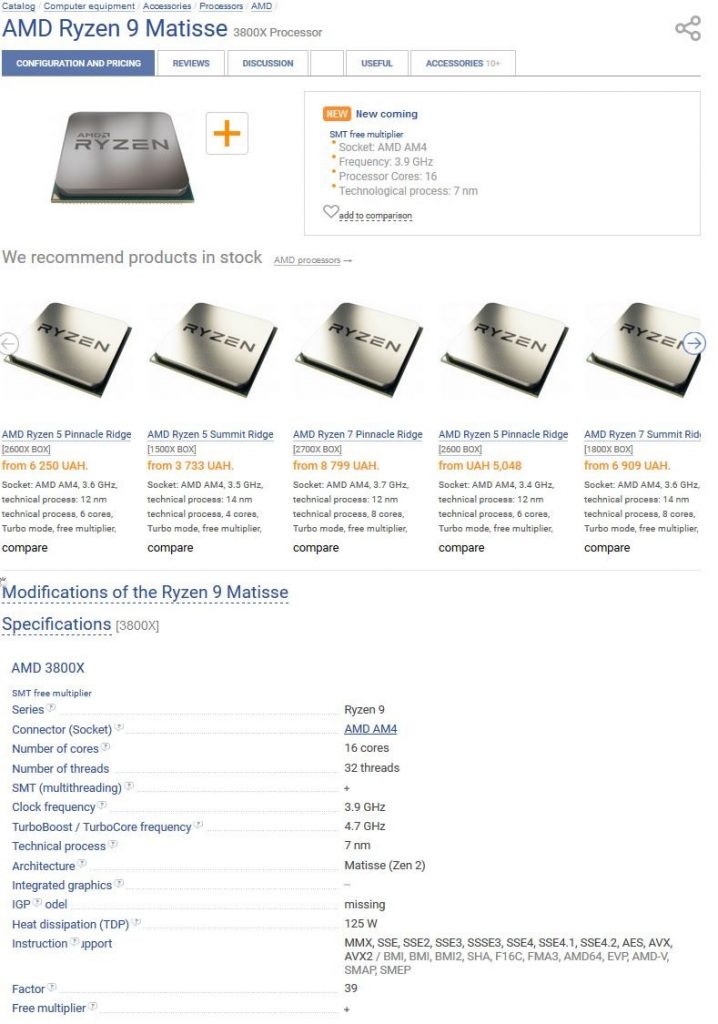 Additionally, detailed information surrounding information we've pretty much already learned regarding the 3rd Gen Ryzen 7, 5 and 3 Matisse series processors was also published on the website. This acts as yet another confirmation of information previously leaked last month regarding the new AMD Zen2 lineup.
AMD Ryzen 9 3800X Matisse Specifications
| CPU Model | AMD Ryzen 9 3800X |
| --- | --- |
| Series | Ryzen 9 |
| CPU Socket | AMD AM4 |
| Cores | 16 cores |
| Threads | 32 threads |
| Base Frequency | 3.9GHz |
| TurboCore Frequency | 4.7GHz |
| Technical process | 7nm |
| Architecture | Matisse (Zen 2) |
| Integrated Graphics | None |
| TDP | 125W |
| Instruction Support | BMI, BMI, BMI2, SHA, F16C, FMA3, AMD64, EVP, AMD-V, SMAP, SMEP |
AMD 3rd Generation Ryzen "Matisse" Specifications
| AMD Ryzen CPU | Cores/Threads | GPU | Base Clock | Boost Clock | TDP | Price | Release |
| --- | --- | --- | --- | --- | --- | --- | --- |
| Ryzen 3 3300 | 6/12 | N/A | 3.2GHz | 4.0GHz | 50W | $99 | CES 2019 |
| Ryzen 3 3300X | 6/12 | N/A | 3.5GHz | 4.3GHz | 65W | $129 | CES 2019 |
| Ryzen 3 3300G | 6/12 | Navi 15CU | 3.0GHz | 3.8GHz | 65W | $129 | Q3 2019 |
| Ryzen 5 3600 | 8/16 | N/A | 3.6GHz | 4.4GHz | 65W | $178 | CES 2019 |
| Ryzen 5 3600X | 8/16 | N/A | 4.0GHz | 4.8GHz | 95W | $229 | CES 2019 |
| Ryzen 5 3600G | 8/16 | Navi 20CU | 3.2GHz | 4.0GHz | 95W | $199 | Q3 2019 |
| Ryzen 7 3700 | 12/24 | N/A | 3.8GHz | 4.6GHz | 95W | $299 | CES 2019 |
| Ryzen 7 3700X | 12/24 | N/A | 4.2GHz | 5.0GHz | 105W | $329 | CES 2019 |
| Ryzen 9 3800X | 16/32 | N/A | 3.9GHz | 4.7GHz | 125W | $449 | CES 2019 |
| Ryzen 9 3850X | 16/32 | N/A | 4.3GHz | 5.1GHz | 135W | $499 | May 2019 |