As of today, three new motherboards have been spotted in the wild sporting the new AMD WRX80 Chipset. This particular chipset is designed to support the brand new lineup of high-end AMD Threadripper Pro processors. Compared to the current AMD Threadripper lineup, the Pro series of Threadripper processors can support up to 2TB of DDR4-3200, and up to 128 PCI-E lanes, double that of the current offering. Below is a breakdown of the processor technologies according to AMD.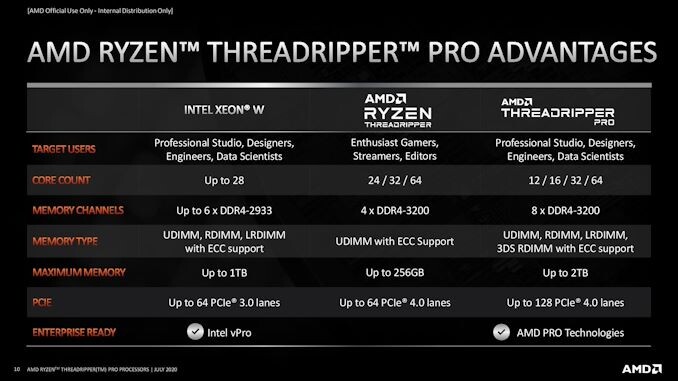 Gigabyte WRX80 SU8 – Threadripper Pro Motherboard
The first leaked motherboard for your viewing pleasure is the GIgabyte WRX80 SU8 motherboard. At a glance, the motherboard features seven PCI-E x16 4.0 slots, plenty of room for any graphics cards, storage arrays, etc that you might end up running. The motherboard also features four LAN ports, dual 10gbE ports, and dual traditional 1gbE ports. We're also able to see up to two NVMe ports for onboard storage.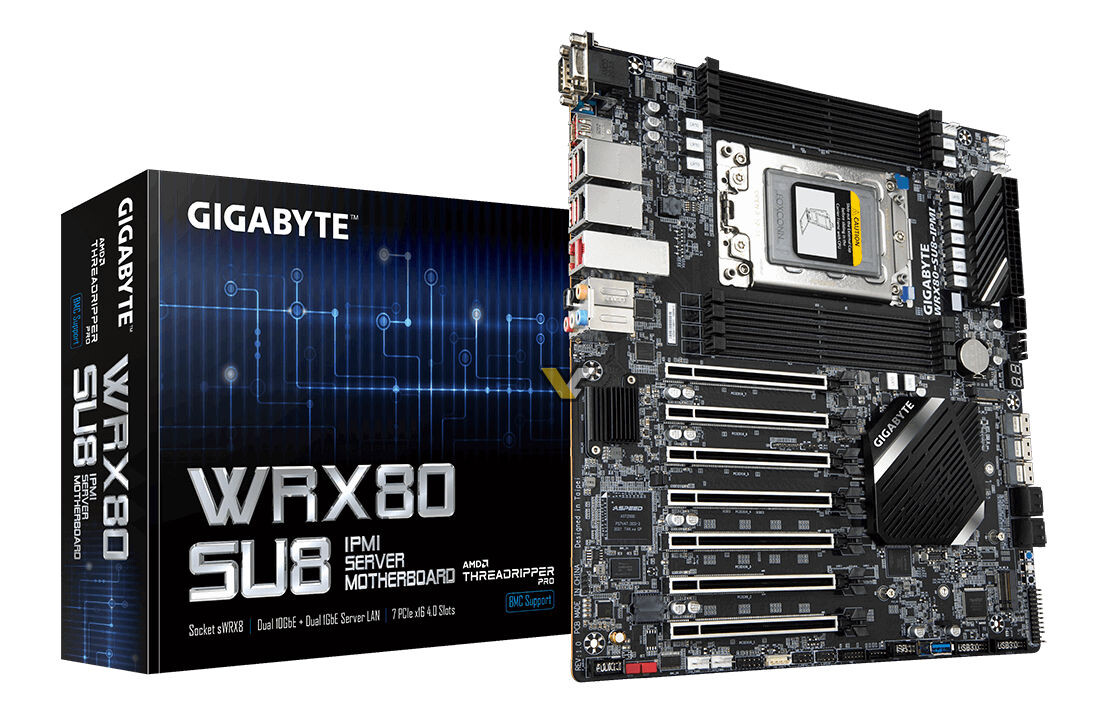 ASUS WRX80 Pro WS Sage SE WIFI – Threadripper Pro Motherboard
The ASUS WRX80 Pro WS Sage SE WIFI motherboard's layout looks almost identical to that to Gigabyte's offering. This motherboard also appears to feature seven PCI-E 4.0 slots, two NVMe slots (located under two heat sinks) and 10gbE support. Power options look absolutely insane. We count 3x 8-pin CPU power connectors, and two more 6-pin PCI-E power connectors at the bottom. This offering definitely stands out if you're running a bunch of power hungry devices.
My only gripe with this motherboard design is the usage of bottom facing connectors. Definitely check clearance before settling on a case. With bottom PSU shrouds being a thing fitment might be an issue.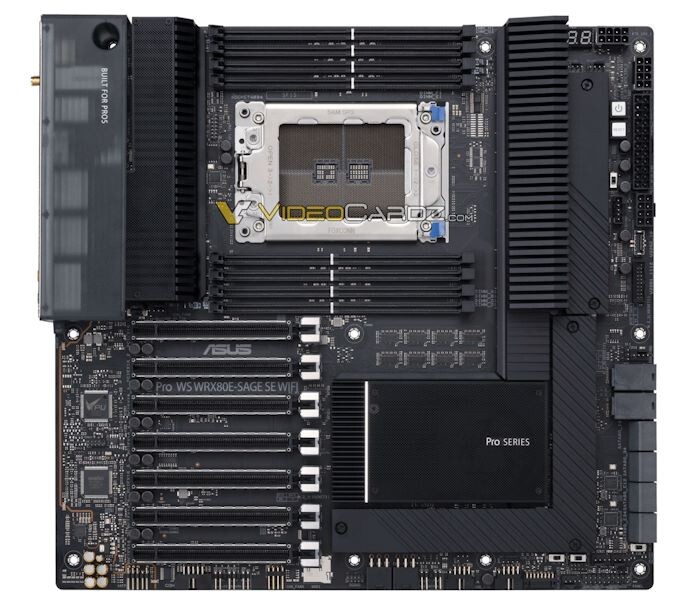 Supermicro M12SWA-TF- AMD WRX80 Chipset Motherboard
Supermicro, definitely a major player in the server realm, also appears to be producing a AMD WRX80 Chipset motherboard. The Supermicro M12SWA-TF motherboard definitely stands out as a no-nonsense high end platform configured with as much as they can stuff into the limited space.
The first thing that stood out to me was the four NVMe 4.0 drive slots located on the right side. This appears to be 2x that of both Gigabyte's and ASUS's offering. The chipset also appears to be actively cooled by a no-frills basic heatsink and fan assembly, compared to the more stylistic coolers on the other two.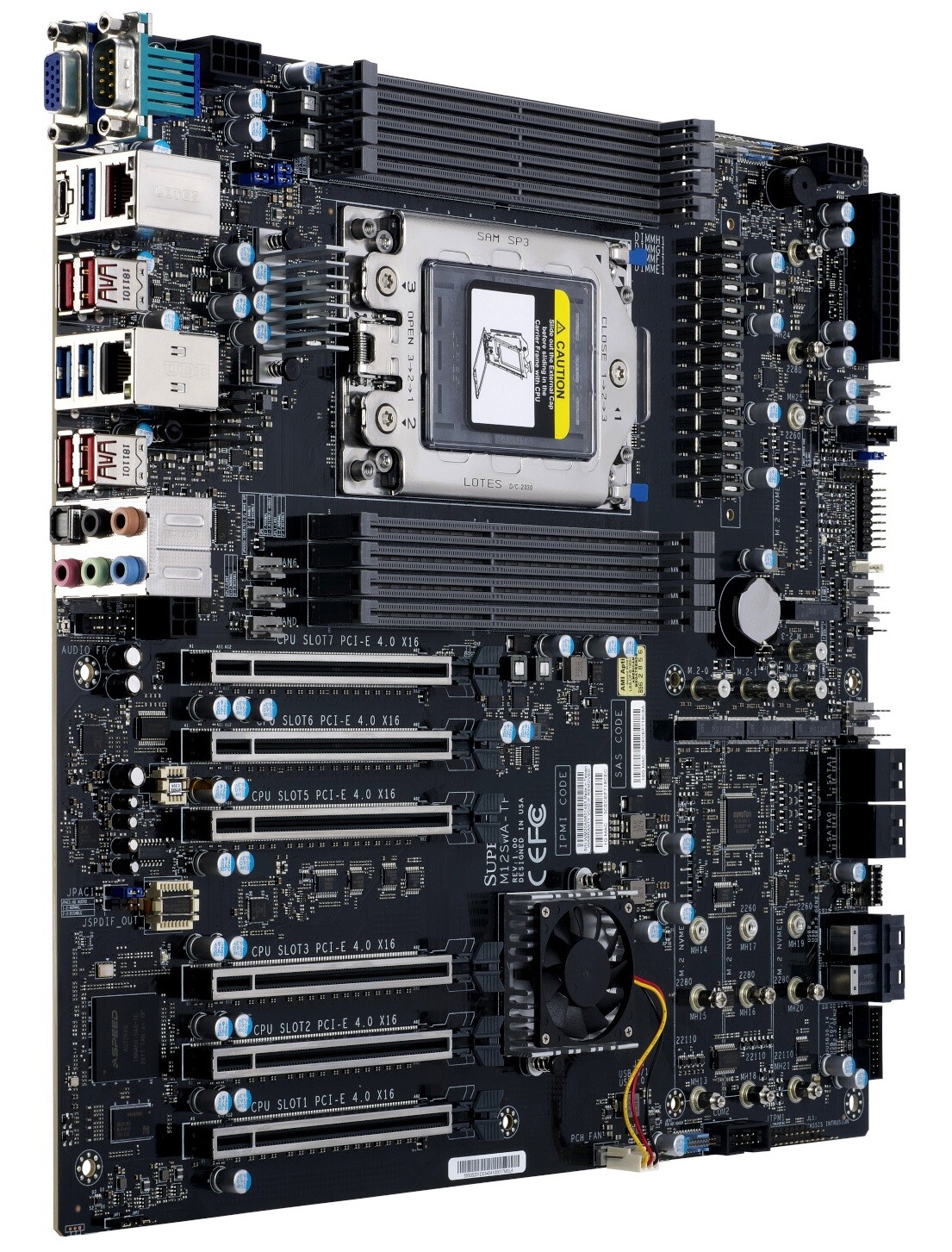 All in all, as we don't have detailed specs yet on any of the three, it's tough to say exactly which we prefer. No pricing information at this point has also been released at this point.