With the official launch of the AMD Ryzen 3000 series processors now behind us, hardware vendors have been releasing brand new product lineups catering to these new processors in addition to the new AMD X570 Chipset. G.Skill has just entered the game with a brand new memory kit, the Trident Z Nero Series DDR4 RAM which is designed specifically with the Ryzen 3000 series processors in mind.
The new memory kits are available in 16GB (8GBx2), 32GB (8GBx4), 32GB (16GBx2) or 64GB (16GBx4) configurations and will run at either 2666MHz, 3000MHz, 3200MHz, or 3600MHz. According to G.Skill, the fastest option runs with a CL14-15-15-35 timing profile at 1.4V. Tests were confirmed on an ASUS ROG Crosshair VIII Formula motherboard and a Ryzen 5 3600 processor under high stress.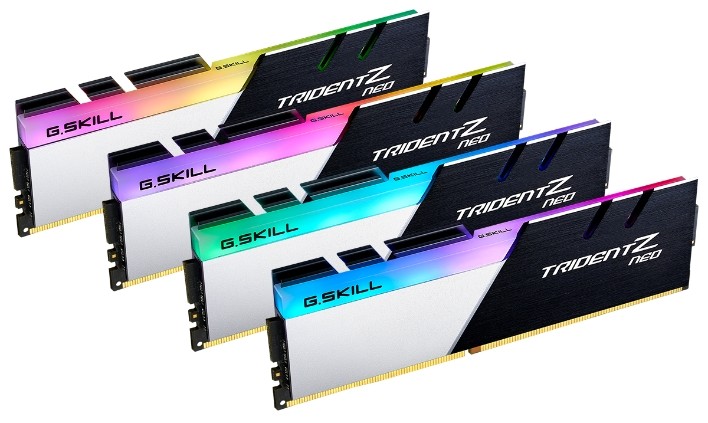 G.Skill is no stranger to overclock friendly RAM. It's Trident Z Gold series memory was released with a stable 4266MHz overclock making this one of the highest production factory overclocks on the market. It's important to keep in mind that achieving overclocks higher than 3600MHz typically requires modifying the timing rations from 1:1 to 1:2 or 2T for stability. With an increase in raw speed, you'll get a higher increase in memory latency.
The new G.Skill Trident Z Nero modules come coated in a brushed aluminum heatsink, anodized black and grey. RGB lighting is provided by eight individual RGB LEDs which can be easily controlled using common motherboard RGB control software such as ASUS Aura Sync, Gigabyte RGB Fusion, ASRock Polychrome, and MSI Mystic Lighting.
Unfortunately pricing and availability has not been confirmed at this time. We'll provide updates if anything changes.