Desktop processors have officially entered HEDT (High End DeskTop) PC space when it comes to single processors packing a huge amount of cores. AMD has officially announced details surrounding it's latest addition to its Ryzen series, the Ryzen 9 3950X. The new processor will be released this coming September and will boast 16 cores and 32 threads and will run at a 3.5GHz base clock with an impressive 4.7GHz boost clock. The new processor will be AMD's top dog as far as desktop processors go, which will come at a pretty steep price of $750 USD.
The Ryzen 9 3950X processor is apart of AMD's Zen 2 series of processors which is built on AMD's latest 7nm process technology. The chip is built for the AMD X570 chipset motherboards which will also be released around the time of the CPUs will be released.
Interestingly enough, the new processor is said to carry at 105W TDP rating which is hugely impressive for such a high clock rating paired with 16 cores. I'm optimistic that this chip will be a pretty decent overclocker which unfortunately is something we'll just have to learn in time come September. As we've reported earlier, the the AMD Ryzen 3000 series processors will also be released in 12-core, 8-core, and 6-core variants. So long, faithful quad core!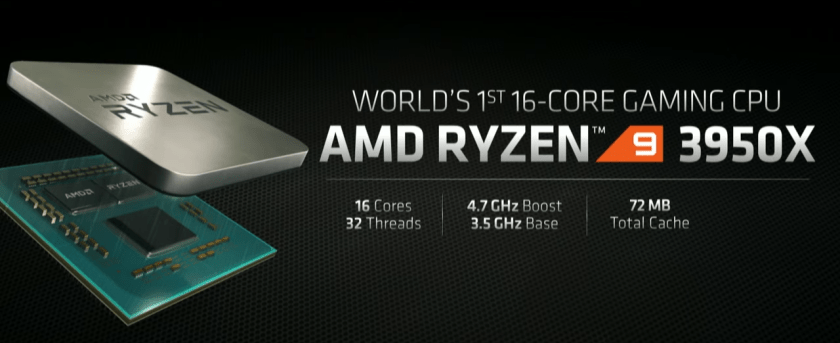 AMD Ryzen 9 3950X Specifications
CPU Model
Cores / Threads
Base/Turbo Clock
(GHz)
Cache
(total)
PCIe lanes
(CPU+x570 chipset)
MSRP
(USD)
TDP
(Watts)
Ryzen 9 3950X
16/32
3.5 / 4.7
72MB
40
$749
105
Ryzen 9 3900X
12/24
3.8 / 4.6
70MB
40
$499
105
Ryzen 7 3800X
8/16
3.9 / 4.5
36MB
40
$399
105
Ryzen 7 3700X
8/16
3.6 / 4.4
36MB
40
$329
95
Ryzen 5 3600X
6/12
3.8 / 4.4
35MB
40
$249
65
Ryzen 5 3600
6/12
3.6 / 4.2
35MB
40
$199
65