Today we'll be taking an in-depth look at one of ASUS's newer AM4 Ryzen boards, the ROG STRIX B450-F gaming motherboard. This particular motherboard is targeted towards gamers and custom system builders who want to get the most out of their system without having to break the bank. AMD launched the Ryzen 2000-series earlier this year, with a growing number of affordable motherboards on the rise. The higher-end X470 chipset motherboards may be out of reach for many due to budget constraints, however the new B450 chipset opens the doors for powerful, high-end features to more price-conscious Ryzen builders.
The AMD B450 chipset, which replaces the older B350, has simplified things greatly. Currently, most of these boards will cost you between $100-150, yet have many of the same features you get with X470 motherboards.
At a glance, the ASUS ROG STRIX B450-F motherboard is a standard-sized ATX board that features many premium such as 2nd-gen AMD Ryzen support, dual M.2 SSD slots, 3x PCIe 3.0 x16 slots, and RGB lighting controls. Now that we've got a better idea of what we're working with, let's dive into the review!
Features and Specifications of the ASUS ROG STRIX B450-F Gaming Motherboard
As we mentioned above, ASUS's new B450 motherboards packs a hosts of features, especially when compared to the older B250 or B350 motherboards. There are a host of options for tweaking performance options and keeping your new Ryzen processor cool while you're at it. ASUS's 5-way Optimization with Auto-Tuning combined with Fan Xpert 4 automatically assigns overclocking profiles to the CPU and RAM and adjusts fan speeds automatically.
RGB lighting is also fully supported in two different areas. First, the motherboar's ROG logo located on the rear I/O panel shroud has built in LEDs that can be controlled via ASUS's AURA SYNC software. Additionally, two 4-pin (analog) RGB headers are available at the very top and bottom of the motherboard for external RGB-enabled devices.
Video and audio support is also one of the ROG STRIX B450-F's many features. 8-channel HD audio is available and is provided by the ROG exclusive SupremeFX S1220A driven by high-end Japanese capacitors. The Rear I/O shield is also directly attached to the motherboard which will save you a few install steps.
Here are the detailed specifications of the new Asus board:
ROG-STRIX-B450-F-GAMING
CPU
AMD AM4 Socket AMD Ryzen 2nd Generation
Ryzen™ 1st Generation Processors
Chipset
AMD B450
Memory
4 x DIMM, Max. 64GB, DDR4 3200(O.C.)/3000(O.C.)/2800(O.C.)/2666/2400/2133 MHz Non-ECC, Un-buffered Memory
Dual Channel Memory Architecture
Graphics
Integrated in the AMD Ryzen™ with Radeon™ Vega Graphics Processors
Multi-VGA output support : HDMI/DisplayPort ports
– Supports HDMI 2.0b with maximum resolution of 4096 x 2160 @ 60 Hz
– Supports DisplayPort 1.2 with max. resolution 4096 x 2160 @ 60 Hz
Multi-GPU Support
Supports AMD 3-Way CrossFireX™ Technology
Expansion Slots
2 x PCIe 3.0/2.0 x16 (x16 or x8/x4)
1 x PCIe 3.0/2.0 x16 (x8 mode)
1 x PCIe 2.0 x16 (max at x4 mode) *1
3 x PCIe 2.0 x1
Storage
1 x M.2 Socket 3, , with M key, type 2242/2260/2280 storage devices support (SATA & PCIE 3.0 x 4 mode)*3
1 x M.2 Socket 3, , with M key, type 2242/2260/2280/22110 storage devices support (PCIE 3.0 x 4 mode)*46 x SATA 6Gb/s port(s): Support Raid 0, 1, 10
LAN
Intel® I211-AT, 1 x Gigabit LAN Controller(s)
Anti-surge LANGuard
ROG GameFirst Technology
Audio
ROG SupremeFX 8-Channel High Definition Audio CODEC S1220A
– Dual OP Amplifiers
– Impedance sense for front and rear headphone outputs
– Supports : Jack-detection, Multi-streaming, Front Panel Jack-retasking
– High quality 120 dB SNR stereo playback output and 113 dB SNR recording input
– SupremeFX Shielding Technology
– Supports up to 32-Bit/192kHz playback *5Audio Feature :
– Optical S/PDIF out port(s) at back panel
– Sonic Radar III
– Sonic Studio III + Sonic Studio Link
USB Ports
3 x USB 3.1 Gen 1 port(s) (3 at back panel, blue)1 x USB 3.1 Gen 1 port(s) (1 at back panel, , Type-C)
2 x USB 3.1 Gen 2 port(s) (2 at back panel, red)
2 x USB 3.1 Gen 1 port(s)
6 x USB 2.0 port(s) (2 at back panel, , 4 at mid-board)
ROG Exclusive Features
ROG RAMCache II
ROG CPU-Z
Pre-mounted I/O Shield
Overwolf
GameFirst IV
Back I/O Ports
1 x PS/2 keyboard/mouse combo port(s)
1 x DisplayPort
1 x HDMI
1 x LAN (RJ45) port(s)
2 x USB 3.1 Gen 2 (red)Type-A,
4 x USB 3.1 Gen 1 (blue) ,
2 x USB 2.0
1 x Optical S/PDIF out
5 x Audio jack(s)
Internal I/O Ports
2 x Aura RGB Strip Headers
1 x USB 3.1 Gen 1(up to 5Gbps) connector(s) support(s) additional 2 USB 3.1 Gen 1 port(s)
2 x USB 2.0 connector(s) support(s) additional 4 USB 2.0 port(s)
1 x M.2 Socket 3 with M key, type 2242/2260/2280 storage devices support (SATA & PCIE 3.0 x 4 mode)
1 x M.2 Socket 3 with M key, type 2242/2260/2280/22110 storage devices support (PCIE 3.0 x 4 mode)
1 x TPM header
1 x COM port(s) connector(s)
6 x SATA 6Gb/s connector(s)
1 x CPU Fan connector(s)
1 x CPU OPT Fan connector(s)
3 x Chassis Fan connector(s)
1 x AIO_PUMP connector
1 x 24-pin EATX Power connector(s)
1 x 8-pin EATX 12V Power connectors
1 x Front panel audio connector(s) (AAFP)
1 x System panel(s)
1 x Thermal sensor connector(s)
1 x Clear CMOS jumper(s)
Operating System Support
Windows® 10 64-bit
Form Factor
ATX Form Factor
12 inch x 9.6 inch ( 30.5 cm x 24.4 cm )
One thing to note is that there doesn't appear to be any mention as to the VRM of the motherboard anywhere on ASUS's site. As this is not designed for extreme overclocking, yet has overclocking options, knowing the VRM will be helpful. CPU VRM (voltage regulator module) is probably one of the most important features of any high end motherboard. The more VRM "phases" the cleaner the power supplied to the processor is. We'll get to this later once we start pulling the motherboard apart. All we can determine is that the motherboard does make use of Digi+ VRM technology. This in a nutshell allows the CPU VRM to be controlled by a small onboard processor. ASUS does a good job explaining it:
ASUS DIGI+ VRM design features a digital programmable microprocessor onboard and upgrades motherboard power delivery to a digital standard. …it delivers twice the precision power, intelligently adjusting PWM voltage and frequency modulation with minimal power loss through BIOS tuning and exclusive user interface to increase over-clocking range while performance reaches its full potential. It also adjusts frequencies dynamically, cutting radiation interference by half to enhance system stability through enabling spread spectrum. The DIGI+ VRM digital power design empowers users with superior flexibility and perfect precision to ensure optimized performance. extreme system stability, and greater power efficiency.
Now that we're all experts in ROG-Fu, let's finally crack open the box and see what it is we're working with!
Unboxing and Package Contents
The ASUS ROG STRIX B450-F Gaming motherboard arrived to the GND-Tech bunker undamaged and in perfect condition. The box itself features Asus ROG logos and and stylish designs throughout. The reverse side of the box does a great job highlighting many of the motherboard's many features in an easy-to-read format.
With the box cover lifted open we can see the ASUS motherboard neatly packaged inside a custom formed piece of cardboard and is placed inside a sealed anti-static bag. While the motherboard certainly won't be moving around inside the box, there was no padding. Just a little bit of foam or something soft would have made me feel a lot better. Regardless of my feelings, the board arrived in perfect shape through the mail, which adds proof to the effectiveness of the packaging.
So many things! With the motherboard free of its anti-static prison, and the rest of the items removed from the box we get a better sense of what we're working with.  Included are:
The ASUS ROG STRIX B450F Gaming Motherboard (obviously)
Manual
Sticker sheet
Driver Disk
M.2 SSD mount screws
Thank you card (you're welcome!)
Zip Ties
4-pin RGB extension cable
4x SATA cables (not pictured because I left them in the box )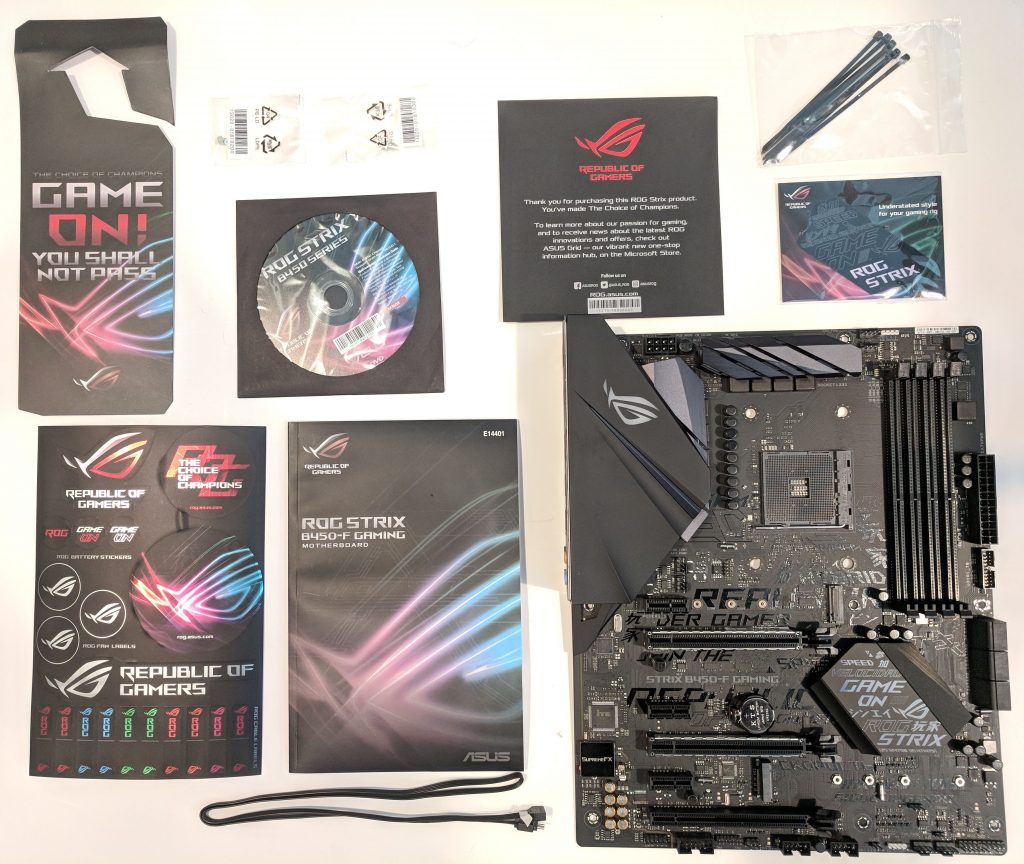 A Closer Look…
Now that the motherboard is out, let's get a better look at it! The design is stealthy-black overall. The RGB-enabled ROG logo is easily seen on the rear I/O panel cover shield. The board features a gaming-centric design with logos and text on the heatsinks as well as silk-screened on the motherboard.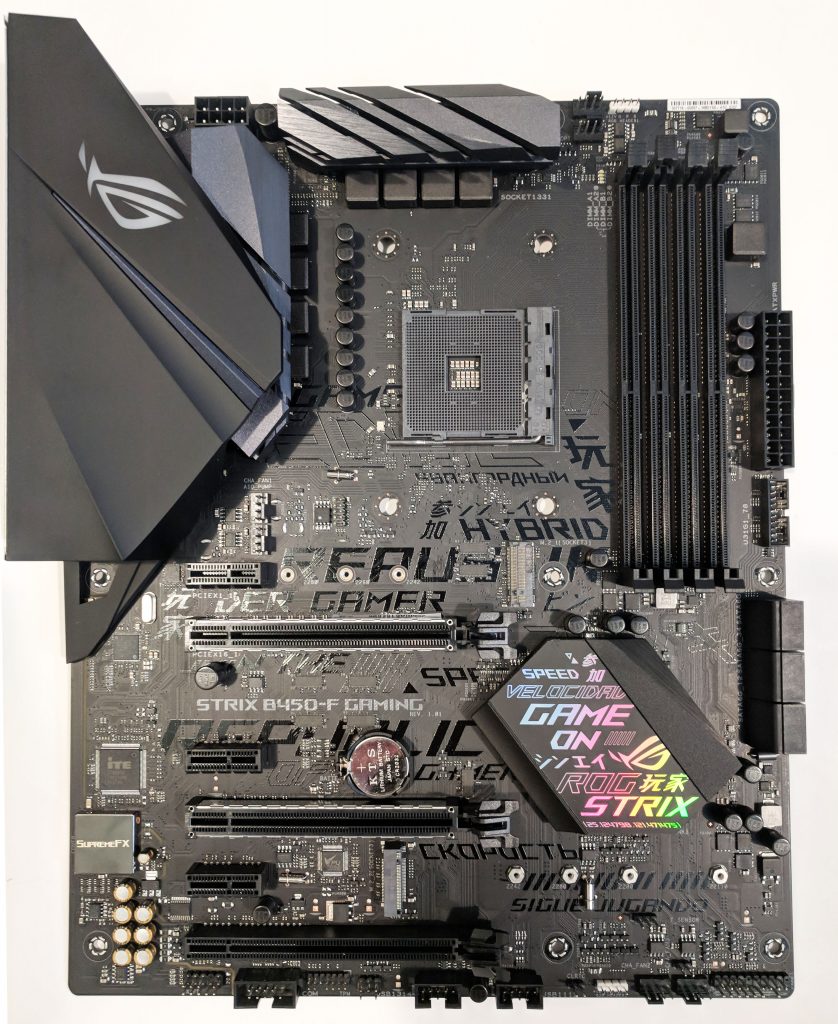 The back-side of the motherboard features a similar design: black with gaming-themed text. It's very likely you'll never see the text, however I did notice that I was able to see the words "GAME ON" from the back once installed into my case. It definitely would depend on how large of a hole your case has for CPU cooler access.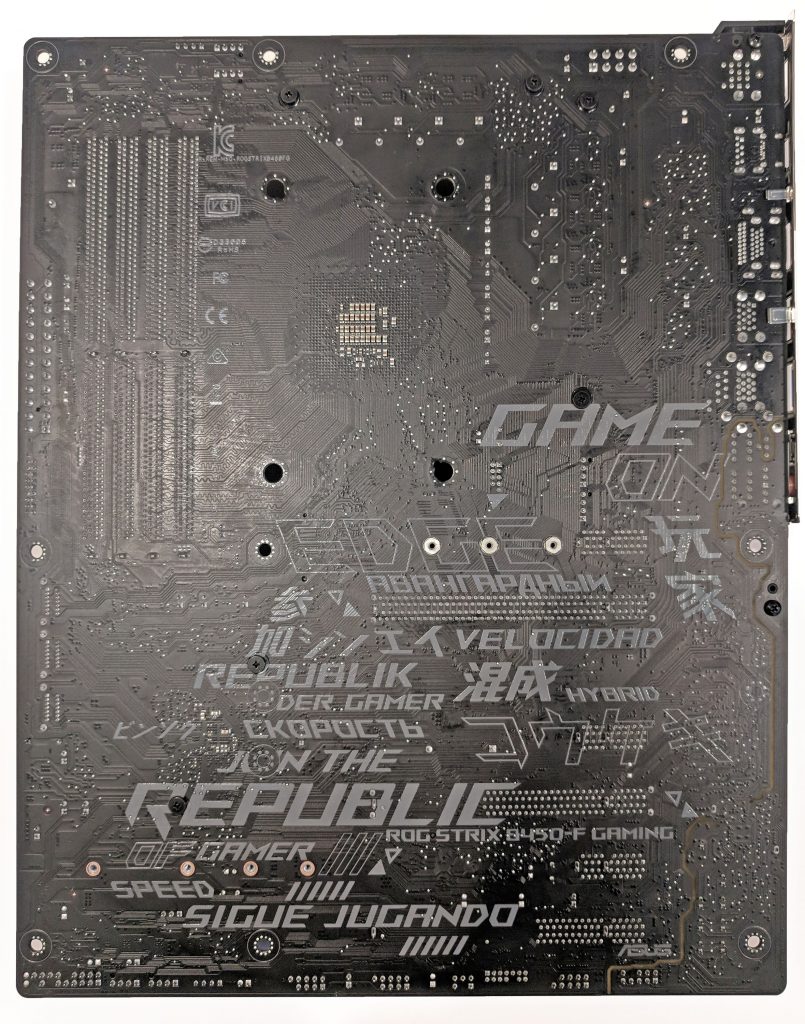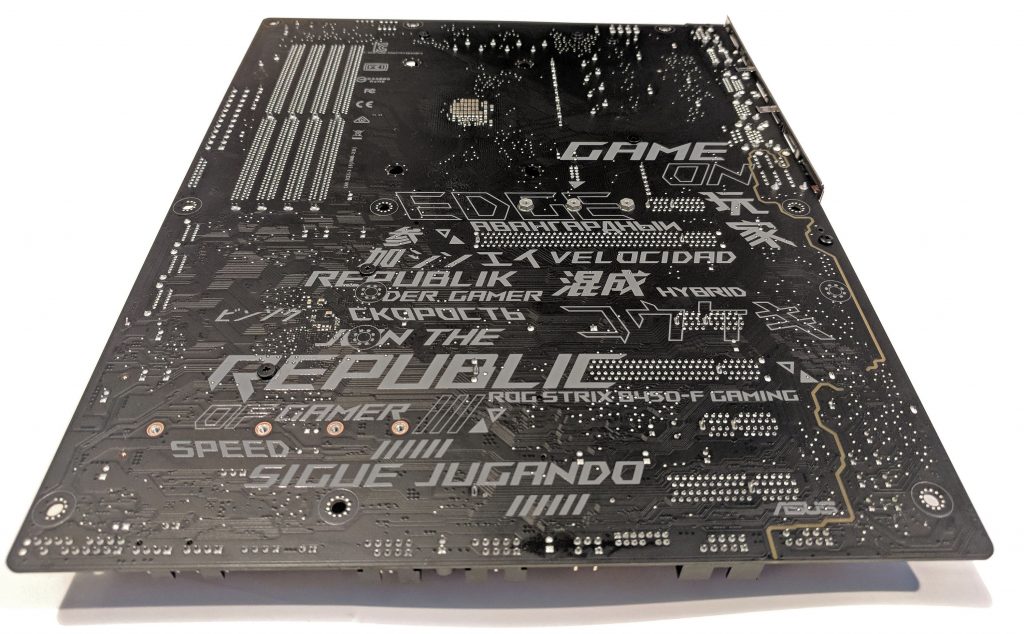 Next, let's walk our way around The ROG STRIX B450-F Gaming motherboard and talk about some of its features from a visual standpoint.
The top of the board has a few headers worth mentioning. The first is the 8-pin CPU power connector. This is required and your new custom PC will not POST without it. This connector feeds current directly to the CPU. Along the top there's also a black 4-pin fan header, and a 4-pin RGB connector. Let's talk about that for a second…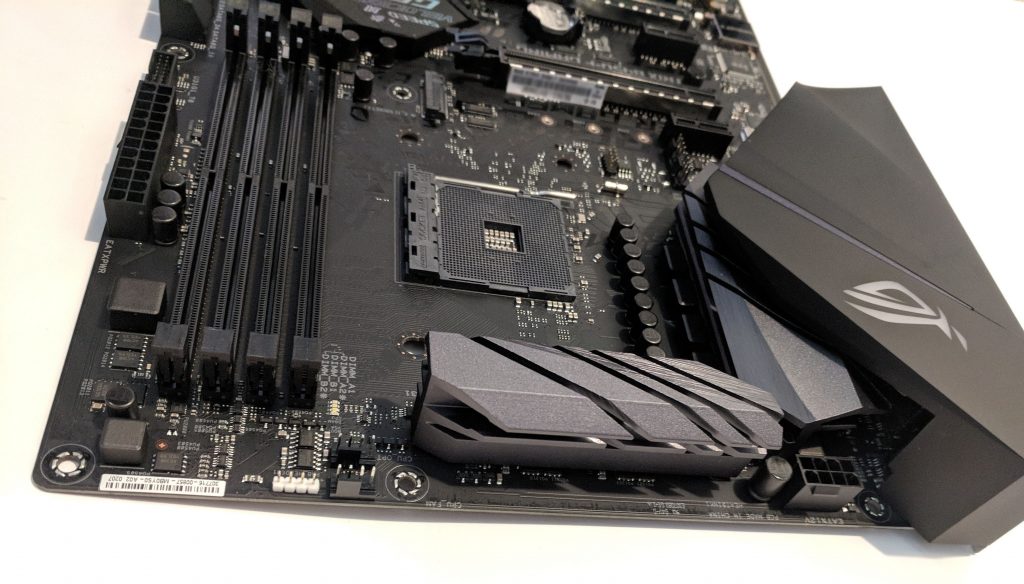 The 4-pin RGB connector provides RGB LED lighting to supported external devices. As you can see in the image below the pin-out from left to right is +12V, G, R, B (representing the colors). This is known as an analog RGB header and is non-addressable. Addressable headers run off a 5V 3-pin RGB connector and are addressable/programmable. Keep this in mind when you go to purchase your RGB accessories as either style of RGB connector is not compatible with the other (or could cause damage to components). In the end, both headers to the same thing.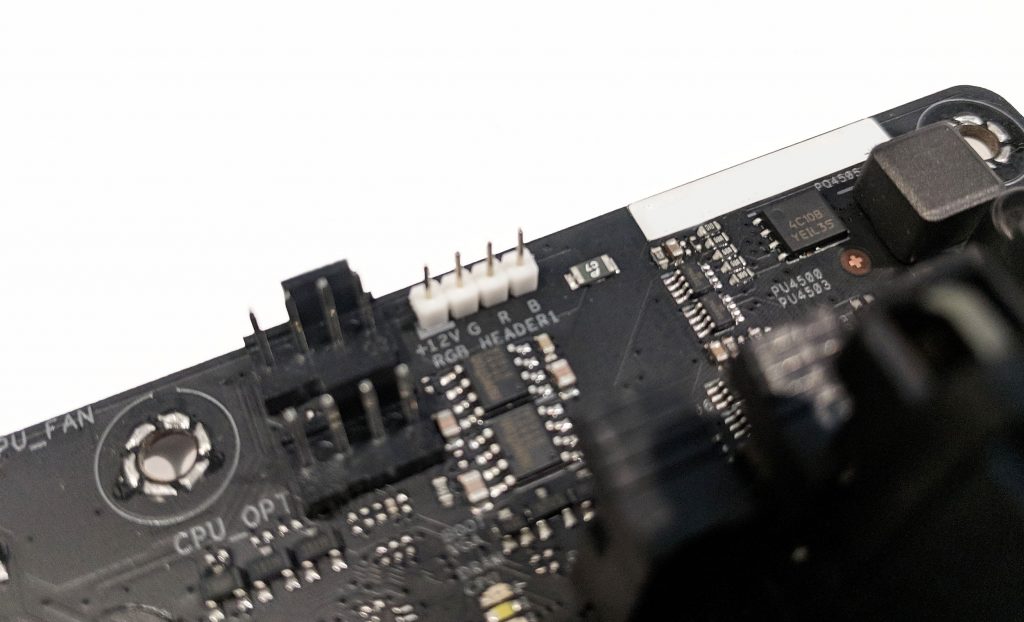 The motherboard supports four DDR4 memory modules with a max of 64GB (4x16GB). It supports memory speeds rated up to 3200MHz. Also on the top-right side is the main PSU 24-pin header for the PSU and a USB 3.0 front panel header just below that.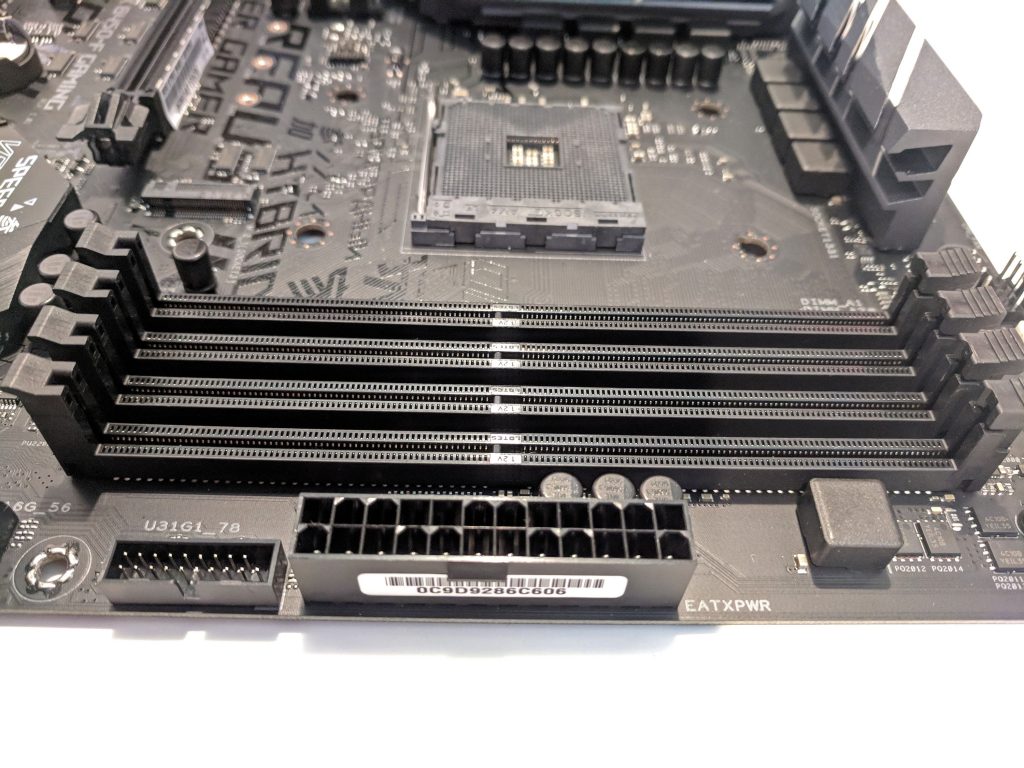 The AM4 CPU socket sits in the very top center which supports first and second generation AMD Ryzen processors.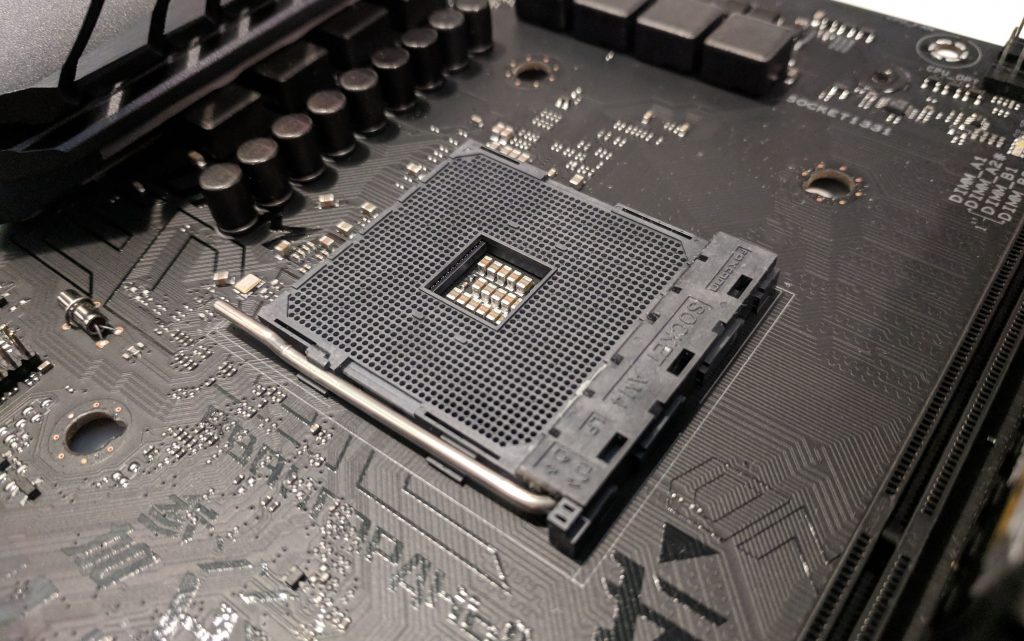 There are three total PCIe x16 slots on the ROG STRIX B450-F motherboard. Each of them is metal reinforced which is another premium feature that I personally wasn't expecting. Since many GPUs are heavy and can add additional strain to the motherboard, a reinforced PCIe slot should help in preventing premature failure.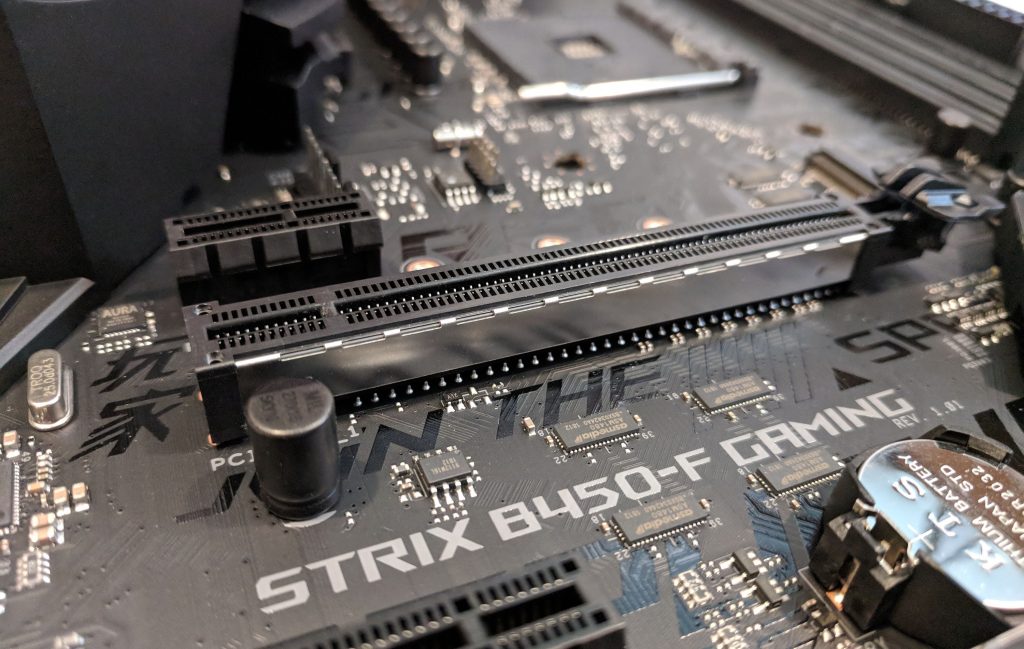 Probably the most notable feature of the front I/O panel is the permanently attached I/O shield. This is becoming more and more common with motherboard manufacturers. In days past, this was only found on high end motherboards. Glad to see them making it to the mid-range market. In case you missed (somehow_ the specs above, there are 8x USB (2x USB 2.0, 1x USB Type-C, 2x USB 3.1 Gen2(red) and 3x USB 3.1 Gen1(blue), 5x 3.5mm audio connectors, 1x fiber audio, 1x HDMI, 1x Display Port, and a PS/2 mouse/keyboard combo port.
Just above the upper most PCIe slot is the first M.2 SSD drive slot which supports various sizes which can be seen in the image below. The other M.2 slot is located just above the third PCIe slot. The only difference between the two M.2 slots is the additional support for 22110 SSDs on the bottom.
Typically with low to mid range motherboards we see the usual Realtec onboard audio controllers. Since the creation of ASUS ROG motherboards, ASUS has included SupremeFX audio on all its boards which includes higher-end hardware such as shielded components, and Japanese caps to name a few. While a decent onboard audio card is still no substitute for a high end sound card such as the ASUS Xonar lineup, SupremeFX audio will provide much more crisp and stable sound compared to traditional onboard sound controllers.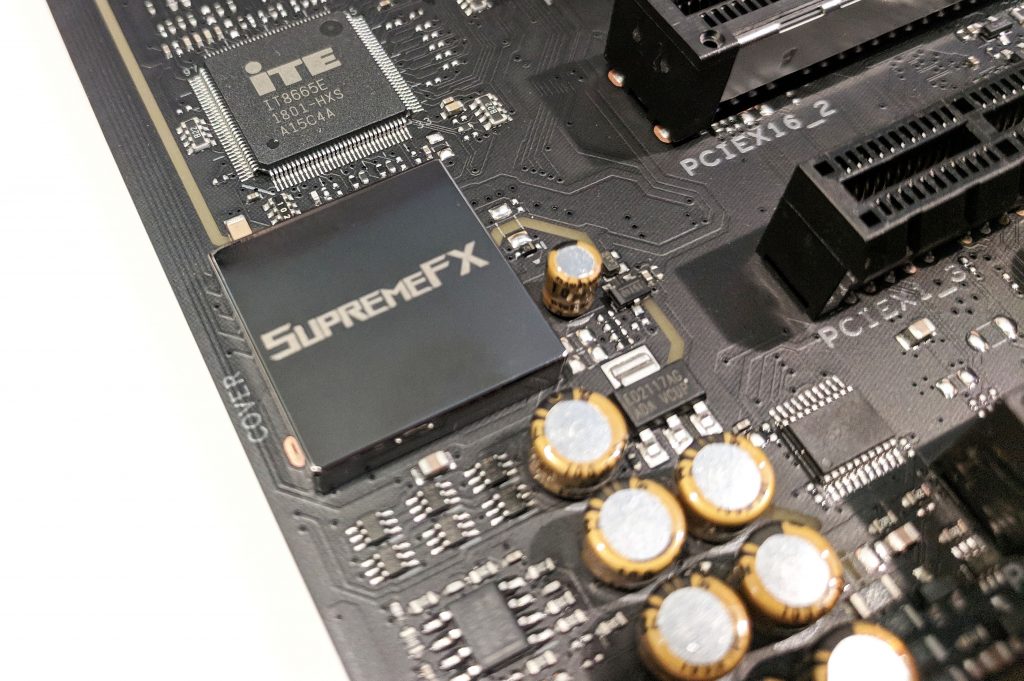 The chipset heatsink features shiny and stylish ROG themed artwork. The plastic piece can actually be swapped with another included in the bundle, however personally I preferred the one already installed. Still, it's good to have options.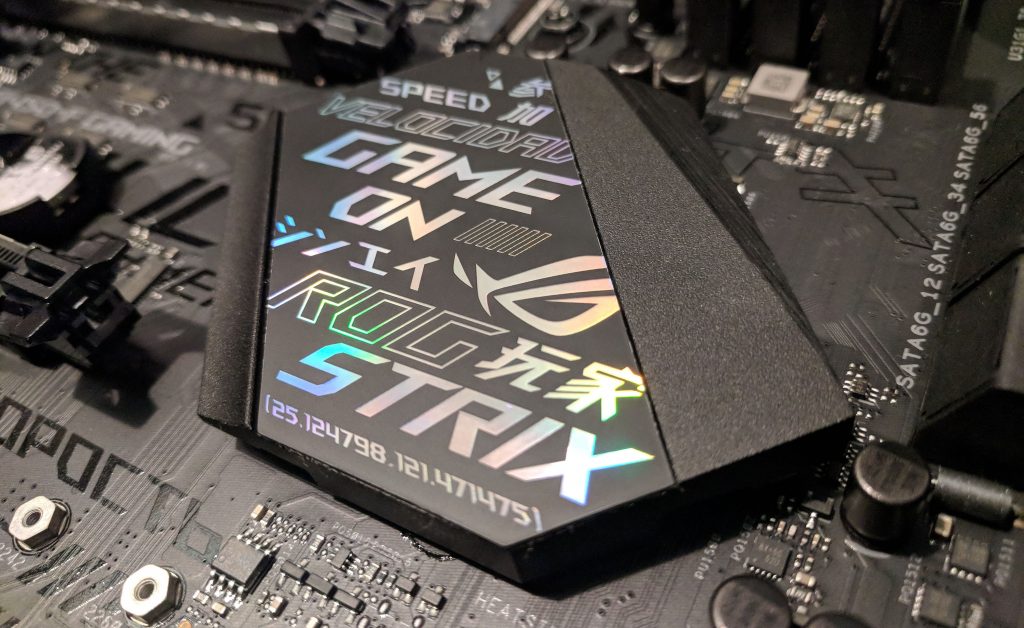 Moving an inch or so to the right, there are six 90-degree angled SATA6 ports. I personally prefer the angled slots as cable routing looks a bit cleaner and typically you get an inch or two extra from your SATA cable.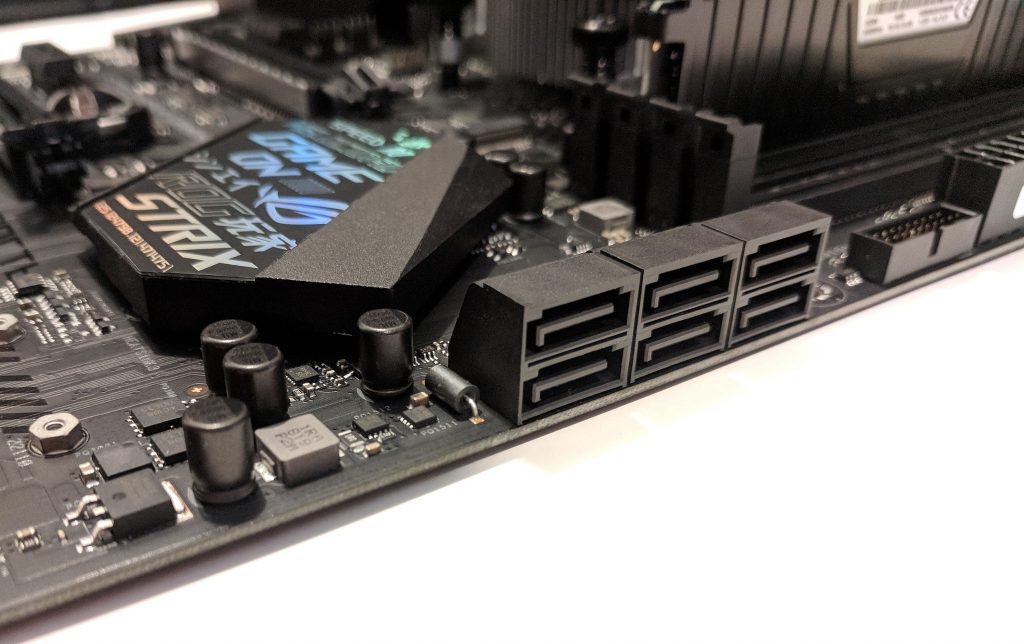 Last but certainly not least, there's a few more headers to make note of. First is the additional (white) RGB header which has the exact same pinnout as the one we mentioned earlier. Along the bottom of the board you'll also find your typical front panel connectors for USB 2.0, power/reset button headers, and a few more 4-pin PWM fan connectors.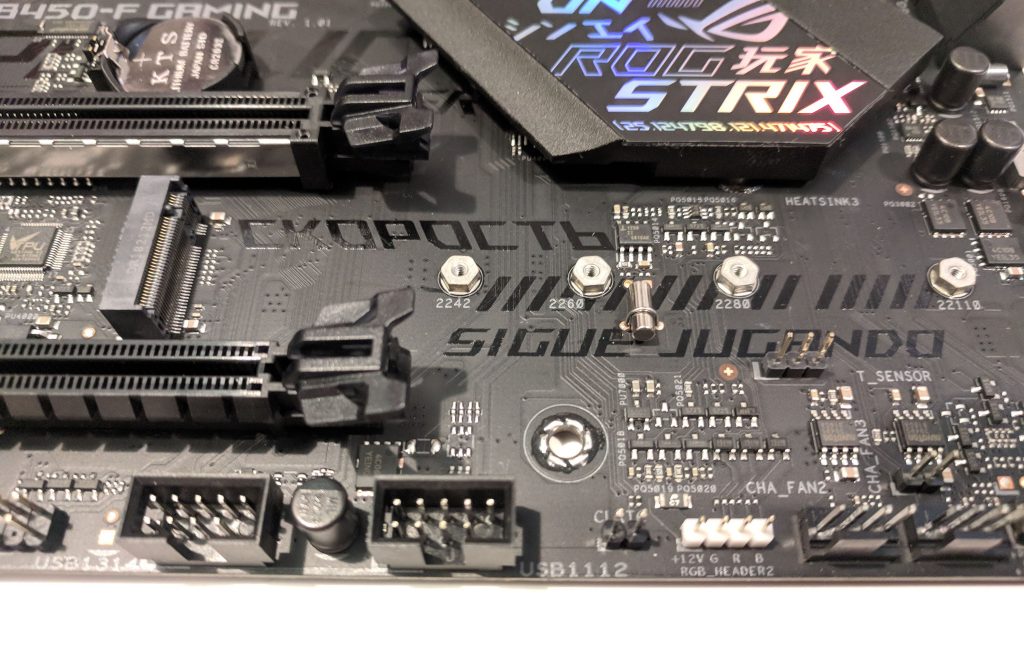 Digging a little deeper….
This wouldn't be a proper GND-Tech quality review if we didn't cover things not on the manual… Let's remove some of the shrouds and heat sinks and see what else is going on underneath!
The first thing I noticed after unscrewing the plastic I/O panel cover is the metal LanGuard cover. LanGuard is a premium feature that aids in improving the Ethernet connection by reducing noise. Just next to that is the RGB LED connector for the LEDs located on the shroud.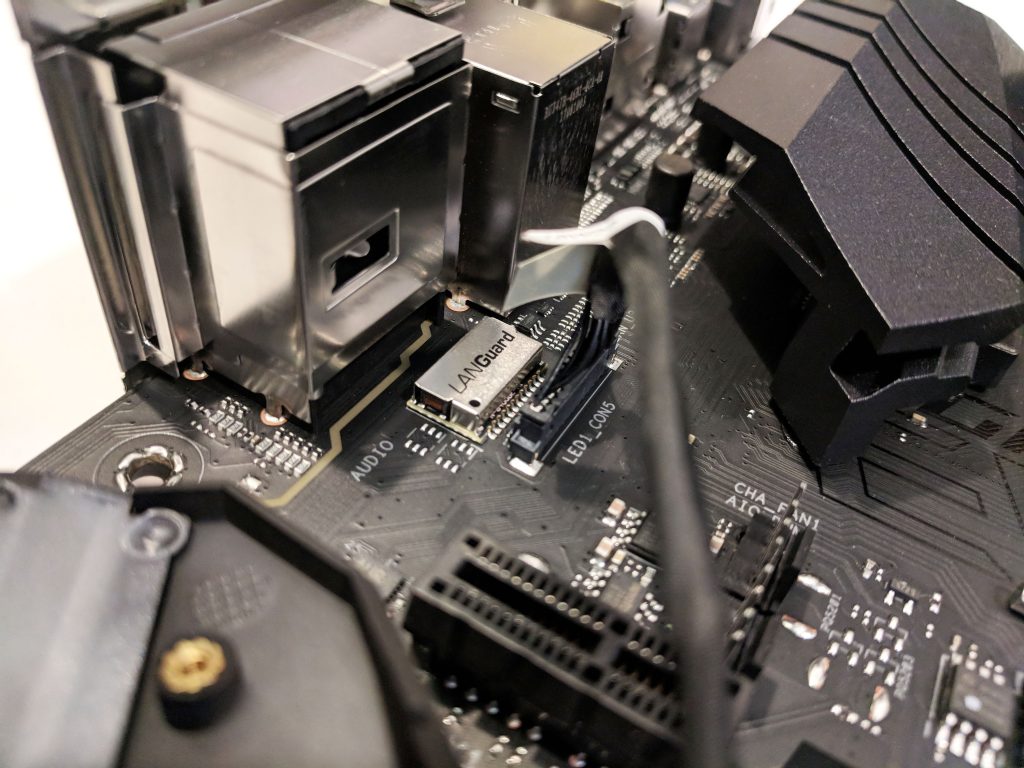 The underside of the shroud contains a small PCB with three soldered on SMB RGB LEDs which support a surprising amount of effects. We'll get into these effects in greater detail later on in the review.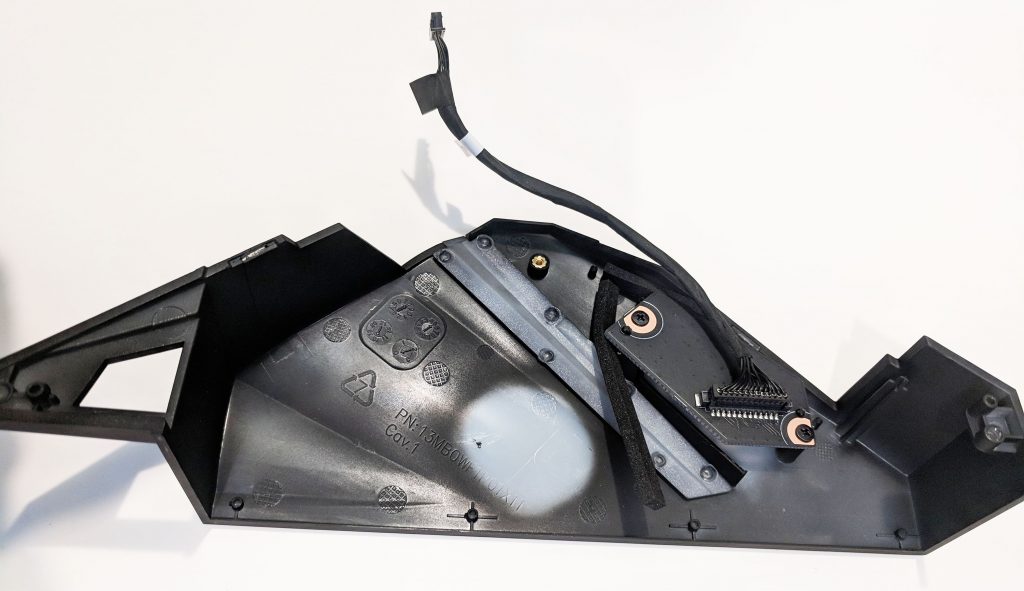 We get a better look at the LEDs after unscrewing the little odd shaped PCB from the I/O panel shroud.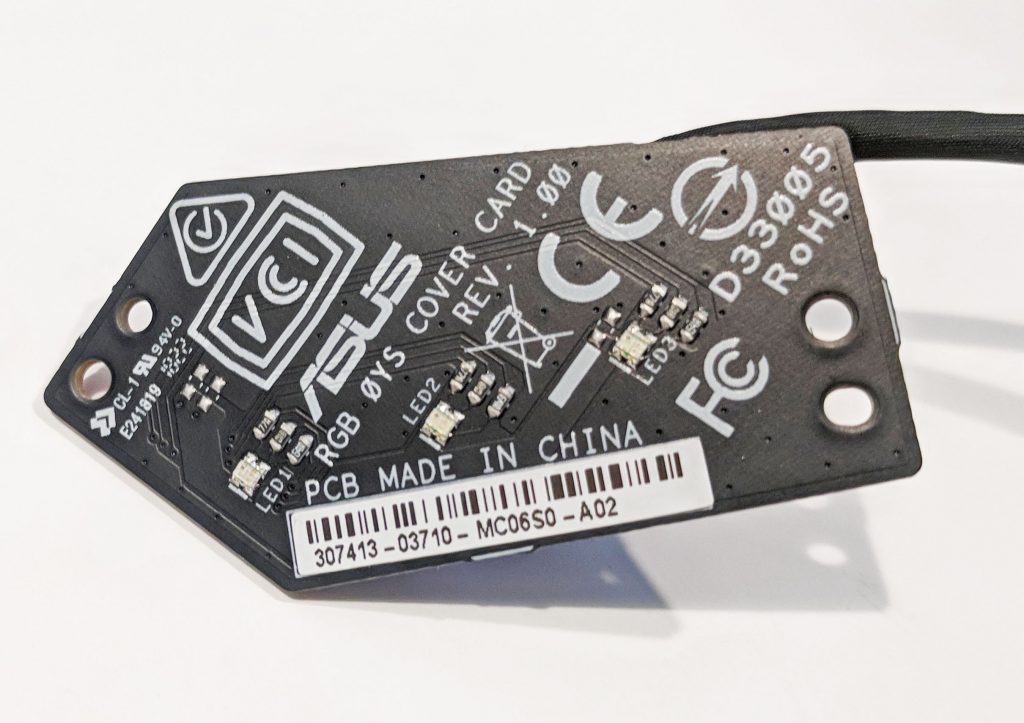 While I've got the I/O shroud off, let's dig a little deeper! Next, let's take a look at the PWM heatsinks and the PWM components themselves especially since the phase count is a mystery.
The two heat sinks are screwed into the motherboard by two spring screws on each. Thermal transfer is aided by a single strip of thermal padding to ensure all the hot components get proper contact.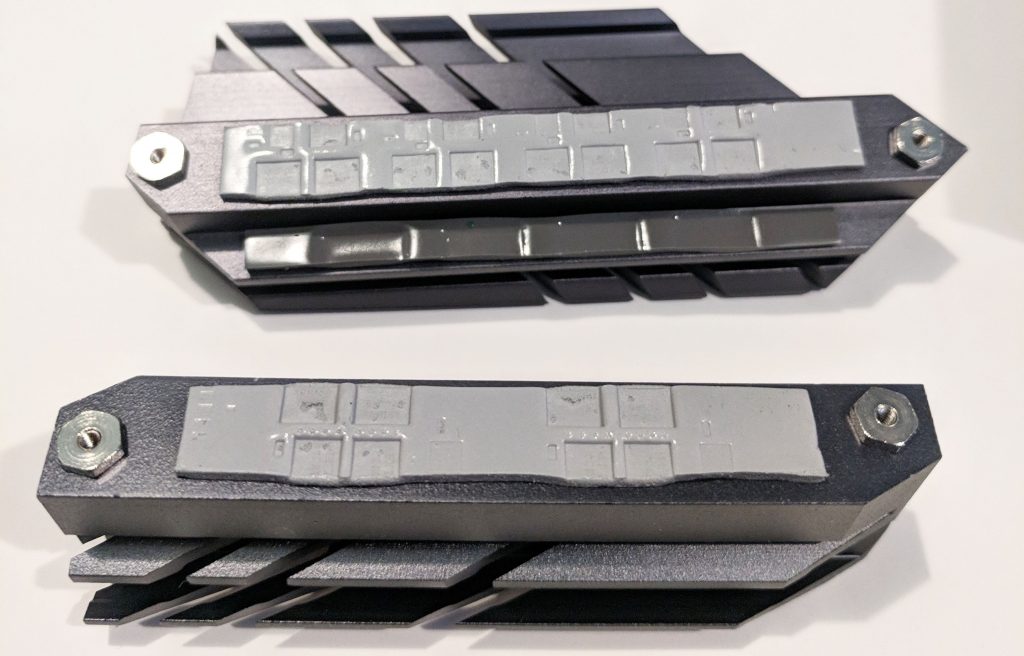 Typically AMD motherboards feature 3+1, 4+1, 4+2, 6+2, 8+2 power phases. We mentioned earlier that proper voltage regulation is very important for power sensitive components such as the CPU.
The higher the phase count, the higher the quality or stability of power that's being fed to the CPU. This is especially important during overclocking as not only does increasing the voltage put added strain on the processor, it also puts added strain on the VRM as the CPU is drawing more current than it normally would.
High end motherboards typically have a large number of VRM phases as they are a target for overclockers and high end system builders. Cheaper low-end motherboards will typically have a low number of phases as well as poor overclocking support.
An easy way to determine your motherboard's phase count, is to count the chokes, or inductors. In our case, we can see that this motherboard has 8, therefore determine that the ROG STRIX B450-F is using a 6+2 phase design. Not horrible, but this is definitely not the first choice for a custom liquid cooling setup for extreme overclocking.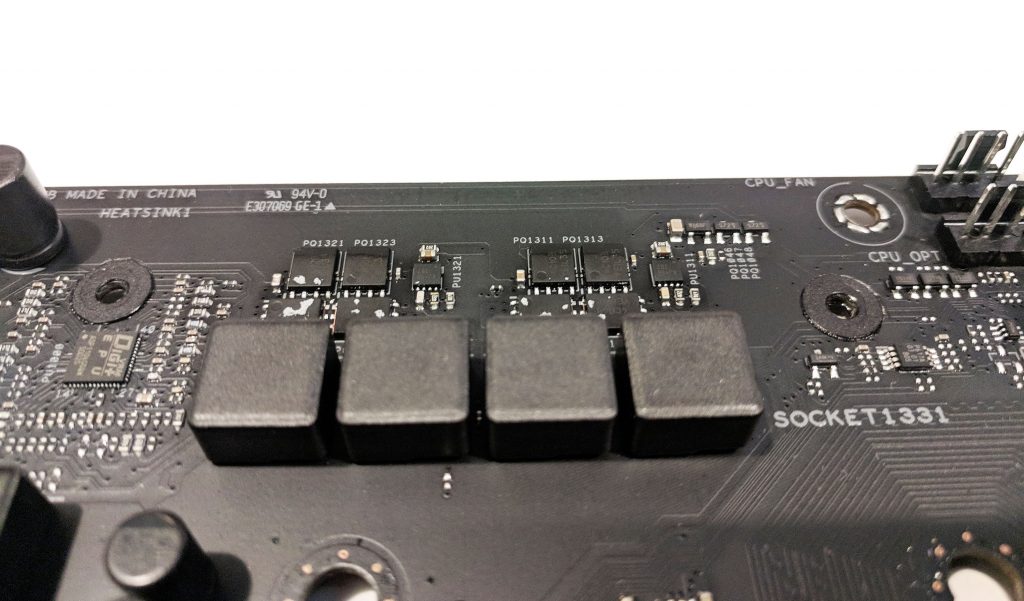 Hardware Installation
Next, let's plug in some components into this bad boy. Typically motherboard installs are quite straightforward. A usual hiccup that a lot of users might have is memory installation. It's important to consult the manual as to the proper/optimal RAM stick placement.
The CPU installed without any qualms. Take notice of the arrow on the processor, and match it with the arrow on the plastic connector. Drop it in with the slide lock up, and once it's in lock it down.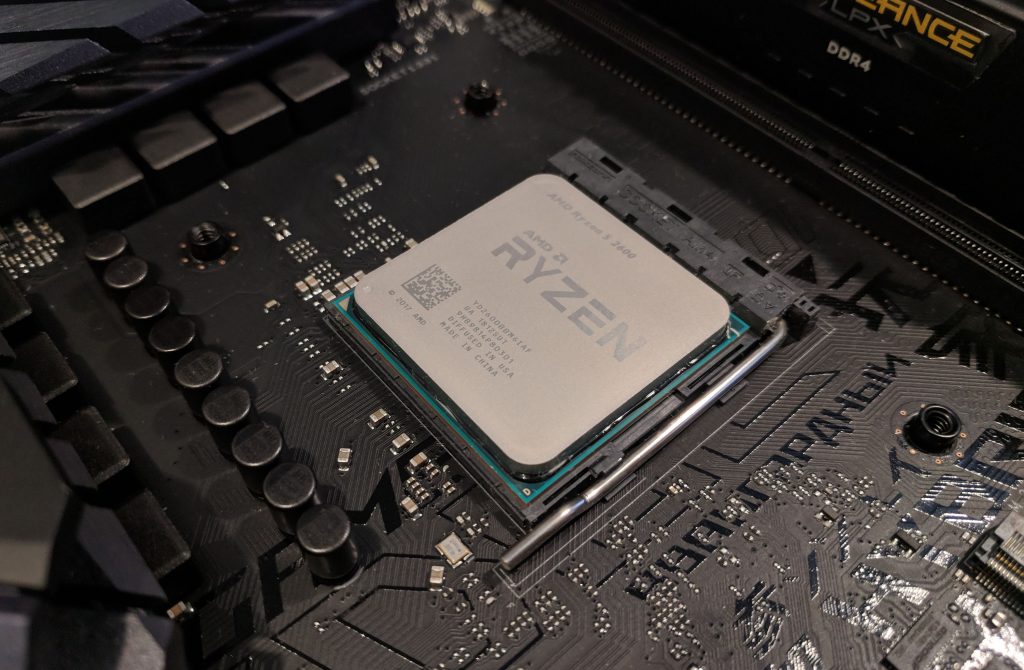 When installing our Ryzen 5 2600 with the standard Stealth Cooler, we did notice some clearance issues with the memory modules. In my opinion the cooler is terrible and probably should be replaced with something after-market. However if you do decide to use the Stealth Cooler AND utilize the first RAM slot closest to the CPU, you may have issues with fitment. Take a look below: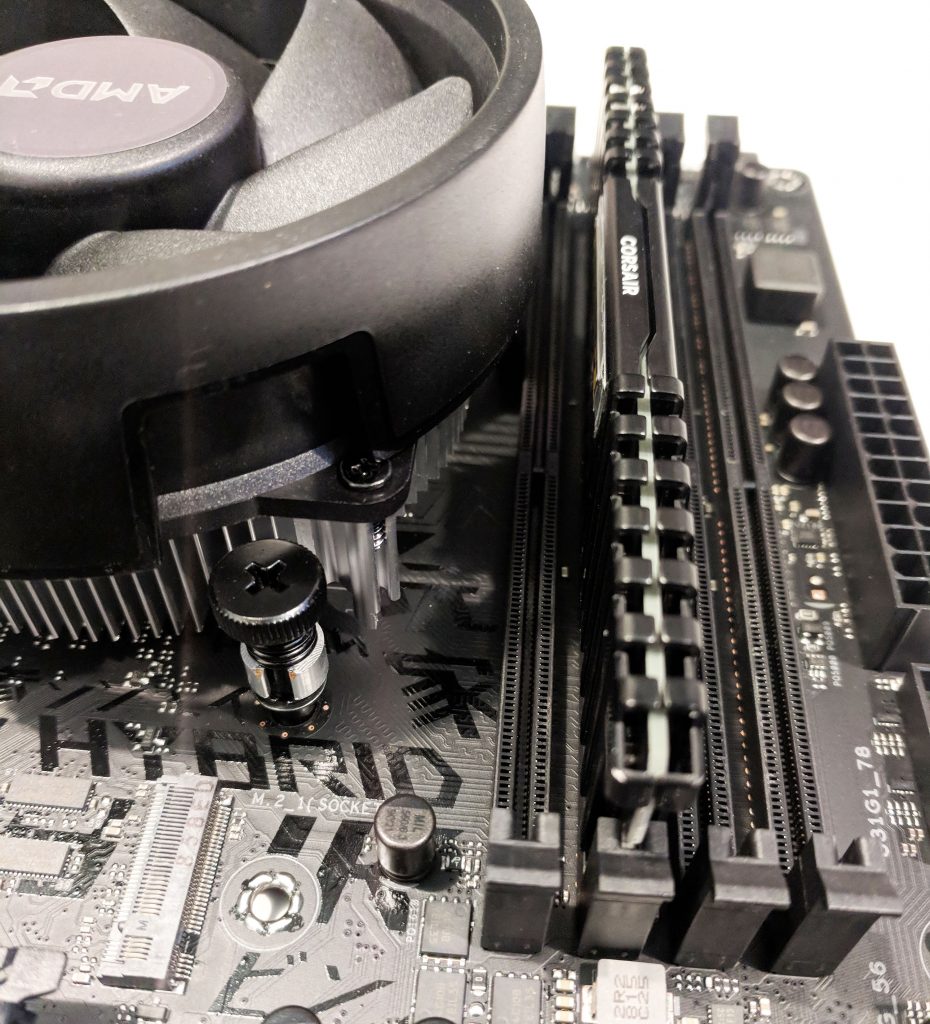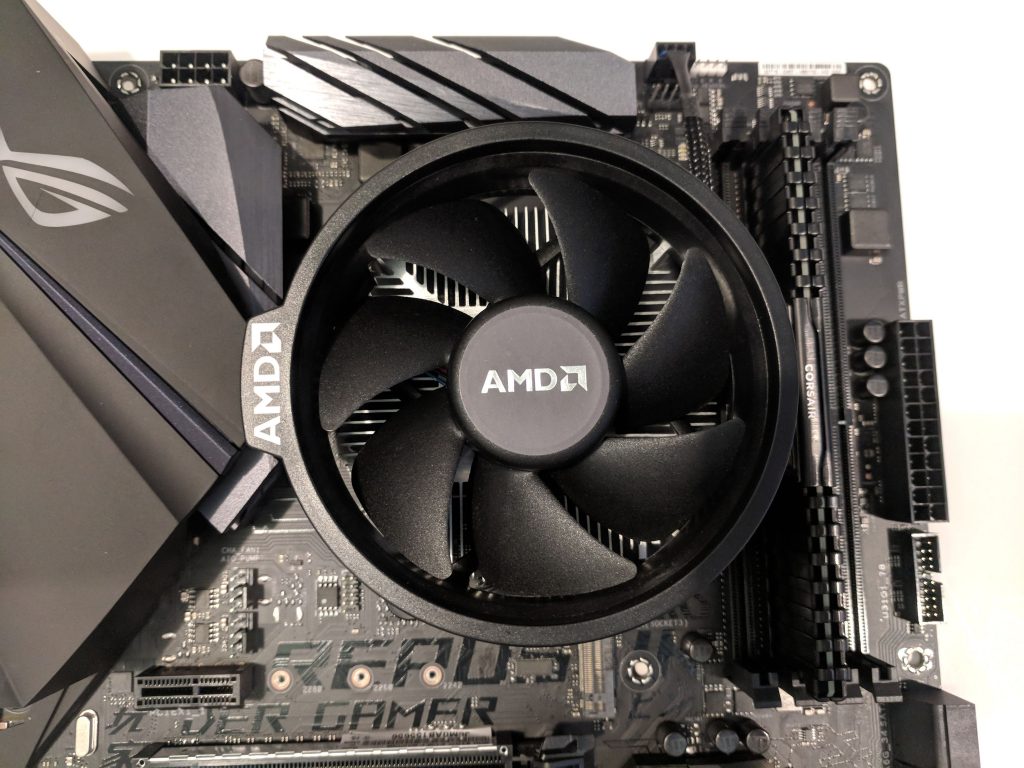 Overall, installing the motherboard is straightforward and simple. The affixed I/O panel is a good move and saves a few steps off the install process. Cabling was easy and the placement of all the various connectors was logical and easy to access. Fan connectors were distributed around most major areas so you probably won't have issues finding a connector.
The only thing I would change if I could is using a 90-degree angle 24-pin motherboard/power connector rather than the flush, traditional vertical style. An angled connector is always easier to cable in my opinion.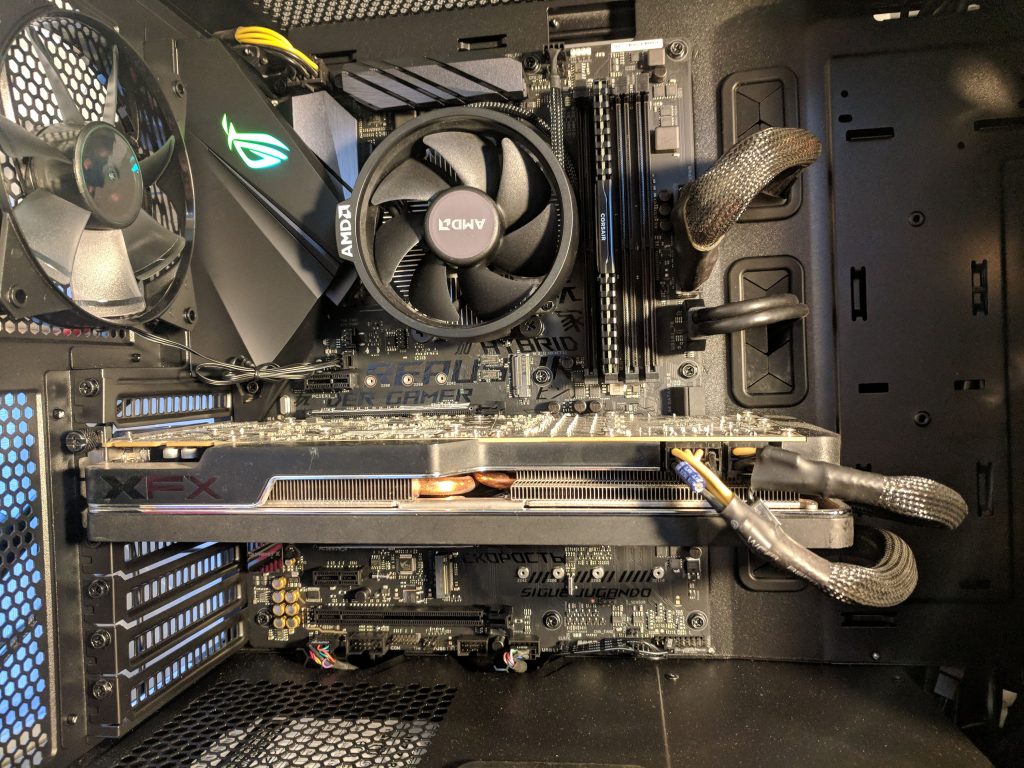 After powering up the motherboard for the first time, everything worked and I was able to enter BIOS no problem! Speaking of BIOS, let's dive into that next…
BIOS Options
The UEFI BIOS has a ton of options and I definitely recommend spending some time getting familiar with the layout and customizing the settings based on your build. The BIOS has two modes, EZ-Mode and Advanced. As with any new build, ensure that you are running the latest BIOS version. ASUS has made this easy with its built in EZ update options. In my case, the motherboard was a few revisions old when it arrived.
EZ-Mode displays minimal options with a higher focus on monitoring rather than actually changing settings. The mode can be changed by toggling the F7 key.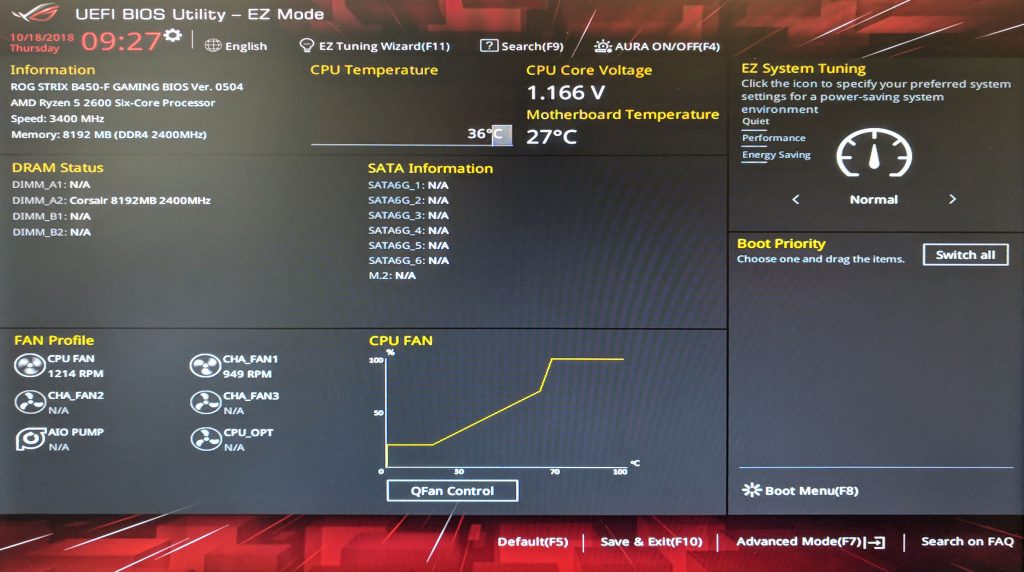 Advanced mode has many different menus, sub menus and tweakable options. I'm not going to dig into every menu, and cover every item, however, I will provide a few screenshots of some of the main sections to help you get a better lay of the land.
As mentioned earlier, the motherboard supports onboard LED lighting in two areas, the onboard LEDs on the I/O shroud and by using the headers. There are some options in BIOS for controlling the LED lighting, but the best method is to use the ASUS AURA Sync software. It supports some pretty cool color effects such as breathing, wave, pulse, rain, and many more.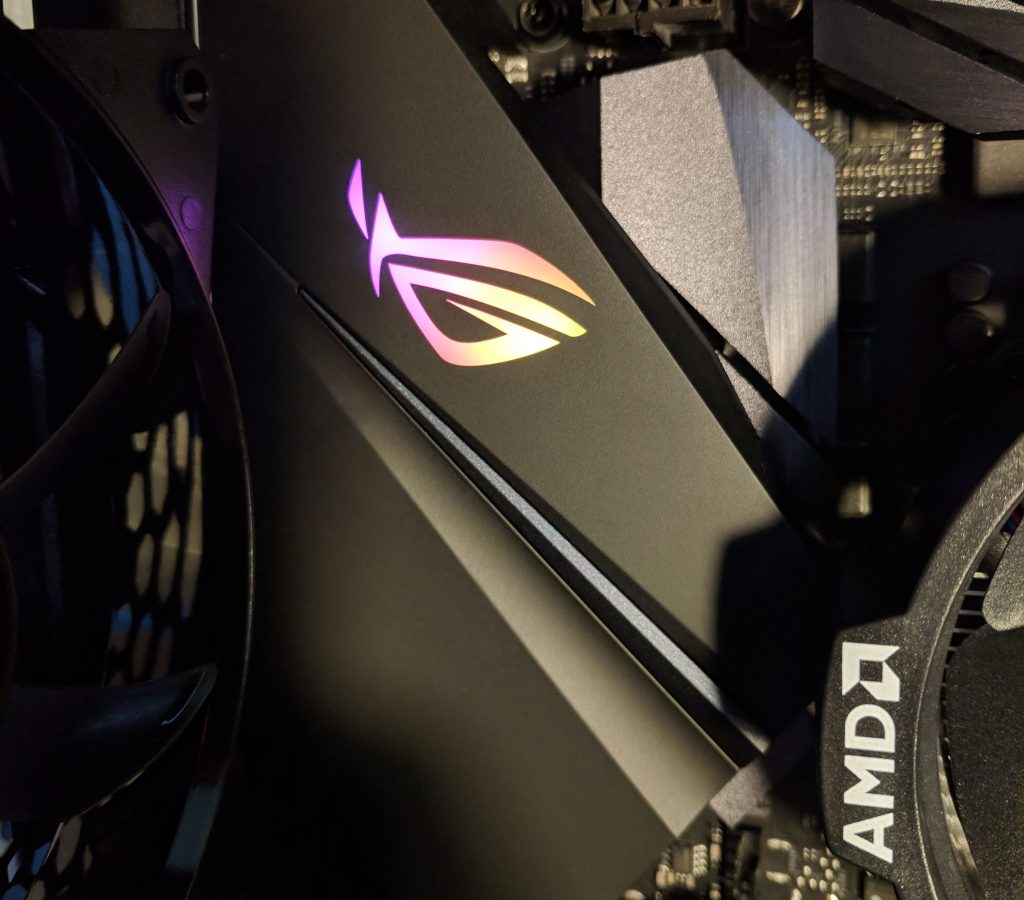 Final Thoughts and Scoring
The ASUS ROG STRIX B450-F Gaming is a feature-packed motherboard that has everything most gamers would need at a reasonable price. At the time of writing this review, the motherboard can be purchased from any major PC component retailer for $129.99 USD. What you'll get is a mid-range priced motherboard with high end features. The only thing that might deter some users are the few amount of VRM phases to the CPU (6+2). If you're not planning doing any extreme overclocking, this board would make a great choice.
The motherboard does have a decent amount of overclocking options in BIOS, however due to the restrictive CPU VRM, you'll likely hit the instability wall sooner than you would with a high end motherboard with a few more phases.
Scoring
All in all, the ROG STRIX B450-F Gaming is a well built motherboard packed with features and makes the perfect companion for any AMD Ryzen 3, 5 or 7 builds. With an MSRP of $129.99, it really is amazing what you'll get from a gaming motherboard now days. Next up, let's examine the motherboard and give a score based on four categories, Quality, Functionality, Performance, and Value.
Quality

: 9.4/10 – No real issues here. The motherboard's overall construction feel solid. Solder is very clean and no flux residue could be found.

Functionality

: 9.7/10 – Definitely the motherboard's strong suit. The board is bursting with features. It's amazing you can get a ROG gaming motherboard for just $129.99 has has as many features as this one has.

Performance

: 8.0/10 – The only draw-back with the ROG STRIX B450-F Gaming is the lack of proper overclocking support. That being said, many users and gamers might not care to overclock their CPU and that's fine. The motherboard supports a wide range of processors as well as high performance DDR4 which can be tuned via BIOS.

Value

: 9.3/10 – The ROG STRIX B450-F Gaming is bursting with features that you would typically find on higher-end motherboards making it definitely worth its current price of $129.99.
ASUS Product Page: https://www.asus.com/us/Motherboards/ROG-STRIX-B450-F-GAMING/
Amazon: ASUS ROG Strix B450-F Gaming Motherboard
"Bursting with features"
All in all, the ROG STRIX B450-F Gaming is a well built motherboard packed with features and makes the perfect companion for any AMD Ryzen 3, 5 or 7 builds.

9.1