A few months back we had the pleasure of reviewing one of Cooler Master's high-end slim mechanical gaming keyboards, the SK650. Today, we're going to take a deep dive into one of Cooler Master's similar offerings, the Cooler Master SK630 White Edition which unlike it's big brother, features a smaller tenkeyless design as well as white mechanical key caps rather than the traditional black keys we typically see on gaming keyboards today.
The SK630 White Edtion was just released today and features pretty much the same specifications as it's counterpart the SK630 such as on-the-fly RGB lighting controls, flat keycaps, and Cherry MX Red slim switches. The white keycaps drastically change the look into something much more sleek and almost Apple-esque which might appeal to creative professionals who also dabble with gaming on the side.
Before we dig into the review, let's dig into the keyboard's detailed specifications to get a better idea as to what we're working with.
Cooler Master SK630 White Limited Edition Specifications
The Limited Edition of the SK630 sports white keycaps which drastically changes the overall look and feel of the keyboard. Other than that, everything else is pretty much the same. As this is a limited edition keyboard, we can expect that not many of these will be released, however we're not sure at this point what that exact number is, however, we recommend snagging one early if this version appeals to you.
The keyboard features a wired configuration which connects to your computer via a single detachable USB Type-C connector at the back of the keyboard. One of the more prominent features are the Cherry MX Slim switches which utilize a 3.2mm travel distance and only a 1.2mm actuation point. We'll dig into the switches a bit later.
The base of the keyboard consists of a solid brushed aluminum surface and a plastic underside. The Cherry MX switches are mounted directly to the surface for a clean overall look which is something we're seeing a lot on modern keyboards these days.
Below are the detailed specifications of the SK630 White Limited Edition provided by Cooler Master:
| Product Name | The SK630 White Limited Edition |
| --- | --- |
| Switch Type | Cherry MX RGB Low Profile Switch |
| Material | Aluminum / Plastic |
| Color | Silver, White |
| LED Color | RGB |
| Polling Rate | 1000 Hz |
| MCU | 32-bit ARM Cortex M3 |
| On Board Memory | 512KB |
| On-The-Fly System | Yes, for Multi-media, Macro / Recording and Lighting control |
| Multi-Media Keys | Through Function Key (FN) |
| Cable | 1.8M Detachable USB Type-C (Braided White) |
| Software Support | Yes, through Cooler Master Portal |
| Dimensions | 353.5 * 125.5 * 29.8 mm (L*W*H) |
| Weight | 552g (1.2lbs) |
Cherry MX Red Slim Switches
The low profile mechanical switches used are Cherry MX Red switches which offer a short throw distance of only 3.2mm and an actuation point of only 1.2mm. For gaming, a short actuation distance is ideal as it directly translates into quicker actions, especially when compared to a conventional keyboard which requires the key to be bottomed out for the keypress to register. The overall size of the switch is also much shorter allowing the keyboard to shed some of the overall bulk. The traditional Cherry MX Red switch stands 18.5mm from top to bottom, while the Cherry MX slim switch stands at 11.9mm top to bottom.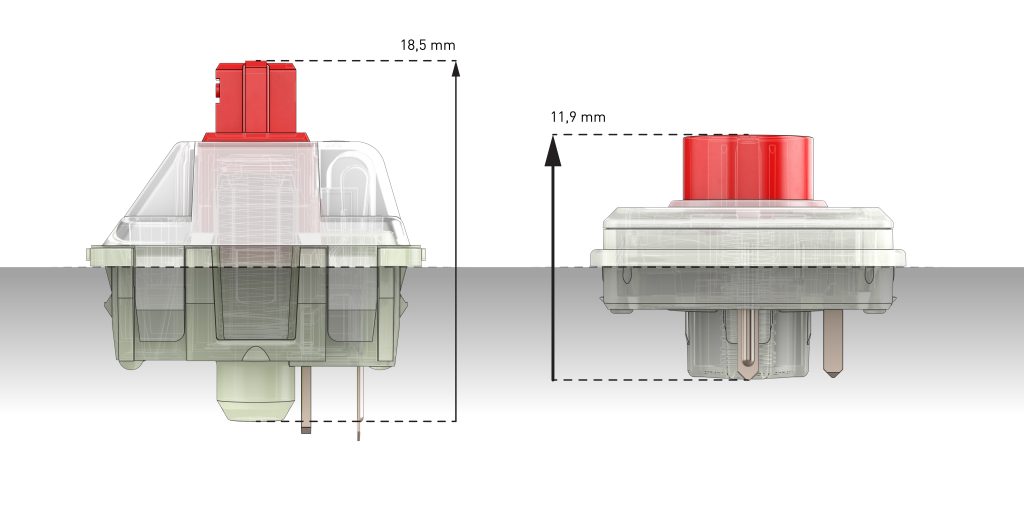 Durability is also an added benefit of the Cherry MX Red low profile switches. Each key is rated for 50 million+ keypresses which means this keyboard will likely outlive most other components in your system. Each mechanical switch is also fully backlit which spreads lighting around in between the keys as well as through each symbol on the key cap. When paired with the shiny metallic surface, you end up with a brilliant RGB LED display.
Now that we've got a better idea of what we're working with, let's dive into the review!
A Closer Look: Packaging
The Cooler Master SK630 White Limited Edition arrived with a perfect bill of health to our secret headquarters. The box, like the keyboard, is white featuring the classic Cooler Master purple accents. The overall design is quite good which also includes a lot of helpful information such as mechanical switch type, RGB control and software information. The back of the box features more information and in several different languages.
With the outer seal cracked open, another box is revealed, this one black and much more rigid.
Upon opening the inner black box, we're greeted with a soft velvet bag which safely protects the keyboard. Might come in handy for those who frequent LAN parties or frequently travel with their keyboard. Other than the keyboard itself and the bag, the only other included items are a keycap puller, and the white braided cable used for connecting the keyboard to the computer. The later two items are found in the small box located underneath the keyboard.
An Even Closer Look…
Next, let's get the keyboard out of the bag and get a better view! At first glance, you really get an appreciation as to the sleekness of the SK630 White edition. The keyboard fits quite snugly in the bag which should definitely keep the unit safe and protected during shipping.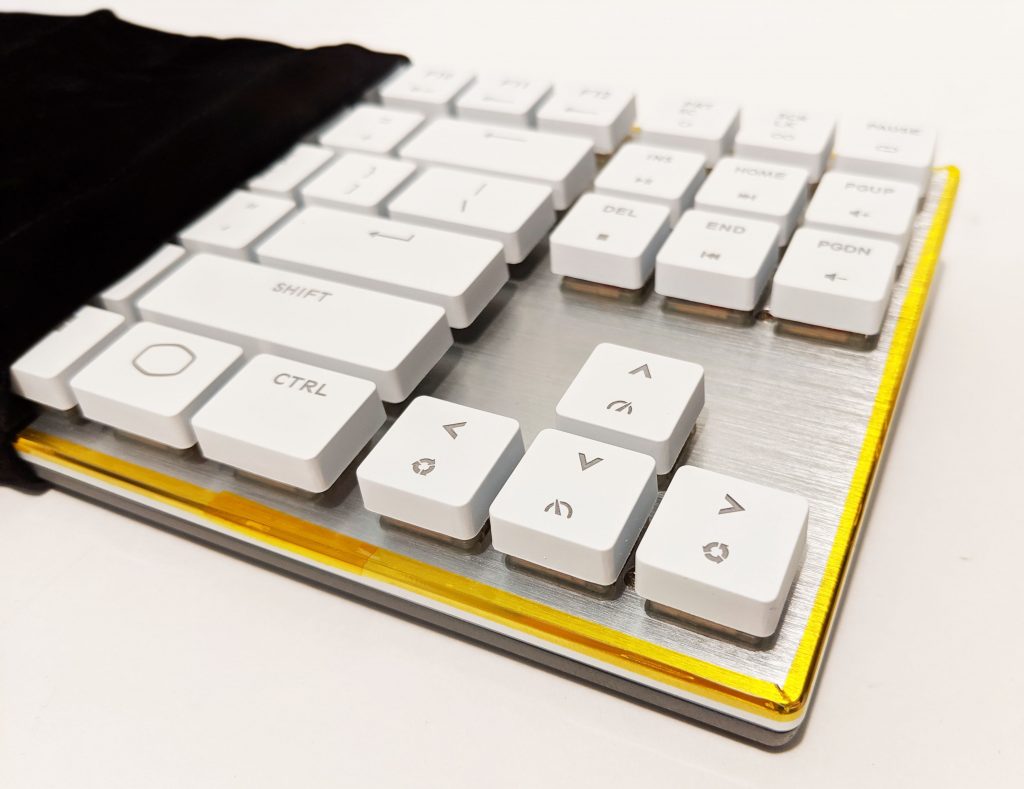 This white-on-white-background is definitely not going to work this time around… Let's move to something that contrasts better. With the keyboard out of the bag we get a better view as to the color scheme and size. Overall, I'm digging the white on silver look. It seems that it would pair nicely with Apple products.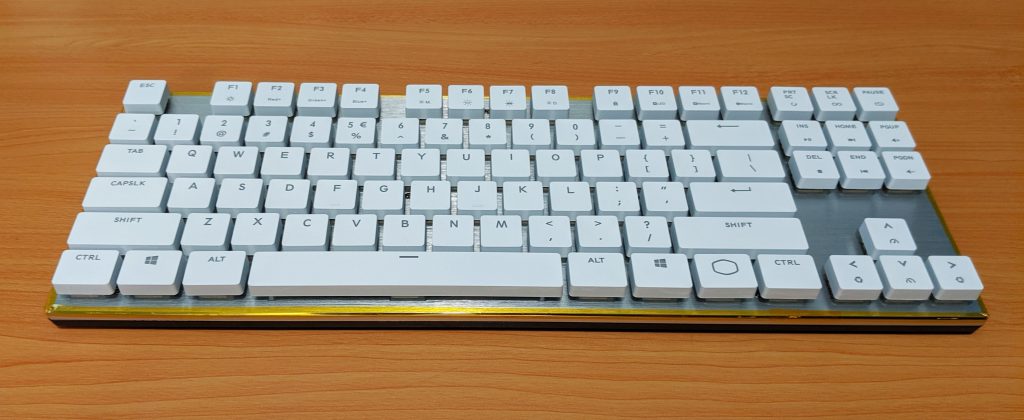 Next, let's remove the orange film around the perimiter of the keyboard which protects the beveled edge.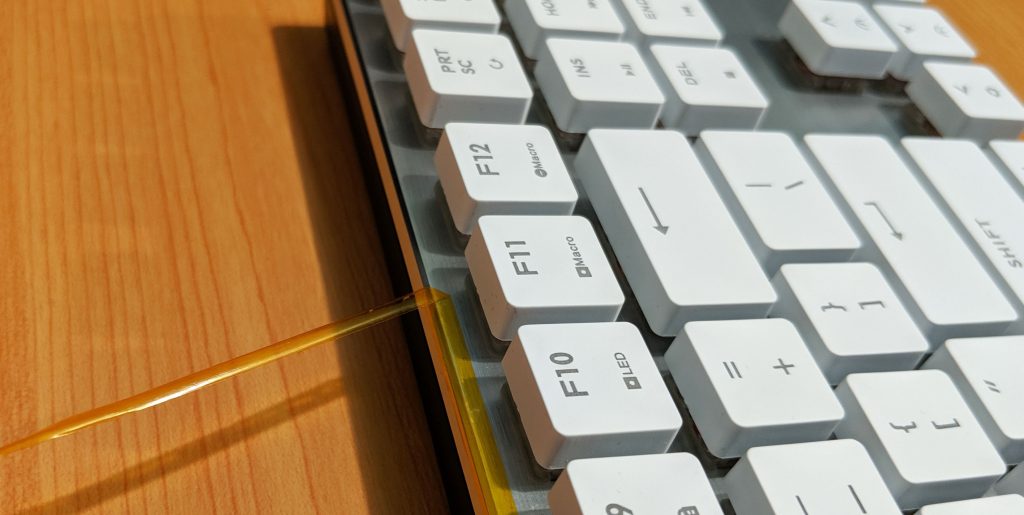 Now that we've got an unobstructed view of the keyboard, you really get a sense of the design work that went into this thing. Having seen both black and white editions, I'm actually leaning towards the white edition as my preferred style, though I'm not sure how it would pair with my mostly black PC components. The overall look is very sleek and clean and I personally prefer the the size of tenkeyless keyboards over their full-sized counterparts.
I'll let the images do the talking:
The back of the keyboard features a single USB Type-C connector which you'll use to connect to your PC. The connector snaps in nice and tight which definitely won't come loose on its own. I personally never liked detachable USB keyboards which utilized Mini or Micro USB connectors for this very reason. The connector would eventually wear down and would eventually come loose. I don't see this issue with USB Type-C connectors as they are much more robust.
The braided cable feels like it's of pretty good quality. It's not too stiff and definitely matches the overall sleekness of the keyboard.
The back of the keyboard is about as uninteresting as things get. At each corner there are rubber mounts to keep the keyboard secured in place. As this is a slim keyboard, there are no tilt mounts located at the back.
The included key puller is a wired design. To remove a key, simply feed the two wire ends of the puller through either side of the key and give it a firm tug while bracing the keyboard with the other hand.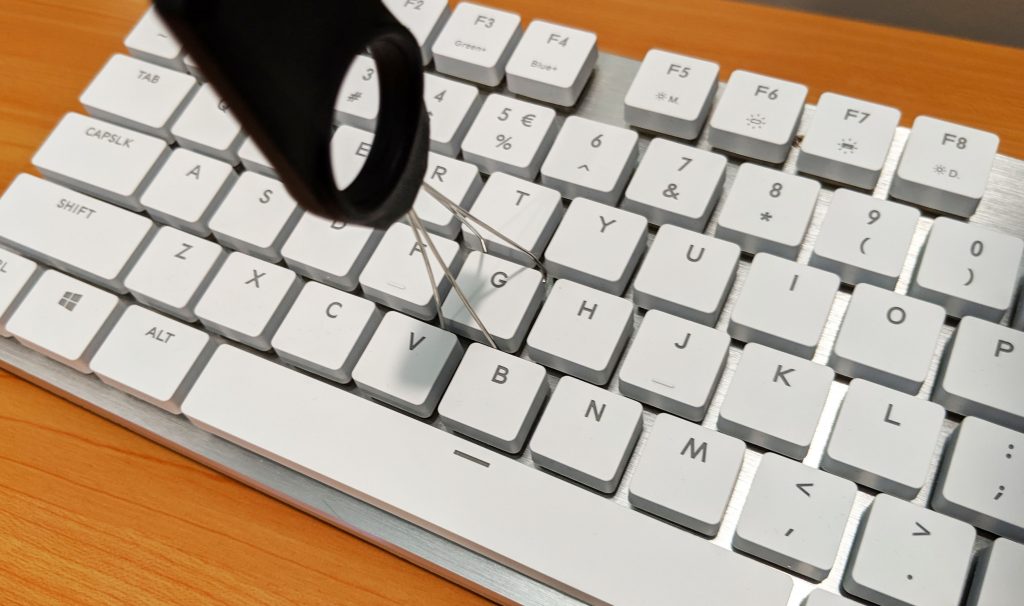 With the keycap removed, we get a better look at the Cherry MX low profile switch underneath. As you can see, each mechanical switch is mounted directly on the brushed aluminum surface.
Next, let's plug in this bad boy and soak in some of that RGB goodness!
R

G
B

ACTIVATED!

When you first connect the Cooler master SK630 White Edition keyboard into your PC you're first greeted with a brilliant display of the classic Cooler Master purple lights behind white keys that really is one of a kind. Out of the box, the RGB effects and profiles can be adjusted by simply using key commands using the "FN" button that looks like the Cooler Master logo.

You can, of course take this a step further by utilizing the Cooler Master software which is available through the Cooler Master Portal. We'll dive deeper into the software later on in the review. Until then, let's take a look at some of those RGB effects close up!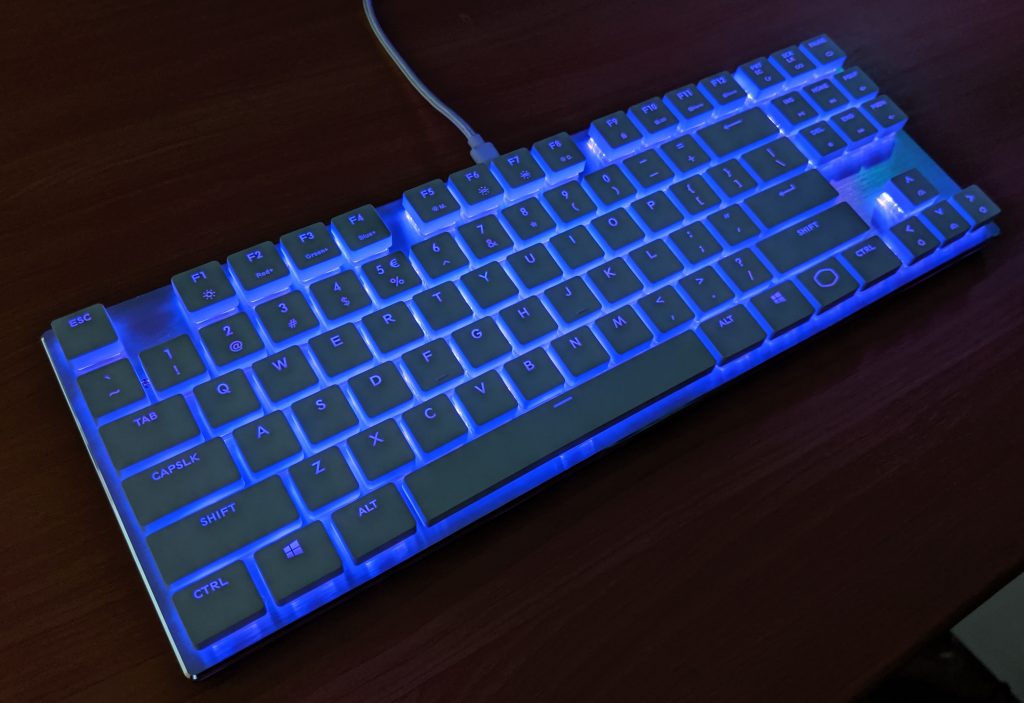 Out of curiosity, let's remove one of the keycaps just to see how exactly that light is spreading around. Each switch is housed in a transparent base. At the top of each switch is where you'll find the RGB LED and thanks to the transparent housing, the light is diffused all around the switch.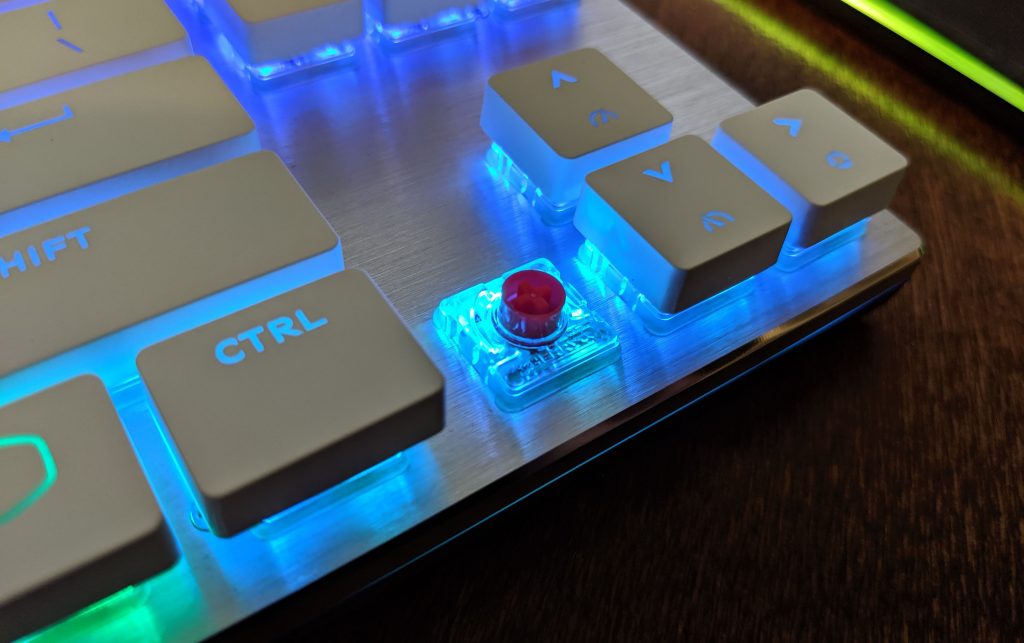 Control Software and Functionality
While the software is not required to use the Cooler Master SK630 White gaming keyboard, it is definitely recommended for several reasons. For one, there may be important firmware updates provided by Cooler Master. Firmware checks and updates are handled directly through the software. These could include functionality patches or bug fixes. We at GND-Tech always recommend to upgrade the firmware if an upgrade is available just for this reason. Secondly, it makes configuring profiles and customizing the RGB LEDs much easier. If you don't like extra software running on your PC, at the very least install the software to apply firmware updates and then uninstall. If there is a firmware update available, you'll know at the time you first run the software. This check is automatic.
In our case, it looks like we did have an update available: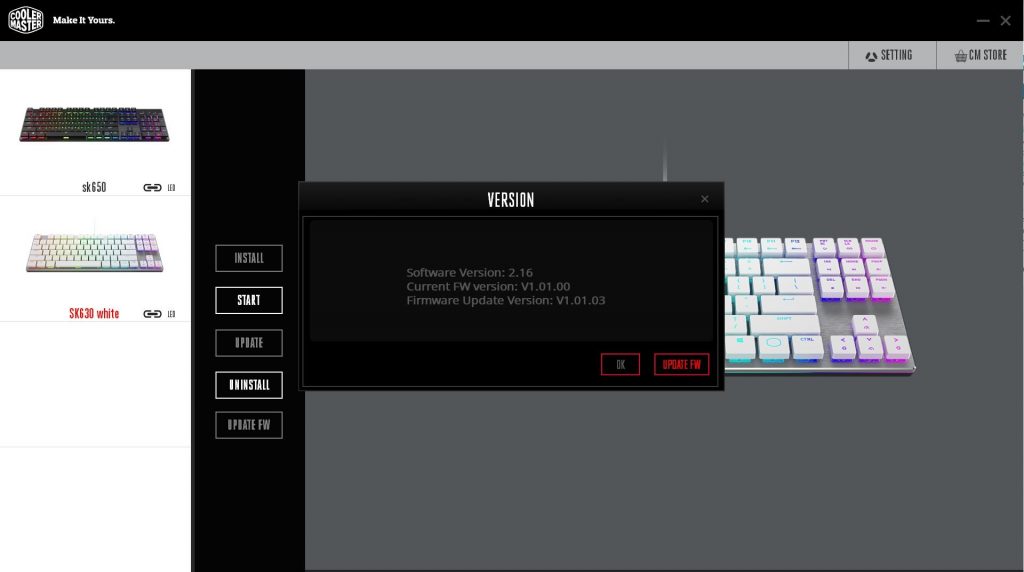 The software is super easy to use and layed out very logically. Basically it consists of four tabs, each with a primary purpose. The first tab allows you to control and save the RGB LED settings. There are a plethora of lighting options and effects available so feel free to get lost in this section and customize the keyboard to your liking!
The next tab allows you to create macros and assign them to keys. While this is a tenkeyless keyboard, there's not a lot of available options. Generally, in this case I'll usually assign macros to the lesser used keys such as PGUP, PGDN, HOME, and END keys. Key combinations are also supported.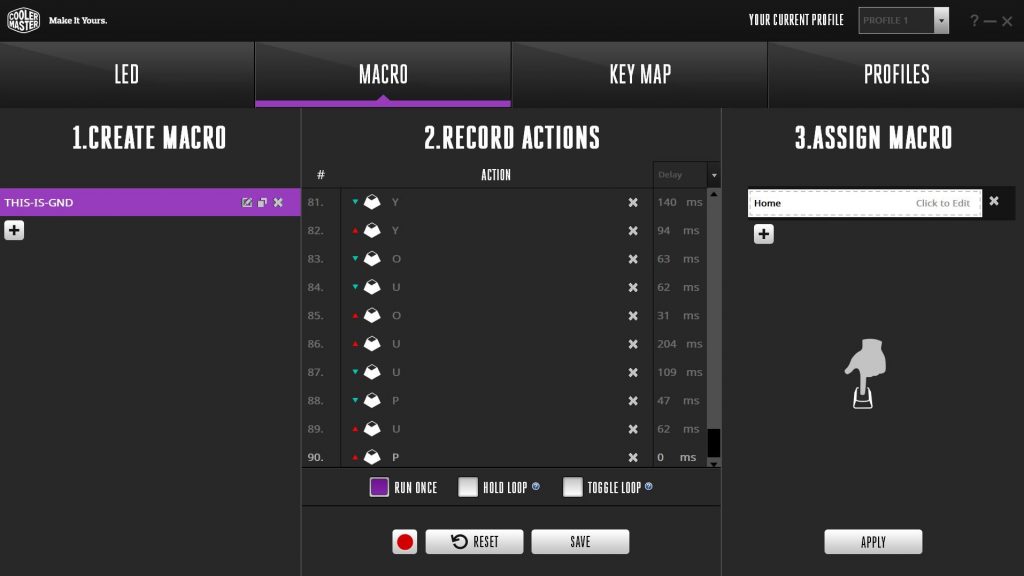 Next up, we've got a basic key map. This lets you reassign or disable keys all together.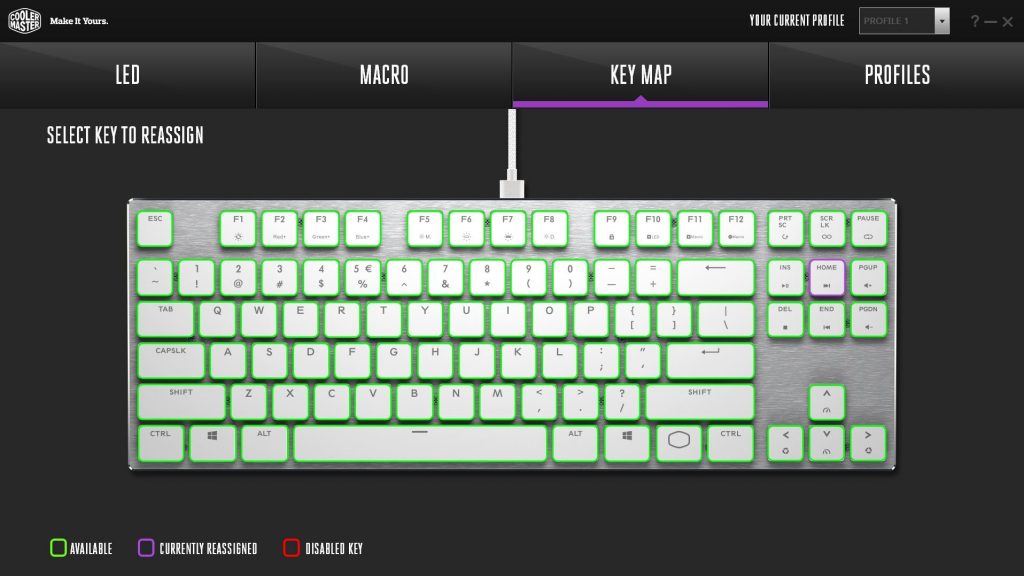 Last up, we've got a the profile section. It's pretty straightforward overall and allows for four unique profiles. Very handy if you've got more than one user using your computer. Profiles can be easily toggled without the need for the software which we'll be going over next.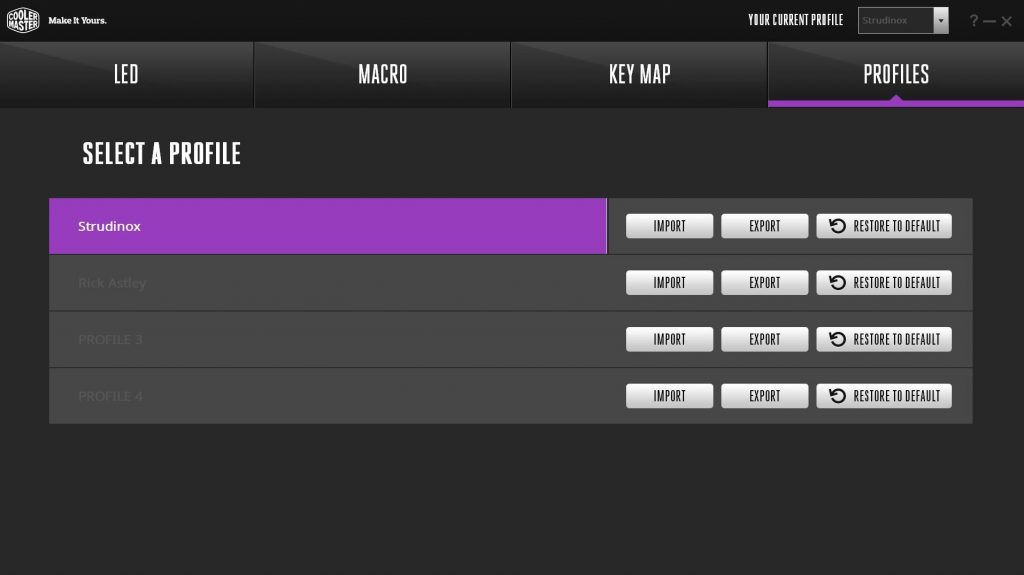 On-the-Fly Key Combinations
In addition to the software, the keyboard has the ability to switch between profiles, adjust RGB LED functions, and record and use macros by using the keyboard's built in On-the-Fly key combinations. Details regarding this are included in the manual, however, for the lazy, I'll simply include them here. 🙂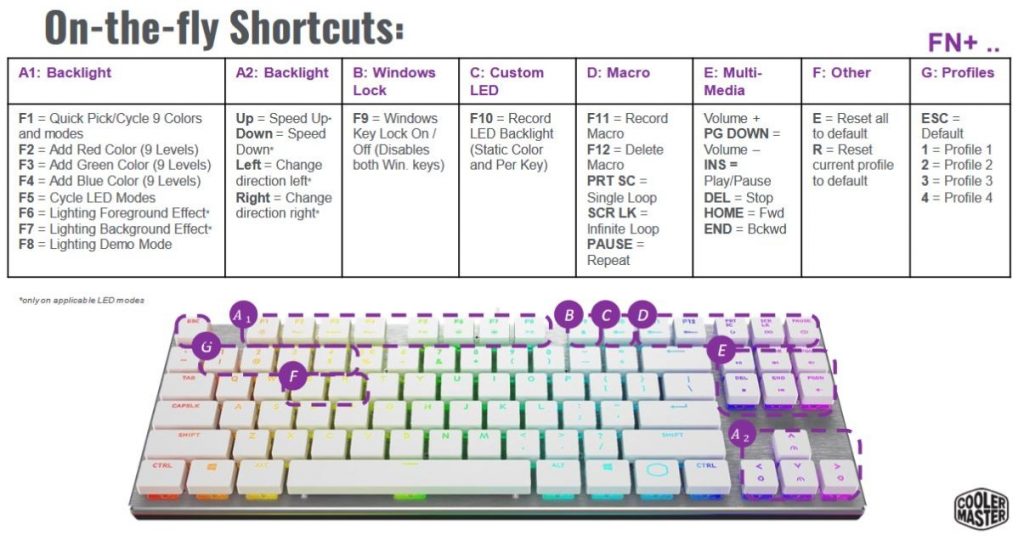 Performance and Usability
Mechanical keyboards are pretty much the only option high end system builders, gamers and content creators are looking for these days. While the technology has been pretty much mainstream over the past 10 years, there's still a lot of variation preference between different switch types (or colors), especially when you throw different manufacturers in to the mix. For more information, check out Jester's mechanical keyboard guide over in the forums.
Comfort & General Usability – Like its big brother, the SK650, this keyboard did take some getting use to, especially if you're not accustomed to typing on wide, flat keys. Typing on the SK630 is a lot like typing on a laptop with additional key travel. While there are many mechanical switch types, Cherry MX Red are not my personal choice as I prefer a bit more of a tactile feel. For some might take some getting use to, however this will definitely come down to preference. Having spent some time with the SK650, and through the course of typing out this review, at this point I feel completely comfortable typing on the Cooler Master SK630 White Limited Edition. Typically the Cherry MX Red switches offer little to no tactile feedback and offer a lighter actuation pressure. As far as I know Cherry only offers the slim switches in Red, so time will tell if or when other color variants are released.
As far as comfort goes, since the keyboard is pretty slim so I didn't find myself needing a wrist rest which was a pleasant surprise. As my go-to keyboard is a full size mechanical keyboard, I typically use a wrist rest to prevent fatigue. Such is not the case with the SK630 due to its slim design.
Performance – Gaming on the new Cooler Master SK630 White keyboard is absolutely stellar. Actions are blisteringly fast due to the low actuation point and because of the oversized keys, it's easy to move from WASD to target the "R" key to reload or what not. For a mechanical keyboard, the keys are much quieter than I was expecting. When comparing the sound generated from the keys to a traditional Cherry MX Red keyboard, the sound is drastically reduced. For gaming, at least to me, this is important as one less distraction is removed from the game.
One aspect of any keyboard, especially when gaming is key rollover. Often times, especially in games multiple key combinations are pressed at the same time. For a keyboard with no N-Key Rollover (NKRO) over USB support, key presses may be missed. Fortunately, most modern keyboards support NKRO and this includes the Cooler Master SK650. As a test, I should be able to press as many keys down as possible while taking a screenshot using my face. Let's give it a try with an online test utility:

This was as many keys as I could possible press while taking a screenshot with my face. As you can see, the software picked up 43 simultaneous key presses proving that NKRO did its job.
Final Thoughts and Conclusion
The Cooler Master SK630 White Limited Edition is a breath of fresh air in a world dominated by dark colored gaming peripherals. I already knew that the SK630 white would perform well, as the SK650 was one of the absolute best keyboards I've had the pleasure of testing which scored a fantastic 9.8/10.
While this will take some getting use to for most people who are coming from the standard keyboard with raised and beveled keys, the adaption period is pretty minimal. Overall, for a mechanical keyboard, the key presses are pretty soft are MUCH more quiet than you'd expect. I would liken the sound these keys produce to your typical (non-mechanical) keyboard.
With that being said, let's see how this keyboard did during our test.
Construction:  9.8/10 – Like its big brother, the keyboard is constructed just as well. The hard aluminum surface definitely adds to the overall rigidity of the keyboard. The keys are held on tight and produce very minimal tilt when pressed at the corner.
Performance: 9.9/10 – Again, this was another strong suit for the new keyboard. Other than the fact that this might take some users a week or two to get use to, there is really not a whole lot of negativity I can say about this keyboard.
Appearance: 9.8/10 – It looks great, It's killing me that I can't find any negatives here….
Value: 9.5/10 – MSRP for the Cooler Master SK650 is $139.99 USD which puts it in the mid-to-high end category. Keep in mind also that this is a limited edition keyboard. As with such, you'll expect to shell out between 10-20% more. Considering what you get, I'd say that this keyboard is probably on the more expensive side, but I believe that considering what you get, the price is justified.
Conclusion: Typically, I try to be as unbiased as possible when writing reviews however, this keyboard made it hard for that bias vibe to shine. The SK630 White Edition excelled in every category making this a highly recommended buy if you can get your hands on one!
Product Page: https://www.coolermaster.com/catalog/peripheral/keyboards/sk630-white/
Cooler Master SK630 White Limited Edition Review
"The Cooler Master SK630 White Limited Edition is a breath of fresh air in a world dominated by dark colored gaming peripherals."

9.8