We've reviewed a ton of keyboards here on GND-Tech, but none quite like this one. Today, we're taking a deep look into Logitech's latest offerings, the Logitech G915 LIGHTSPEED mechanical gaming keyboard, which is considered to be one of Logitech's best offerings. The 9-series keyboards which are apart of Logitech's "G" series lineup and geared towards serious gamers such as e-sports players, and PC enthusiasts who demand the absolute best. They are engineered with extreme durability and responsiveness in mind to provide the best gaming experience overall.
Probably one of the more noteworthy features which we'll dive into later in greater detail, is the LIGHTSPEED Wireless technology which provides an ultra low latency connection to the keyboard from the receiver dongle. Other features such as full RGB lighting support, G-Hub software integration, dedicated macro keys, and awesome battery life are also some of the major highlights of the G915 LIGHTSPEED. Oh, and don't forget you get all that in an ultra-slim package that also features low profile key switches!
In this review, we'll be looking at the "Clicky" version which features GL Clicky keys. For those of you familiar with some of the basics of mechanical keyboards, these are probably most comparable to your classic Blue switch type. With that being said, let's jump into the review by first taking a look at some of the keyboard's features and specs!
Logitech G915 LIGHTSPEED Specifications
The G915 Lightspeed is Logitech's latest and probably most technologically advanced keyboard to hit the market. Its overall design consists of a full-size layout which features full ten-key number pad as well as a few extra macro keys to the left side making the keyboard quite wide overall.
The keyboard is insanely thin so you'll likely never need to bother with a palm rest. The base stands less than 1/2″ tall with the slim mechanical keys mounted directly on the surface. Below are the detailed specifications of the G915 LIGHTSPEED provided by Logitech:
Model Name
Logitech G915 LIGHTSPEED Mechanical Gaming Keyboard
System Requirements

LIGHTSPEED: USB port and Windows 7 or later, macOS X 10.11 or later
Bluetooth®: Bluetooth enabled device with Windows 8 or later, macOS X 10.11 or
later, Chrome OS, or Android 4.3 or later, iOS 10 or later
(Optional) Internet access for Logitech G HUB

Mechanical Key Specifications

GL Tactile Switch

Feedback Type: Discernable
Actuation Distance: 1.5mm
Actuation Force: 50gf
Total Travel Distance: 2.7mm

GL Linear Switch

Feedback Type: Smooth
Actuation Distance: 1.5mm
Actuation Force: 50gf
Total Travel Distance: 2.7mm

GL Clicky Switch

Feedback Type: Audible and Tactile
Actuation Distance: 1.5mm
Actuation Force: 50gf
Total Travel Distance: 2.7m

Battery Life

135 Days (RGB disabled)
12 Days (RGB enabled)

Dimensions

Length: 475mm (18.7 in)
Width: 150mm (5.9 in)
Height: 22mm (0.9 in)
Weight (w/o cable): 1025g (36.2oz)

Warranty
2-year limited hardware warranty
Pretty impressive battery life overall. Even in full rainbow RGB mode, you can almost get two weeks worth of use. Disable the RGBs and you're looking at 135 days! It should also be noted that this keyboard doesn't use exchangeable batteries. The internal battery is charged via a micro USB port which will allow you to charge the keyboard while using it.
Now that we're all G915 LIGHTSPEED experts, let's dive into the review and get this thing unboxed!
A Closer Look: Unboxing
The Logitech G915 LIGHTSPEED arrived in perfect health to our undisclosed GND-Tech headquarters despite a few apparent drop-kick attempts by our local mail courier.
The outside of the box features the G915 model number nice and big and offers some nice photography of the keyboard as well. The switch type is displayed on the top right so be sure to double check this before purchasing the keyboard. The backside of the box provides some description to a few of the features such as Lightsync RGB, AL-MG Aluminum construction, mechanical key description as well as Lightspeed Wireless info.
With the outer seal cracked open, we get a better feel for how this thing is packaged. The keyboard is sandwiched in between protective layers of cardboard as you can see below. Around the edges of the G915 is a custom soft plastic mold to keep the unit from shifting around during transit.
Once the keyboard is lifted out, you've got more goodies to unbox. This include the Micro-USB cable, LIGHTSPEED USB Dongle and adapter, and a packet containing install instructions and warranty information.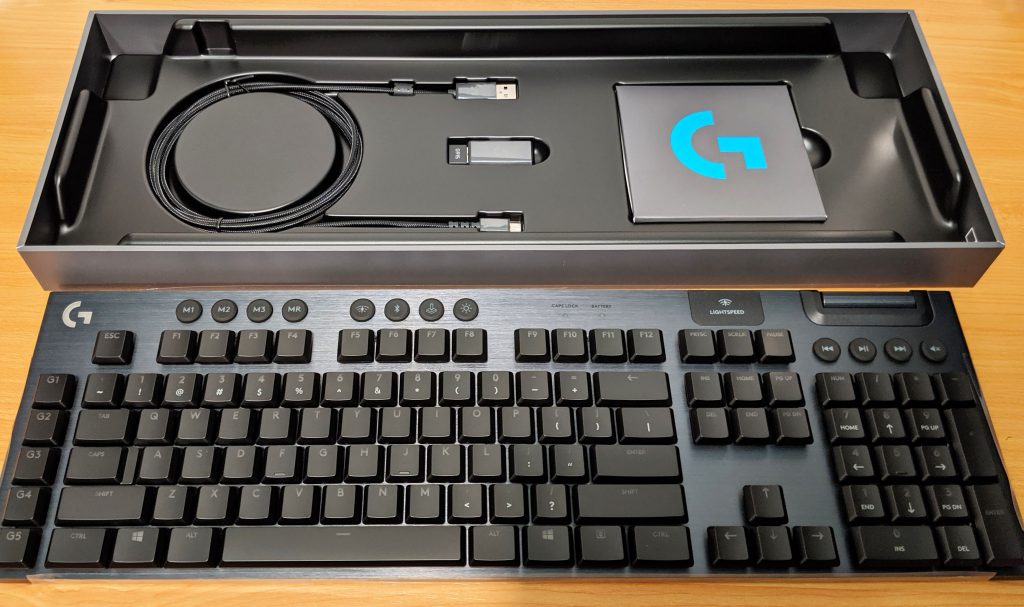 To further protect the keyboard from shipping mishaps, the backside and edges are wrapped in plastic to prevent scuffing.

Overall, the keyboard is packaged well. It would take nothing short of an absolute royal f*uck up by your mail person to actually damage this thing during shipping. ?
An Even Closer Look…
Now that we've got the keyboard completely unboxed, let's walk around the G915 LIGHTSPEED and examine some of its features.
First, I gotta say I love the overall dark, brushed aluminum look. This was one of the reasons I loved the Logitech G513 Carbon which we reviewed earlier. I'm happy to see this color scheme live on with this board. The design is very… Logitech and I love that. To me Logitech peripherals have always had that classic gray and black color scheme, and I'm glad to see these new top-tier peripherals following trend.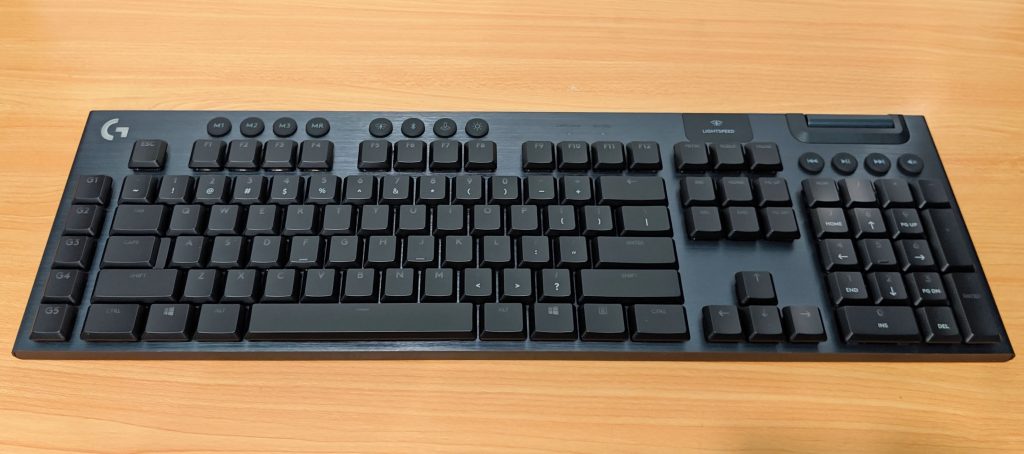 The dark brushed aluminum looks really good and adds a ton of character to the keyboard. I really like the round edges as you can see in the image below. Not a very common design choice as it seems most manufacturers now days are going for the hard edge look.
Also, note that the individual mechanical key switches are mounted directly to the surface of the keyboard. Not only does it look good, but makes periodic cleaning a breeze!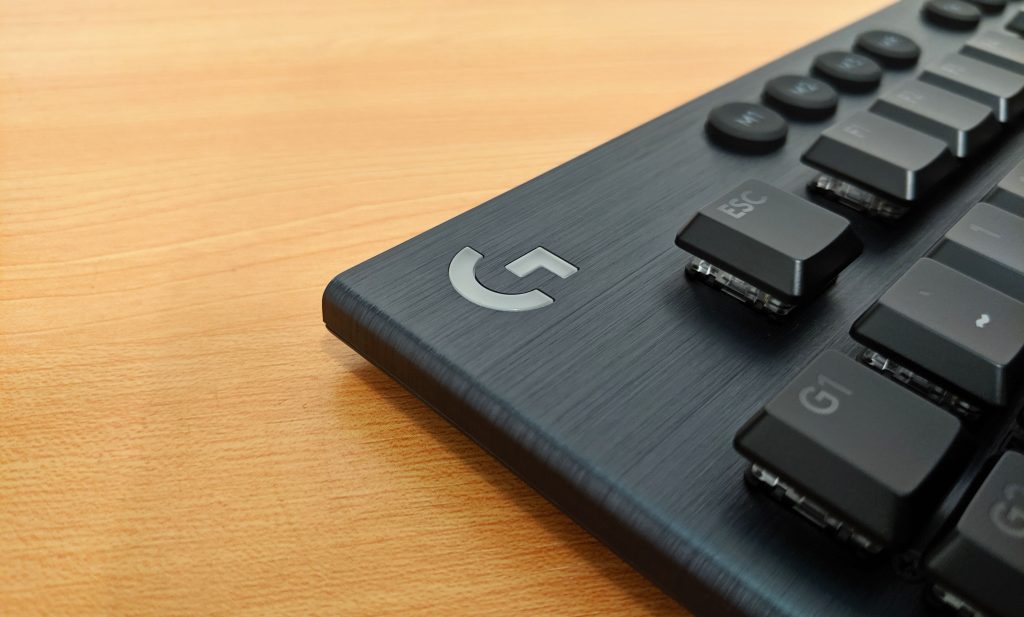 The top right side is where you'll find your media buttons. The big scroll wheel at the top is your volume control (by default). It's big and actually kinda fun to just play with if you're bored.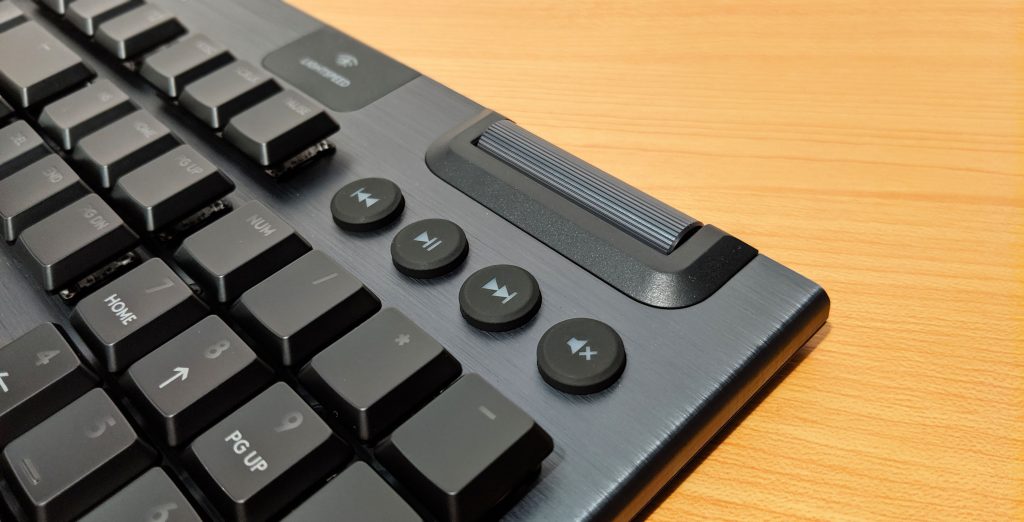 Located above your F-keys are a few more custom buttons. The "M" buttons toggle the different keyboard profiles. To the right you've got your Lightspeed connect button, Bluetooth, Game Mode, and RGB Lighting button.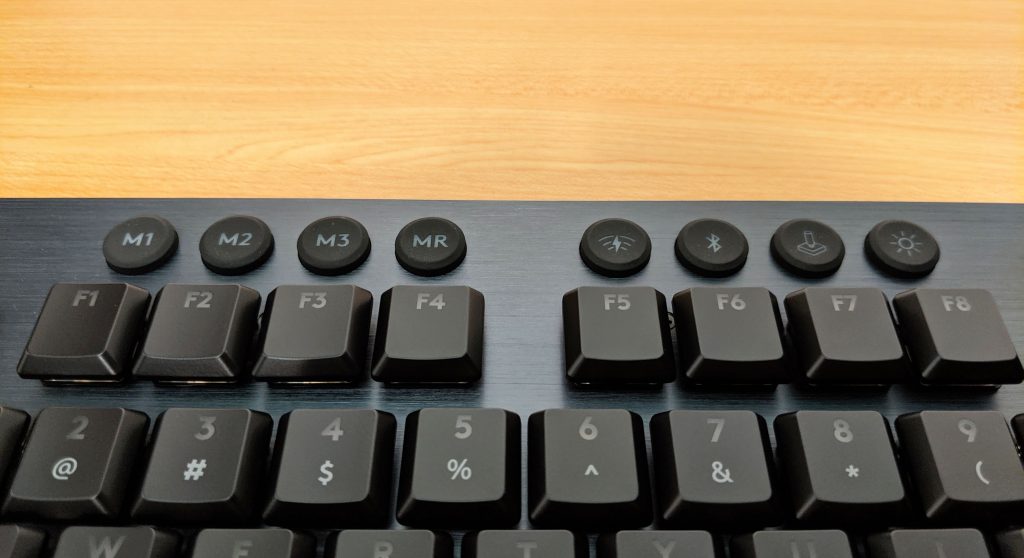 Moving over to the back side of the keyboard, there's a few things worth mentioning there. First, just behind your profile keys is the main power toggle switch. A bit to the right is the Micro USB connector. And…. this is where my first gripe comes into play. In a world rapidly moving away from Micro USB in favor of the much more hearty and featureful USB Type-C, I'm surprised that Logitech opted for the Micro port on its pinnacle keyboard. While it doesn't impede function at all, going the Type-C route would inspire that much more confidence that this is truly a top tier keyboard for the modern age.
I really like the key caps Logitech opted for. I've reviewed a few slim mechanical keyboards in the past that used flat keys instead of beveled. For gaming, flat keys are fine, however, when it comes to typing, they can be pretty false positive heavy. I'm definitely a fan of the beveled keys to provide a bit more isolation.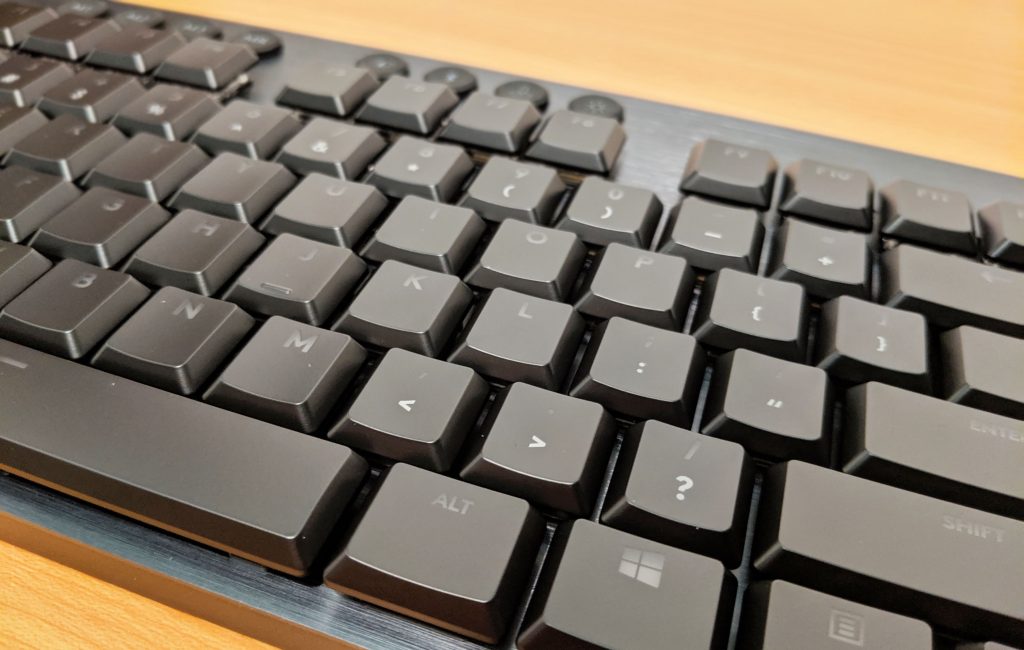 Here you can get a better look as to just how slim the Logitech G915 LIGHTSPEED keyboard is. It's quite impressive and I have to say looks really good when it's flat down on the desk.
With the keyboard flipped upside down, let's have a look at the bottom. I'm liking all the grippy pads which should keep this keyboard planted in place during even the most intense gaming match. The rear mounts feature two separate settings allowing the user to tilt the keyboard up by either 4 degrees or 8 degrees.
Lastly, here's some better shots of the included items that come with your G915. These include the braided Micro USB cable, the Lightspeed Dongle and adapter, a Logitech sticker, instruction booklet and other info such as warranty details.
R

G

B

On!

Flipping the toggle switch on the back of the keyboard instantly presented us with waves of beautiful RGBs! The main logo located at the top right also lights up. At this point I'll just let the pictures do the talking.

My only gripe with the RGB's is that the shift toggled options don't light up as you can see in the image below. After pulling a key cap off, it appears to be a limitation of the built in LED located inside the mechanical switch. Overall, the LEDs are quite bright and contrast nicely with the overall dark color scheme.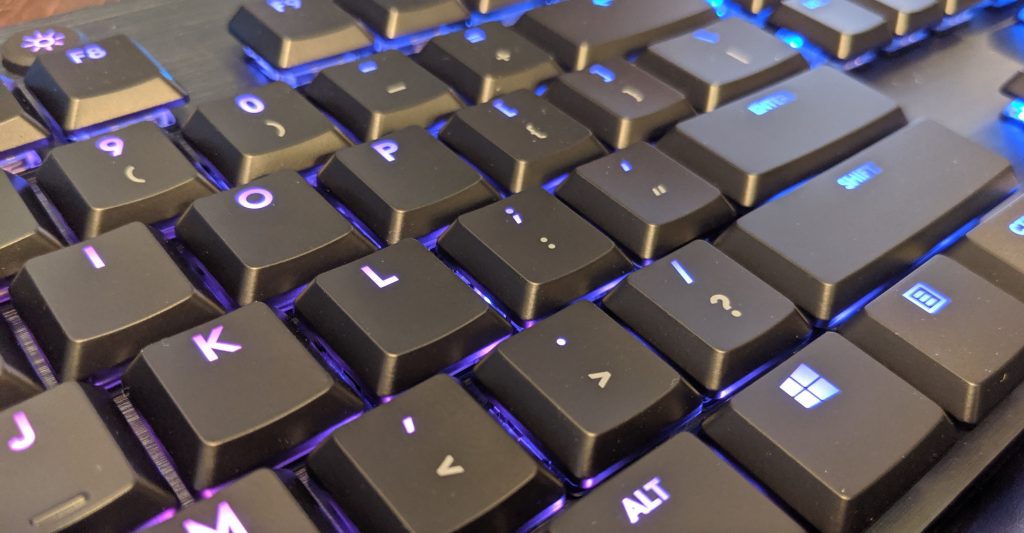 Here's a shot of the low profile GL Clicky mechanical switch.
Mechanical Switch Details
The Logitech G915 LIGHTSPEED can be configured with either GL Tactile, GL Linear or GL Clicky switches. As mentioned earlier, we're reviewing the GL Clicky version. Here are the detailed specifications for each switch type:
| Switch Type | Total Travel | Actuation Distance | Average Force |
| --- | --- | --- | --- |
| GL Clicky | 2.7mm | 1.5mm | 50g |
| GL Tactile | 2.7mm | 1.5mm | 50g |
| GL Linear | 2.7mm | 1.5mm | 50g |
| GX Blue | 4.0mm | 1.9mm | 50g |
| Romer-G | 3.2mm | 1.5mm | 45g |
| Cherry MX Blue | 4mm | 2mm | 50g |
As you can see each switch type featured in the G915 offers the same travel, actuation distance, and pressing force. The only difference between the keys is the overall tactile feedback and sound. When it comes to the GL Clicky keys, personally, I'm not a huge fan of loud mechanical keyboards. I'm more of a tactile/brown user. However, I absolutely love the sound of the GL Clicky keys. The key press is ultra crisp and the mid click sound you get as the key actuates, is very tinny sounding like nothing I've heard before. If you get a chance to try this keyboard out in a retail store, definitely pay attention to the sound as it's very unique.
After closer examination, I discovered that these GL switches are produced by Kalih under the part number PG1232. According to Kalih, the PG1232 switches promise a lifecycle of 25 million key presses. For those interested, check out Kalih's website for more info.
Here's a shot of the GL Cliky key next to the traditional GX Blue switch for size comparison:
Testing and Performance
General Typing – Typing on the Logitech G915 is an absolute blast! As I mentioned earlier, I love the sound the GL Clicky keys make which add to the fun. Thanks to the beveled key design, transitioning to this keyboard from a traditional keyboard shouldn't take much effort at all. In fact, thanks to the really small actuation distance, your WPM will likely increase due to the less time it takes to press a key.
Gaming – Personally, I love to game, however I'm a far cry from a professional gamer who might leverage this keyboard to its full potential. However, that being said, It did feel like my in-game actions were a bit more crisp and well defined. Again, this is likely due to the very short actuation distance.
I know a lot of pro gamers out there are a bit nervous when it comes to wireless keyboards, and for good reason. Traditionally, wireless = latency and latency = bad. Logitech as attempted to remedy this with its Lightspeed technology which offers extremely low latency compared to traditional wireless methods. I highly recommend heading over to Logitech's website to read up more on this new technology.
If Lightspeed isn't your jam, then you've also got the option to pair the keyboard directly with your PC via Bluetooth or simply ditch wireless altogether and use the USB cable. As a test, I tried both Lightspeed and Bluetooth, and personally I couldn't detect any difference in key lag…. not that there was any to begin with. In a nutshell, keypresses on the Logitech G915 are instant regardless of connection medium from what I could tell.
Battery Life
According to Logitech, you can expect ~135 days of usage without RGB lighting enabled. With RGB's on, that number is cut way down to 12 days so it's clear what uses most of this keyboard's power.
As a test, I charged the keyboard up to 100% (arrived at around 50%) and gamed in full RGB mode for about 5 hours with the occasional break in between. After the 5 hours, battery life was down to 86%. Not bad overall, however it's clear that the 12 day rating is not a measurement of continual use. To test the keyboard with the RGB lighting off would require more time then I currently have available, however, I'll update this review at a later date with my findings.
Overall, decent battery life and since  the G915 is easy to charge, the inconvenience factor is pretty low.
Software Configuration
Software for the keyboard is managed by Logitech's new G-Hub Software suite. The software allows for easy integration with other Logitech products as well for tasks such as syncing lighting and more. Using G-Hub, you're able to manage the color profile and effects of the RGB LEDs, set custom macros, and manage game-mode settings.
Also, take a look at the Settings section by clicking the gear icon in the top right. Here you can manage firmware updates, and view a bit more information about your G915 Lightspeed.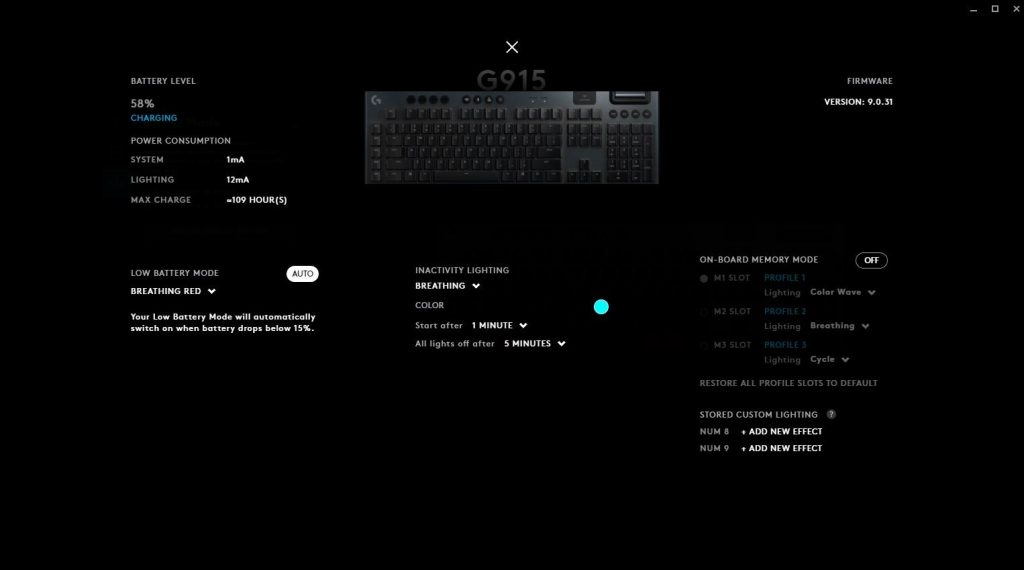 Final Thoughts & Conclusion
The Logitech G915 LIGHTSPEED mechanical gaming keyboard was an absolute blast to test. Personally, I've never been a fan of clicky keys, however that changes today. The crispness of the click was almost cathartic and I'd find myself clicking the keys just for fun sometimes in between flights in Destiny 2. The overall slim and stealthy look of the keyboard is just fantastic and I love that still carries the traditional dark Logitech color scheme that's been in existence since my old Logitech G15 Keyboard from the days of yore.
My only two gripes with the G915 is the use of an outdated Micro USB port. Technology is moving away from that standard so much that other keyboard we've reviewed in the past have mostly adopted USB Type C. I also wish that the backlighting of the keys was a bit more pronounced. The LEDS are bright, I just wish that the coverage was a bit better.
Anywho, let's dive into the scoring. We'll judge this keyboard based on several categories to produce an average score at the end.
(2-Month Update: I've been using this unit as my main desktop keyboard for 2+ months at this point. It's still going strong through a steady mix of gaming and typing. Key caps are still in great shape and battery life has not degraded.)
Construction:  9.0/10 – Overall, the keyboard is extremely well built. The only ding here is the adoption of the Micro USB port.
Performance: 9.8/10 – Typing and gaming on the G915 Lightspeed is fantastic. Each key press is crisp and concise regardless of the the connection medium. Absolutely no lag was detected using either the Lightspeed, Bluetooth, or wired connection.
Appearance: 9.5/10 – The keyboard looks fantastic. The overall color scheme is great, and I love the RGB lighting options. Again, the only ding here is due to the coverage issues I mentioned earlier.
Value: 8.7/10 – MSRP for the G915 Lightspeed is $249.99 USD which puts this keyboard into the ultra high end category. Considering all of its features, and overall construction, I'd say that the price is justified, however it will not appeal to everyone.
Product Page: https://www.logitechg.com/en-us/products/gaming-keyboards/g915-low-profile-wireless-mechanical-gaming-keyboard.html
Buy on Amazon: Logitech G915 LIGHTSPEED
Logitech G915 LIGHTSPEED Mechanical Gaming Keyboard Review
"...an absolute blast to test!"

9.3