This week we've got something on the review table that is definitely outside the norm for GND-Tech, a headset stand by Cooler Master. With the tagline of "More than Just a Stand", this appears to ring true as the new GS750 packs in more features than you'd think at first glance…
First, the metal headset stand is first and foremost, just that: A stand. But if you dig a little deeper you start noticing other interesting features. Some of these include a USB 3.0 hub as well as a built in audio controller which is compatible with 7.1 surround sound headsets such as the Cooler Master MH752 we reviewed earlier. Dig even deeper and you'll discover that this stand's base plate also has the ability to charge wireless charging capable devices such as your phone!
On paper, the MH750 definitely seems interesting and we're excited to jump into this one! Let's first take a closer look at some of this things features and specs.
Header image credit: Cooler Master Technology
Cooler Master GS750 Features and Specs
For a headset stand, the Cooler Master GS750 appears to be the Swiss Army knife version. Not only do you get a USB 3.0 Hub, audio controller, Qi Wireless charging, but you also get RGB LED controls. The stand features a band of 13 diffused LEDs the run around the bottom perimeter of the base which are customized via the Cooler Master Portal software which can be downloaded here.
Below are the stand's official specifications provided by Cooler Master:
Product Name
MasterAccessory GS750 (MPA-GS750)
Base Color
Black
Material
Arm:Aluminum
Base: Plastic, Rubber
Number of LEDs
13 RGB LEDs
Interface
2x USB 3.0
3.5mm audio Jack/Mic Combo
Audio
USB audio codec with 3.5mm jack
7.1 surround sound, bass and treble
Power Adapter
18Watt
Adapter Cable Length
1.3m
Wireless Charging
Qi Standard Certified up to 10W
Smart Micro Processor
Prevents overheating, overcharging and prevents charging when a foreign object is detected on the pad.
Wireless charging area
Top of base, centered on the CM logo.
Software Support
RGB, Audio equalizer controls
Item Dimensions
10cm x 15cm x 28.5cm
Next, let's jump into the review and get this thing unboxed!
A Closer Look: Packaging & Unboxing
The outside packaging of the Cooler Master GS750 features the traditional black and purple color scheme we've seen on most other Cooler Master products we've reviewed in the past. The front of the box features a picture of the stand along with the model number and a few highlighted features. The back of the box goes into a bit more detail with a fully loaded image of the stand.
With the outer seal cracked open, we get a better idea as to how this thing is packaged. The unit sits in the center of the box with two large padded foam blocks on either side. The foam is very squishy and should absorb all but the most extreme mishaps from your local mail courier.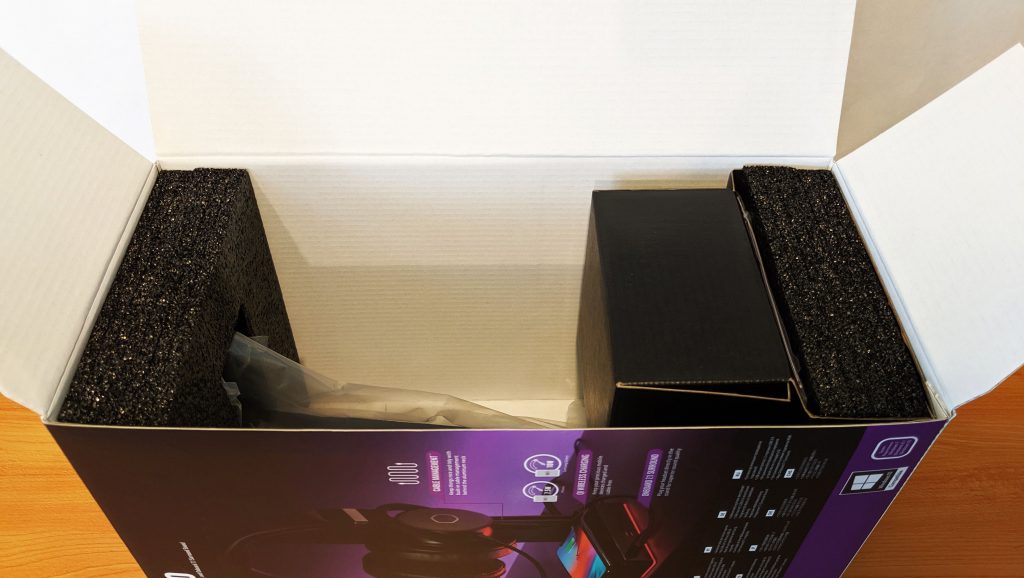 You get a better view as to how the stand is packaged once it's out of the box. Attached to the base is another box which contains all of the other accessories which is pretty much cables.
With the stand out of its protective packaging, we get a better look as to what all is included.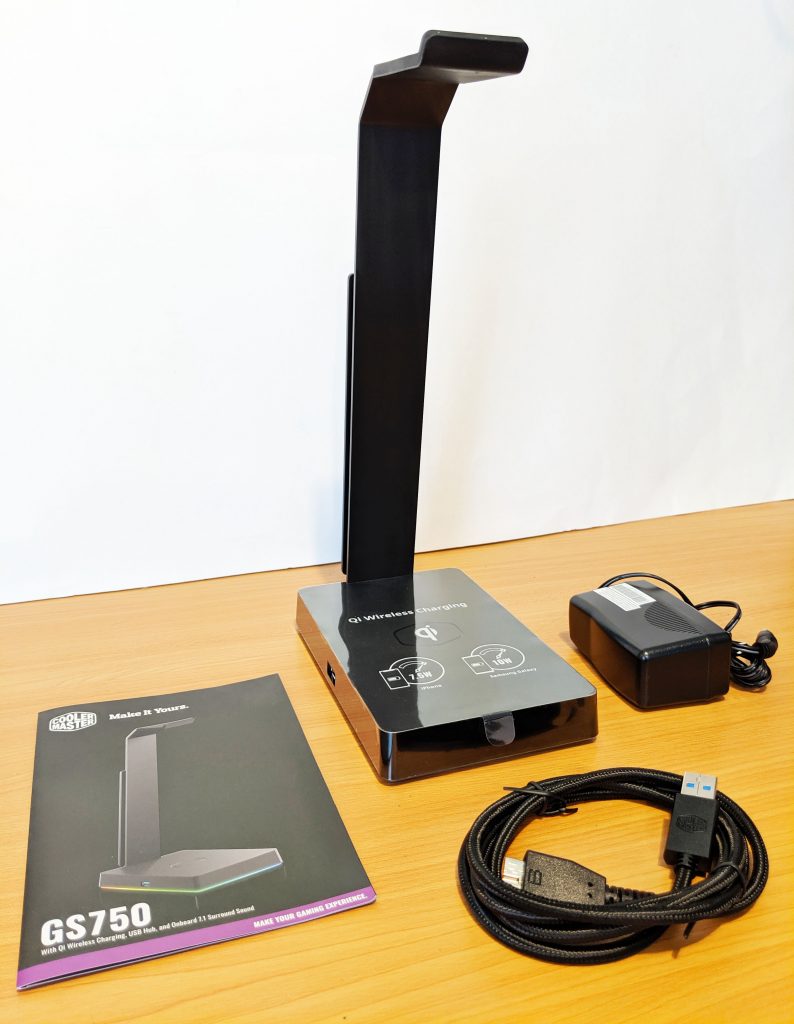 An Even Closer Look…
Now that we've got the Cooler Master GS750 unboxed, let's walk around this thing and go over its many features in detail. The first thing that caught my eye is how thick the aluminum metal stand actually is. Cooler Master did a good job ensuring that this thing will last by overbuilding some of the key components. Overall, the stand is quite solid feeling and definitely does not feel cheap in any way.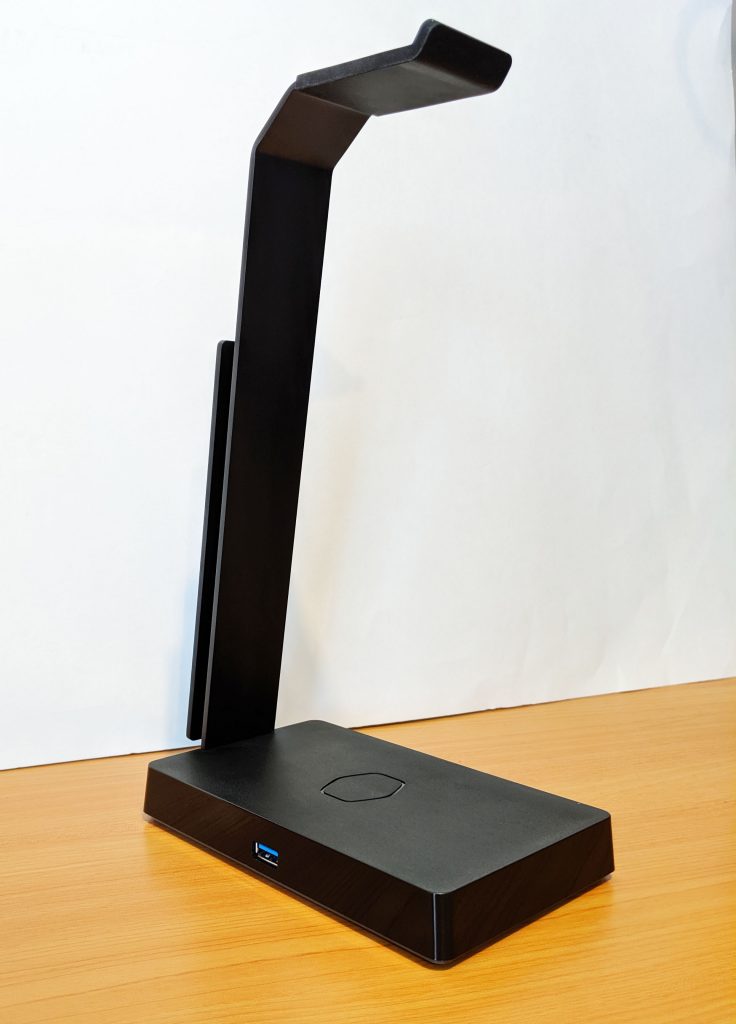 The base is where most of the action is going to be. Here, you've got your USB 3.0 ports (one on each side), a 3.5mm audio/mic jack combo port (left) as well as your Qi Wireless charging pad on top. According to Cooler Master, the charging unit is directly behind the top logo.
The base is constructed of plastic except for the bottom which consists of mostly rubber. The top of the base is textured while the sides are reflective.
The top "hook" area of the stand is where you'll hang your headset. This features a grippy rubber texture to keep your headset protected as well as provide grip to keep it from slipping.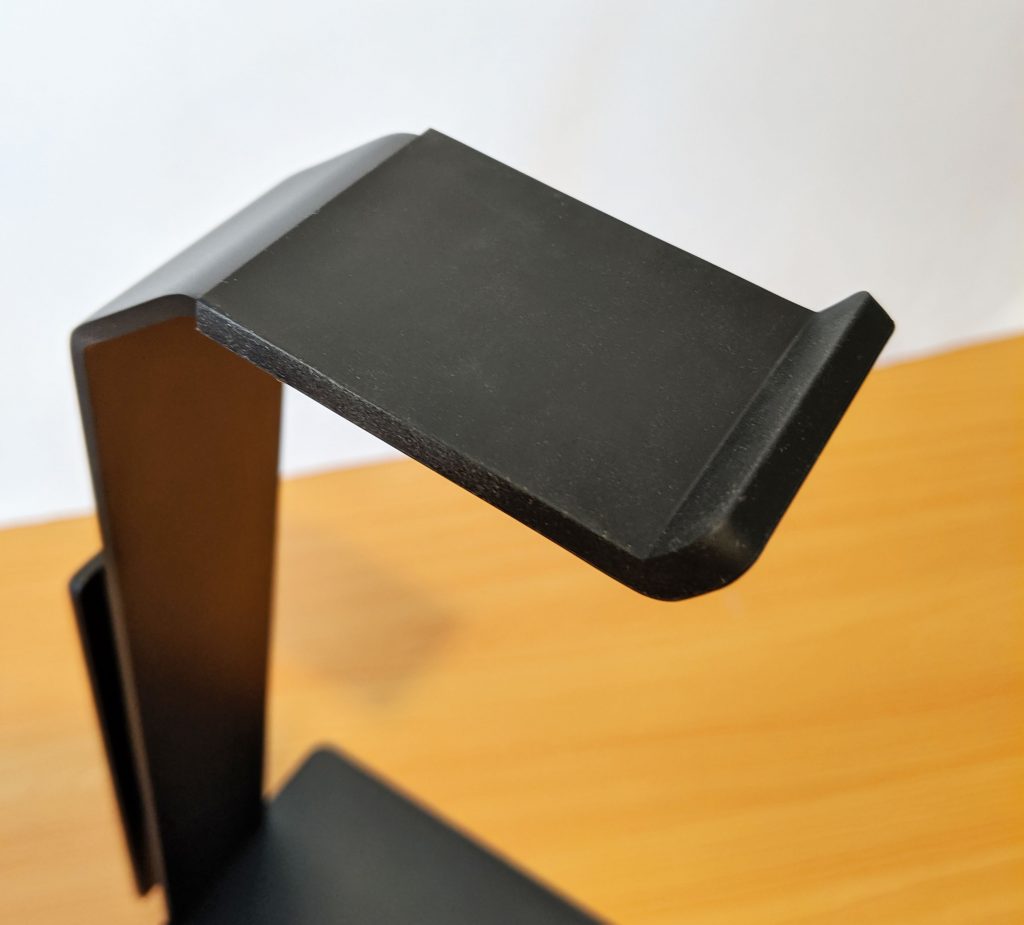 Another thing worth mentioning is located on the back of the arm is an area for you to wrap your headset's cable when not in use which is another great way to reduce some of that desk clutter. The back of the base has two ports, a single DC power connector plug which is required for Qi Wireless charging, and a USB 3.0 input plug which will attach the stand to your PC.
The included USB 3.0 cable is braided and appears to be of pretty good quality. The DC power cable is overall pretty standard.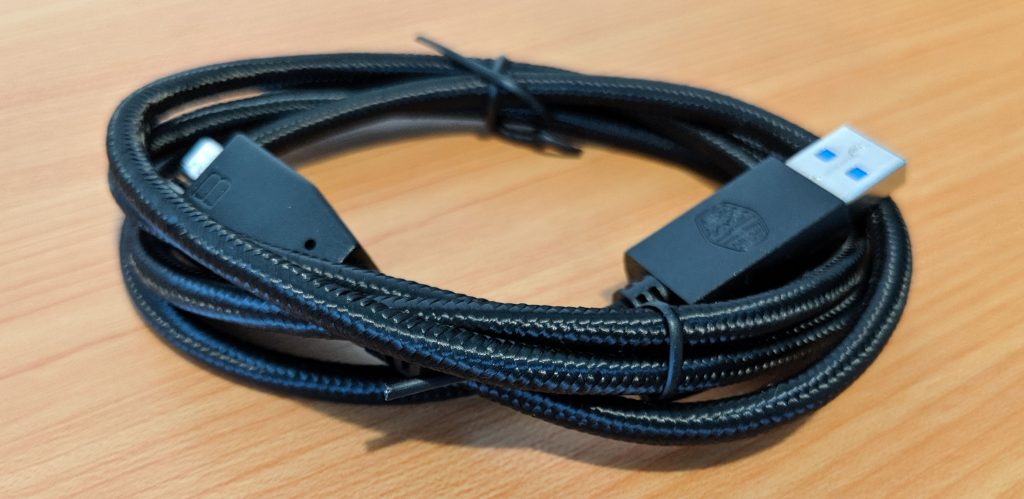 Next, let's plug this thing and and see what those RGB LEDs can do! Might as well grab a headset while we're at it…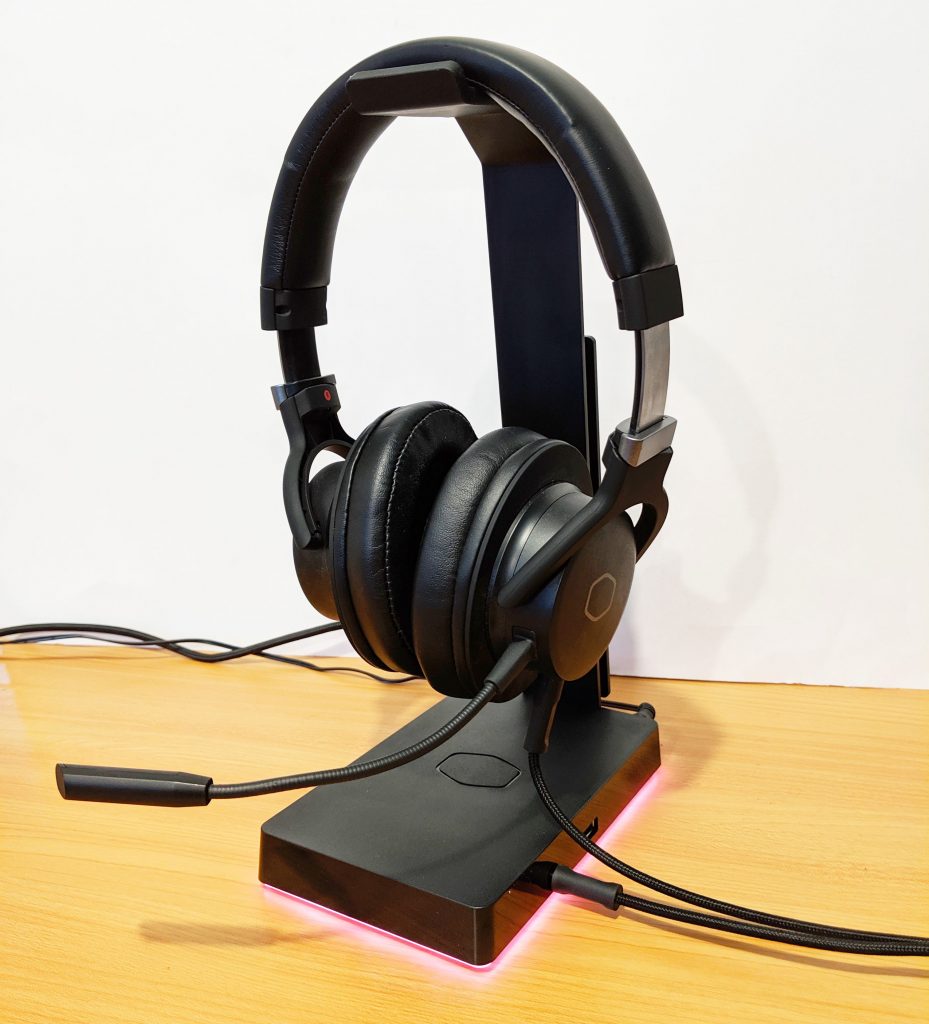 Overall, the Cooler Master GS750 is a pretty good looking stand which looks even more eye-catching once you give the RGBs some power! There are several RGB effects which can be customized via Cooler Master's software which we'll go over in detail later.
If you end up using this base with a 7.1 capable headset such as the MH752, you technically won't need to use the headset's included USB controller as this base has that functionality already built in.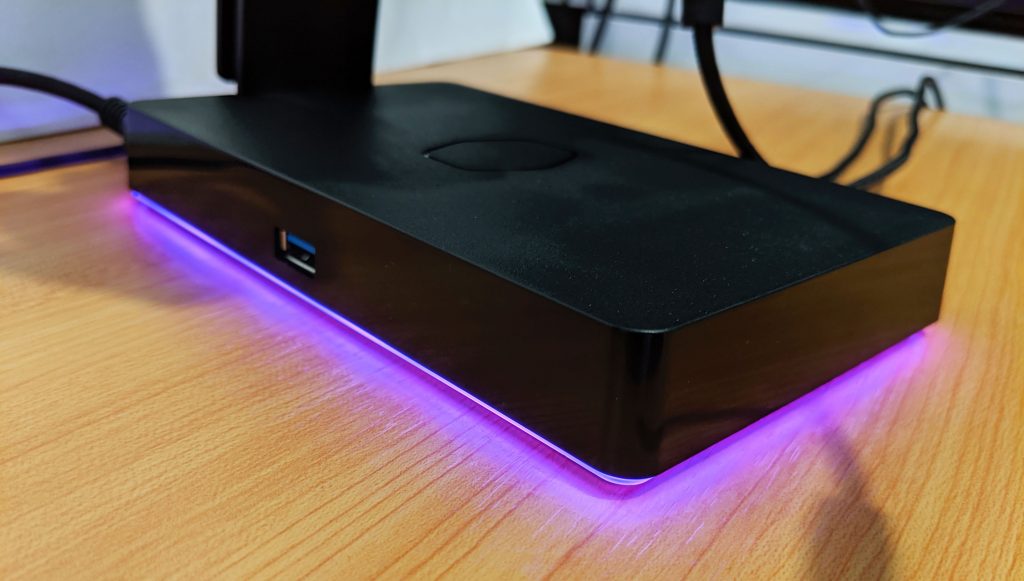 As you can see at the bottom we've got our rubberized base with RGB lights which go almost all the way around the outside.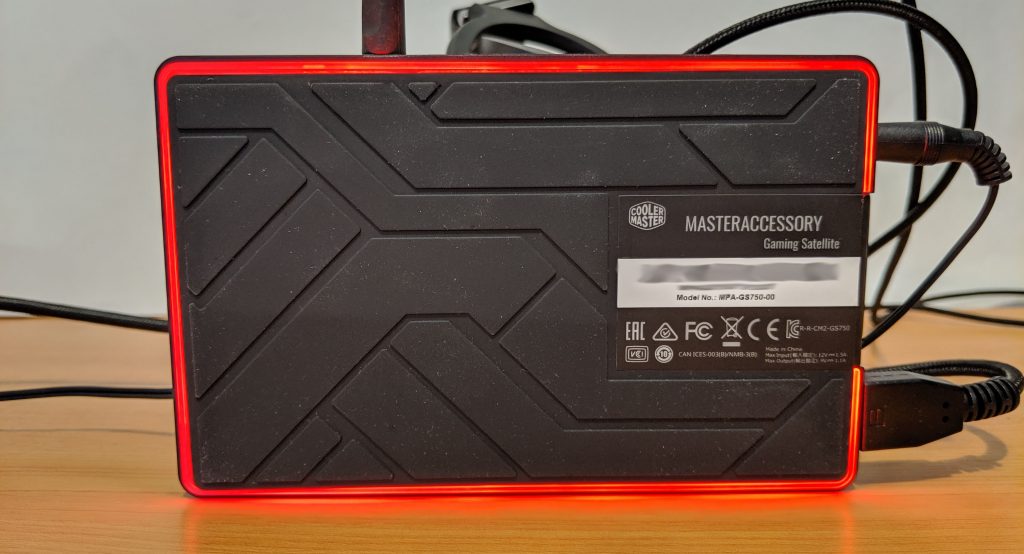 The stand definitely passed the Qi Wireless charging test as once I placed my phone down on the base it immediately began charging. Keep in mind that the wireless charger is directly under the CM logo, so you might need to position your phone around a bit to get it to work. Interference such as a phone case might also hinder the stand's charging capabilities, however in my case, the base had no issues charging my phone whether or not the phone case was in use or not.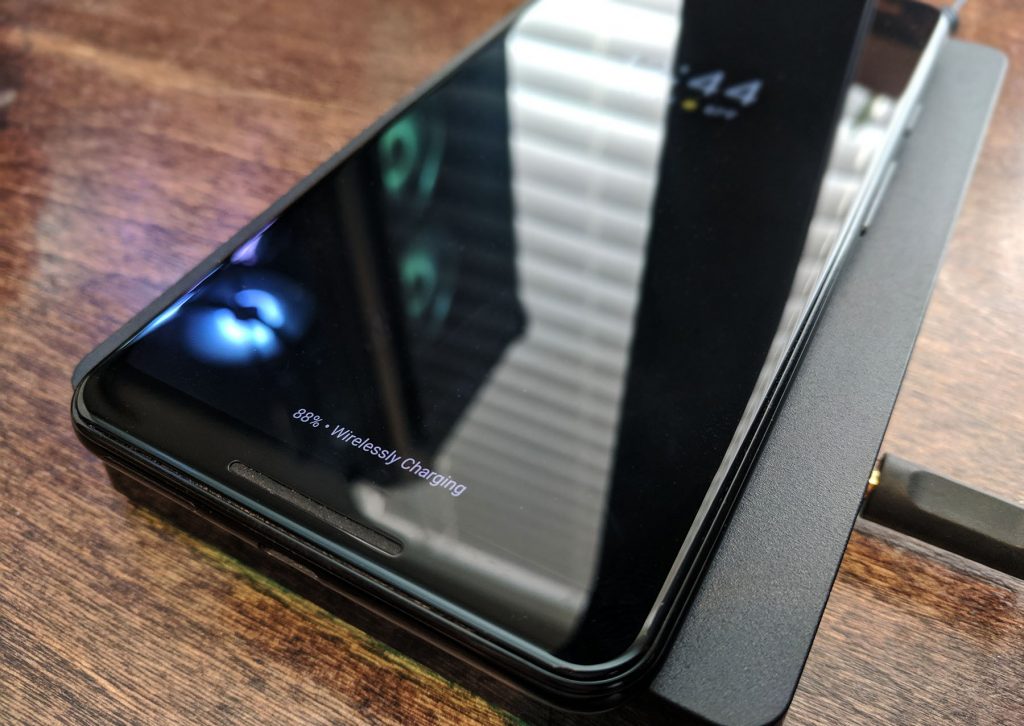 As for the audio capabilities of the Cooler Master GS750, sound came through loud ad clear through the MH752 I used to test it with. The quality of the audio was identical to the included USB controller that came with the headset. I tested the sound before and after installing the official Cooler Master software, and I couldn't find any distinguishable difference in audio pre and post install.
One thing to keep in mind is that windows detects this stand as a "Speakers (USB Audio Device)".
GS750 Software
Lately, Cooler Master's peripheral control software has been fantastic to say the least. Regardless of hardware being used, the layout is pretty universal and very easy to navigate. The same holds true with the GS750's software which is installed through the Cooler Master Portal.
Once the software is installed, upon first launch it will automatically detect whether or not there are any software or firmware updates available. I definitely recommend updating software as it is released as it can contain important bug fixes or security updates.
In a nutshell, the software contains three main tabs, Lighting, Sound, and 7.1 Surround Sound. The Lighting tab allows you to adjust the RGB LEDs on the outside perimiter of the stand. There's a few options that allow the user to configure the colors and effects. I definitely recommend spending time in each tab and customizing them to your liking.
Final Thoughts & Scoring
The Cooler Master GS750 headset stand is definitely the Swiss Army knife of headset stands and couples enough features to spark some serious interest. After using the stand for a few days, I really like how much "clutter" the stand ended up removing from my desk. Typically, I'd have a wired phone charging cable and a long headset cable running to the PC, both of which this device ended up mitigating. Having a USB hub in arms reach is also handy for things like USB flash drives.
Next, let's break this product down based on several categories which will end up producing our final score:
Construction:  9.6/10 – Overall, the stand is very well made. Not a lot to complain about here other than maybe the power adapter is pretty basic.
Performance: 9.5/10 – The GS750 does all that was advertised. The Qi charging worked great, the audio sounded nice and worked well and the USB 3.0 ports offered great performance.
Appearance: 9.1/10 – I love the minimalistic look overall, and with a splash of RGB LEDs, this stand really pops.
Value: 8.2/10 – MSRP for the GS750 is $79.99 USD which might be a hard sell for some as . Personally, I think that the price is justified considering its many features.
Cooler Master GS750 Review
"the Swiss Army knife of headset stands"

9.1