Gaming speakers are a must when it comes to modern PC gaming systems; gaming speakers with RGBs? That's a straight up NEED. To remedy this, Logitech has released just such a speaker system that provides stunning RGB effects as well as RGB back lighting which projects itself out the rear of the speaker for ambient lighting behind the monitor. The Logitech G560 features a 2.1 speaker configuration, meaning sound is provided by two satelite speakers and a center subwoofer.
Modern connectivity features such as Bluetooth are also incorporated which will free you up one more wire if you opt not to use the standard 3.5mm speaker jack. Audio over USB is also supported. Probably one of the more noteworthy features is the use of Logitech's LightSync technology which when used with the G560 svpeakers can transform your synchronized lights to emit light based on average colors on specific areas of your monitor, respond to audio rhythms, or display dozens of pre-included lighting effects. All of this is managed by Logitech's new G Hub Software which can be downloaded directly from Logitech's website.
Now that we've got a better feel for what we're working with, let's dig into the review by first examining the speaker's specifications in detail.
Logitech G560 Speaker Specifications
As far as speakers go, the Logitech G560 comes packed with more features than I think I've personally seen. Front and rear RGB lighting, tons of connectivity options such as Bluetooth, impressive software control to name a few.
On paper, audio specs look pretty good. The total output power for all three satellites is 240W peak power and 120W RMS. I was unfortunately unable to find any detailed specifications as to the actual speakers and subwoofer. The subwoofer appears to feature a 7″ down facing driver housed in a vented wooden box.
Below are the detailed specifications for the speaker system provided by Logitech:
Logitech G560 Speaker Specifications
Model Number
G560
Frequency Response
40 Hz – 18 KHz
Max SPL
97 dB @ 426B
Sensitivity
84 dB @ 1m/1w
Input impedance
10 K ohm
Total watts (peak)
240W
Total watts (RMS)
120W
Bluetooth version
4.1 (25M Range)
USB input
1
Headphone jack
1
Dimensions
(Satelite Speakers)

Height: 148 mm
Width: 166 mm
Depth: 118 mm
Weight per pair: 1.79 kg

Dimensions
(Subwoofer)

Height: 404 mm
Width: 255 mm
Depth: 207 mm
Weight: 5.5 KG
According to Logitech, the G560 requires Windows 7, 8.1, 10, or Mac OSX for full software support. Now that we're all certified Logitech G650 experts, let's dig into the review by first taking a look at the speaker's packaging!
A Closer Look: Packaging
The Logitech G560 arrived at our GND-Tech HQ testing facility in a perfect bill of health, unscathed by our local mail courier.  The outside packaging is about as impressive and eye catching as it gets. The box features a depiction of the speakers emitting blue and orange RGB lighting instantly showing off some of the cool capabilities of LightSync.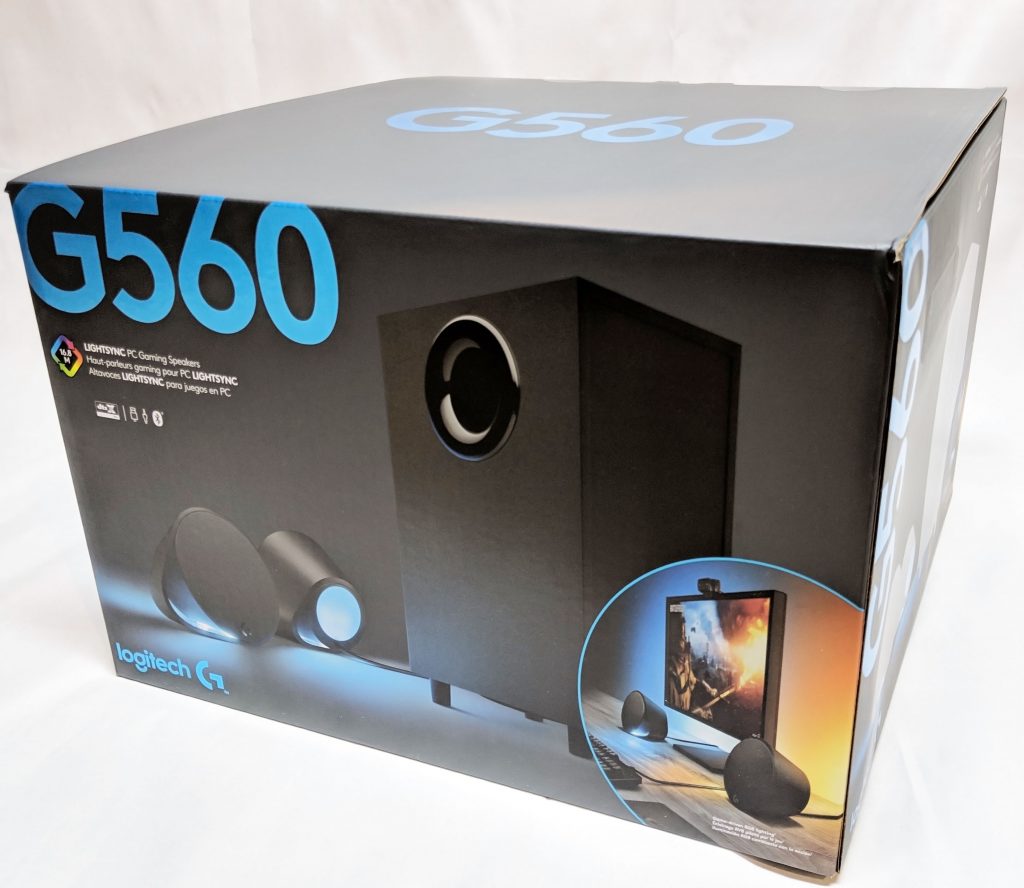 G560 Logos are highlighted all around so you definitely know what you're buying. Both the front and left side of the box provide a few details about Logitech LightSync technology as well as a few connectivity features. The back of the box contains even more details translated into several different languages. Overall, I'm liking the packaging! Logitech definitely did a good job making the purchaser feel like they're buying something special and unique.
Next, let's crack the outer seal and examine exactly how this thing is packaged. The first thing that jumps out at you is Logitech welcoming you to the club!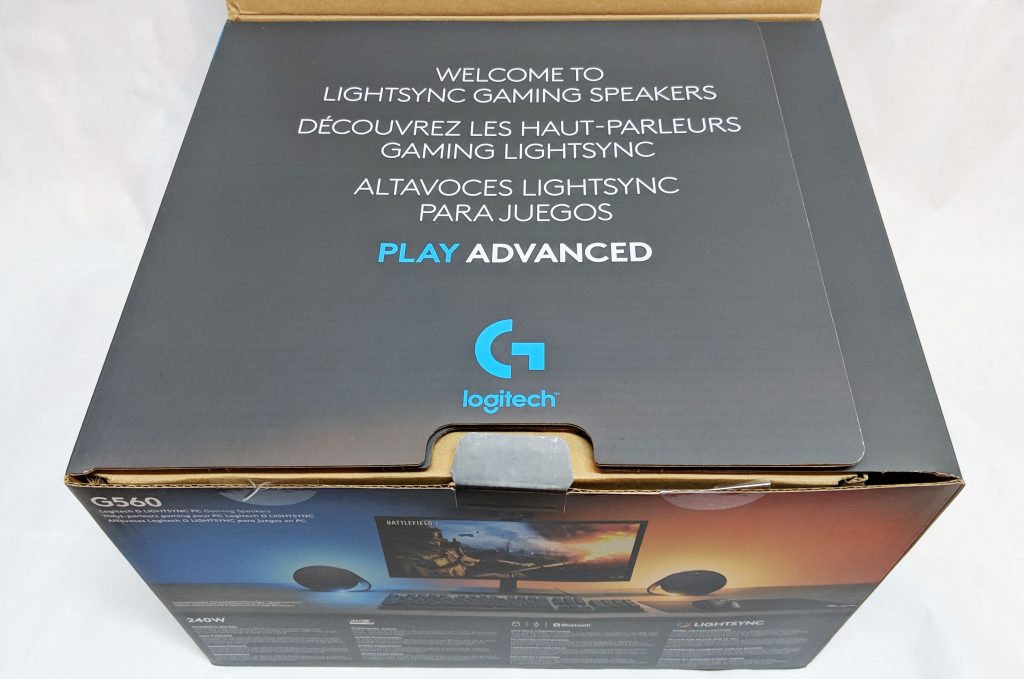 The next flap is less warm fuzzies and more informational. Overall, you'll find that installation is straight forward, and you really can't mess it up, however I definitely recommend referencing this when installing your speakers just to be sure. This diagram also shows you exactly what you'll be getting in the box, cables and all.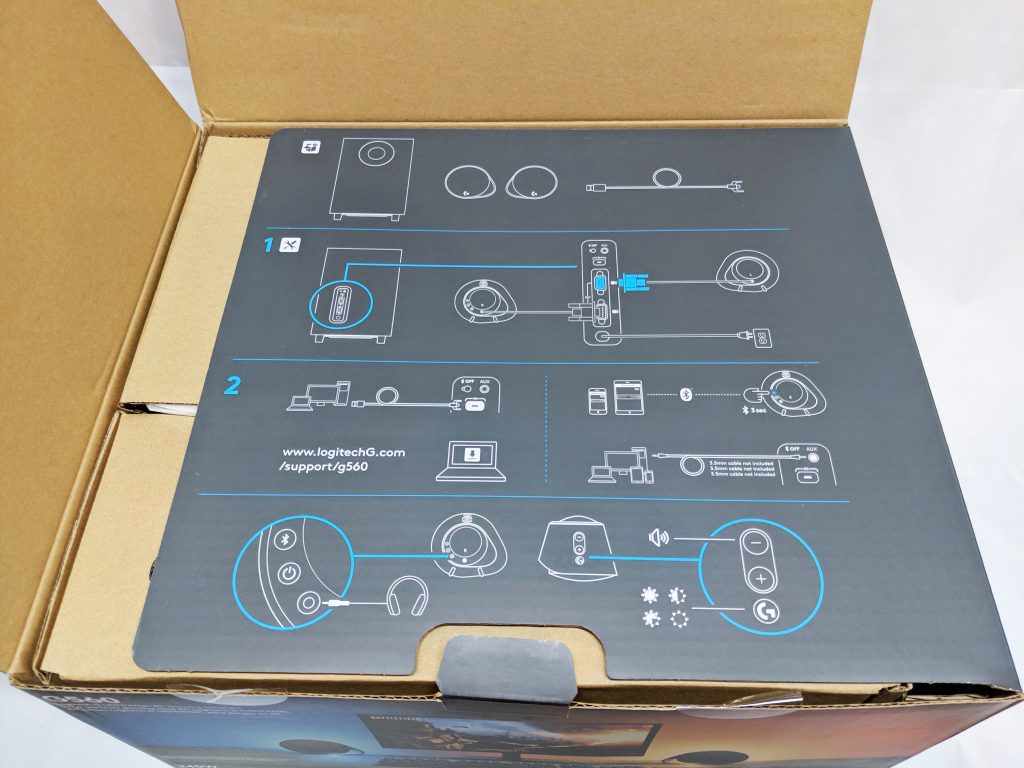 With the next flap… unflapped(?) I was able to get a better look as to how the Logitech G560 speaker system was packaged. Overall, there are two large vertical boxes, one containing the subwoofer, and another with most everything else. I recommend first removing the "everything else" box by lifting it out via the provided two holes. The subwoofer can then be removed by pulling up on the two cardboard flaps on either side.
The first box we removed contains everything except the subwoofer. After opening it up you can see both left and right speakers on either side wrapped in a soft foam material. Standwiched in between the two speakers are each of their permanently affixed cables. My first thought was how incredibly beefy these cables were. We'll get into those in detail later.
Located just above all that are a few more cables housed in a separate cardboard compartment.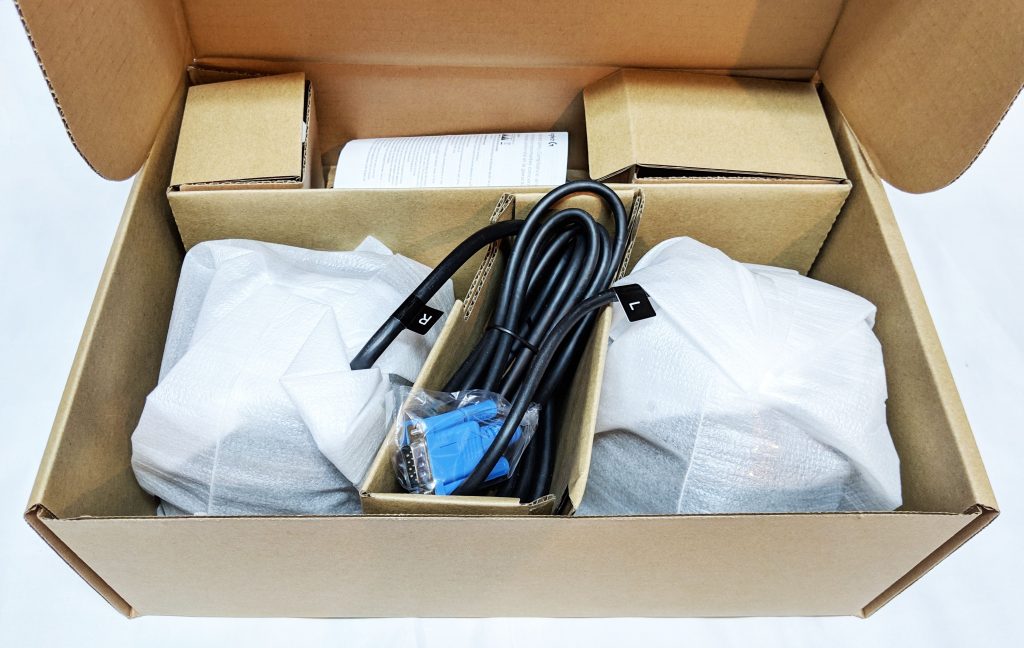 Overall, packaging appeared to be quite effective. Critical pieces such as the subwoofer and the satellite speakers were wrapped in soft foam surrounded by layers and layers of cardboard. Next, let's get everything unpackaged and take a closer look at the G560!
A Closer Look…
First let's start with that massive subwoofer. Considering the size of the box, I'm pleasantly surprised as to how large the subwoofer actually is. The subwoofer itself sits at the bottom of the box facing down towards your desk or floor depending on where you end up placing it. Its construction consists of a wood frame supported by four posts to give it some proper height to make room for the subwoofer. The box design is vented via a single front facing vent.
Moving over to the back we've got a single affixed power chord with several ports just above that. If the ports are bringing back memories from the PC days of yore, you would be right. The blue cable appears to be a standard DB9 serial connector while the black port just below it is a VGA connector. While these port standards exist, Logitech has recycled them to use for both left and right speakers (DB9 = Left, VGA = Right). Technically it makes perfect sense. Each standard is perfectly capable of transferring audio and data signals with very low interference. Personally, I'm much happier to see this rather than some goofy proprietary connector. Purchasing extension cables, or replacing ends will be much less of a headache if the need arises.
That being said, I would definitely not recommend connecting a monitor or DB9 connector to your speakers just to see what it would do…
At the top, there is a simple "G" logo. I'm really liking the overall clean and stealthy look overall.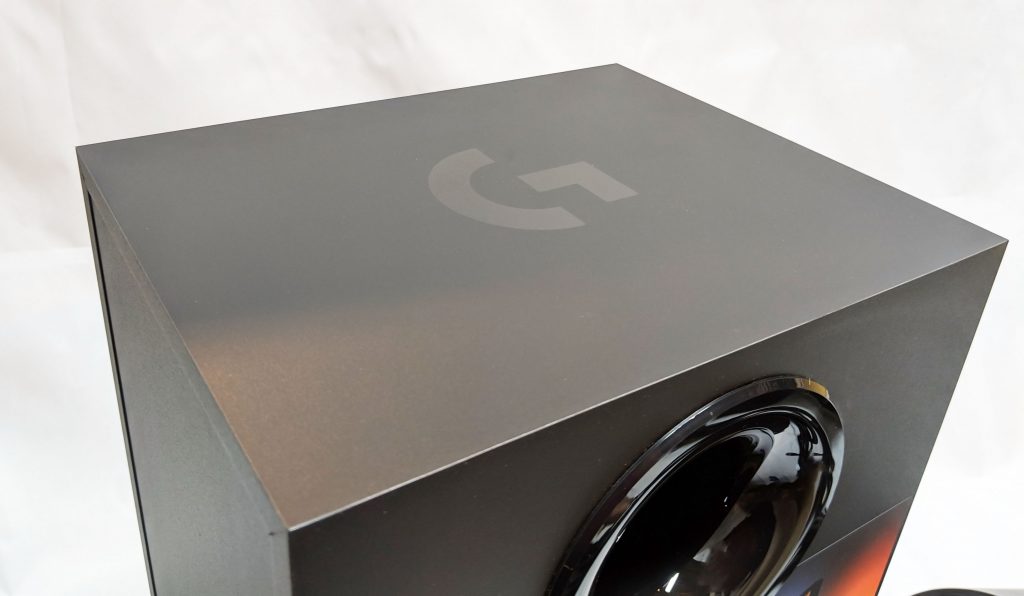 The bottom is a bit more interesting. The subwoofer can be seen screwed into the wood frame by several surrounding screws. The floor pegs definitely provide enough clearance to allow the subwoofer to operate effectively. Since the subwoofer is exposed, be sure not to set the speakers down on top of anything other than a clear and empty floor or desk as you could damage the cone.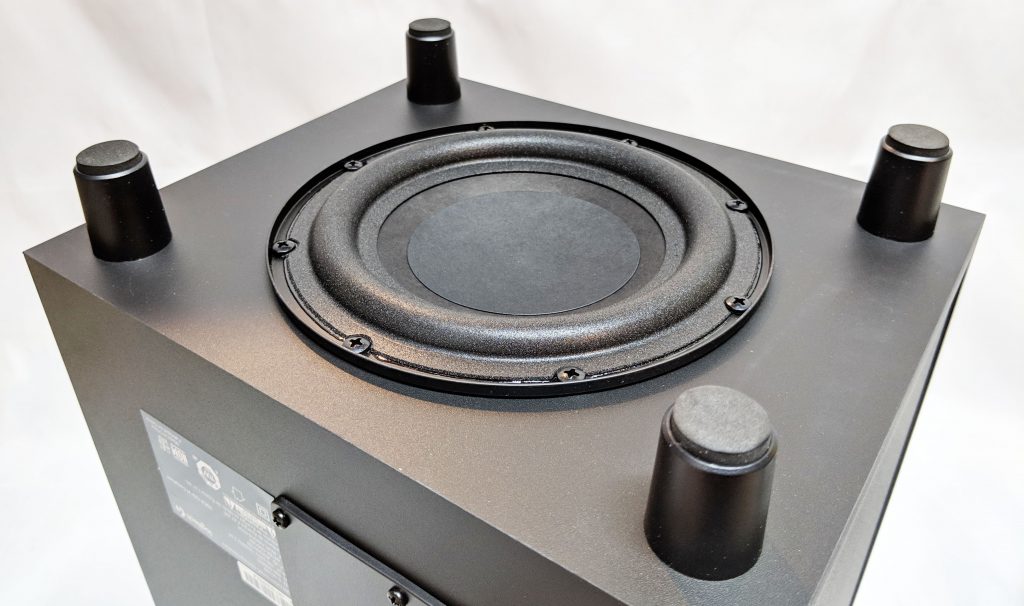 Out of curiosity, let's remove the subwoofer to get a better look as to what's inside. The sub is overall pretty large with a decent sized magnet at the end. There were no part or model numbers so unfortunately there are no further specs I could give. Glad to see Logitech making use of foam insulation tape to prevent wires from rubbing!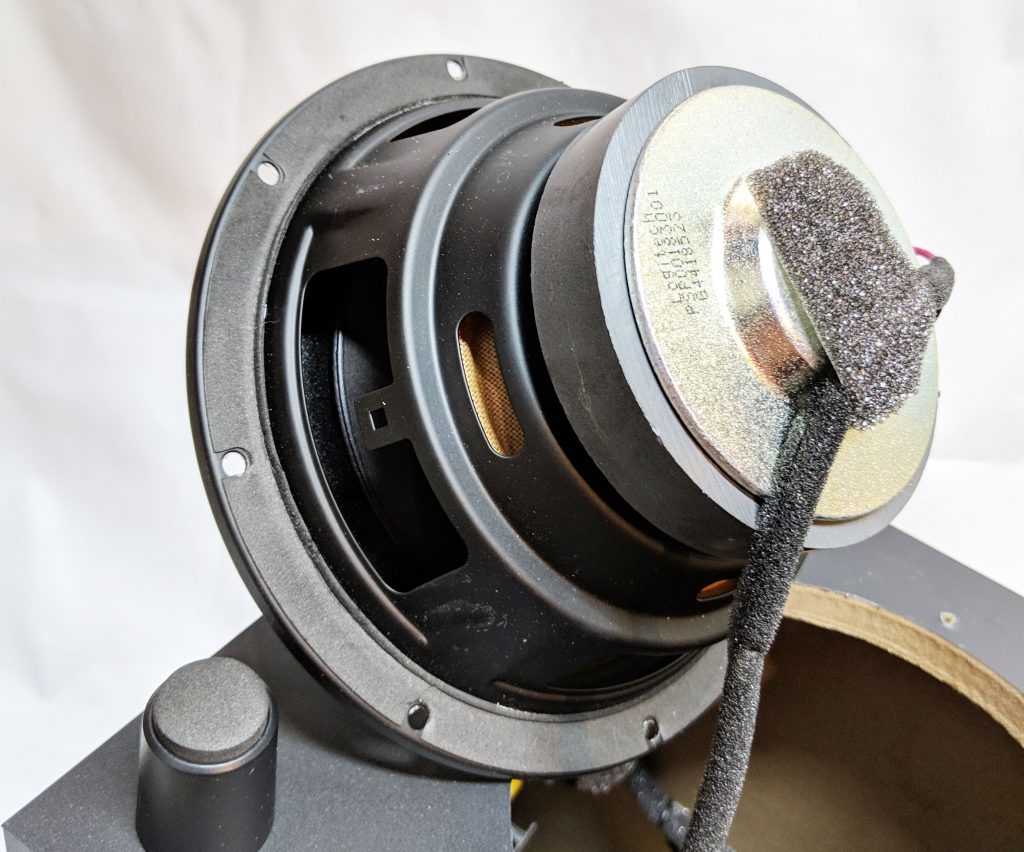 Peeking inside the removed speaker hole, we're able to get a better look as to some of the circuitry. The board at the top of the picture below is the main power supply PCB (E123150). Overall, pretty "okay" quality. It appears to feature a single sided PCB using a switching PSU design based on the K13A6 power regulator we see heatsinked in the middle.
The second PC on the left side contains all the necessary electronics for the speakers to function such as your connectivity for Bluetooth, USB, as well as the main AMP. This board appears to be of slightly higher quality. Teapo capacitors are used which as we know based on our many PSU reviews, are of pretty good quality.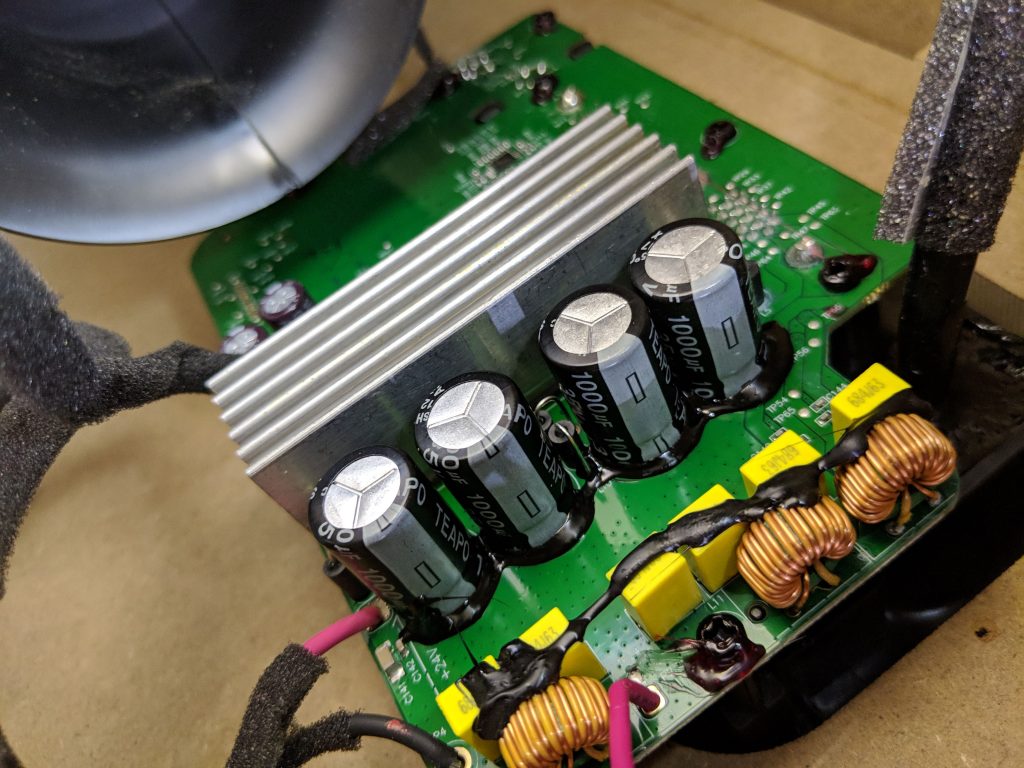 Next, let's button the poor subwoofer back up and get on with the review by taking a look at the satellite speakers.
The two speakers appear to provide an overall unique design which will for sure give your desk an overall unique, almost artsy look. Each speaker features a cloth front cover with a plastic surrounding base. At each opposite bottom corner there is a protrusion to allow the circular speaker to rest comfortably. The void that the protrusion creates doubles as an RGB zone as lighting is projected around the inside area which provides some a pretty unique look once powered on. We'll get into that in detail later on in the review.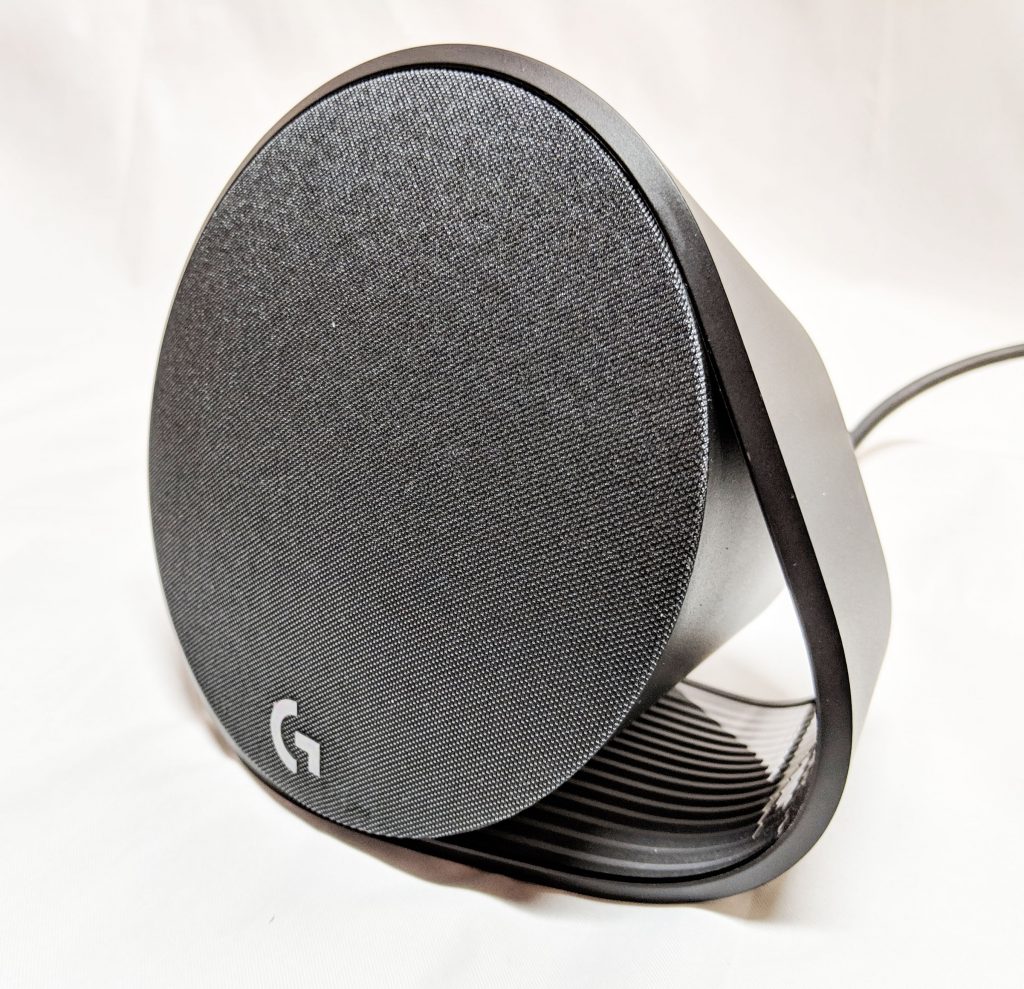 The large white orb looking thing on the back of the speaker is basically the rear LED projector which provides ambient lighting effects behind the monitor. The top of the right speaker provides volume as well as a programmable "G" button which can toggle lighting effects such as brightness.
The back of the right speaker has a power button as well as a Bluetooth sync button. Simply hold the button down for a few seconds to being the pairing process. Lastly, just below the power button is a 3.5mm headphone jack.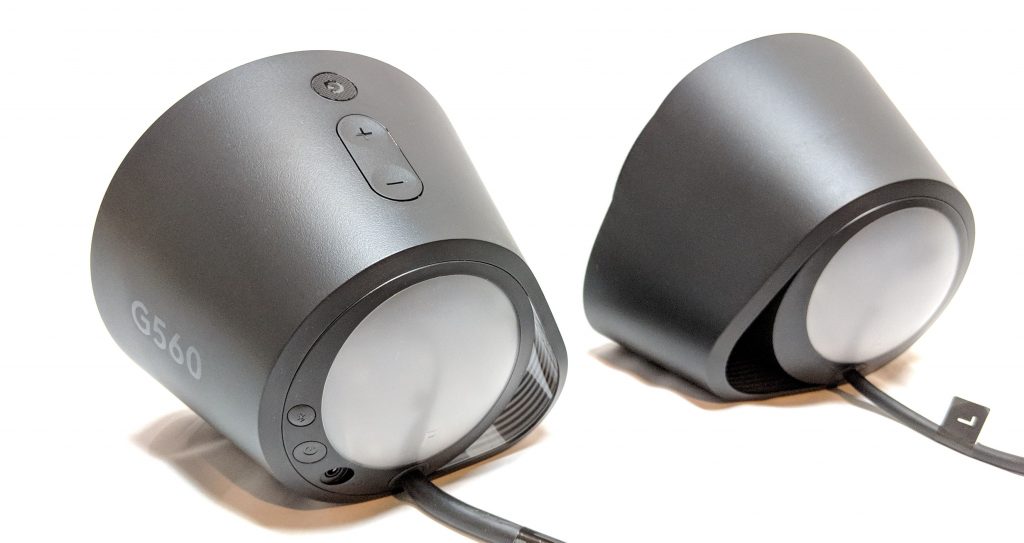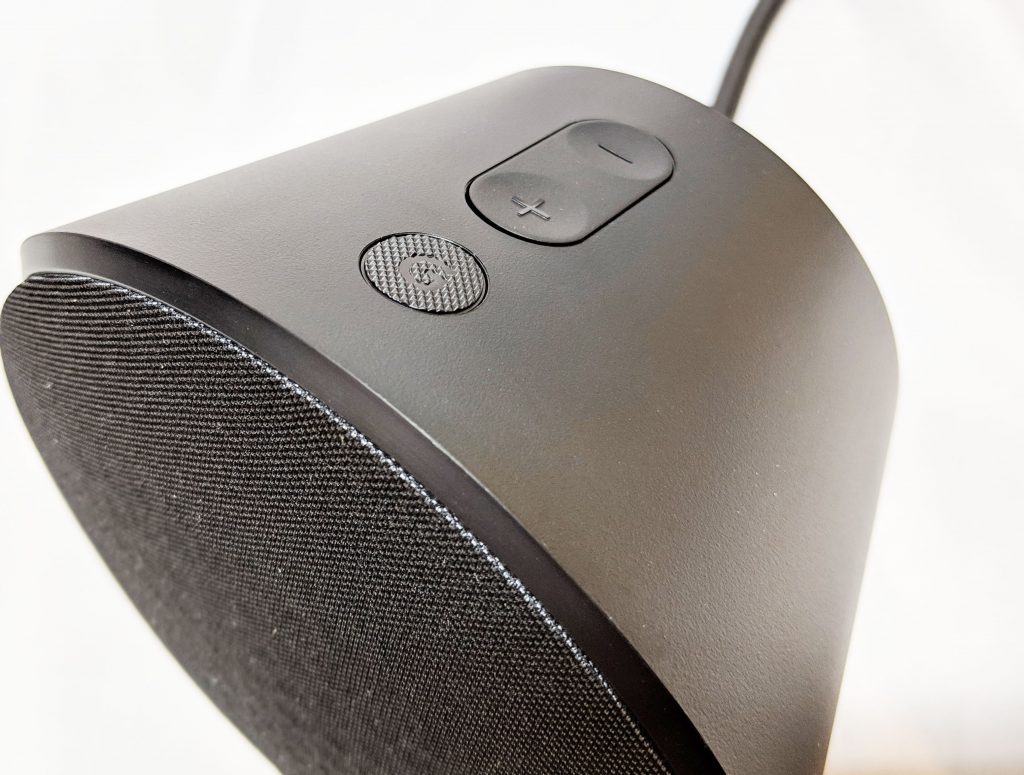 As mentioned before, the Right speaker uses the old VGA monitor cable standard to connect to the subwoofer, and the left speaker uses a DB9 connector.
A single USB Type-C cable is also included which is used to connect your speakers to your PC. The USB cable is needed for software controls and optional for audio. If you still want to use your high end sound card, you can still make use of the 3.5mm jack on the back of the subwoofer. Both USB and 3.5mm audio can be connected, you'll just need to set your primary sound adapter in Windows to your sound card or motherboard.
The USB Type-C connector features a flanged edge to keep it from taking damage by being pulled awkwardly which can happen when positioning a large subwoofer under a desk.
Powering On…
With all the components hooked together, and the speakers connected to the PC, we applied power and were presented with instant RGB lighting taking the shade of Logitech Blue! If you missed the impressive display of lights, there's a power LED letting you know the speakers are on. This light also turns blue when a Bluetooth device is connected.
The subwoofer getting blasted by the reverse facing RGB lighting. I installed the speakers on a corner desk which left me plenty of room to place the subwoofer behind the monitor. Cables could be better, but it will work for now!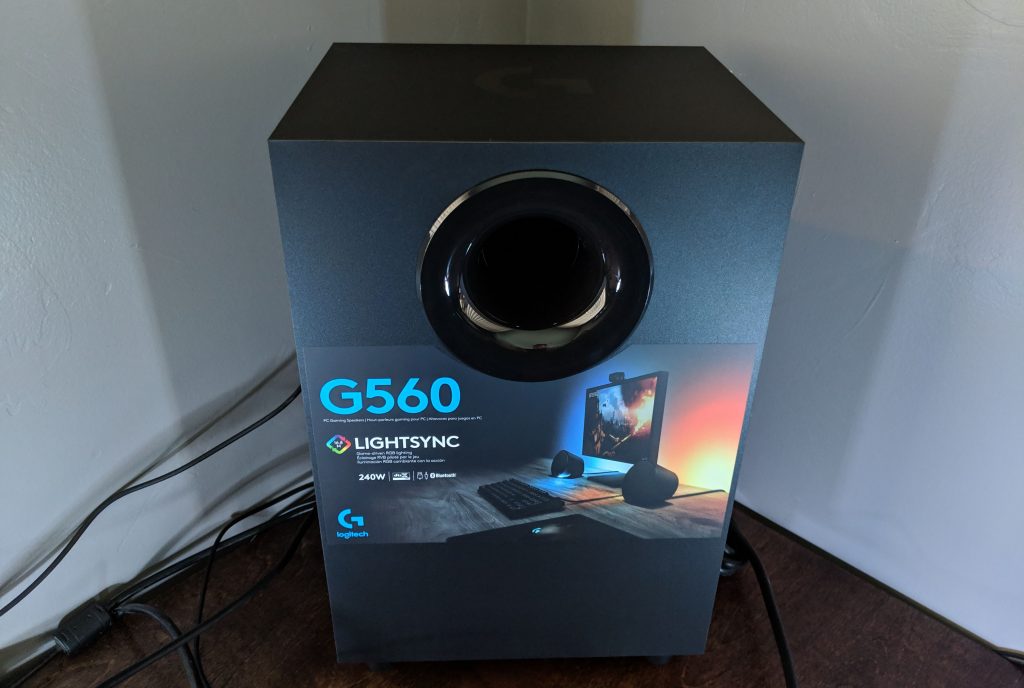 Here's a better view of those massive rear projection LED lights on the back of the speakers. While the surface area is quite large, overall the brightness is pretty minimal and the lens does a good job diffusing the light to cast it in all rearward directions.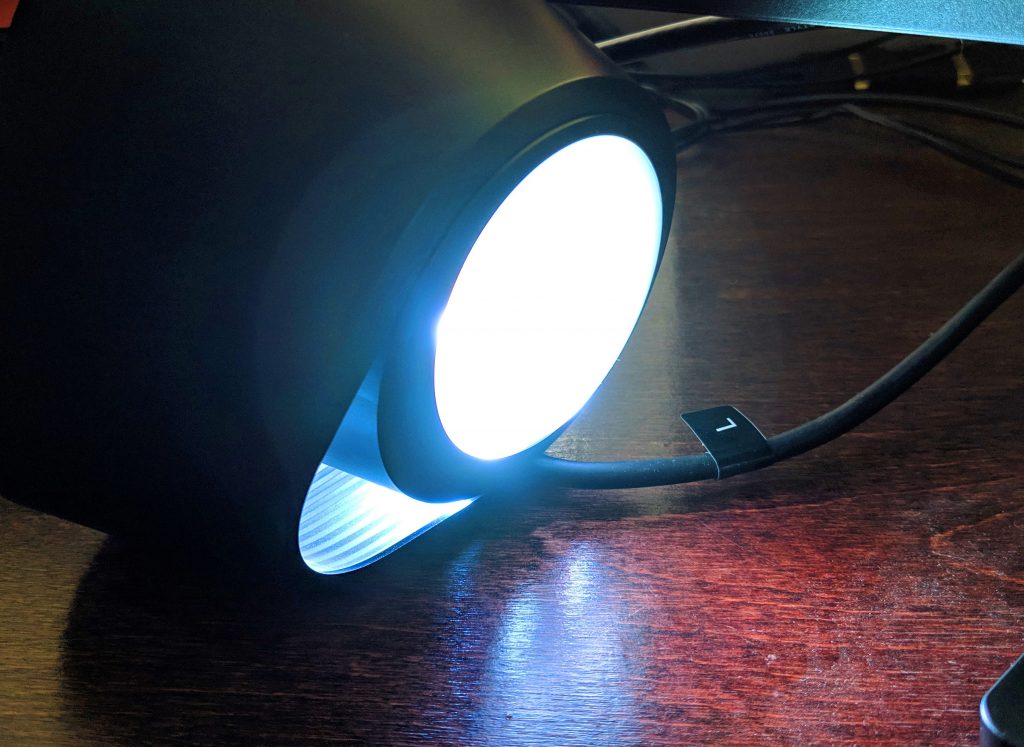 Audio Testing
Now that we've got the Logitech G560 installed and ready to roll, let's hit this thing with different types of audio and see how it sounds. As these are technically gaming speakers, the first thing I did was fire up Apex Legends as personally, I think the game's weapon sound effects are better and more realistic than most. I followed this up with a few other games, Battlefield V, and Destiny 2 to name a few.
Overall, the sound produced by the Logitech speakers was rich and offered extremely crisp and clear sound over a very wide range. Bass hit hard when it needed to, but didn't drown out the satellite speakers. Highs and lows meshed well together which overall fit the bill for high end gaming speakers.
Multi Input
As mentioned earlier, the Logitech G560 speakers have the ability to source audio from USB, 3.5mm jack, as well as Bluetooth. What happens if you provide input to each of these sources all at once? The answer to me was pleasantly surprising. It will simply play from all sources with no interruption from one to another. For instance, I'll be playing a game with the audio over the speaker's USB connection from my PC. If I pair my phone, or another audio device such as an Amazon Alexa to the speakers, I can play music at the same time while hearing both streams! Volume levels can then be adjusted from each output device individually.
Logitech G HUB Software
The audio and RGB controls of the speakers are managed via the Logitech G Hub Software which makes use of that included Micro USB cable. G Hub is a free downloaded and can be used for all Logitech devices which can be used for individual component control, or syncing several together for syncing lighting colors and effects.
Once the software is installed, you'll find that it is pretty easy to use. A lot of it is clicking on pictures of what you want to change and then making those changes via drop-down menus or checking boxes.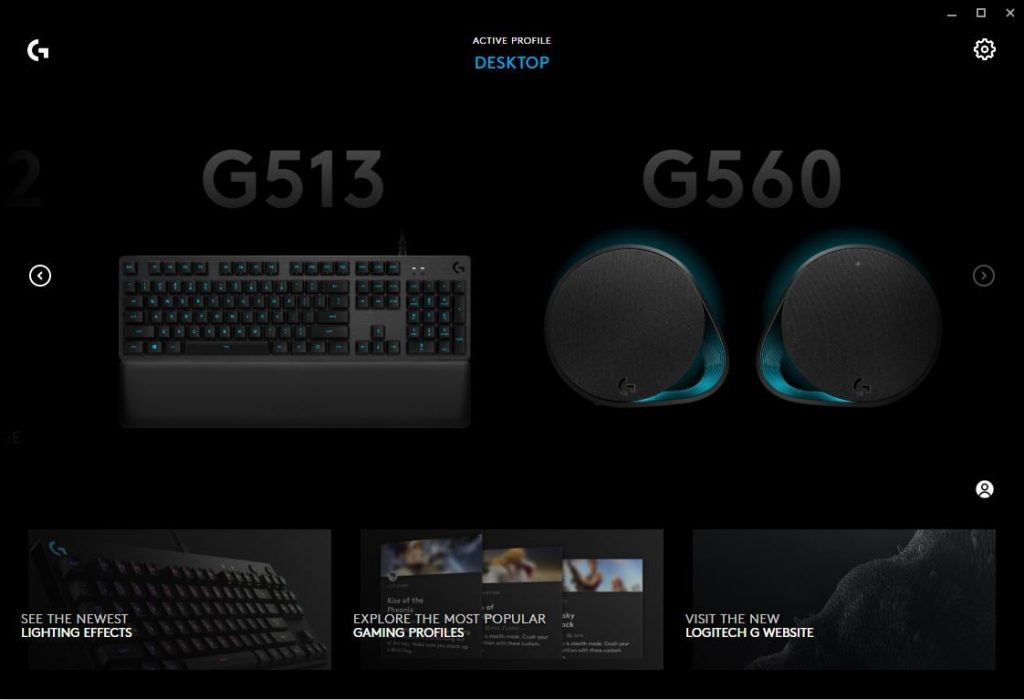 As you can see, lighting effects are configured in the first vertical tab on the right side. I opted for Screen Smapler which pulles an average color from four zones on your monitor. The software then adjusts the RGB LEDs on the speakers to mirror this color to it's four zones (two inside the speaker and two rear facing).
Overall Screen Sampler works quite well, however I did notice that there is a slight maybe 500ms delay between the monitor's image changing and the speakers updating the color profile..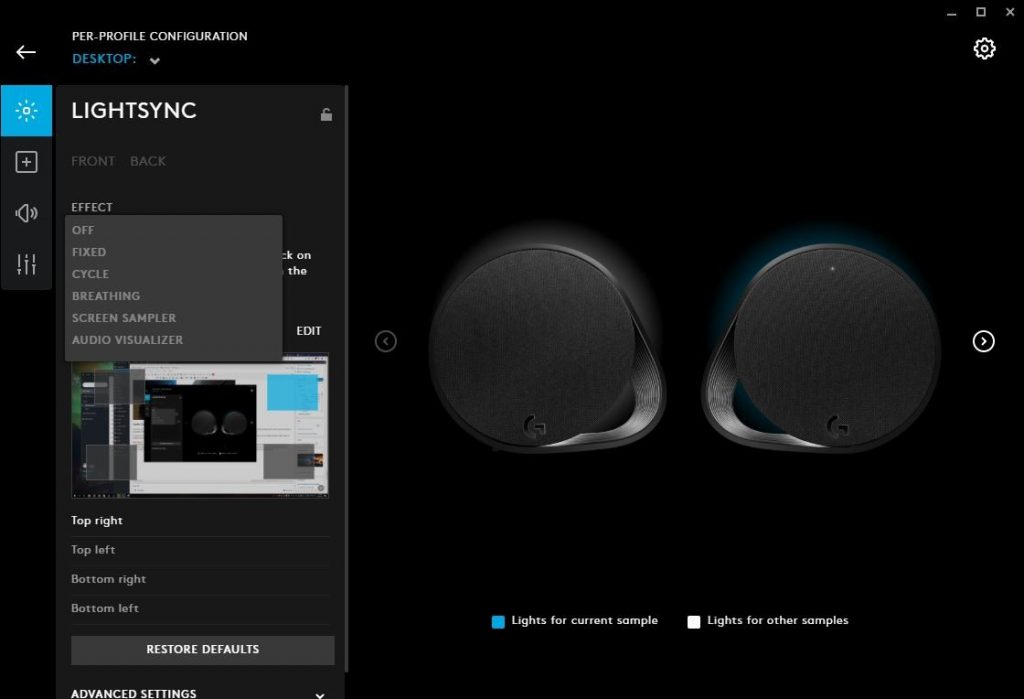 Other options such as "G" button assignments, Acoustic settings, Equalizer settings, and game profile settings are also available. G Hub software has the ability to scan your system and import games saving you the time of having to import them all manually.
Final Thoughts and Scoring
I never though that I would test a speaker system that performed as well visually as it did audibly. While the Logitech G650 speakers sounded fantastic, the visual lighting effects through LightSync are fun to play with and will definitely add a ton of character to your gaming setup.
The multi-input functionality is another perk I didn't expect to get much out of, but was pleasantly surprised. I love the ability to hook the speakers to my PC, pwn some noobs and then sit back and play some music via the Bluetooth connection with my phone using Spotify or Pandora (or both at the same time!).
I was also impressed with how easy the software was to learn and configure. Setting up LightSync takes only a few mouse clicks before you're off and running. During this part of the review I try to be as subjective as possible, but my mind is drawing up blanks trying to come up with negatives to say about the Logitech G560. With that being said, let's break down the scoring based on several categories:
Build Quality & Appearance: 9.9/10 – From its packaging down to gaming with the G560 for the firs time, you really do feel like you've gotten your hands one something special. Overall, its build quality leaves nothing to be desired especially considering that these speakers are designed to be a visual as well as audio experience.
Functionality: 9.5/10 – This is one area where I normally don't rank audio devices since they really only serve one purpose. However, considering the fact that the Logitech G560 speakers provide support for more than one concurrent device, they are indeed quite a bit higher on the functional scale than most other gaming speakers.
Gaming & Audio Performance: 9.8/10 – No doubt about it, these speakers sound fantastic. The subwoofer adds a lot of fullness to the overall sound experience when paired with the clarity you get from the two speakers.
Value: 9.0/10 – MSRP for the Logitech gaming speakers is $199.99 USD putting these speakers into the high end category of gaming speakers. All things considered, I believe the price to be right about where it should be. Definitely jump on these if you're able to find them on sale.
Logitech G560 on Amazon
| Logitech G560 Product Page
Logitech G560 Gaming Speaker Review
"I never though that I would test a speaker system that performed as well visually as it did audibly."

9.6

Build Quality & Appearance:

9.9

Gaming & Audio Performance:

9.8