A few years ago we reviewed the Ducky DK9087 Shine 2, a keyboard that received universal praise. Since then, many new iterations of Ducky Shine have come up; currently we are up to the Ducky Shine 5 and are awaiting the release of the Shine 6. But one thing that bothered many people was the lack of tenkeyless (TKL) models—keyboards with no numberpad. The Shine 3 was the last of the Shine lineup to have a TKL variant.
Or so we thought. Ducky and Mechanical Keyboards Inc. have partnered up to deliver what many of us have been waiting for; a high quality TKL mechanical keyboard with RGB LED backlighting! To make things even more appealing, the MSRP is only $119. It is a Ducky OEM featuring the same lighting features as the beloved Ducky Shine 5, with the same case as the Ducky Shine 3. Can it live up to the hype? Let's find out.
Unboxing
The MK Disco TKL is of course available at the Mechanical Keyboards store which is where I purchased it from for $119 and free FedEx Ground shipping. For $10 extra I was able to add a full Ducky 108 keycap set, made of double shot ABS so I assume it is the same exact set used on the Ducky Shine 5.
Three business days later, it arrived. It was packed into a cardboard shipping box, with the actual keyboard box being tucked in sandwiched between brown paper. Bubble wrap would have been preferable due to the additional protection. The keyboard box reminds me of my previous Ducky Shine 2; well laid out, good protection.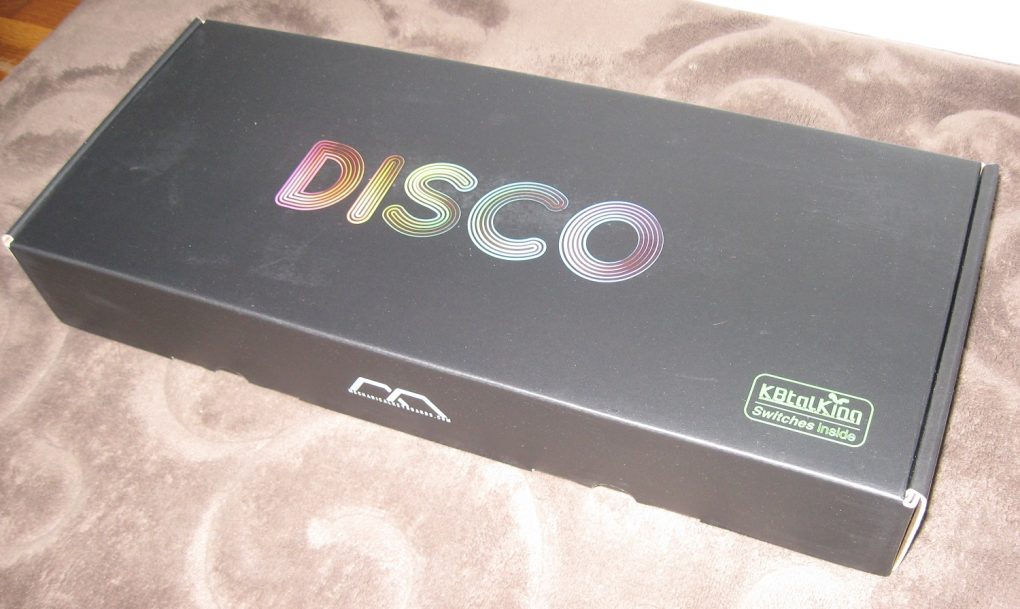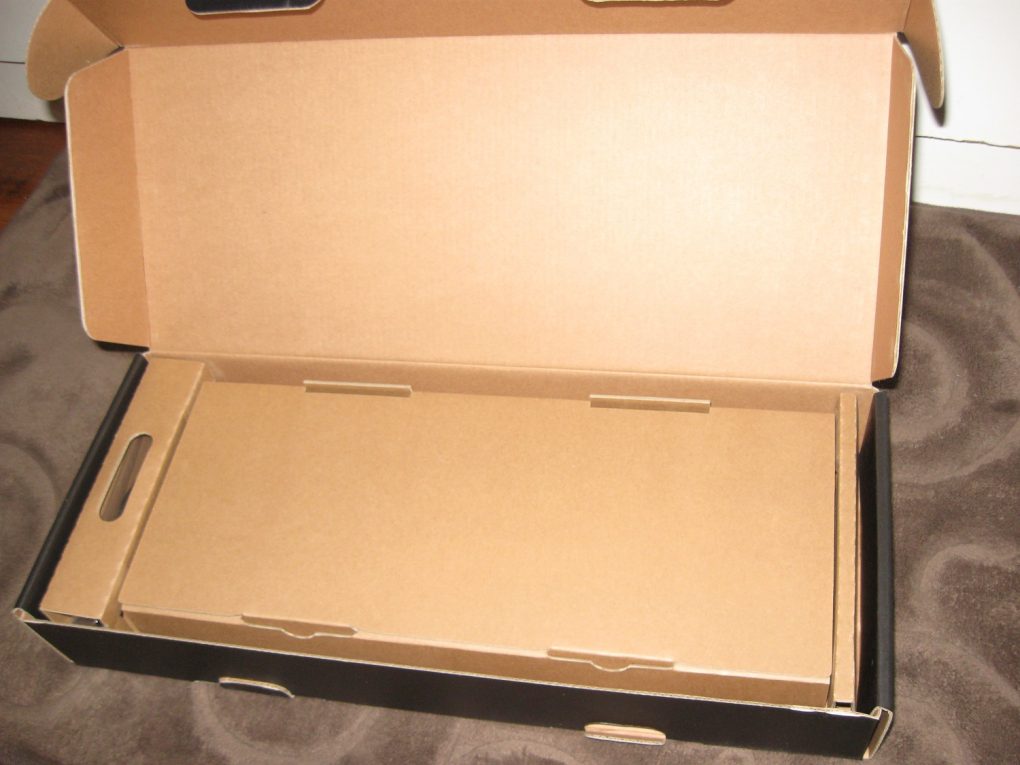 Inside is the keyboard itself underneath a clear plastic cover, two manuals (one for LED usage, one for DIP switches), the gold plated USB cable unplugged, and to my surprise a spare spacebar (different style/engraving) and a wire keycap puller! One cannot ask for more. Wire pullers such as this are more popular than the old school ring style puller; it's a bit quicker to use and it won't scratch keycaps.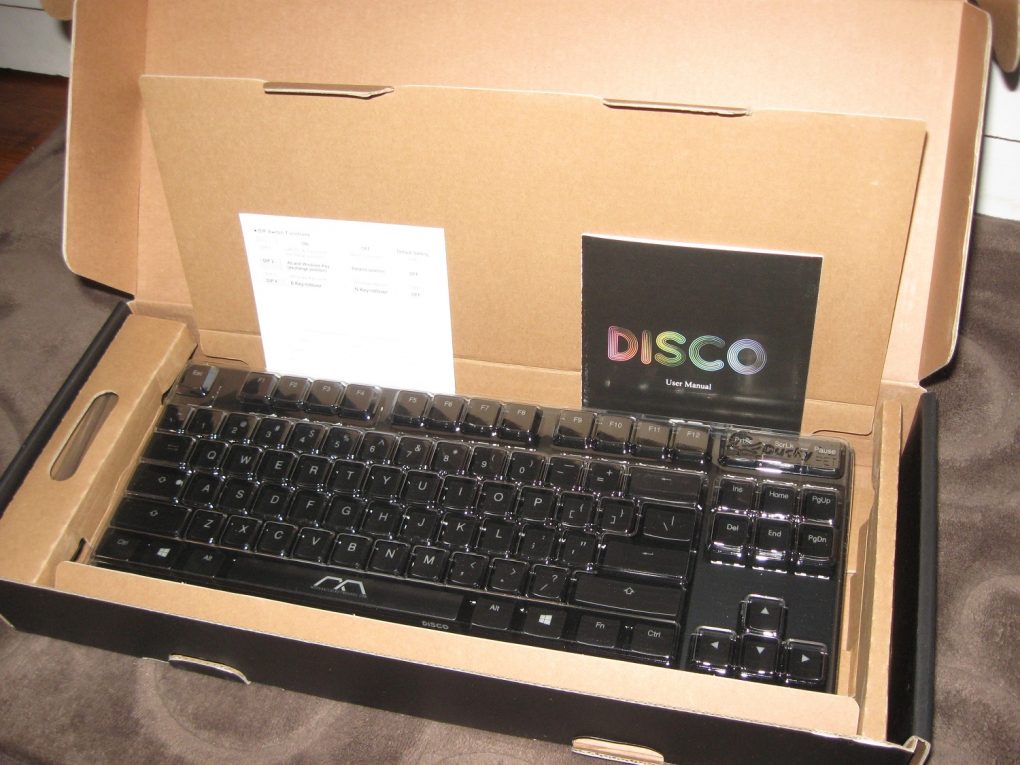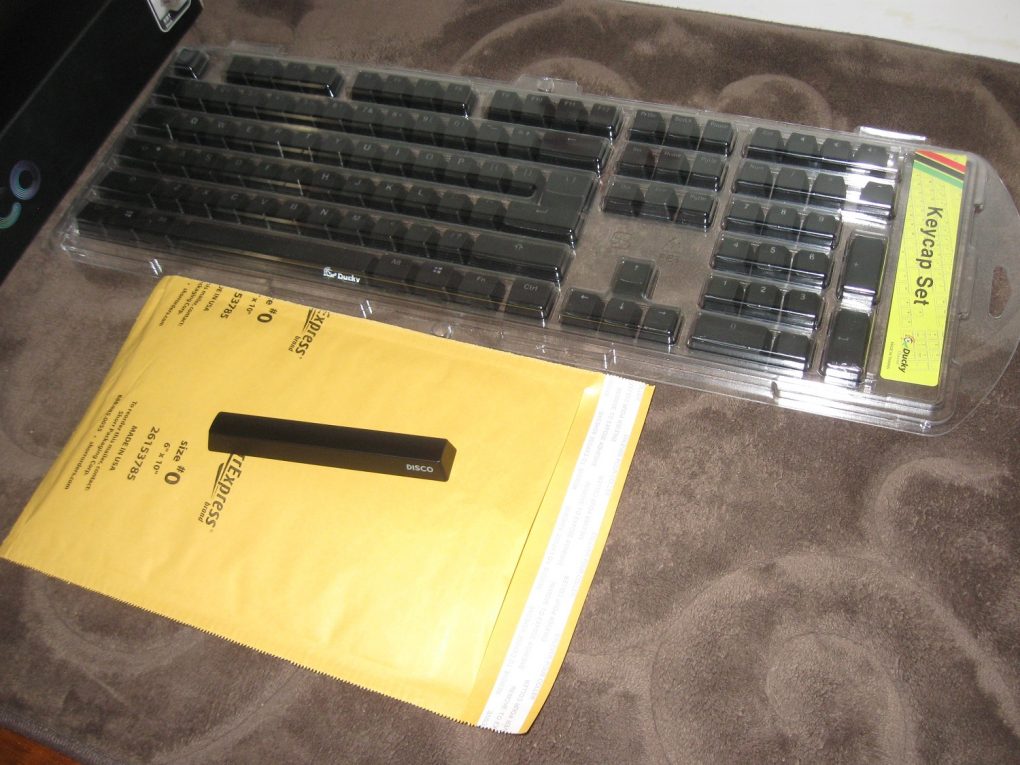 The spacebar came in that envelope. The spare Ducky 108 keycap set above the envelope is an optional $10 addon when ordering the MK Disco at Mechanicalkeyboards.com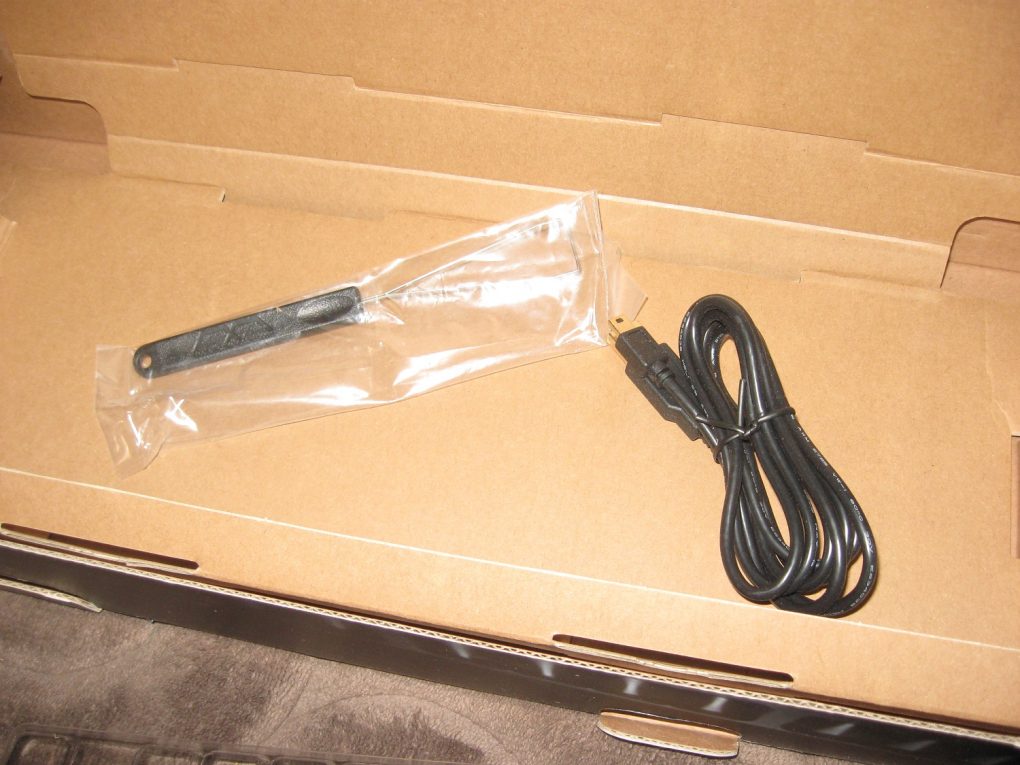 The packaging and accessores included are overall excellent. I advise everyone buying this keyboard to add the 108 double shot ABS Ducky keycap set to their order, as it's only an extra $10 and, as I'll show and explain in a bit, the quality is far better than the default keycaps while maintaining largely the same look.
A Closer Look
Considering that the MK Disco TKL is a sort of Ducky Shine 3 and Shine 5 hybrid in TKL form factor, and considering the fact that I was upgrading from a Ducky Shine 2 TKL, I had very high expectations for the Disco. I'm using the KBT Black model for this review.
This brings us to something very interesting; the Disco does not use Cherry MX switches, but KBT switches instead. They are extremely similar, but from my experience not fully compatible with Cherry keycaps. More on this below.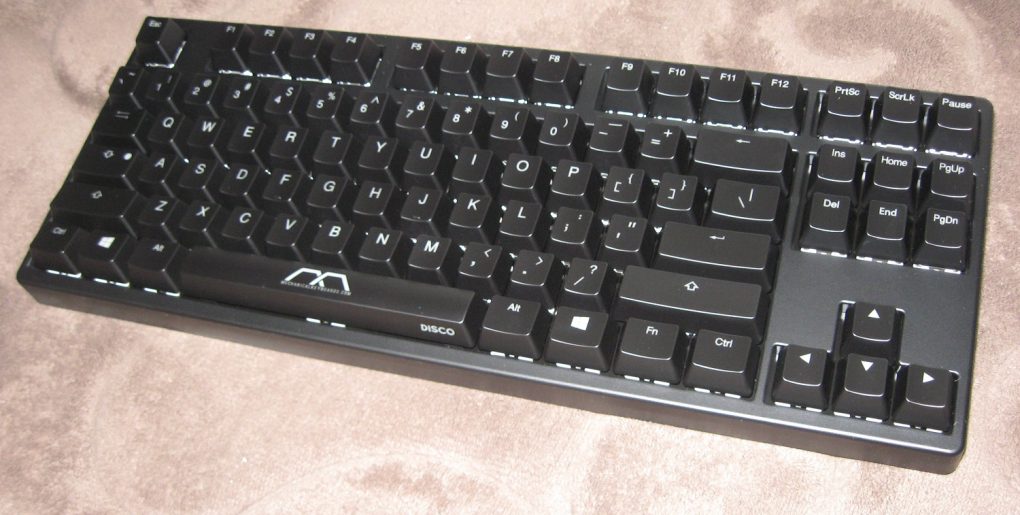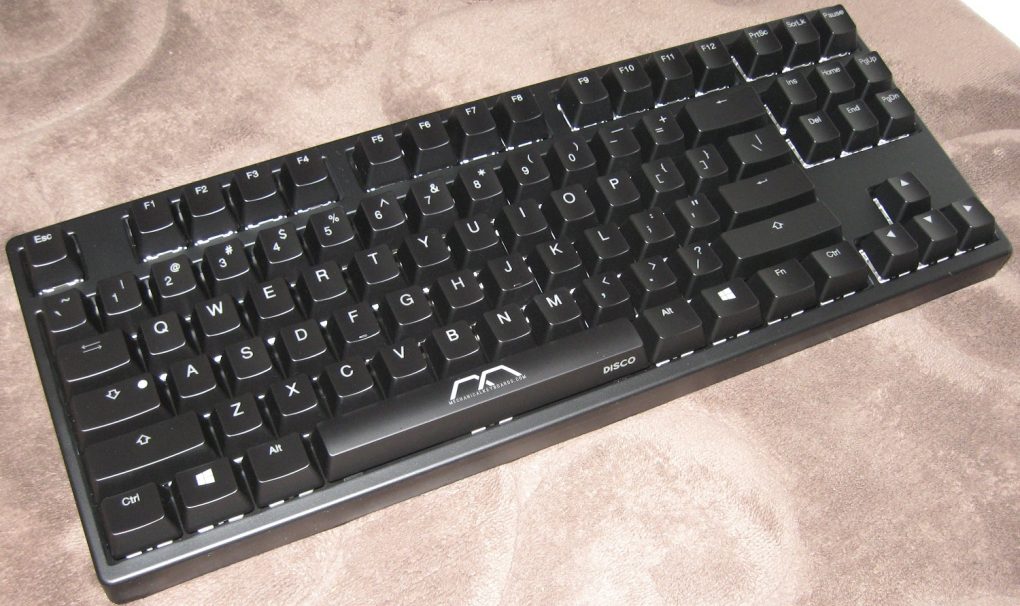 First impressions: This looks and feels just like my Ducky Shine 2, which is a good thing. The case looks and feels 90% the same, with the only differences being on the backside. There is next to no branding on this case, making it more visually pleasing. The case is made of a very solid plastic and doesn't attract fingerprints as much as my Ducky Shine 2 did. It is very resistant.
The backside of the case includes built in feet, including folding ones, and rubber for anti-slip purposes. The folding feet do not exhibit great build quality however; they are thin plastic. They'll have no problem holding up the weight of the keyboard, but misuse can break them. Cable routing is also present. As with most modern mechanical keyboards, the cable is detachable and not connected by default. It is a USB cable, with a mini USB connection on the keyboard side.

Notice the DIP switches in the back. From left to right, their functionality is as follows. All of them are set to the OFF position by default.
ON = Exchange Left CTRL and Caps Lock key positions, OFF = leave them be.
ON = Exchange positions of Alt and Windows keys, OFF = leave them be.
ON = Windows key disabled, OFF = Windows key enabled.
On = 6KRO, OFF = NKRO.
Other advanced functionality, via key combinations, let the user adjust the Disco's USB repeat delay, repeat rate, and even enable a demo mode which shuts down all actual keyboard functions just for display. The Disco has more functionality than most of us will know how to utilize. A factory reset key combination (holding both Windows keys for 3 seconds) also exists.
The keycaps are laser engraved ABS plastic. Generic stuff; shiny and will collect grime and sweat easily. For $10 more, you should really add the Ducky 108 double shot ABS keycap set to your order.
Let's do a keycap comparison. From left to right: Stock MK Disco keycap (laser engraved ABS), Ducky double shot ABS ($10 added on to the order), and Vortex PBT + translucent POM double shot (separate purchase). The difference in texturing is noticeable, even with my ancient terrible camera. The more textured surface of the Ducky and Vortex keycaps is preferable; more durable and won't collect gunk as much, and less slippery.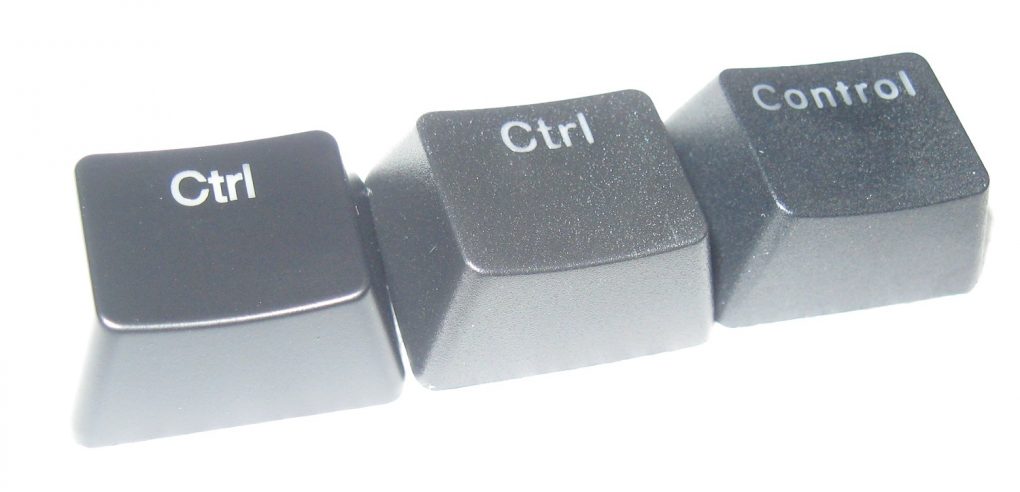 Turning the keycaps over, it's evident how much thinner the Disco keycap is. A single thin piece of ABS plastic. The Ducky has two layers of ABS, with the inner translucent layer filling in the letter/number gap, allowing light to pass through the keycap properly. The Vortex is similar, but instead of ABS it uses PBT for the outer material/main body of the keycap (the best keycap plastic) and POM for the translucent layer. Also, note that Ducky's inner translucent layer fills up the entire inside of the keycap, so it reinforces the structure. Whereas the translucent POM fill-in on the Vortex is only under the top layer of the keycap. To compensate, the Vortex keycap is the thickest, and it's PBT which is more durable than ABS.

But as I said earlier, the Vortex keycap set is meant for Cherry MX switches. KBT switches are very similar but do have some compatibility issues, because some (but not all or even most) of my Vortex keycaps don't fit properly.
The lettering/numbering is sometimes less clear on the Vortex keycaps, but it's very uniform and crystal clear on the stock Disco keycaps and on the Ducky. But as far as build quality goes, the Ducky and Vortex are close and both blow away the stock Disco keycaps. So again, spend the extra $10 and add the Ducky keycaps to your order. Others might not be fully compatible.
According to the Mechanical Keyboards store, other MK Disco models (in other words not the KBT Black model) have double shot ABS keycaps, which indicates it's the same as the Ducky keycaps above. Whereas mine came with the cheaper laser engraved ones. It also varies with the Shine 5, so take a close look at the specs before buying so that there are no surprises.
Moving on, the MK Disco features onboard memory, an onboard ARM micro-controller, and RGB LED backlighting. It also supports NKRO over USB. All of this will be tested on the next page, but for now let's look at the lighting modes! First up are the lighting modes bound to FN + F9. Note that for all lighting modes, the brightness is adjusted individually for red (FN + F5), green (FN + F6), and blue (FN + F7) values. FN + F8 resets it to the default blue.
Pressing FN + F9 once enables full one-color lighting (your choice of color).
Pressing it again switches it to reactive mode which only enables lighting in the chosen color for every key press. The speed of reactive mode can be adjusted with FN + left arrow (slower) and FN + right arrow (faster).
Pressing it for a third time disables lighting.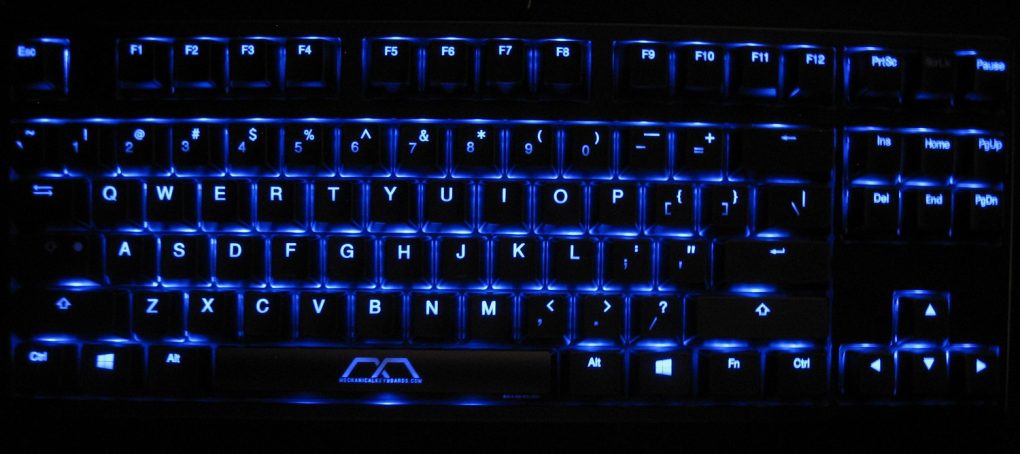 By default, the one color lighting mode is set to blue, and isn't on peak brightness.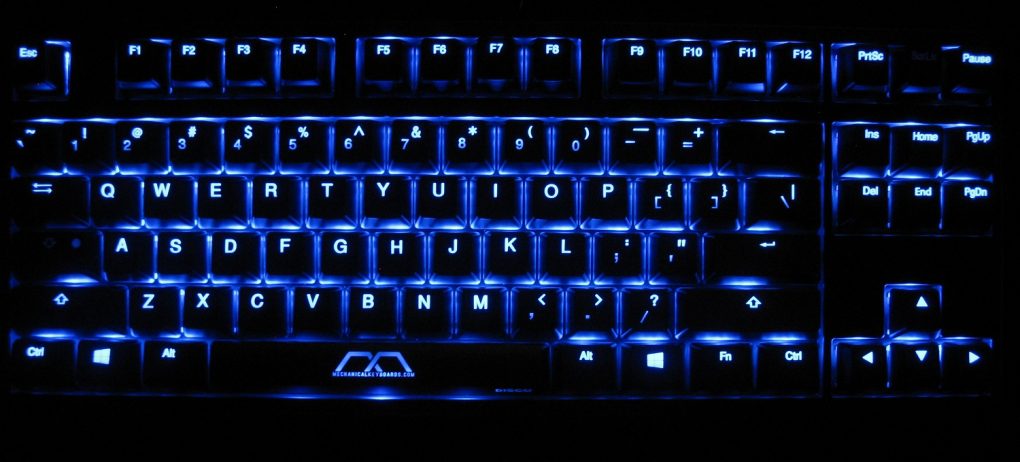 Here is blue on max brightness. Pictures don't do it justice. The Disco features 7 levels of brightness for red, green, and blue colors.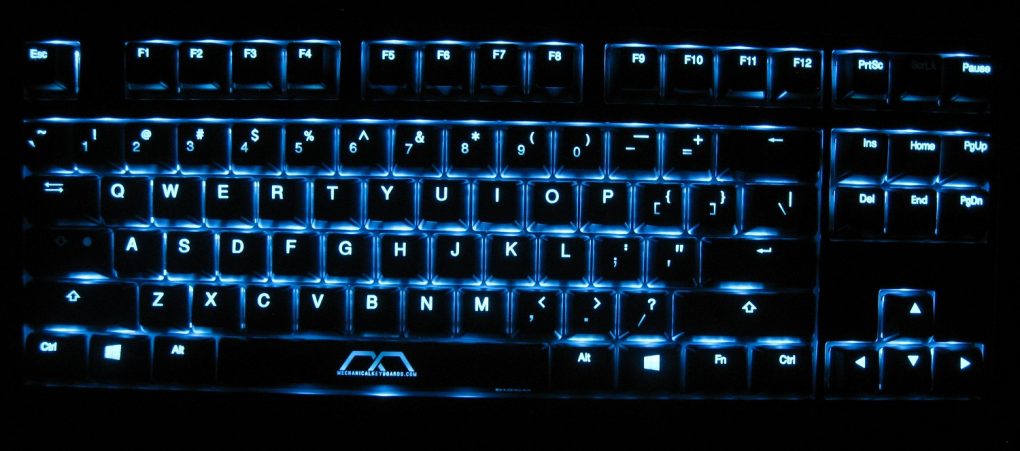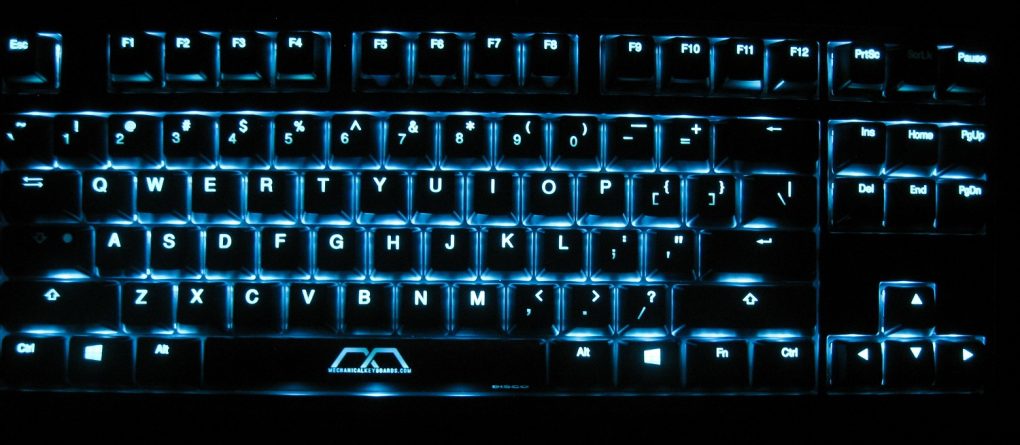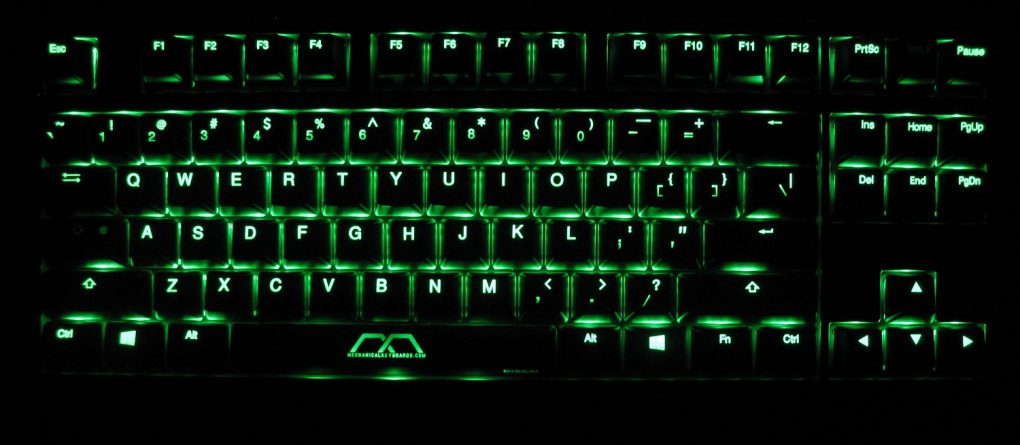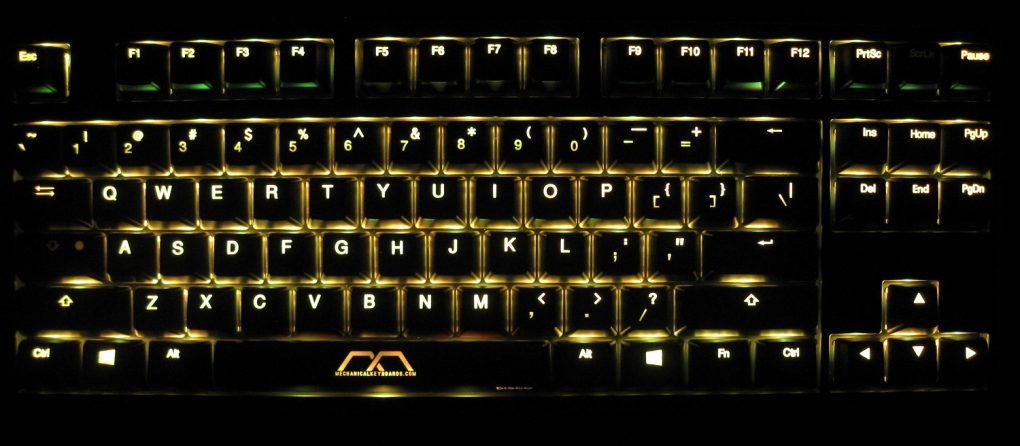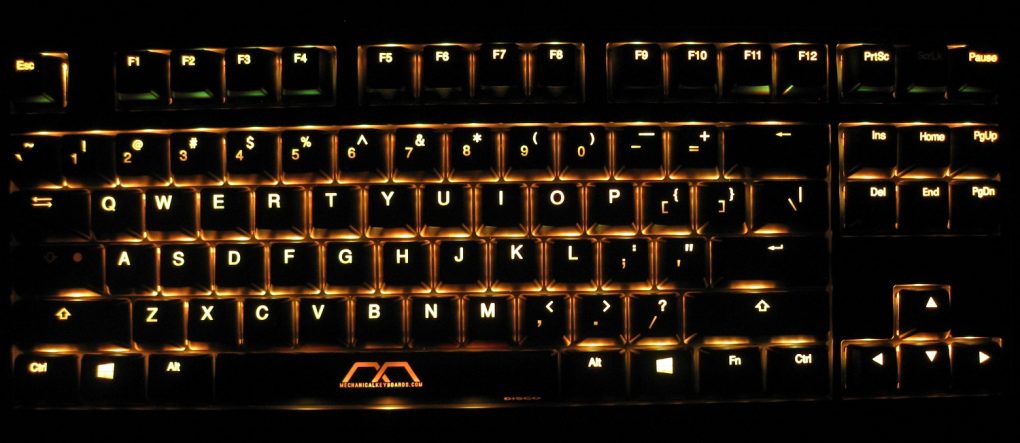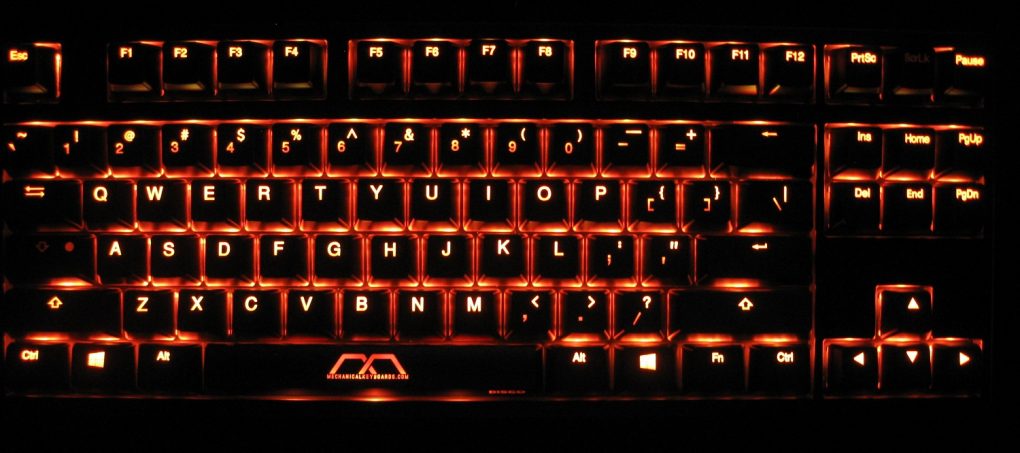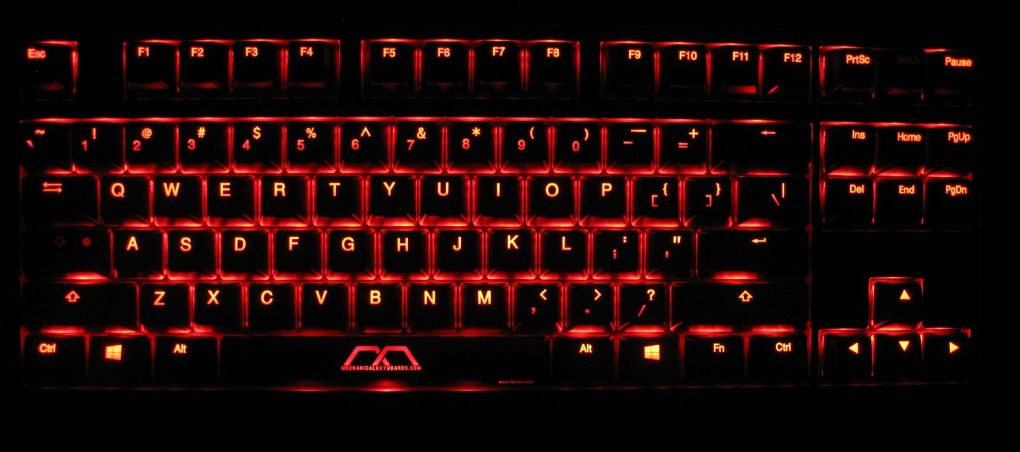 Red actually doesn't look orange at all in person, it looks red.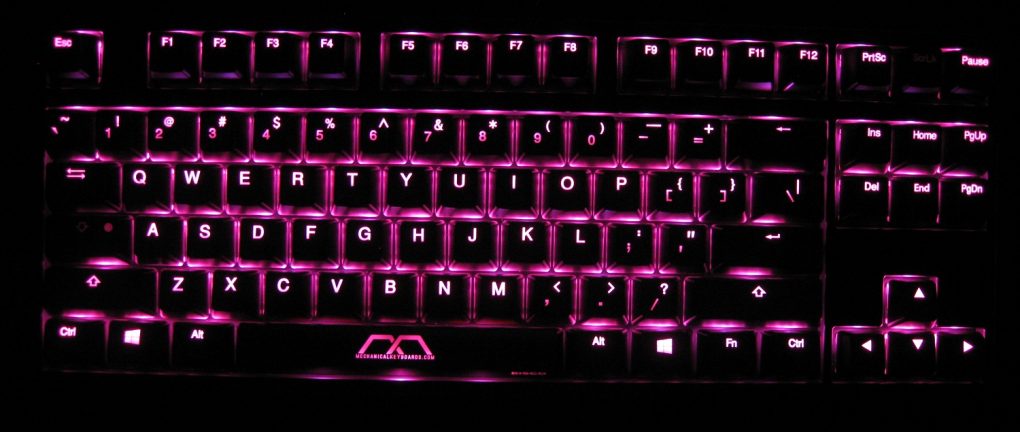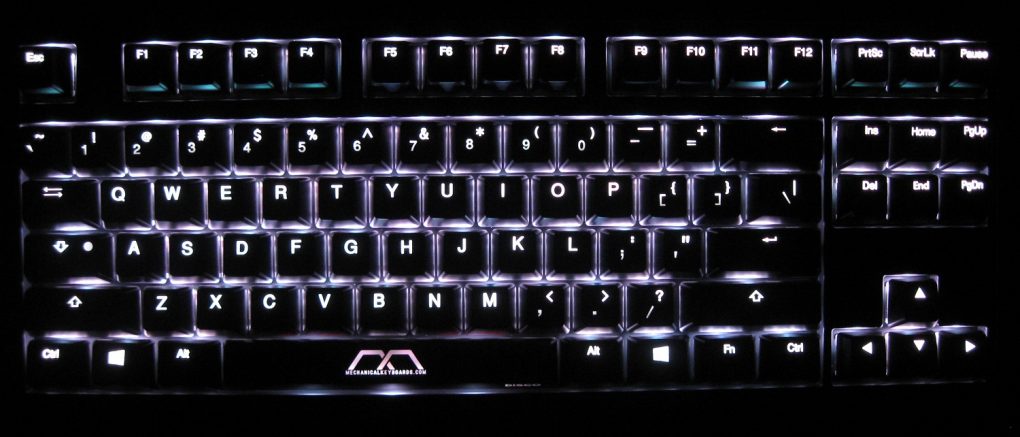 All the colors are spot on in person. The one downside is that the Caps Lock and Scroll Lock LEDs are always white. You can actually set a color for Scroll Lock when making your own custom mode, but it doesn't remain.
Pressing FN + spacebar enables the color palette. Pressing any key will change the current backlight color to the color of that key.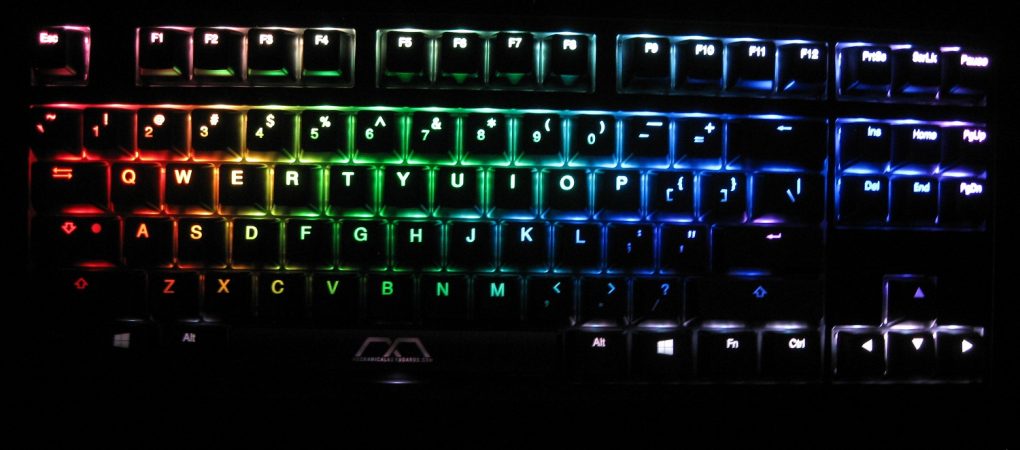 Now let us look at advanced lighting modes, which are activated by pressing FN + F10.
Pressing FN + F10 once enables color cycling mode, in which the whole keyboard cycles through all colors in uniform fashion. The speed of the cycle can be modified with FN + left arrow (slower) and FN + right arrow (faster).
Pressing it again switches it to rain drop mode, which as the name implies displays a raindrop like effect using the entire color range. The speed of the raindrops can be modified just like above.
Pressing it again switches it to advanced reactive mode, which is like the aforementioned reactive mode except every key press creates a different lighting color.
Pressing it again disables lighting.
The Disco also allows the user to create up to two custom LED modes. FN + F11 enables one of them, FN + F12 enables the other. Both can be used at the same time, and they can also be used in tandem with a regular lighting mode. This is unexpected. Custom mode 1 (CM1) simply has WASD lit up, while custom mode 2 (CM2) has the arrow keys lit up in the same way. The picture below shows both enabled at once.
You can record your own custom modes which override CM1 and CM2. Pressing FN + Print Screen enables recording mode for the CM1 slot, while pressing FN + Pause enables recording mode for CM2 slot. Pressing Caps Lock + Scroll Lock ends recording, but recording also ends on its own if left idle for a short while.
While recording, pressing Caps Lock + F5 adjusts brightness for red, Caps Lock + F6 for green, Caps Lock + F7 for blue. Think of this as setting a color for your paint brush. Once set, whatever key you press is painted with that color. So you have full control over the color for every key except for caps lock. Also note that the Windows keys need to be enabled (set DIP switch 3 to OFF) in order for its light to be set when recording. Below is a photo showing a custom mode I made.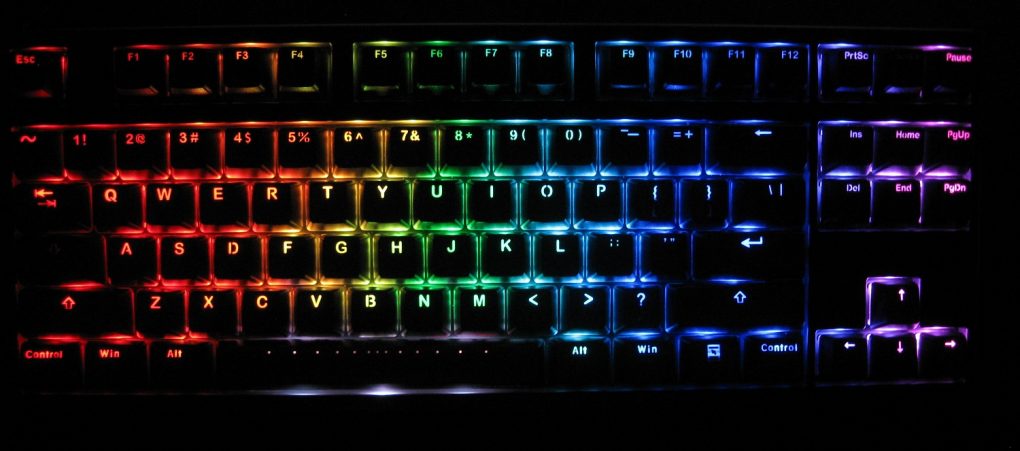 This is all incredibly awesome and fun to play around with. Below is a video showcasing the lighting modes of the Disco.
After testing the keyboard and its LED modes, I swapped the keycaps only to find out that my Vortex set is partially incompatible as I said above. Ducky ABS double shots to the rescue. A photo of the Disco with the keycaps removed can be found just below. KBT Black switches have a clear housing which lights up when the LEDs are enabled, making it so you really see the light around and under the keycap and not just through the lettering. Note the stabilizers for larger keys which are red. They look a lot like Cherry stabilizers, but don't have the same mushy feel. They provide a feel just like pressing any other key on this board, just like Costar stabilizers, meaning the stabilizer isn't interfering with how the key press feels.
This is a pleasant surprise. Cherry stabilizers feel a bit mushy as I said, and Costar stabilizers don't interfere with the feel but are harder to work with (harder to remove and install the keycap that is) and don't work with LEDs. Here we have the best of both worlds; as easy to work with as Cherry stabilizers so the keycap just pops right out, works with LEDs, excellent feel. Note the spacebar LED mounting, be careful around that.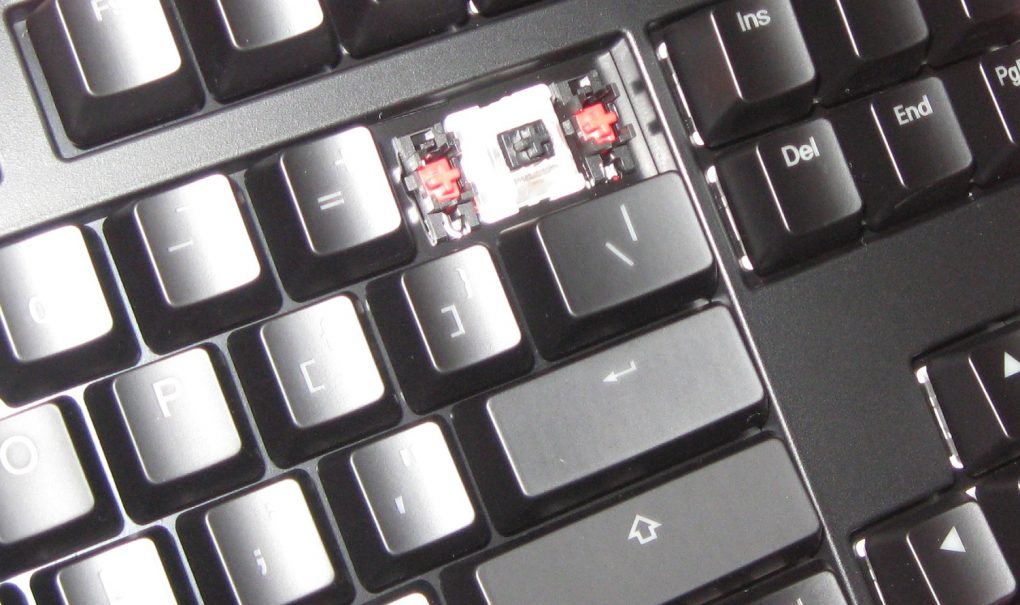 The plate is made of steel as well, the preferred material.
The MK Disco TKL is a fantastic, feature-loaded keyboard. Excellent build quality overall, with the weakest link being the laser engraved thin ABS keycaps. The folding feet are also made of a rather thin plastic that may break if abused. But the rest is superb; hefty, solid board and steel plate hiding a Ducky dual-layer PCB underneath.
The RGB lighting features are awesome. They are the main selling point both for the Disco (as the name implies) and the Ducky Shine keyboards. The Disco along with the Ducky Shine 5 easily have the best backlighting of any keyboard.
I highly recommend adding the Ducky double shot ABS keycap set to your order, if purchasing this keyboard. It's only $10 extra, the quality of these keycaps is very good and infinitely superior to the stock laser engraved ABS ones. Although it seems other Disco models (different switch types) might come with the double shot ABS keycaps already.
Now it is time to evaluate its performance on the next page.
Performance
To evaluate a keyboard's performance, we perform a typing speed test using this website. The test is performed three times after getting used to the keyboard, and then the average words per minute and errors are calculated.
We also test its KRO (key rollover) functionality on this website. For the MK Disco, both its 6KRO and NKRO are put to the test.
Let's get things started. I'm not sure if I have simply gotten better at typing (I don't think I did) or if I type better with these KBT Black switches than Cherry MX Brown and MX Red. I have always been partial to heavier switches. KBT Blacks feel just like Cherry MX Blacks, except they don't snap when installing keycaps, and they're a tad louder.
That's quite the typing speed, but the most telling thing here is the amount of errors I make while typing. Stiffer switches like KBT Blacks and Cherry MX Blacks make it harder to accidentally press a key. I only made one error in the three typing tests I took, thus the average errors comes out to 1/3. Here is a comparison:
I don't favor these switches for typing; I prefer heavier tactile switches, nonetheless I perform well with KBT Black switches as those results show.
Now for key rollover. 6KRO works as intended, I don't know why anyone would bother using it. This means when 6KRO mode is enabled, you can only press 6 regular keys at once. The rest are ignored.
A total of six keys are being pressed here at once; the five letters highlighted as well as Print Screen to capture the screenshot.
Contrary to NKRO which lets you press any amount of keys at once and all are registered. In the past this was only supported over PS/2, but these days it is done over USB as is the case here.
NKRO – any amount of keys can be pressed at once and all will be registered. I didn't want to press any FN combinations and erase my backlighting again, which I already did when trying to capture one of these screenshots, so this one will have to suffice. Many keys being pressed at once, all registered.
So there are no performance anomalies with the MK Disco, and personally both KBT Black and Cherry MX Black are my preferred switches for gaming. I suppose the edge goes to KBT Black because I get to have LEDs underneath the keys while having an easy to work with stabilizer that doesn't feel mushy.
Time to conclude this review.
Conclusion
The MK Disco is the TKL Ducky Shine 5 we have all been asking for. The lighting features are immensely entertaining in their own right. So many different modes, RGB colors, and you can create your own color scheme. Other features include dip switches to enable NKRO, switch certain key positions, and disable the Windows key.
The build quality is superb overall, save for the laser engraved ABS keycaps that came with mine. It seems other Disco models come with double shot ABS keycaps which should be much better. Thankfully, Mechanical Keyboards Inc. lets you add a full 108 set of Ducky double shot ABS keycaps to your order for only $10. These keycaps are of very good quality and look pretty as well, so with these keycaps you really get it all with the Disco. Also, sturdier folding feet would be a nice but minor improvement.
KBT switches are so similar to Cherry. The only differences I can say, at least for Black switches, are that these KBT Black switches are not fully compatible with Cherry keycaps, they might be a tad louder (but that could be related to the keyboard plate/case design themselves), and the stabilizers here are better than regular Cherry stabilizers. They work the same way, thus it is very easy to remove and install large keycaps unlike with Costar stabilizers, yet these don't feel mushy like Cherry stabilizers do. They don't alter the feel of the key press, just like Costar stabilizers, but are compatible with LEDs unlike Costar stabilizers. Truly the best of both worlds.
Appearance: The MK Disco is a looker, no doubt about that. The lighting is the main reason, but it is also designed to look sleek opposed to gaudy. Almost no branding on the case, a nice yet distinct font on the keycaps. The lighting is displayed through the keycaps perfectly. 20/20
Construction: Keycaps aside this is about the best you can expect at this price point, and even then only a few models offer better keycaps in this price point (perhaps other Disco versions, Ducky One, Leopold being the perhaps the best). The keycaps are generic smooth laser engraved ABS. The folding feet could be sturdier but the rest of the casing is a very solid, hefty plastic with cable routing and a detachable USB cord, and the plate is steel. There is no flex and it has the best stabilizers I've ever come across, being as easy to use as Cherry's with LED compability obviously, yet without the mushy feel of Cherry stabilizers. I would have preferred a thinner case with no deep indents for switches however, like Corsair's keyboards. Such a design is easier to keep clean. I'll take off points for the keycaps, and one point for the folding feet not being as sturdy as I'd like. 17/20
Functionality: I'm not convinced that there is a more functional TKL keyboard overall. RGB lighting with individual color customization, many different lighting modes and the ability to make your own color presets, all handled by the onboard memory and micro-controller. The Disco also has DIP switches allowing the user to enable NKRO (this is enabled by default actually), disable Windows key functionality, swap certain keys. Adjustable repeat rate and repeat delay are also included, as well as a demo mode and much more. Because of how much lighting customization this keyboard offers, people might find new lighting quirks to request, but really there isn't much else to ask for in this respect, other than the ability to customize the lighting color under Caps Lock and Scroll Lock. Like its Ducky cousins, the Disco is one of the most functional keyboards in the world. Be weary of Cherry keycap support however; several of my Vortex PBT+POM keys did not fit properly even though most did. The size of the keycaps are standard on the Disco, but KBT switches are just a little bit different than Cherry. This can be a deal breaker for some, so I will deduct a few points for this. 16/20
Performance: Excellent typing, NKRO is tried and true. The Disco uses KBT mechanical switches which are very similar to their Cherry counterparts. Typing is very smooth with ample feedback despite not being tactile, none of that mush from regular rubber domes can be found here. Those inexperienced with mechanical keyboards should expect much easier, faster typing with far less typos. 20/20
Value: At $119 (plus free shipping from Mechanical Keyboards), with this level of build quality and functionality including customizable RGB backlighting, you won't find a better value TKL keyboard. The inclusion of a wire keycap puller is a nice bonus. 20/20
Overall:

93

/100
I have to add, had the MK Disco come with Ducky's double shot ABS keycaps and Cherry MX switches instead of KBT (for aftermarket keycap compatibility), it would have scored a 98/100. Or, if it included Ducky's double shot ABS keycaps (which mine did, but for an extra $10 and it's an addon so it doesn't count toward the score), it would have gotten a 95/100. Other switch versions of the Disco might come with those same Ducky double shot keycaps FYI, and since they're only a $10 addon for a full set I highly recommend buying it. Nonetheless this score is sufficient for our most prestigious award, given below!
The MK Disco is the TKL Ducky Shine 5 we have all been asking for.