Earlier this month we took a close look at on of FSP's high-end model, the FSP Hydro PTM Pro 1000W which scored and tested fantastically. Today, we're going to dial things back a little on the overall wattage scale and take a look at the FSP Hydro G Pro 750W.
The Hydro G series of power supplies is geared towards gamers, and high end system builders and carry an 80+ Gold efficiency rating. Currently, the Hydro G PSU is available in a 650W, 750W and 850W configuration.
At the time of writing the reivew, MSRP for the FSP Hydro G 750W PSU is sitting around $129.99 USD. FSP Backs this PSU with a sweet 10-year warrant for a bit of addition piece of mind. Next, let's jump in a little deeper and take a look at the specifications of this unit.
Features & Specifications: FSP Hydro G Pro 750W
On paper, this PSU appears to check every box of things we like to look for in a quality PSU. An 80+ Gold rating is good and about whant you'd expect to pay in this price/watt configuration. Other features such as Active PFC, 0DB fan functions, and high quality (Japanese) capacitors are also a huge plus.
Below are the specifications of the PSU provided by FSP:
| Model | HG2-750 |
| --- | --- |
| Rated Output Power | 750W |
| Form Factor | ATX |
| 80 PLUS Certification | Gold |
| Input Voltage | 100-240V |
| Input Current | 10-5A |
| Input Frequency | 50-60Hz |
| PFC | Active PFC (>0.9 typical) |
| Efficiency | >90%@ Typical Load |
| Fan Type | 135mm FDB Fan |
| Dimensions(L x W x H) | 150 x 170 x 86mm |
| Protection | OCP/OVP/ SCP/ OPP/ UVP/ OTP |
AC Input
100-240Vac~ 10-5A  50-60Hz
DC Output
+3.3V
+5V
+12V
-12V
+5Vsb
Max Output Current
20A
20A
70.83A
0.5A
3.5A
Max Combined Power
120W
750W
17.5W
Total Power
750W @50°C
Modular Cable Connectors:

Great specs over all, especially for the price. Next, let's take a closer look and get this PSU out of the box!
A Closer Look: Unboxing & Packaging
The unit arrived unscathed and in a perfect bill of health. The box originally came wrapped in clear plastic to keep the box from scuffing.
Overall, the packaging does a fantastic job highlighting the PSU's many features and capabilities. I'm personally a fan of "the more data the better" and this box definitely provided. The bottom portion of the box goes overall each of the included cables, lengths, power-related specs, and efficiency.
With the outer flap open, we can see that the PSU is packaged quite well. The main unit is secured inside a plastic bad and sandwitched in between two custom formed foam bricks. The included modular and power cable are located inside a cloth carry bag under an additional cardboard flap.
A Closer Look: PSU Exterior & Included Items
With everything out of the box, we get a better look at everything that's included with the FSP Hydro G 750W PSU. Included are the PSU itself.. obviously, modular cables, a power cable, mounting screws, an instruction manual, and replaceable stickers for the side of the PSU.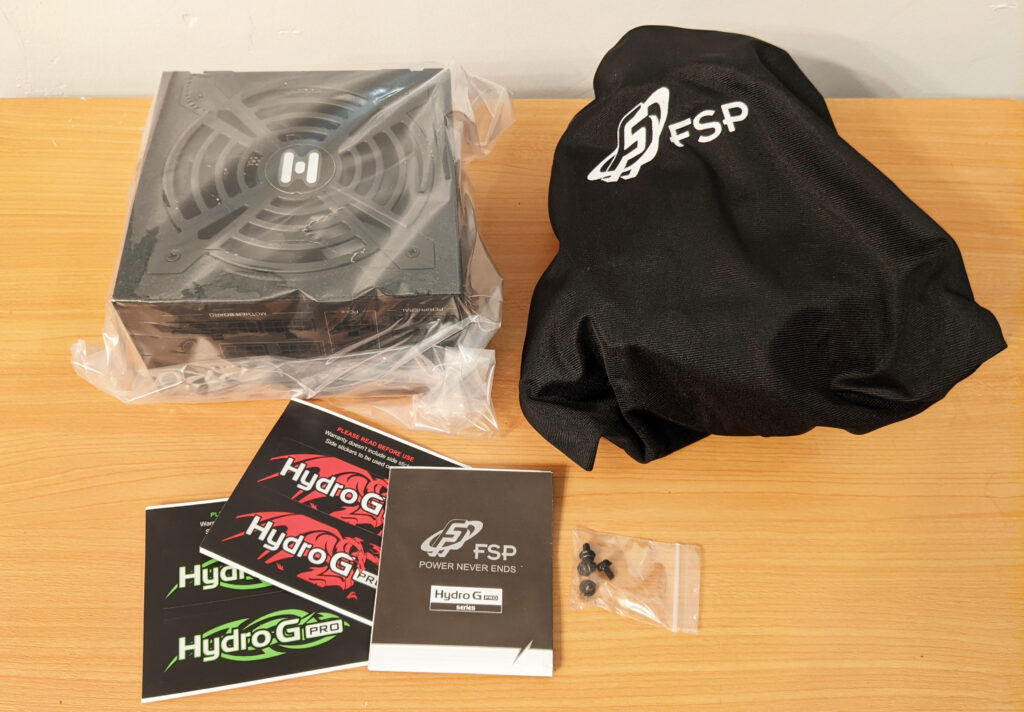 The Cables are all the pretty standard flat, plastic style we typically see on PSUs in this price range. Nothing flashy, but flat cables such as these are typically more function > form; they're pretty standard looking, but easy to route and manage if you're trying to keep your case interior tidy.
I love the exterior finish on this PSU. It's black power coating is extremely rigid and feels like it could withstand a decent amount of installation abuse without scratching or scuffing. The fan grill is also interesting and I personally like the design.
For now, I'll let the photos do the talking.
The one note-worthy item to discuss is the addition of the "Eco" switch on the back. This switch toggles whether or not you want the fan always on or not. With eco-mode on, the fan will only engage under a certain load, such as during gaming, or hardware intensive tasks. While the PC is idle, the fan should stay off.
I personally recommend leaving Eco-mode on, as not only will it save a small amount of power, but it will reduce dust buildup inside the PSU.
A Closer Look: PSU Interior
At a glance, the inside of the PSU is quite tidy and clean. It's clear that looking at the overall design that FSP manufactures these PSUs themselves and is not a reseller like many other companies that offer PSUs.
The overall design of the PSU is a single +12V rail that provides voltage conversion on the second stage. The secondary voltages such as +3.3V and +5V are derived from the main +12V rail (DC to DC). This design is much simpler, and with a single +12V rail as a primary, it can keep manufacturing costs and component complexity down as well as reduce heat.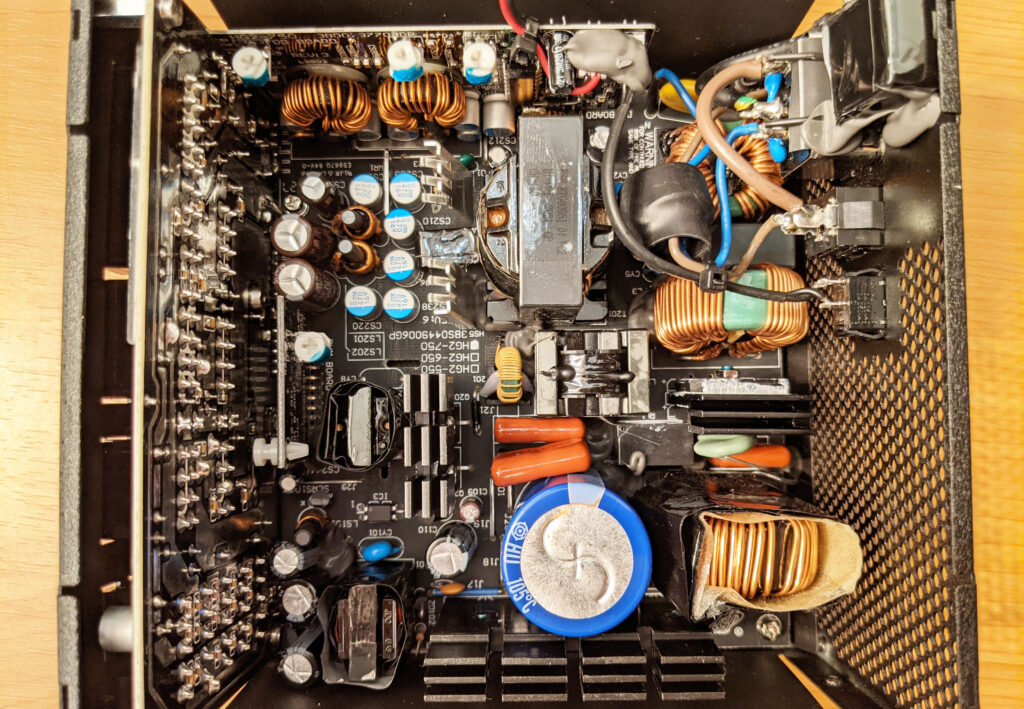 The back side of the modular connector daughter board shows excellent solder flow. Lots of tiny SMD capacitors are scattered between many strategic ares between GND and +12 to provide a bit more stable power delivery and to reduce line noise.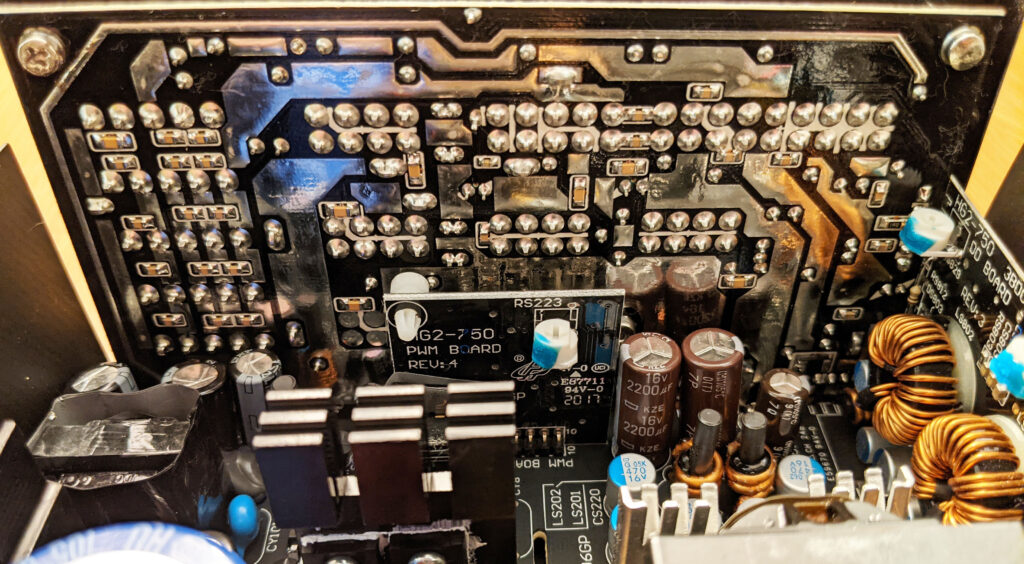 Here's a shot of the reverse side of the back of the PSU where the power connector would plug into. As you can see, wires are managed well and secured tightly to keep anything from wiggling loose. It's hard to see but there's some surge protection soldered in between the power leads (the blue disks) called metal-oxide varistors (MOV) which will protect the PSU from over voltage. A few self-resetting fuses (yellow disks) were also found (current protection).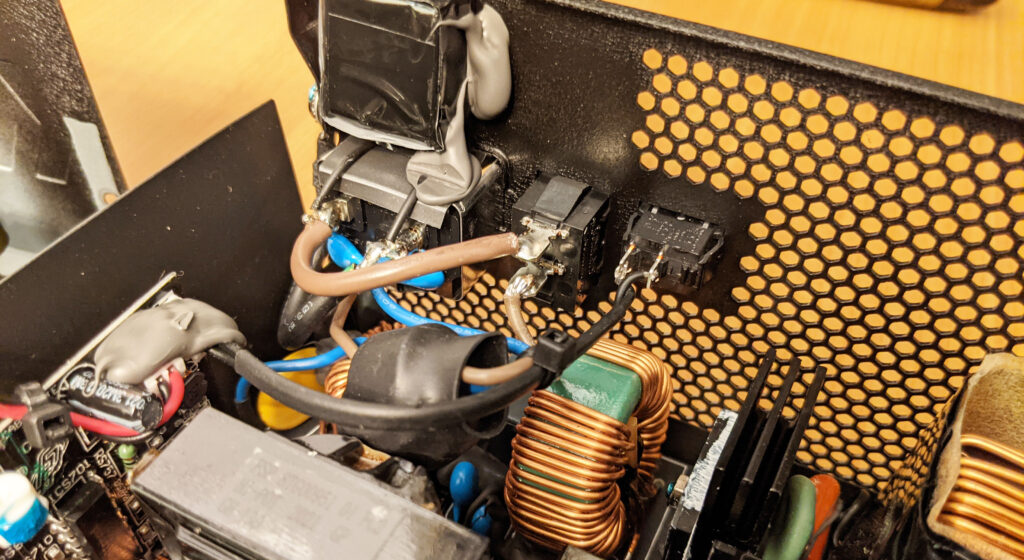 Main voltage filtration from the mains just after rectification to DC is provided by a single large capacitor. The electrolytic cap is rated for 450V DC with a capacitance rating of 560uF and a 105C temperature rating.
We can also confirm FSP's claim of the use of Japanese capacitors, as this particular unit is produced by Hitachi, and probably on one of the more reputable electronics manufacturers in Japan!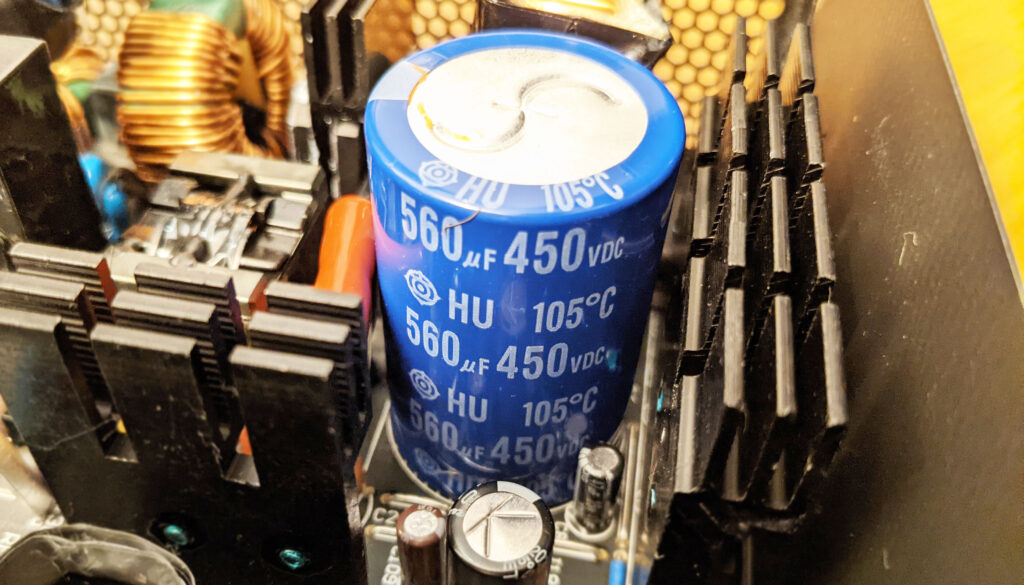 Sitting just in front of the main filter caps are a few heat-sinked components. Moving left to right:
1x UTC(Unisonic Tech): 4N65KL-TF3-T MOSFET rated for 4A 4V (max power 34W)
2x Toshiba MOSFET N-CH rated for 600V 20A
1x CREE C3D06060A Schottkey Diode Rated for 600V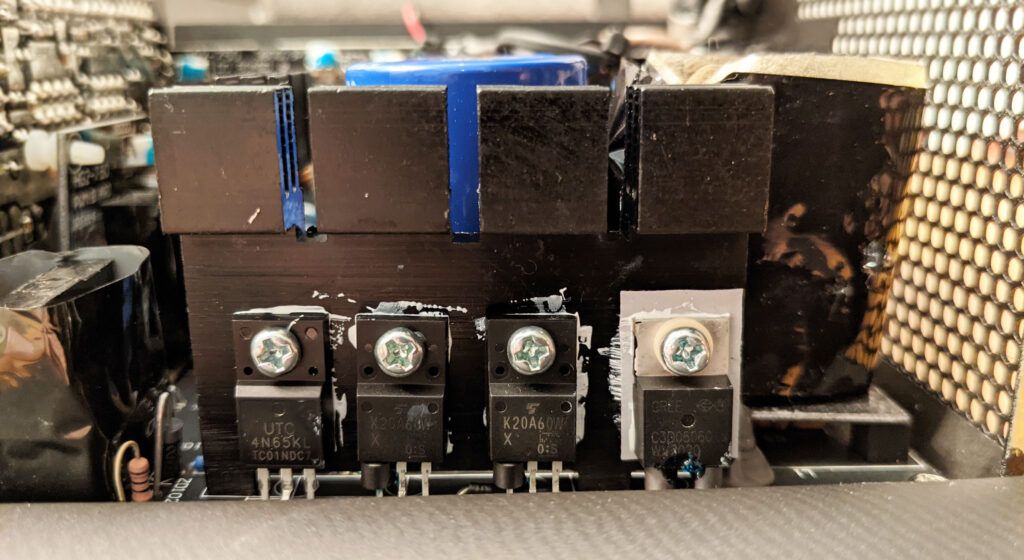 Some more high quality capacitors, this time we've got a Rubycon capacitor, also manufactured in Japan (right) and is considered a top-tier brand. This one is rated for 330uF at 50V at also 105c. The three on the left side are also manufactured by Rubycon.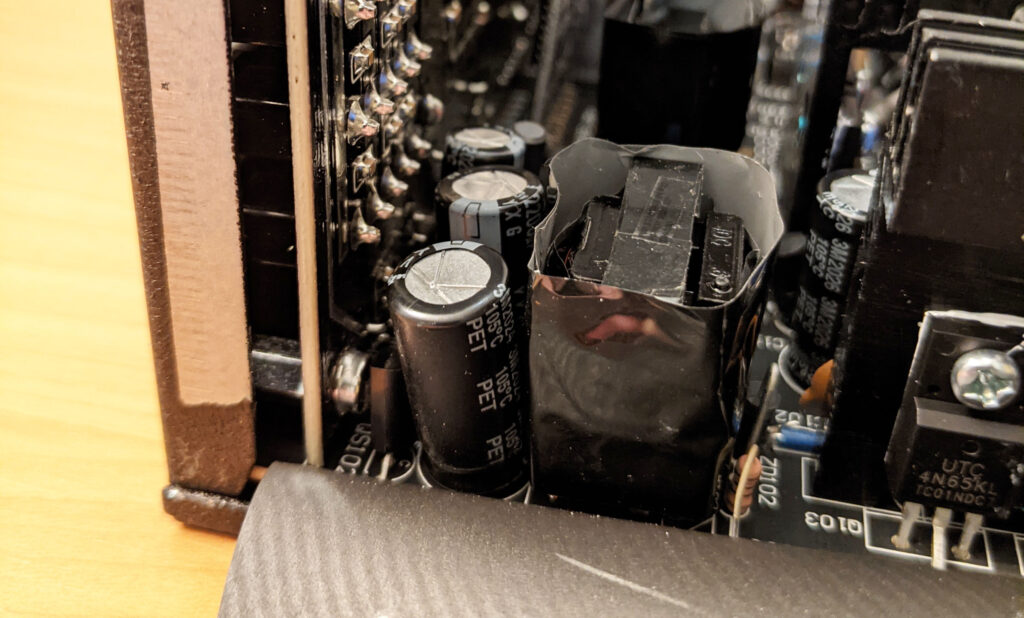 Two more smaller electrolytic capacitors: 2x KZE (Nippon) caps rated for 16V at 2200uF. Nippon (or Chemi-Con is a top-tier brand as well.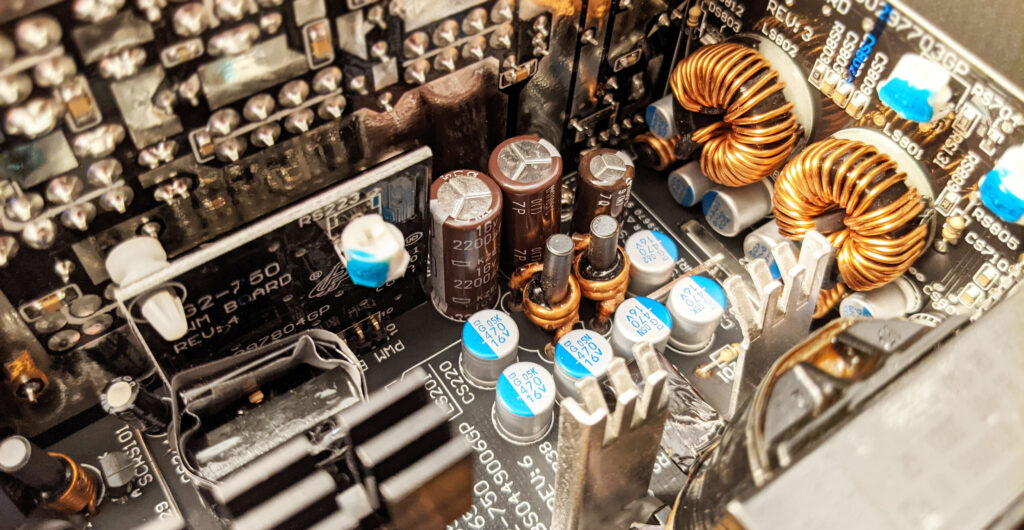 Here we've got two more heat-sinked MOSFETS, these manufactured by ST under PN STF28N60M2. These two are rated for 600V under 22A.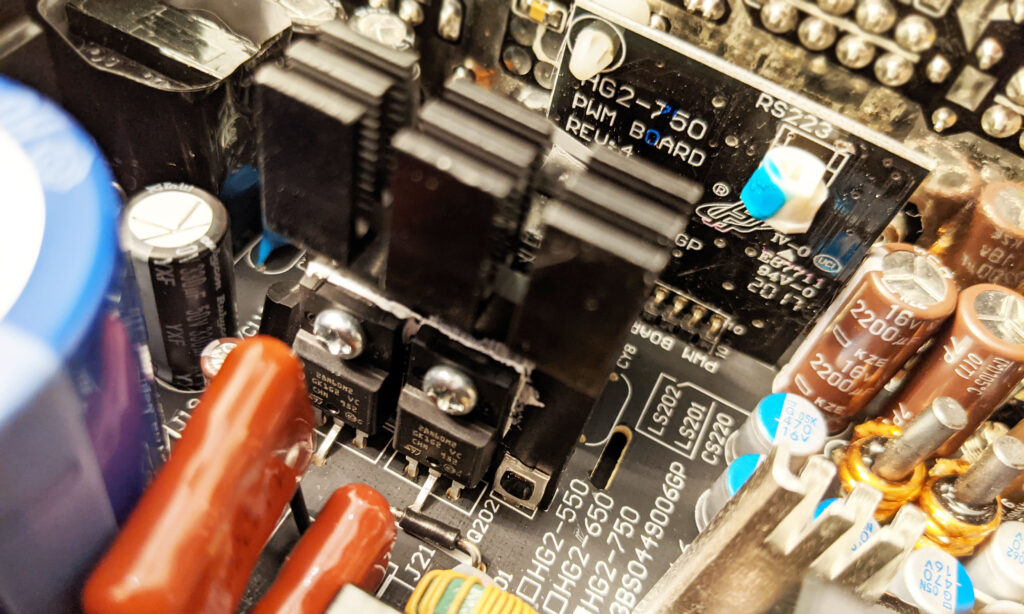 Attached to this heatsink is the main full bridge rectifier responsible for converting your wall power to DC. Unfortunately I was not able to pull at PN for it.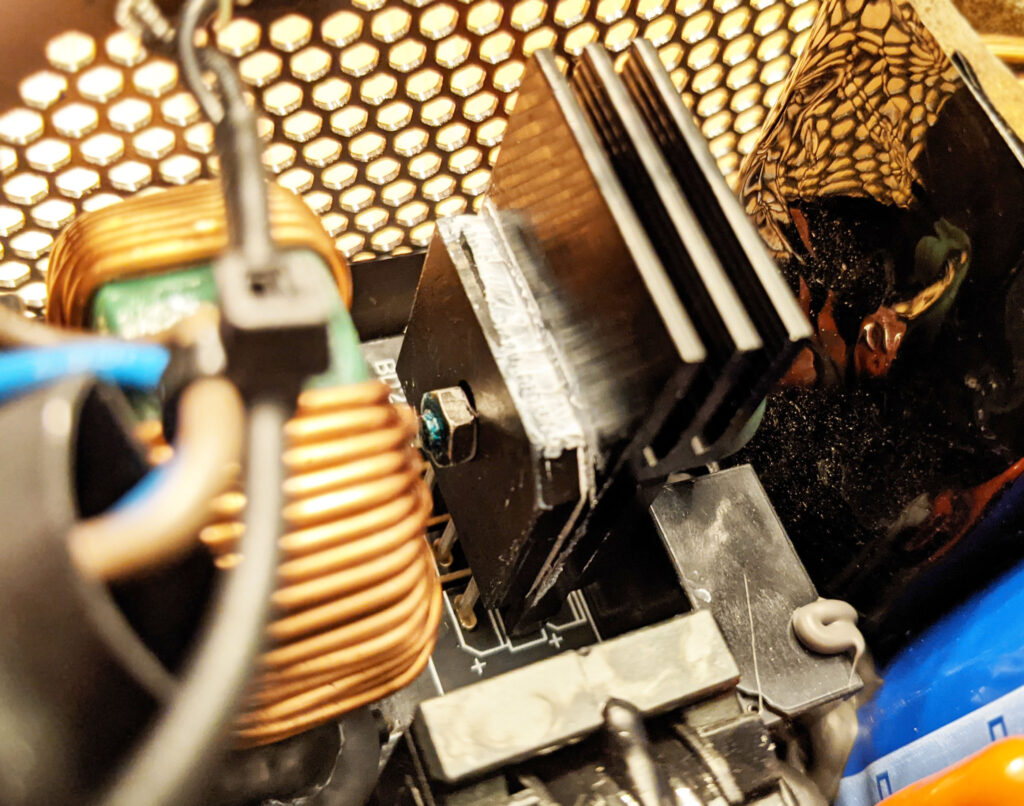 The next few images are for your viewing pleasure as I don't have anything noteworthy to say. Overall, I like the clean layout and the use of custom aluminum heatsinks.
Below are some shots of the reverse side of the main PCB. As you can see, there are a few surface mounted MOSFETs that are passively cooled using the metal chassis of the PSU.
The reverse side of the modular cable daughter board.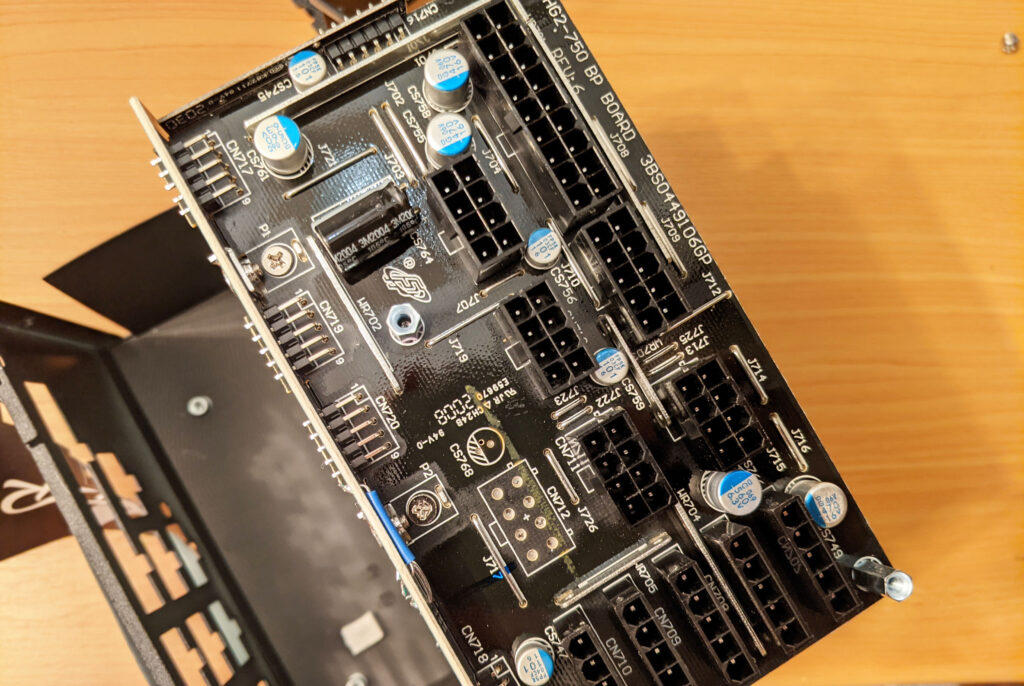 The main fan that keeps the PSU cool is a 120mm MGA12012XF-O25 by Protechnic Electric which runs on a single 12V cable pair and is rated at 0.52A.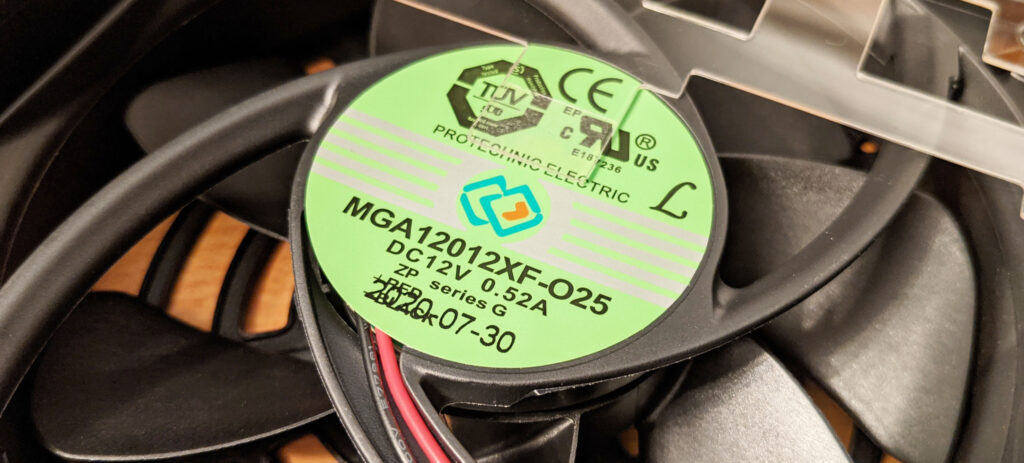 So, what have we learned? We've definitely validated FSP's claim of the use of 100% Japanese Capacitors. Not only that, we've found that FSP opted to use capacitors considered top-tier such as Hitachi, and Rubycon.
The manufacturing that went into the PSU was definitely done professionally. The overall layout was extremely logical to cooling considerations, the use of custom aluminum heatsinks on components that get typically warm (MOSFETS mostly) was also great to see.
Overall, I'm more than pleased as to what's inside the FSP Hydro G Pro PSU. Time to see how these high quality components handle our tests!
Load Performance Testing & Results
Testing Methodology
There are several factors we'll be looking at while properly testing a PSU. One of the most important thing we look for is the behavior of voltage as the load on the PSU is increased. This is because when you see a voltage drop at mid to high loads, this can cause serious problems to internal computer components if the drop is significant enough. We will test this by placing a controlled load on the power supply and incrementing the load up by 50W for 5-10 minutes at each step. We will run each 50W increment as high as we can go (1040W Max). While this PSU is rated at 750W, there is a lot to be said for voltage stability past maximum ratings. We'll be loading JUST the 12V power rail as it is used primarily by both the CPU and GPU. Why just the +12V rail? Because this rail is used almost exclusively by power hungry components such as your GPU and CPU. Components that load the +5V and +3.3V rails typically are standard across builds. This is why you'll see the same output ratings for those rails between 450W power supplies versus 1200W power supplies. They are normally static across all build types. With that being said, the +5V and +3.3V will be loaded with a a light dummy load which will be factored in.
While FSP claims an 80+ Gold efficiency rating (90% at 50%) on this PSU, we will also be performing our own efficiency calculations just to be sure. We will do this by placing a specific load on the power supply and then measuring the wattage going in to the power supply with our handy Killawatt meter.
Lastly, at minimum, mid, and maximum loads we'll be measuring voltage ripple and noise using a PC Oscilloscope. Noise or large voltage dips and spikes is the silent killer can be a huge contributor of early PC component failure if not properly checked.
To provide a decent and accurate load you need more than just a beefy PC with high end components. Accuracy of load is vital to provide accuracy in the rest of the measurable points such as voltage @ x load, as well as efficiency calculations. To perform this test accurately we used our own home brew power supply load tester. More info on this tester can be found on our unofficial build page.
The FSP Hydro G Pro 750W PSU will be tested with its exhaust partially restricted to simulate an in-case environment.  This simulates a real world, worse case setting where hot air would be sucked into the PSU thus increasing the temps a bit.
The results are in:
| LOAD Watts | +12 Volts | Voltage Ripple | Wall Amps | Wall Volts | Wall Watts | Efficiency Percent |
| --- | --- | --- | --- | --- | --- | --- |
| 100 | 11.94 | ~16mV | 0.91 | 119.9 | 109.109 | 91.65% |
| 150 | 11.94 |   | 1.37 | 119.6 | 163.852 | 91.55% |
| 200 | 11.94 |   | 1.82 | 119.3 | 217.126 | 92.11% |
| 250 | 11.94 |   | 2.28 | 119 | 271.32 | 92.14% |
| 300 | 11.94 |   | 2.72 | 119 | 323.68 | 92.68% |
| 350 | 11.94 | ~12.5mV | 3.17 | 118.9 | 376.913 | 92.86% |
| 400 | 11.94 |   | 3.63 | 118.7 | 430.881 | 92.83% |
| 450 | 11.93 |   | 4.11 | 118.6 | 487.446 | 92.32% |
| 500 | 11.93 |   | 4.57 | 118.3 | 540.631 | 92.48% |
| 550 | 11.93 |   | 5.04 | 118.2 | 595.728 | 92.32% |
| 600 | 11.93 |   | 5.51 | 118.1 | 650.731 | 92.20% |
| 650 | 11.93 | ~19mV | 5.99 | 117.8 | 705.622 | 92.12% |
| 700 | 11.93 |   | 6.52 | 117.6 | 766.752 | 91.29% |
| 750 | 11.92 |   | 6.99 | 117.6 | 822.024 | 91.24% |
| 800 | 11.92 |   | 7.49 | 117.5 | 880.075 | 90.90% |
| 850 | 11.92 |   | 8.01 | 117.4 | 940.374 | 90.39% |
| 900 | 11.92 |   | 8.51 | 117.3 | 998.223 | 90.16% |
| 920 |   |   |   |   |   | OCP PROTECTION |
First, the overall efficiency rating was absolutely fantastic. This PSU effectively scored an 80+ Platinum efficiency rating across the spectrum. I had to go back and keep rechecking numbers to make sure that this was indeed accurate.  The PSU kept giving even after its rated 750W, while keeping that Platinum rating all the way to 900W, before OCP (overcurrent protection) kicked in at 920W.
ECO Mode – During our first run through, I checked numbers with Eco mode (switch on the back) on, and then off again for another run. Regardless of whether it's on vs off, the difference in results were neglagable. It should be noted though that the PSU ran in silence up until the 500W mark before engaging.
My only gripe was the slightly lower than desired +12V reading. Overall, the voltage drop was very minimal, only a 0.02V drop from 100-750W. Starting voltage was just under the +12V rating at 11.94V. Typically we like to see a bit of a buffer, normally 0.05-0.10V over the 12V rating. That being said the -0.02-0.04 drop under 12V isn't anything to really worry about as your internal components will run just fine.
Final Thoughts & Scoring
Typically, I try to be as non bias as I can but damn these FSP PSUs keep knocking it out of the park. From packaging to testing, there really isn't a whole lot of negativity I can throw at this PSU…
The FSP Hydro G Pro 750W PSU definitely ended up being one of the most rock solid PSU's we've tested in the $120-150 USD price range. According to our tests, we expected an 80+ Gold PSU and ended up with an 80+ Platinum. This does happen from time to time, but if anything it speaks volumes as to the quality components used in this FSP PSU.
Now for the final breakdown:
Appearance: 8.5/10 – Obviously a bit of wiggle room for bias here, however to me the base unit and finish looks fantastic, and I really love the textured look. I wish the cables had just a bit more of a quality look and feel.
Build Quality & Construction: 9.8/10 – External to internal construction is top notch and is backed by top-tier components based on what we were able to identify.
Performance: 9.6/10 – With top-tier components, you get top-tier results. When it came to overall efficiency, this PSU crushed its 80+ Gold rating. Line ripple, and voltage were "good" overall.
Value: 9.3/10 – With an MSRP of $129.99, this places the FSP Hydro G Pro 750W PSU in the mid-tier category. The fact that this PSU is backed by a massive 10-year warranty, we recommend this PSU as a good buy.
All of this being said, this is a PSU I would absolutely buy personally and recommend.
Amazon Link: FSP Hydro G PRO 750W PSU
Product Page: https://www.fsplifestyle.com/us/product/HYDROGPRO750W.html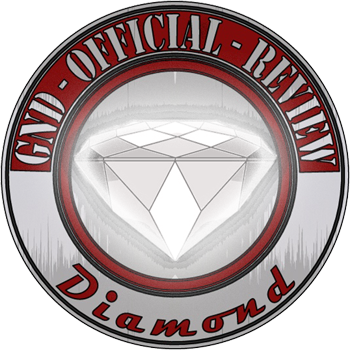 FSP Hydro G PRO 750W PSU - Review
The FSP Hydro G Pro 750W PSU definitely ended up being one of the most rock solid PSU's we've tested in the $120-150 USD price range.
Build Quality & Construction:
9.8