Today we'll be taking a look at one of FSP's high end offerings from its huge lineup of PC power supplies. The FSP Hydro PTM Pro series power supplies come in five different flavors, 650W, 750W, 850W, 1000W and 1200W. In this review, we'll be testing the 1000W model (HPT2-1000M) which is geared towards high end system builders with a power hungry CPU and most likely a multi-GPU setup.
At a glance, the PSU features an 80+ Platinum efficiency rating (92% at 50% load @ 115V). An "Eco" mode with a rear-facing toggle switch is provided which is mostly focused on fan/noise control. The PSU features silent operation until the internal temperatures reach a certain threshold.
Currently. the FSP Hydro PTM Pro 1000W PSU model is available for $249.99 though we're currently seeing it as low as 226.99 currently on Amazon. This price is about what you'd expect to pay for a 1000W 80+ Platinum rated PSU across all brands.
(Top image credit @ FSP Group)
FSP Hydro PTM Pro 1000W PSU Specifications
Below are the official specifications of the FSP 1000W PSU. On paper, this PSU looks to check pretty much all the boxes that high end system builders are looking for: fantastic 80+ rating, silent operat3ion,
| Model | HPT2-1000M |
| --- | --- |
| Rated Output Power | 1000W |
| Form Factor | ATX |
| 80 PLUS Certification | Platinum |
| Input Voltage | 100-240V |
| Input Current | 13-6A |
| Input Frequency | 50-60Hz |
| PFC | Active PFC |
| Efficiency | ≥ 92% |
| Fan Type | FDB Fan, 135mm |
| Dimensions(L x W x H) | 150 x 190 x 86 mm |
| Protection | OCP, OVP, SCP, OPP, OTP, UVP |
AC Input
100-240Vac~  10-5A  50-60Hz
DC Output
+3.3V
+5V
+12V
-12V
+5Vsb
Max Output Current
20A
20A
83.33A
0.3A
3A
Max Combined Power
120W
1000W
18.6W
Total Power
1000W
Now that we've got a better idea as to what we are working with, let's unbox this beast and examine it a bit more closely.
A Closer Look: Packaging
The FSP Hydro PTM Pro 1000W PSU arrived in perfect condition. The box came wrapped in clear plastic for added protection. Overall, the box does a good job highlighting important specs.
With the box now open, the PSU appears to be packaged quiet well, sandwitched in between two custom foam bricks, which should keep it safe from jarring around during shipping. The rest of the components such as cables are located inside the handy little bag for easy storage and safe keeping.
Also included are pamphlets containing product and warranty information, and additional side stickers if you want to change the overall color scheme.
A Closer Look: Product Design & Exterior
let's start with the cables. Each modular cable are constructed of the same material: a soft plastic casing. It's very easy to flex which should aid in cable management. There is nothing too flashy about these but are the type of cables that do a specific job and do it quite well.
Next, moving on to the main PSU itself. The design is very neutral and features a gritty textured power coat finish which should definitely withstand normal abuse after clunking around in your chassis during installation.
Overall, I really like the design. The 135mm fan grill is interesting and a nice deviation from the typical metal mesh grill we normally see. For now, I'll let the pictures do the talking:
A Closer Look: Internals
After voiding the warranty and cracking open the PSU's chassis, we get a better look at the internal components that make the magic happen.
Caution: Do not open your power supply, especially if it has been powered on recently. Residual voltages may be present.
At first glance, the inside of the FSP PSU is absolutely gorgeous and is definitely not giving off "budget" PSU vibes. We've got dual stacked main filter caps, custom heatsinks, and over-sized inductors/chokes. Solder flow from the top also looks fantastic on the main board and daughter boards. Because of how tightly squeezed the components were, photographing each component proved very difficult, but we'll work with what we got. 🙂
All PCB components appear to be custom printed by FSP as their own logos are present.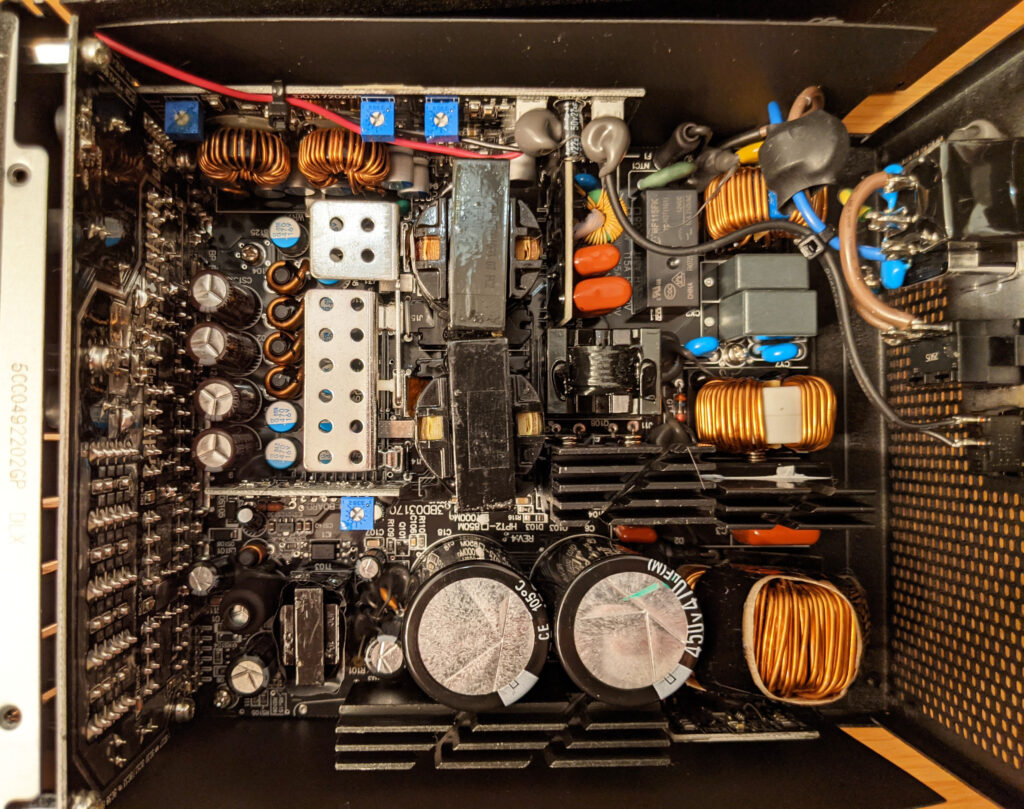 The main cooling fan is a 135mm Protechnic Electric MGA13512XF-A25 stamped with a 2020-08-22 date code. The fan runs at 12V drawing 0.38A.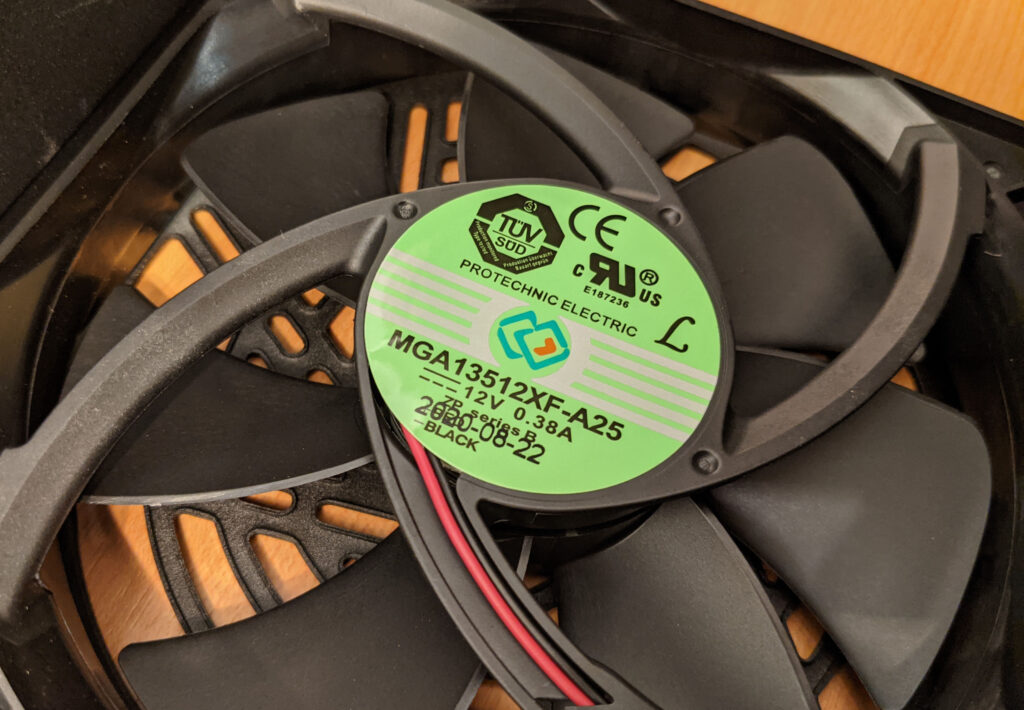 The main filter caps live up to FSP's claims of being 100% Japanese. Both are rated for 450V 470uF with a 105C temperature rating. These will have no problem filtering mains AC voltages from either US 120V or EU 240V.
Both capacitors are manufactured by Rubycon, a top tier Japanese electronics manufacturer.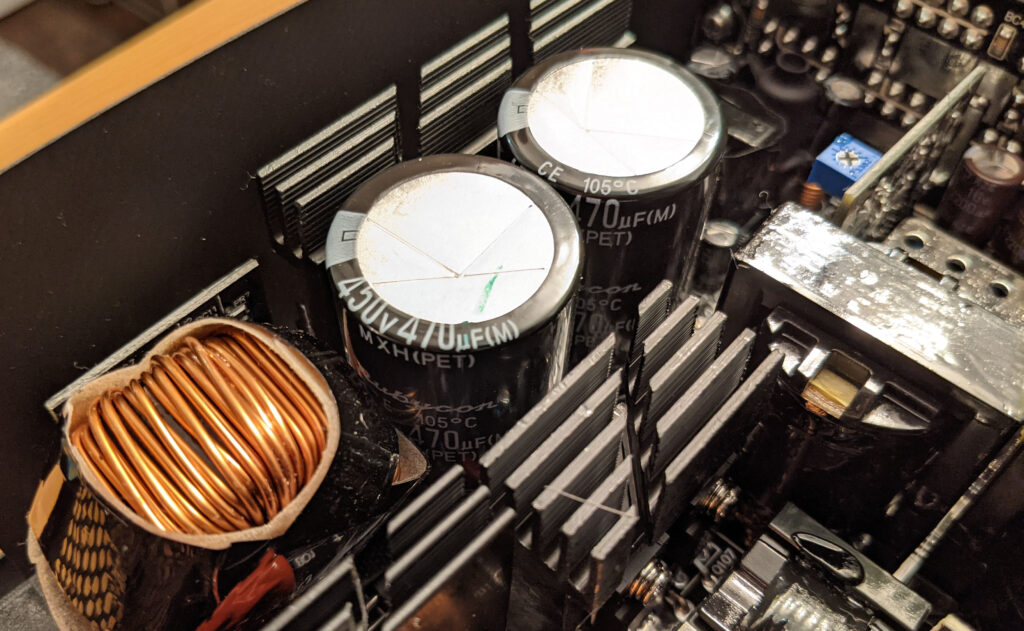 Secondary capacitors are each rated at 2200uF at 16v. These Nippon ChemiCon KZE capicitors, are also Japanese made and are considered quite good.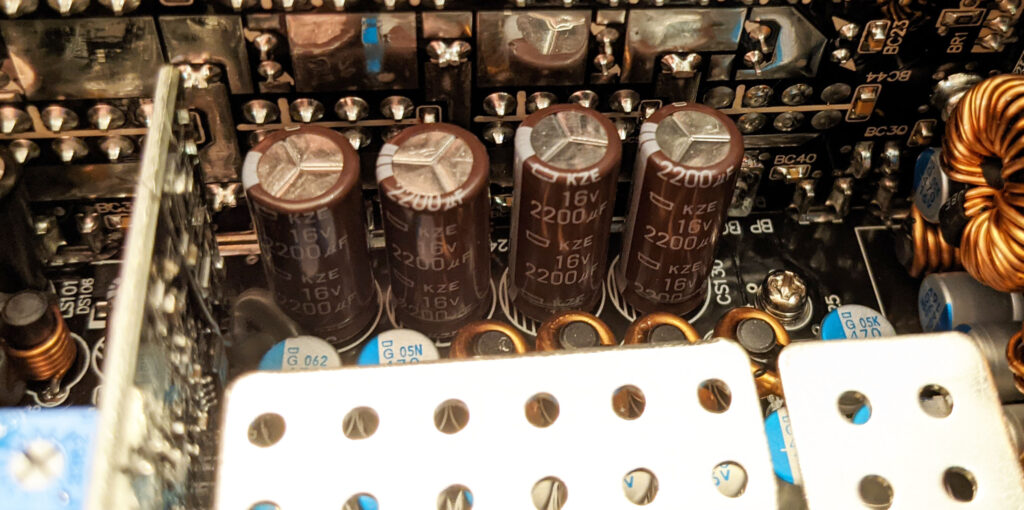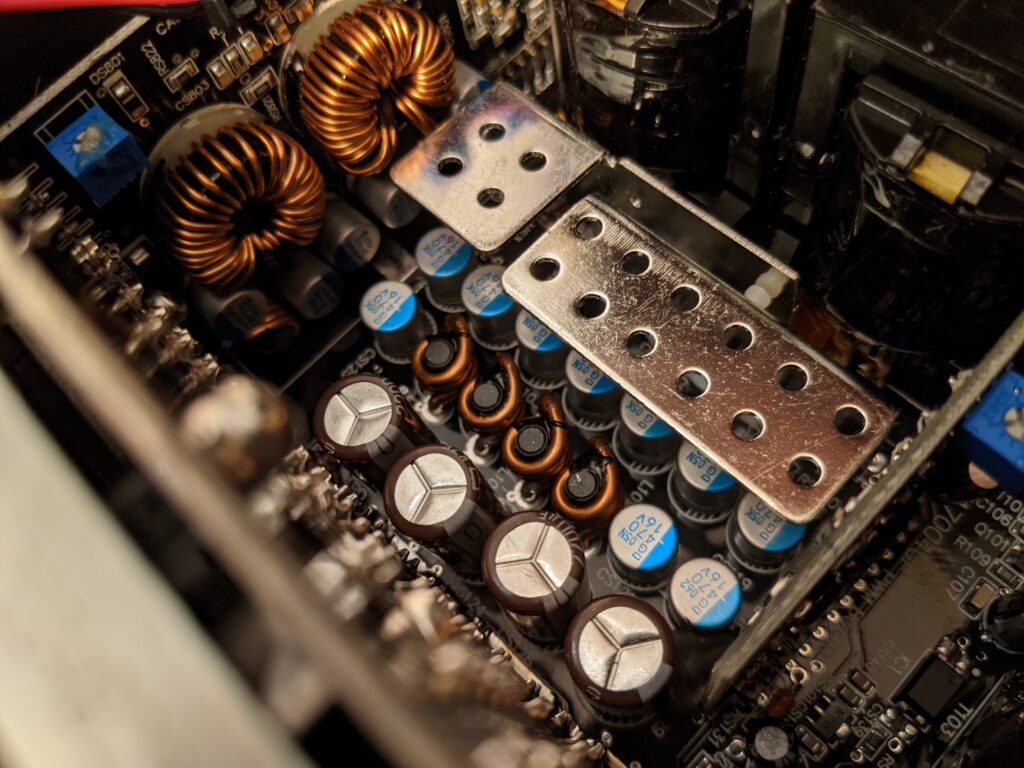 The main Bridge Rectifier is a GBJ 2506P which is rated for 600V at 25A. Well suited for the job at hand.
Heat sinked next to the filter caps are, on the left a ST 8H065DI Schottkey diode rated for 650V at 8A. The other three are Infinion 60R180P7 MOSFETs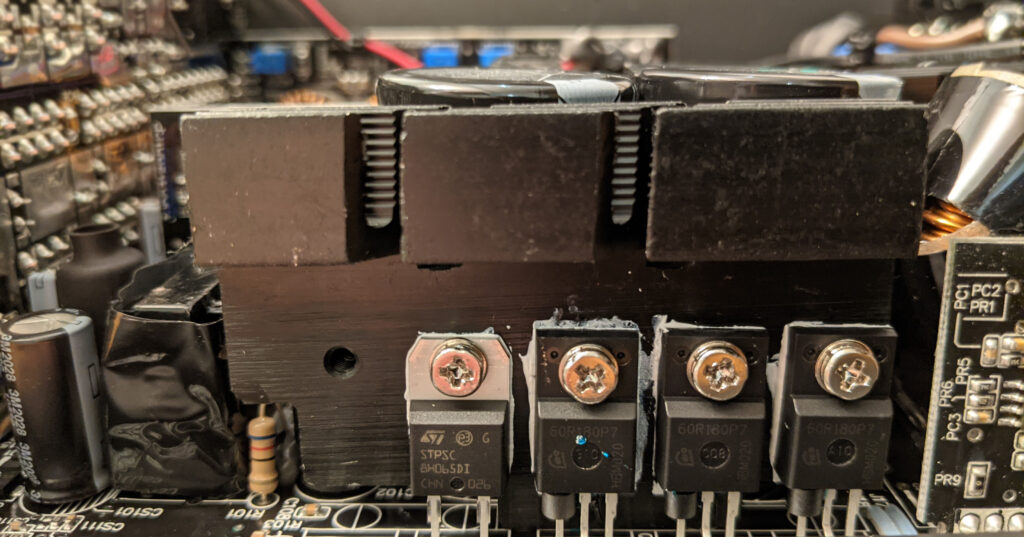 Just to the right of that is a PFC (power factor correction) daughter board (3BD0317301GP).
One interesting thing to note is that this daughter board features the part number HPT2-1200M which is the part number for the 1200W variant of this particular PSW we're reviewing (HPT2-1000M)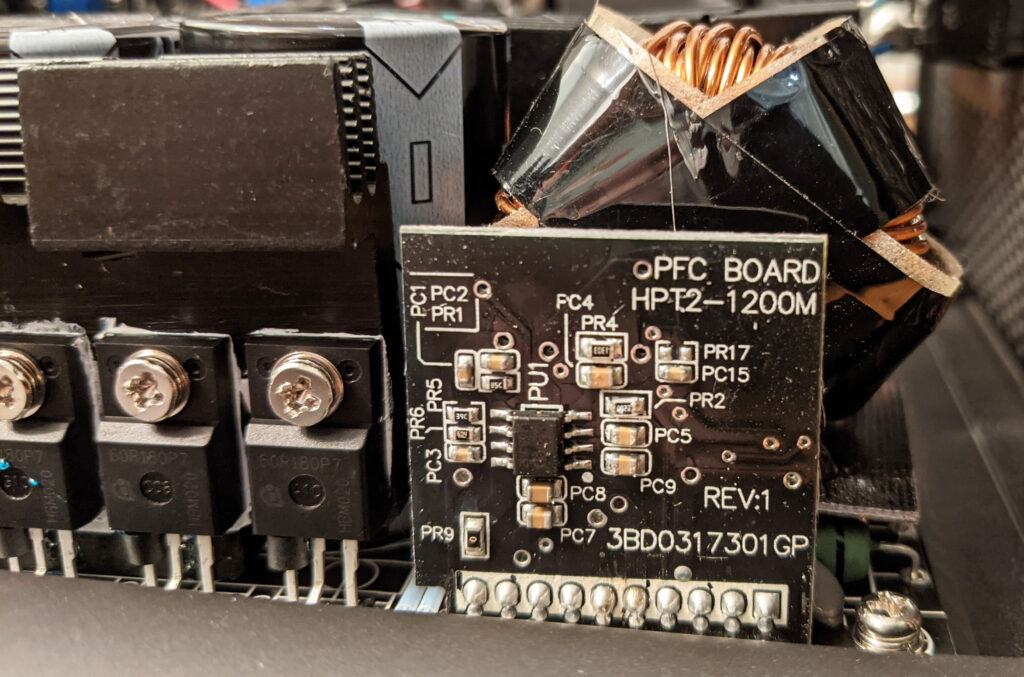 Next up is the PWM daughter board.  (3BD0316901GP)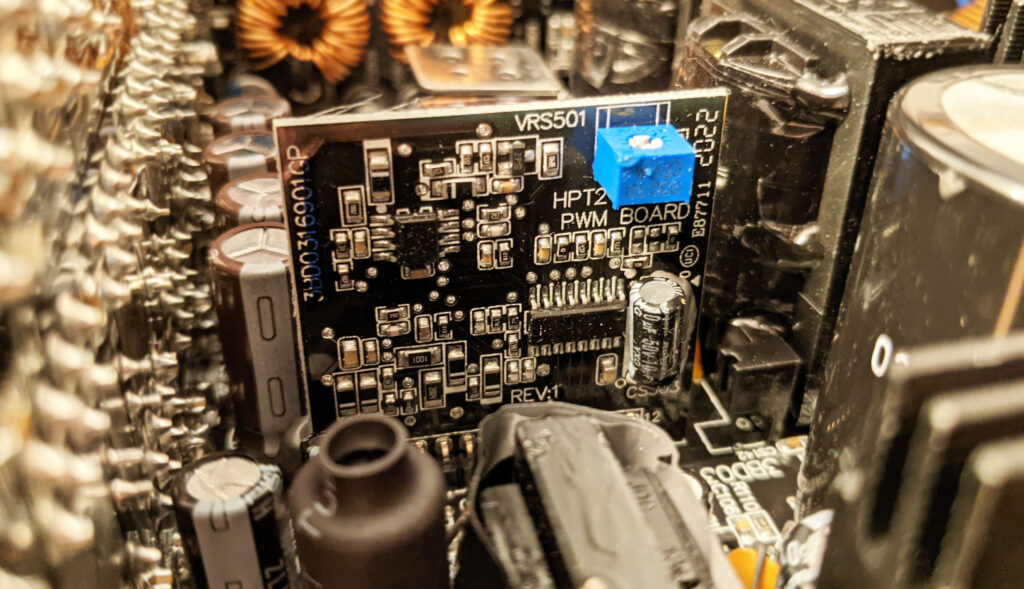 The main bypass relay and surge protection components are seen here next to the entry point for the mains power.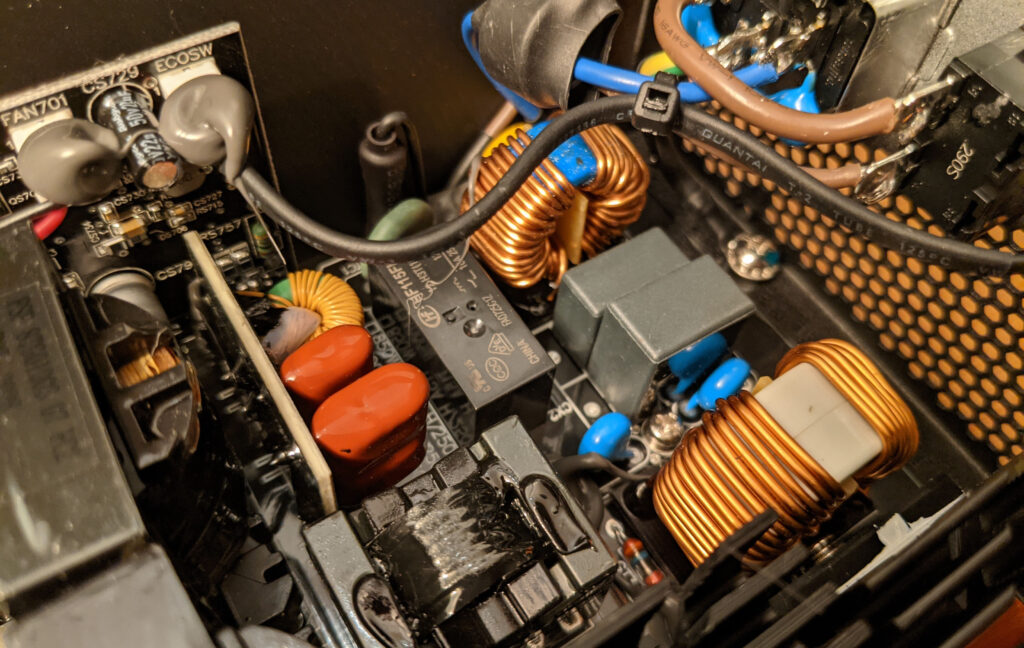 From there, here's a shot of the inside of the back of the PSU. Here you can see the chassis-mounted plugs and switches.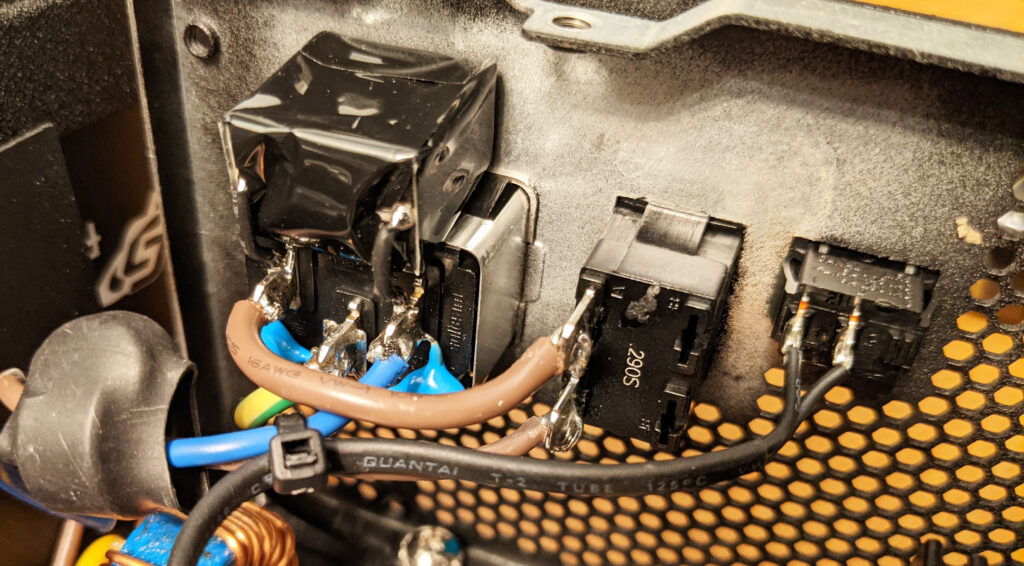 Over on the opposite end is the modular connector daughter board. The two dual-stacked main transformers are also present in the middle.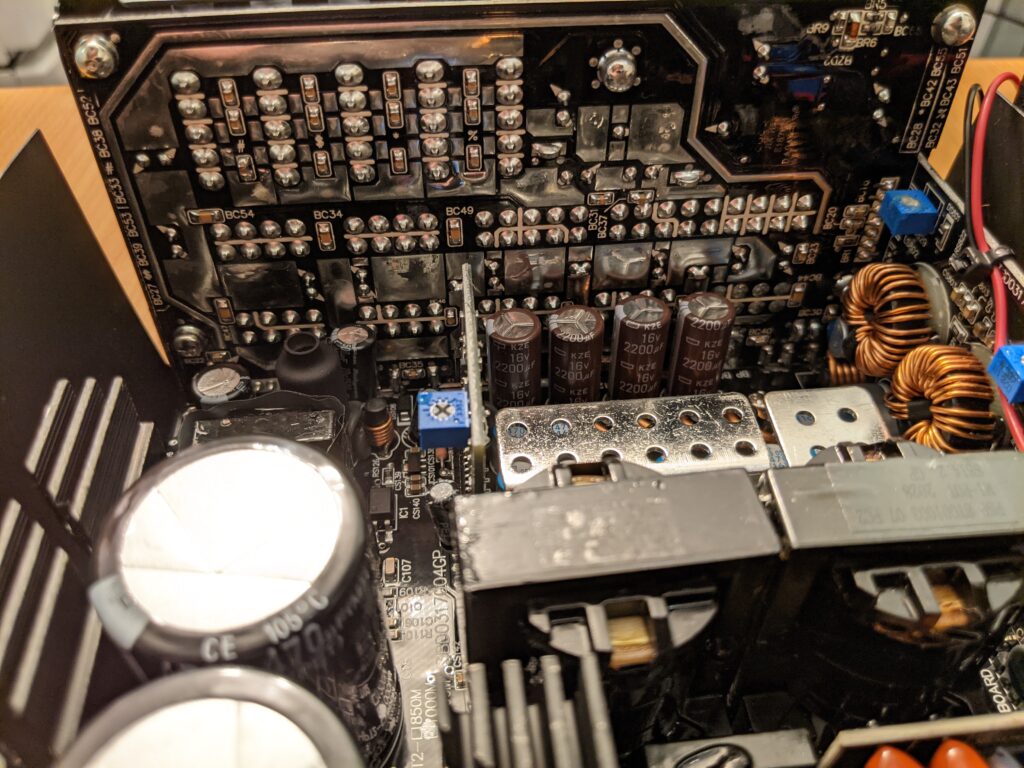 The reverse side of the main PCB shows good solder flow. Additional ICs are present under thermal pads for passive cooling with the bottom of the chassis. Unfortunately we were not able to read any of the part numbers off of these components. More than likely the paired ICS towards the middle-left side are 12V MOSFETS.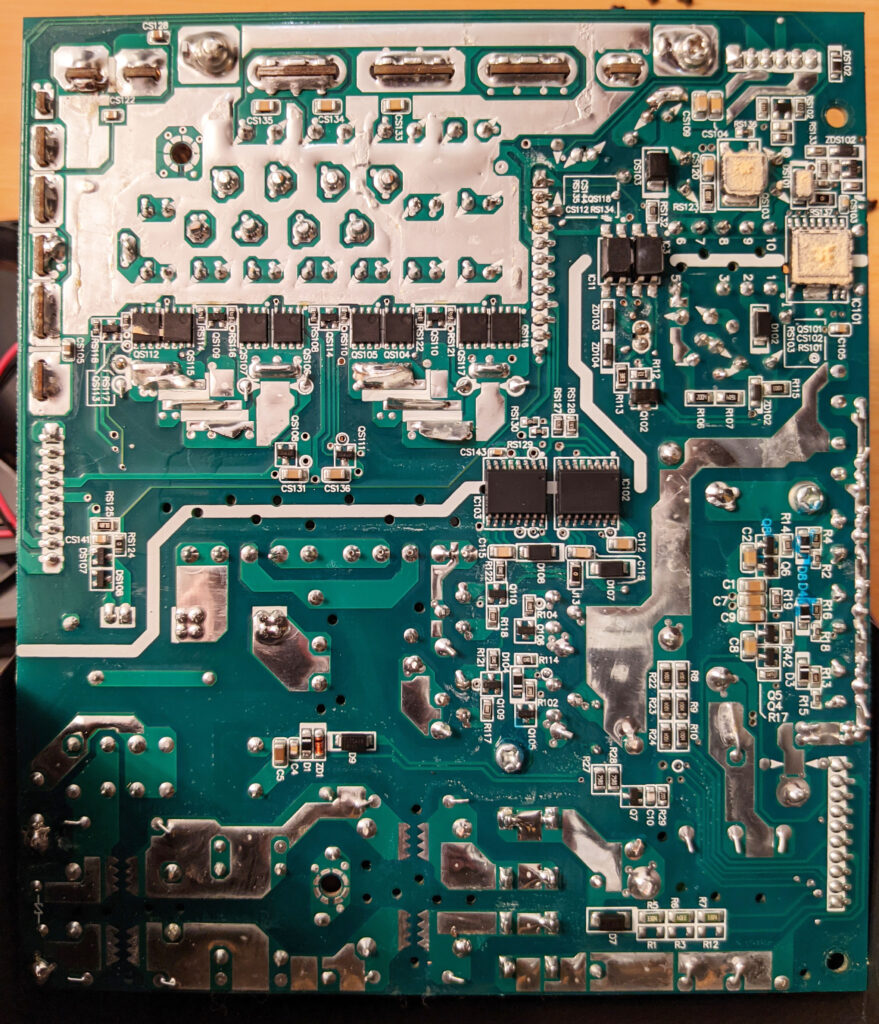 The images below were taken for your enjoyment however we were not able to identify any of the components.
Load Performance Testing & Results
Testing Methodology
There are several factors we'll be looking at while properly testing a PSU. One of the most important thing we look for is the behavior of voltage as the load on the PSU is increased. This is because when you see a voltage drop at mid to high loads, this can cause serious problems to internal computer components if the drop is significant enough. We will test this by placing a controlled load on the power supply and incrementing the load up by 50W for 5-10 minutes at each step. We will run each 50W increment as high as we can go (1050W Max). While this PSU is rated at 1000W, there is a lot to be said for voltage stability past maximum ratings. We'll be loading JUST the 12V power rail as it is used primarily by both the CPU and GPU. Why just the +12V rail? Because this rail is used almost exclusively by power hungry components such as your GPU and CPU. Components that load the +5V and +3.3V rails typically are standard across builds. This is why you'll see the same output ratings for those rails between 450W power supplies versus 1200W power supplies. They are normally static across all build types. With that being said, the +5V and +3.3V will be loaded with a a light dummy load which will be factored in.
While FSP claims an 80+ Platinum efficiency rating (92% at 50%), we will also be performing our own efficiency calculations just to be sure. We will do this by placing a specific load on the power supply and then measuring the wattage going in to the power supply with our handy Killawatt meter.
Lastly, at minimum, mid, and maximum loads we'll be measuring voltage ripple and noise using a PC Oscilloscope. Noise or large voltage dips and spikes is the silent killer can be a huge contributor of early PC component failure if not properly checked.
To provide a decent and accurate load you need more than just a beefy PC with high end components. Accuracy of load is vital to provide accuracy in the rest of the measurable points such as voltage @ x load, as well as efficiency calculations. To perform this test accurately we used our own home brew power supply load tester. More info on this tester can be found on our unofficial build page.
The FSP Hydro PTM Pro 1000W PSU will be tested with its exhaust partially restricted to simulate an in-case environment.  This simulates a real world, worse case setting where hot air would be sucked into the PSU thus increasing the temps a bit.
Breaking down the test results… all in one chart:
| LOAD Watts | +12Volts | Ripple | Wall Amps | Wall Volts | Wall Watts | Efficiency Percent |
| --- | --- | --- | --- | --- | --- | --- |
| 100 | 12.09 | 12.9mV | 0.9 | 119.4 | 107.46 | 93.06% |
| 150 | 12.09 |   | 1.35 | 119.6 | 161.46 | 92.90% |
| 200 | 12.09 |   | 1.81 | 119.3 | 215.933 | 92.62% |
| 250 | 12.09 |   | 2.27 | 119.2 | 270.584 | 92.39% |
| 300 | 12.09 |   | 2.69 | 119.2 | 320.648 | 93.56% |
| 350 | 12.09 |   | 3.17 | 118.7 | 376.279 | 93.02% |
| 400 | 12.09 |   | 3.61 | 118.6 | 428.146 | 93.43% |
| 450 | 12.09 |   | 4.09 | 118.6 | 485.074 | 92.77% |
| 500 | 12.09 | 14.2mV | 4.55 | 118.3 | 538.265 | 92.89% |
| 550 | 12.09 |   | 5.03 | 118.1 | 594.043 | 92.59% |
| 600 | 12.09 |   | 5.51 | 118.1 | 650.731 | 92.20% |
| 650 | 12.08 |   | 5.99 | 117.8 | 705.622 | 92.12% |
| 700 | 12.08 |   | 6.45 | 117.8 | 759.81 | 92.13% |
| 750 | 12.08 |   | 6.94 | 117.6 | 816.144 | 91.90% |
| 800 | 12.08 |   | 7.44 | 117.4 | 873.456 | 91.59% |
| 850 | 12.08 |   | 7.94 | 117.3 | 931.362 | 91.26% |
| 900 | 12.08 |   | 8.46 | 117.3 | 992.358 | 90.69% |
| 950 | 12.08 |   | 8.95 | 117.2 | 1048.94 | 90.57% |
| 1000 | 12.08 | 16.8mV | 9.47 | 117 | 1107.99 | 90.25% |
| 1040 | 12.08 | 17.1mV | 9.89 | 116.7 | 1154.163 | 90.11% |
That was probably the steadiest 12V reading that I've ever seen from any power supply that we've reviewed on this site. It got to the point I had to double check that my volt meter was functioning correctly. Regardless of load, especially exceeding the rated wattage of 1000W we were still reading in 12.08V.
Overall excellent efficiency rating across the entire load range. In order to be 80+ Platinum compliant, we needed to hit that 92% at 50% load. As you can see at the 500W mark the PSU scored a 92.89% efficiency rating.
Noise & Eco Mode
Things got even more interesting when we decided to test out the Eco-Mode function (switch on the back). The switch does nothing other than tell the fan to remain off until a temperature threshold is reached. It didn't seem to effect actual power efficiency .
With the Eco-Mode switch set to the On position, we did notice that the PSU's fan was off and pretty much stayed off until 30 minutes into the test! To test whether the fan comes on at a load % or temperature limit, we hooked up the PSU from a cold start, and immediately maxed the load up to 1040W. After about 9 minutes the fan finally kicked on! This proves that it is temperature based and NOT load based. If anything this test showed us how cool and quite this thing is running. Likely during normal operation, the fan will never kick on.
The FSP Hydro PTM Pro 1000W total silence at 1040W:
Final Thoughts & Scoring
The FSP Hydro PTM Pro 1000W definitely put up a fight during our tests and scored well for both of our voltage drop and efficiency tests. Construction-wise, this thing is a beast. Its internal components are definitely overrated for the task and this PSU should stand up to some serious abuse. All of FSP's claims such as Active PFC and Japanese capacitors were all verified and accurate.
From a functionality standpoint, this should have no trouble powering all of your power hungry devices. With up to four 8-pin PCI-E connectors and two 8-pin CPU power connectors, there's not a whole lot out there that this PSU won't be able to handle.
Now for the final breakdown:
Appearance: 8.5/10 – The base unit looks fantastic, and I really love the textured look. I wish the cables had just a bit more of a quality look and feel.
Build Quality & Construction: 9.8/10 – External to internal construction is top notch. No real complaints here.
Performance: 9.5/10 – What can we say? It exceeded the 80+ Platinum rating on all accounts all while running cool and quiet. Voltage drop and signal noise were also acceptable.
Value: 9.0/10 – With an MSRP of $249.99, this places the FSP Hydro PTM Pro 1000W PSU in the high end category. The fact that this PSU is backed by a massive 10-year warranty, we recommend this PSU as a good buy.
Amazon Link: FSP Hydro PTM Pro 1000W PSU
Product Page: https://www.fsplifestyle.com/en/product/HydroPTMPRO1000W.html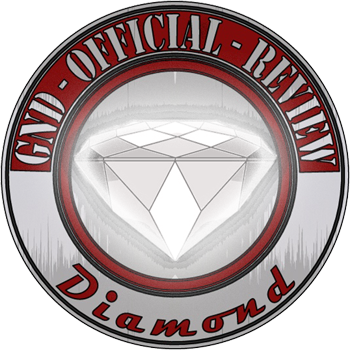 FSP Hydro PTM Pro 1000W PSU - Review
"...this should have no trouble powering all of your power hungry devices."
Build Quality & Construction:
9.8