Today we'll be taking an in-depth look into one of FSP's newer offerings, a mid-tower PC case that boasts a ton of features and is not going to break the bank. The FSP CMT271A is a mid-tower ATX case which offers a wide range of features including a tempered glass side panel, magnetic dust covers and a wide range of cooling options.
MSRP for the case sits at a humble $69.99 USD making it a good fit for custom builds on a budget and places it in the same price point (and feature set) as the InWin 216 or the Cooler Master NR400 gaming cases. At first glance, I'm really liking the overall design of the CMT271A, so let's begin this review by taking a look at its many features.
Top image credit:

©

FSP Group
FSP CMT271A Features & Specifications
On paper, this case seems to cover pretty much anything we're looking for in a sub $100 PC case. Tempered glass, check. Dust control? Lots of fan or cooling options? Also check. Based on marketing pictures, the top I/O area has pretty much everything as well, including audio, USB2/3.0 and a reset button which should appeal to you overclockers out there.
Here are the detailed specifications provided by FSP:
Product Name
CMT271A
Form Factor
ATX Mid Tower
Color
Black
Construction Materials
SPCC, 1x Tempered glass
Dimensions L x D x H(mm)
380 x 210 x 452mm
Maximum CPU Cooler Height
170mm
VGA Card Length
325mm
Expansion Slots
7
M/B Type
ATX, Micro ATX, Mini-ITX
Top I/O Panel
2x USB 3.0, 2x USB 2.0, HD Audio
Power Supply Type
150mm ATX
3.5″ Drive Bays
2
2.5″ Drive Bays
2
Cooling System
Rear: 1x 120mm Fan
Fan&Water Cooler Supply
Front: 3x 120mm
Top: 2x 120mm or 1x 240mm Radiator
Rear: 1x 120mm
Radiator Supply
1x 240mm
Though it's not technically listed, I'm not seeing any reason you couldn't squeeze a 360mm radiator up front. This will be confirmed later on in the review. However, overall, the case looks like it should support pretty much any hardware you can throw at it other than E-ATX motherboards (officially).
A Closer Look: Packaging & Unboxing
Alright, now that we're all certified experts as to what this case is all about, let's get it unboxed and take a closer look. The case arrived in perfect condition despite a few attempts by the local mail courier. 
The FSP CMT271 was packaged using the standard packaging technique we've seen with pretty much every manufacture since we've started reviewing cases. Overall, it's cheap and effective for a case design such as this.
The tempered glass side panel came protected with a piece of protective film. Enjoy this part…
With everything unpacked, we get a better look at the case! Overall, I like the black and glass meshy scheme going on. Those heafty feet at the bottom are probably one of my favorite features. It's a nice touch that adds a bit of a premium feel, something we normally don't see on a mid-budget case such as this.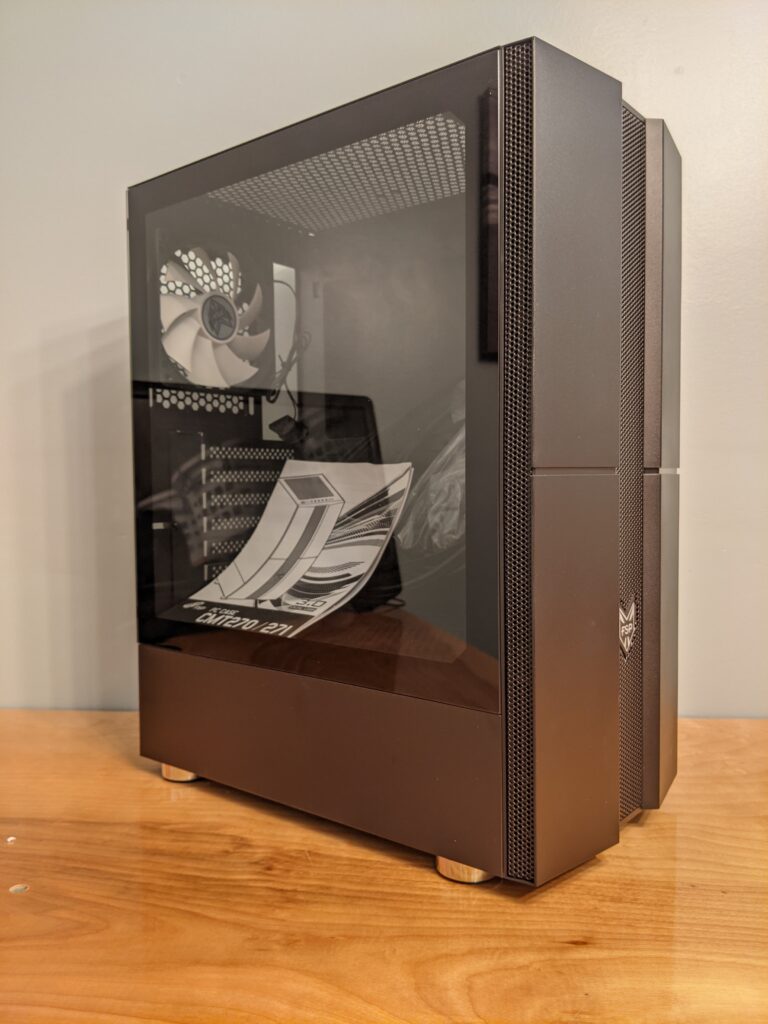 The top of the case is where you'll find your I/O controls and ports as well as top dust cover. One cool thing to note is that FSP includes these nifty little covers! This would be very helpful in high dust or low usage situations to keep the ports clean and clear. My first though was in HTPC where the IO would be used very little and likely build up dust very easily over time.
Next, I'll let the pictures do the talking. Overall, I really like the overall design. It's stealthy theme should pair well with some RGB-less builds that are starting to grow in popularity.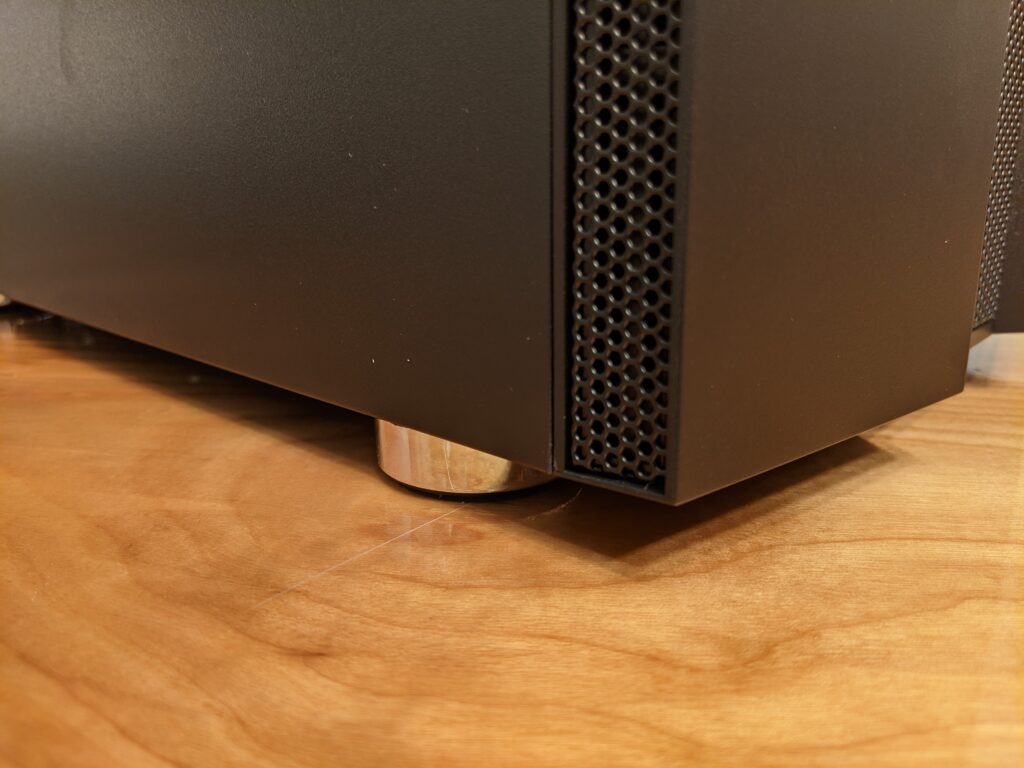 The back of the case is overall pretty standard. It appears that the rear I/O fan can be adjusted up or down a bit to alight with your CPU cooler to help in directing out some of that hot air a bit more effectively.
My only gripe at this point is the breakaway PCI-E covers. These are typically a pain to deal with and MUST be removed prior to installing your motherboard or you risk scraping off components. If you have spare PCI-E covers lying around, I recommend ripping them all off and just replacing them prior to installing hardware. FSP does provide a few spares in the goodie bag found inside the case, FYI.
The inside of the case is pretty standard. Overall, very dark and at first glance features tons of cable management options around all edges of where the motherboard would sit.
If you've got the space, it looks like there are two 2.5″ SSD mounting points just to the right of the motherboard.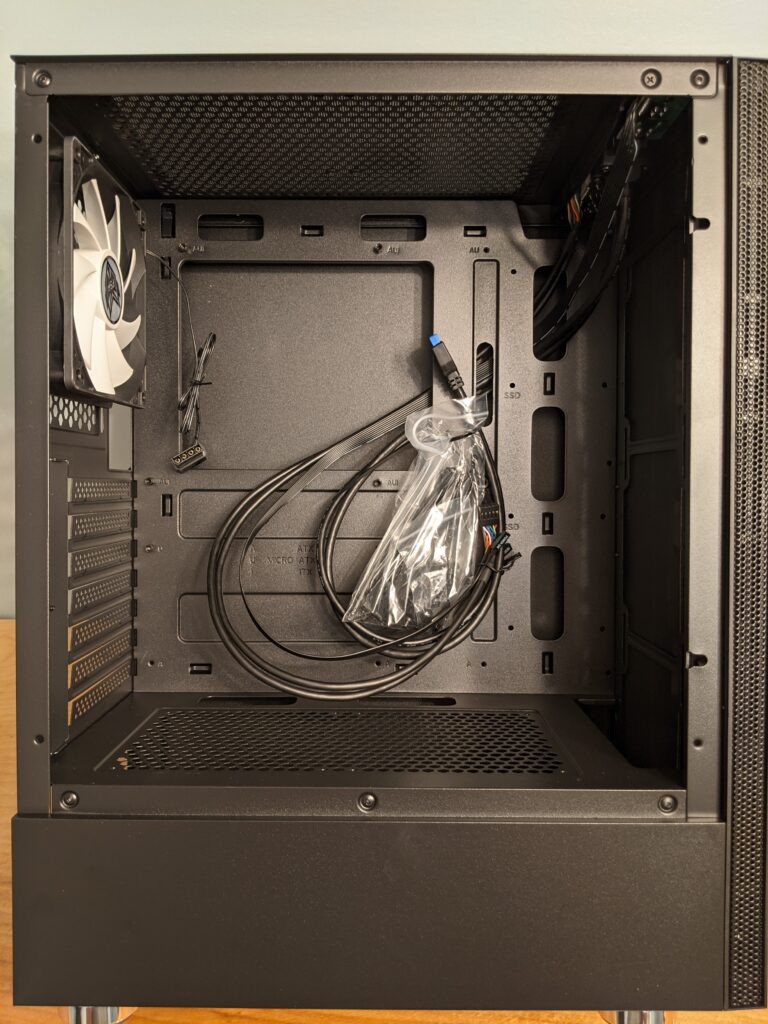 The front-inside of the case has the capacity for three 120mm fans, and you can see the misaligned dust cover sitting just behind it. It likely shifted during shipping and can easily be slid back into place. If you've got a 360mm radiator, it looks like it would fit no problem, but you'd only be able to run two 120mm fans.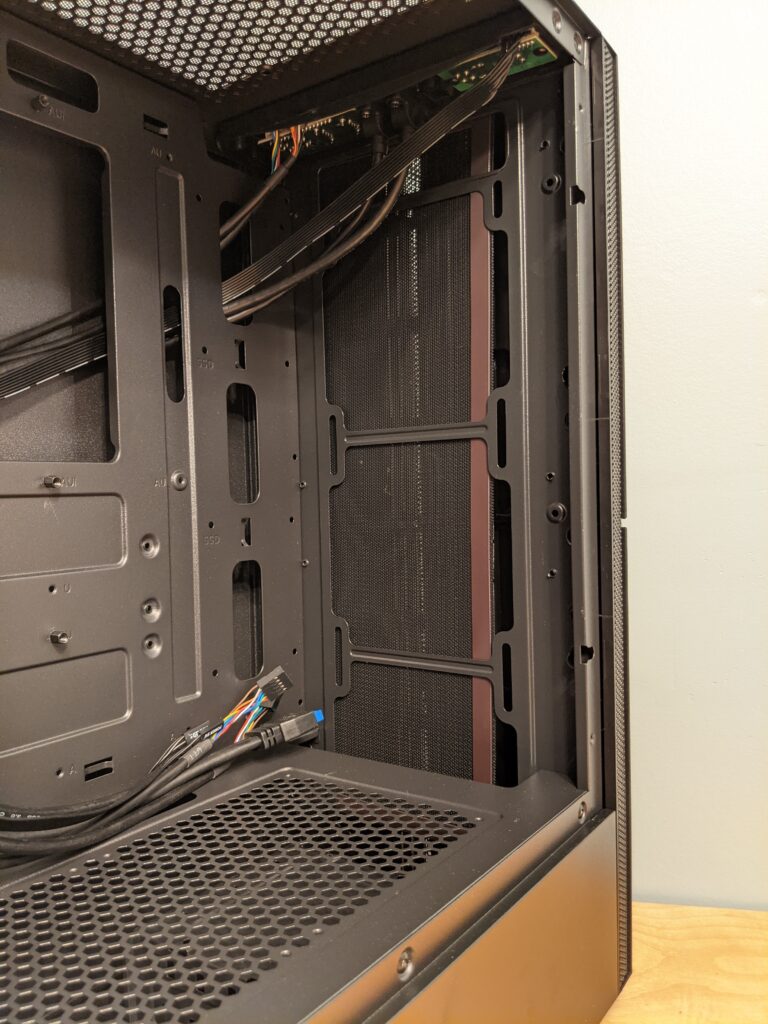 I gotta say… the included exhaust fan is probably the only thing about this case that I would just hurt me deeply. A cheap fan, in a budget minded case.. sure. However, a cheap fan that's using a 4-pin molex connector is something I haven't seen in a very long time. There is no motherboard on the planet that hasn't been manufactured in the last 15 years that doesn't have a 3 or 4 pin fan connector.
As most system builders end up buying fans regardless, I'd slot in +1 into your budget for a rear exhaust fan and have the added benefit of controlling its speed among other things.
With the opposite-side panel removed we get a better look as to the reverse side of the motherboard tray. You will need to access this side of the case to install any 3.5″ HDD you might have as well as the PSU.
Overall, it's quite simple layout. Routing cables should be quite easy overall. I really like the oversized window which comes in handy for swapping CPU coolers as you'll often need access to the back of the motherboard for installing mounting hardware. This saves you time from having to remove the entire motherboard from the case.
Here we've removed the front panel which comes off by grasping the bottom area and giving a firm tug. You will probably need to do this periodically to clean the front dust cover.
Final Thoughts & Scoring
FSP was able to produce an affordable PC case that provides everything we could ask for at its current price range… and then some. The FSP CMT271A is probably one of the best choices out there for budget-minded PC builders. There were some hidden gems that I really liked such as the front I/O dust covers as well as those fantastic looking feet at the bottom of the case.
My only two gripes are the breakaway PCI-E slot covers and the very low quality rear exhaust fan. At this price point, it's a game of give and take when it comes to items like these especially fans.
Now for the final breakdown:
Appearance: 9.0/10 – This category is of course a bit subjective, however I think FSP dis a fantastic job on the overall design. It's sleek, small and stealthy and the tempered glass side panel really added a bit of a premium look and feel.
Build Quality & Construction: 8.2/10 – The FSP case felt sturdy and well made overall. There was very little body flex when pressing or attempting to bend it awkwardly. My only gripe here is the use of break-away rear PCI-E slot covers.

Features & Hardware Support:

9.2 – When it comes to hardware and cooling, there's really not a lot that you won't be able to stuff into this case. You might be limited if you've got either a higher than average amount of HDD/SDD's, an E-ATX motherboard or a 360mm radiator.
Performance: 9.1/10 – With up to six 120mm fans and decent radiator support, cooling won't be a problem. The use of dust filters in the intake was another big win that a lot of cases at this price don't offer.
Value: 9.0/10 – With an MSRP of $69.99 USD and considering what you get in return, the FSP CMT271A is definitely a good buy.
Amazon Link: FSP CMT271A
Product Page: https://www.fsplifestyle.com/us/product/CMT271.html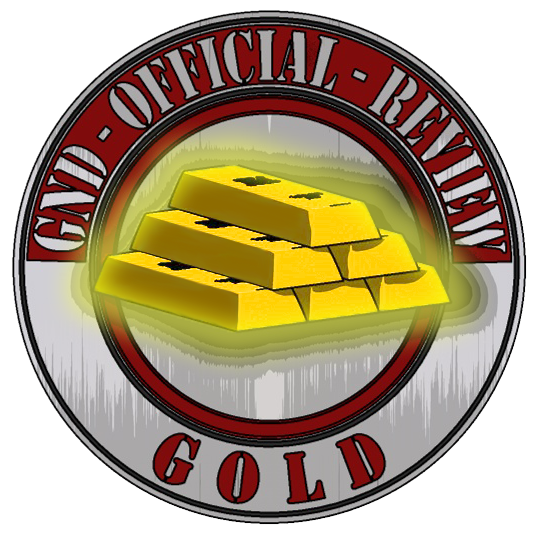 FSP CMT271A Case Review
FSP was able to produce an affordable PC case that provides everything we could ask for at its current price range... and then some.
Build Quality & Construction:
8.2
Features & Hardware Support:
9.2