AMD's new Radeon VII graphics card which was introduced a few days ago during CES 2019 caused quite a stir from both AMD fans as well as Nvidia. Probably the most embraced feature of the new graphics card is the use of the 7nm process which will be literally half the size of AMD's current 14nm lineup.
The graphics card memory was also not overlooked as the Radeon VII will feature high-bandwidth HBM2 ram versus GDDR6 which is offered on most consumer graphics cards today. HBM2 has the advantage of offering insane bandwidth speeds. According to already released specifications, the 16GB of onboard ram will run at a whopping 1TB/sec over a 4,096-bit memory interface.
During AMD's keynote during CES, AMD gave performance results comparing the Radeon VII to the Vega 64 and the RTX 2080. Today, 23 more games have been added to the list.
AMD Radeon VII vs. Radeon RX Vega 64 vs RTX 2080
Here's a breakdown of the three comparible graphics cards. As you can see the card is vastly different beast compared to that of Nvidia's RTX 2080. The two cards have completely different memory, memory sizes and pretty much everything else. On paper, it looks like the Radeon VII will outperform the RTX 2080, especially at very high resolutions that will take advantage of the 16GB of onboard RAM.
| | Radeon VII | Radeon RX Vega 64 | NVIDIA RTX 2080 |
| --- | --- | --- | --- |
| GPU | 7nm Vega | 14nm Vega | 12nm |
| Unified Cores | 3840 | 4096 | 2944 |
| Memory Type | HBM2 | HBM2 | GDDR6 |
| Memory Capacity | 16GB | 8GB | 8GB |
| Memory Bandwidth | 1 TB/s | 484 GB/s | 448GB/s |
| Memory Interface | 4096-bit | 2048-bit | 256-bit |
| Launch Price | $699 | $599 | $699 |
AMD Radeon VII Gaming Performance
As you can see in the graph below, gaming performance of the Radeon VII is substantially better than that of the Vega 64. Tests were conducted on a PC with an Intel Core i7-7700K, 16GB DDR4-3000. Tests were ran at UHD (3,840 × 2,160 pixels) with maximized graphics settings. We already know that the RTX 2080 pretty much smokes AMD's RX Vega 64 in almost any scenario, but will it be enough to keep up with the new Radeon VII? At this point, it's anyone's game so only time will tell.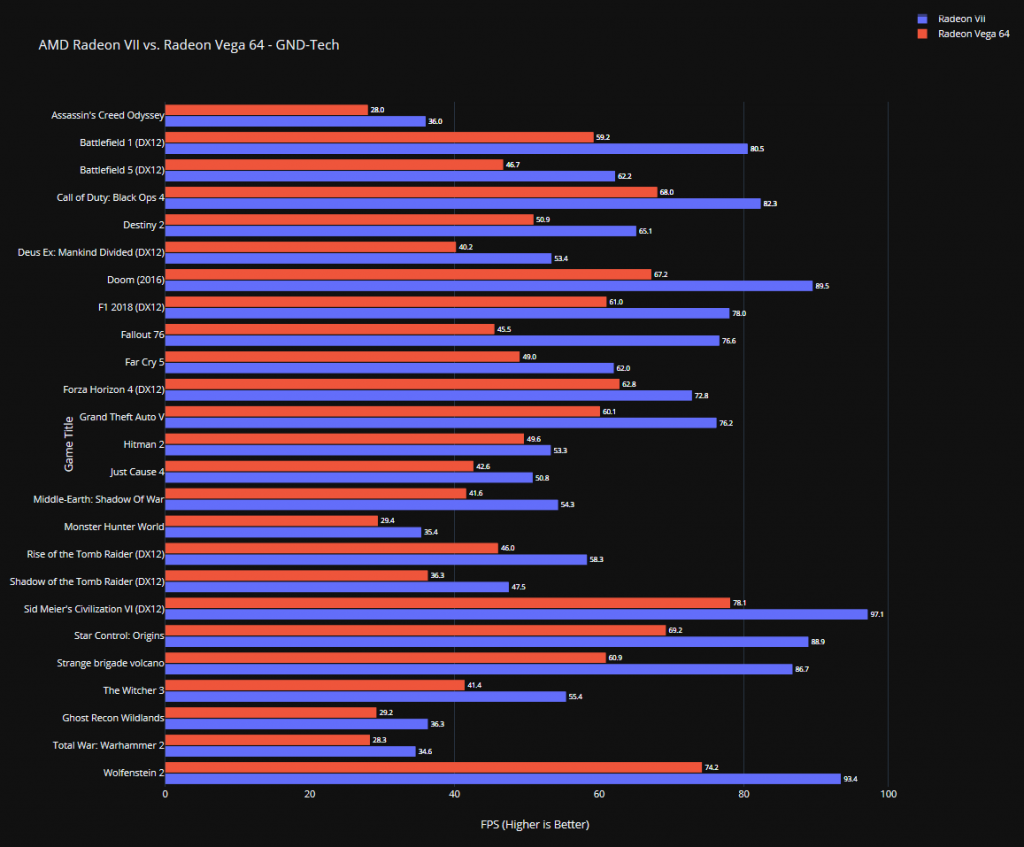 Soon after AMD's keynote featuring the new graphics card, Nvidia dismissed the results and GPU as "underwhelming". It's possible that Nvidia has something up their sleeve to combat AMD's new flagship GPU and know something we don't, or they are simply responding as any typical rival would.
So is it finally AMD's time to shine? Or do you think we're falling for yet another exciting launch followed by only disappointment with real world performance.