Nvidia's Turing based RTX graphics cards have been all the talk in the past few months and whether good or bad, they're definitely here to stay. In this review we'll be talking a close look into one of EVGA's latest offerings, the RTX 2070 XC Gaming. The RTX 2070 series graphics cards was released last month and is the current lowest tier of RTX cards money can buy and is the only option for RTX based budget builds.
The EVGA RTX 2070 comes in five different flavors each with different specifications and price points. The EVGA RTX 2070 XC Gaming is EVGA's mid/high tier offering which is factory overclocked from 1620MHz to 1710.MHz boost clock. Other options include the XC, XC Ultra, FTW3, XC Black Edition and Black GAMING each with their own factory specs. Physically all the cards are the same from a cooling standpoint except for the XC Ultra features a triple PCIe slot cooler.
Next, let's take a closer look at the specs before we dive into the review…
EVGA RTX 2070 XC Gaming Specifications
The XC Gaming is a mid-tier level graphics card as per tradition with any **70 series GPU from Nvidia. The graphics card features Nvidia's latest Turing based GPU, the TU106. As far as actual performance goes, if trend continues, we're looking at somewhere in between the GTX 1080 and GTX 1080 Ti but we'll know more once we put the card to the test.
The EVGA RTX 2070 XC features 8GB of onboard GDDR6 memory which operates at 14000MHz over a 256-bit bus. Power is provided from 6+8pin PCIe power connectors and operates at a 175W TDP. EVGA recommends a 500W PSU for this particular card, however needs will vary depending on other components.
| Part Number | 08G-P4-2172-KR |
| --- | --- |
| Price | $579.99 USD |
| Graphics Processing Unit | NVIDIA GTX 2070 |
| Architecture | Turing |
| Interface | PCIe 3.0 16x |
| Base Clock | 1410MHz |
| Boost Clock | 1710MHz |
| Memory Size (MB) | 8192 |
| Memory Type | GDDR6 |
| Memory Speed | 14000 MHz (effective) |
| Memory Interface | 256-bit |
| Memory Bandwidth | 448 GB/s |
| Texture Fill Rate | 246.2 |
| Connectors | DisplayPort, USB Type-C, DisplayPort, HDMI, DisplayPort, Max Resolution: 7680×4320 @ 240Hz |
| DirectX Version Support | 12 |
| Card Dimension (Length) | 10.6in – 269.2mm |
| Card Dimension (Height) | 4.5in – 114.3mm |
| PCI Slot Size | Dual Slot |
| Power Consumption | 175W |
| Power Connectors | 8+6-Pin |
Now that we've got a better idea of what we're working with, lets pull this pull this thing apart and see what we're working with exactly!
Unboxing
The EVGA RTX 2070 XC Gaming arrived at the top secret GND-Tech testing facility undamaged and in perfect health. My first impression was how massive the box was. That could only indicate extremely well internal packaging right?
The box itself is designed to stand vertical and features cool black and green NVIDIA-inspired graphics of the card. The back gives a few more high-level details about the cards as well as references EVGA Precision X1 which is EVGA's RTX overclocking utility which we'll definitely be using later.
The box opens by cutting the tape on either side and sliding the top half of the box up to reveal the graphics card in all its foam cushioned glory. Packaging was spot on. The foam is thick and snugly secures the card in place.  It would take an absolute royal F-up by your mail carrier for them to be able to damage this card during shipping. Bonus points to EVGA for the pretty cool presentation as well.
Included with the graphics card is…. well nothing. No cables, no adapters or anything. Just a simple installation guide stuffed in the little cut-out area behind the GPU.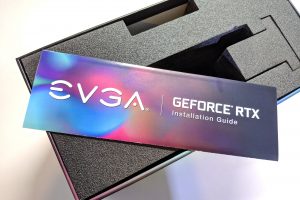 The graphics card is stuffed inside an anti-static bag. With the unit free from its housing, we get a better sense of what we're working with. The fan shroud is covered in a protective film which wraps around each side so be sure to remove this prior to installation.
A Closer Look…
With the EVGA RTX 270 XC Gaming completely unboxed, let's take a closer look inside and out to get a better feel for the beast. Overall, the card is VERY shiny thanks to it's glossy and semi-transparent fan shroud. Personally, I'm not a fan of anything transparent inside a the PC case as it tends to gather dust and look dull soon after installation. Since the dust will always gather on the inside of the shroud, cleaning the card to bring back its new, shiny luster might prove difficult.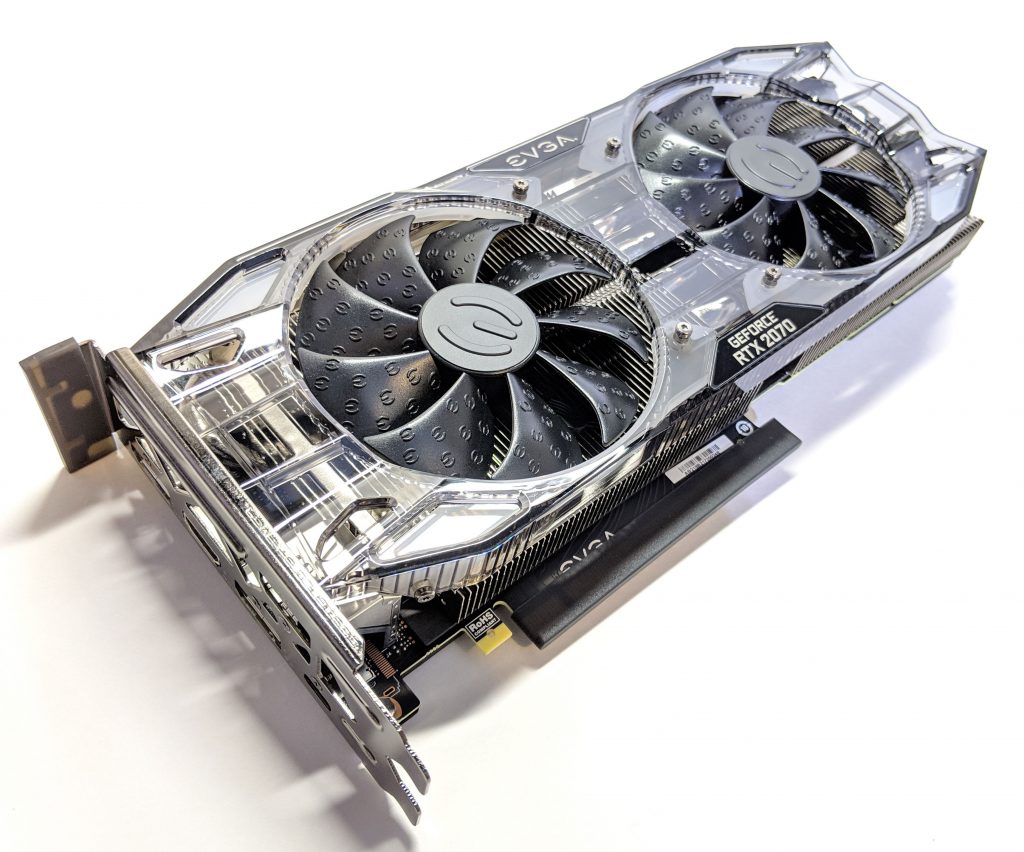 The card is cooled by two large fans which provide cooling to the heatsinks. The GPU is cooled by five nickel plated heat pipes which transfer the heat from the GPU to the fins. The fins are also nickel plated which gives the heatsink a nice look while reducing corrosion and tarnishing over the years.
The front I/O area features 3x DisplayPorts 1x HDMI and a single USB-C connector. Not a whole lot going on over on the reverse side. Here's a pic anyways…
Here are some additional images for your viewing pleasure…
An even closer look… Disassembly
Warning: Disassembling your graphics card will void your warranty with EVGA. We at GND-Tech do not recommend disassembling the unit, however sometimes sacrifices must me made; such as this review. 🙂
First, let's start by removing the backplate. While this is a good starting point, it's also a requirement. The backplate, the heatspreader and the heatsink are all held in place using reverse-side backplane screws.
The backplane itself helps dissipate heat generated from the reverse side of the PCB. This may shave a degree or two off your VRM or maybe GPU however, it's mostly for looks.
Flipping the card over, we can now remove the main heatsink. The heatsink is quite robust and with it separated from the PCB, we can get a better view. The aluminum heatspreader which helps keep the RAM and VRM cool covers most of the front-size PCB. At this point it can be easily lifted off to reveal the PCB.
And there you have it! That's about as far as we can go disassembly-wise without desoldering components. Here's a few closeups of the GDDR6 memory and VRM. A quick Google search of the RAM chips (K4Z80325BC-HC14) gives us a few more specs such as their rated speed (8Gbps) and density.
| | | | |
| --- | --- | --- | --- |
| Density | 8Gb | Org. | 256M x 32 |
| Speed | 14.0 Gbps | Refresh | 16K / 32 ms |
| Package | 180FBGA | Product Status | Sample |
Lastly a shot from behind the display I/O area, just in case you were curious: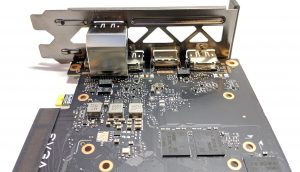 Lastly, a bit of photographic sadness as we mourn the death of SLI, or NVLink for the **70 series cards. While this is no fault of EVGA's, the fact that Nvidia killed up multi-GPU support for the 2070 leaves much to be desired for The RTX 2070. However, EVGA does leave a notch in the backplane where the NVLink pins normally would go, just to remind you of what you're missing: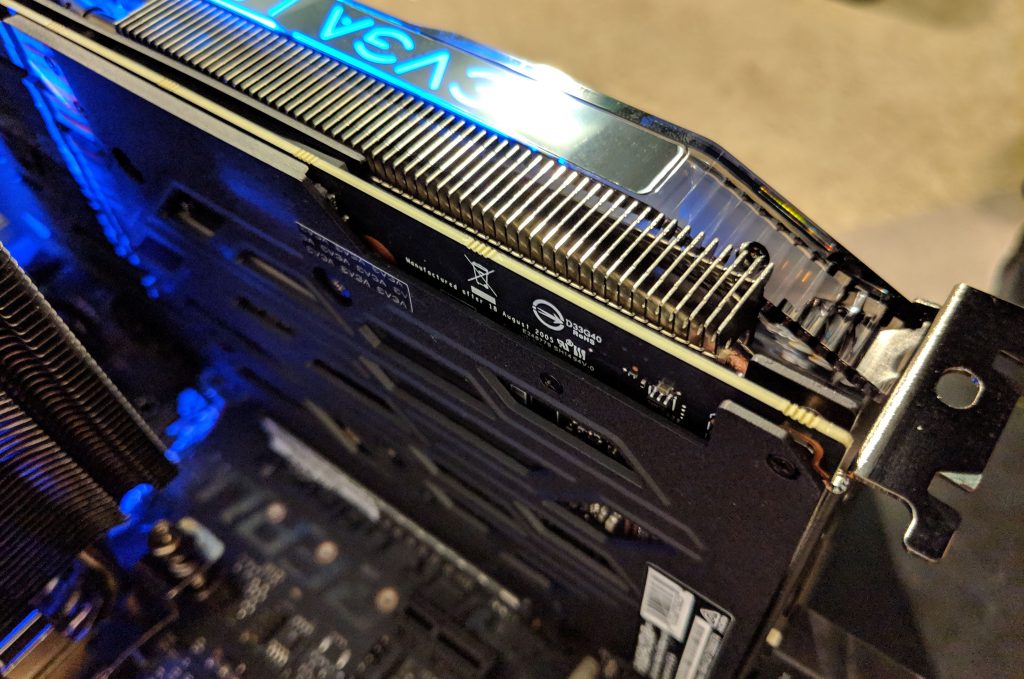 Installation and Lighting
If you've installed one GPU, you've installed them all. Simply insert the GPU into an available PCIe 16x 3.0 slot and secure it to your case via clamp or thumb screw. Then connect the two PCIe (1x8pin and 1x6pin) power connectors and finally monitor cables and you're ready to go!
Once installed, be sure to snag the latest Nvidia Drivers (417.01 WHQL at the time of writing this article), and EVGA Precision software. Precision is primarily used for overclocking and monitoring, however, it also has functions for controlling the RGB LEDs located behind the graphic card's plastic shroud. There are plenty of lighting effects that can used such as breathing, color cycle, or static.
Overclocking & Benchmarks
Testing Methodology: For tuning the EVGA RTX 2080 XC Gaming's GPU and memory settings we used EVGA's home brewed Precision X1 software which can be downloaded from their website. This will allow us to fine tune the GPU clock settings on the fly as well as tune our fan profile for maximum performance.
We will run each benchmark through twice, once for stock speeds and another for or maximum stable overclock. For stock speeds, all factory settings including fan speeds will remain as they came. For overclocking, the fan will be ramped up to 100% to give us the lowest temperature which will help us achieve a higher overclock.
The EVGA RTX 2070 XC Gaming graphics card will be installed into the following system:
Motherboard: ASUS ROG Strix X399 Gaming Motherboard
Processor: AMD Ryzen Threadripper 1920X (12-core)
Memory: 32GB Corsair Vengeance RGB DDR4 PC2666
Power Supply: 850W OCZ Gold
Stock Speeds:

1410MHz Base Clock / 7000MHz Memory Clock


Overclocked Speeds:

1755MHz Base Clock / 7501 Memory Clock

To test for stability FurMark was used which we let run for an hour or so. Our official overclock speeds are posted below. We could have definitely pushed the memory a lot further, but we decided on a more stable memory overclock in the end.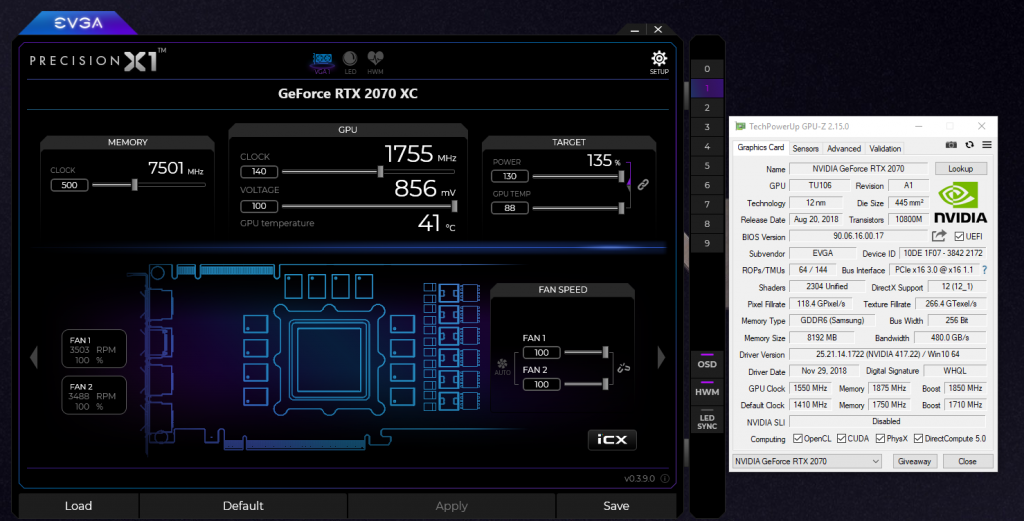 Now for the tests! At each category the stock speed results will be shown in the left image with the overclocked results on the right.
3DMark – Time Spy (1440p)

Stock: 8,581
Overclocked: 9,513
For this test we were able to achieve a graphics score of 8,581. Not bad at all considering from what we've seen, a GTX 1080 will throw results between 6000-8000. The GTX 1080 TI will usually do between 8000-9500, so we're looking at performance somewhere in between the two cards.  Since this is a graphics card review, we'll ignore other scores given by the test.
For our overclock test we bumped the score up to 9513, almost 1000 points higher than stock! This produced a 10.8% increase in speeds.
FurMark (1080p)

Stock: 155 FPS Average
Overclocked: 180 FPS Average
For this test, we'll compare stock clocks versus overclock using a standard 1080p window. Stock performance for this test we sustained an average of 155 FPS with a minimum of 138 and a max of 155. With a little more juice applied, our overclocked card averaged at 180FPS producing a 14% increase.
Unigine: Superposition (4K)

Stock: 6,559
Overclocked: 7,785
For this test, maximum settings were used at 4K resolution (3840 x 2160). Our stock card produced a result of 6559 and an overclocked result of 7785. This produced our largest increase yet of 18.7%!
Gaming: Battlefield V (1440p)
Stock: 86 FPS Average
Overclocked: 93 FPS Average
For this review we're not going to play every popular game out there and let you know how it handles it. We're focusing more on benchmarks and overclock potential. However, I did feel the need to throw in one popular, intensive game into the mix as not testing any games would not do this review justice.
At 1440p, the game ran very smooth averaging between 80 and 90 FPS. The game was ran in DirectX 12 mode at full Ultra settings. While I can't give you an official percentage increase, we did see on average about 10 FPS more with the overclock applied versus stock.
In a nutshell, EVGA's RTX 2070 XC Gaming graphics card is a pretty decent overclocker. Certain applications and games will of course respond to boosted frequencies more than others such as in the case of Unigine's Superposition benchmark. Of course as we've learned in the past, no two cards are alike so results may vary. I'm definitely curious as to how well yours overclocked, so feel free to drop a comment with your experience!
Final Thoughts and Scoring
The EVGA RTX 2070 XC turned out to perform better than I had expected, especially while overclocked. Stock performance was somewhere in between a GTX 1080 and GTX 1080 Ti depending on the application or game. Overall, the card ran cool and quiet even with a heavy overclock applied. Temperatures never exceeded 68C with moderate fan settings.
The graphics card might perform with some of the best, but it's appearance is not one of it's strong suites. The RGB lighting appears to me more of an afterthought which only glows along the top edge. This is fine for traditionally horizontal mounted graphics cards, but with vertical mounting becoming more and more popular, this card's lighting might look a bit strange. The clear plastic shroud is also not something I shy away from. As dust tends to collect pretty much anywhere, in the case of the 2070 XC, it will have nowhere to hide and everywhere to show.
In the end, I would recommend this card to anyone who wants the latest and greatest RTX lineup but doesn't want to shell out almost $1000 on an RTX 2080. If RTX features mean nothing to you, definitely take a look at grabbing a GTX 1080 Ti for a bit less.
Now for the breakdown:
Appearance: 8.3/10 – Out of the box the card looks fantastic. Overall, it's very shiny and the rigid back plate really adds a lot of character. What hurt the overall score is the use of a clear plastic shroud. The card would have still looked amazing with black plastic, but I'm afraid that those fantastic looks you'll see when you first get the card won't last.
Build Quality & Construction: 9.7/10 – The EVGA RTX 2070 XC is constructed quite well. There is nothing to indicate that the card is cheap or poorly built.
Performance: 9.1/10 – Overall, the graphics card performed quite well during our tests. Modern games such as Battlefield V achieved between 80-100FPS at 1440P using Ultra settings. Benchmark software put the GPU somewhere between at GTX 1080 and a GTX 1080 Ti.
Value: 8.4/10 – While the card performs well, so do many other cards that cost less which includes many of the high end GTX 1080 products. While the new RTX product pricing increase is no fault of EVGA's but rather NVIDIA's, based on performance alone, the new RTX 2070 might be worth waiting on. However, RTX features such as real time ray tracing is a requirement for you, than naturally the cost is justified.
Buy on Amazon: EVGA GeForce RTX 2070 XC Gaming 8GB
EVGA RTX 2070 XC Review Scoring
"Overall, the card ran cool and quiet even with a heavy overclock applied."

8.9

Build Quality & Construction:

9.7