Nvidia's RTX lineup is likely going to get a whole lot bigger during CEH in LAS Vegas next month. Leaked documents and Geekbench scores highlight new RTX mobile RTX 2060 and mobile RTX 2070 Turing-based graphics cards. The documents were posted by twitter user @TUM_APISAK who also posted the Geekbench scores highlighting performance.
Certain graphics cards mentioned in the leak referenced "With Max-Q Design". Aside from what it does, this basically indicates that the graphics card is designed for mobile platforms.
Nvidia RTX 2060 Mobile (With Max-Q Design)
The twitter leak provided us with two screenshots comparing the RTX 2060 we saw on the new FF XV benchmark results page versus the RTX 2060 With Max-Q Design. This lets us compare the mobile version to the non-mobile GPU. The mobile and standard graphics cards both feature 6GB of GDDR6 RAM, however their primary difference being core and memory speeds. The mobile version of the GeForce RTX 2060 will run at 975MHz with a memory bus speed of 1500MHz.
Performance will place the RTX 2060 Mobile version somewhere in between a GTX 1070 and the Mobile version of the GTX 1070 according to this screenshot:

Nvidia RTX 2070 Mobile (With Max-Q Design)
While we don't have as much detail about the Mobile RTX 2070 variant, the only proof we have of its future existence is a Geekbench score posted by the same twitter account. The results were posted from a Lenovo 81HE laptop featuring the new RTX card and an Intel Core i7-8750H mobile processor running 6-cores. What we do know is that the RTX 2070 mobile graphics card will feature 8GB of GDDR6.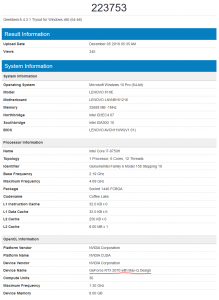 According to the twitter account containing the leak, Nvidia will be releasing these cards during CES 2019 in  Las Vegas next month. It's very likely that we will see RTX gaming laptops during the following months once they officially launch. As this leak is presented from an unconfirmed source, information may not be 100% accurate. And while we have confirmed reports of the cards, official names are not given. It's possible that they could be RTX 2060M or RTX 2070M like their predecessors. Well provide more details as they surface.