We're at it again this time with yet another gaming mouse review, this time a Cooler Master MM531! The MM531 (MM-531-KKW01) is currently a Best Buy exclusive, so if you're eager to pick one up, you'll need to head over to your local Best Buy, or order one from their website. The MM531 is based on the readily available MM530 gaming mouse but features ABS materials and grippy rubber construction.  If you thought this mouse looked familiar, it is. Both MM53x models are based on the CM Storm Mizar but with many upgraded features such as RGB color controls and effects.
At a glance, the Cooler Master MM551 appears to have some strong features. The Avago PMW-3360 Optical sensor is rated for 12,000DPI which of course can be adjusted via Cooler Master's software controller which we will going over in depth later on in the review. In order to keep up with heavy demand, the mouse has an integrated 32 bit ARM Cortex M0 processor with 512KB or embedded RAM. The MM531 also uses the ever-so-popular Japanese Omron switches for left and right click, rated for 20-million clicks.
MSRP for the Cooler Master MM531 is listed at $49.99 USD at the time of writing this review.
Features and Specifications of the CM MM531:
The overall features of t he MM531 looks pretty good on paper. The mouse features a 9-button configuration with on-the-fly DPI controls just below the scroll wheel (this can be changed via software). Including the cable, the mouse weighs a total of 131g and 92g without making it somewhat versatile if it were to be a travel companion to a gaming laptop. As we mentioned earlier, the DPI is rated at 12,000 and can be controlled via software with up to four programmable DPI positions that can be toggled by the top arrow buttons. Users can configure the level of sensitivity between 100-12,000.
The MM531 is the worthy successor to the CM Storm Mizar – this time upgraded for the serious gamer. It features sleek ergonomic styling with molding and side grips ideal for palm grippers. It also has the hardware features to match, with a precise Pixart 3360 lag-free 1:1 input, on-the-fly DPI adjustments up to 12000, and Omron switches for rugged durability. Well-balanced and packed with features, this a gaming mouse custom-tailored for high-action competition in first-person shooters.
Below are the detailed specifications of the CM MM531 gaming mouse provided by Cooler Master:
Product Name
MM531
Model Number
MM-531-KKW01
Grip Type
Palm & Claw
Material
PBT Plastic / Rubber / ABS
Color
Black
LED Color
16.7 Million RGB
Sensor
Avago PMW-3360 Optical
CPI / DPI
4 Levels (100~12,000dpi)
Tracking Speed
250 ips/50g
Lift Off Distance
< ~2mm / Adjustable
Polling Rate
1000 Hz / 1 ms
Angle Snapping
On/Off
Mouse acceleration
No
Programmable Profiles
5
Processor
32 bit ARM Cortex M0
On-board Memory
512 KB
Switches, Lifespan
Omron, 20 million
Programmable buttons
7
Connector
Gold-plated
Cable Length
Flexible Cable, 1.8 Meters
Dimensions (mm/inch) (W x H x D)
60.4 x 40.2 x 124.8 mm
2.38 x 1.58 x 4.91 inches
Weight
131 g
0.29 lbs
Weight (without USB Cable)
92 g
0.20 lbs
Warranty
2 years
EAN
4719512071434
UPC
884102043932
Now that we've got a better idea about what we're working with, lets unbox this thing and see what it is we're working with!
Unboxing
The box features some pretty nice overall designs and does a nice job highlighting some of the MM531's main talking points. The box follows Cooler Master's overall purple theme and the brand could definitely be identified without reading anything on the exterior.
The back of the box goes over the mouse's features more in depth and in a few different languages. The first thing we notice is that it appears that the preferred method of handling this mouse is in the "palm grip" meaning the user would rest his or her entire hand on the surface of the mouse, as opposed to the "claw grip" where the user would use only their finger tips. Personally, regardless of how the mouse is intended to be held, the claw grip is the only one I can comfortably use. Anyways, enough tangents, here's a shot of the back of the box: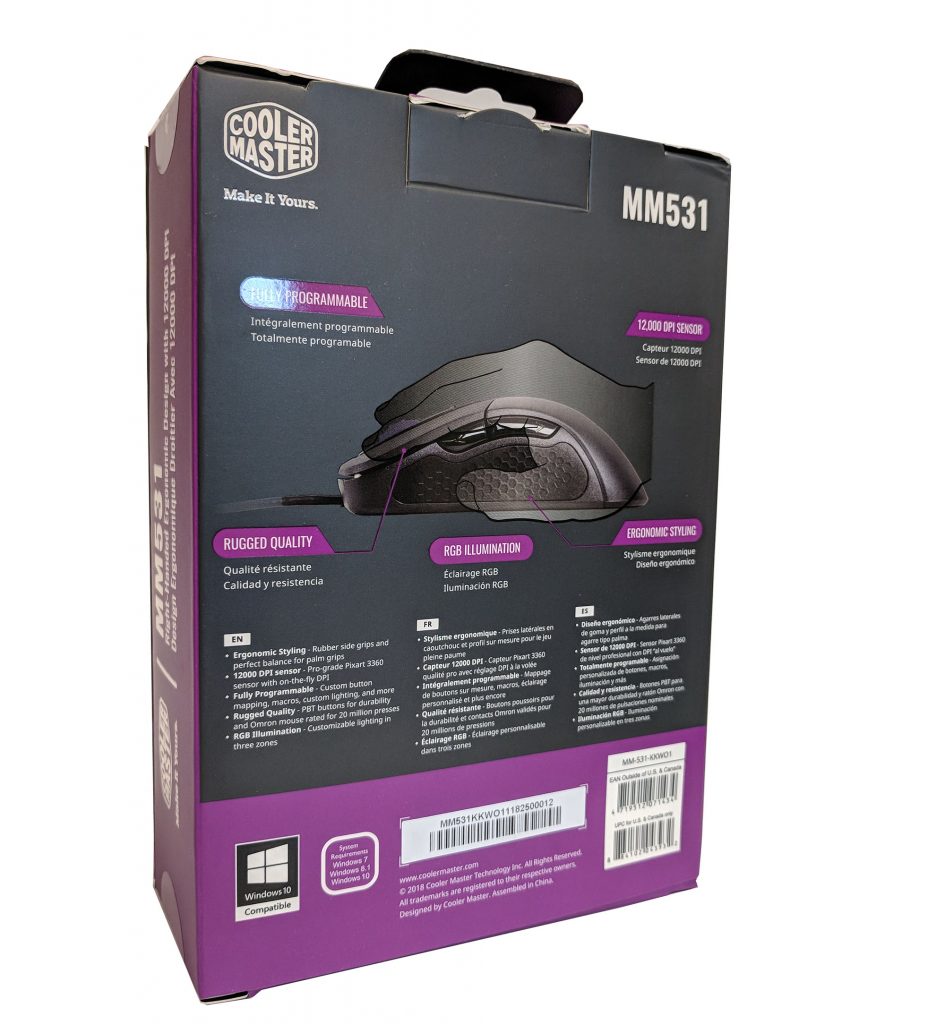 The box also has a flip-open front cover that lets you see the mouse before buying it. Other than seeing the mouse, not much more information is presented. Only a cool graphic of the mouse resting on a CM MPA-MP720 LED mouse pad.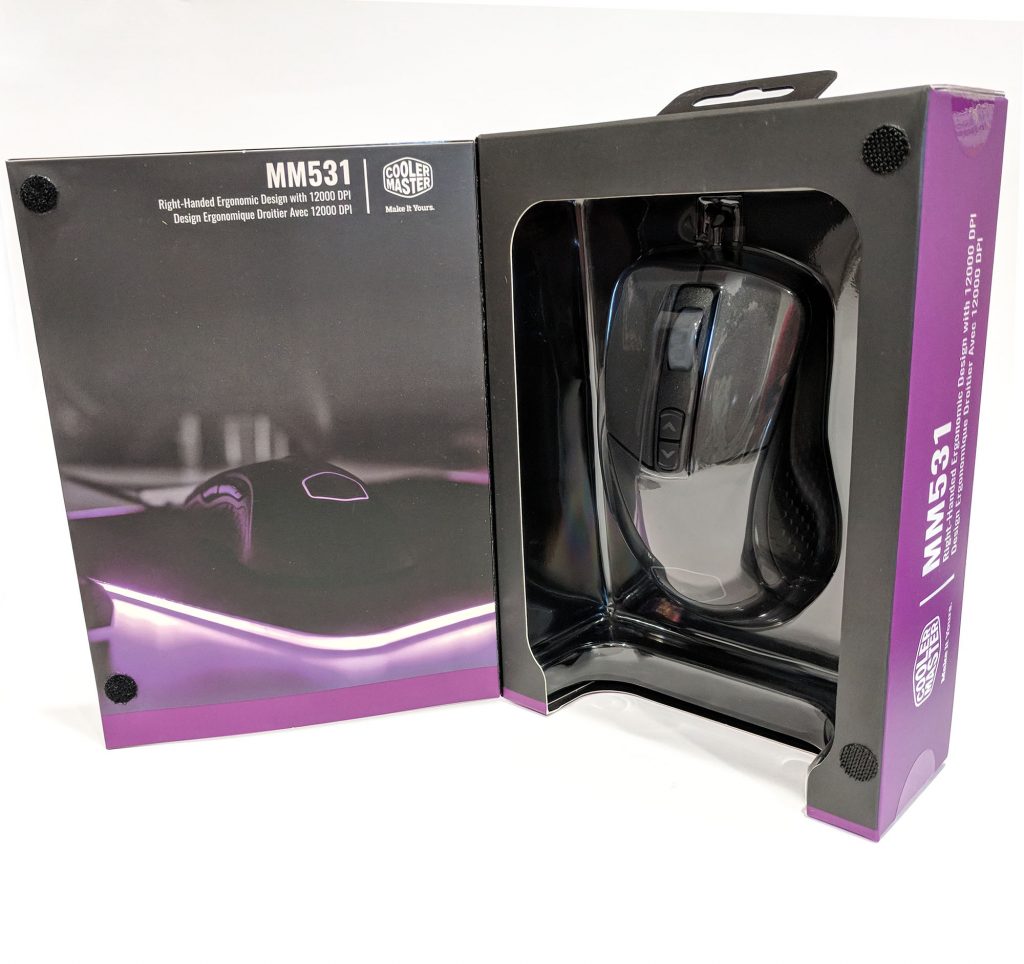 Next, let's break the seal and open 'er up! Inside we find the mouse resting in a two-piece plastic shell which keeps it securely in place. The chord is tucked on top of it inside a card board retainer to which also keeps it from sliding around in the packaging. As you can see below, also included is an instruction booklet/warranty info and a couple extra grip pads. Very useful if you need to replace them but I can honestly say I've never owned a mouse long enough to need to consider changing the pads.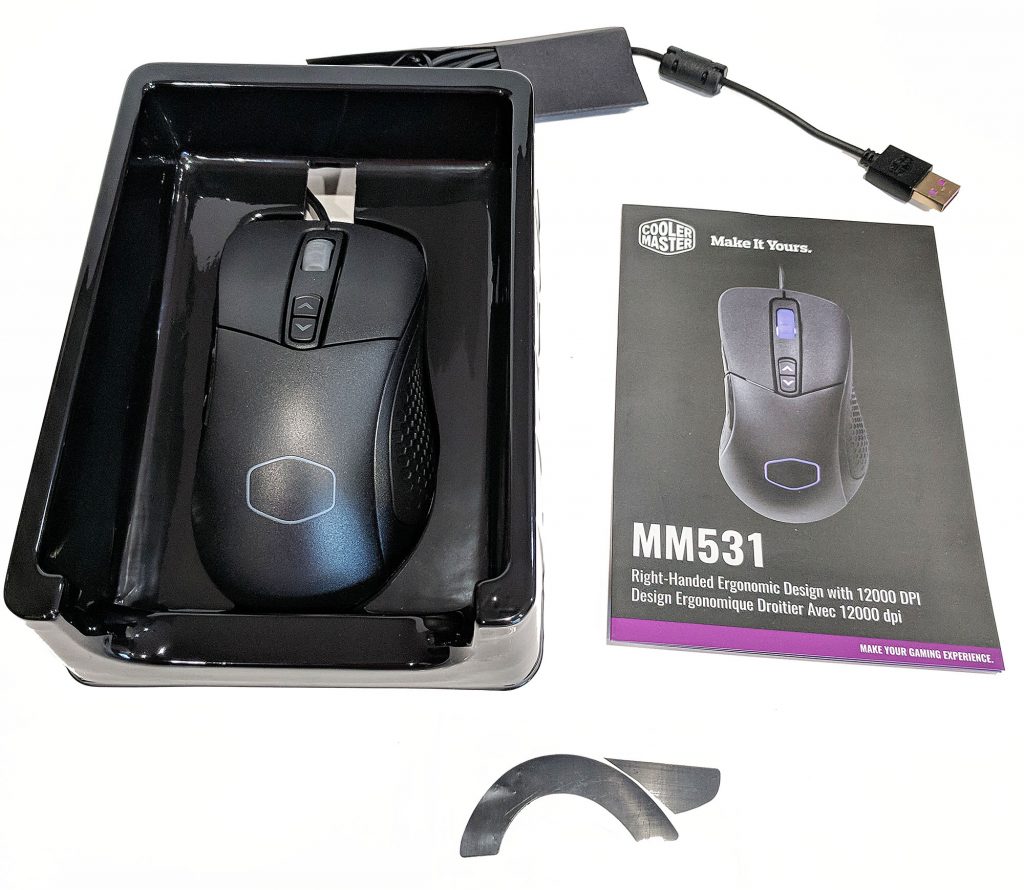 A Closer Look
Now that the Cooler Master MM531 has been freed from it's box, let's take a closer look! At a glance, the mouse is overall pretty standard. It features the typical button scheme with left/right click back/forward thumb buttons, a scroll wheel and two arrow buttons below that used to manage DPI settings by default.
The first thing I noticed when handling the mouse was how lightweight it was. Since when it comes to gaming, I prefer using a corded mouse, it's light weight construction would make it an excellent mouse to take on the go. I know some gamers might prefer a heavier, weighted mouse; or better yet, a mouse with removable weights that they can adjust to their liking. If that is the case, the MM531 might not be the best fit. Personally, I prefer a lighter mouse as it requires less work to move, though end the end it comes down to personal preference.
The materials used in the construction of the Cooler Master MM531 is mostly ABS plastic with rubber grips on the left and right side. The grips provide excellent… well grip when handling the mouse in a claw configuration. Each side features a honeycomb pattern which adds to the overall aesthetics.
The chord is pretty standard for a entry to mid range level mouse. Overall it is quite flexible and a bit thicker than some of the other mice we've reviewed in the past. The USB connector is also pretty standard although the cool Cooler Master Purple plastic insert separates it from other brands.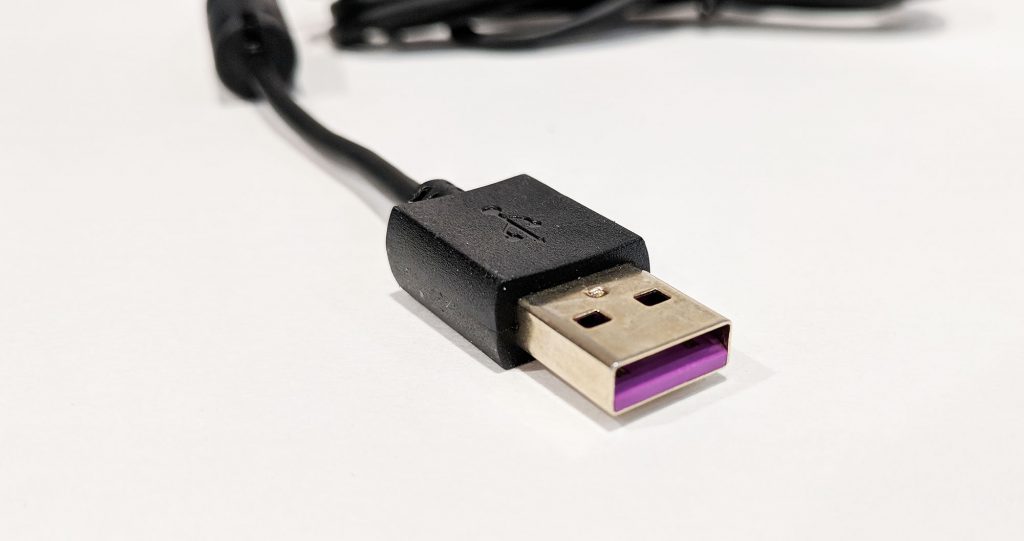 Powering

o

n

.

.

.
With the mouse plugged in, we see a beautiful display of LEDs light up the scene. The RGB LEDs are located in the transparent scroll wheel, the top arrow (DPI) buttons, as well as the hexagonal Cooler Master logo located on the palm. There are several configurable settings when it comes to how the LEDs can be displayed. By default the MM531 appears to be configured to cycle the colors (which I'll leave for now, it's actually kind of cool).
Software & Configuration
While the software is not required to use the Cooler Master MM531 gaming mouse, it is definitely recommended for several reasons. One, there may be important firmware updates provided by Cooler Master. These could include functionality patches or bug fixes. We at GND always recommend to upgrade the firmware if an upgrade is available just for this reason. In our case, there was a software update available: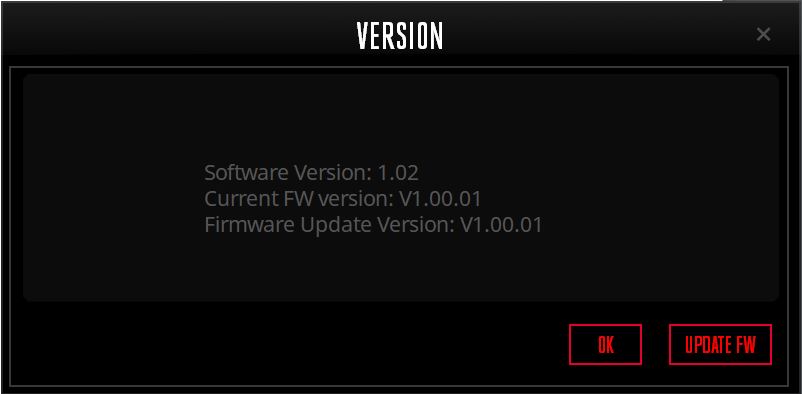 The software is overall quite intuitive. You start by downloading the Cooler Master Portal which can be found under the "Software" tab on the MC531 product page. Once downloaded and installed the Cooler Master Portal lists all of your connected CM devices and installs software for each device. Additionally, it installs firmware updates.
Under the MAIN CONTROL section, the user can configure key assignments, adjust TactiX settings, LED settings, Sensor settings, and OS  sensitivity settings. The Key assignment tab lets you remap the keys to your liking. If you have no need to ever adjust the DPI settings on the fly, definitely consider remapping the top arrow buttons to something more useful.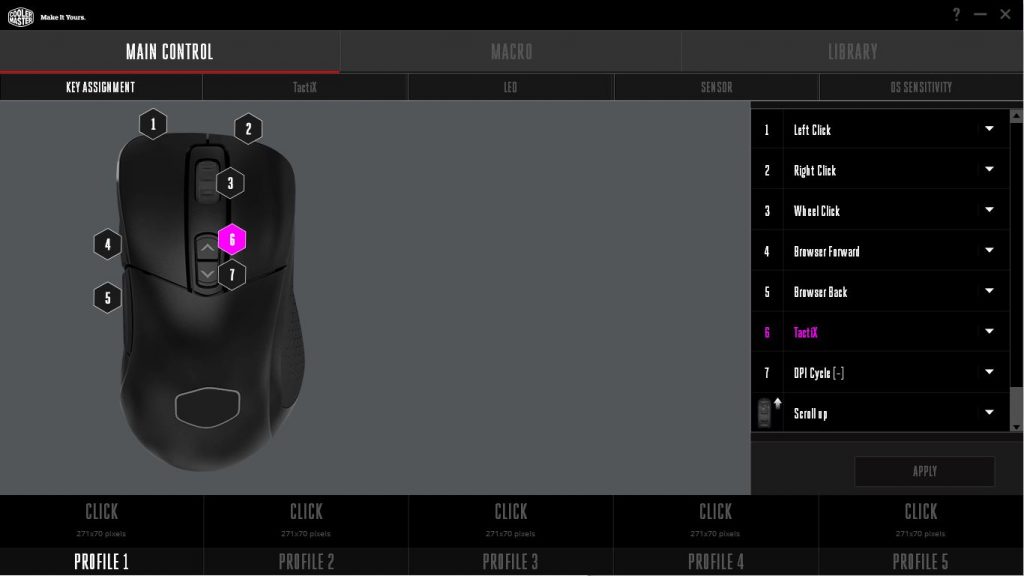 The TactiX controls let you assign a single button to enable a second set of programmable mouse keys which can change the way you interact with your mouse entire. Very useful if you want to isolate your Windows experience with your gaming experience.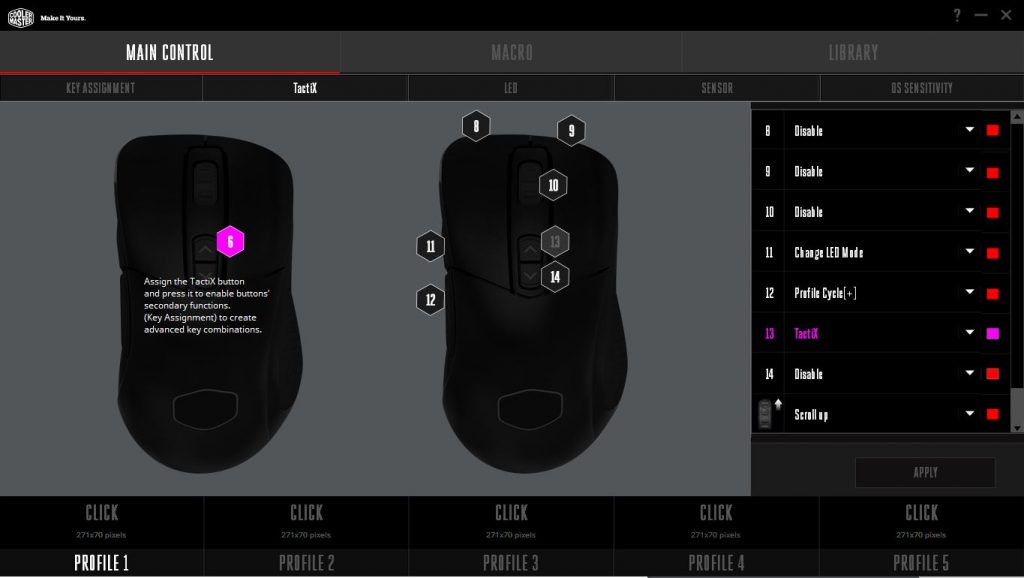 The LED section allows for customization over the Cooler Master MM531's integrated RGB LEDs. The LEDs can be configured in a static color, or special effects such as Stars, or Color Cycle can be used. The LED intensity can also be configured.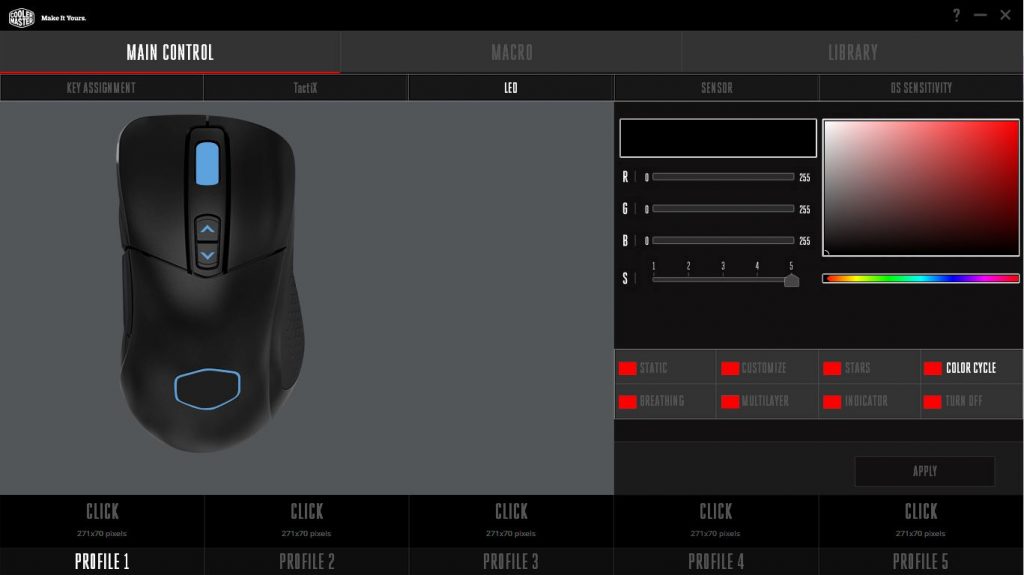 The Sensor area is where you can configure the mouse's DPI settings as well as other options such as polling rate, Angle Tunability and shaping, and lift off distance.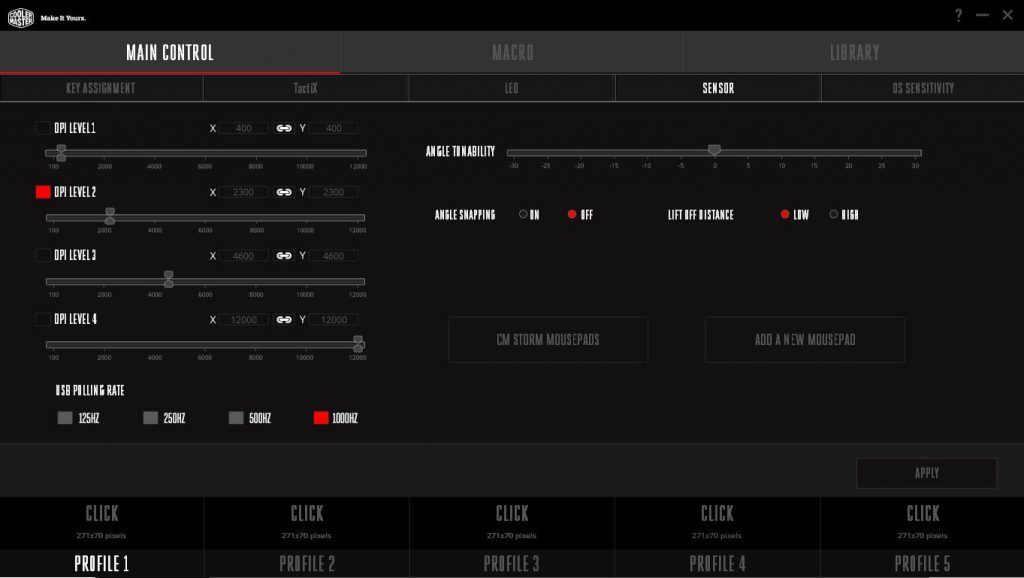 Lastly we have the OS Sensitivity section which overrides the mouse settings in Windows. Since I prefer to take advantage of the high DPI of the mouse, I usually like to lower this while raising the DPI. This tactic will not work well however on a dual input device such as a laptop with a tackpad. Double-click speed as well s respond time can also be configured in this section.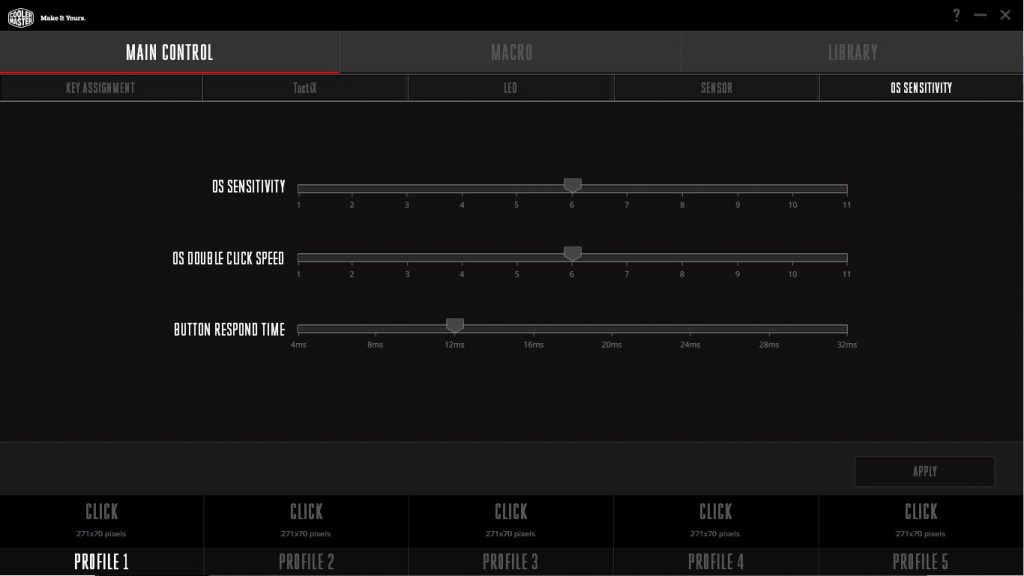 The software also supports different profiles which will reflect different settings for each of the aforementioned tabs. Very handy in a multi-user environment. In addition to profiles, macros can also be used and assigned to a button if needed.
Performance and Usability
Comfort – Overall, the Cooler Master MM531 is quite comfortable in both claw and palm grip styles. Much of its comfort comes from the rubber grips on either side of the mouse.  Its ergonomic shape also adds to the comfort level a bit especially the right side which sticks out a bit. This adds a a bit more gripping surface when claw gripping the mouse. One thing to note, this mouse was clearly designed for right-handed operation. Switching over to the left hand, the MM531 feels very awkward since its surface tilts down towards the right. It's not impossible to use, just less comfortable and you loose the ability to use the thumb buttons.
Performance – After a few hours of continual FPS gaming, the CM531 held its own. One thing to note: It's important than when switching to a new mouse to adjust the DPI settings and sensitivity levels to that which you're use to. Response time and accuracy of the mouse were spot on with no signs of delay. Even when my palms got a bit sweaty from constantly gripping the mouse, thanks to the rubber sides, I was able to control the mouse without issue.  When changing to different surface types such as a bare tabletop, countertop, a random book, and of course a mouse pad, the CM531 also performed quite well.
Usability– According to Cooler Master, the CM531 is designed to be handled in both the claw configuration (heald using finger and thumb tips) or palm configuration ( resting the palm on the mouse). Ultimately this comes down to preference. The Cooler Master MM531 is quite large so if you are a palm style mouse user, you may find it comfortable. As mentioned before, personally I prefer the claw configuration as it allows for finer control while gaming.  When handled in claw configuration, the mouse is very responsive and easy to use.
Conclusion
The Cooler Master MM531 is a plain and simple GOOD mouse. There's no extravagant grip angles, there's a minimal amount of buttons, and overall very lightweight. If you are looking for a mouse that is really good at just being a mouse, the Cooler Master MM531 is for you. While it doesn't pack a huge amount of features, the features it does include are incorporated right and can really hold its own while gaming. Considering the parts used such as the high quality sensor and Omeron switches, there's no doubt you'll get years of use out of this mouse.
Construction:  22/25 – The overall construction was solid. The mouse clicks felt crisp and clean and so did the scroll wheel. The mouse did feel a bit plasticy but the rubber sides added to the overall quality and usability.

Performance: 24/25 – The mouse felt overall very precise and worked perfectly fine on multiple surface types. No complaints here.

Appearance: 20/25 – The MM531 looked good, and the RGB LEDs added a nice touch but beyond that it appeared pretty standard.

Value: 23/25 – For ~$49.99 USD, you are buying a mouse from a well known brand that is equipped with a 12,000-DPI sensor, programmable buttons, RGB ligting, and backed by a 2-year warranty. The software added to the value as it added many extra hidden features.
Overall Score:

89/100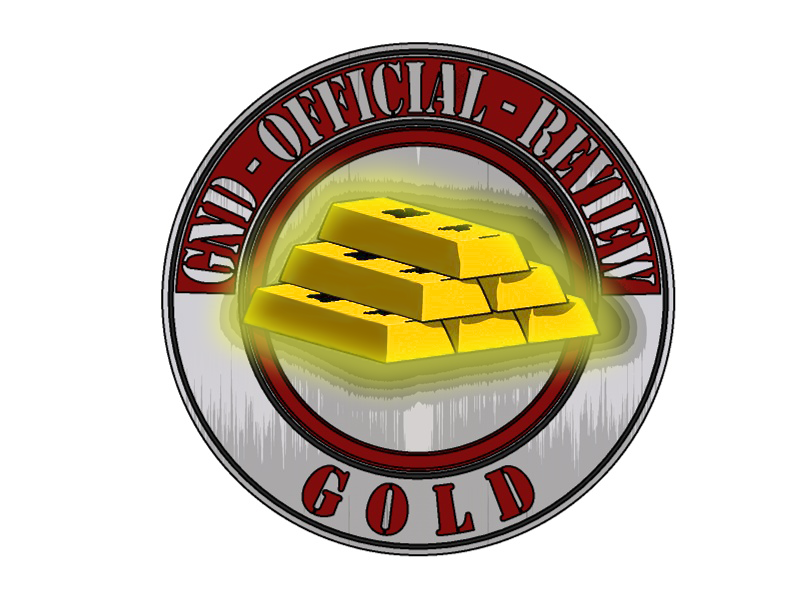 Performer!
If you are looking for a mouse that is really good at just being a mouse, the Cooler Master MM531 is for you.