In this review we'll be taking an in-depth look at the new Cooler Master CK550 mechanical gaming keyboard and it's many features. We expect a lot from our keyboards now days especially when it comes to heavy use such as gaming. Mechanical keyboards are about all you'll find in the gaming keyboard department and for very good reason. They are provably superior in every way when it comes to durability, typing as well as gaming.
The Cooler Master CK550 is no exception.  Despite it being a full mechanical keyboard equipped with Gateron switches, it is packed with premium features bundled in a sleek, simple design. The CK550 is configured in a full-size form factor, meaning it has the 10-key number pad, arrow keys and page control buttons to the right. There are three supported switch types the keyboard can be configured in based on user needs. This includes Brown, Blue, and Red. In this review we will be reviewing a CK550 configured with Gateron Red keys. Red keys are very popular with gaming keyboards because of the low actuation force (45 cN) which means less force per action. Reds also have a smooth consistent feel all the way down to bottoming out with no tactile feedback, much unlike the Blue or Brown switches.
Currently the MSRP of the CK550 is listed at $89.99 USD and is available on both Amazon and Newegg.
Features and Specifications of the Cooler Master CK550
Features? Yes the CK550 has them. Besides being fully mechanical which we talked about earlier, the CK550 is also fully RGB enabled and is controlled via Cooler Master's desktop software. RGB functions can also be controlled directly from the keyboard using the CM button which acts similar to that of a function button on a laptop.
Get a straightforward keyboard that performs well on the battlefield with the CK550 Gaming Keyboard. Mechanical switches rated for 50 million clicks will guarantee your keyboard will stay combat-ready during all your long-lasting skirmishes. On-the-Fly Controls allow customization of your settings like RGB lighting and macros in real time, while software lets you get even further customization. Simply put, the CK550 is a capable tool that gets the job done. –Cooler Master
The Cooler Master CK550's appeal is also it's simple design. It's overall shape is rectangular without any flashy angles and has a smooth brushed metal surface which we'll be getting into later. For now, here are the detailed specs provided by Cooler Master:
Model Number
CK-550-GKGM1-** (Brown Switch)
CK-550-GKGL1-** (Blue Switch)
CK-550-GKGR1-** (Red Switch)
Product Name
CK550
Switch Type
Gateron
Material
Plastic / Aluminum
Color
Gunmetal Black
LED Color
RGB
Polling Rate
1000 Hz
Response Rate
1ms / 1000Hz
MCU
32bit ARM Cortex M3
On board Memory
512KB
On-the-fly system
Yes, for Multi-media, Macro Recording and Lighting Control
Multi-media Keys
Through FN
Cable
Fixed Rubberized 1.8m
Software Support
Yes, through Portal
Connector Cable
USB 2.0
Cable Length
1.8m
Dimensions
460*135*41 mm (L*W*H)
Product Weight (without cable)
850 g
Warranty
2 years
As far as what we can make out from the internals, the CK550 sports a ARM Cortex M3 processor with 512 KB of onboard RAM. Very similar to the Cooler Master MM531 we reviewed earlier. Makes sense, especially when you're working towards software compatibility across multiple products. You'll also notice that the keyboard is also quite heavy! Weighing in at 850g, at least you won't have to worry about it sliding around…
Now that we're all well versed, let's unbox this thing and see what we're dealing with!
Unboxing
The box housing the CK550 follows Cooler Master's black and purple color scheme that we've seen while reviewing its other products. The front of the box displays a nice graphic of the keyboard and also provides the model number. On the top right side of the box, there's a sticker indicating which key type has been installed in the keyboard. Towards the bottom-center there's a view port that lets you test out the keys and see for yourself how the switches feel. Very useful in a retail environment where you can "try before you buy" to make sure the switch type is right for you.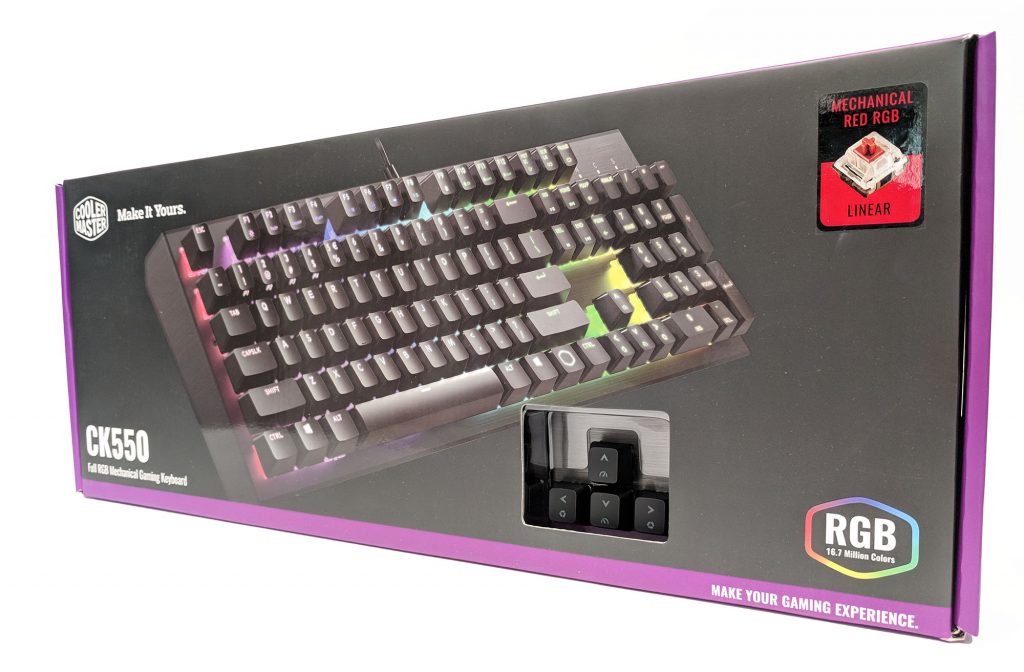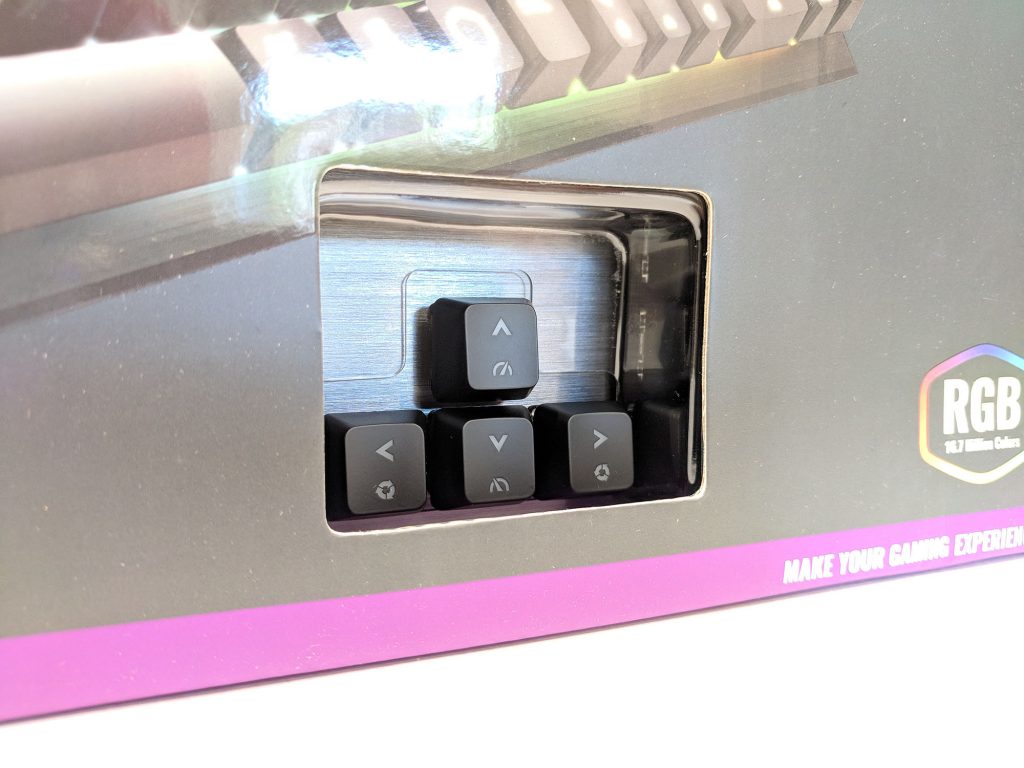 On the back side we've got a nice layout of t he keyboard with even more of the CK550's features outlined such as the RGB backlighting, aluminum finish and on-the-fly key settings. There is also mention to the control software which we'll be going over in-depth later on in the review. Additional features are highlighted in nine different languages a well along the bottom.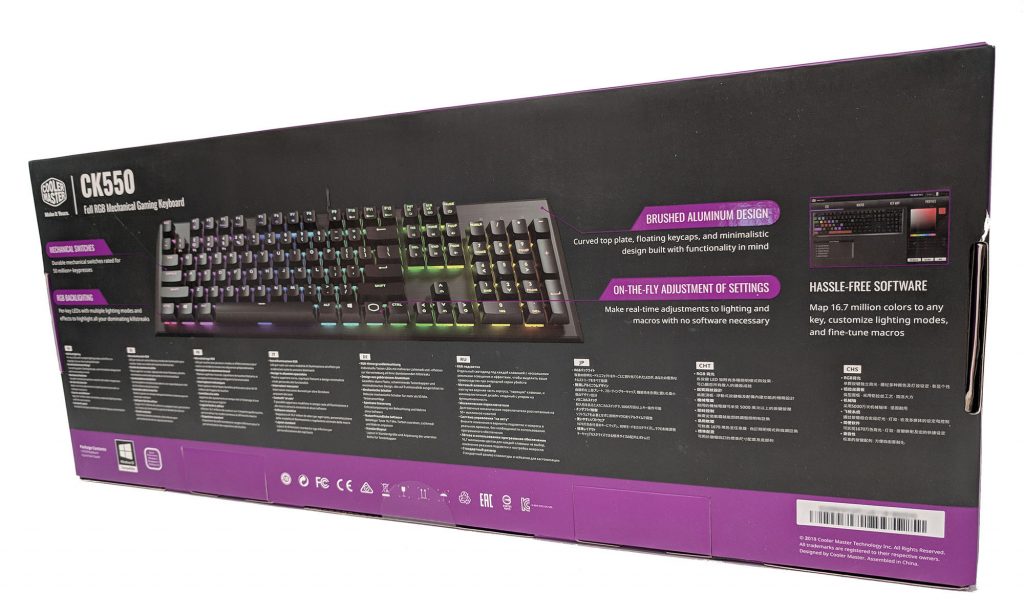 The box is great and all, but I know what you're all here for. Let's open 'er up and see what we've got! The keyboard is protected (except for the arrow keys you fingered earlier) by a clear plastic housing that keeps it held in place while keeping dust and what not out. Above that is a cardboard flap that secures the chord in place along with the instruction booklet and key puller.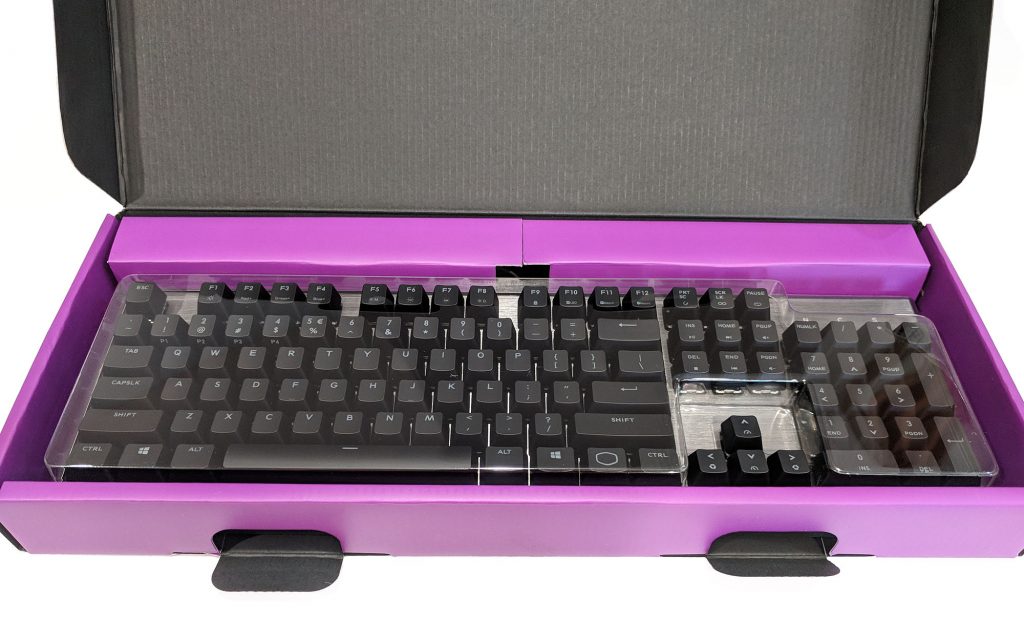 In a nutshell, the packaging is decently effective. There was no red carpet treatment with custom foam cutouts, but overall the packaging is effective and minimalistic. It would be very unlikely that you would receive a damaged keyboard due to how Cooler Master packaged it.  Now that the Cooler Master CK550 is free, let's take a closer look!
A Closer Look
As you can see from the image blow, the Cooler Master CK550 sports a black and silver design. The overall color scheme reminded me of the CM Storm Trigger which we reviewed a few years back. However, one major difference between these two keyboards is the construction material. The Trigger's surface was a thick gray plastic, while the CK550's is brushed aluminum, definitely adding to the overall premium feel. Also similar to the Trigger, the CK550 is configured in the full-size form factor meaning you'll have full 10-keys, and arrow keys available. For a desktop keyboard this layout is definitely my favorite. If portability is your thing, having a more compact keyboard is definitely useful.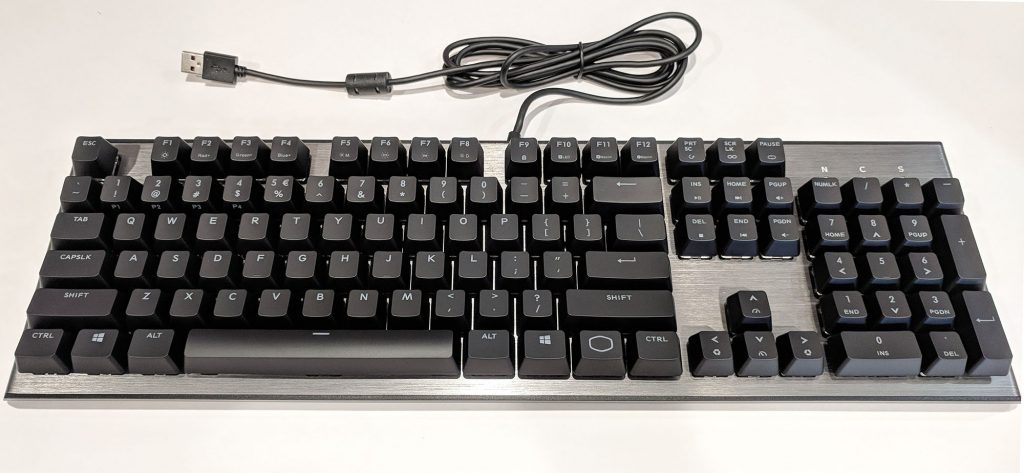 Here we can see the metal surface of the CK550 in greater detail. The surface looks absolutely amazing, especially when the backlight LEDs reflect off it which is difficult to capture in photos. Each of the mechanical switches are mounted directly to the aluminum plate which raises the keys above the surface. This gives the keyboard a much cleaner look and will definitely make occasional cleaning much easier as there's less places for dust to hide.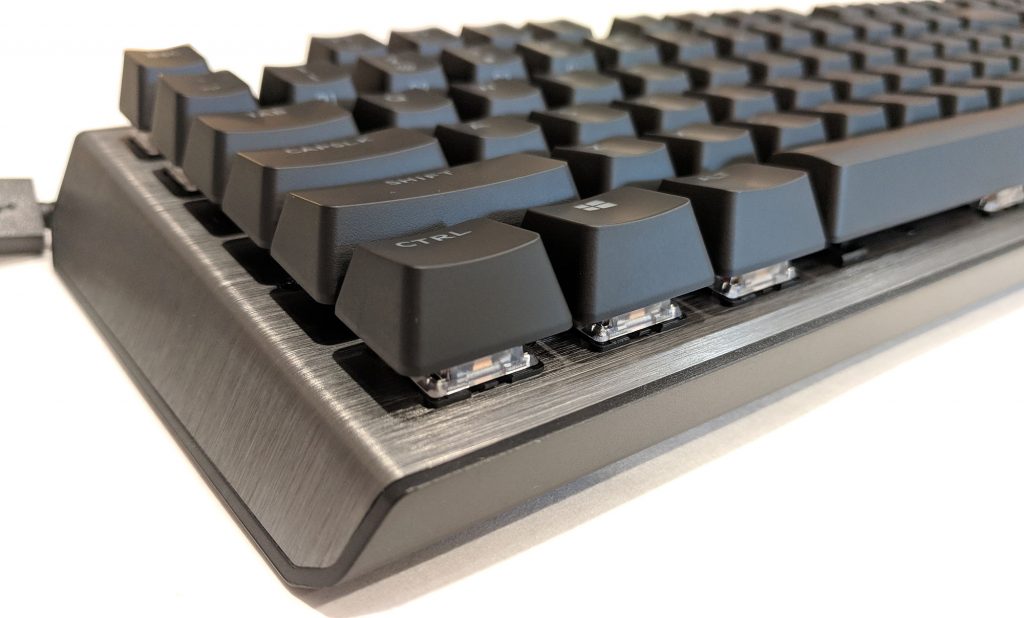 When depressed, the keys bottom out to about a millimeter above the aluminum surface.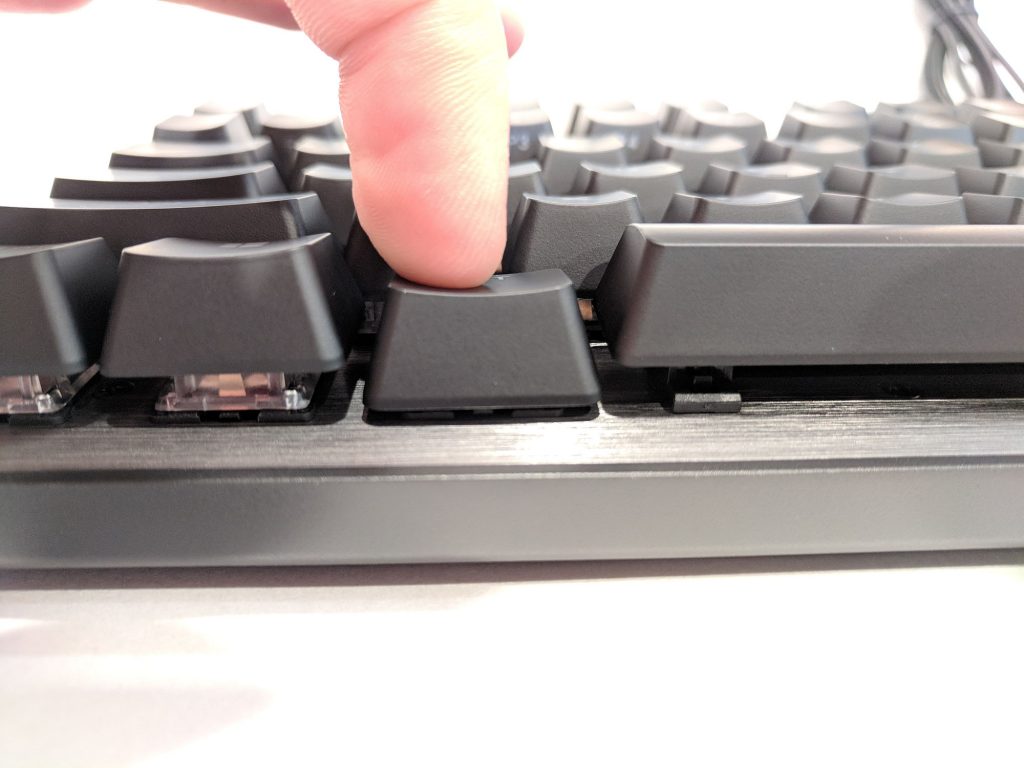 LEDs are controlled by either the Cooler Master software, or by selecting the function keys utilized by the Cooler Master Logo button to the right of the space bar. It works like any typical function key on a laptop. Basically hold down the Logo button, and then any of the buttons that have an alternative functon. These buttons can be identified by text located just beneath their primary purpose. For instance, the F-keys also control the LEDs when the function key is pressed.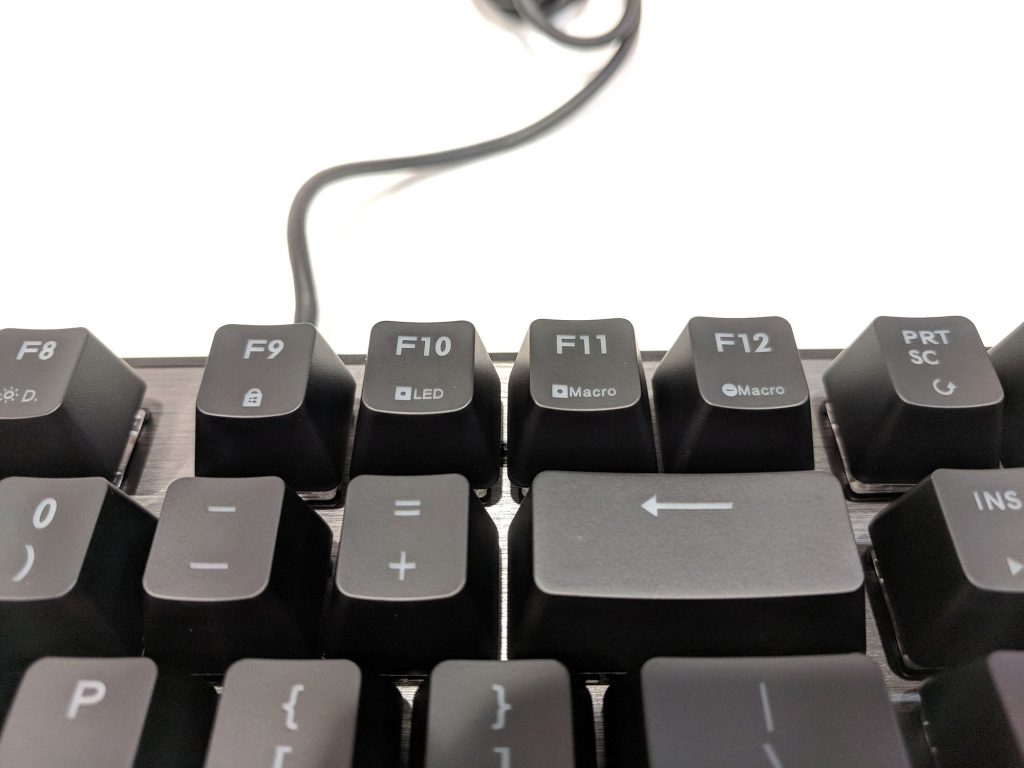 The chord for the CK550 is permanently attached to the center of the top of the keyboard. Having had many keyboards with a removable USB connector, this was actually a welcomed sight. While the idea of a detachable keyboard is nice, there have been a few keyboard I've used where the connector became loose over time and caused connectivity issues. While a little bit of convenience is lost, so is another single point of failure.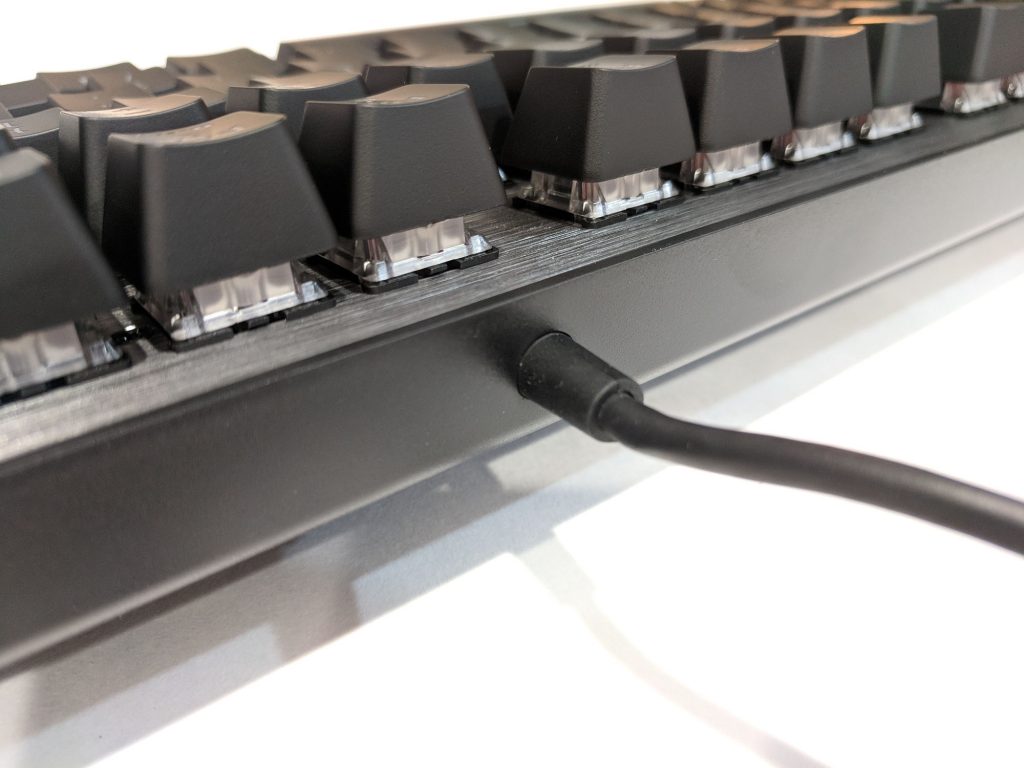 The chord itself isn't anything to write home about. It consists of a standard rubberized material you would find on pretty much any other chord. The good news is that it didn't feel stiff or overly flimsy so it should withstand the tests of time. Still for a keyboard at this price, most gamers would probably prefer the premium feel of a braided cable.
On the other end of the chord, we find the USB 2.0 connector. Again, nothing overly interesting here except for the purple plastic insert inside the USB housing itself. Pretty cool, but typically we like to see a different or unique look to USB plugs. Why you ask? Identification. Having a unique Cooler Master (in this case) themed plug that looks obviously different than any other plug, you can tell right away which device that plug belongs to.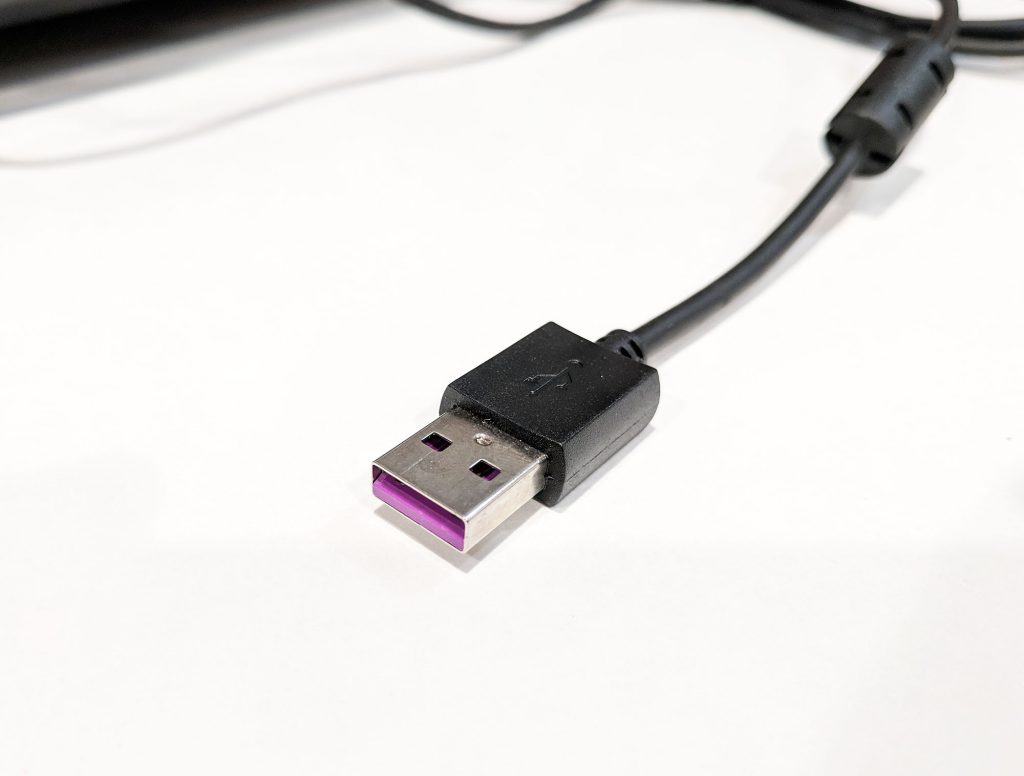 The back of the keyboard is about as interesting as any. The only feature worth highlighting here are the flip out supports used to raise the keyboard for easier typing. These add around 2cm of lift to the top of the keyboard. The stands also have rubberized feet to help keep the keyboard from sliding around.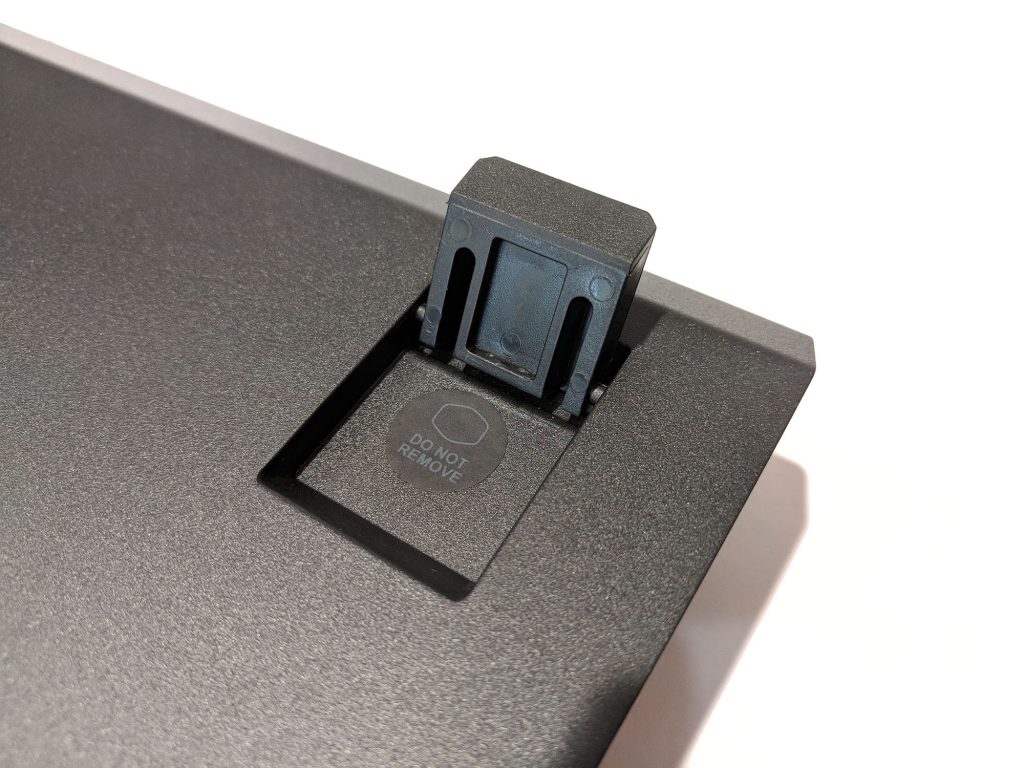 Also included with the Cooler Master CK550 is a wire key puller. I really like the wire style of key puller for its ability to get in between the keys easier and retain a firm grip. However, one major draw back, especially compared to conventional plastic key pullers, is that once the key is pulled, there's nothing keeping it secured. So it turns into a game of "catch the key".  Overall, I am glad to see that Cooler Master did include a key puller. It will make cleaning the keyboard easier down the road.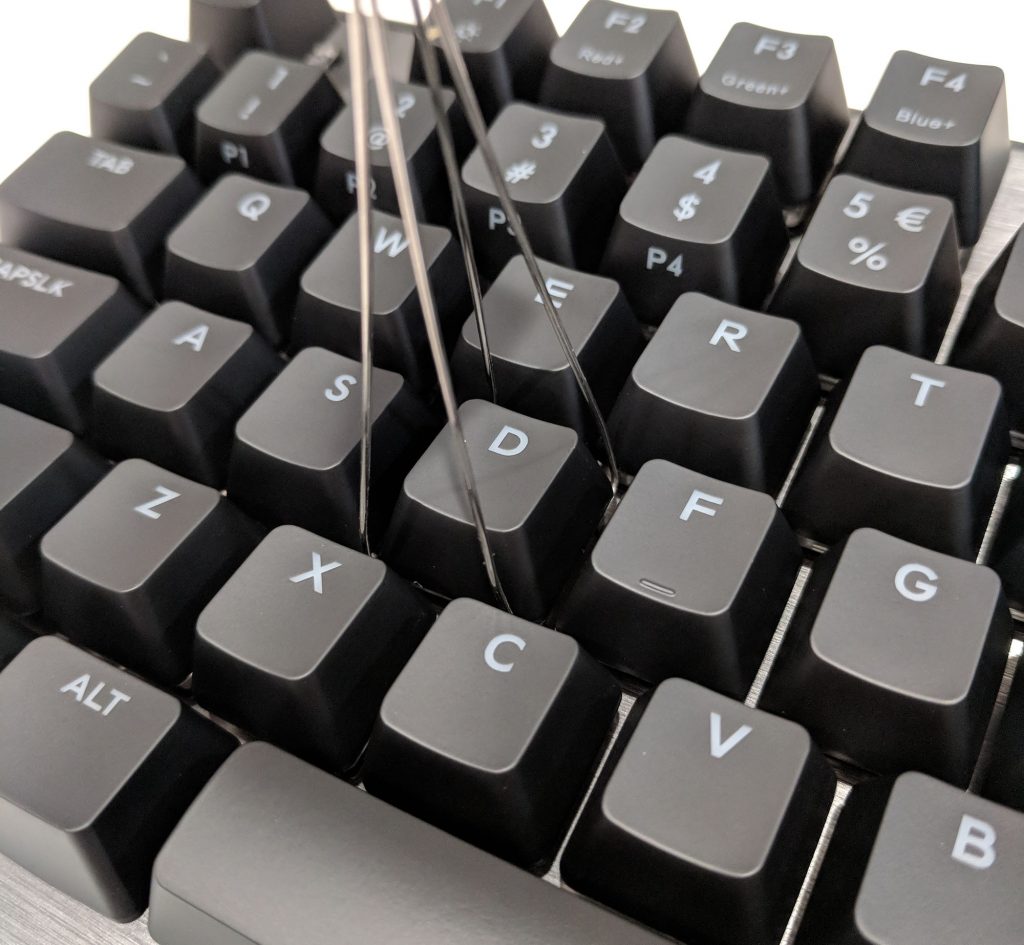 With a key removed, we can see the Gateron Red switch in all its glory. Above each switch is a single RGB led which provides backlighting as well as through-key lighting. We will go into detail about these switches more in detail later on in the review.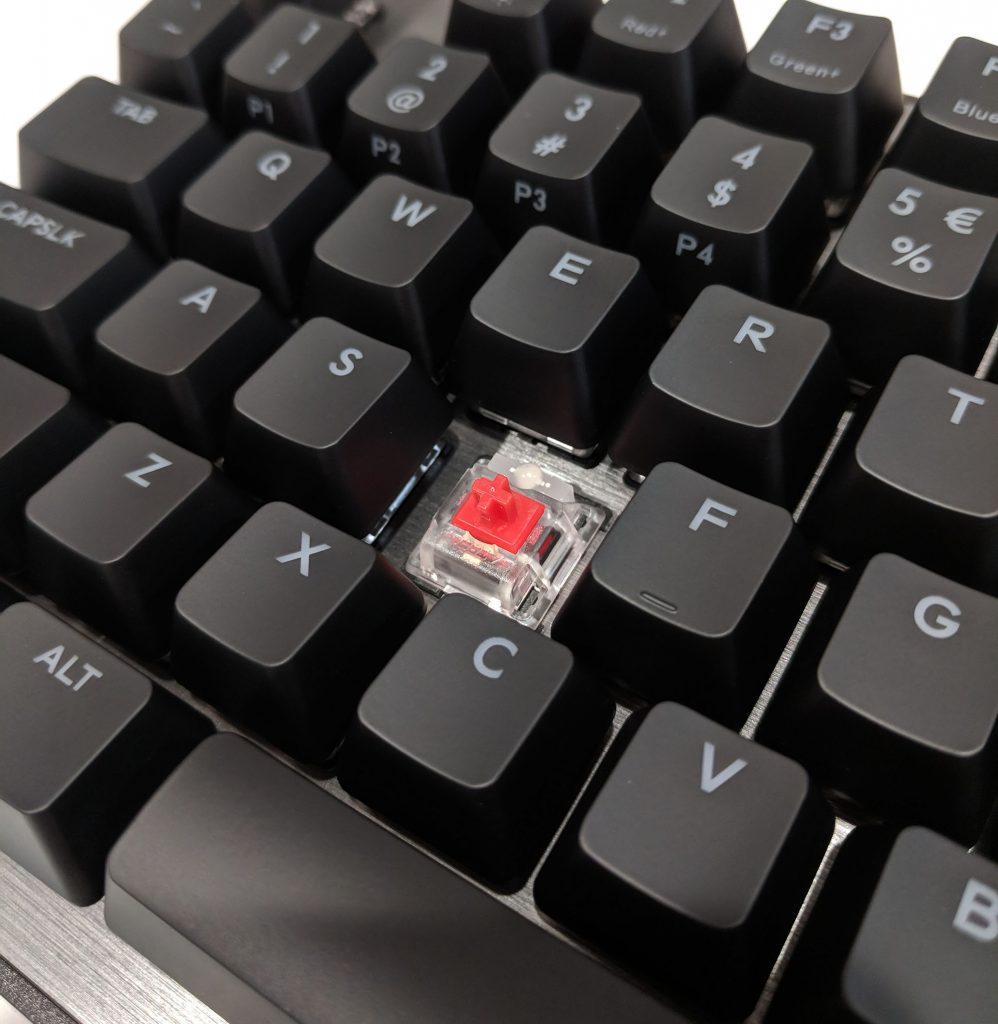 RGB LED Function and Control
With the keyboard plugged in, without utilizing any software, let's examine the RGB LED system and see what we can get the CK550 to do. The LEDs themselves are quite brilliant and when you first power on the keyboard, the entire appearance of the keyboard changes. The color defaults to Cooler Master's purple color scheme which actually looks quite good when paired with the silver backing and black keys. Before attempting to change the colors or patterns, take a look at the manual to get an idea on how to operate the CM function key and which function the buttons perform. But… because you're lazy, I'll include an image below: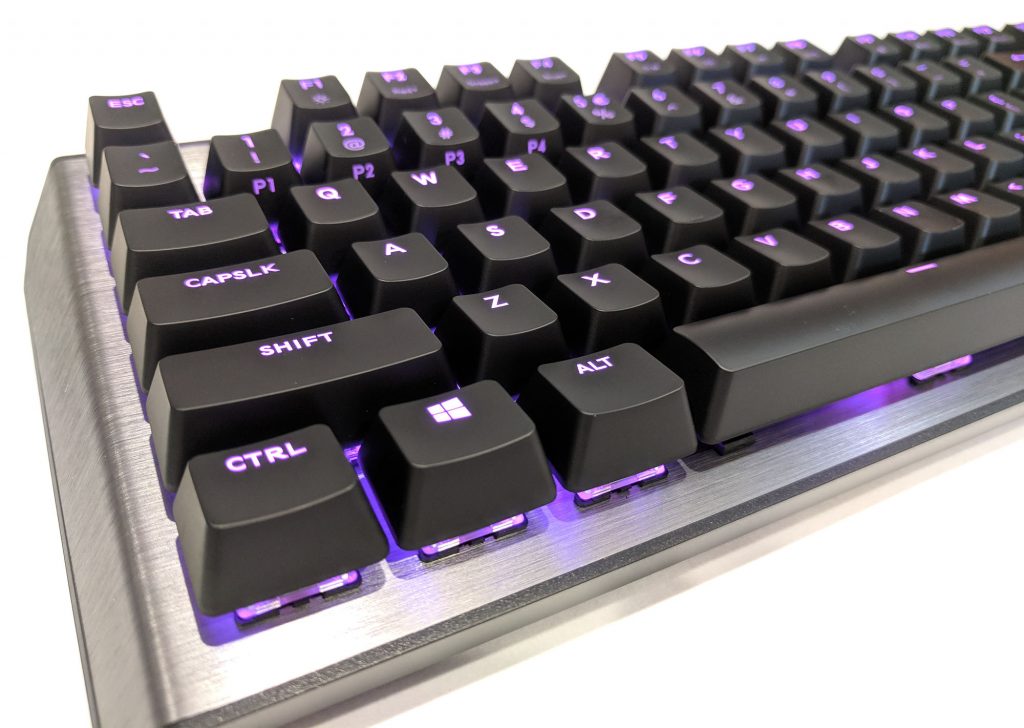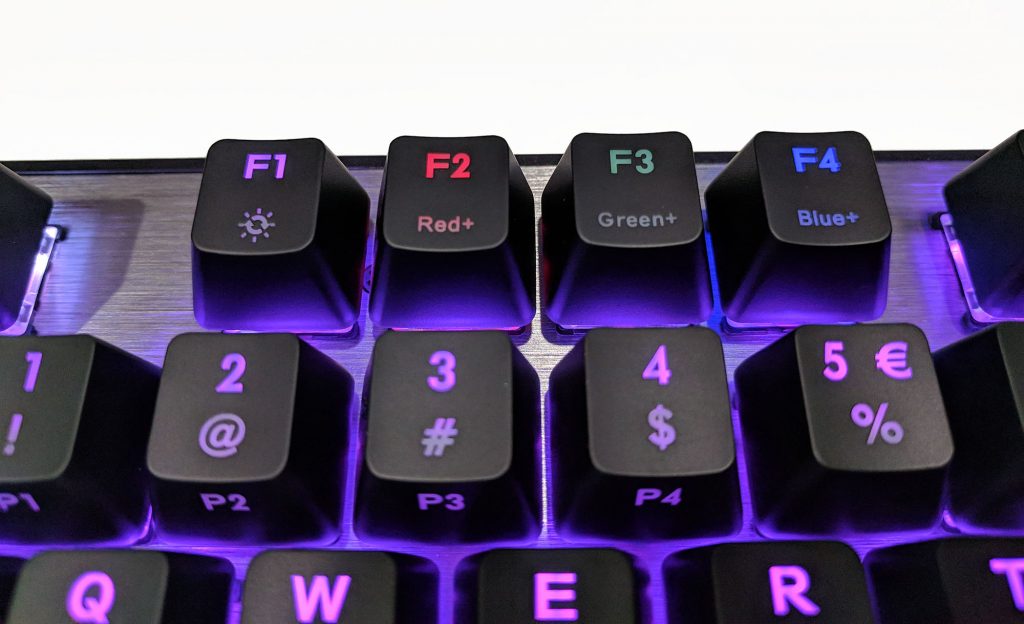 LED control key combinations as promised: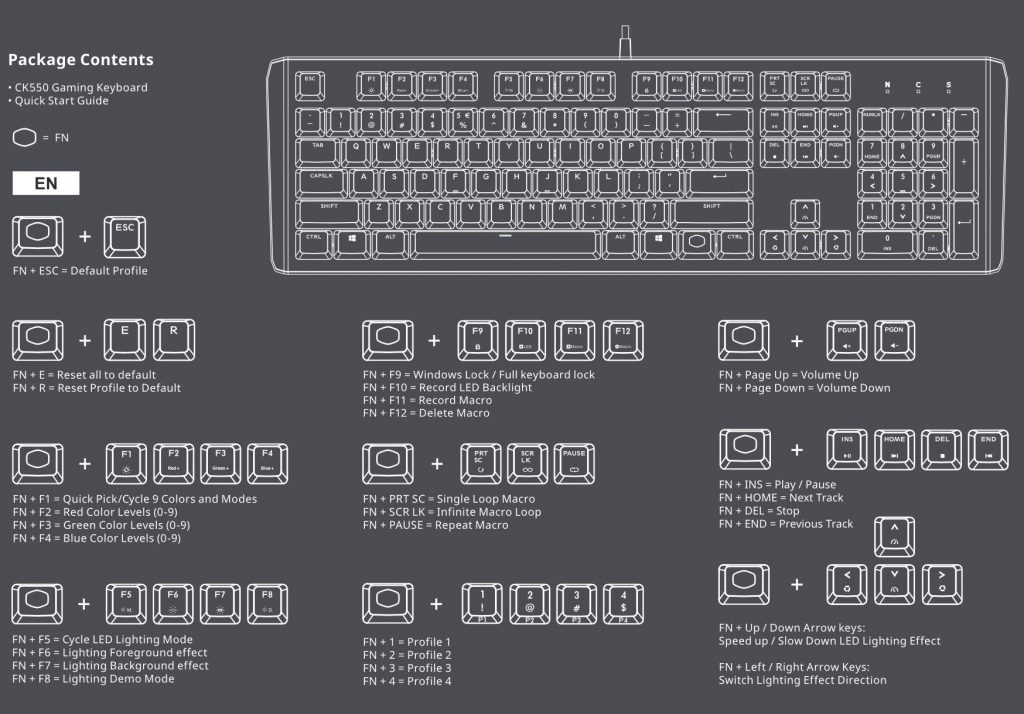 Pictures definitely don't do justice some of the effects that the Cooler Master CK550 has to offer. Some include responsive rainbow patters, ripple effect, stars, rain, and tons more. Definitely ADD fuel in my case. Here is a pretty good video that shows off many of the lighting effects (volume warning):
A note about switch types…
As we stated earlier, not all mechanical switches are created equal. Each type (or color) serves a specific purpose and has a unique feel. Some are linear and others are tactile and depending on what you primarily use your keyboard for depends on the type of switches you should buy. The switches in this particular CK550 are Red. Cooler Master also offers Blue and Brown switches in this particular model. Red switches are considered linear with no tactile feedback. Meaning you don't get the "click" feel half way down the keypress. This is ideal for heavy gaming use, and less so for consistent typing. For more information, check out the GND-Tech official keyboard guide. While the guide references Cherry MX switches, the same color scheme is used for the Gateron switches.
If you're familiar with the tried and tested Cherry MX style switches and nervous about switching to the Gateron switch, fear not. When using the CK550 next to another keyboard with Cherry MX switches, the feeling is almost identical. The only subtle difference is that the Gateron switch feels like it actuates a little bit earlier than the Cherry switch. Applied pressure and overall feel appear to be the same.
Control Software and Functionality
While the software is not required to use the Cooler Master CK550 gaming keyboard, it is definitely recommended for several reasons. One, there may be important firmware updates provided by Cooler Master. These could include functionality patches or bug fixes. We at GND always recommend to upgrade the firmware if an upgrade is available just for this reason. Secondly, it makes configuring profiles and customizing the RGB LEDs much easier. If you don't like extra software running on your PC, at the very least install the software to apply firmware updates. In our case, there was a software update available: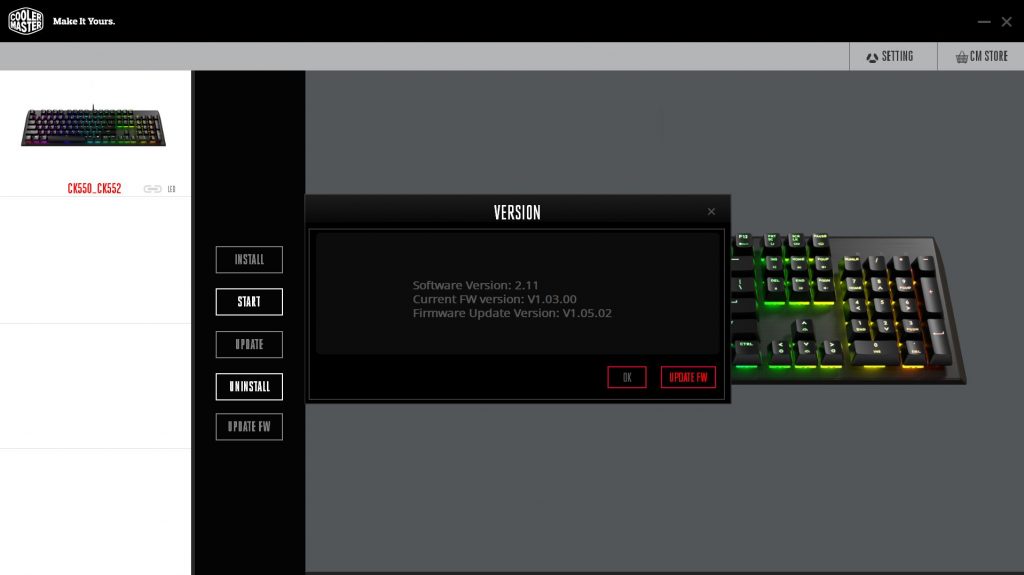 The software is overall quite intuitive. You start by downloading the Cooler Master Portal which can be found under the "Software" tab on the CK550 product page. Once downloaded and installed the Cooler Master Portal lists all of your connected CM devices and installs software for each device. Additionally, it installs firmware updates.
Once the Portal installs the software required for your device, it can be launched directly from the Portal. The software is very easy to use and consists of four main sections: LED, MACRO, KEY MAP, and PROFILES. All very self explanatory. The LED section… manages the LEDs! Here you can change the overall color or try out different effects in the "LED Mode" section towards the bottom. Each of the effects can be customized by changing the color or brightness using the right side panel once a lighting mode is selected.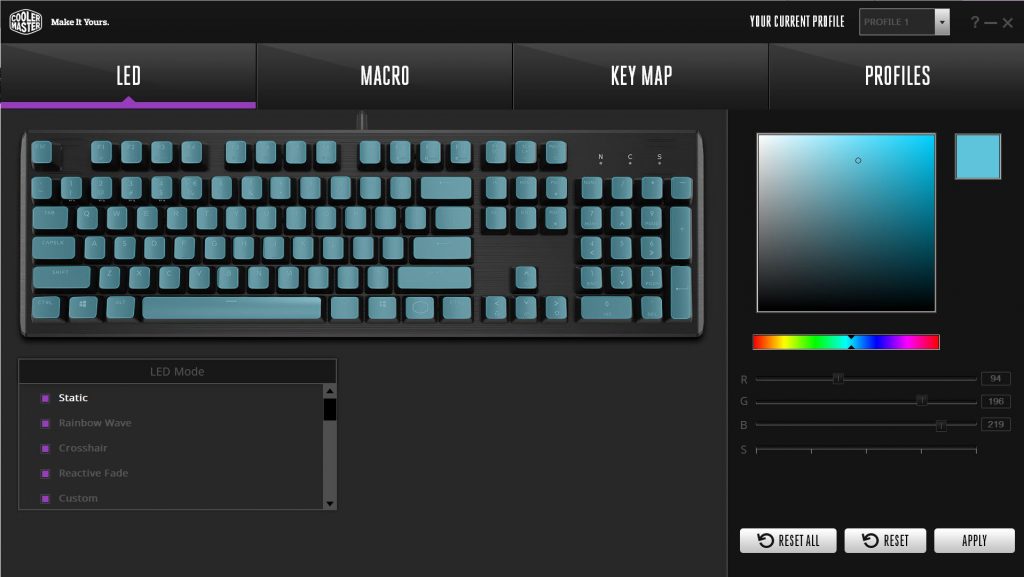 The macros section lets you create custom macros based on key patterns or recordings and then assign them to a specific key. I recommend assigning to a key you typically don't use such as Scroll Lock as the CK550 has no dedicated macro keys available. One option is to create a profile that has a bunch of assigned macros to the 10-key number pad. When in a game, activate the "Macro Profile" by hitting the quick key combo, and once finished, switch back to the previous profile to regain access to the 10-key number pad.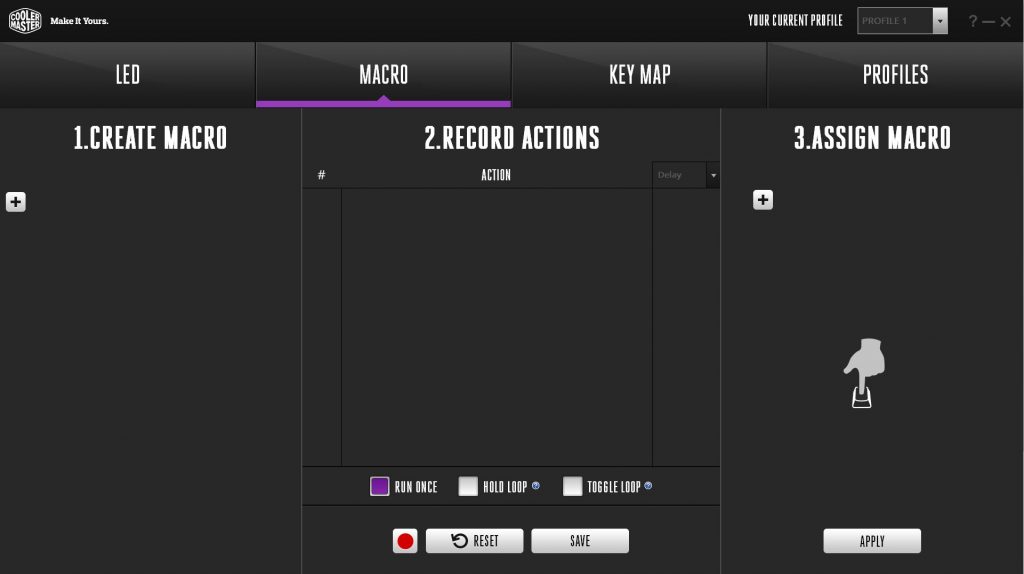 The key map tab lets you re-assign keys or disable keys all together. As a test I permanently disabled the Caps Lock key. I rarely use it except for when I accidentally hit it before typing in a password.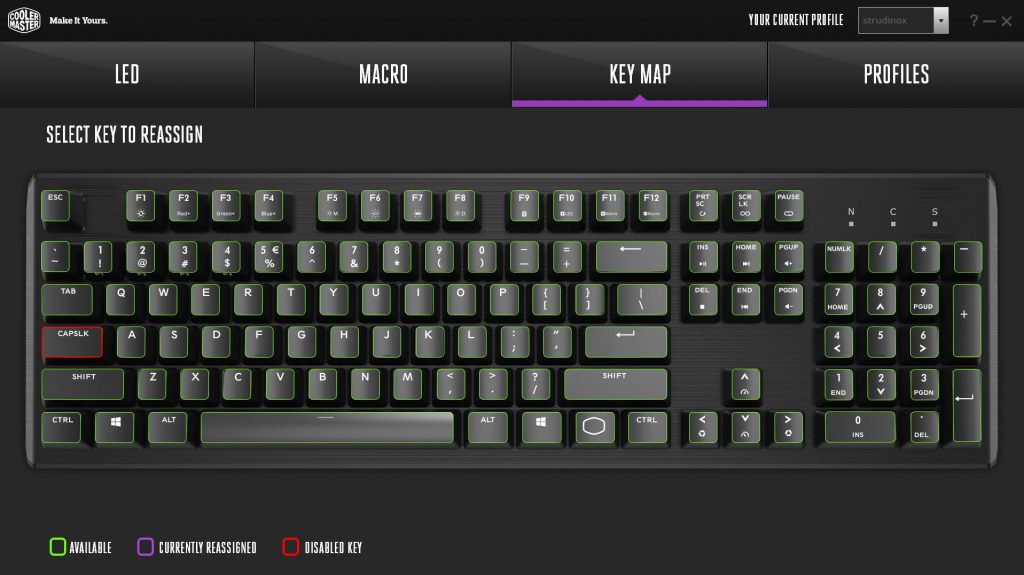 Last but not least, the profiles tab. Here you can assign up to four profiles that can be easily toggled by selecting the CM Fn+1,2,3,4 buttons. Additionally, profiles can be imported and exported.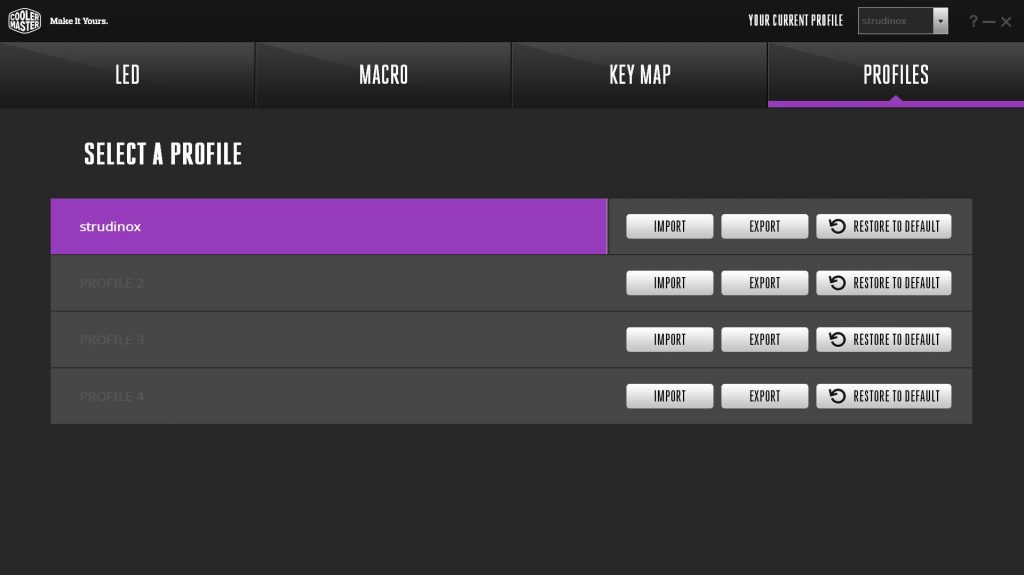 Performance and Usability
Comfort & Ease of use – Because this is a mechanical keyboard, actions felt quick and snappy. The lighter pressure switch of the Red switches really shown when gaming. Actions appeared quicker ingame because they were actually happening quicker. The keys felt secure and planted in place.  The keys are also spaced nicely to prevent false positives. Keep in mind if you do any gaming or typing for long durations, you may want to purchase a separate palm rest. Since this is a raised keyboard, it can become uncomfortable after extended use.
Performance – After a few hours of continual FPS and RTS gaming, the CK550 held its own. The keys are not overly loud which is one positive side affect of linear style switches such as the Reds or Blacks. While typing (this review mostly, heh) the loss of tactile feedback is noticeable and it does require some getting use to. I tend to bottom out the keys more than I normally would because I'm expecting a click, or something letting me know that a key press registered. While typing is certainly fine, if you spend more time arguing with strangers on the internet than actual gaming, look into ordering the CK550 with either Blue or Brown key switches.
One aspect of any keyboard, especially when gaming is key rollover. Often times, especially in games multiple key combinations are pressed at the same time. For a keyboard with no N-Key Rollover (NKRO) over USB support, key presses may be missed. Fortunately most modern keyboards support NKRO and this includes the Cooler Master CK550. As a test, I should be able to press as many keys down as possible while having Windows register a keyprss. Let's give it a try with an online test utility:

This was as many keys as I could possible press while taking a screenshot. As you can see, the software picked up 39 simultaneous key presses proving that NKRO did its job.
Conclusion
The Cooler Master CK550 has been an absolute blast to use and review. Everything about this keyboard screams "FUN" while still being able to perform with the best of them. The premium brushed aluminum is definitely a unique feature that really adds a lot of character compared to other similar spec'd keyboards. The way it reflects the light from the LEDs looks amazing in especially low light conditions. The LEDs were bright and the amount of customization and control you had over them was was another strong point. Overall, if you're looking for a nice looking mechanical keyboard that is fun to use and should last for years, the CK550 would be a good fit.
Construction:  22/25 – Overall, the construction of the keyboard itself is great. The only draw back was the very uninteresting chord and USB plug. The chord, while I loved that it was securely attached to the keyboard, was overall dull and didn't fit with the exciting vibe the keyboard itself gave off.

Performance: 24/25 – The keyboard performed well, no doubt about it. Typing might be a difficult adjustment for some when using Red switches, but that comes down to preference. Overall, no performance complaints here.

Appearance: 24/25 – The CK550 looks outstanding. The aluminum surface with the floating keys really gives the keyboard a premium look and feel. The LEDs are sharp and the RGB effects are fun to play around with.

Value: 22/25 – MSRP at the time of writing this review is $89.99. At this price you are looking a keyboard in the mid-range spectrum. Considering all of the features Cooler Master dumped into the CK550, I'd say the value is pretty good. It definitely appears more expensive than keyboards that we've reviewed in the past that cost more.
Overall Score: 92/100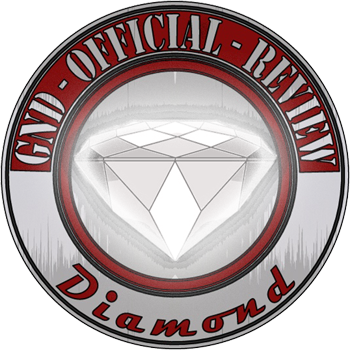 FUN
The Cooler Master CK550 has been an absolute blast to use and review. Everything about this keyboard screams "FUN" while still being able to perform with the best of them.