Just released today and hot off the press, we'll be taking an in-depth look at a brand new premium gaming headset by Cooler Master. The Cooler Master MH752 gaming headset that features a USB DAC and 7.1 virtual surround sound support all backed full  software support. The headset was announced and revealed to the public during the 2018 Computex event back in June.
The MH752 is bundled with a host of premium features gamers expect such as remote volume and mic controls, 40mm drivers, USB and 3.5mm interface support, and a braided cable. As gamers are prone to wearing their headsets for extended periods of time, the headset is designed for maximum comfort based on clamp force and the thickness of the ear and top pads.
This headset is one of two launching today. Also available is the Cooler Master MH751 gaming headset. The primary difference between that and the MH752 that we're reviewing today is the included digital USB remote and supports virtual 7.1 surround sound whereas the MH751 connects via 3.5mm.
More information on the headset can be found over at Cooler Master's product page.
Now, with Introductions out of the way, let's take a closer look at some of the details and specs…
Features and Specifications of the Cooler Master MH752 Headset
Before taking a closer look at the headset, let's learn more about what we're working with. As mentioned earlier, the headset sports 40mm drivers so it should provides a pretty wide wide range of sounds levels. The MP782 has the ability to interface with multiple platforms over USB; this includes PC, Xbox One and Sony Playstation. Support over USB or 3.5mm audio is supported.
The overall design of the Cooler Master MH752 is designed to be sleek and stealthy. No lights or flashy logos have been incorporated into the headset. The only LED that exist are located in the USB controller for illuminating the 7.1 channel button.
Comfort is another feature and it's pretty apparent this was a major consideration when designing the headset. The headset itself is very lightweight, weighing in at only 250g. The ear pads are very soft and thick as well to reduce discomfort during long gaming sessions. Audio is provided by neodymium 40mm drivers and 7.1 virtual surround sound is included. We'll cover audio much more in-depth later on in the review.
In a nutshell, here's what you're getting:
Minimalistic design.
Maximum comfort – light weight and high density foam in the headband and ear cushion.
40mm neodymium magnet driver.
provide balanced sound quality.
Multi-platform compatibility.
USB DAC Controller for 7.1 virtual surround sound, volume adjustment, microphone mute, microphone volume adjustment.
And some detailed specifications:
Cooler Master MH752 Gaming Headset
Product Number
MH-752
Headphone Specifications
Driver Diameter
40mm
Frequency Response
20–20,000 Hz
Impedance
26Ω
Sensitivity (@1kHz)
97dB ± 3dB
Cable Length
1.5m 3.5mm connector (removable)
1.5m USB cable (removable)
Connector
3.5mm 4-pole jack / USB Type A
Headband Material
Steel and plastic headband, PU leather and foam cushion
Ear Cushion Material
PU Leather and foam cushion
Microphone Specifications
Pick-up Pattern
Omni-directional
Frequency Response
100–10,000 Hz
Sensitivity (@ 1kHz)
-42 dB ±3dB
Signal to Noise Ratio
55dB
Microphone Type
Detachable flexible microphone
Headset Controls
Volume Control
Up/Down Buttons (control box)
Microphone Control
Up/down buttons, mute switch
Virtual 7.1 surround sound
On/off button with indicative LED
Dimensions & Size
Dimensions (mm/inch)
(L X W X H)
149 * 85 * 215 mm
5.87 * 3.35 * 8.46 inches
Weight
340g , 0.75lbs
Weight (without Cable)
250g, 0.55lbs
Warranty
2 years
Next, let's take a deep dive into the latest and greatest headset from Cooler Master. In this section we'll take a look at the packaging, the headset itself, and included accessories.
Unboxing the Cooler Master MH752
The headset arrived to our top secret headset testing facility undamaged and in perfect health. The box features the typical, easily identifiable Cooler Master purple and black color scheme. The front does a nice job presenting the MH752 and highlighting some of its many features such as multi-platform compatibility and 7.1 surround sound.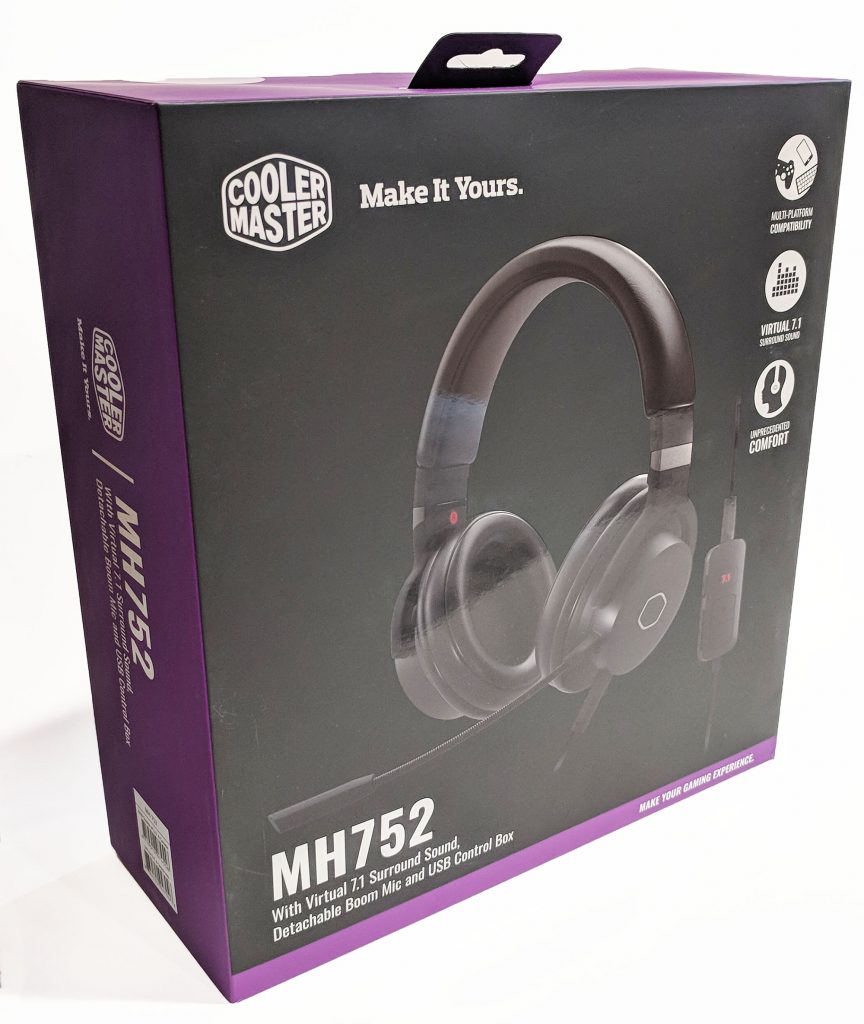 Flipping the box around we find even more details surrounding the headset such as some of the USB DAC's features as well as brief product descriptions in several different languages.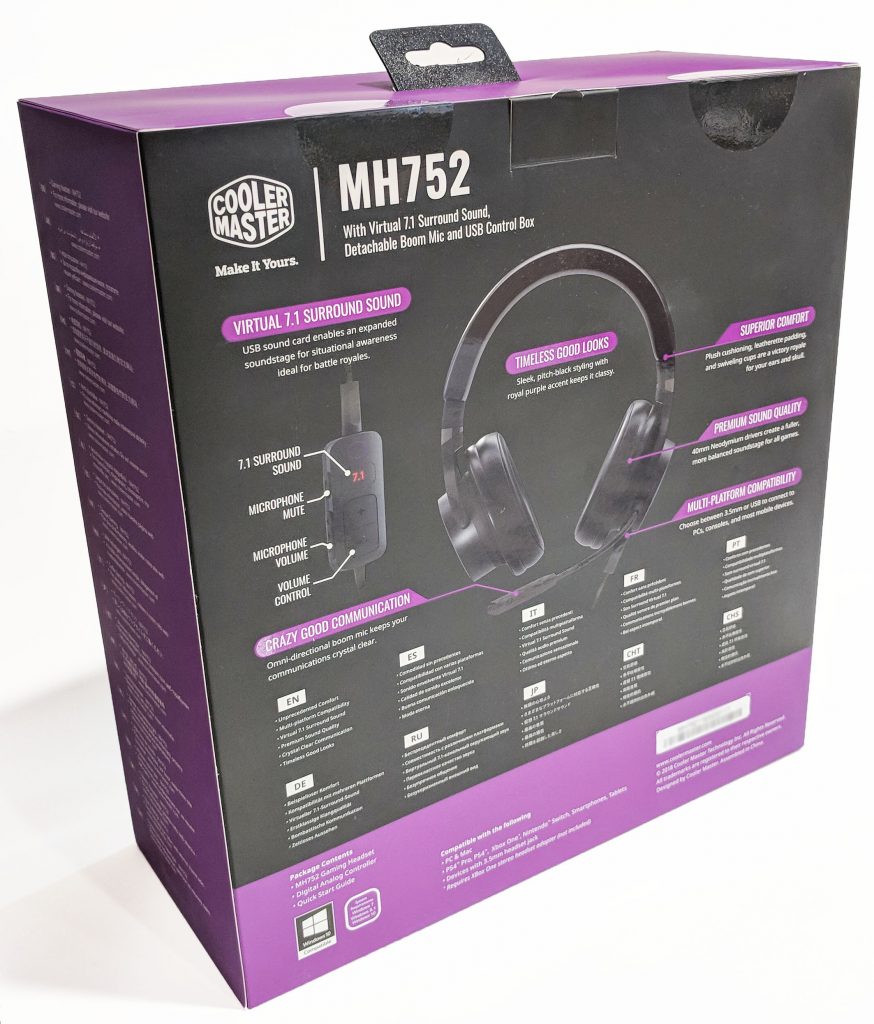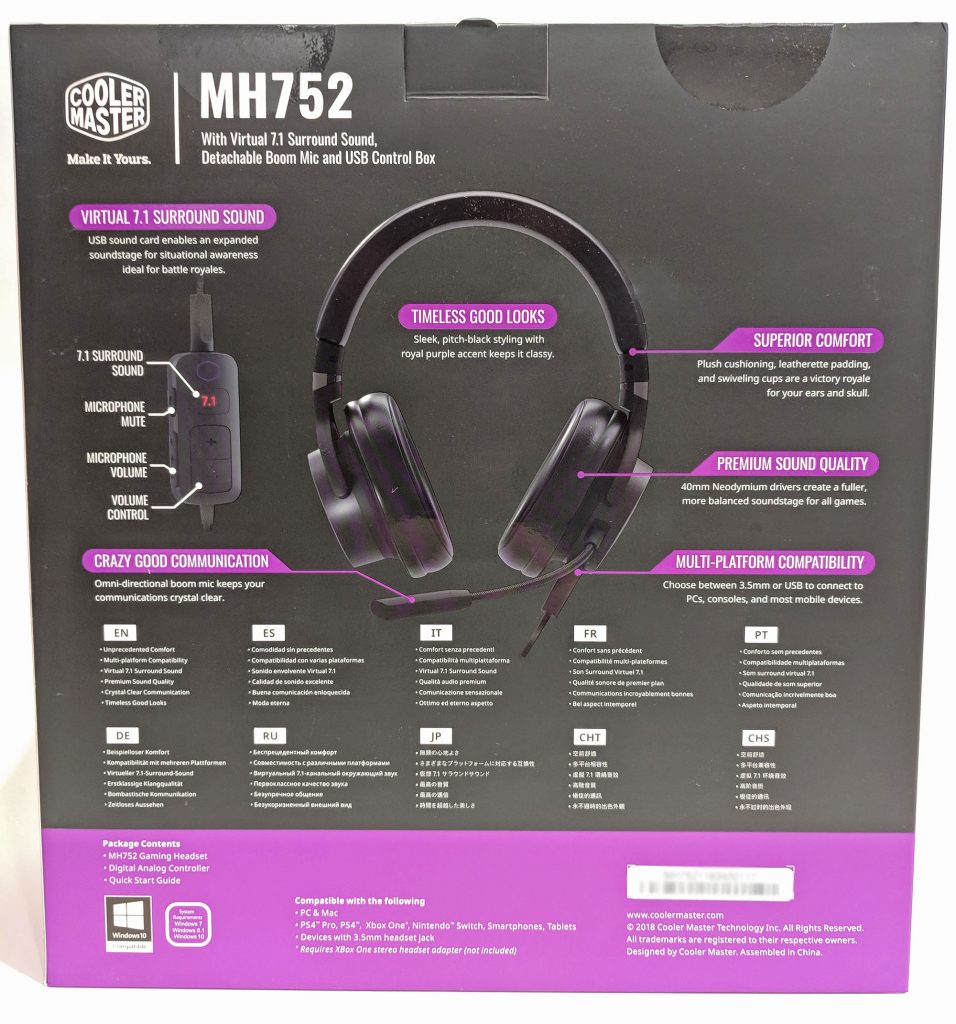 Upon opening the box outer, we find another, more sturdy two-piece box. The box subtly features a single Cooler Master logo ring in the center, with a purple ring around the perimeter. As the Cooler Master MH752 headset is designed to be a simple, non-flashy headset, the box did a good job setting the stage in my opinion.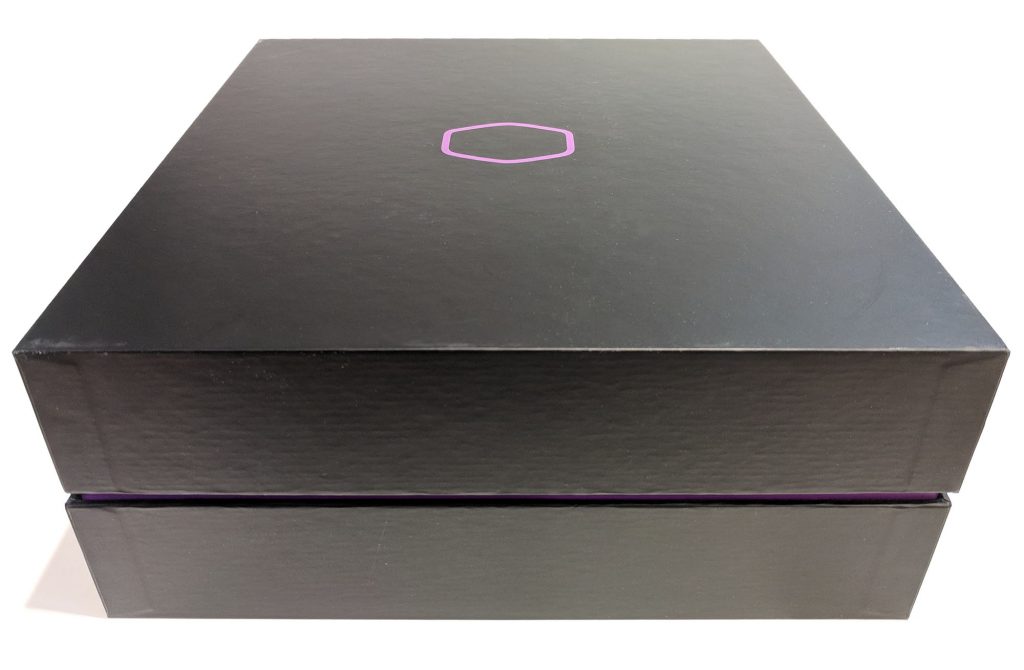 With the lid removed the text "Make Your Gaming Experience." is revealed wit the foam-protected headset cushioned underneath. A manual covering both models. MH751 and MH752 is placed on top.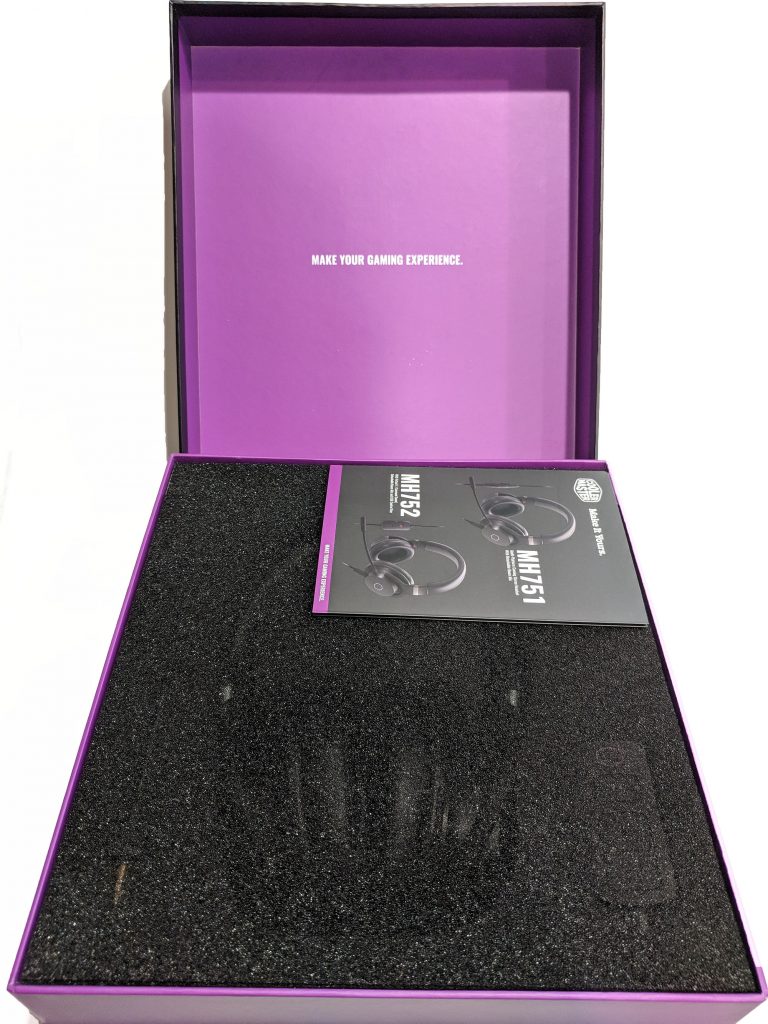 With the top layer of the protective foam, we're able to see the headset, DAC and microphone boom. Everything in the box was extremely well protected and presented nicely.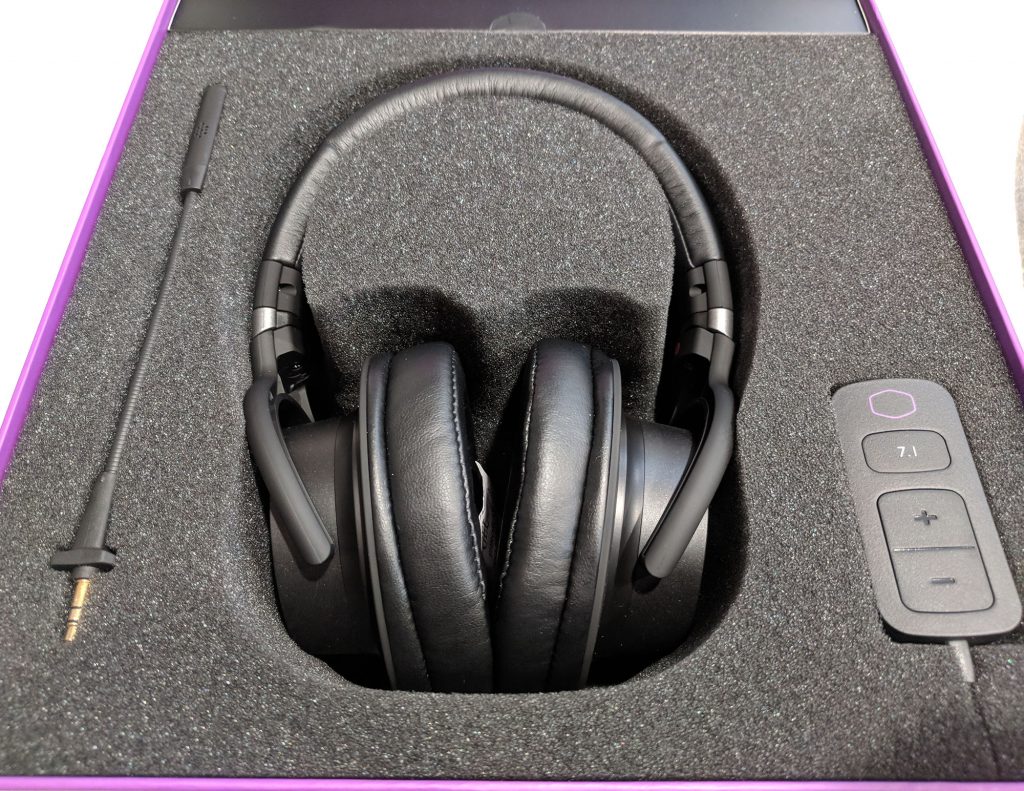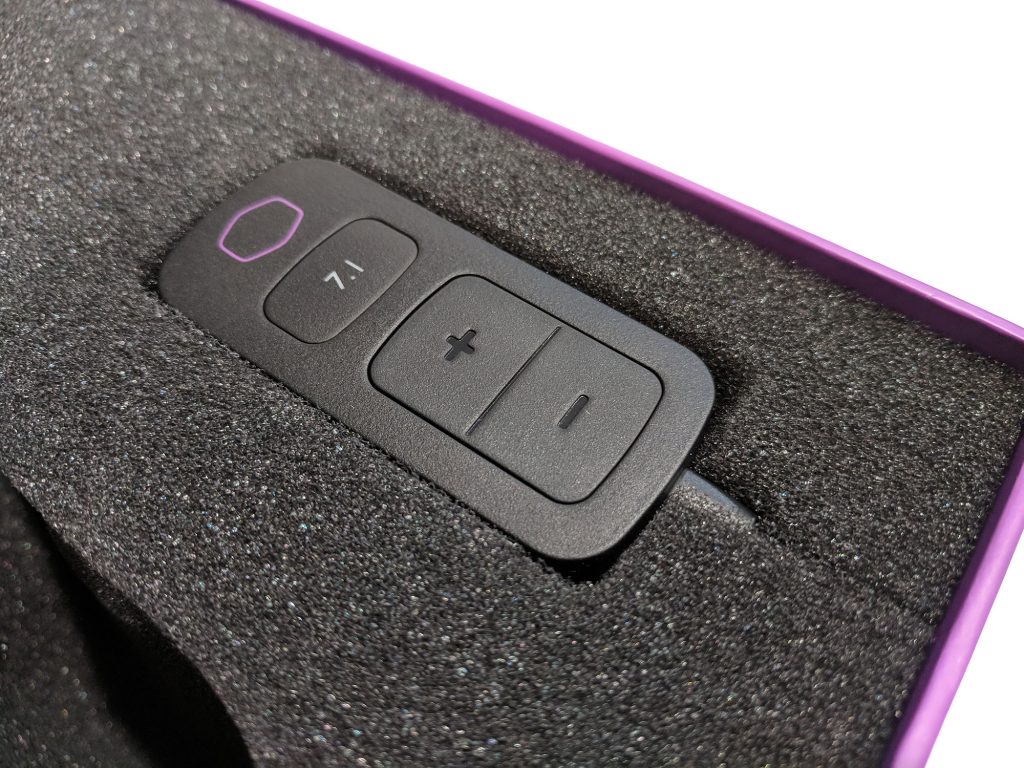 An accessory box was also included.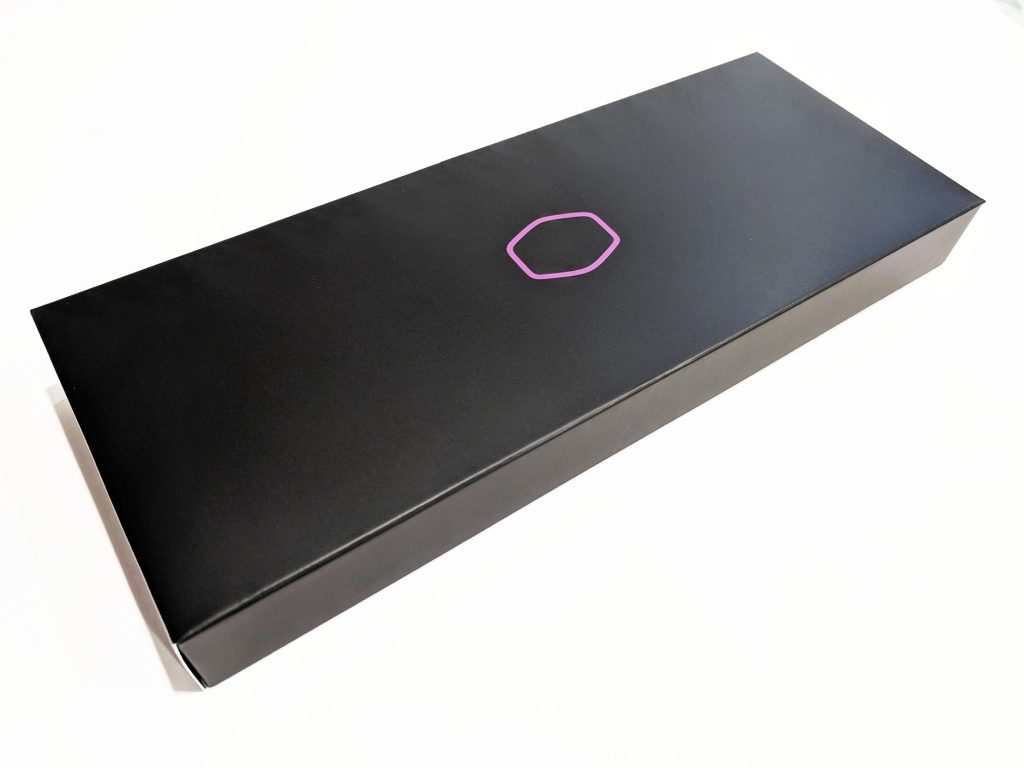 With everything removed from its packaging and layed out we get a better sense of what's included. First, the headset itself (obviously), with two braided cables. One cable is connected to the USB DAC and is needed for the virtual 7.1 sound. The second cable is a 3.5mm to 3.5mm cable which goes from the DAC to the headset. The microphone boom also connects via 3.5mm jack to the left headphone ear. Both connectors have different footprints so you can't mix them up.
Cooler Master also included a nice soft carry bag to keep to ensure safe transfer between LAN parties.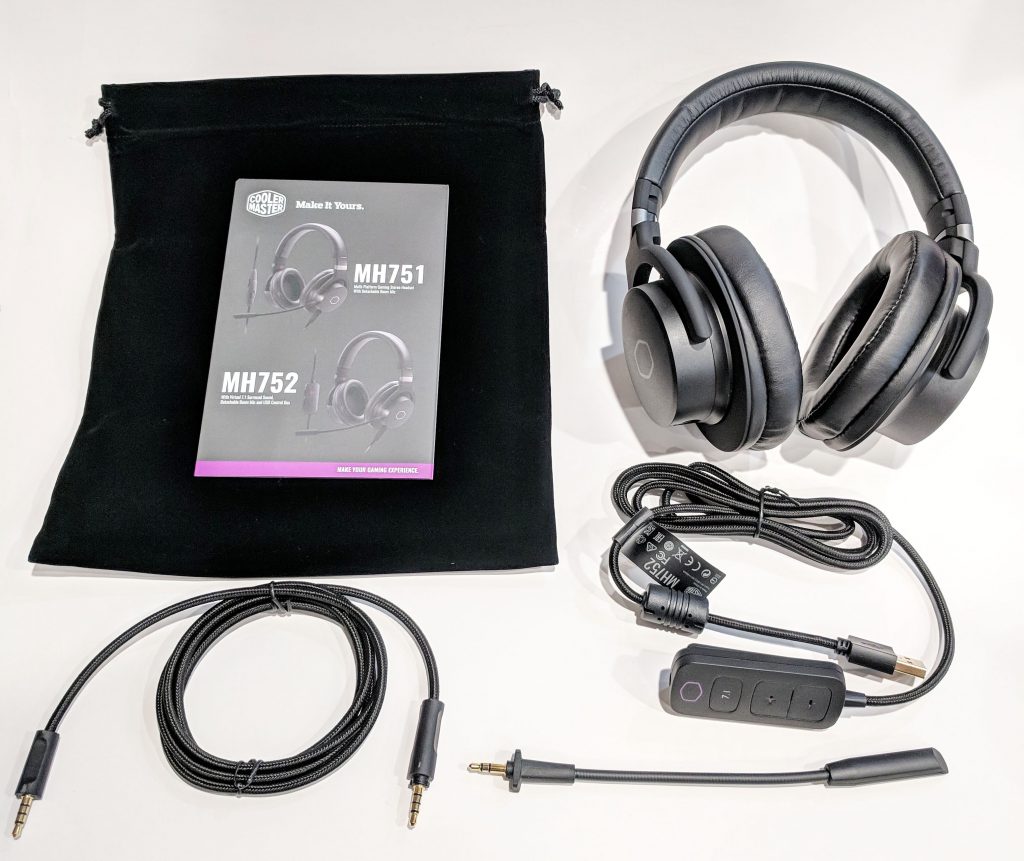 A Closer Look…
Let's now take a closer look at the Cooler Master MH752 headset itself. The overall design is simple and stealthy. Probably 95% of the headset is black or dark gray with a few silver accents here and there. Its construction is a combination of plastic, metal and leather. Leather and plastic make up most of the exterior, however with the ear pods extended from the headband, the shiny brushed metal band can be seen.
Overall, the stealthy design looks good. There's quite a few gamers who I've met personally who are more eager to opt-in to a clean subtle look before any other. If you're that type of gamer, this headset will definitely appeal to you.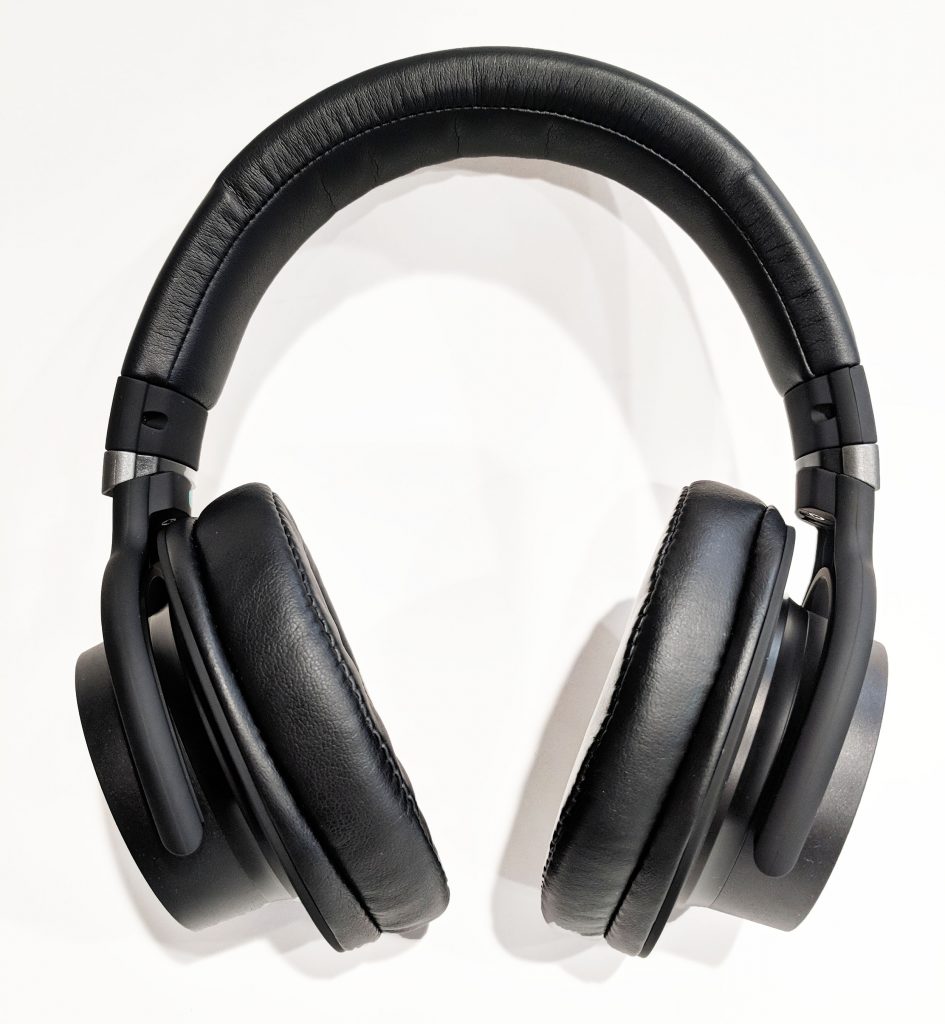 Each ear cup features a silver Cooler Master logo and is able to swivel 90 degrees to point inward. Very handy when needing to transport or store them.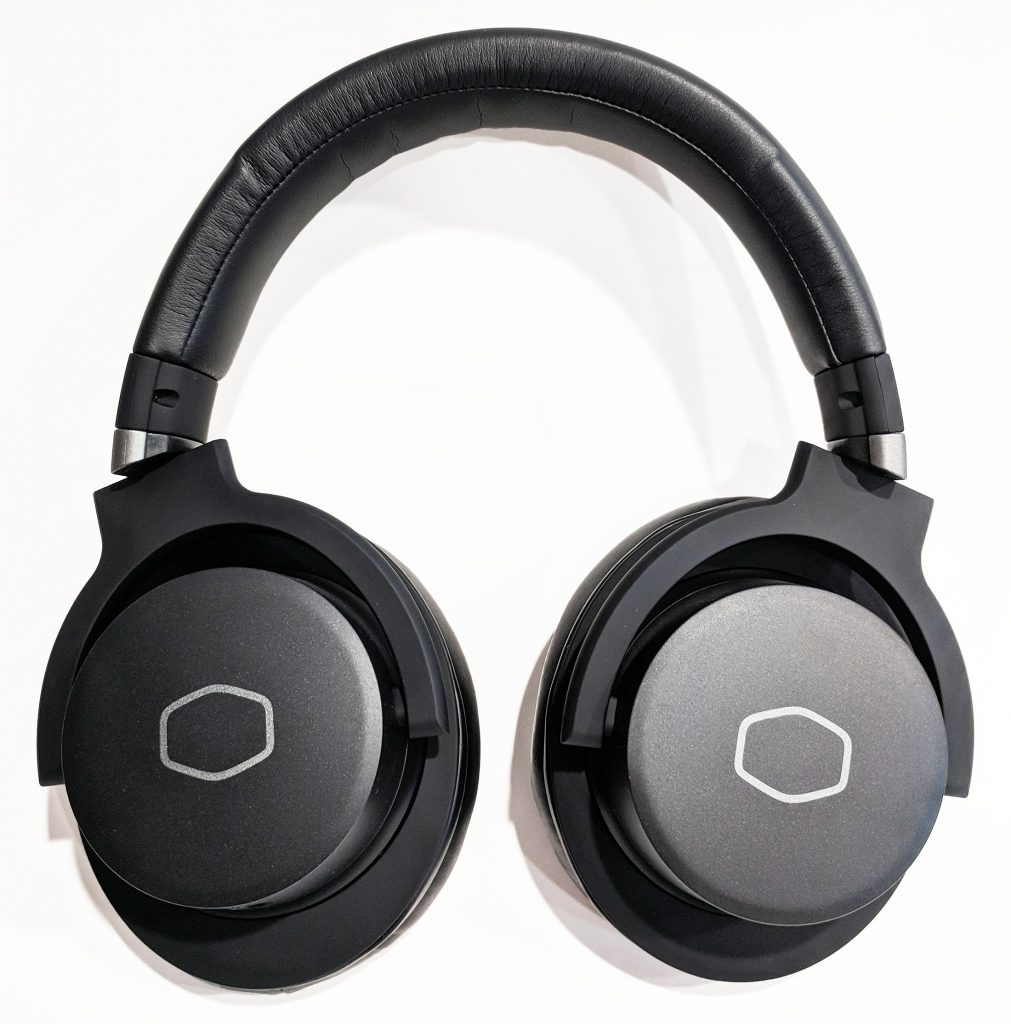 In addition to rotating in and out, each cup is able to pivot up and down allowing the MH752 to fit the user regardless of their head shape or size.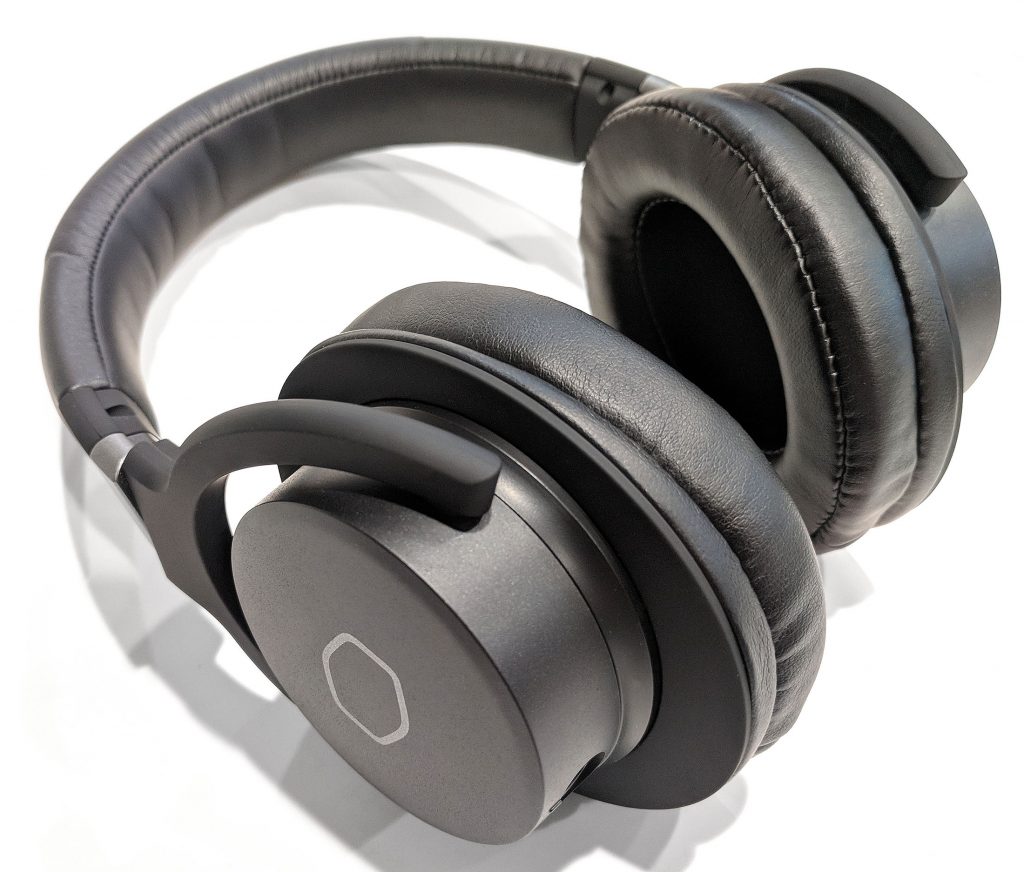 The stitched leather around each of the ear cups and the inside of the headband is quite soft to the touch and easily compresses. When decompressed, it forms back to shape easily. The leather itself is thicker than that on some other headsets we've reviewed in the past, however still thin enough not to become uncomfortable. The material inside the ear cone is also quite soft and has a foam-like feel to it when depressed.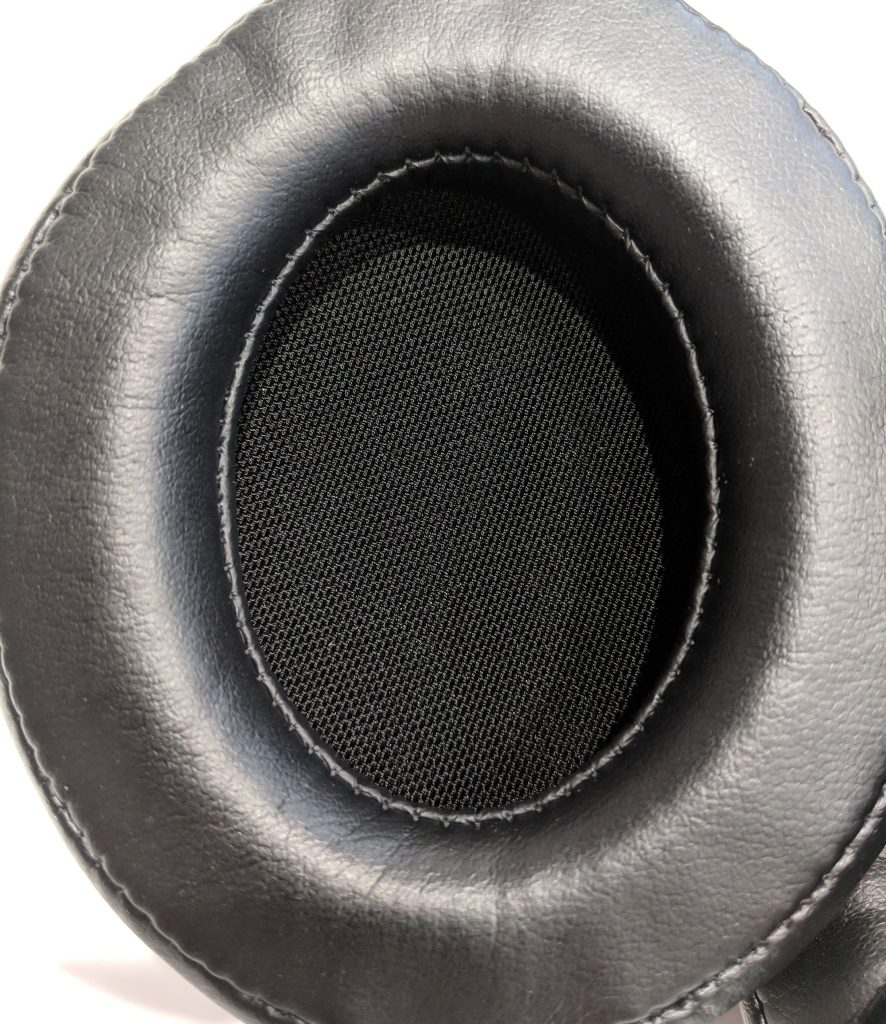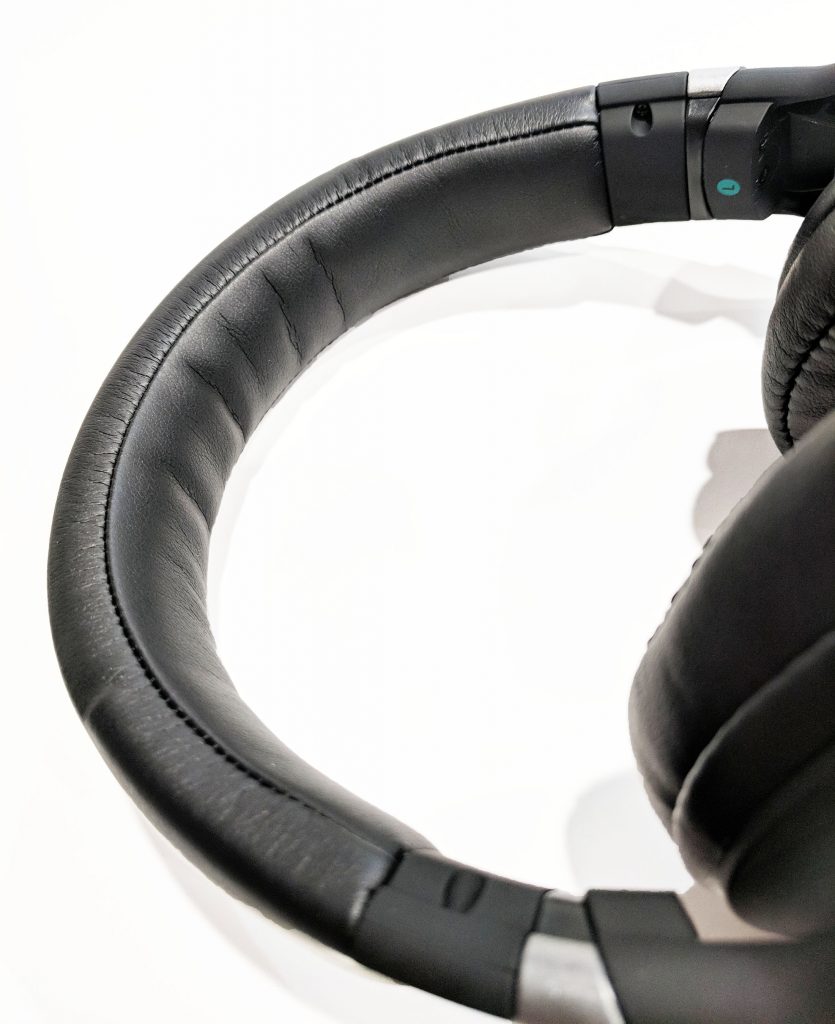 The left ear cone provides connectivity for both the mic boom as well as a 3.5mm jack for the cable which connects the headset to the USB DAC. both connectors are unique as they have a different footprint so they cannot be accidentally interchanged. To ensure a solid connection so that either one doesn't accidentally fall out, the connectors have a snap locking mechanism which keeps it from easily working its way out. This also ensures a solid connection.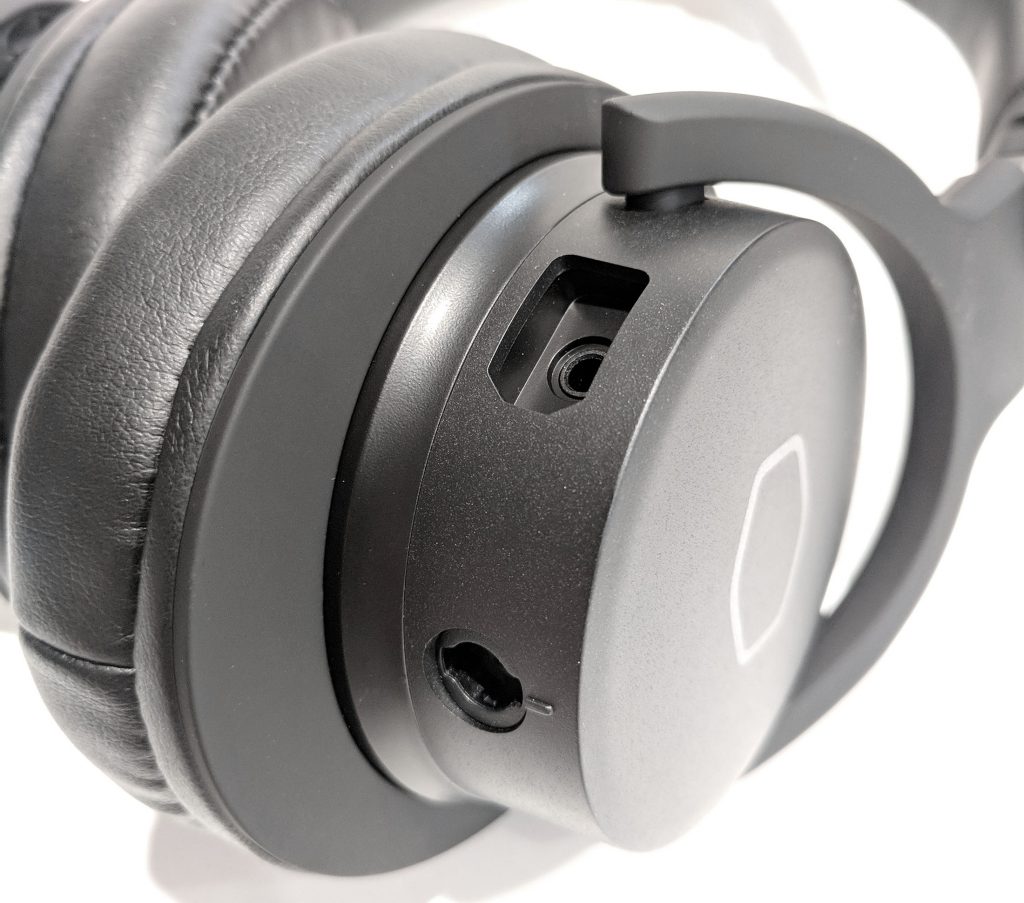 Each ear piece can be easily extended by firmly pulling them down. This reveals a solid brushed-metal band which slides out of the top head rest piece.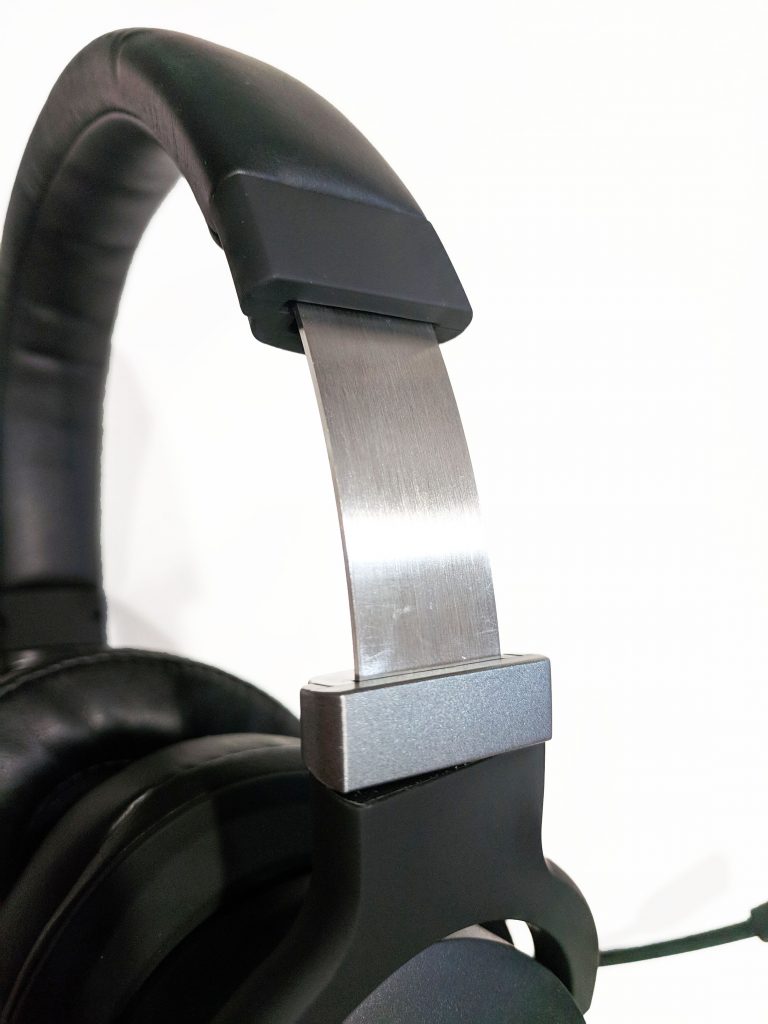 The cables for both the DAC and connectivity between headset and DAC are braided to provide a bit more durability (especially if you have pets). The connector ends are plastic and the contacts themselves are gold plated.
The DAC remote is located mid-way between the headset and device and pretty much controls every aspect of the Cooler Master MH752 headset. The controller sports options for adjusting mic volume, a mic mute toggle switch, audio volume adjustment as well as a toggle button for 7.1 surround sound. The controller is simple and easy to use. I really liked the layout because it is easy to use without having to look away from the game.
On the reverse side of the controller there is a clip for easily securing the controller to clothing for quick and easy access.
However, I was not too fond of the physical location of the DAC controller in regards to its relative position on the entire cable length. With everything connected the cable is quite long, which makes it a great device to use with a console. Since the controller is located mid-way through the entire cable chain, I needed to be still very physically close to whatever I use using the headset with.
The Cooler Master MH752 can be used with or without the provided mic boom. If you're listening to music or single player gaming, why have a mic in front of your face if you don't need it?
As we mentioned earlier the mic connects to the left side of the headset via a 3.5mm jack. The housing around the jack allows it to lock into place ensuring a tight connection. The connector end is gold plated along with every other connector on the headset, including the USB 2.0 connector. The main shaft is flexible allowing the user to adjust the position of the mic in front of the mouth. The flexible material has excellent memory and doesn't spring back once positioned.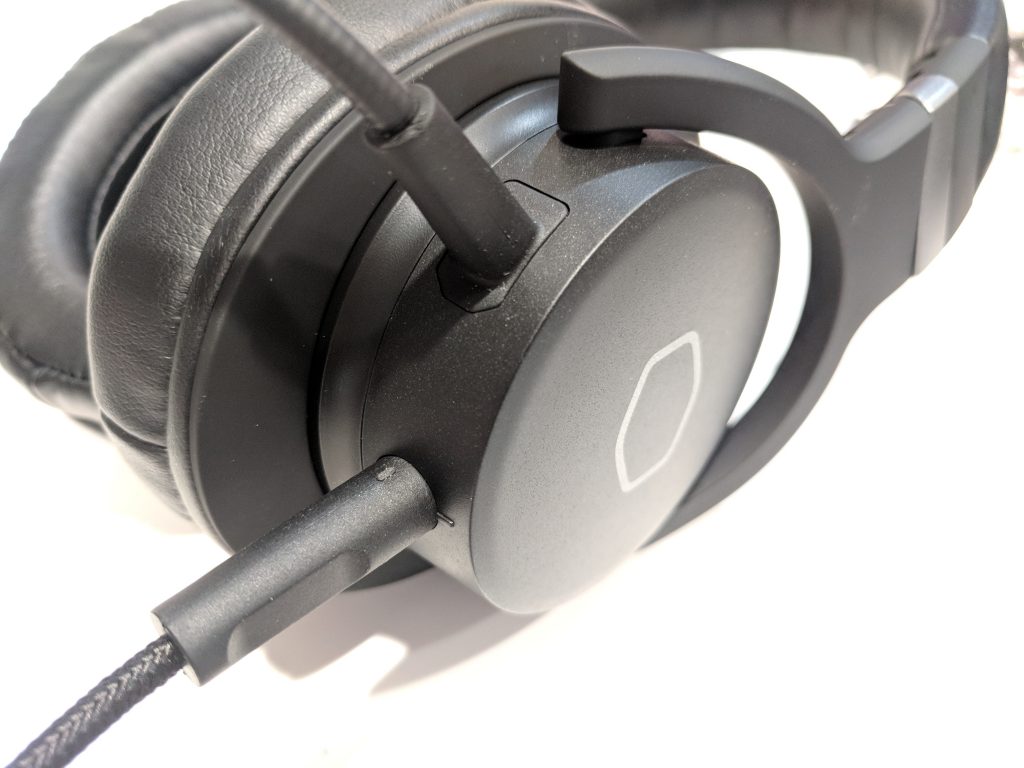 Sound Quality
For this particular test I will be listening to various types of music. Some music such as Rap which will be heavy on the bass, and others such as Rock with will test the mids and highs. Classical music is also good for hitting both lows and highs. As the Cooler Master MH752 supports both audio through the DAC as well as audio through the 3.5mm connector, we will be using both. Music will be from a range of 320 Kb/s MP3s. When the 3.5mm jack is in use, it will be directly connected to my Asus XONAR DGX sound card.
The MH752 is a closed deck headset which prevents outside audio from entering the ear. There are advantages and disadvantages to both which can be found in Jester's detailed audio component guide.
Bass
The MH752 features 40mm drivers which are large but got going to dispense head splitting bass that you might get from 50+mm drivers. According to Cooler Master, the headset will produce sound down to 20Hz which is quite deep. When listening to music and playing games in bass-heavy environments (20Hz-800Hz), the lows were quite deep and clear. At maximum volume the bass hit hard while still sounding rich.
Mids
Songs that featured a strong mid range (800Hz – 2,000Hz) presence easily enjoyed. These types of songs are usually focused more on the singer and vocals. Rock music which typically has a good mix of mid-lows, mids, and highs sounded quite good through the Cooler Master MH753 headphones. The song, So Contagious by Acceptance, does a good job at hitting this target range as well as some mids and highs. This song and and other similar types of music that features guitars, vocals, and drums sounded great overall. Like the bass test, at maximum volume, little distortion was heard.
Highs
The high range of frequencies(2,000Hz – 5,000Hz) were one of the best sounding so far. High pitched noises such as a symbol clash from a drummer were very sharp and crisp. In gaming this really stood out versus conventional speakers. I was able to detect subtle noises I hadn't heard before.
Gaming
Gamers will definitely be the primary target user for the headset so it would not do us justice to dedicate a section of the review to gaming. In general, gaming is an excellent test because it offers a wide range of sounds. Voice actors, foot steps, explosions, ambience, and millions of other background noises add to the environmental feel of the game and the quality of the audio gear can absolutely effect the immersion experience with the game. For this review, I played three games which were all very different from one another. Battlefield 1, The Witcher 3, and SOMA.
Putting everything but the audio from the games aside, I probably enjoyed the audio from Battlefield 1 the most. When it comes to audio, battlefield action scenes can be a very immersive environment. The sound of people shouting orders, radio-comm, gunfire, explosions, heavy equipment, and all of these sounds happening at different audio levels and ranges really allowed the Cooler Master MH752 to shine.
The Witcher 3 sounded great, but most of the audio was probably more mid-to-high. Some monster battles offered some good bassy action, as well as some of the dialogue depending on who you're talking to. When it comes to highs, the clashing of swords or the sound of monsters clawing at you came through extremely well.
Lastly, I chose SOMA as a candidate for this particular review as the game has some pretty interesting ambience compared to other games. Without getting into spoilers, there are a lot of areas in the game where background noises are deep and full of bass, especially when under water. Ambiance was definitely amplified when using the CM MH752 headset and it did provide a whole new level of immersion.
USB DAC Remote versus 3.5mm
This was more of a simple test to see how quality of the audio might change when the headset is connected to a conventional 3.5mm port on a phone or PC versus the included DAC remote. As this is not a professional grade headset, subtle audio changes might be difficult to hear. Personally, I couldn't hear too much of a difference between the two. However, I think a lot of it would depend on the source when using a 3.5mm jack. For instance, there was a subitle difference when using my ASUS XONAR sound card when compared to using my phone.
Conclusion
The Cooler Master MH752 headset is a good companion to any gamer who prefers performance over flashiness. The stealthy look is something I personally prefer, especially if I'm using the headset in public. When it comes to gaming performance, the headset did well overall even exceeding in some areas such as ambience and bass. Additionally, music and voice audio were also enjoyable.
MSRP for the MH752 is $80 USD which puts it in the mid-high end category as far as gaming headsets go. MSRP will have a large impact on the final score.
Now for the scoring. We will use the same scoring system we used for the previously reviewed headphones.
Build Quality & Appearance: 8.5/10 – The MH752's appearance was one of its main selling points. There's not a lot of high end stealthy headsets out there. The mostly black and silver designed flowed well and did give off a sense of quality. The headset's construction was overall pretty solid. When bending or flexing the headset awkwardly there was not creaking or other signs that the headset was built from sub-part plastics or other materials.  The leather on the contact pads is thick and it should stand up to years and years of abuse.
Comfort: 8.9/10 – The headphones were quite comfortable even when worn for hours at a time. The contact pad material on the ear pieces is quite soft and thick and there is a good amount of padding on the top head band.
Gaming & Audio Performance: 9.5/10 – If you are buying this headset for the sole purpose of gaming you will definitely not be found wanting. Gaming with the Cooler Master MH752 was enjoyable and is definitely enhanced by the overall experience. Audio quality was great even across multiple platforms such as PC and PS4.
Value: 9.2/10 – At the end of the day, price factors into everything. For a headset that costs $80 USD, you really do get a stylish pair of headphones that really packs a good amount of features. Starting with the quality packaging, and ending with that final crushing blow to that boss in Dark Souls, the quality experience can be felt throughout.  Taking in to account everything we talked about regarding audio quality, build quality and features, $80 USD is a good price target.
The Cooler Master MH752 headset is a good companion to any gamer who prefers performance over flashiness.

9.0

Build Quality & Appearance:

8.5

Gaming & Audio Performance:

9.4