A couple months ago ADATA added a few new M.2 solid state drives to its enthusiast brand, XPG. This included the XPG SX6000 shortly followed by the XPG SX8200 a few weeks later. In this review we will be taking a closer look at the latest of the two, the 240GB version of the XPG SX8200 M.2 SSD.
At a glance, the SSD boasts some pretty impressive specifications. The drive is built on the PCIe Gen3x4 platform under the M.2 2280 form factor. Additionally the SSD is MVMe 1.3 certified. More information about what that means can be found over here. Performance-wise, the SSD offers some pretty explosive speeds. According to ADATA, the SX8200 is rated at 3200MB/s read and 1700 MB/s write speeds.  These speeds are largely achieved through the use of 3D NAND technology.
Built with 3D NAND Flash the SX8200 … offers higher efficiency, and is more reliable than 2D SSDs. Thanks to the support of data protection technologies, it also features a high TBW and excellent durability to meet the demands of various applications.
Now that you've been properly introduced, let's take a bit more into the drives features and specifications.
XPG SX8200 M.2 Solid State Drive Specifications
In addition to the impressive read and write speeds we talked about earlier, the XPG SX8200 also features LDPC (Low-Density Parity-Check) technology. This feature performs error corrections which detect and fix a wide range of typical data errors automatically, thus increasing data integrity and achieving a longer SSD lifespan. However, if your luck does run out early and if you have any issues, ADATA offers a 5-year warranty on the drive.
Included with the drive is an aluminum heat spreader top help keep operating temperatures down.
Here are the official specifications for the SSD
| Model | XPG SX8200 |
| --- | --- |
| Part Number | ASX8200NP-240GT-C |
| Device Type | Internal Solid State Drive (SSD) |
| Form Factor | M.2 2280 |
| Capacity | 240GB |
| Memory Components | 3D NAND |
| Interface | PCI-Express 3.0 x4 |
| Max Sequential Read | Up to 3200 MBps |
| Max Sequential Write | Up to 1700 MBps |
| Weight | 0.2g |
Now that we're all certified SX8200 experts, lets dive into the SSD and get a better look as to what we're working with!
A Closer Look…
The XPG SX8200 arrived unscathed by our local mail carrier to our secret lab. The packaging is obviously small as is the drive so shipping costs will be very minimal for most.
As this drive is intended for high end system builders and gamers, the package features a performance-inspired black and red color scheme which clearly depicts the drive in the center. Other important bits of information such as the capacity, form factor and other included technologies are also included on the front. The back of the box presents a few more features such as TRIM (I would hope…) and NCQ support listed in several languages.
After cracking open the seal, we'll get a better look at how well the drive is packaged. The drive rests inside a custom plastic shell which securely nestles the drive in the center of the box. Cheap: yes, effective: also yes.
Other than the SSD, there's really not a whole lot else. Like I mentioned earlier, included with the SSD is an aluminum heat spreader, and besides that and the manual, those are your only two other additional items. Although this is an SSD; what else were you expecting? Here's a better look at the drive along side the heat spreader. Be sure to remove the protective sticker!
The drive itself looks about what you would expect for an M.2 SSD. It features a black PCB which should look good next to most modern motherboards. On the front we get a better look at the Silicon Motion SM2262g controller. The controller acts as the brain of the SSD and can definitely make ore break your overall SSD experience. This particular controller supports:
Sequential Read: 3,200 MB/s
Sequential Write: 1,900 MB/s
Random Read: 370K IOPS
Random Write: 300K IOPS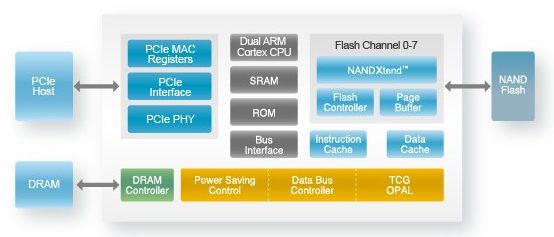 Sitting just to the right of the controller chip is the NANYA NT5CC64M16GP-DI chip which would be the 1GB of DDR3 DRAM cache buffer. The back side of the PCB has another one which means we've got 2GB of available cache on the SSD.
The four NAND flash chips look to be Micron 8NA2D NW925 which despite my Google-Fu, I turned up empty. The ICs are likely pretty new so are not stored in any online database just yet.
Overall, it looks like we've got some pretty impressive hardware backing this SSD, let's install the unit into our test bench to see how it handles a little stress!
Performance Testing
Testing Methodology
The XPG SX8000 was tested on our ASUS ROG Strix B450-F Gaming motherboard which is fully capable of testing this PCIe Gen3x4 M.2 SSD. To measure performance we used several benchmark applications geared towards measuring drive speeds or transfer rates. These applications included HD Tune, Atto Diskmark, AS SSD Benchmark and HD Tach. The purpose for using different types of SSD benchmark software is that you'll often get better performance with one over the other. While this SSD is rated at 3200MB/s read speeds, this is considered a base-case scenario and it's likely we'll fall short.
Installation
Installing the SSD is about as straightforward as it gets. Simply insert the SSD in an available M.2 slot at an angle. Once it's in the slot press and tighten it down to the 2280 standoff on the motherboard. Consult your motherboard manual for more information.

Testing
HD Tune
For our first actual test we used a program called HD Tune. This handy program comes with a vast array of testing features. To kick things off we started with a good ol' fashioned read/write benchmark which simulates file transfers.
It looks like we maxed out at around 2250MB/s read speeds and just over 1100MB/s write. Not bad overall…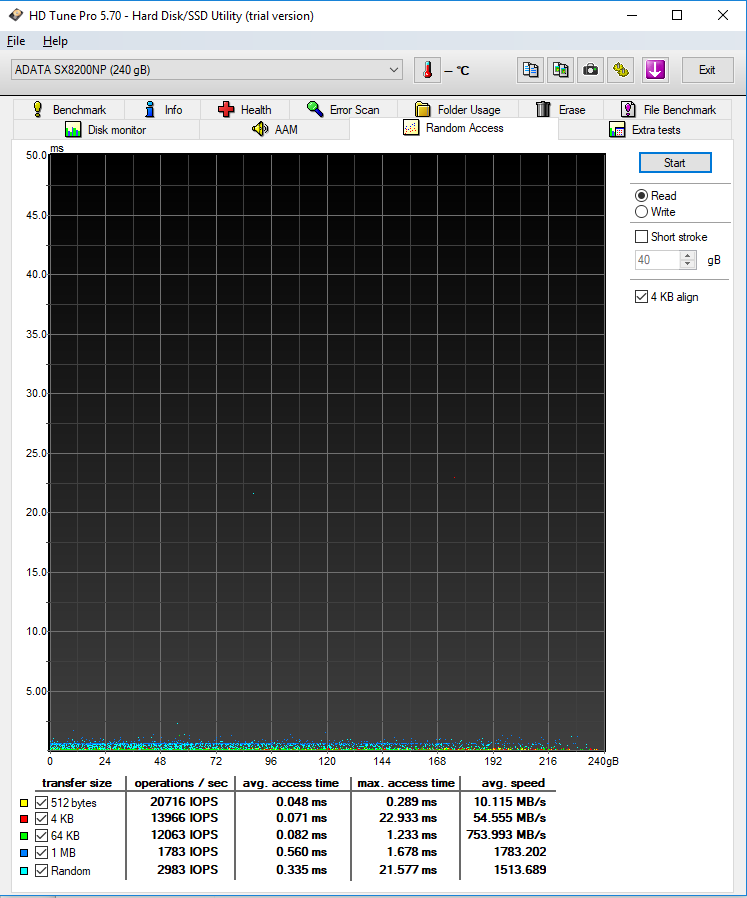 Random access is usually taxing. Might as well take this opportunity to measure random read/write speeds using different transfer sizes.
Next up let's give Atto HD Benchmark a turn. This is another great benchmark utility which measures drive performance incrementally and gives results in a nice easy to read format.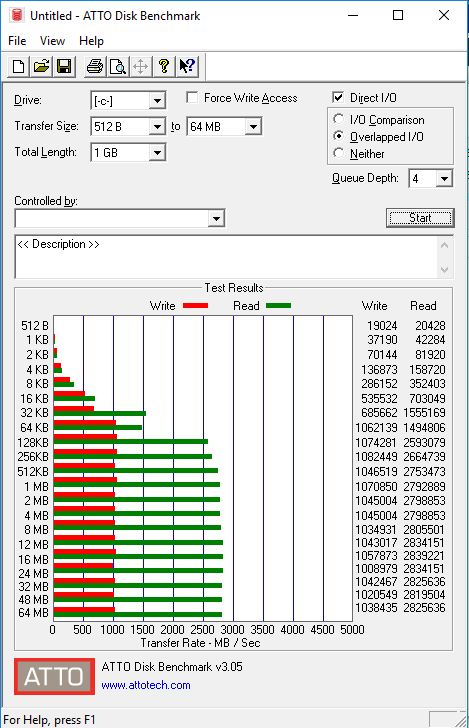 We're getting better! This time around we were able to achieve a maximum of 2839MB/sec read and 1058MB/sec write speeds. Let's keep going!
HD Tach
HD Tach is another hard drive benchmark utility that uses a sequential read test similar to that which we used in HD Tune. In the past we typically see worse results using this utility, but what the hell, let's give it a whirl. 🙂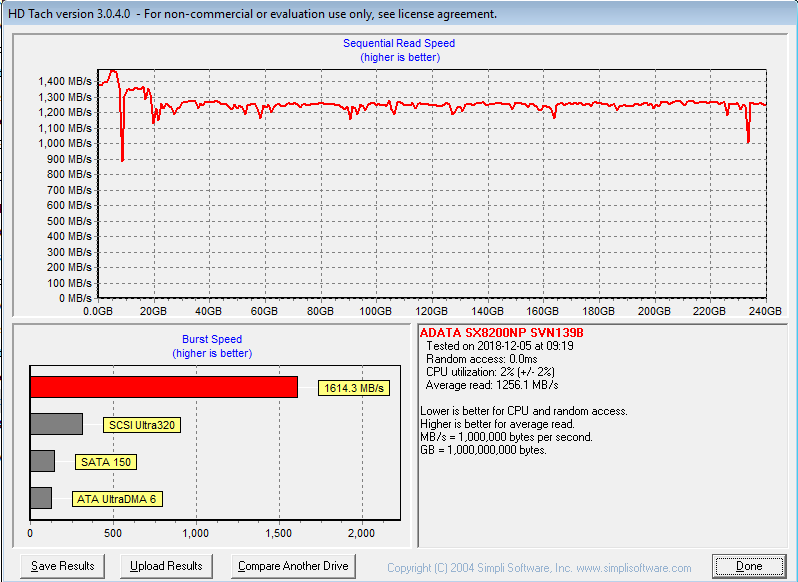 Yup, about what I expected. During this test we saw a maximum of 1614.3MB/sec write speeds.
Last up for our performance testing we've got AS SSD Benchmark. Another handly little tool is about as basic as it gets and as you've probably guess, used for measuring HDD and SSD read and write speeds.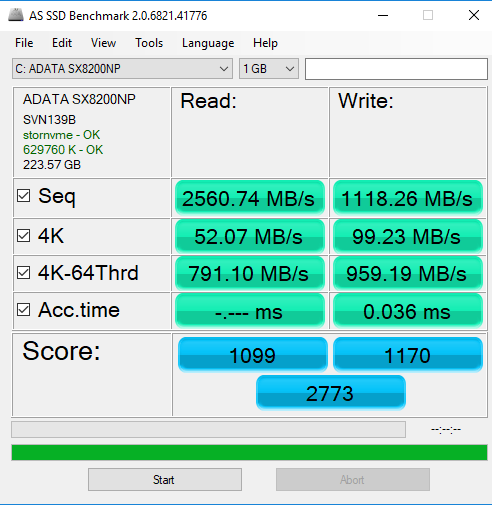 For some reason we kept getting a strange error during the ACC.time test, but aside from that, we were able to lock in some pretty decent speeds scoring 2561MB/sec read speeds and our fastest write speed of 1118MB/sec.
Overall, we weren't able to reach the acclaimed 3200MB/sec read speeds and 1700MB/s write speeds, though the drive did perform well during our tests. 2500 read and 1100 write is still nothing to sneeze at. it's hard to make sense of SSD transfer speed results from different programs because they are all… well different. Basically all this proves is what the drive can do under different scenarios. Each program benchmarks a little bit differently. Exactly how different we will never know.
Conclusion
Typically during this part of the review we like to break down the drive based on several categories and attach a score to each. However since this an internal SSD, categories like appearance and construction don't really matter. That leaves us with Value and Performance, so we'll be basing our final score off these two categories.
Overall, the XPG SX8200 was a lot of fun to test and cranked out some serious speeds during our tests. In the end, the drive just works and works quite well.
Performance:

9.1/10 – Speeds were pretty consistent overall topping out at around 2500MB/s read and 1100MB/s write. Overall amazing speeds, but not near the 3200/1700 claimed by ADATA.

Value:

9.8/10 – At the time of writing this review, you can pick up the 240GB version of the XPG SX8200 for a mere $49.99 from Newegg. For an internal M.2 drive that will push 2500MB/s that's definitely a bargain.
Fast!
"...the drive just works and works quite well"

9.5