Today we're taking an in-depth look into one of Rosewill's latest gaming headset, the Nebula GX60. This particular headset packs quite a few features for not a whole lot of cash when compared to other gaming headsets. Some of these features include a USB DAC interface, 7.1 virtual surround sound, and software-controlled adjustable RGB LED integration.
Sound is delivered through large 53mm Full-Spectrum drivers. The ear cups themselves that house the drivers are configured in a closed-back setup which is designed to eliminate or reduce outside noise from being heard. This allows the user to focus on the game at-hand by eliminating outside distractions, however, there are draw backs and advantages to this particular style.
The Nebula GX60 is geared towards gamers who want a lot of features without spending a ton. Price-wise, this headset will run you $59.99 and is currently Rosewill's most expensive headset in the Nebula lineup. More information can be found on Rosewill's product page.
Features and Specifications of the Rosewill Nebula GX60 Gaming Headset
Probably one of the biggest selling points of Rosewill's new headset is the virtual 7.1 surround sound. While nothing can completely replace a true 7.1 surround sound system, 7.1 uses software to trick the hear into hearing sounds coming from different directions. This can work out pretty well depending on the software and application based on some of the other headsets we've reviewed in the past.
Software controlled RGB LEDs are placed into each ear cup hidden behind the exterior metal mesh. The LEDs can be controlled by software which has several effects the user is able configure via Rosewill's software.
And here we have the detailed specifications provided by Rosewill:
Part Number
NEBULA GX60
Color
Black
Driver Unit
53 mm
Headphone Input Impedance
32 ohm
Headphone Sensitivity
95dB +/- 3dB at 1 KHz
Connector Interface
USB
Ear Coupling
Circumaural
Cord Length
7.9 Feet
Microphone Frequency Response
100Hz-10KHz
Microphone Sensitivity
-42dB +/- 3dB
Additional Features

53 mm Full Spectrum Drivers
Virtual 7.1 Surround Sound
Noise Isolating High Quality Audio for Immersive Listening Experience
Loud Crisp Sound, Booming Bass
Compatible with PC, Mac
Cycling RGB LED Backlighting
Detachable Microphone
Memory Foam Cushion Ear Cups for Durable Comfort
Software Support
On paper this thing seems like it's got pretty much everything and at only $59.99. I'm definitely curious as to how this thing sounds at this point…
Unboxing
The Nebula GX60's package features cooler graphics and fonts which definitely appeal to the gaming crowd. There's something Razor-like about the overall vibe I got when I first examined the packaging. Maybe it's the Nebula font?
Overall, good designs and the front of the box does a good job highlighting some of the more prominent features such as 7.1 surround, software support and RGB LEDs.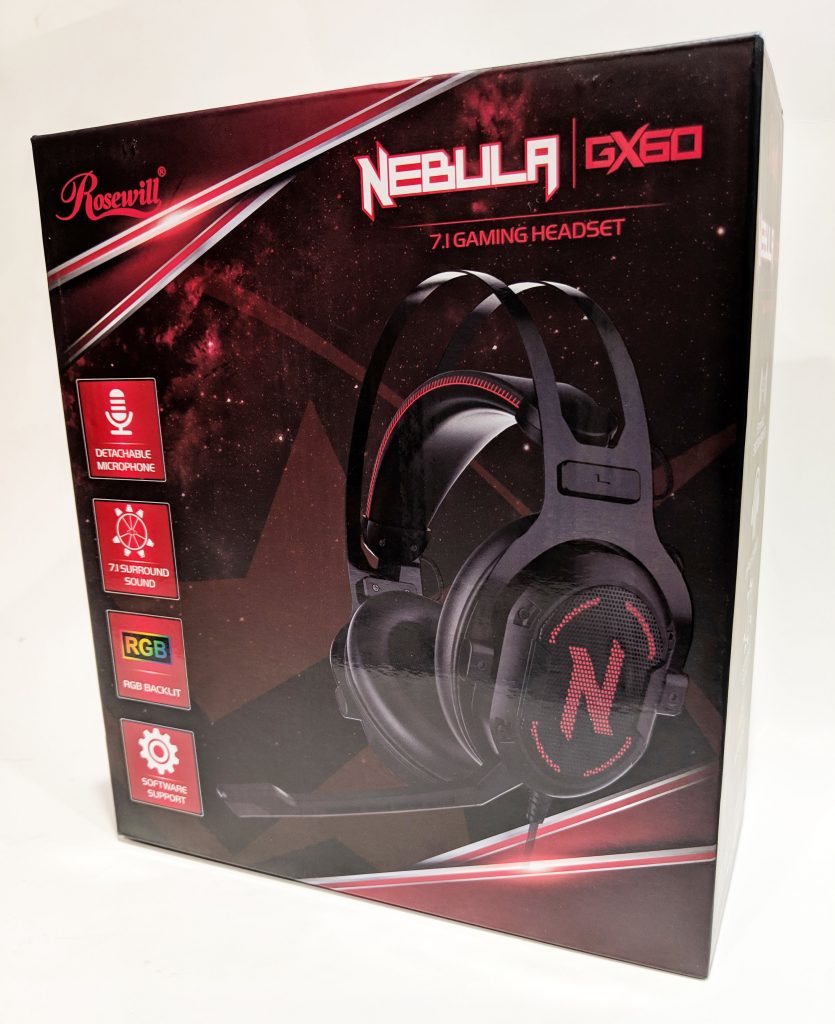 The back of the box provides even more details overlayed over a graphic of the headset itself.
Next, let's crack open the seal to get a better look at the headset itself and exactly how this thing is packaged.
The headset is placed inside a custom plastic mold that keeps it from wiggling around during shipping. It's healed to the mold by a few twisty ties. The whole thing is inside an air-tight plastic bag which is likely to reduce scuffs and scraping during shipping.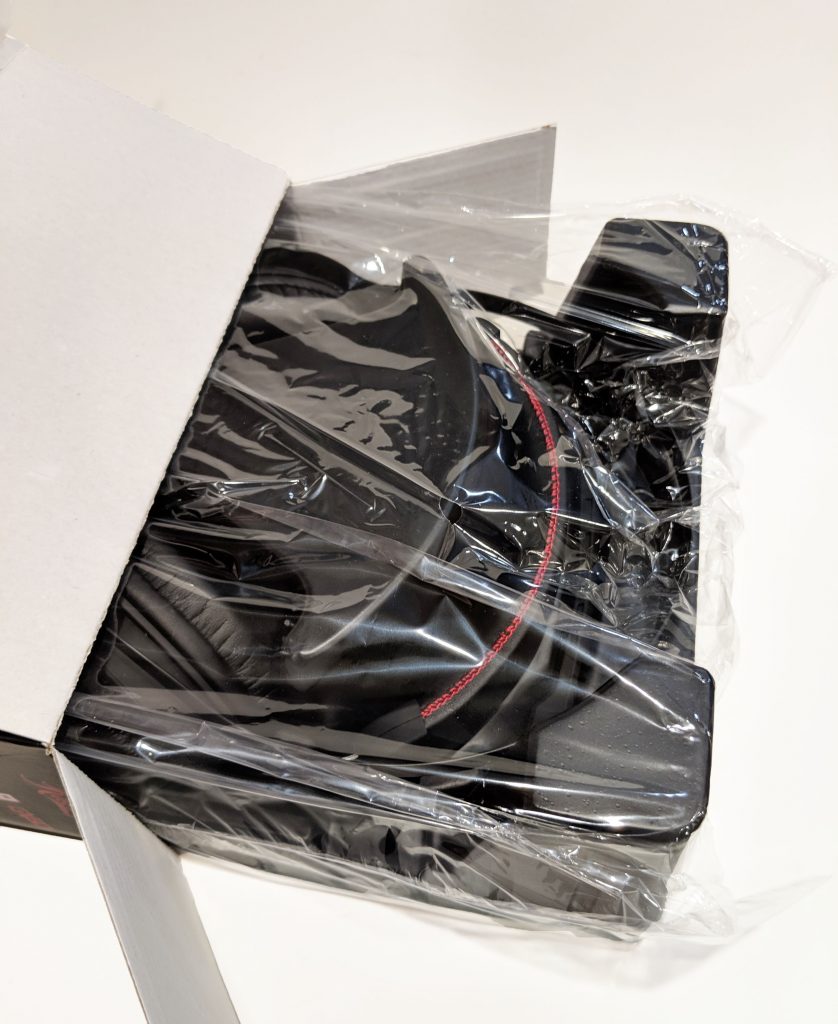 Overall, while the packaging was indeed effective, there was definitely no overdoing it. It was very minimalistic and the rear side looks like the cables were just tossed in as an afterthought. Often times, especially when it comes to peripherals, first impressions set the stage for how users perceive the quality of the product they just bought.
Note that the detachable microphone is wedged in on the top behind the headband! For me at least, it was easily missed.
Alright, now that we've got the Nebula GX60 out of it's shell, let's take a closer look at what we're working with before we give it a listen to.
A Closer Look…
At first glance the Nebula GX60 headset looks quite good. It's basically constructed from a single metal band which wraps around the entire unit providing support to all connected components. The entire headset is black or dark gray except for red stitching along the top headband. The only other splash of color comes from the RGB LED's on each earpiece.
The ear cups are very squishy and soft which should provide hours of comfort during long gaming sessions.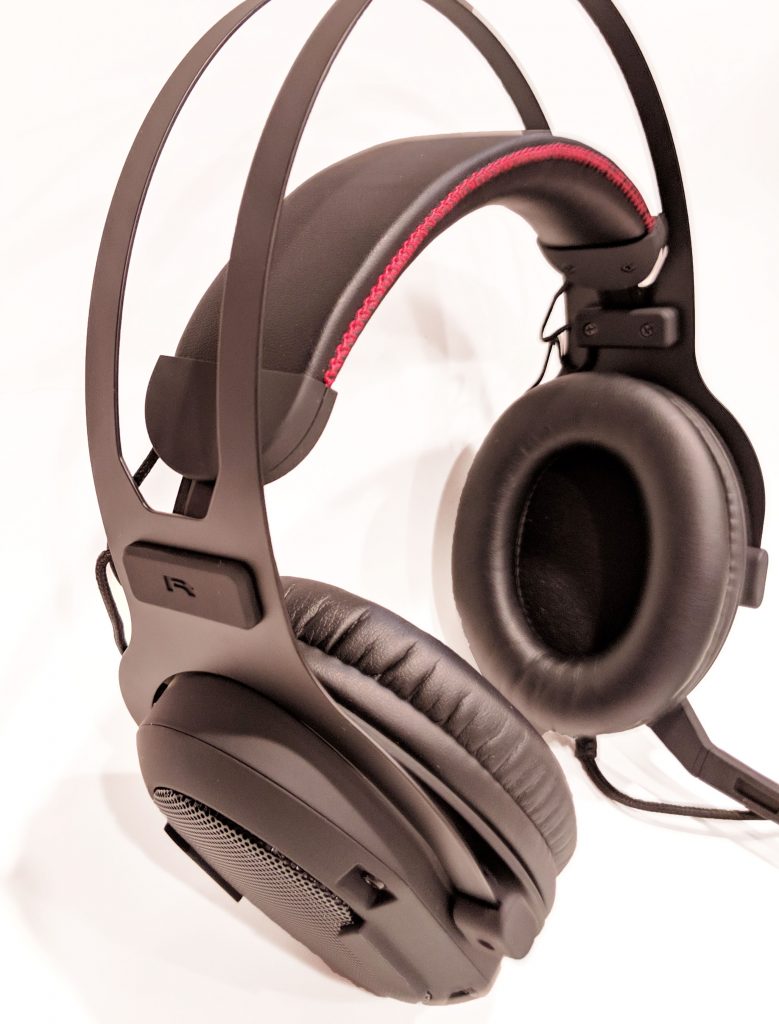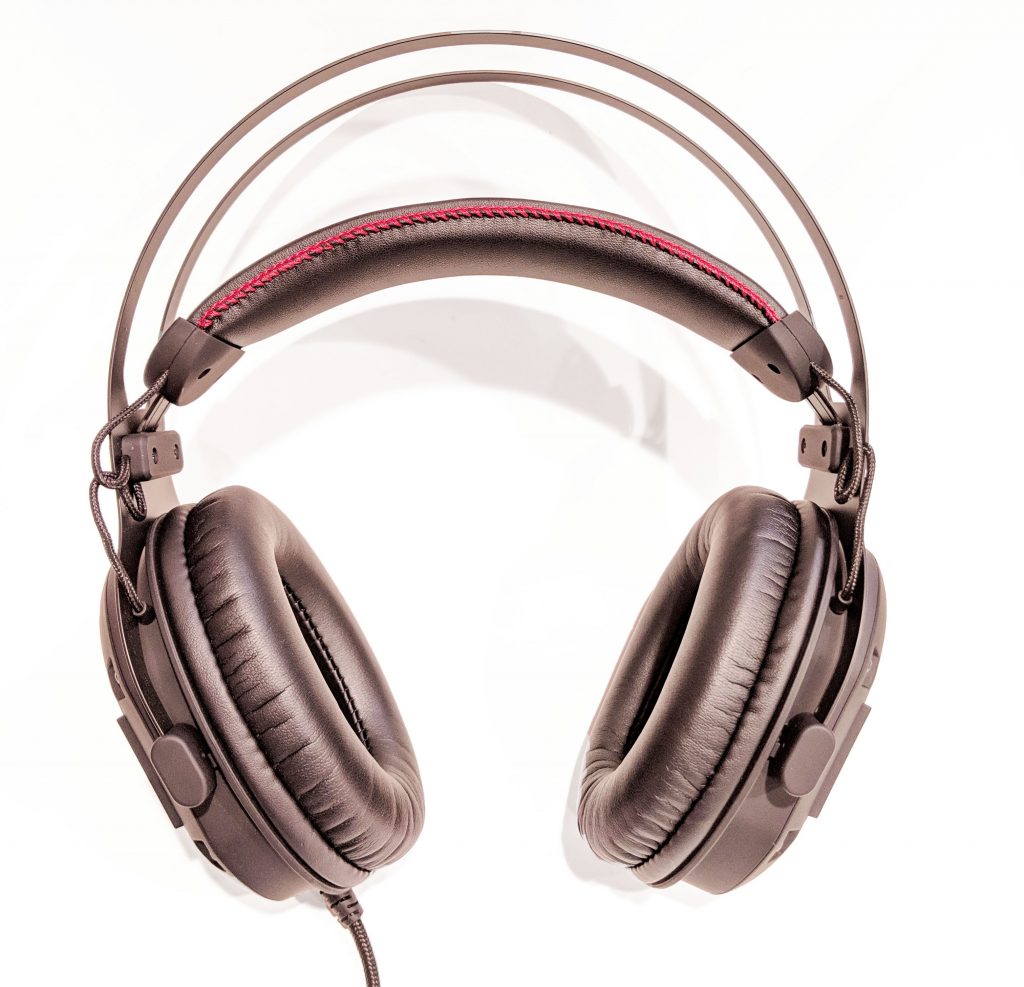 Below are both the left and right sides. The ear pieces are able to be tilted up and down as they are attached centrally to the metal support piece. A metal mesh covering the Nebula "N" logo gives the headset a unique look and feel.
The top headband does not have as much padding as the ear cups have. It is quite flexible when bent so it should conform to the top of your head easily. However, some users might find this particular piece not a comfortable after long durations of use.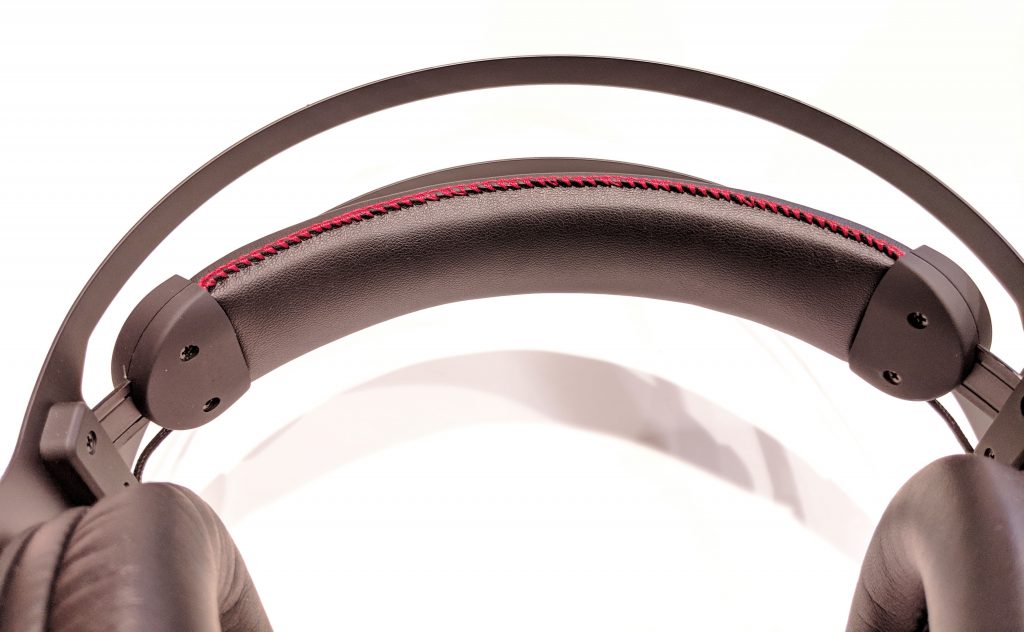 The microphone plugs directly into the left earpiece using a 3.5mm interface. It's plastic shroud allows it to lock into place which will help prevent it from falling out during adjusting its position. Or banging your head on the desk during that loosing streak.
I'm not a huge fan of the microphone's construction material. It feels very rubbery and often does not stay bent into position. It will stay put eventually but might require some over-bending to get it to play nice.
The volume and mic On/Off switch is located mid-way though the cable. The remote doubles as a USB DAC providing power and feeding sound to the headset speakers. Overall, it's very basic and easy to use even when not looking directly at it.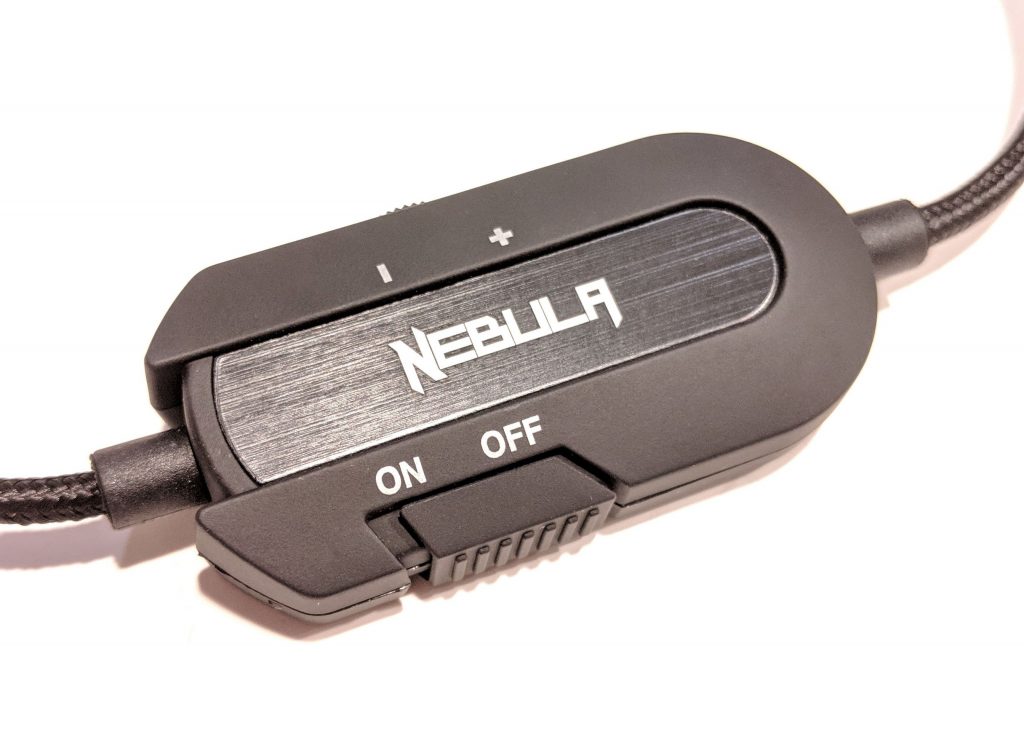 The cable is braided which is always a welcome feature. It greatly increases its durability (you pet owners know what I mean) and can also keep it from tangling.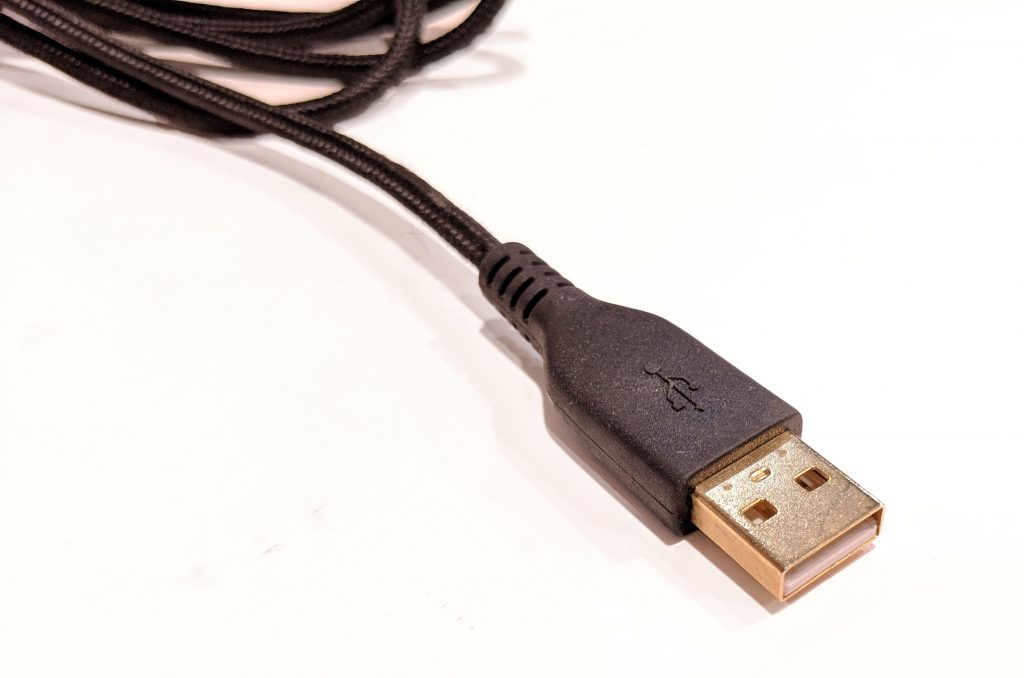 When plugged into your PC's USB port, the RGB LEDs come alive and fade from color to color by default. The LEDs are not too bright to become distracting but are definitely visible through the black mesh. I personally think they look great and give off some premium vibes.
As you can see from the images below, even in a brightly lit environment, the LEDs are visible.
Sound Quality
Sure, it can look the part… but how does it sound? For this particular test I will be listening to various types of music. Some music such as Rap which will be heavy on the bass, and others such as Rock which is a good candidate for testing the mids and highs. Classical music is also good for hitting both lows and highs.
The Nebula GX60 is a closed back headset which prevents outside audio from entering the ear. As mentioned earlier, are advantages and disadvantages to both which can be found in Jester's detailed audio component guide.
Bass
The headset features 53mm drivers which are a bit larger that what you'd find on most mid-range gaming headsets When listening to music and playing games in bass-heavy environments (20Hz-800Hz), the lows were very deep and quite clear. Rich deep-tones continued even during high volumes. Definitely no complaints here.
Mids
Moving up to the mid range of frequencies. (800Hz – 2,000Hz) These types of songs are usually focused more on the singer and vocals. Rock music which typically has a good mix of mid-lows, mids, and highs sounded quite good through the Rosewill Nebula GX60 headphones. One of my favorite songs when testing headphones for the first time: So Contagious by Acceptance, does a good job at hitting this target range as well as some mids and highs. This song and and other similar types of music that features guitars, vocals, and drums sounded great overall. Like the bass test, at maximum volume, little distortion was heard.
Highs
Lastly, the high range of frequencies(2,000Hz – 5,000Hz) also sounded clean and crisp. High pitched noises such as a symbol clash from a drummer were very sharp and crisp. In gaming this really stood out versus conventional speakers.
Gaming
As gamers will definitely be the target user base for the headset so it would not do us justice to dedicate a section of the review to gaming. Overall, gaming was a lot of fun with this particular headset. As a test I played two games both featuring a wide range of sounds:  SOMA and Destiny 2 (PC).
Starting with SOMA, if you haven't already played it, the game features lots of interesting ambience as well as some good voice dialogue throughout. The headset did a good job at amplifying some of the in-game audio details you might miss otherwise. Since these are closed back, exterior noises were eliminated providing a more immersive experience which is perfect for SOMA.
Destiny 2 has probably some of the best sound that I've heard from any game. The intense instrumental music, the voice dialogue and weapon sound effects all came through great on the Nebula GX60.
***
Overall, I'm VERY surprised as to how good the Rosewill Nebula GX60 sounded. In all honestly, when it comes to just sound quality, I'd put this headset somewhere in the $100-$130 bracket. I was honestly not expecting the sound quality to be anywhere near what it ended up being.
Software Support
The official software for the Nebula GX60 can be downloaded from Rosewill's website. Once installed, and after the headphones are detected, you're presented with a relatively simple interface.
There are five main areas for controlling the headset, Equalizer, Effects, Mic, Virtual 7.1, and LED. Each is pretty self explanatory so I definitely recommend playing around with each. In addition, settings can be saved into an exported file. The software also supports up to four user profiles.
Conclusion & Scoring
The Rosewill Nebula GX60 not only looks good, but sounds even better. The RGB LEDs are the icing on the cake that will definitely grab the attention of everyone else in the room. I still can't get over how good they sounded especially when compared to similarly priced headsets.
The packaging though…. that was something I wish Rosewill would have put a bit more time into. I mean, in the end, it's just packaging and if does an effective job keeping the headset safe in transit, who cares, right? RIGHT?
Anyways, let's get down to business… MSRP for the headset  is $59.99 USD. Pricing will greatly affect the final score.
Build Quality & Appearance: 93/100 – The headset looks really good overall. The RGB LEDs really make the headset stand out among others. From a durability standpoint, the Nebula GX60 should withstand the test of time as everything is supported from a single piece of sturdy metal. From a presentation standpoint, I really wish a bit more effort was put into the packaging.
Comfort: 85/100 – Even during long hours of gaming the headset required very little adjusting to stay comfortable. My only gripe is the lack of thick padding on the top headrest.
Gaming & Audio Performance: 98/100 – I was not expecting the audio quality to be this good especially for a $60 headset. The quality of sound across all ranges was superb.
Value: 92/100 – Considering everything you get for such a reasonable price, I'd say that the Rosewill Nebula GX60 is priced very reasonably.
Rosewill Nebula GX60
The Rosewill Nebula GX60 not only looks good, but sounds even better. The RGB LEDs are the icing on the cake

9.2

Build Quality & Appearance:

9.3

Gaming & Audio Performance:

9.8