Today Intel revealed to the world it's new lineup of Core i9 processors including the Core i9-9900K, which according to Intel "is the best gaming processor in the world. Period.". The Core i9-9900K boasts eight cores and 16 threads, clocked at base frequency of 3.6 GHz, which can be boosted up to 5.0 GHz. In addition to the new Core i9 processors, Intel is also announcing brand new Core i5 and Core i7 models branded as the i7-9700K which will also utilize 8 cores with 16 threads and will run at 3.6GHz (4.7 Turbo). The Core i5-9600K will run at 3.7GHz (4.6GHz turbo) and will be equipped with 6 cores and 12 threads.
The new platform will be based of Intel's already existing 14nm platform which has been in existence since Broadwell back in 2014.
Security has also been a big focus for Intel as of late. According to Intel, these new chips will contain hardware fixes for recent vulnerabilities such as Meltdown Variant 3 and L1 Terminal Fault issues.
Intel also released information on seven new Core i9 HEDT processors as part of its Basin Falls refresh which range from 18 cores and 36 threads down to 10 cores and 20 threads. Performance as far as frequencies go was also provided for just the new Basin Falls processors. In addition to the Core i9 9900XE process,or six others were released with 14,12,10, and 8 cores each with double their respective threads thanks to Hyperthreading.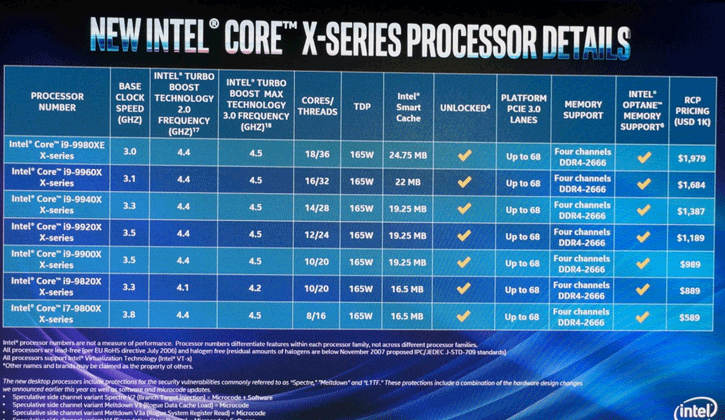 Preorders for the 9th-Gen Core i9 Processors begin today with a ship date of October 19th. Pricing for the new Core i9-9900K is set to $488 USD, the i7-9700K will be $373 USD, and the i5-9600K will be priced at $262 USD.
In regards to the latest X-series CPU's here is a breakdown of the name, core count and frequencies of each.
| Basin Falls Processor | Core Count / Threads | Frequency / Turbo |
| --- | --- | --- |
| Intel Core i9-9980XE | 18C/36T | 3.0Ghz / 4.4GHz |
| Intel Core i9-9960X | 16C/32T | 3.1Ghz / 4.4GHz |
| Intel Core i9-9940X | 14C/28T | 3.3Ghz / 4.4GHz |
| Intel Core i9-9920X | 12C/24T | 3.5Ghz / 4.4GHz |
| Intel Core i9-9900X | 10C/20T | 3.5Ghz / 4.4GHz |
Here is a table of the previous generation of Intel Basin Falls processors to use as a comparison.
| Basin Falls Processor | Core Count / Threads | Frequency / Turbo |
| --- | --- | --- |
| Intel Core i9-7980XE | 18C/36T | 2.6Ghz / 4.2GHz |
| Intel Core  i9-7960X | 16C/32T | 2.8Ghz / 4.2GHz |
| Intel Core i9-7940X | 14C/28T | 3.10Ghz / 4.3GHz |
| Intel Core i9-7920X | 12C/24T | 2.9Ghz / 4.2GHz |
| Intel Core i9-7900X | 10C/20T | 3.3Ghz / 4.2GHz |