Intel's next generation generation processors dubbed the 9000-series are rumored to launch sometime in October this year. Specs and pricing for three of Intel's high end CPUs have been revealed, the Core i9 9900K, the i7 9700K and the 9600K. Prices and specs were found on Chinese websites but have since been taken down.
The highest end CPU from Intel, the Core i9 9900K will feature 8 cores (16 threads) and will run at 3.6GHz with a Turbo clock speed of 5GHz. The 9900K will also be equipped with 16MB (likely L2) cache.
The Core i7 9700K will also be an 8-core CPU but it does not look like it will feature hyperthreading as the thread count appears to be the same.This CPU will have 12MB of L2 cache.
Clock speeds will be similar: 3.6GHz, with a 4.9GHz Turbo frequency. The 9600K will have 6 cores and 6 threads running at 3.7GHz with a turbo clock speed of 4.6GHz and will feature 9MB of cache.
Each CPU will have a TDP of 95W.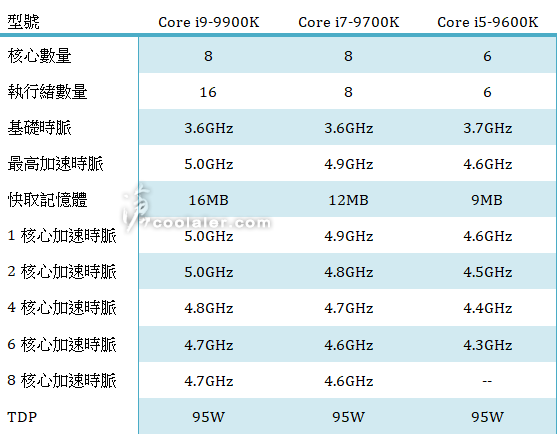 As mentioned earlier, prices have been removed from the website. While this is not an official confirmation, it does give us some nice insight as to what kind of pricing we might expect in the future.
Intel Core i5 9600K – $348 USD (€299)
Intel Core i7 9700K – $659 USD (€567)
Intel Core i9 9900K – $852 USD (€732)
As time draws closer to the launch of Intel's 9000-series CPUs we'll get a clearer and more accurate price. We will keep you all updated if anything changes.