According to a market-share monthly report from one of the major German hardware retailer mindfactory.de, AMD had just topped Intel when it comes to CPU sales in August. While the margin is very small, and next month could sway the market either way, this is good news for AMD and great news for the consumer as we are seeing a rise in competition.
On the report below we can see AMD and Intel processors neck and neck based on sale numbers, with AMD coming out on top by a little under 2%. This is likely due to the recent release of the New Ryzen 2990WX HEDT CPU last month, with more CPUs to launch later this year. However, with the soon-to-be-released Intel Coffee Lake S series processors on the horizon, it's possible we'll see sales in Intel's favor.
Another reason we might be seeing such favorable AMD sales is because of the recent security vulnerabilities found in modern Intel processors such as Spectre and Meltdown. While most home users won't be affected by the recent Intel vulnerabilities, corporate and enterprise environments who rely on strict security compliance, might turn to AMD as a quick and easy fix to avoiding these vulnerabilities all together.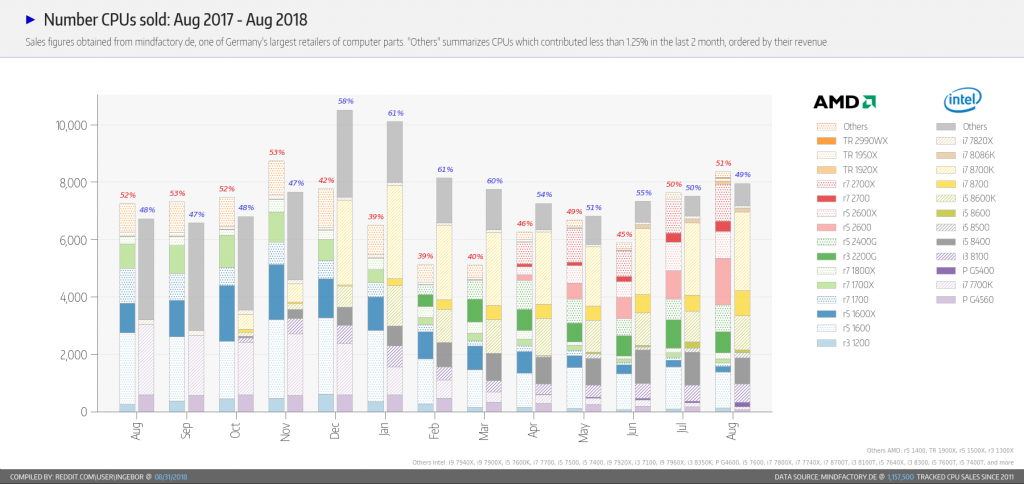 While AMD sold more CPUs than Intel according to Mindfactory, Intel still had higher profit margins. This is due to a number of possible reasons. First, people are paying more for Intel CPUs as they cost more than the current AMD CPUs. Also, as of not Coffe Lake CPUs are ~30% smaller than the current Ryzen lineup which would add to slight cost savings.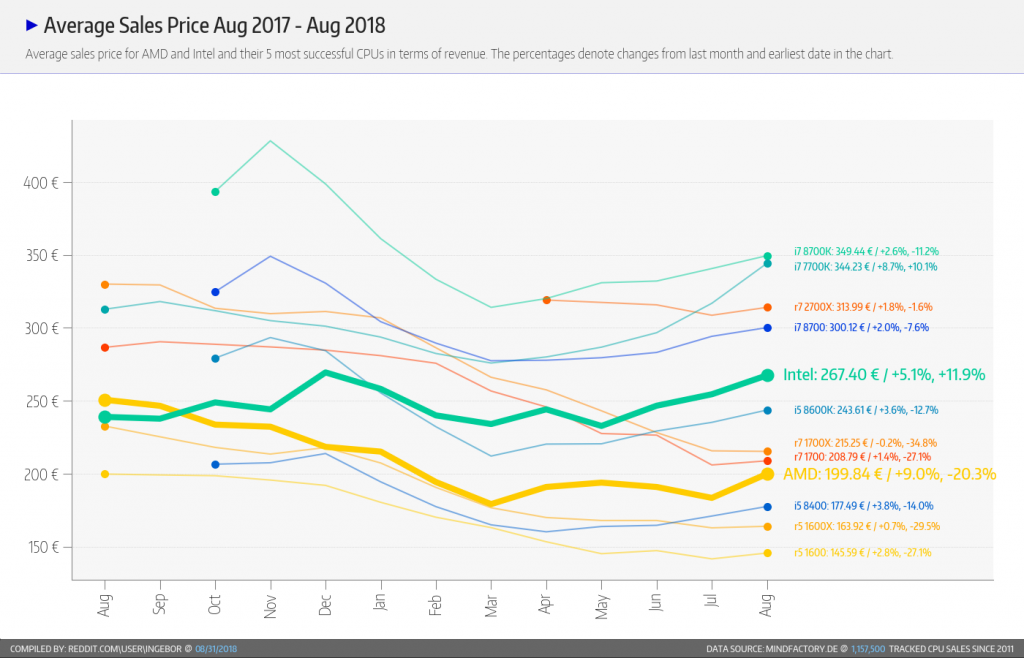 While the data produced by Mindfactory does not represent the current trend of CPU sales across the globe, it does give us some insight as to the recent success of the new AMD Ryzen launch.