Details surrounding the new Nvidia GeForce RTX 2080 series cards keep piling in leak after leak. This time we've got detailed specs on Zotac's new card, the GeForce RTX 2080i AMP! edition just after PNY specs were also leaked. This card will be released in two different flavors, one with 11GB DDR6, and the other with 8GB. It's probably safe to assume that the 11GB version will carry a 352-bit memory bus, and the 8GB model will feature a 256-bit bus. The price of the 11GB Amp! Edition card is probably the most shocking coming in at almost $1200! Definitely not cheap, and only time will tell how they end up performing.
Here are the detailed specs surrounding each model:
Zotac Product Code
EAN Code
Item
Suggest
FOB
Suggest
SRP

TU Series

D18Y
ZT-T20810D-10P
4895173617058
GeForce RTX 2080 Ti AMP! 11GB GDDR6
$1,100
$1,199
ZT-T20810F-10P
4895173617072
GeForce RTX 2080 Ti 11GB GDDR6
$1,050
$1,169
D18X
ZT-T20800A-10P
4895173617027
GeForce RTX 2080 8GB GDDR6 (Blower)
$720
$799
ZT-T20800D-10P
4895173617041
GeForce RTX 2080 AMP! 8GB GDDR6 (Triple Fan)
$750
$839
ZOTAC GAMING GeForce RTX 2080 Ti AMP! Edition (11GB)
This particular card (ZT-T20810D-10P) will be the top dog in Zotac's GPU lineup. It features 100GB of GDDR6 memory on a 352-bit memory buss. Clock speeds for the core and memory are yet to be determined, but we do know based on the screenshot below, the memory will offer 14Gbps throughput.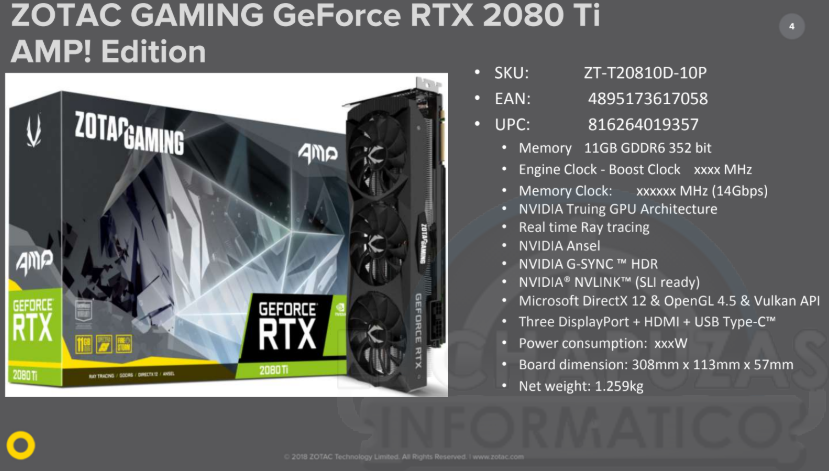 ZOTAC GAMING GeForce RTX 2080 Ti Tripple Fan
This model (ZT-T20810F-10P)will be priced $50 less than the AMP! edition and since we don't know clock speeds as of yet, it's probably safe to assume that the main difference between the Tripple Fan and the AMP! edition are core clock and memory speeds. All other specs including memory size and bus width are the same.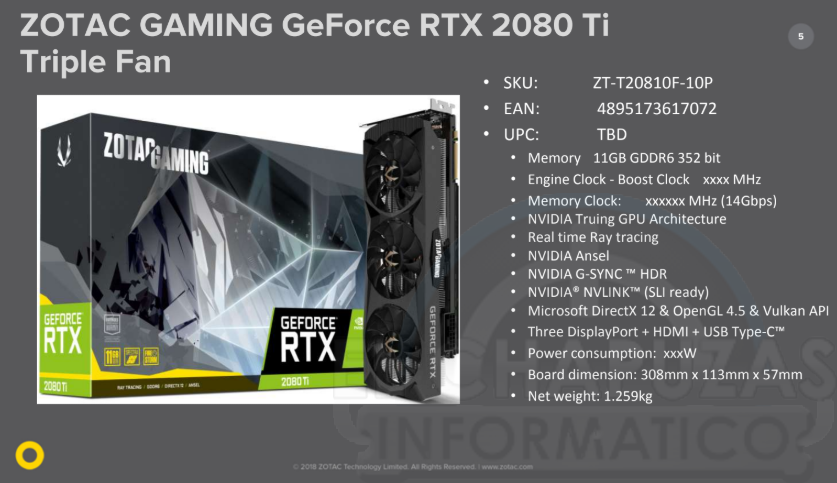 ZOTAC GAMING GeForce RTX 2080 Ti AMP! Edition (8GB)
This card (ZT-T20800A-10P) appears to be the same as the 11GB AMP! edition, except it features 8GB of GDDR6 memory rather than 11GB. All other specs appear to be the same at this point.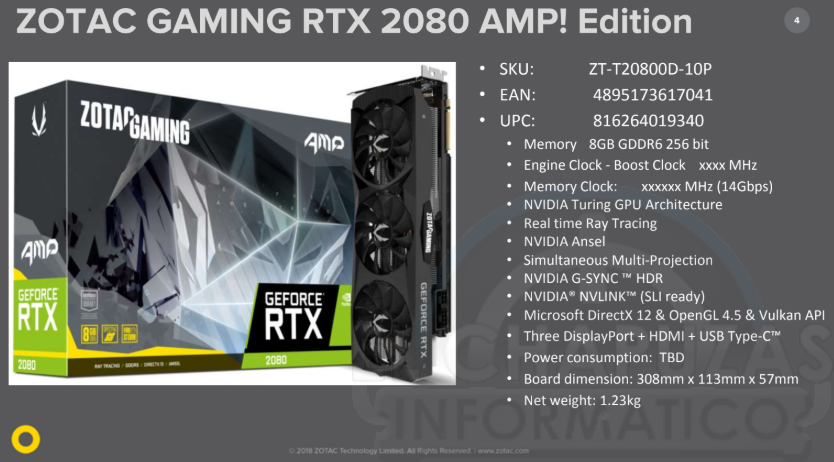 In addition to the product specs being leaked, we've got a shot of the front of the cards highlighting port information.
Display Connectors:
3x DisplayPort 1.4
Support Three G-Sync HDR Monitors
4K Resolution (4096×2160, 3840×2160 @60hz)
HDMI 2.0b 4K resolution (4096×2160, 3840×2160 @60hz)
USB Type-C
4 Displays Maximum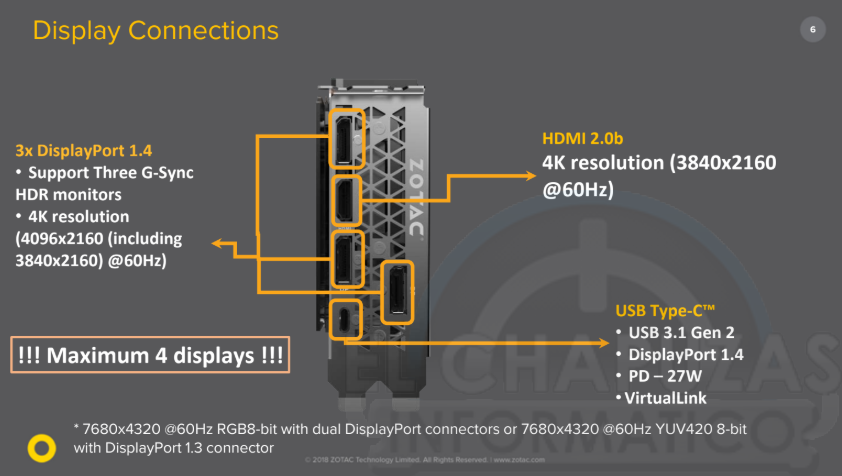 Warranty Information
Details surrounding Zotac's warranty information were also leaked. Zotac will offer a 2+3 (?) year warranty in Europe, Middle East, India and APAC with a 1-year extended warranty in US and Canada. The cards also must be registered withing 28 days of purchase with original receipt as proof of purchase.
Leak source: ElChapuzasInformatico