ASrock, a newer player in the GPU scene, more famous for their Motherboards, has added a couple more GPUs to its Phantom series lineup of AMD gaming graphics cards. This will make their current lineup a whole lot bigger as they release new models of their Radeon RX Vega 64 8G and RX Vega 56 8G models.
These new cards will be based of the reference design of AMD's reference RX Vega 64 and RX Vega 56 models. Both cards will be cooled with a single blower fan and rear exhaust style cooler. While this style of cooler is typically louder, internal case temps are generally lower as all of the heat from the GPU is expelled out the back of the case. To power the card, each will require a dual 8-pin PCI-E connector. Both are built around the same Vega 10 architecture.
Phantom Gaming X RX Vega 64 8G
The Phantom Gaming X RX Vega 64 8G is ASRock's top dog s based on AMD's Vega 10 die and yeilds 4,096 stream processors and 64 ROPs. It measures 280mm by 127mm and as expected, requires two PCI-E slots. As for clock speeds, the new Vega 64 8G GPU boasts a 1247 MHz core clock which can boost to 1546 MHz. Backing the GPU, the GPU contains 8GB of high-speed HBM2 memory which is clocked at 953 MHz over a 2048-bit bus.
As for monitor support, the Phantom Gaming RX Vega 64 8G is equipped with one HDMI 2.0 port and three DisplayPort 1.4 connections supporting resolutions up to 8K (7680 x 4320).
Here are some of the released pictures of the Phantom Gaming X RX Vega 64 8G: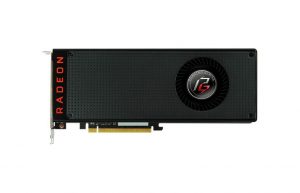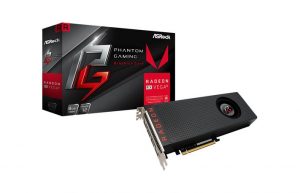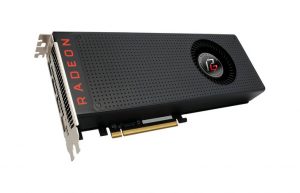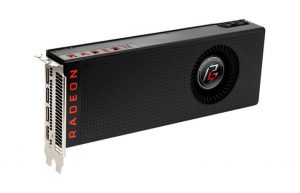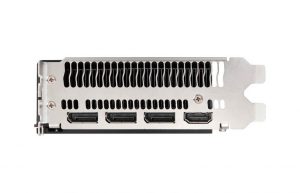 Phantom Gaming X RX Vega 56 8G
Much like the 64 8G, the Phantom Gaming X RX Vega 56 8G measures the same length and width and requires two PCIE-Slots. The only difference is that the Vega 56 8G is equipped with 3,584 stream processors and 64 ROPs. As for the clock speeds, The Phantom Gaming X Radeon RX VEGA 56 8G runs at 1156MHz with a boost speed of 1471 MHz. Like it's big brother, the 56 model also is equipped with 8GB of ram of HMB2 memory, although it runs a bit slower at 800MHz.
Both GPUs take advantage of a 2048-bit bus.
---
Link to Product Pages:
Phantom Gaming X RX Vega 64 8G
Phantom Gaming X RX Vega 56 8G