We've reviewed a lot of keyboards here on GND-Tech, most of which have been 100% targeted towards gamers and system builders. This time around we'll be taking an in-depth look into a professional keyboard geared 100% towards typing speed and performance. Introducing the Happy Hacking Professional 2 Type-S. This particular keyboard features fully mechanical Topre mechanical keys. Topre was the first on the market to back a fully mechanical keyboard even before the Cherry MX switch craze which started around 2011.
With great quality, comes great price. This particular keyboard will set you back about $309.99 USD and while it doesn't look like much, 100% of the keyboard is dumped straight into its quality and performance features. The keyboard is one of the only out there in the vast sea of keyboard manufactures that is 100% made in Japan. The keyboard is built and assembled by Fujitsu while the mechanical switches and electronics are made by Topre, both Japanese based corporations.
The "Type-S" model which we'll be reviewing features silent (or near silent) keys compared to the standard HHKB Professional 2 model. It's layout is very minimalistic and is geared towards removing useless functions and extra keys that end up getting in the way.
Now that we've got a better idea of what we're working with, let's dig into the review!
Happy Hacking Professional 2 Type-S Features & Specs
As we mentioned earlier in the review, the keyboard is equipped with Topre mechanical switches. Topre (or formally: Tokyo Press Kogyo) is an electrical, plastic, and metal component manufacturer based in Japan. The Topre electrostatic capacitive key switches featured in the Happy Hacking Professional 2 are a hybrid between your standard mechanical spring-based switches, capacitive sensor switch as well as a rubber dome switch. Combined together they provide a truly unique tactile feel which is geared primarily towards performance and reliability.
Adapting to the HHKB Professional 2 keyboard will definitely take some getting use to. As you can tell just by looking at it, keys such as Ctrl, backspace, and caps lock, have been shifted around for the sake of minimalism. My biggest gripe is probably the lack of arrow keys. While they exist "technically" by utalizing the function button over on the bottom right side, speedy arrow action is going to be a bit slower having to take the extra step of mashing two keys.
While the keyboard doesn't feature any control software like we're use to seeing, certain key aspects can be controlled using the dip switches located under a hatch at the top of the keyboard. We'll go over these in detail later.
Keyboard Features at a Glance
60-Key modified US ANSI Layout
45gram sensitivity, 4mm travel Topre Electrostatic Capacitive Key Switches w/Silencing
Dimensions: 294 x 110 x 39.9mm (11.6 x 4.3 x 1.6in)
Detachable USB mini-B interface, 1.8m cable included
Integrated USB 2.0/1.1 Hub (Current supply limited to 100mA)
High durability PBT (polybutylene terephthalate) keycaps (Spacebar is ABS)
Long life dye-sublimated keycap labeling (Dark gray)
Keyboard mode selection dip-switch
Weight: 530g (1 lb 3oz)
Made in Japan (2-year warranty)
Now that we'll all certified experts with this particular keyboard, let's take a closer look!
A Closer Look: Unboxing
The HHKB Pro2 keyboard arrived at our GND-Tech research facility in perfect condition and unscathed by our local mail courier. The outside of the box features black and red designs while the back features a few more details about the keyboard but not a lot of English. We can deduce that it mentioned PC/Mac compatibility, USB 2.0 and Hub support, and a few others. Lastly "Much better Operation Performance by Electric capacity non-connection system." definitely sounds like something we need! 🙂
After cracking the seal the front of the box lifts open to reveal the keyboard in all its glory. The keyboard itself is nestled inside a protective plastic bag surrounded by card board inserts which should prevent it from sliding around during transit. Atop the top flab are all the keyboard manuals and warranty information. Also included just north of the keyboard is the Mini-USB cable.
Overall, decent packaging. It's very unlikely that you'll receive a damaged product due to inadequate packaging, however considering the price of the keyboard, some foam would have been a welcomed sight.
An Even Closer Look…
Now that we've removed the HHKB Professional 2 Type-S out of its packaging, let's take a closer look at this thing to see what exactly we're working with. As you'll notice this keyboard is the exact opposite of anything Apple: complete function over form. While it looks like something that should be plugged into an early 90's IBM, it does have a nostalgic feel to it which does give it character.
The keyboard is VERY small, probably the smallest keyboard I've ever owned, only 294mm long. The design features the classic off-white cream color and gray found on the old systems of Yore.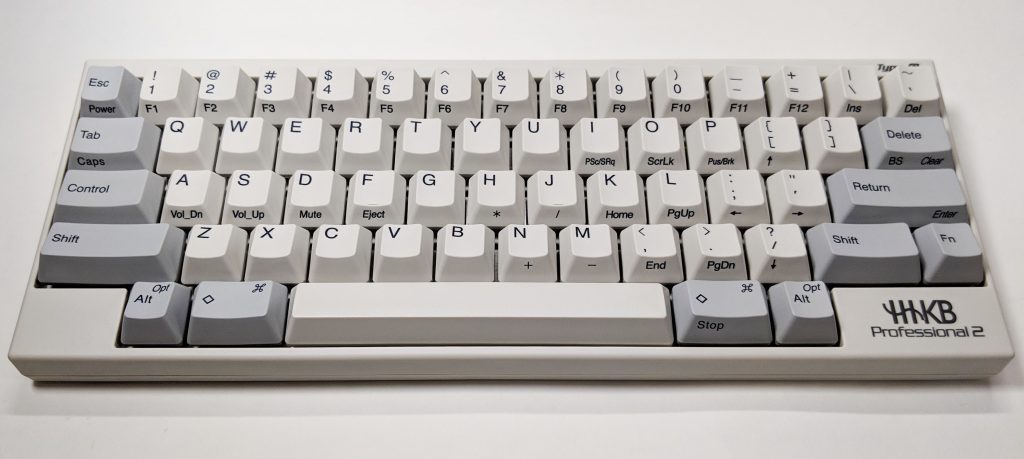 The top side of the keyboard is where you'll find your connectivity options such as the Mini-USB port which will connect to your device, as well as two powered USB 2.0 connectors which act as a hub. Behind a removable hatch are six dip switches. The switches control different aspects of the keyboards settings. The bottom of the keyboard has a simple guide as to what each switch controls.
The bottom also features pop-out style extensions for angling the keyboard a bit more towards the user. For me personally, I didn't feel that the keyboard needed any more tilt as the keyboards natural tilt without the extensions is already pretty strong.
The Mini-USB connector plugs directly into the back, simple enough! handy for travel as well.
The key caps can be easily removed using a standard key puller. As the keys are quite close together, I found that a wire style key puller worked the best. With a key cap removed, you can see the top portion of the Topei switch located just underneath. Easily removable key caps is definitely a welcomed feature. It makes for easy cleaning as well as swapping them out to personalize the keyboard even further.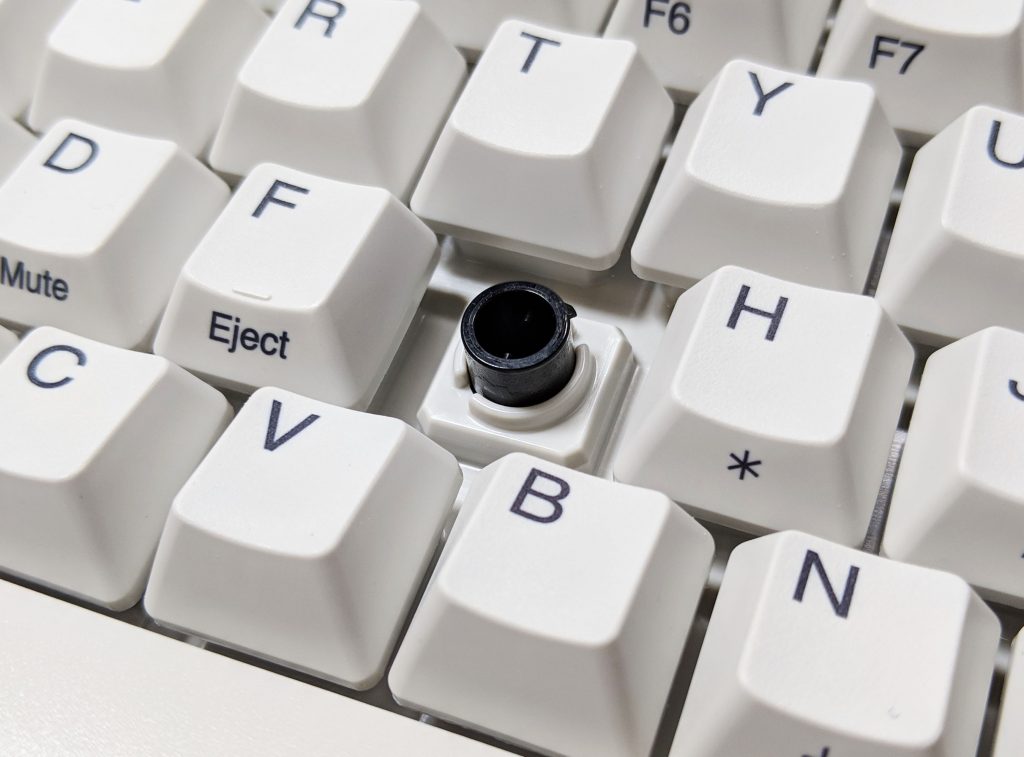 Lastly, let's open this thing up and take a look at some of the circuitry. With the bottom panel removed, we see two PCBs, one for the key switches and another for the USB connection, hub and dip switches. The PCB and other electronics are extremely well built using dual sided, large ground planes.
The components appear to be top notch and are securely mounted to the chassis. Wire and locking connectors are used over the standard press-in flat ribbon cable to provide extra durability as well. Overall, this indeed appears to be an exceptionally well built keyboard!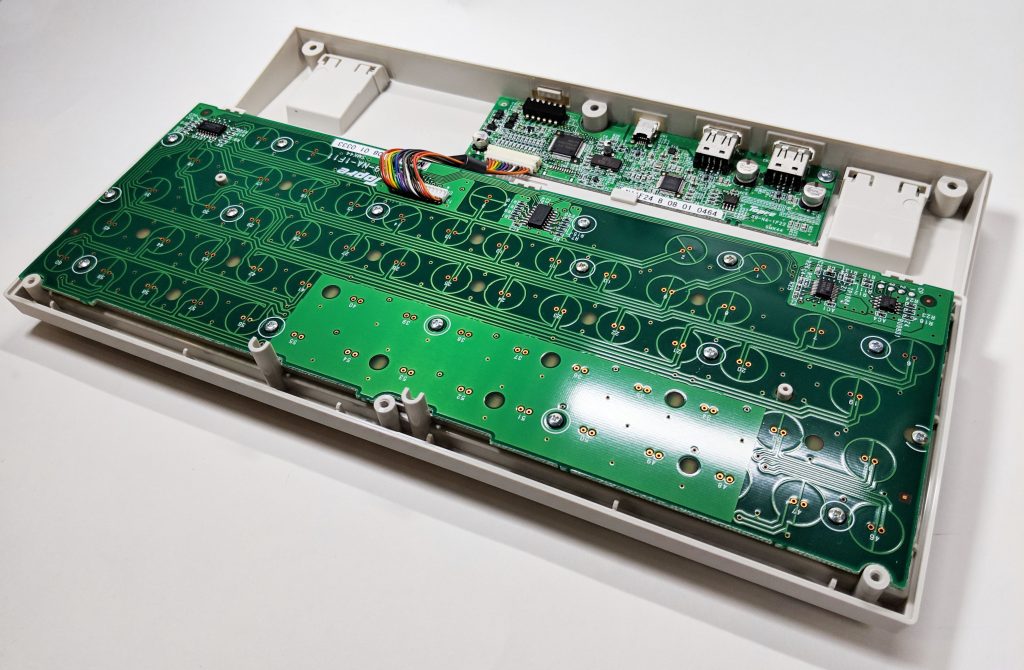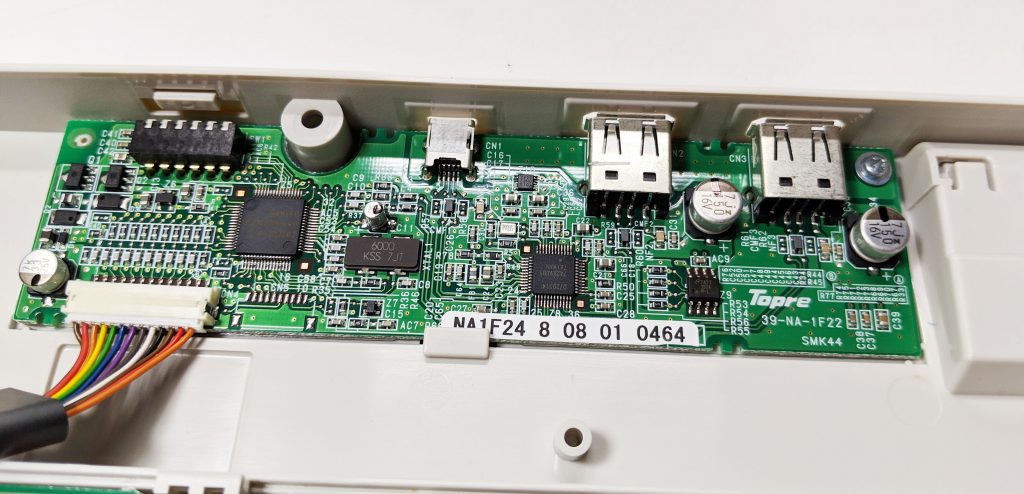 Testing and Performance
Tenkeyless keyboards are becoming more and more popular for both professionals as well as gamers. The smaller profile is much easier to travel and takes up less desk real estate. While gaming is not the primary function of the Happy Hacking Professional 2 Type-S keyboard, hell we're a gaming/hardware website. Why not test it?
Comfort & Ease of use – The keyboard has a natural incline making it pretty comfortable to use as is. Users can increase the ergonomic factor a bit more by extending the back mounts for an even greater incline. After using the keyboard for a few hours I didn't notice any strain or the like.
Ease if use… this will be interesting. This is my personal first time reviewing a keyboard where the keys were physically located in different places. It certainly takes some getting use to, especially the relocation of the Ctrl and Delete keys. Once my brain re-adjusted, after about a day of using it regularly, I was just as fast as I normally am on a keyboard. Now going back to a standard keyboard layout is going to mess with me all over again…
Typing Performance – This is really where the Happy Hacking Professional 2 keyboard really shines. While typing and word speeds are different for everyone, I definitely notice a difference switching to this keyboard over any other. I'm not sure it's the button layout, its positioning, the very different feeling mechanical keys or what but my personal WPM definitely increased on this keyboard.
Another interesting thing to note is the sound. While this is most certainly a fully mechanical keyboard, it is VERY quiet, probably even more quiet than many standard, non-mechanical keyboards. If you work in a quiet area where a typical mechanical keyboard may be bothersome, this would be a good option for you.
Gaming Performance – While gaming is not the keyboard's primary function, you shouldn't have any issues other than the lack of NKEY Rollover if you're typically pressing more than six keys at once. In game actions were quick and snappy. One odd side affect is the relocation of the Ctrl button made for re-adjusting how you'd typically crouch in most FPS games. Once I got use to it, I actually preferred it to the old location. The Ctrl button is typically a stretch for the left pinky finger, so moving it to where the Caps Lock button use to be is a much more comfortable move.
Speaking of N-Key support, N-KEY Rollover  (NKRO) is basically a function found in most modern keyboards who typically market towards gamers and power users. It basically allows USB keyboards to register more than six key presses at once. There was no mention of NKRO support listed for the HHKB Professional 2, but hey, why not test it? We've been surprised before…
I should be able to press as many keys down as possible while taking a screenshot using my face. Let's give it a try with an online test utility:

As you can see in the GIF image above, definitely no NKRO support.  While this is not a gaming keyboard, this really isn't a huge deal as typically people don't mash more than six keys down while typing.
Final Thoughts and Conclusion
The Happy Hacking Professional 2 Type S Keyboard is definitely one of the most interesting and most likeable keyboards I've had the pleasure of testing. If you're someone who spends a lot of time typing away at their keyboard such as an editor, writer, power user and coder (and hacker?) then this keyboard is most certainly for you. While it does take some getting use to the new layout, once my brain adjusted, I felt like my WPM went up even higher than before.
Since the keyboard is 100% made in Japan, you can also bet that this thing is going to last you a very long time. The Topre switches are fantastic and the feedback they provide while typing is fantastic. The actuation force and trigger time is perfect and dialed in limit false positives.
Next, let's break down our results based on a few categories:
Construction:  10/10 – The keyboard is a tank inside and out. The Topre mechanical switches, well built internals and thick plastic exterior provides you with a keyboard that should withstand some serious abuse. Its also got some weight to it as well which ads to the overall quality feel of the unit. Since its made in Japan you can bet you're getting a quality built unit.
Performance: 9.6/10 – The only downside to the performance is the relocation of important keys. While it's not difficult to adjust to the new layout, some users might be put off by this. Overall, the Happy Hacking Professional 2 Type-S is a solid performer in pretty much any category.
Appearance: 9.4/10 – This is a tricky one. Personally, I'm digging the retro cream and gray color scheme. Its small size is also gives it a bit of character as well.
Value: 8.0/10 – Today, you can pick up the HHKB Pro2 Type-S for around $309.99 making it about as high end as you can go for a professional keyboard. So, is the keyboard worth the $300+ price tag? To that I say… it depends. If you live and/or work on your keyboard, the price is 100% justified. You're buying a Japanese made keyboard with Topre switches in a small portable bundle. This keyboard will last years and years so it could be looked at as an investment. If you're a casual user or gamer, you might want to look at some more affordable options.
Thanks for taking the time to read this review and if you have any questions or comments, please feel to post them below!
Buy on Amazon: HHKB 2 Type-S
Happy Hacking Professional 2 Type S Review
"...one of the most interesting and most likeable keyboards I've had the pleasure of testing"

9.3