Although VESA adaptive-sync displays were introduced after Nvidia officially announced its FreeSync technology, FreeSync, or VESA Adpative-Sync has risen in popularity due to the loyalty free licensing. As a result, the number of VESA Adaptive-Sync enabled monitors have exploded in recent years, vastly overwhelming the number of G-Sync enabled monitors currently on the market.
Nvidia, likely realizing this has surprisingly decided to add support FreeSync or VESA Adaptive-Sync enabled monitors, with a catch. Not all monitors will are created equal, and not all will be "officially" supported. Adaptive-Sync enabled monitors that have gone through Nvidia's testing to ensure proper functionality will be added to the "officially supported" list while others will not.
Likely this support will come through a series of driver updates with an included "supported" list. However, if you're worried about the number being small, you'd be right. Nvidia has already announced that there are over 500 monitors on the market that have been officially tested, and only 12 have past. Users with unsupported monitors will still be able to enable G-Sync, but Nvidia does not provide any guarantees or support that they will work correctly.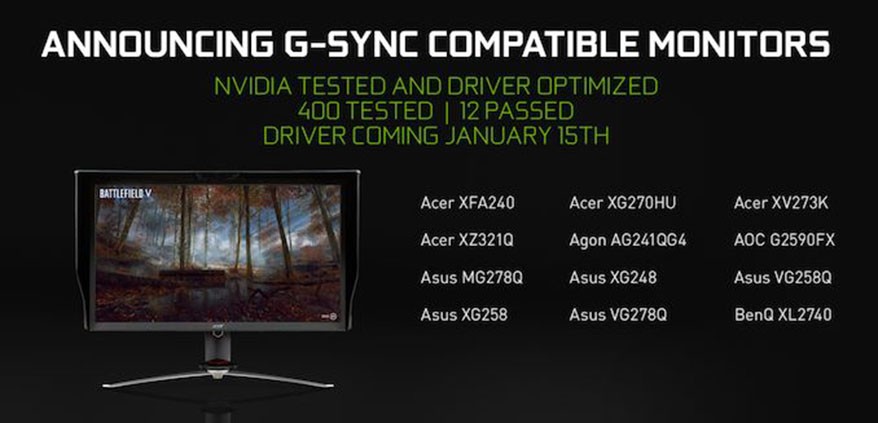 This announcement was came at Nvidia's official CES event which also provided the list of officially supported monitors. Several top brands such as ASUS, Acer, AOC, and BenQ were listed among the officially supported list. Official support will begin January 15th with a simple driver update.
There's no telling what the future of G-Sync will be at this point, now that VESA Adaptive Sync and G-Sync will both "work".
Officially Supported Active Sync Supported Monitors
The FreeSync enabled monitors that are confirmed to receive a G-Sync compatibility update from Nvidia are:
Acer XFA240
Acer XG270HU
Acer XV273K
Acer XZ321Q
Agon AG241QG4
AOC G2590FX
Asus MG278Q
Asus VG258Q
Asus VG278Q
Asus XG248
Asus XG258
BenQ XL2740