Too add to its already massive lineup of gaming-themed PC peripherals, Cooler Master just announced some new additions to its growing lineup. During CES 2019, Cooler Master announced the MH670 wireless gaming headset which also adapts to a 3.5mm jack if needed. Also announced were three different keyboards, the SK621, the SK630 and the SK650, each available in different sizes and configurations. The Cooler Master MM831 Gaming Mouse was also announced which is Cooler Master's first wireless gaming mouse. Below is the official press release from Cooler Master:
Press Release: LAS VEGAS, NEV., JANUARY 7, 2019 – Cooler Master, a global leader in designing and manufacturing innovative gaming peripherals and computer components, will be showcasing its new line up of wireless peripherals including the MH670 gaming headset, MM831 gaming mouse, SK621 65-key travel size keyboard, SK631 60% layout keyboard, SK651 full-layout keyboard, and the GS750 headset stand with built in Qi wireless charging.
"Showcasing this "Work and Play" line-up at reflects the Cooler Master commitment to bring high-performing products to gamers and creative pros of all levels." says Bryant Nguyen, Peripheral General Manager.
Cooler Master MH670
The MH670 is a wireless, hassle free headset that provides superior comfort through lightweight construction and plush swiveling ear cups. Its 3.5mm connection adapts to an array of devices including PC, Xbox One, PlayStation 4, Nintendo Switch, and most mobile devices. Virtual 7.1 surround sound and 40mm Neodymium drivers work in harmony to provide a full and a balanced sound with excellent noise isolation. Its detachable Omni-directional boom microphone and fold-flat design grants easy portability and usage beyond the gaming environment.
Cooler Master Keyboards
The SK621, SK631, and SK651 are slim profile mechanical keyboards with the perfect balance of "work and play." The SK series features Cherry MX low profile switches that provide a reduced travel distance and actuation point with the same signature durability and precision as a standard red switch. The boards can be used wired over a removable Type-C USB or through Bluetooth 4.0 with the ability to support up to three devices at a time. Per-key backlighting, surrounding light bars, and macros can be fully customized through Cooler Masters easy to use Portal Software Application. On-the-fly-controls allow real-time adjustments to lighting and macros without the need of software, including Windows Lock On/Off to prevent accidental actuation during game play.
Users can choose from three sizes depending on preference. The SK621 is compact and has a 65-key layout perfect for on-the-go, the SK631 is a ten keyless layout for users with limited desk space, and the SK651 is the series full-layout keyboard.
Cooler Master Mice
The MM831 is Cooler Master's first wireless mouse. It features dynamic four zone RGB lighting effects and is designed with top-of-the line 3360 optical sensor for accuracy and speed, with settings up to 24,000 DPI. Its durable PBT chassis reduces wear and tear, while Omron switches provide a 50M click reliability. Located in the thumb-rest area, the hidden D-Pad grants fast access, especially useful in MMOs. Its OLED screen permits further customization. Users can program the screen to display graphics, track APMs, or reflect DPI settings.
Cooler Master Accessories
The GS750 is more than a standard headset. It is equipped with Qi wireless charging to be mobile devices ready to go and two USB 3.0 ports. 13 LEDS illuminate the headset stand base and are customizable through Cooler Masters easy to use software suite. Its onboard soundcard with 5.1 surround allow users headsets plug directly into the stand for superior sound quality and complete immersion.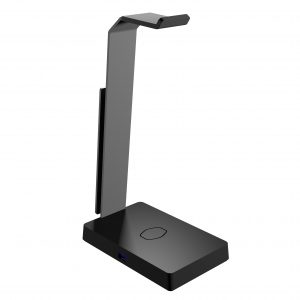 North America Pricing and Availability
Cooler Master SK621: $119.99 March 2019
Cooler Master SK631: $139.99 Q2 2019
Cooler Master SK651: $159.99 Q3 2019
Cooler Master MM831: TBD
Cooler Master MH670: $99.99 June 2019
Cooler Master GS750: $79.99 February 2019
Cooler Master ControlPad: $99.99 Cherry MX/89.99 Gateron May 2019