This time on PSU Review Thursday, we'll be taking a deep look into another one of Cooler Master's power supplies, this time the non-modular version of the MWE Gold 650. The MWE lineup is Cooler Master's latest series of high efficiency power supplies that also run cool and quiet.
The MWE series gives you all what you expect of a quality power supply and more. It guarantees a typical efficiency of at least 85%. Besides that, the MWE series comes with a circuit design that will protect your system at any time. Together with a quiet 120mm fan, you get all the essentials in one little box.
The Cooler Master MWE Gold 650 that we'll be looking at today is the traditional, non-modular configuration. This means that all of the cable options are affixed to the PSU. Cooler Master does make a modular version of the PSU, such as the MWE Gold 750 fully modular PSU we recently reviewed.  There are advantages and disadvantages to both. One advantage non-modular power supplies have is they tend to cost less due to its simpler design. Another advantage we typically see is due to the fewer connection points, electrical "noise" is slightly less versus modular. Typically this is negligible. Modular power supplies are typically easier to work with and better for cable management since you use only the cables needed.
Right now the MWE Gold 650 can be purchased for $74.99. Not a bad deal for a 650W 80+ Gold rated power supply. We'll get into efficiency and why this is important later on in the review. More information about this particular PSU can be found on Cooler Master's Product Page.
Features and Specifications of the Cooler Master MWE Gold 650 Power Supply
The MWE Gold 650 carries an 80+ Gold certification. This means that the power supply is at least 87% efficient at converting the power from the wall, to power that your PC can use. Silent operation is provided by a single 120mm Cooler Master Silencio fan. This particular fan moves a decent amount of air without generating hardly any noise.
Here are the detailed specs regarding the PSU according to Cooler Master.
Product Name
MWE Gold 650
Product Number
MPY-6501-ACAAG
ATX Version
ATX 12V V2.31
PFC
Active PFC (>0.95 typical)
Input Voltage
100-240V
Input Current
12-6A
Input Frequency
50/60Hz
Dimensions (LxBxH)
140 x 150 x 86mm
Fan Size
120mm
Fan Bearing
LDB
Powergood Signal
100-500ms
Hold Up Time
>14 ms @ 100% load
Efficiency
90% Typically
ErP 2013 Lot 6
Yes
MTBF
>100,000 Hours
Operating Temperature
0-45°C
Protections
OVP / OPP / UVP / SCP / OTP
Regulatory
CCC, CE, TUV-SUD, RCM, EAC, cTUVus, FCC, BSMI, CB
Connectors
MB 24 Pin
1
CPU 12V 4+4 Pin
1
SATA
8
Peripheral 4 Pin
6
FDD Cable 4 Pin
1
PCI-e 6+2 Pin
4
​For a 650W PSU, quite a few PCIe connectors were included. Normally we typically see only two of these at this level of wattage. The PSU also carries a ErP 2013 Lot 6 certification meaning that it will use less than 5W of power in standby mode.
Overall, decent specs at a decent price! At this point, let's crack open the box seal and see what we're working with…
Unboxing
The packaged arrived to our top secret GND-Tech facility unscathed and it perfect shape. The exterior of the box was wrapped in plastic wrap to prevent scratching and scuffing to the surface of the box.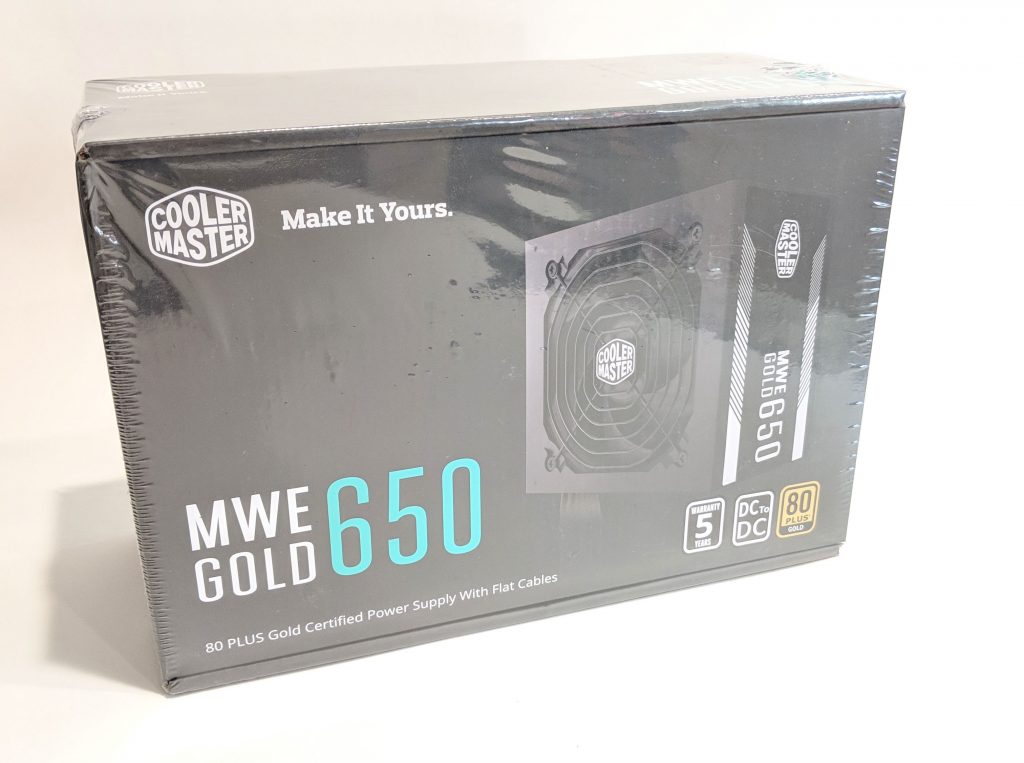 The font of the box features a large picture of the power supply, and a few selling points such as its 5-year warranty, DC-to-DC power conversion, and the 80+ Gold rating certification.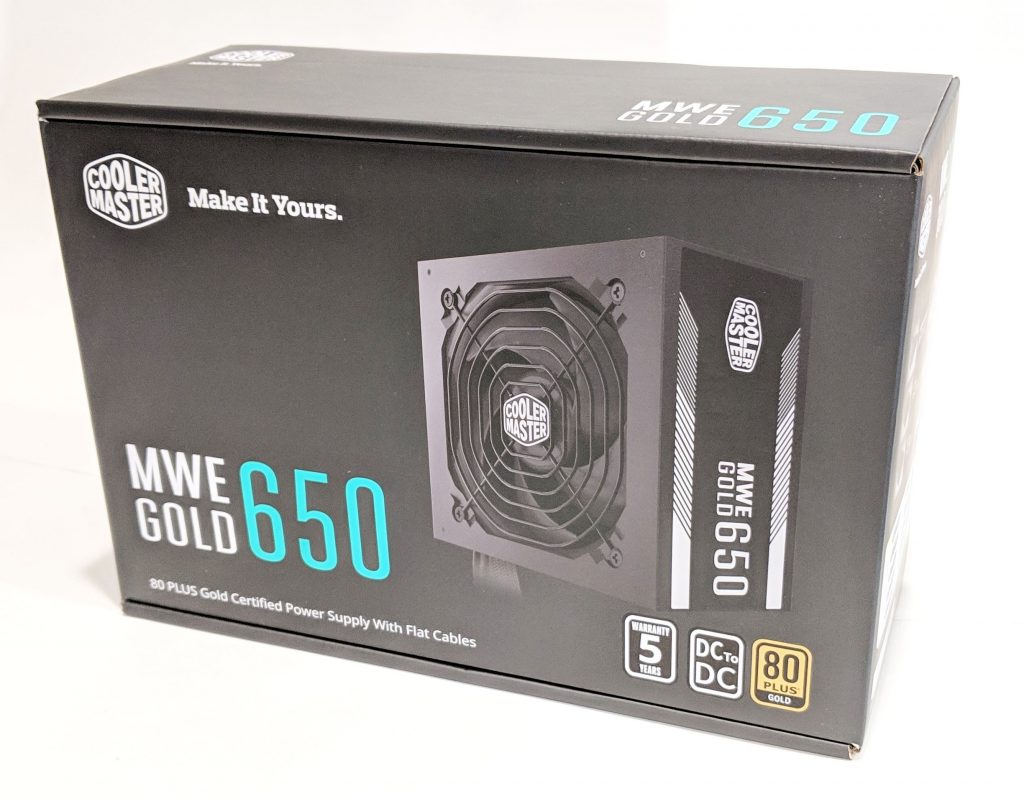 Moving over to the back of the box we've got a few more details and charts. The two charts depict the fan curve and efficiency under load. Also, (not shown) the left side of the box shows the power ratings for each voltage. Always be sure to plan ahead and ensure that this particular PSU meets those requirements before purchasing. Cooler Master has a nifty power calculator you can use which give you a good idea as to the PSU wattage levels you'll need.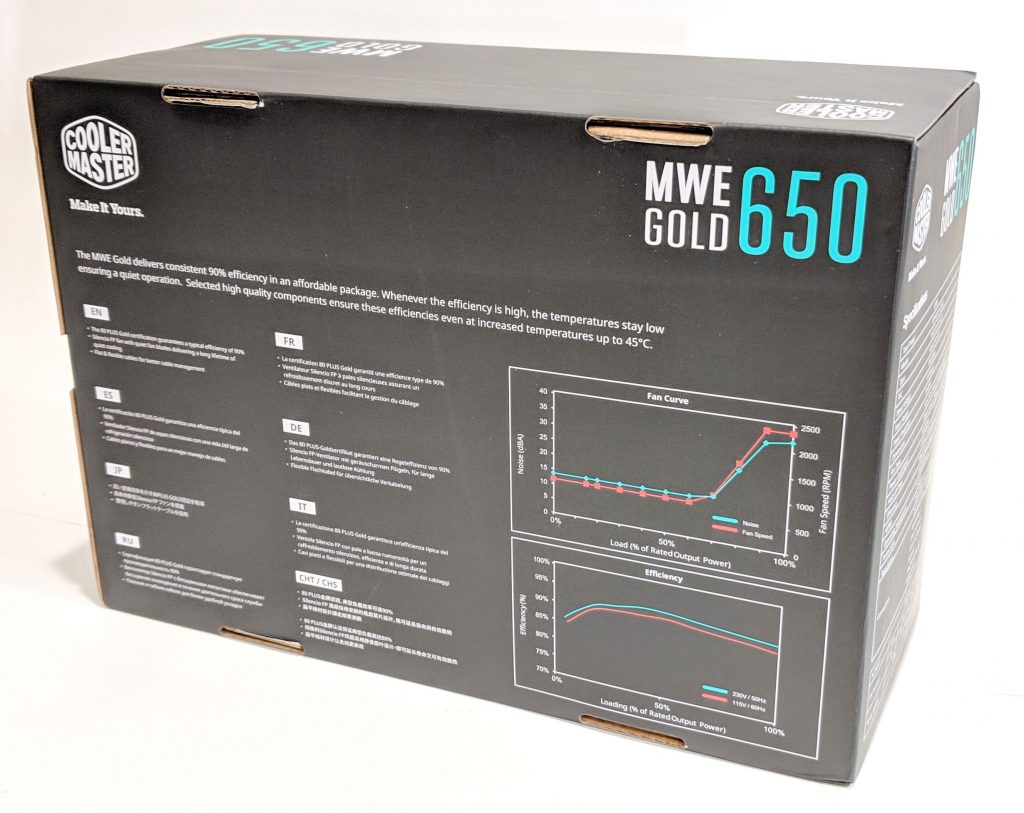 With the box open we get a better view as to how the MWE Gold 650 is packaged. The power supply itself is housed in a bed of custom foam cushioning on all sides. The cables are bundled and twisty tied together off to the side outside of the foam shell.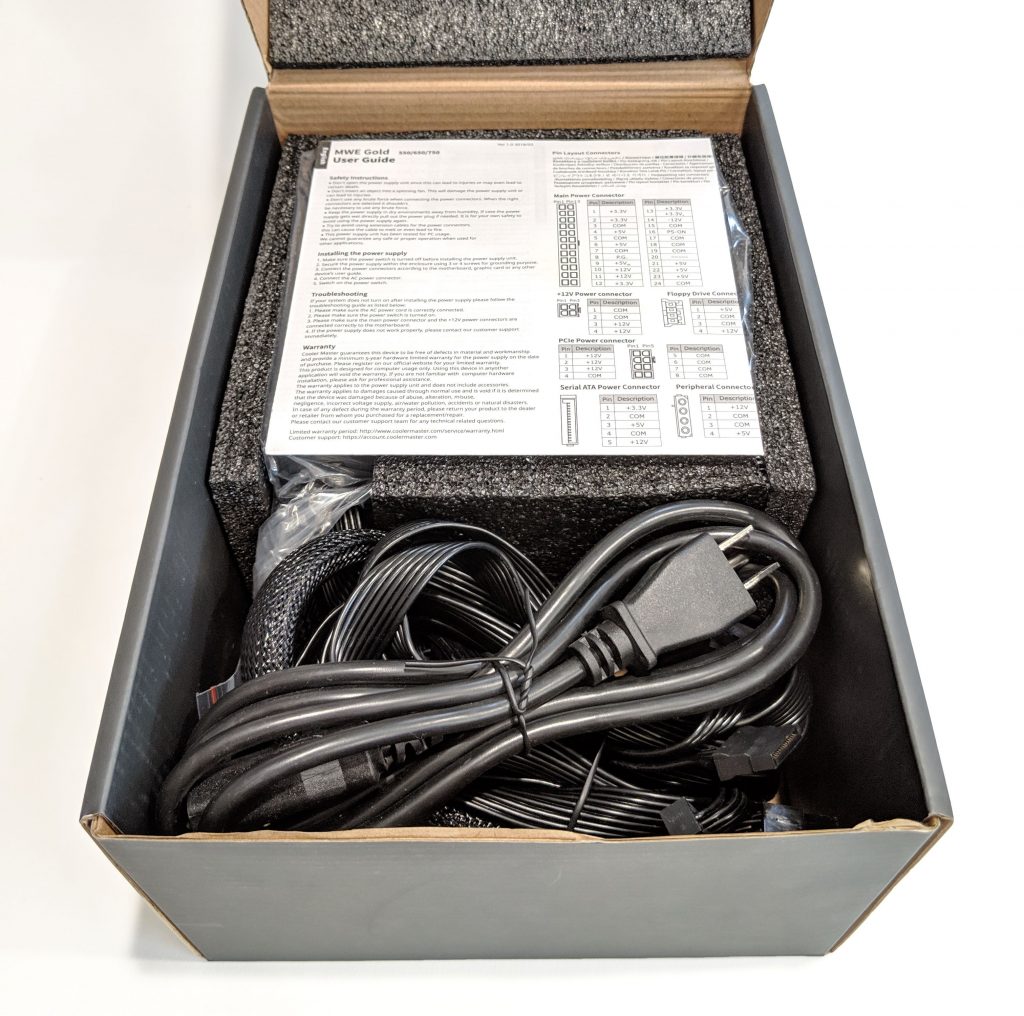 The power supply is also wrapped in a bag which will obviously need to be removed prior to use. This provides a bit more protection to the outer surface of the power supply and to keep foreign objects from entering through the fan grill.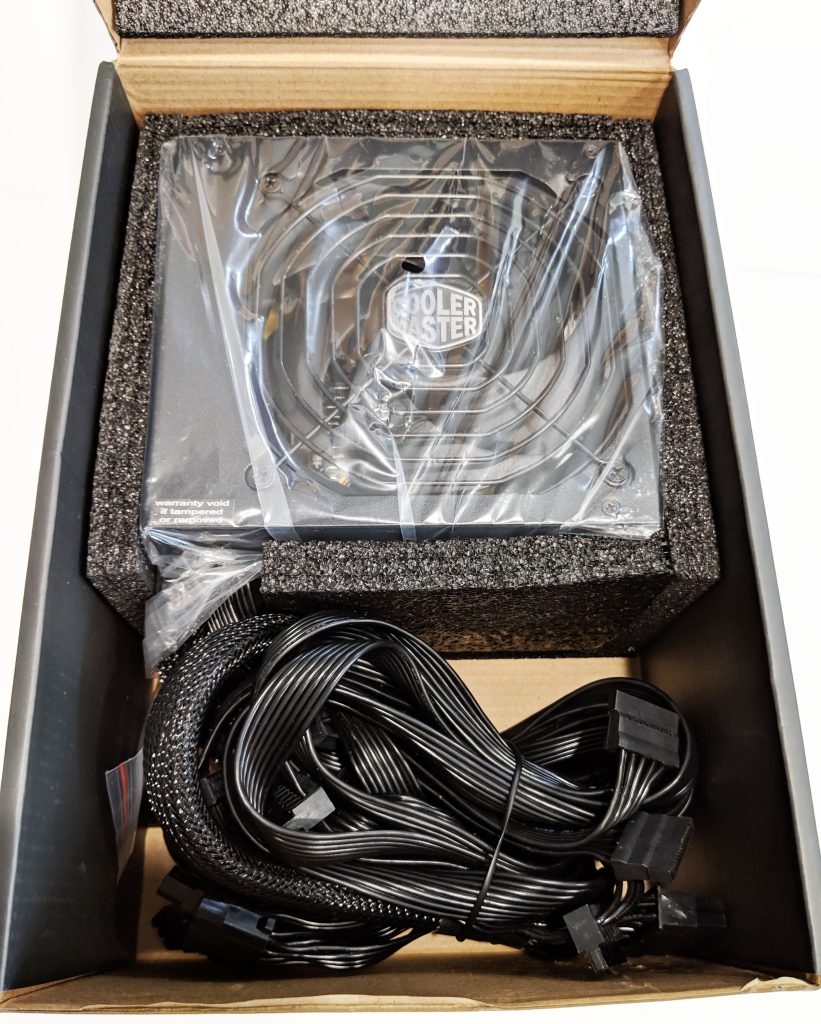 A Closer Look…
With the Cooler Master MWE 650 Gold power supply out of its protective packaging we can get a better view of the unit. Overall, the design is simple and stealthy, pretty much all black with silver accents which means it will likely flow nicely with almost any build color scheme.
The top of the PSU is where the unit draws in its air via the 120mm Silencio fan. The fan is covered by a metal grill sporting the Cooler Master logo in the center.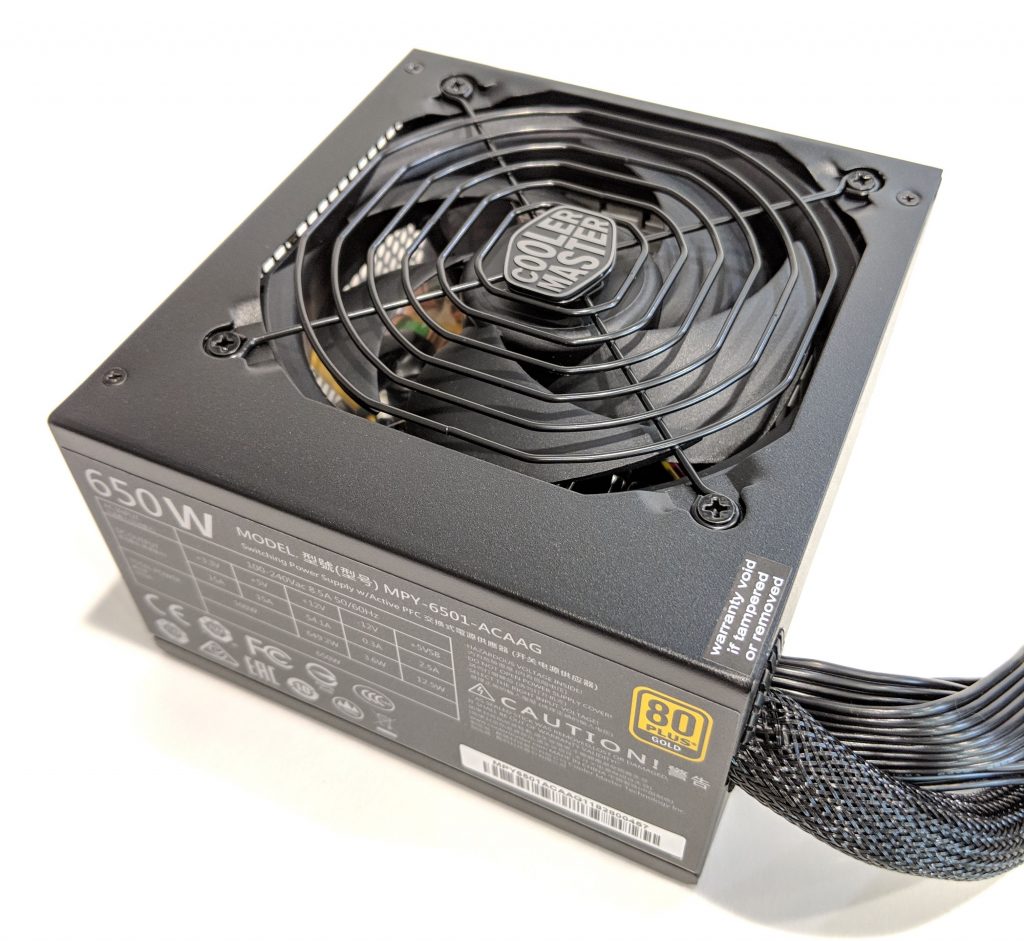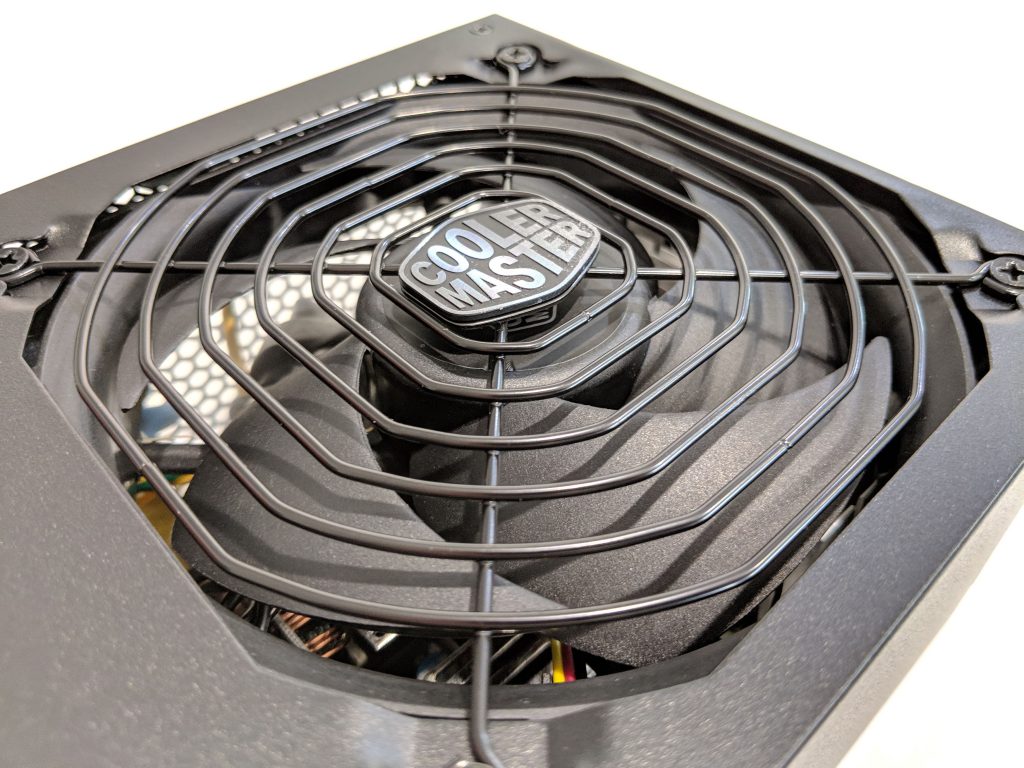 Included is a power cable (US in our case) and four screws used to mount the PSU to the case.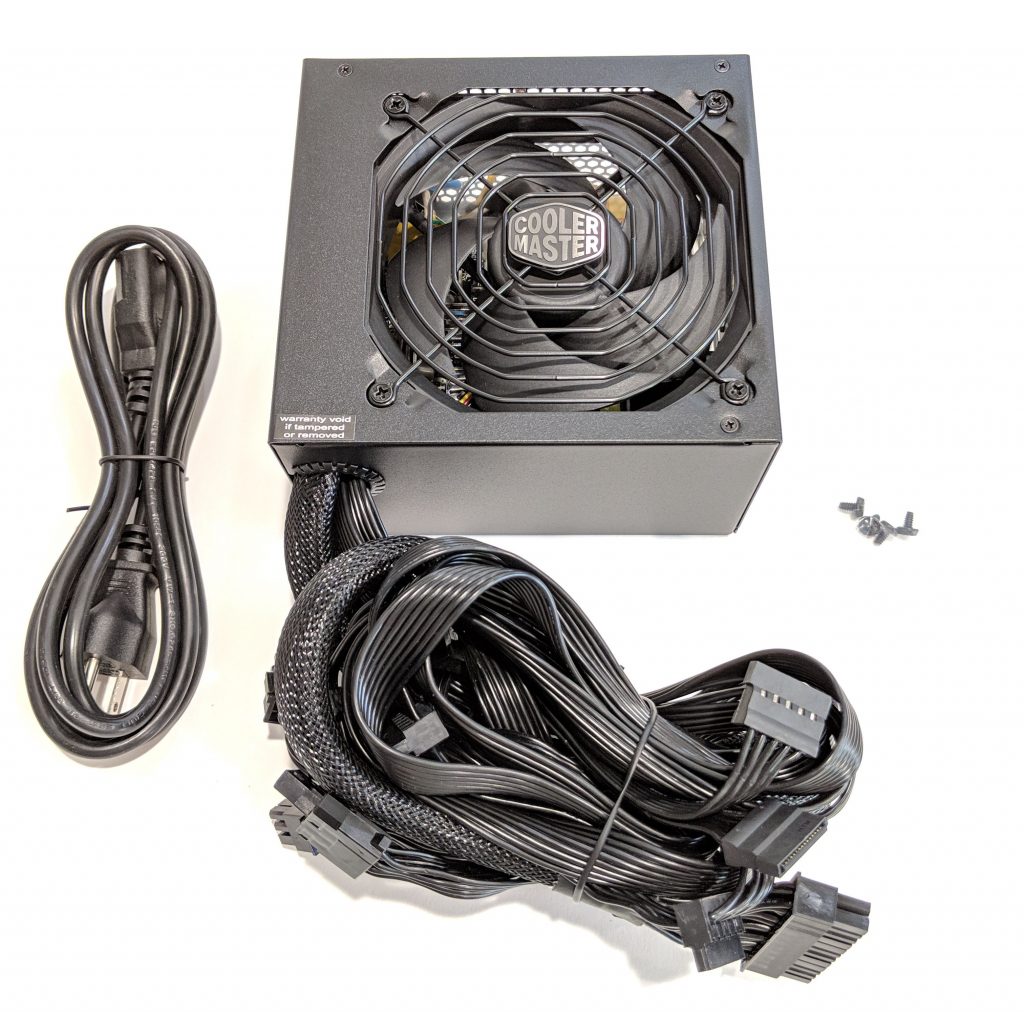 With the cables un-bundled we get a better look as to their length and construction material. Overall they're quite long and shouldn't have any trouble reaching matching plugs in any mid to full tower case.
The 24-pin motherboard cable is housed in a braided mesh whereas the rest of the cables are constructed in a flat rubber pattern.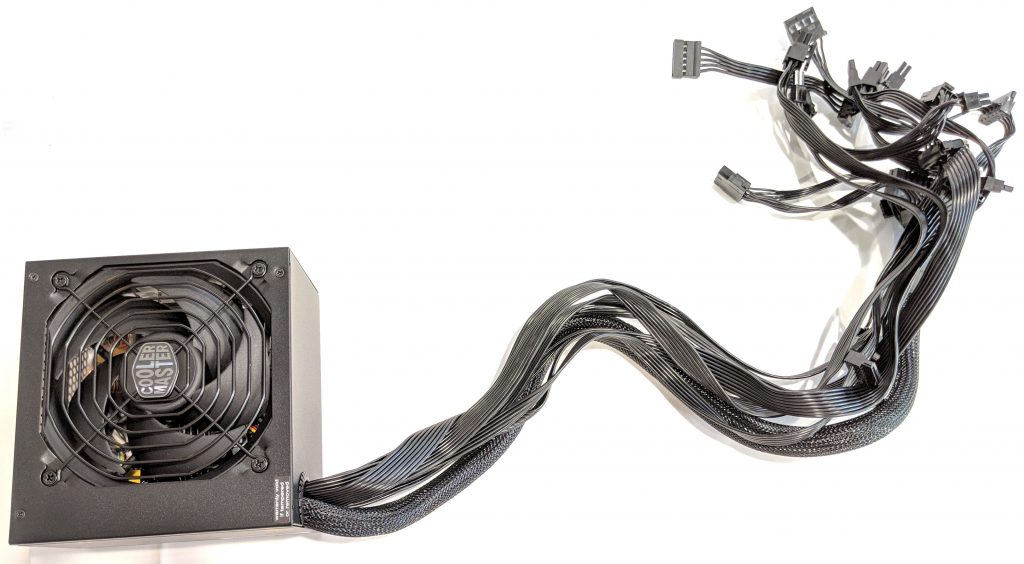 One thing to note is that the 24-pin motherboard cable doesn't have the detachable 4-pin connector. So if you're using a motherboard from pre 2001, you might have issues. (or it might just be time to upgrade)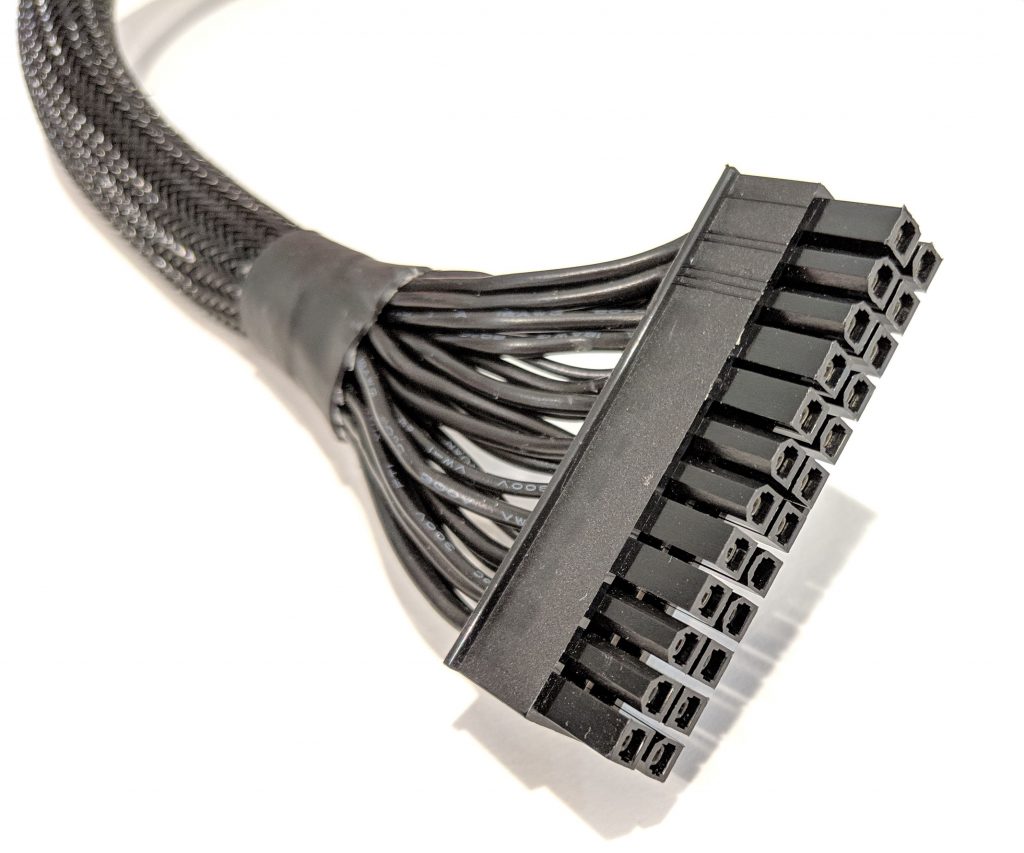 Here's a better look at the 8-pin CPU power connector which does detach into two separate pieces. (4+4 configuration)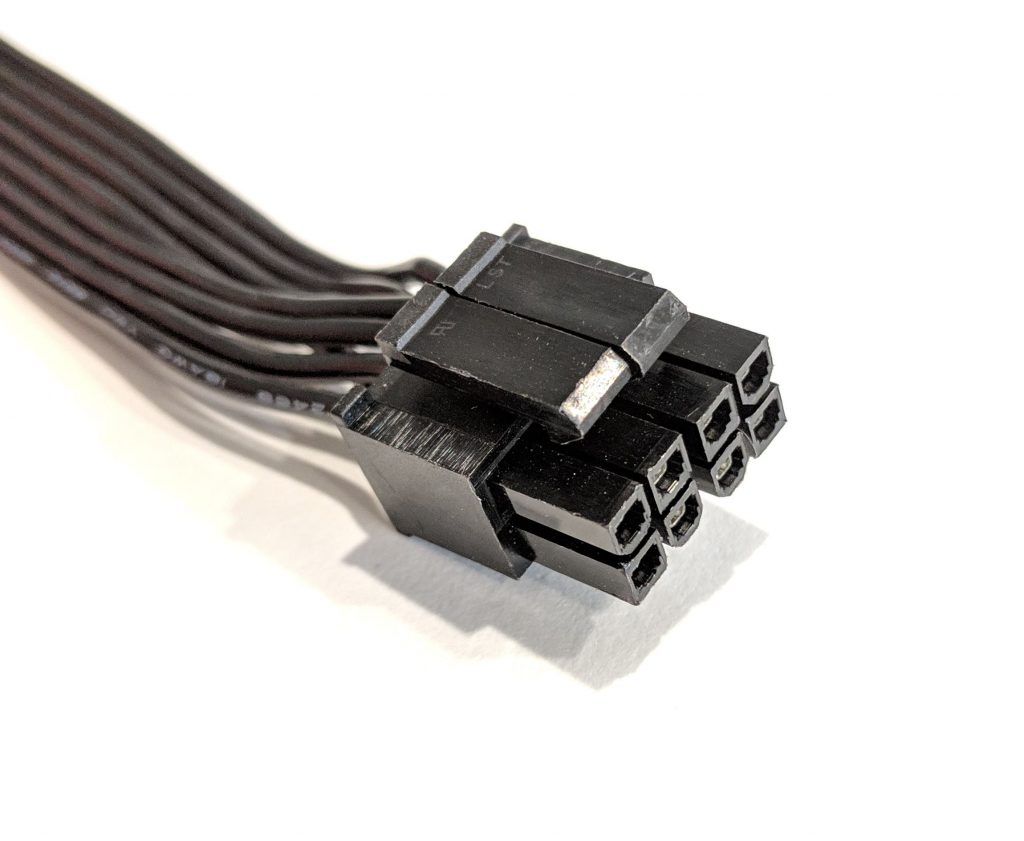 Taking a closer look at the left side of the unit we've got the detailed power output and input ratings. Again, double check that the PSU meets your build's power requirements before purchasing.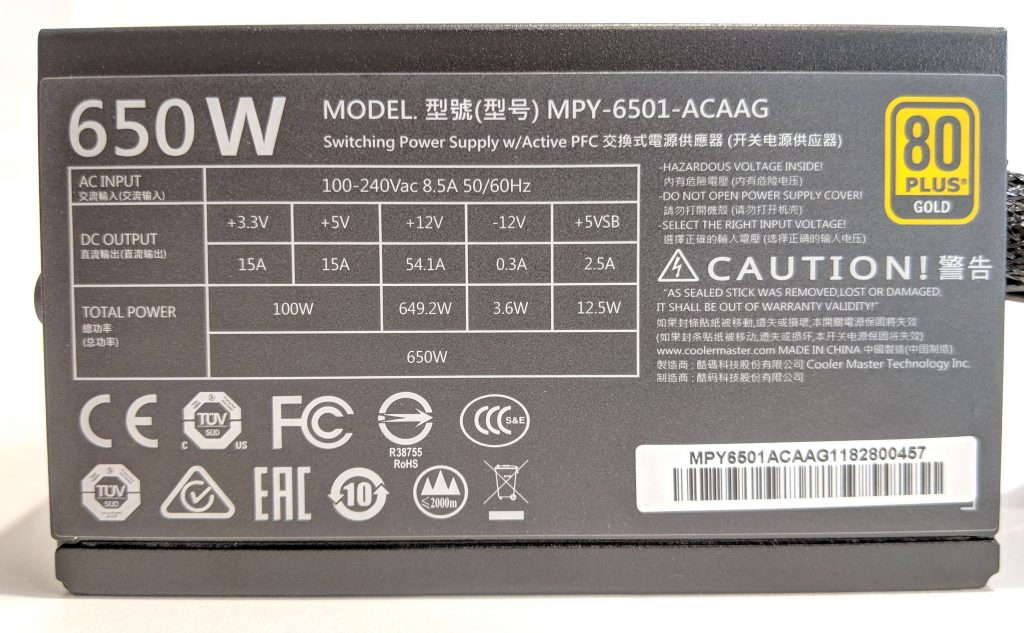 Pretty typical scene on the back: a single on-off switch and the AC wall plug. The back of the PSU also doubles as a hot air exhaust so be sure it's unobstructed.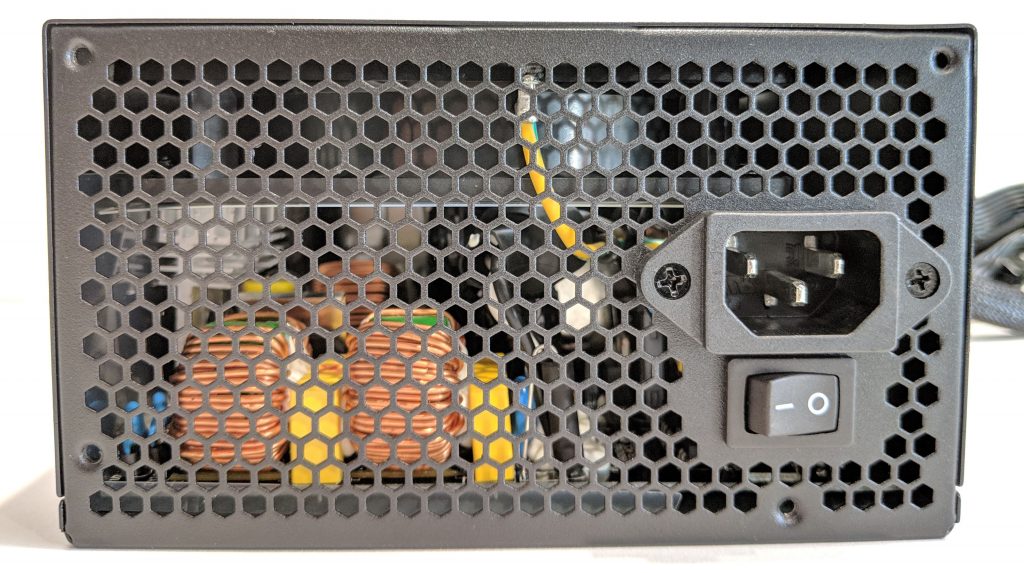 The right side of the PSU features cool graphics featuring the Cooler Master Logo, subtle graphics and its model number. This side will be seen when installing the PSU in a bottom mounted case.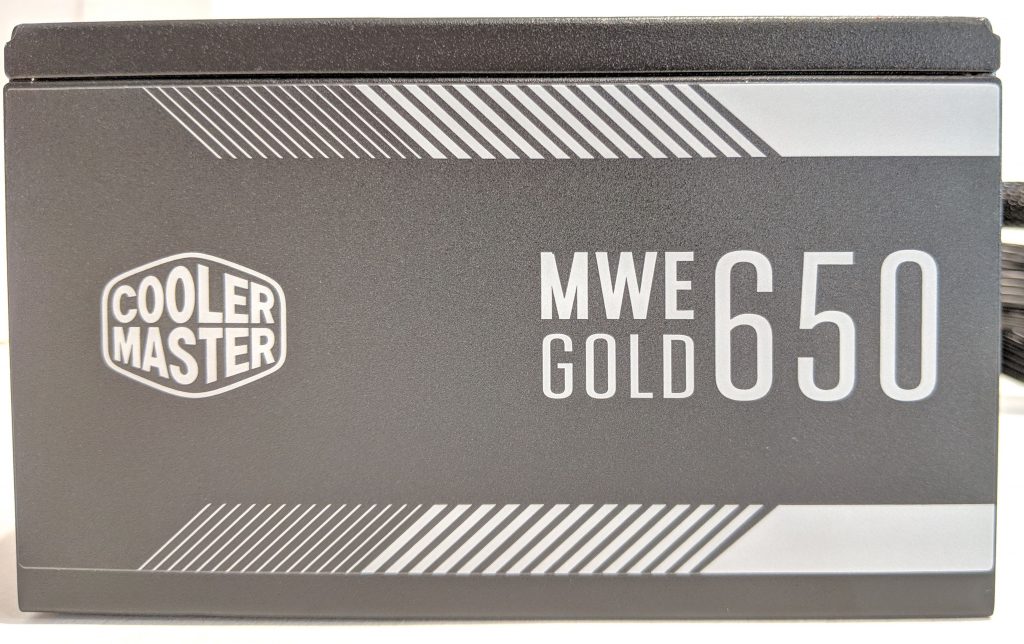 Disassembly and Electronics Examination
A Word of Caution: Never open a PSU especially after it has been powered on recently. Residual voltages may still be present. There are no user-serviceable parts inside the PSU.
After voiding the warranty and unscrewing the top cover, we are presented with the Cooler Master MWE Gold 650's electronic circuitry. At a glance, there's no obvious red flags such as sloppy soldering or loose wires. Everything is buttoned down tightly and secured in place. The heat sinks for the VR and MOSFETs are constructed from machined aluminum and appear adequately sized. Typically, we like to see a bit more isolation and even more bonus points if each has its own dedicated heat-sink.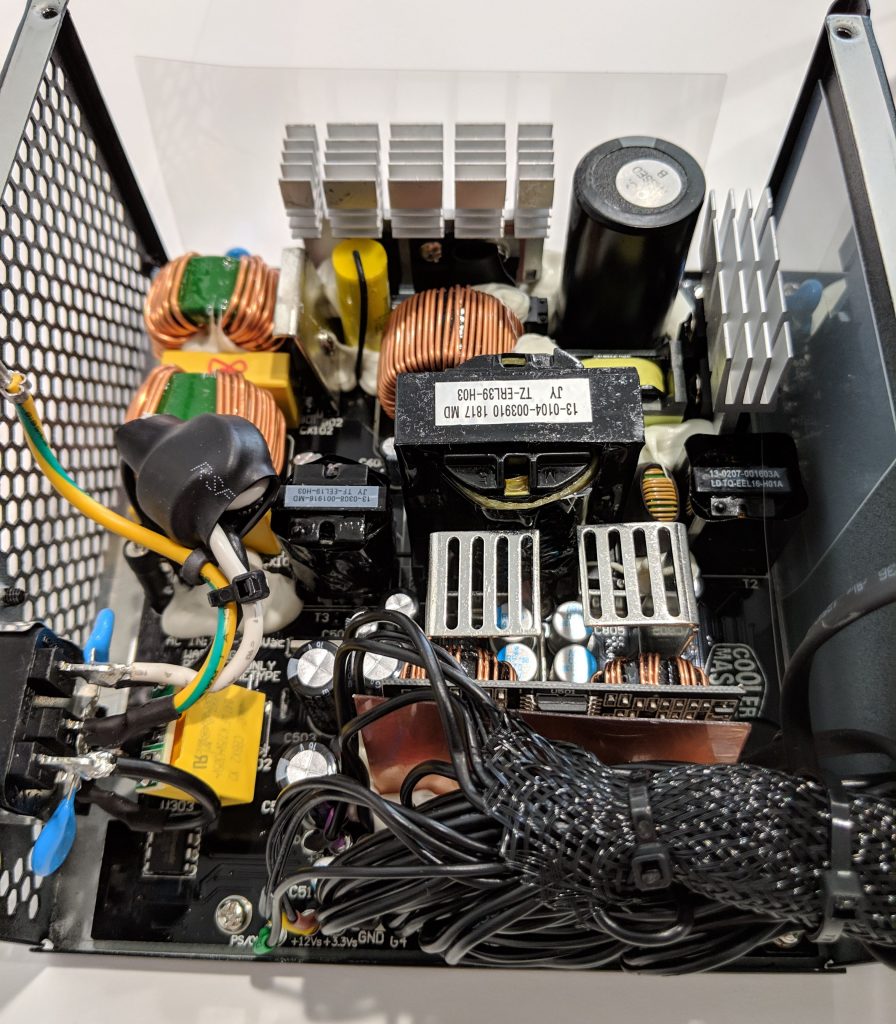 It's overall design is a common reference design seen on other Cooler Master, Xilence and Patriot PSUs to name a few. The center transformer (TZ-ERL39-H03) appears to be adequately sized. The main filter capacitor (two would be better) is rated at 300uF at 400V.
Here's a better shot of the heatsinks: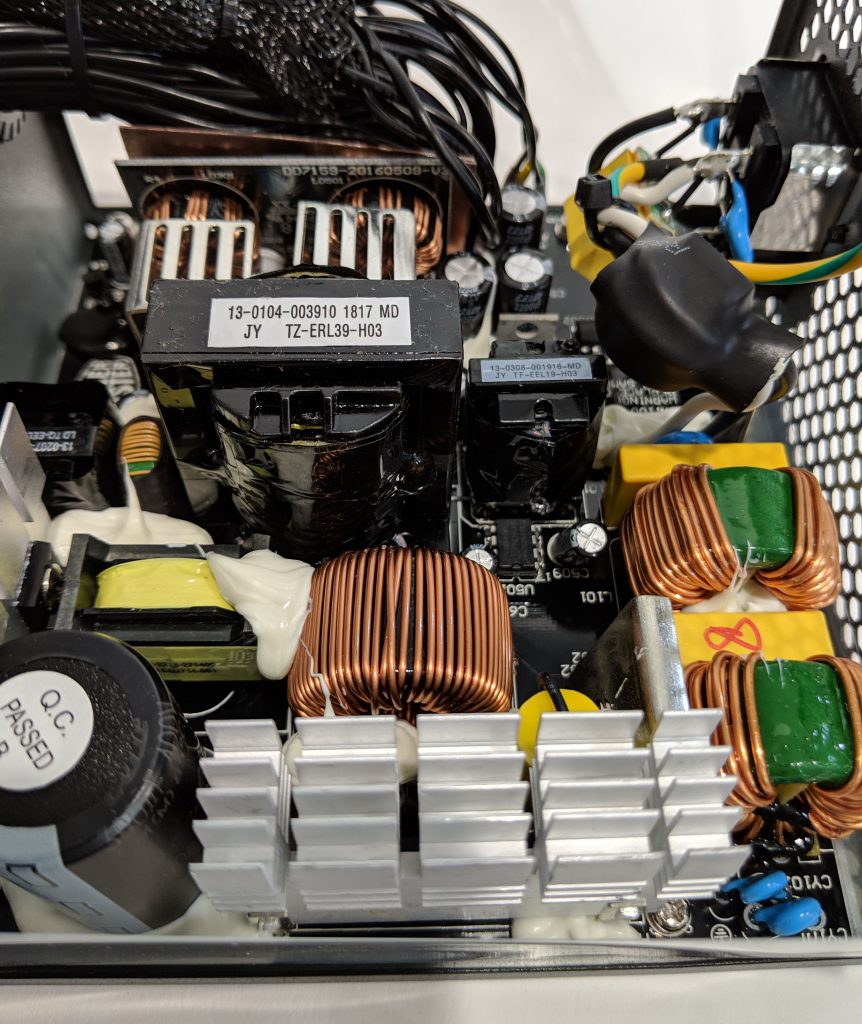 The back of the main PCB looks clean and whatever soldering process CM used looks like it was effective and flowed nicely. A lot of times we'll find ugly blobby soldering back here as it's rarely ever seen by the end user.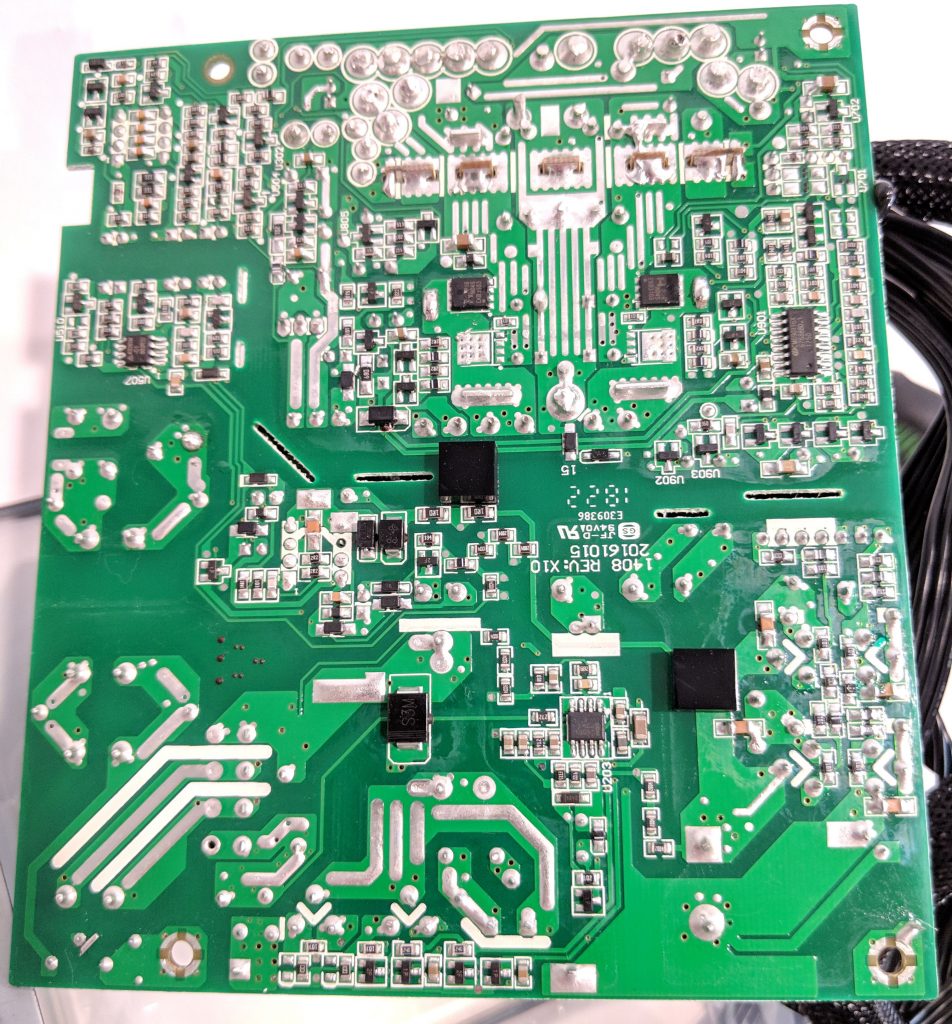 And a few more internal shots. The PCB features a Cooler Master logo thus indicating that the PCB was made specifically for Cooler Master.
Overall, pretty average internals. Sure, they'll likely handle sustained stress just fine, but there's nothing extraordinary or over-built about the MWE Gold 650.
The Fan (A12025-25RB-3IN-F1) is indeed a Cooler Master Silencio fan if the unique fin pattern didn't give it away. It's got a 2500RPM rating which runs off 12V and has a very low current rating of 0.16A. The fan appears to be regulated via voltage rather than PWM as it uses a 3-pin interface which attaches directly to the PSU's main PCB.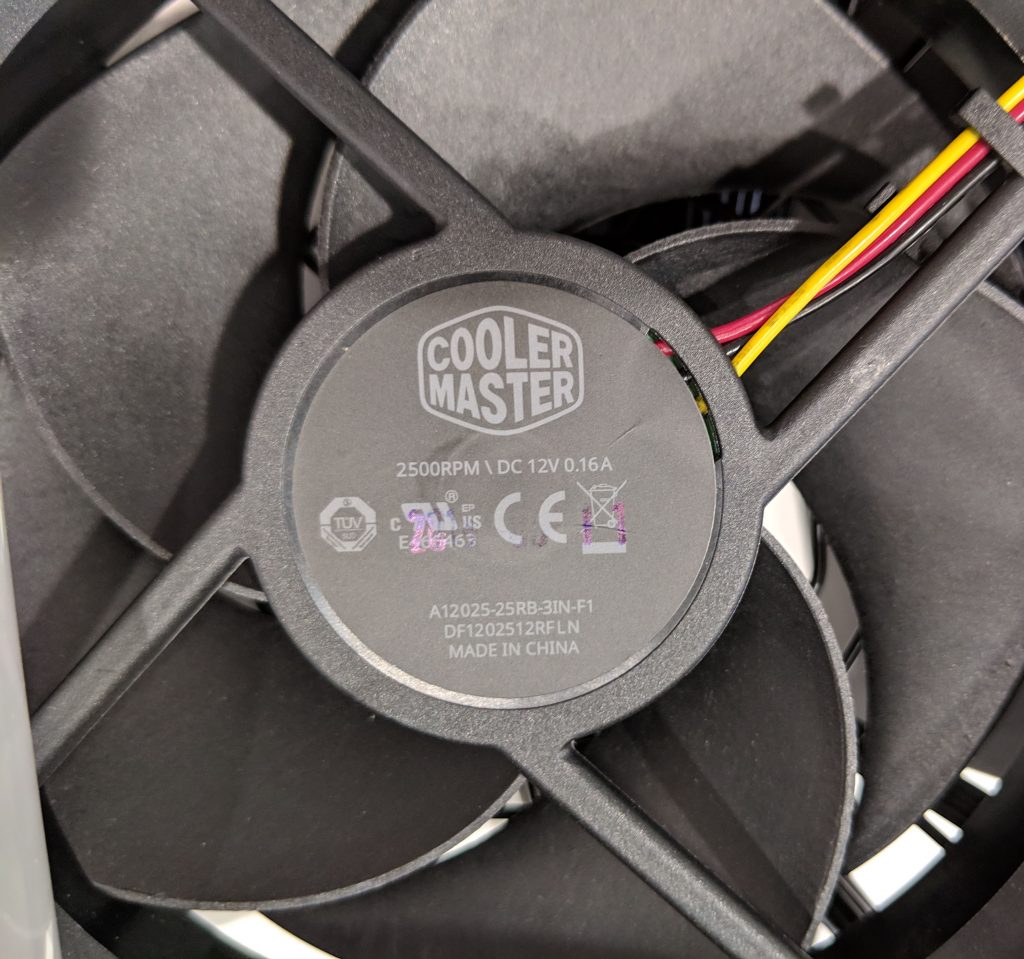 Testing and Performance Results
Whew! Now that we're all much more familiar with the Cooler Master MWE Gold 650 power supply, let's reassemble this thing and see how it handles a little stress! But before we do…

A word about efficiency – As we mentioned earlier, the Cooler Master MWE Gold 650 PSU holds an 80 Plus Gold efficiency rating certification. Higher end, more efficient power supplies are becoming more and more common, so it's pretty typical to see 80+ Gold rated power supplies going under $80 these days. The PSU is rated at an 87% efficiency under a typical load (20/80%). So, what is PSU efficiency and why would anyone care how efficient a power supply is? Without getting into too much detail, efficiency in this sense is basically power in (from the wall) vs power out (to computer components). It is the cost associated to exchange one form of power to another. For instance, if you had a computer PSU that was rated at 400W, and is pulling 500W from the wall, then that PSU is 80% efficient. This is important for two reasons; one, a more efficient power supply will draw less overall current from the wall, meaning your computer will cost less to operate overall. For the user running his machine at 100% constantly, will likely be shaving a few dollars a month off the power bill. This little amount will definitely add up over time. Second, a power supply with a higher efficiency rating is likely built with higher rated, stronger components. These higher rated components can cause a power supply to run cooler and in some cases last longer.
Testing Methodology
There are several factors we'll be looking at during testing. One of the most important thing we look for is the behavior of voltage as the load on the PSU is increased. This is because when you see a voltage drop at mid to high loads, this can cause serious problems to internal computer components if the drop is significant enough. We will test this by incrementing up 50W for 10 minutes at each step. We will run each 50W increment as high as we can go before OCP kicks in (1050W if it will let us). While this PSU is rated at 650W, there is a lot to be said for voltage stability past maximum ratings. We'll be loading JUST the 12V power rail as it is used primarily by both the CPU and GPU.
Although Cooler Master claims a 87% efficiency rating, we will also be performing our own efficiency calculations just to be sure. We will do this by placing a specific load on the power supply and then measuring the wattage going in to the power supply with our handy Killawatt meter.
Lastly, at minimum, mid, and maximum loads we'll be measuring voltage ripple and noise using a PC Oscilloscope. Noise or large voltage dips and spikes is the silent killer can be a huge contributor of early PC component failure if not properly checked.
To provide a decent and accurate load you need more than just a beefy PC with high end components. Accuracy of load is vital to provide accuracy in the rest of the measurable points such as voltage @ x load, as well as efficiency calculations. To perform this test accurately we used our own home brew power supply load tester. More info on this tester can be found on our unofficial build page.
The PSU is placed in a modified version of it's packaging to restrict airflow to 50%. This simulates a real world, worse case setting where hot air would be sucked into the PSU thus increasing the temps a bit.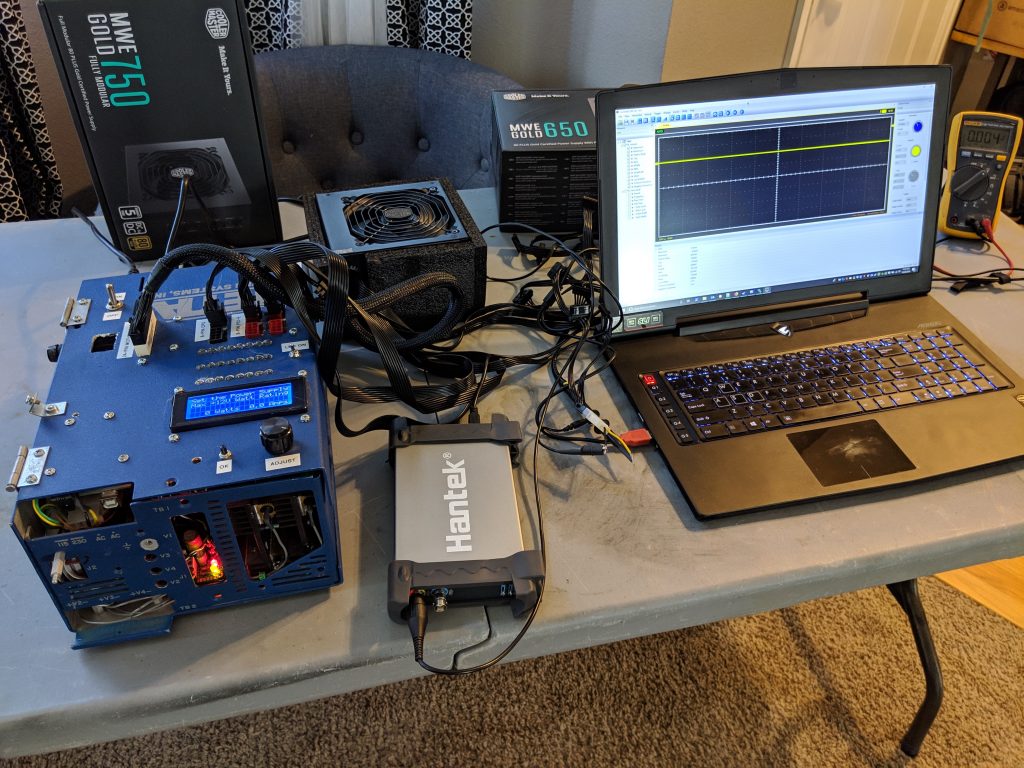 And now for the damage! Results are displayed below
Cooler Master MWE Gold 650 Power Supply Test Results
LOAD Watts
+12 Volts (V)
Ripple (Peak to Peak)
Wall Amps
Wall Volts
Wall Watts
Efficiency %
100
12.14
471mV
0.93
119.5
111.135
89.98%
150
12.13
1.4
119.5
167.3
89.66%
200
12.13
1.89
119.5
225.855
88.55%
250
12.13
2.37
118.2
280.134
89.24%
300
12.13
2.87
117.6
337.512
88.89%
350
12.13
511mV
3.4
117.1
398.14
87.91%
400
12.13
3.9
117
456.3
87.66%
450
12.13
4.43
116.4
515.652
87.27%
500
12.12
4.97
116
576.52
86.73%
550
12.12
5.51
115.7
637.507
86.27%
600
12.12
6.05
115.4
698.17
85.94%
650
12.12
612mV
6.6
114.7
757.02
85.86%
700
12.12
7.2
114.5
824.4
84.91%
750
12.12
7.82
113.7
889.134
84.35%
OCP (Over-Current Protection) kicked in just after the 750W mark which is good because that means that OCP is in fact working. Officially, this PSU is rated at 650W and if it's still providing good numbers after that then more power to it, if not, no biggie. All to often do we review power supplies have stated that OCP is enabled, however we were able to take it 400W, 500W, 600W past it's rating without any sort of fail-safe kicking in.
Voltage drop was excellent. We only saw a 20mV difference between 100W and 650W of load. This proves that the internal components are definitely rated to handle 650W. Noise was also repetitively low. While we would like to see a lower peak-to-peak reading at the top end, in the end 612mV isn't terrible and will certainly not damage any internal components.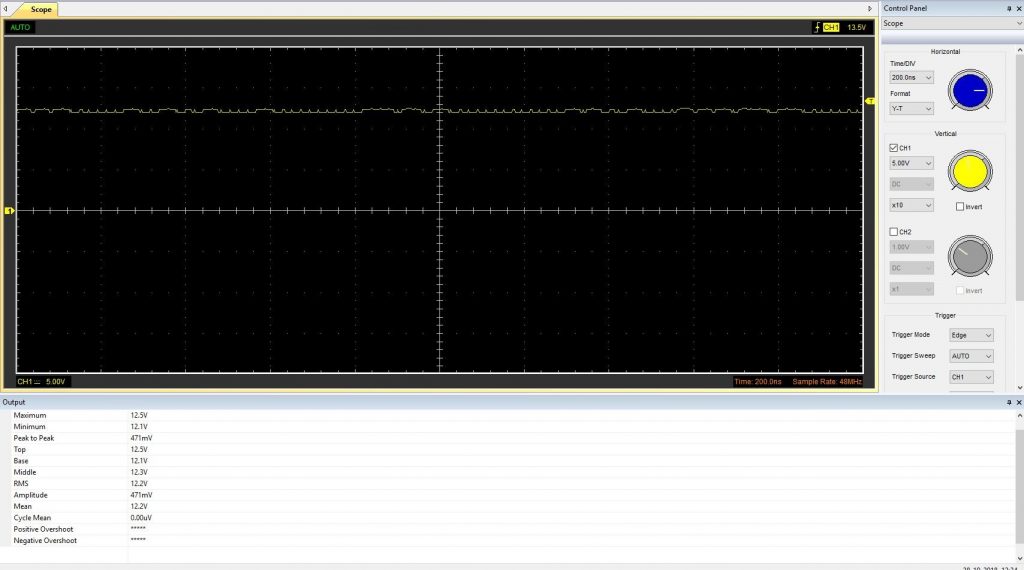 Efficiency was another story…
While the PSU was certainly rated at 80+ Gold at low and average loads, higher loads yielded much lower results. At the PSU's maximum rated load of 650W, efficiency dipped down to 85.86% which is below the 80+ Gold target of 87% we're looking for.
If you're PC is going to sit idle 95% of the time, perhaps this graph is good news. You'll be able to take advantage of those 80+ Gold efficiency ratings most of the time. However, the story changes dramatically if you're planning on using this PC on a gaming rig or crypto miner that's going to see some constant use.
Conclusion
In the end Cooler Master was able to provide us with an affordable 80+ Gold certified power supply that is simple, quiet and tested well overall.  The efficiency rating at high loads failed dropping down into the 80+ Silver category. +12V drop was excellent and peak-to-peak ripple tests didn't reveal any concern. From the beginning, starting with the box presentation as well as packaging, you really do feel like you've purchased something special. Packaging was overall excellent, and the subtle stealthy look will go great with a blacked out or tinted build.
The rugged, textured look gave off an almost premium feel of the unit. The fan and fan shroud were also high quality and made it feel like you were getting more than what you paid for.
Now for the final breakdown:
Appearance: 9.5/10 – From the PSU itself to its flat and/or braided cables, the unit really does look clean overall.
Build Quality & Construction: 9.2/10 – There was no "cheap" vibe emitting from the PSU. Its construction inside and out was properly built and had a good weight to it. It's cables were also easy to work with and felt like they could stand up to some serious abuse. Internally, I would have liked to have seen a bit more… something. Sure a single filter cap, and shared heatinks work bit a little extra sometimes goes a long way.
Performance: 7.6/10 – I loved everything about the MWE Gold 650 except for that damn efficiency rating at high loads. It's like low load versus high load were complete polar opposites. At low loads, efficiency was perfect and what we would expect, however at high loads, efficiency was barely above a Silver rating. The PSU exceeded all other tests such as ripple and voltage drop.
Value: 9.4/10 – MSRP for the Cooler Master MWE 650 Fully Modular PSU is set to $74.99 USD. A pretty good deal for a low to mid-range, single GPU build.  Based on the quality of the unit, performance results, this price definitely seems fair.
Product Page: http://www.coolermaster.com/powersupply/power-supplies-by-series/mwe-gold-650/
Buy on Amazon: Cooler Master MWE 650
Cooler Master MWE Gold 650 PSU Review Scoring
In the end Cooler Master was able to provide us with an affordable 80+ Gold certified power supply that is simple, quiet and tested well overall.

8.9

Build Quality & Construction:

9.2