More and more RTX cards are being released over the last couple weeks since the embargo on the RTX 2080 and RTX 2080 Ti was released. This time around GALAX has just launched it's latest GPU, the GeForce RTX 2080 Ti Hall of Fame OC Lab Edition (holy nomenclature Batman!). This particular GPU which we'll call the RTX 2080 (Ti) HOFOCLE is set on a custom Bitspower-customized water-block for liquid cooling and is designed especially for extreme overclockers and gamers.
The HOFOCLE is factory overclocked to 1680MHz base clock speed. This is quite the overclock considering the Founder's Edition is clocked at 1350MHz base clock speed. In addition to the GPU, overclockers can enjoy the added benefit of the HOF OC Panel which provides the user with real-time GPU and memory clock and voltage adjustment. It works on-the-fly to make real-time overclocking easier and safer.
The GALAX RTX 2080 Ti HOFOCLE is powered by an integrated 16-phase VRM power supply. The GPU uses integrated DrMOS technology which includes high-performance FET driver and MOSFETs in an advanced package to create high-density DC/DC converters. An additional 3-phase power VRM is included and is reserved for the GDDR6 memory modules.
The Bitspower-Customized water block is specifically designed and machined to provide optimal temperature and water-flow. The block itself is machined out of copper and nickel for optimal heat exchange. The water block covers all critical components which includes the GPU core, RAM and VRM.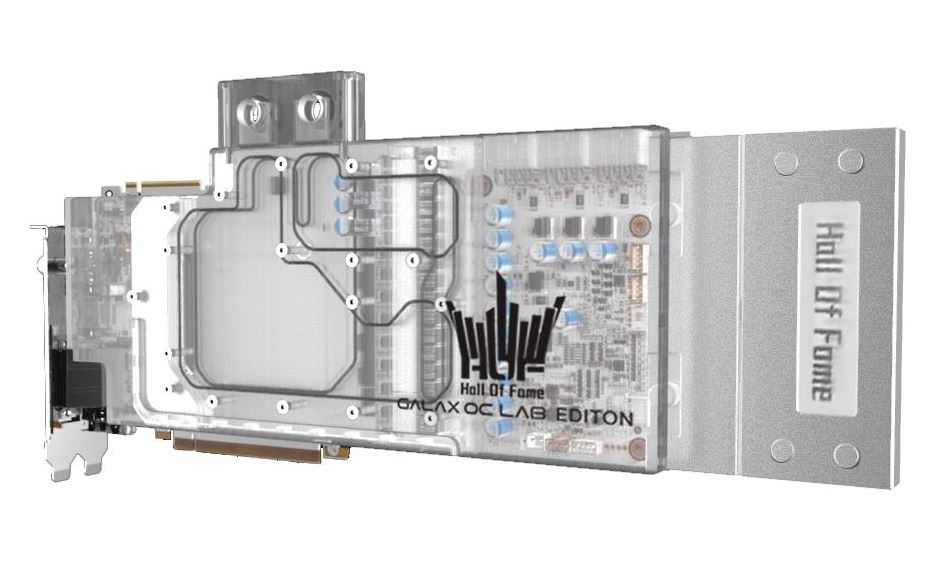 MSRP for the GALAX GeForce RTX 2080 Ti Hall of Fame OC Lab Edition is $1,799.99 USD.
Features and Specifications of the GALAX GeForce RTX 2080 Ti Hall of Fame OC Lab Edition
Cores: 4352
Base Clock (MHz): 1350
Boost Clock (MHz): 1680
Memory Interface Width: 352-bit GDDR6
Memory Bandwidth (GB/sec): 616
Memory Capacity: 11GB
Memory Clock: 14Gbps
OpenGL: v4.5
Bus Support PCI-E: 3.0
OS Certification: Windows 7-10, Linux, Free85BSDx86
Supported Technologies: Microsoft® DirectX® 12
Virtual Reality Ready: Yes
NVIDIA NVLink (SLI-Ready) Support
Designed for USB Type-C™ and VirtualLink™
Product Code: T26ZW-28IULBUCU6OL
UPC Code: 4895147131467

Dimensions(without Bracket) 320mm  170mm 40mm

Dimensions(with Bracket) 400mm  170mm 40mm