Steelseries is best known for their gaming oriented headsets, especially the great value "Siberia V2" which achieved a gold award when we reviewed them back in late 2012 but they are less well known for their more commercial, non gamer aimed headsets such as the H series and FLUX.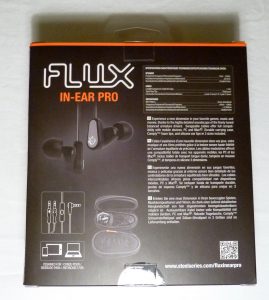 Their best in ear headphones are the "Flux In-Ear Pros" which is what we are reviewing today. Available for £110.35 from their official store or $99.95 from Amazon.com it features a flat, 1.2m cable with two connectors, one for your PC (red and green two band) and one for mobile (or Mac) with 3 bands. The flat cable is designed to stop any cable tangling and combined with the toggle to hold the headphones together, it mostly succeeds.
Features and Specs
The headphones have two configurations, the standard way with the cable hanging down and the more "hearing aid-esque" over the ear:
To aid with the over the ear comfort, included are two rubber ear guides to "bend" the cable over your ear and to make it stay. Unfortunately this makes putting them on quite tricky as you have to put the right amount of the curve over your ear… but you'll get the hang of it eventually! Putting them on also increases the amount they get caught, especially with the interesting shape of the headphones.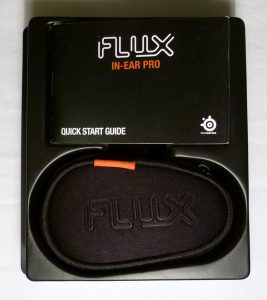 You have to decide on one of four sets of ear buds, three silicon (S, M and L) and one set of Comply memory foam tips that expand into your ear. Whilst these sound great, we found they often expand so much it becomes uncomfortable and slips out your ear. We settled on the medium silicon tips for the best fit and therefore best sound quality. We also carried the spares and the other adapter around in the hand carry case. Extra ear buds can be purchased online too (simply click here) but once you've found the right fit these are extremely comfortable and won't come out even after stumbling down stairs!
Headphones
| | |
| --- | --- |
| Frequency Response | 15-22000 Hz |
| Impedance | 26 Ohm |
| Sensitivity | 105dB @ 1Khz |
| Cable Length | 1.2m |
| PC Cable Jacks | 2x 3.5mm |
| Mobile Cable Jacks | 1x 3.5mm |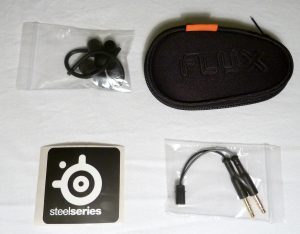 Microphone
| | |
| --- | --- |
| Frequency Response | 100 – 1000 Hz |
| Pick Up Pattern | Omni-Directional |
| Sensitivity | -38dB |
Sound and Conclusion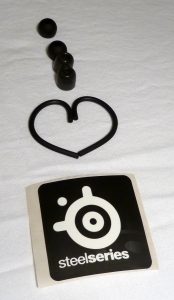 We tested the headphones playing music, making calls on a Nexus 4, as well as playing Metro Last Light, Battlefield: Bad Company 2, and Dota 2 on the PC. Whilst the sound was superior with the foam tips, holding them made playing much harder!
Whether you're listening using a computer or mobile device, the headphones go very loud thanks to the balanced armature drivers which allows Steelseries to pack a large punch with a small driver.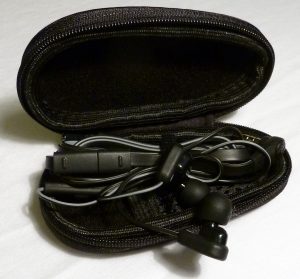 Unfortunately, one of the characteristics of armature drivers is that the bass lacks a punch, and the Flux In-Ear Pros are no different – and although the sound everywhere else is excellent, the balance is still solid. The mids and highs are great for music and games, although the level of detail noticeable isn't different from a headset that's probably much cheaper.
What the Flux In Ear Pros severely lack are extra controls on the inline microphone/controller. Whilst it's great to be able to answer calls and pause music, not being able to change tracks or volume means you have to remove your phone from your pocket, which kind of defeats the purpose!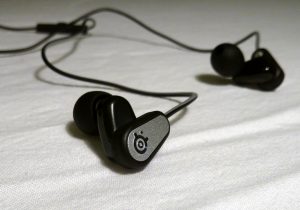 The biggest advantage of the Flux's are that they are so portable and can change from being your gaming headset to your smartphone without having to remove them from your ears. For those of you with heavy gaming laptops, you might appreciate having a good quality pair of in-ear headphones to carry with you rather than a clunky headset!
Advantages
Good Sound Quality
Interchangable Connectors
Non Tangling Cable
4 Ear Tip options
Disadvantages
Fiddlying ear pieces
Basic controls
More expensive than many headsets
Expensive for UK buyers
Appearance – More stylish than pure white headphones by a well known brand! 24/25
Construction – Great fit once you've found the right ear bud but changing them was a little tricky. Doesn't feel like they'll fall apart on you either. 22/25
Performance – Great sound at medium and high ranges, bass is OK although a little lacking on the kicks. Volume is extremely loud. 20/25
Value – Although you can buy better gaming headsets for cheaper, the portability and dual connectors make these really attractive. Can't say the same if you're outside the US though. 19/25
OVERALL: 85/100