Enermax has just announced the release of its new CPU liquid cooler the LIQTECH II premium all-in-one (AIO) cooler which is designed to work with the latest Intel and AMD desktop processors. The AIO cooler comes in four different flavors which vary depending mostly on radiator size. Users are able to pick from 240mm, 280mm, and 360mm radiator options. The 360mm option comes in both black and white color configurations.
The new Liqutech II coolers are equipped with RGB options on the CPU affixed pump which surround the outer perimiter of the square shaped cooler as well as the centeral logo. The effects work with any ARGB header which work with any popular motherboard RGB software such as ASUS Aura Sync, Gigabyte RGB fusion, MSI Mystic Lighting and ASRock Polychrome.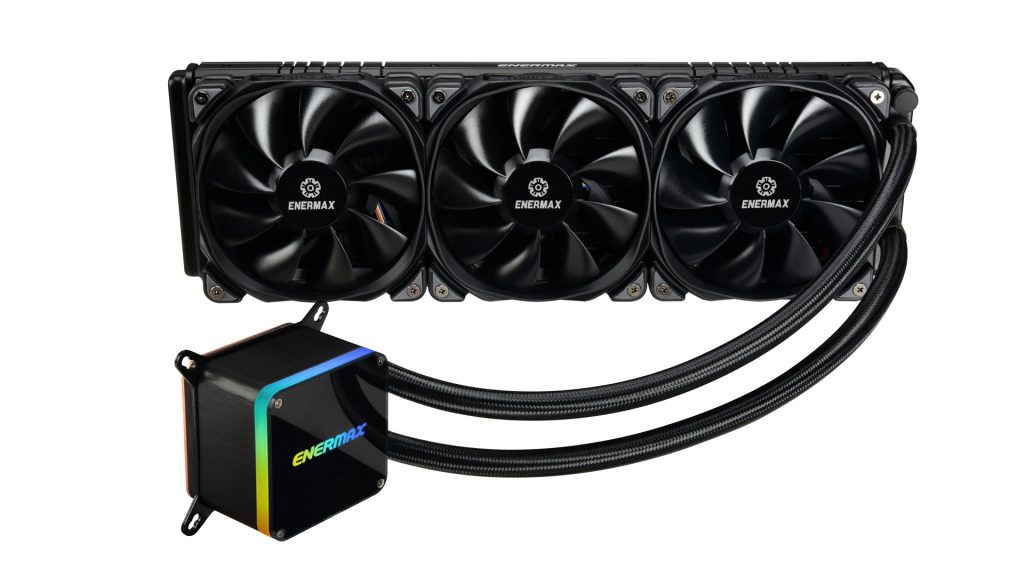 Below is the official press release from Enermax:
Press Release: Enermax presents the new LIQTECH II premium all-in-one CPU liquid cooler. With an extremely high cooling capacity of 500W+ TDP, the advanced water cooler can deliver reliable cooling performance even under extreme overclocking conditions. LIQTECH II is equipped with the AURABELT RGB water block that can create colourful rainbow effects with addressable RGB LEDs. The cooler is certified by ASRock, ASUS, Gigabyte and MSI for synchronization with addressable RGB motherboards and supports LED control via the motherboard software. The T.B.Pressure PWM fans feature high-quality Twister bearing technology and ensure quiet and efficient cooling.
Extreme High Cooling Capacity of 500W+ TDP
Thanks to ENERMAX's patented SCT (Shunt Channel Technology) cold plate design with 30% more heat exchange efficiency, LIQTECH II can offer excellent and reliable cooling performance. LIQTECH Il is also supplied with the powerful ENERMAX EF1 pump, which is equipped with a highly efficient ceramic nano-PI bearing and can generate a high flow rate of up to 450 l/h, which is 7 times stronger than the others.
AURABELT – Addressable RGB Water Block
The ENERMAX AURABELT is equipped with addressable RGB LEDs, which can create colourful rainbow effects that allow individual customization of the cooler. LIQTECH II offers two options for controlling the RGB lighting effects. The RGB motherboard software can be used to program effects to match with other RGB components. It is also possible to use the included RGB controller without RGB motherboard to individually adjust light effect, color, brightness and speed.
Compatibility
The LIQTECH II series is available in 3 different radiator sizes: 360, 280 and 240 mm. A 360 mm special edition in white will also be available shortly. LIQTECH II contains universal mounting kits supporting the latest Intel and AMD sockets. The RGB lighting is compatible with adressable mainborad headers from ASUS, ASROCK, MSI and GIGABYTE.
Availability and prices
LIQTECH II 240 [ELC-LTTO240-TBP] : 129,90 € Manufacturer MSRP incl. VAT.
LIQTECH II 280 [ELC-LTTO280-TBP] : 134,90 € Manufacturer MSRP incl. VAT.
LIQTECH II 360 [ELC-LTTO360-TBP] : 149,90 € Manufacturer MSRP incl. VAT.
LIQTECH II 360 White [ELC-LTTO360-TBP-W] : 159,90 € Manufacturer MSRP incl. VAT.
More Information can be found at Enermax's product page.
Enermax Liqutech II Specifications
ELC-LTTO240-TBP
ELC-LTTO360-TBP/-TBP-W
Intel compatible Sockets
LGA 115x, 1366, 2011(-3) Square ILM, 2066
AMD compatible Sockets
FM1, FM2(+), AM2(+), AM3(+), AM4
Cold Plate Material
Copper
Thickness including Fan
65mm
54mm
Thermal Design Power (TDP)
500W+
Thermal Grease
Dow Corning® TC-5121 2 g
Pump
Bearing Type
Ceramic nano PI bearing
MTBF
100,000h
Motor Speed
3.000RPM
Rated Voltage
12V
Rated Current
0.4A
LED Type
WS2812B addressable RGB
Rated Current LED
0.5A
LED Sync. Compatibility
Asrock, Asus, MSI, Gigabyte
Connector
3-pin
LED Connector
4-pin addressable (5V/Data/-/GND)
Lighting Modes
Racing-Rainbow (Default), Breathing-Rainbow, Flash-Rainbow, Overlaying-Rainbow, Flow-Rainbow, Colors auto-run (8 colors), Ripple auto-run (8 colors), Overlaying-RED, Overlaying-GREEN, Overlaying-BLUE
Radiator
Dimensions
274 x 120 x 39mm
394 x 120x 28mm
Material
Aluminium
Tubes
Length
400mm
Material
Rubber (Polyamide)
Fan
Fan Model
T.B.Pressure PWM
Bearing Type
Twister Bearing
MTBF
160,000h
Fan Dimensions
120 x 120 x 25mm
Fan Speed
500 – 2,300RPM
Rated Voltage
12V
Rated Current
0.3 A
Connector
4-pin PWM
Quantity
2
3
Noise Level
14 – 28dB(A)
Air Flow
40.45 – 173.59m3/h
Air Flow
23.81 – 102.17CFM
Static Pressure
0.673 – 6.28mm-H2O
Included in the delivery
Liquid cooler, 12 cm T.B.Pressure PWM fans, universal mounting kit for Intel® and AMD® sockets, Dow-Corning® Thermal Grease (TC-5121), PWM fan Y-cable, RGB control box, RGB sync cable, SATA RGB controller power cable, Gigabyte RGB adapter, installation guide