MSI has just announced the release of two new gaming themed peripherals, the CLUTCH GM50 Gaming Mouse and the VIGOR GK60 Gaming Keyboard. Both products are expected to hit shelves at the beginning of November this year.
The CLUTCH GM50 gaming mouse is equipped with high end OMRON switches for left and right click which are rated at over 20 million clicks. The PWM 3330 optical sensor provides a max DPI of 7200 and is geared towards FPS gaming.
The VIGOR GK60 gaming keyboard features a full-mechanical design using Cherry MX switches and backed by Mystic Light hotkeys for RGB functionality. The cherry keys are very high quality and are rated for over 50-million clicks.
Here is MSI's official press release:
CLUTCH GM50 GAMING MOUSE
Speed is the key! The lightweight design of the Clutch GM50 encourages rapid movement when playing FPS or action games. This mouse is crafted for right-handed gamers with ergonomic design to ensure a comfortable experience. Built around the PMW 3330 optical sensor, the GM50 offers best in class gaming features with enhanced accuracy and a max DPI of 7200. Equipped with OMRON switches, the GM50's buttons will easily last over 20 million clicks.
A stylish implementation of RGB Mystic Light adorns the outside of the mouse and can be customized or synced with other RGB products using MSI's RGB Mystic Light software. For technical settings, the exclusive MSI Gaming Center software offers detailed control over various settings for you to tweak at will. If you prefer to keep things simple, the GM50 can also be customized using hotkeys on the mouse with over 200 effect combinations that you can choose to fit your own playstyle.
VIGOR GK60 GAMING KEYBOARD
Built on a solid and durable aluminum frame, the Vigor GK60 embodies the essentials of a premium mechanical gaming keyboard. It features Cherry MX Switches, Mystic Light and hotkeys for just about everything. The Cherry MX Red Switches are ideal for gamers with a low actuation force, allowing for rapid key presses. They're of course also known for their excellent durability, lasting over 50 million keystrokes. Should your fingers lose their bearing, the unique metal keycaps provide an instantly recognizable tactile anchor for directional movement keys.
Equipped with intuitive hotkeys, LED control can be done without installing any software. This lets you instantly cycle effects, brightness, effect speed and direction. The LEDs can of course also be controlled using MSI's RGB Mystic Light software. The Vigor GK60 is an extremely sturdy keyboard with attention to detail. A special 'Gaming Base' under the space bar prevents unnecessary flexing. Plenty of space is left under the keyboard to accommodate cable management such as a headset.
The new Gaming Gear products are expected to be available from the beginning of November 2018.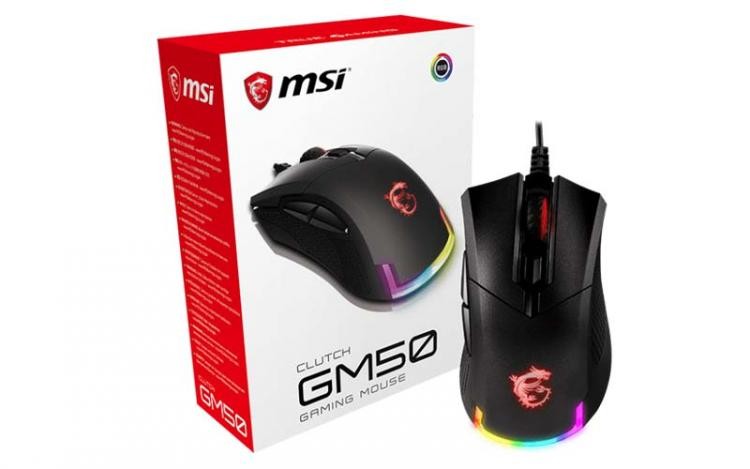 MSI CLUTCH GM50 Gaming Mouse
MSI VIGOR GK60 Gaming Keyboard