The Intel Z370 chipset is Intel's current platform which provides interconnectivity for the current set of Intel Coffee Lake processors such as the Intel Core I9, I7, I5, and I3. The Intel Z390 chipset is set to arrive later this year, approximately one year after the launch of the Z370 and will eventually replace it. So what's the difference? Is it worth upgrading to the to the Z390 chipset from a Z370? These important questions and more will be answered. First, let's dive into each chipset individually which will allow for easier comparisons later on.
The Intel Z370 Chipset
The Intel Z370 Chipset was launched Q4 of 2017 and designed to support Intel's current lineup of Coffee Lake processors. The platform is based on a 22nm lithography and supports a host of features such as PCIe 3.0, SATA6, and USB 3.1 Gen 1. Features include: Intel Optane Memory support, Intel Smart Sound Technology, Intel Rapid Storage Technology and more. This block diagram paints a pretty clear picture as to how the chipset interfaces with connected options as well as some of the many features.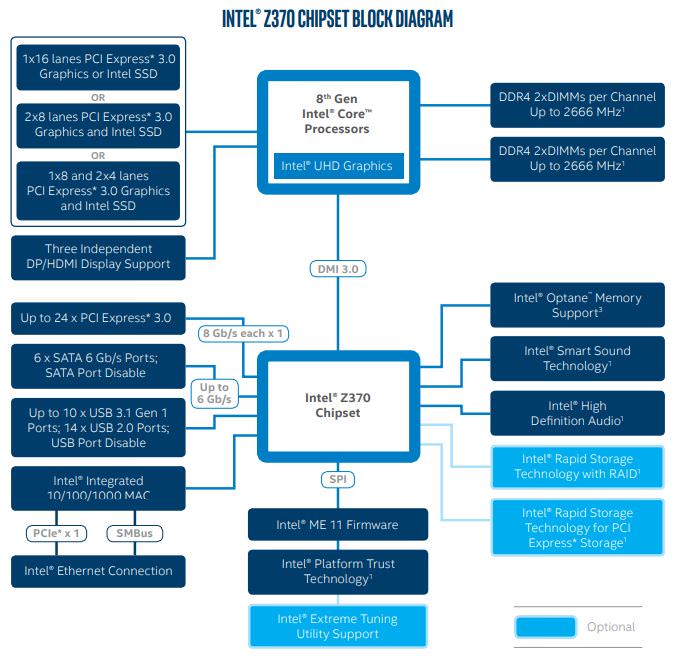 The Intel Z390 Chipset
So what's the big deal with the new Intel Z390 chipset? Information that we have is currently based around documentation that has been surfaced in the last few months. Intel posted a Z390 chipset product brief PDF on their website but it has been since taken down. However we did manage to grab a screenshot of the block diagram of the chipset.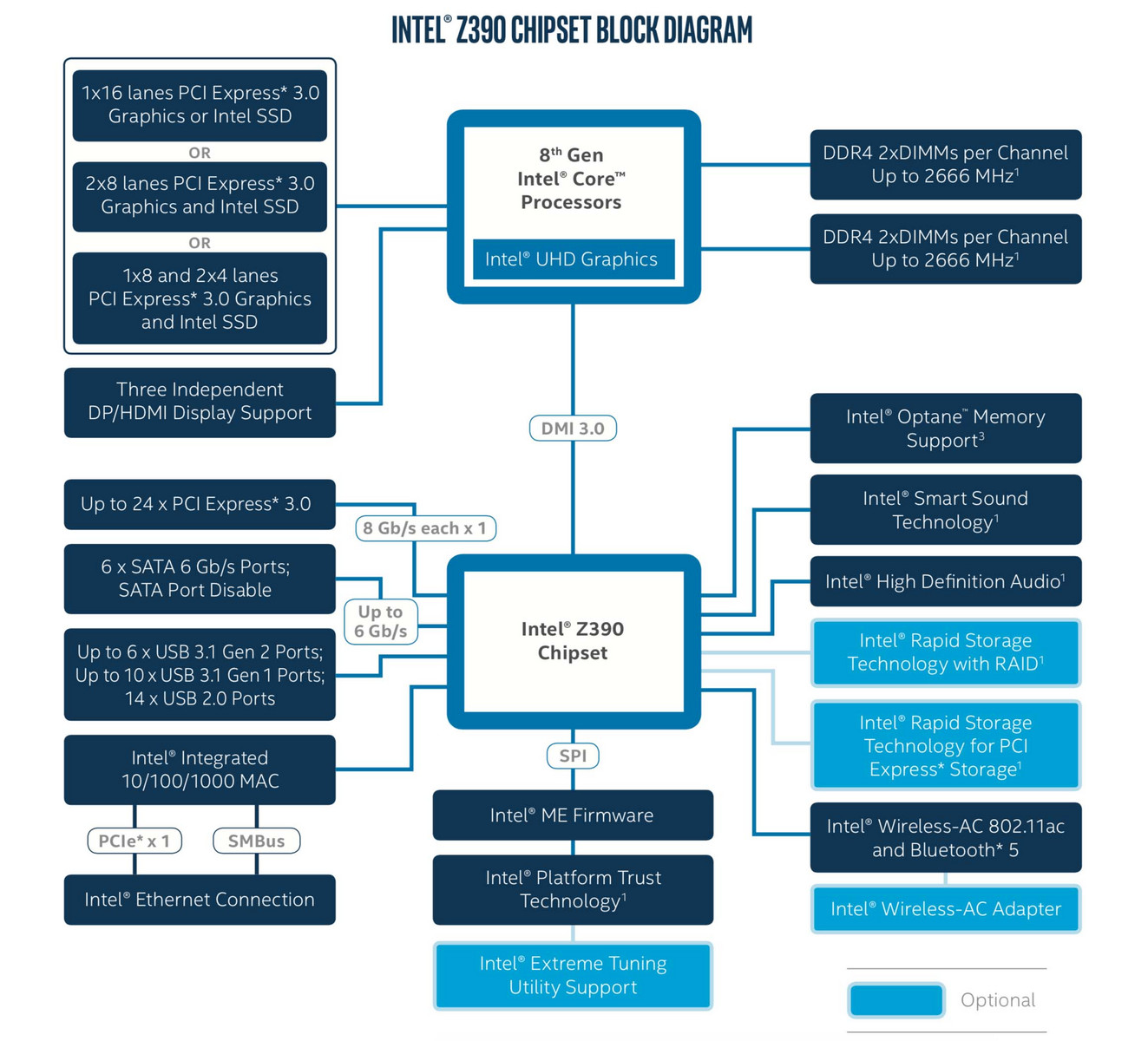 Look familiar? It should, the differences are subtle but not without mention. The first difference we see is the difference in the USB support options. The Intel Z390 chipset will also support all of Intel's current 8th gen Coffee Lake processors with additional support for Intel's Coffee Lake S  or 9000-series CPUs set to launch later this year.  The Z390 chipset will support up to 6x USB 3.1 Gen 2 ports in addition to the 10x USB 3.1 Gen ports currently supported by the Z370 chipset.
The only other feature added to the Intel Z390 chipset is the addition of Wireless-AC 802.11ac support. Traditionally wireless connectivity for the motherboard is handled by a separate controller on the motherboard. All other features found in the Intel Z370 chipset such as Optane Memory support will also be featured in the Z390 chipset.
Currently, major motherboard manufactures are gearing up to release new versions of their motherboards based on the Z390 chipset based on leaked information. Some of these include the MSI Z390 MEG Godlike, the AORUS Z390 ELITE, and the Z390 AORUS XTREME motherboards.
Overview of the Differences
The two features included in the Z390 chipset are the addition of 6x USB 3.1 Gen 2 ports as well as Wireless-AC 802.11ac support and Bluetooth 5. For you visual people, here's a table highlighting the features in both chipsets with the differences highlighted in red.
Intel Z370 versus Z390


 Intel Chipset
Z390
Z370
Overclocking Support
Yes
Yes
On-CPU PCI Express* 3.0 Configurations
1X16 or 2X8 or 1×8+2X4
1×16 or 2×8 or 1×8+2×4
Independent Display Ports / Pipes Support
3/3
3/3
Memory Channels / DIMMs per Channel
2/2
2/2
Processor Overclocking
Yes
Yes
Integrated Intel Wireless-AC Support (CNVi)
Yes
No
Intel Optane Memory Support
Yes
Yes
Maximum High Speed I/O Lanes
30?
30
Maximum USB 3.1 Ports: Gen 2 / Gen 1
6 / 10
0 / 10
Maximum SATA 6Gb/s Ports
6
6
Maximum PCI Express* 3.0 lanes
24 (v3.0)
24 (v3.0)
Intel Rapid Storage Technology
Yes
Yes
Maximum Intel RST for PCIe Storage Ports (x2 M.2 or x4 M.2)
3
3
Intel RST PCIe RAID 0, 1, 5
Yes
Yes
Intel RST SATA RAID 0, 1, 5, 10
Yes
Yes
Intel RST for CPU-attached Intel PCIe Storage
Yes
Yes
Conclusion: Is it Worth upgrading?
In short, it depends. Considering the differences between the Z370 and Z390 chipsets are subtle, if those subtle differences are important to you, then sure, go for it. CPU socket and support are the same for both. Any 8th Gen Coffee Lake CPU will work in both the Z370 or Z390 chipset motherboard. However backwards compatibility between the Z370 chipset and the unreleased Coffee Lake S series processors may not. Current rumors that support may be added with a simple BIOS update but that is yet to be confirmed. We likely won't know for sure until its release.
If you're looking to put together a brand new build, obviously go with the latest technology as it will future-proof your build that much more. There is no telling what might be supported in the Z390 chipset that will not be in the Z370 years from now.