Up for review today is a brand new offering to the ever-expanding wireless earbud market. With a name that rolls right off the tongue, the Philips TAT8505BK earbuds tout some pretty impressive features including active noise cancellation and "Awareness Mode" allowing the earbuds to run in a kind of hybrid setting which removes background noise while still being able to hear important sounds around you such as voices.
Other standard features such as a charging case, Google Assistant support (Android), dual microphone, and Bluetooth 5.0 are also included with the new Philips earbuds.
In this review, we'll subject the new Philips wireless earbuds to a various array of practical tests ranging from battery life to usability compared to various earbuds in the same price range. Before we dig into the deets, let's first go over some of the many features and specifications of the Philips TAT8505BK earbuds.
Currently the MSRP for Phillip's new offering is set to $199.99 USD
Features & Specifications – Philips TAT8505BK
The new Philips earbuds feature a pretty rock solid array of modern features that are typically found in earbuds of this price range. Active noise cancellation (ANC) is a highly requested feature that definitely adds some premium vibes to the earbuds along with app control. Currently, there are both Android and Apple apps available from their respective play stores. We'll go over the app in detail later on in the review.
For now, here are the detailed specifications of the Philips TAT8505 BK earphones provided by Philips:
Philips TAT8505BK
Diaphragm
PET
Frequency response
20 – 20 000  Hz
Magnet type
NdFeB
Driver Size
13mm
Sensitivity
108  dB
Gross weight
0.842  kg
Battery type
Lithium-Ion
Talk time
5 hr
Charging time
1.5  hr
Music play time
5+18  hr
USB cable
USB-C cable
Ear caps
3 sizes
Bluetooth version
5
Bluetooth maximum range
10 meters
Bluetooth profiles

AVRCP

A2DP

Handsfree

HFP

HSP
Now that we've got a better idea of what we're working with, let's crack open the box and take a look!
Packaging & Unboxing
The Philips TAT8505 earbuds arrived at our secret research & testing base of operations in perfect condition, unscathed by our local mail courier. If you've owned any other Philips products, the packaging should bring in a familiar vibe.
Both the front and back sides of the case do a great job highlighting the product's many features. I especially like the quick QR code to download the app. This will save time getting the device setup and rolling.
Once the seal is cracked, the inner box can be slid out the left side by pulling on the cloth tab. Be sure to do this horizontally (unlike me) or everything will come crashing down!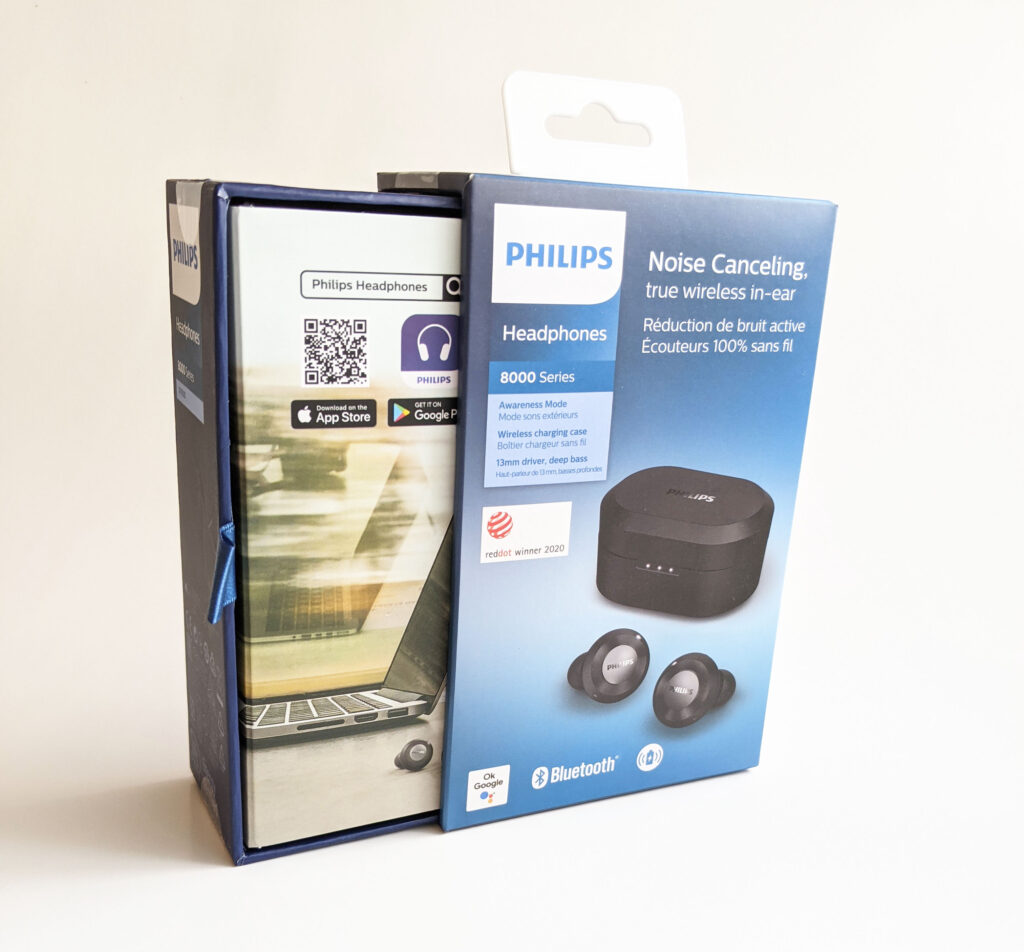 The first thing you'll notice is the paperwork which includes an instruction manual written in several languages and warranty information. Once those are removed and set aside, you will have access to the earbuds, the charging case and two additional sets of ear cups.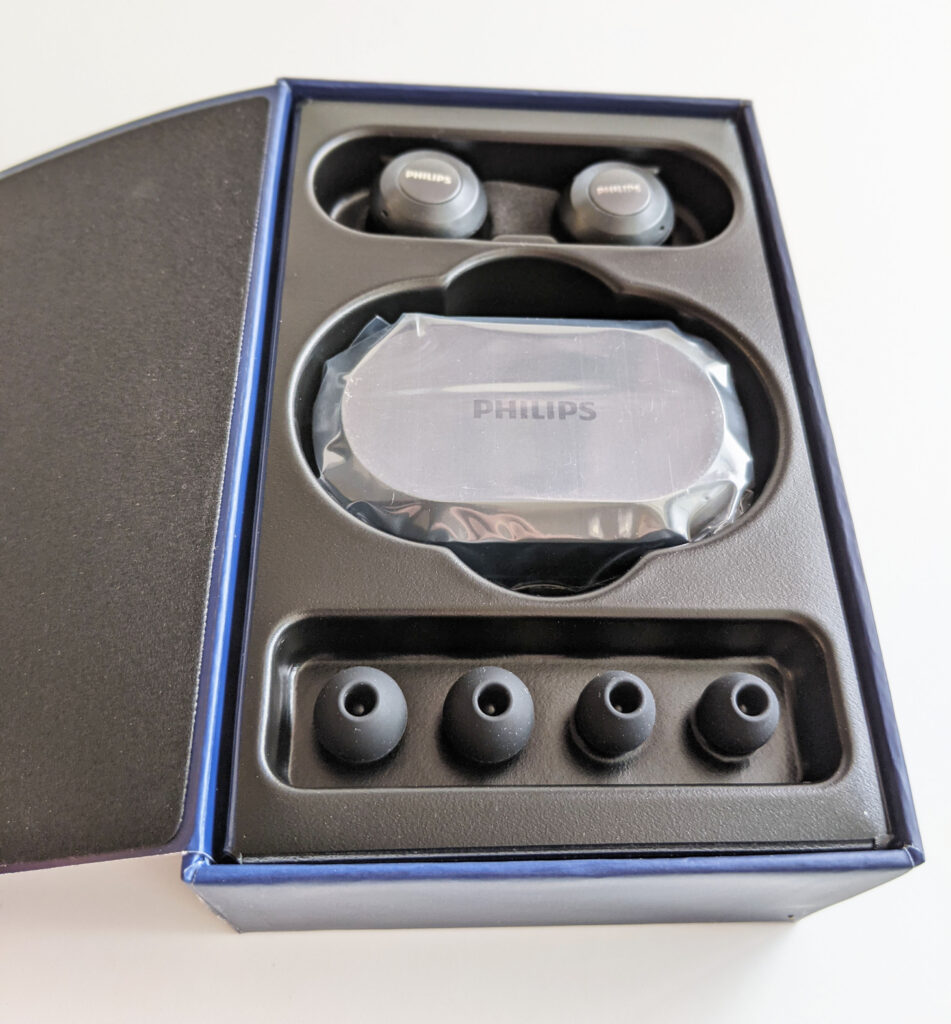 Overall, pretty good packaging. It is very unlikely that anything would arrive damaged as each component is packaged snugly into a single custom fitted mold.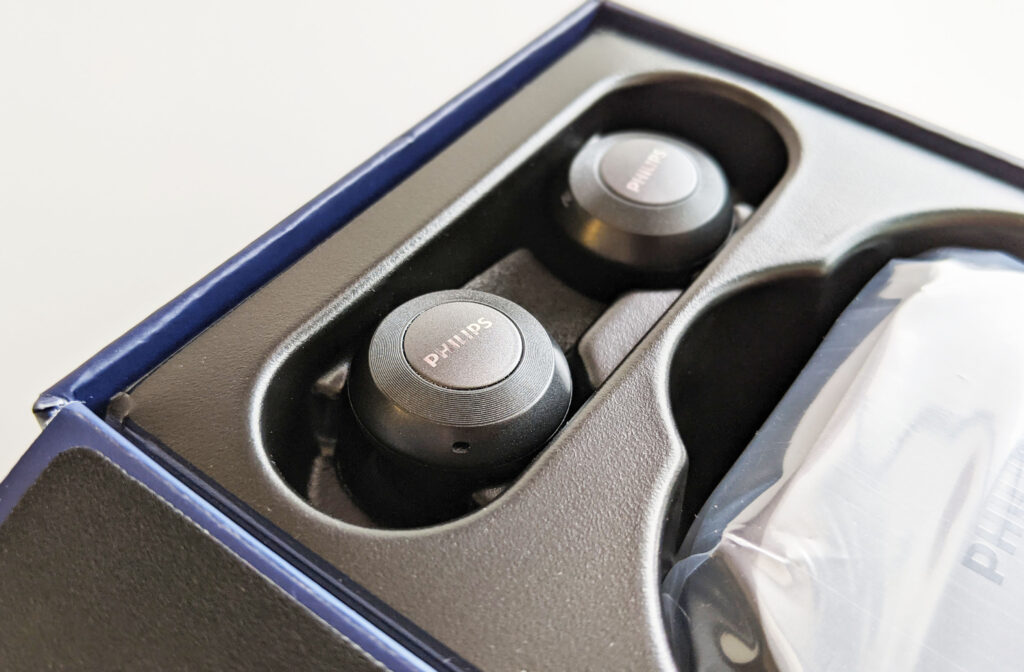 A Closer Look…
With each item carefully removed from its packaging, we're able to get a better look at the Philips TAT8505BK and its overall feel.
The overall design is spherical and features a dark and light gray color scheme with a Philips logo located in the center. Of all the wireless earbuds I've used in the past I'd definitely put these into the larger category. This makes sense when you consider that these earbuds feature a 13mm driver (Typical size is between 8-14mm).
The charging case features three battery indicator lights on the front and a USB-C charging port on the back. A short USB-A to USB-C Cable is included, however a wall plug is not. The case can be charged however using a PC, or a wall adapter if you have one laying around. The top lid of the case latches closes magnetically.
For me, the case came with a ~60% charge. Plenty enough to juice up the earbuds for their first time use. When placed inside the case, the earbuds magnetically "click" into place. Once clicked in, the charging indicator light on each earbud will then flash.
As mentioned earlier, the front of the case has three blue status indicator lights to give you a rough idea as to the charge of the case's battery. When connected to a power source, one of the blue indicator lights will pulse blue.
On the back of the case you'll find the USB type-C Port as well as a reset button.
Philips Earbuds – Setup & App Control
We mentioned earlier that the headphones can be setup, controlled and updated using the "Philips Headphones" app found in the Google Play store, or Apple App store. Below are the links to each:
Google Play: https://play.google.com/store/apps/details?id=com.tpvison.headphone&hl=en_US&gl=US
Apple App Store: https://apps.apple.com/us/app/philips-headphones/id1510515105
Overall, the app is pretty simple to use. When launching it for the first time, the app will walk you through general connectivity and getting it setup for the first time. At the time of writing this article, the app version is 1.1.9 and the earbud's software version is v2.1.4.8 so depending on how far into the future you are, things might look a little different!
Upon launching the app, I was instantly greeted with a software update. Please take the time to do this as this could help with bug fixes and improvements. The main home screen is super easy to use and provides useful data such as battery percentage. Quick options such as switching between Active Noise Canceling (ANC), Awareness, and Adaptive mode are also presented.
If you click on the Sound Effect button just below that, you're able to choose between a few preset sound options, or create your own custom profile.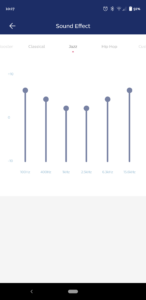 The Settings page contains a few helpful links. I highly recommend checking out the quick start guide. As the earbuds have soft-touch buttons on either side which control things like Google Assistant, call control, and ANC control. For your convenience, here's the quick start guide: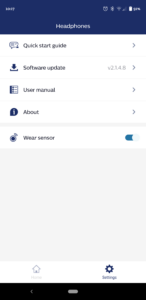 My only gripe at this point is that it looks like there is no option (currently) to change the volume using the built-in buttons. It looks like you'll need to use your phone (or other device).
Testing: Sound Quality
This is going to be the most subjective portion of the test as everyone has different standards of what they consider "quality". Personally, I'm not an audiophile, however I've used my fair share of earbuds in the past ranging from Airpods, to Jabra Elite 75t's.
I tested several types of music including classical, pop, rock, and jazz. I'm honestly blown away by the sound on each. The over-sized 13mm driver definitely delivers deep lows (20Hz rated) and crisp and clear high's. Absolutely zero complaints regarding quality on my end…
Testing: Voice & Mic Quality
Making calls on the Philips TAT8505BK earbuds was something else I could not complain about. I ran a few tests, making calls to various people in different environments. For my first, I engaged in conversation while walking along a busy street. The person on the other end was not able to hear almost any typical road noise aside from an occasional loud motorcycle.
My next call was made from my office with music going on in the background at a medium-low level. The earbuds were able to block out 100% of the background noise according to the person at the other end.
Voice quality was also pretty good whether you're an audio book or podcast enthusiast, or talking to someone on the other end.
Testing: Fitment & Functionality
The new Philips earbuds include three swappable ear cup sizes which should hopefully fit pretty much any ear type. Preinstalled are the medium size which I felt like worked best for me. Overall, the earbuds were pretty comfortable though I did feel like they stuck out a bit more than most that I've used in the past.
The fitment is also pretty secure. I personally probably wouldn't go running in these earbuds, however for typical activities such as walking the fitment is fine. I was able to lean completely over to the left and right while shaking my head and after about 10 or so iterations of this I was finally able to get one to fall out. You're mileage may vary, however.
My only gripe with these earbuds are the soft-touch buttons which for me caused issues with "false positive" presses when I wanted to make a quick fitment adjustment. As with all in-ear earbuds, it's inevitable that you're at some point going to have to make a quick adjustment here and there as they tend to work themselves out over time. With the soft touch buttons, you're going to need to be aware of them and try and only touch the outside while adjusting. The second reason I prefer physical buttons versus soft-touch is because out here in Colorado in January, it's pretty chilly outside. If I'm out taking a walk, I'll normally dress up with a beanie or hoodie. Physical buttons can be easily pressed through the cloth. With soft touch, it's a bit more work working around whatever is wrapped around your head at the time.
Another noteworthy feature I wasn't able to find any documentation on, was that these earbuds do in fact work one at a time. Very handy if you're stretching battery life, or prefer to have just one ear open. The dual mic option is incredibly handy for this as you can swap them out and still be able to make calls.
Final Thoughts & Conclusion
Overall, Phillips produced a pretty solid product that can compete with the current market and price range. The Philips TAT8505BK produced phenomenal sound during our tests through a wide range of music and voice options. The app is also quite functional and makes it easy to toggle some of the built-in options and to check on battery life.
As stated earlier, the only negative marks I'd give these earbuds are the use of soft-touch buttons, and the size is a bit larger than most on the current market.
Time for the scoring! MSRP for the earbuds is $199.99 USD. Pricing will greatly affect the final score.
Build Quality & Appearance: 9.1/10 – Really no issues with build quality, and appearance can be subjective. I personally like the design, however some color choices in the future would be a good move as I'm sure some of you out there would like a splash of color!
Comfort: 7.8/10 – As far as earbuds go, they were about as comfortable as one might expect. Their size made them a bit more "noticeable" than other's I've worn in the past
Audio Performance: 9.8/10 – Zero issues with sound quality including making and receiving calls and listening to music, podcasts and audio books.
Value: 9.0/10 – With an MSRP of $199.99 and considering the slew of features including Adaptive ANC, Bluetooth 5.0 support, dual Mic's and up to 24 hours of listen time I'd say these are on par with what you might expect to pay for earbuds with this feature-set.
Philips TAT8505BK Earbuds Review
"The Philips TAT8505BK produced phenomenal sound during our tests through a wide range of music and voice options."

8.9

Build Quality & Appearance:

9.1