ADATA has just announced the launch of its new RGB enabled XPG SPECTRIX D41 DDR4 memory modules. This brand new special edition to the XPG lineup, the TUF Edition, delivers awesome performance with a frequency support up to 3200MHz. The modules will work on both the new Intel Z390 chipsets as well as the new AMD Ryzen X399 platforms. In-OS overclocking is also supported using Intel's Extreme Memory Profile (XMP) for easier overclocking and tuning.
The new XPG SPECTRIX D41 chips deliver an all new look sporting RGB lighting. The LED's span the entire length of the chip featuring the XPG logo in the center. The LEDs can be controlled by a number of supported software including the XPG RGB Sync app, as well as control software provided by ASUS, MSI, Gigabyte and ASRock. The software allows the user to set color patterns, pulse speed, lighting intensity and more. You can even configure the software to listen to music and match the memory modules lighting with the rhythm.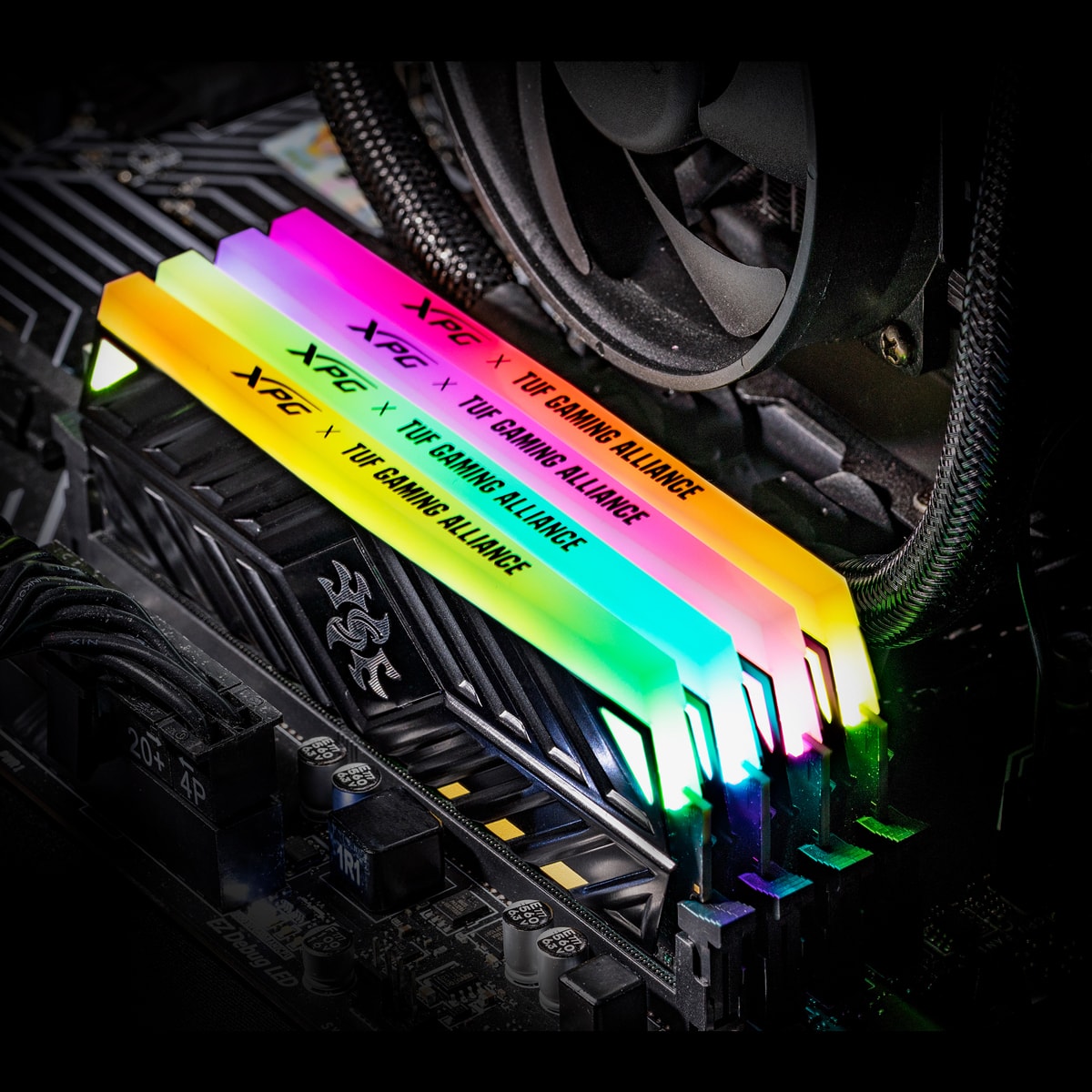 The ADATA XPG SPECTRIX D41 is branded with the TUF Gaming edition name. This ensures the highest build quality and performance numbers. Each chip is individually selected based on it's reliability and overall durability. To increase the overall durability, the memory module's PCB is surrouned by a multi-layer heat sync to keep temperatures at a minimum.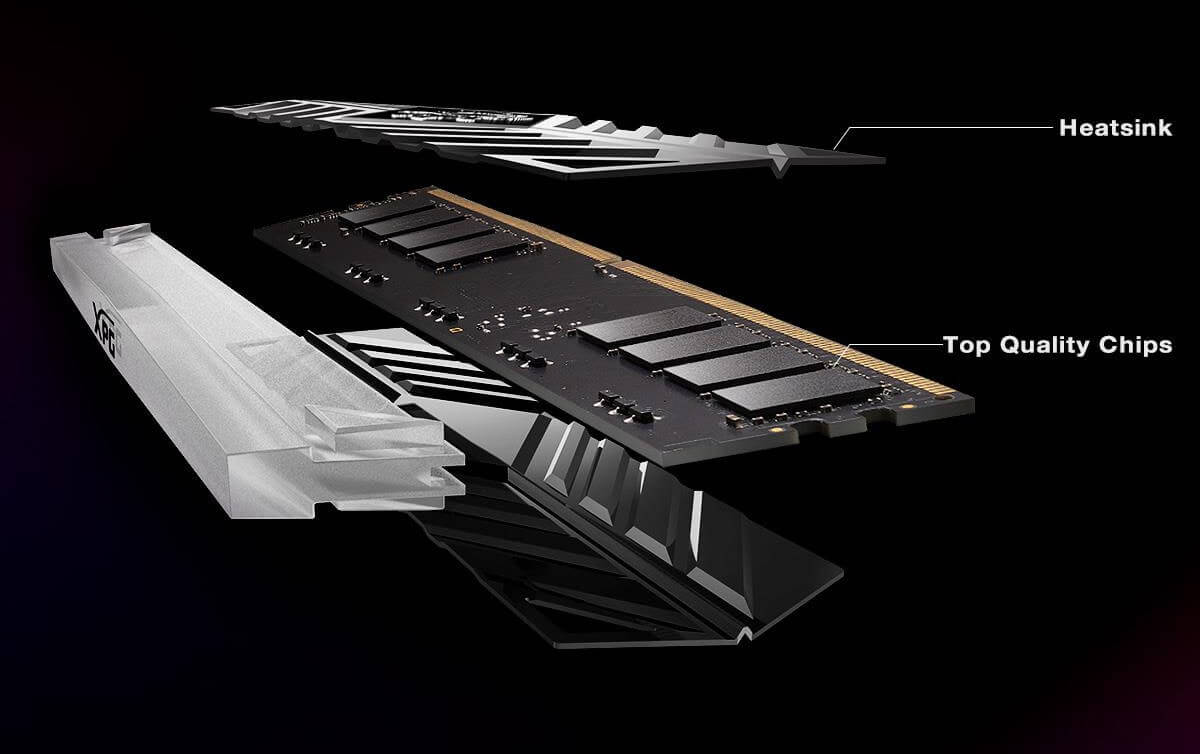 No word on pricing and availability at this point. The XPG SPECTRIX D41 DDR4 is backed by a lifetime warranty.
The Here are the detailed specifications for each of the XPG SPECTRIX D41 modules:
| | | | | | |
| --- | --- | --- | --- | --- | --- |
| Model Name | Speed | Size | Latency | Voltage | Heat Sink Color |
| DDR4-2666 | PC4-21300 | 16GB x 1 | CL16-16-16 | 1.2V | Crimson Red |
| DDR4-2666 | PC4-21300 | 16GB x 1 | CL16-16-16 | 1.2V | Titanium Gray |
| DDR4-2666 | PC4-21300 | 16GB x 2 | CL16-16-16 | 1.2V | Crimson Red |
| DDR4-2666 | PC4-21300 | 16GB x 2 | CL16-16-16 | 1.2V | Titanium Gray |
| DDR4-2666 | PC4-21300 | 16GB x 4 | CL16-16-16 | 1.2V | Crimson Red |
| DDR4-2666 | PC4-21300 | 16GB x 4 | CL16-16-16 | 1.2V | Titanium Gray |
| DDR4-2666 | PC4-21300 | 8GB x 1 | CL16-16-16 | 1.2V | Crimson Red |
| DDR4-2666 | PC4-21300 | 8GB x 1 | CL16-16-16 | 1.2V | Titanium Gray |
| DDR4-2666 | PC4-21300 | 8GB x 2 | CL16-16-16 | 1.2V | Crimson Red |
| DDR4-2666 | PC4-21300 | 8GB x 2 | CL16-16-16 | 1.2V | Titanium Gray |
| DDR4-2666 | PC4-21300 | 8GB x 4 | CL16-16-16 | 1.2V | Crimson Red |
| DDR4-2666 | PC4-21300 | 8GB x 4 | CL16-16-16 | 1.2V | Titanium Gray |
| DDR4-3000 | PC4-24000 | 8GB x 1 | CL16-18-18 | 1.35V | Crimson Red |
| DDR4-3000 | PC4-24000 | 8GB x 1 | CL16-18-18 | 1.35V | Titanium Gray |
| DDR4-3000 | PC4-24000 | 8GB x 2 | CL16-18-18 | 1.35V | Crimson Red |
| DDR4-3000 | PC4-24000 | 8GB x 2 | CL16-18-18 | 1.35V | Titanium Gray |
| DDR4-3000 | PC4-24000 | 8GB x 4 | CL16-18-18 | 1.35V | Crimson Red |
| DDR4-3000 | PC4-24000 | 8GB x 4 | CL16-18-18 | 1.35V | Titanium Gray |
| DDR4-3200 | PC4-25600 | 8GB x 1 | CL16-18-18 | 1.35V | Crimson Red |
| DDR4-3200 | PC4-25600 | 8GB x 1 | CL16-18-18 | 1.35V | Titanium Gray |
| DDR4-3200 | PC4-25600 | 8GB x 2 | CL16-18-18 | 1.35V | Crimson Red |
| DDR4-3200 | PC4-25600 | 8GB x 2 | CL16-18-18 | 1.35V | Titanium Gray |
| DDR4-3200 | PC4-25600 | 8GB x 4 | CL16-18-18 | 1.35V | Crimson Red |
| DDR4-3200 | PC4-25600 | 8GB x 4 | CL16-18-18 | 1.35V | Titanium Gray |
| DDR4-3600 | PC4-28800 | 8GB x 1 | CL17-18-18 | 1.35V | Crimson Red |
| DDR4-3600 | PC4-28800 | 8GB x 1 | CL17-18-18 | 1.35V | Titanium Gray |
| DDR4-3600 | PC4-28800 | 8GB x 2 | CL17-18-18 | 1.35V | Crimson Red |
| DDR4-3600 | PC4-28800 | 8GB x 2 | CL17-18-18 | 1.35V | Titanium Gray |
| DDR4-3600 | PC4-28800 | 8GB x 4 | CL17-18-18 | 1.35V | Crimson Red |
| DDR4-3600 | PC4-28800 | 8GB x 4 | CL17-18-18 | 1.35V | Titanium Gray |