Corsair has just announced the release of its latest edition to the iconic Dominator lineup of DDR4, the Corsair Dominator Platinum RGB. This particular RAM will be sold in kits using 8GB or 16GB kits which will range from 16GB all the way up to 128GB. Probably the most promonate feature of the Dominator Platinum RGB memory is its speed which is rated up to 4800MHz which is tested at 18-24-24-46 timings.
Cooling to the memory modules is provided by a fully updated aluminum heatspreader which features a dark stealthy look that you'd typically find on the Corsair Dominator lineup of memory modules. Integrated into the heatspreaders are top and side RGB lighting. The lighting effects are provided by 12 CAPELLIX RGB LEDs. According to Corsair, the CAPELLIX LEDs are an improvement over conventional LEDs because of their ability to last longer, shine brighter all while using less power.
The RGB LEDs  can be controlled using Corsair's iCUE control software which supports plenty of lighting effects for different memory layouts. The software also has the ability to monitor memory settings and temperatures to ensure that the RAM is running a its full potential.
More information such as pricing can be found over at Corsair's product page.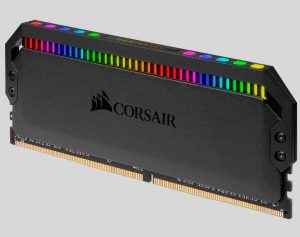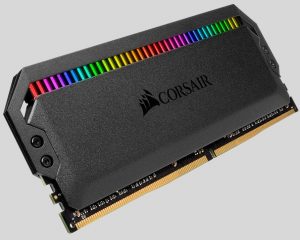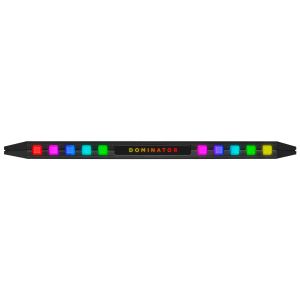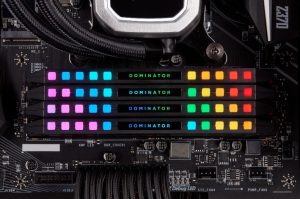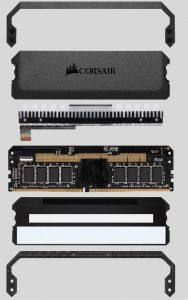 Corsair Dominator Platinum RGB Specifications
Model
Corsair Dominator Platinum RGB
Memory Size
16GB Kit (2 x 8GB)
32GB Kit (4 x 8GB)
64GB Kit (4 x 16GB)
64GB Kit (8 x 8GB)
128GB Kit (8 x 16GB)
Memory Speed
3000MHz – 4800MHz
Latency
15-15-15-36 – 18-24-24-46
Tested Voltage
1.2V – 1.5V
Memory Type
DDR4
Included Fan
No
Cooling
Anodized Aluminum Heatspreader
Performance Profile
XMP 2.0
Lighting Effects
RGB