Cooler Master has just announced the release of a bunch of new cooling products ranging from CPU coolers to additions to the MasterFan lineup. As CES 2019 commences, likely we'll be seeing lots of of new products hitting the shelf across all divisions of technology. The new release features a bunch of new CPU coolers, including the MA610M which is a full size tower cooler. Other coolers such as the G1o0M v2, and the G300P are smaller slim coolers perfect for increasingly popular ITX builds where space is a huge factor.
Below is the official press release from Cooler Master:
PRESS RELEASE: LAS VEGAS, NEV., JANUARY 7, 2019 – Cooler Master, a global leader in manufacturing CPU coolers, computer components and peripherals, today provides an overview of the company's upcoming thermal solutions including a new All-in-One (AIO) CPU cooler, three new air coolers and a new fan series.
MA610M
Cooler Master will expand on the MasterAir series, with three new air coolers in varying form factors. The MasterAir MA610M will feature a dual-tower heatsink with a new SF120R fan sandwiched between the two towers for ample airflow. The six copper heat pipe design and enlarged fins work in tandem to ensure maximum heat dissipation and maintain stable CPU temperatures.
The Addressable RGB lighting, decorative black top plate and black coating of the MA610M provide users with customization and an aesthetic appeal for any build.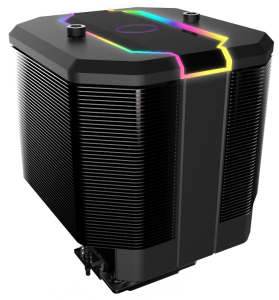 G100M v2
Expanding upon the previously launched G100M, the new G100M v2 will feature the same top down cooling as its predecessor, but with an elongated and narrowed design to eliminate RAM clearance issues. The G100m v2 will utilize Cooler Master's two phase heat column technology, with a seven times larger circumference compared to standard heat pipes, for a more rapid heat transfer over a smaller surface area. Mounted atop the uniquely designed G100M v2 is an ARGB fan and ring for an added visual appeal.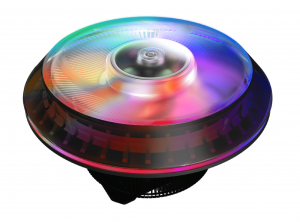 G300P

The G300P will be Cooler Master's next small-form-factor (SFF) air cooler. With an ultra-low profile of 39.5mm, embedded heat pipes and 92mm fan, the G300P will provide users with ample thermal performance in compact form. Other proposed features of the G300P include RGB lighting.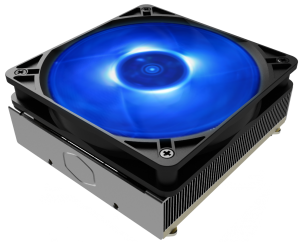 ML240P Mirage
Unveiled for the first time at Computex 2018, the MasterLiquid ML240P Mirage will be Cooler Master's new pro-level AIO cooler. Equipped with a mirror like pump cover that enables users to see into the operation of the impeller when illuminated by the ARGB lighting. When lighting is disengaged, the reflective cover displays the hexagonal Cooler Master logo.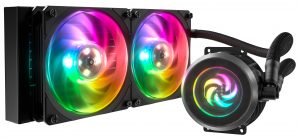 MasterFan
The new Cooler Master SF series of case fans are designed with a square fan frame for more direct airflow and pressure. The new square shape of the SF series provides more surface coverage on AIOs and air coolers. The SF120R will be available in both RGB and ARGB models. The newly designed SF120P and 240P ARGB fans will be designed with milk-white fan blades and external rim for a brighter reflection of light; with the 120 model having 24 Addressable-RGB LEDs and the 240 model having 52 Addressable-RGB LEDs. The SF240P ARGB will be designed with an aperture frame, with two fans integrated into the frame to reduce vibration and wires needed for lighting.
In addition, Cooler Master will introduce its new flagship case fan the SF120M. Designed with performance in mind the SF120M utilizes Cooler Master's Industrial Fan Structure, which decreases the flex of the fan blades while ensuring a quiet operation with maximum airflow. The Double-Ball Bearing decreases friction between the fan and its bearings which further enhances performance.

ASRock Phantom Gaming Coolers – Hyper 212

In addition, Cooler Master will release the Hyper 212 RGB and MasterLiquid ML240R RGB Phantom Gaming Editions, in collaboration with ASRock. Both CPU coolers will sport the signature aesthetics of the Phantom Gaming series shared throughout the entire product line of ASRock graphics cards and motherboards.
Pricing and Availability for the new Cooler Master Products:
MasterAir MA610M: May 2019 for a starting MSRP of $89.99.
MasterAir G100M v2: June 2019 for a starting MSRP of $49.99.
MasterAir G300P: June 2019 for a starting MSRP of $49.99.
MasterLiquid ML240P Mirage: March 2019 for a starting MSRP of $139.99.
MasterFan SF120R RGB: February 2019 for a starting MSRP of $19.99.
MasterFan SF120R ARGB: February 2019 for a starting MSRP of $24.99.
MasterFan SF120/240P ARGB: February, 2019.
MasterFan SF120M: April 2019 for a starting MSRP of $29.99