In the market for a new hard drive and concerned about reliability? Every quarter Backblaze publishes its hard drive failure rate statistics to the public categorized by manufacturer and drive size. Other useful statistics such as service and uptime are also included in the report. Backblaze is one of the largest online cloud backup storage solutions with tens of thousands of hard drives currently in use so you can bet they go through a lot of drives.
With such a large sample size in such a controlled environment these stats are overall quite accurate with how drives are performing based on each manufacturer. The report includes a lot of data that is definitely worth a read. Overall, Seagate was probably the worst offender when it comes to failed HDDs over other brands such as Western Digital or Hitachi.
We saw similar results for Q2 of last year. Based on this data either HGST, or Hitachi would be a solid choice when it comes to preserving your data. Seagate and some Toshiba drives tended to be more prone to premature failures.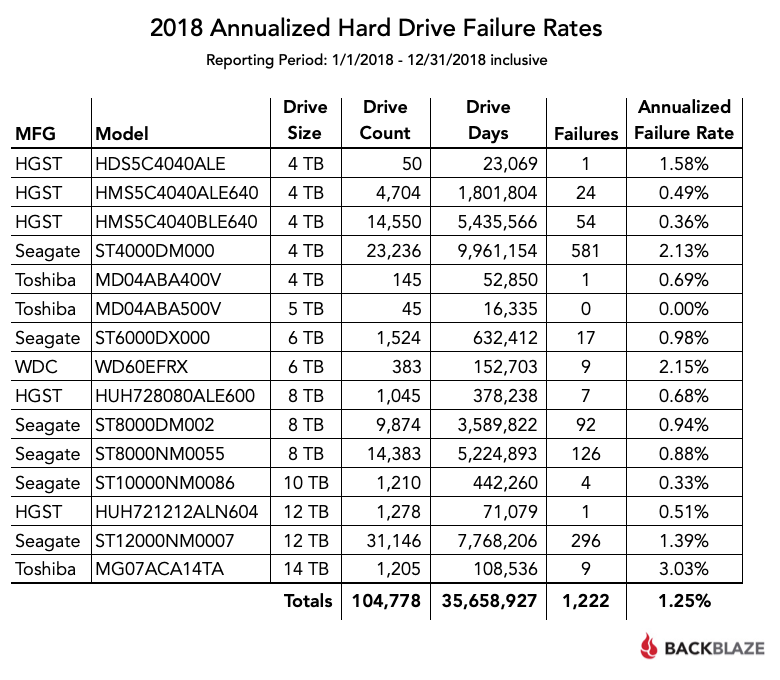 Also check out Backblaze's blog post which includes cumulative data as to hard drive failure rates as far back as 2014. Here is an extract from the data below.
Model
Size
Number
of Drives
Average
Age in
Years
Annual
Failure
Rate
Seagate Desktop HDD.15 (ST4000DM000)
4.0TB
5199
0.3
3.8%
Hitachi GST Deskstar 7K2000 (HDS722020ALA330)
2.0TB
4716
2.9
1.1%
Hitachi GST Deskstar 5K3000 (HDS5C3030ALA630)
3.0TB
4592
1.7
0.9%
Seagate Barracuda (ST3000DM001)
3.0TB
4252
1.4
9.8%
Hitachi Deskstar 5K4000 (HDS5C4040ALE630)
4.0TB
2587
0.8
1.5%
Seagate Barracuda LP (ST31500541AS)
1.5TB
1929
3.8
9.9%
Hitachi Deskstar 7K3000 (HDS723030ALA640)
3.0TB
1027
2.1
0.9%
Seagate Barracuda 7200 (ST31500341AS)
1.5TB
539
3.8
25.4%
Western Digital Green (WD10EADS)
1.0TB
474
4.4
3.6%
Western Digital Red (WD30EFRX)
3.0TB
346
0.5
3.2%
Seagate Barracuda XT (ST33000651AS)
3.0TB
293
2.0
7.3%
Seagate Barracuda LP (ST32000542AS)
2.0TB
288
2.0
7.2%
Seagate Barracuda XT (ST4000DX000)
4.0TB
179
0.7
n/a
Western Digital Green (WD10EACS)
1.0TB
84
5.0
n/a
Seagate Barracuda Green (ST1500DL003)
1.5TB
51
0.8
120.0%