The computer case is often an overlooked aspect in PC building. It is not uncommon for one to question the value of a $200 case, or even a $100 case. The case is the enclosure of the entire PC, and whether the subject is aesthetics, ease of assembly and configuration and expansion, functionality, cooling, or noise, the chassis is extremely important.
In this article we will talk about the importance of a computer case on these aspects of a computer and more, and then recommend several cases based on price and form factor (e.g., ITX, mATX, ATX). The case industry is evolving before our eyes, and some cases are clearly superior to everything else in their price ranges or even above.
Let's start by addressing the question, "What to look for?" on the next page.
What to Look for in a Computer Case
What to Look for in a Computer Case?
The computer chassis is very important for many reasons, listed below.
Functionality and Expansion: You need a case that can support the hardware you desire. If you want to use multiple graphics cards, many storage drives, or lots of liquid cooling components, you need a case that can fit them and conveniently support their installation, removal, and expansion. Start small and grow into a bigger, more powerful PC? You need a case that can support the expansion, say from one graphics card to two or more, or from one 240mm all-in-one liquid cooler to a custom loop with two 360mm radiators. This all depends on the case.There are other aspects to functionality as well. Perhaps you need a transportable PC with hot swap bays for quick, easy removal of storage drives. Perhaps it needs a lockable side panel as well. You'd then need a case that is appropriately sized, with an easy way to carry it, and with hot swap bays and a place to secure the side panels with a lock.Or maybe you want to build a flashy PC that acts as a light show? You will want a case that easily supports mounting LED strips, perhaps with a few steel interior components (namely power supply shroud and radiator/fan brackets) on which you can mount magnetic strips (which are far superior and more reliable to adhesive).

Some cases are very modular, which can cause durability concerns but also introduce a new level of functionality and ease of use. This could refer to things such as being able to install SSD and hard drive mounts and cages in several different places, a case supporting regular ATX and inverted ATX motherboard orientation, and more. There are so many things to consider with regards to functionality of a computer case.

Ease of Use: Convenience in PC assembly, disassembly, tweaking, and expansion is a blessing. The more convenient, the better. Some cases are so much more convenient than others. You should seek a case with ample space for cable management—hiding cables so that they are out of sight, for better looks and airflow (better airflow leading to less noise too). It should be easy to access, install, and remove storage drives, fans, dust filters, radiators if water cooling, the power supply, graphics card, and all other components as well as the case's body panels.Ideally, the case's built in wires for power/reset buttons and LEDs and such would either be pre-routed or easily routed neatly. A power supply shroud can hide cables and make cable management so much easier. A case should have a large backplate for easily installing and uninstalling CPU coolers, and a case should have lots of holes for cables to pass through, wherever necessary (in front of the motherboard, along the top and bottom).Ease of use can extend to modding as well. The less rivets used to hold the case together, the better. It is better to use screws and blue thread locker so that the case can easily be fully disassembled and assembled. Easily removable body panels helps immensely too, for painting and such.

As you can see, there are many factors that contribute to a case's convenience or inconvenience. Try to get a case that overlooks as few as possible while meeting the rest of your needs.

Airflow: Graphics cards, processors, and their heatsinks and radiators run warm or hot, and need ample cooling. The more straightforward and unobstructed the airflow, the better. Thus, cable management can affect it as well. A wind tunnel is ideal; front to back is most common (front intake, rear exhaust), and Silverstone pioneered the 90 degree rotated motherboard design with a bottom to top wind tunnel (the most effective airflow method).Remember: MORE FANS DOES NOT MEAN BETTER AIRFLOW. It's more about fan placement and airflow direction. Also remember that heat naturally rises, so exhaust fans/vents should be placed higher up.Do not overlook air pressure within the case. More intake than exhaust results in positive air pressure, which means air passively leaves the case. Whereas more exhaust than intake results in negative air pressure, in which air and dust passively enter the case. Positive air pressure is better.
Dust Protection: Dust ruins aesthetics and can raise temperatures. A case needs dust filters, and they should be both easily accessible and washable for obvious reasons (they require maintenance). Even so, they aren't enough on their own. Periodically you should open your PC and dust it out with compressed air and microfiber cloth.
Noise: A quiet PC is a lovely thing to have. Less distracting for when you're working, gaming, or trying to sleep in the same room. Those who have not gone from a loud PC to a PC that is barely audible cannot imagine how rewarding silence is.Airflow contributes to noise; the more efficient airflow (that is, airflow that keeps temperatures down with as few fans/low RPM fans as possible) the better, the less dust the better. If using air cooling in a case that is too large will need fans with more airflow, which means more noise.How open the case is or isn't also affects noise, as does the thickness of the body material. Some cases use sound dampening foam to reduce noise levels. A case with extremely open ventilation, such as the In Win 909, will be louder.
Durability and Build Quality: Some amount of durability is needed from a case, so that its material doesn't wear out over time. This is most important for cases that are transported often. The less plastic, the better. If you want a window, it should be tempered glass rather than acrylic/plexiglass. Tempered glass is far more sturdy and difficult to smudge and scratch, while acrylic/plexiglass smudges and scratches easily and both the smudges and scratches are extremely difficult to remove. Plus, Tempered glass is far more clear and aesthetically pleasing, such that there is no way around it!If a case has moving/removable parts and panels, you will want to ensure the mechanisms for them are reliable. Lian-Li has mastered this art more than anyone. Also, let us not forget the finish of the metal. Some finishes, like sand blasting, make for a more durable coating that isn't easily smudged by fingerprints or scratched. Aluminum should be anodized and then finished in such a durable way.Build quality is of course related to durability, but is not necessarily one and the same. You can have a case that is built like a tank but has an unattractive finish, or body panels that attach to the case in a way that is sturdy but not ideal. You can have a solid case with somewhat misaligned panels, resulting in ugly and unprofessional looking lines that aren't straight; this plagues the majority of cases so choose wisely, be sure to check out our recommendations on the later pages!
Aesthetics: Everyone has their own taste, so look for a case that is most aesthetically pleasing for you. Cheap materials, like matte plastic panels (see Corsair Carbide Air 240 and 540) or plexiglass/acrylic windows, are always less appealing. They make it obvious just how cheaply made the case is, not something one would want to display. Thus, build quality is related to aesthetics. A case with well aligned panels will produce straighter lines and look more appealing and professional. High quality materials and finishes like the 3mm anodized, sand blasted aluminum employed by Phanteks looks so much better than cheap materials like plastic or SECC.
So these are some of the crucial factors when shopping for a computer case. All should be considered and weighed against each other. Thankfully, there are several cases in virtually every form factor that don't make any compromise! Let's move onto recommendations now, starting on the next page.
ITX Case Recommendations
ITX is the smallest form factor, ideal for HTPCs and transportable PCs. An ITX motherboard is almost palm sized. Below, we list our recommended ITX cases; each one we have hands on experience with, and countless more as well. The recommendations are listed by price in ascending order.
The Corsair Obsidian 250D costs $79.99 and boasts tremendous value in a small package. It is a cube shaped case with outstanding airflow potential, and one of the most conveniently designed cases ever! The motherboard sits flat, horizontally like a test bed. The power supply (which fits up to ATX, but SFX is recommended for convenience due to its smaller size and shorter stock cables) is mounted underneath it. With short cables, cable management can be very good in the 250D since the top window only shows the motherboard area. The one likely exception is the cable for the front USB 3.0 connectors, as the internal USB 3.0 header is usually near the middle of an ITX motherboard.
Airflow can come and go on all sides; a front 200mm intake fan is suggested, along with rear 80mm exhaust fans, creating a straightforward wind tunnel and positive pressure. With this configuration, you can get exceptional airflow and near inaudible noise levels.
The graphics card intakes fresh air through filtered vents on the left side panel. Every vent is filtered save for the rear exhaust (where 2x 80mm fans can be mounted), although the filters on the side panels require removing the panels to access them. But the side panels are easily removed and installed so it's not a problem.
The front door of the 250D has a thin layer of brushed aluminum although most of the door is plastic. The rest of the case is steel, but not high quality steel. Nevertheless, build quality is above average for the price due to the relatively small amount of plastic. Behind the door is a massive filter for a 200mm, 140mm, or 120mm intake fan (140mm included by default).
The Corsair Obsidian 250D is simply one of the best budget cases money can buy. Again, we highly suggest a SFX PSU for it, due to the smaller size and shorter cables which works best in the 250D.
The NZXT Manta is a very well built $139.99 ITX case available in a multitude of colors. It has a unique curved look, an attractive finish, and an extremely convenient design. Most of the case is steel, but a few smaller components such as some vents and the edge of much of the body is plastic. It is compatible with ATX power supplies, has a full PSU shroud, pretty good airflow capabilities, and incredible cable management. A thin 240mm or 280mm radiator can fit at the top. This is one of the largest ITX cases around.
It comes with two front 140mm intake fans where a second radiator can be installed instead, and easily accessible washable dust filters. Most sub $100 cases come with little to no fans, including the above 250D which only comes with one 140mm intake and one 120mm exhaust, so keep that in mind. This accounts for the higher price of the Manta as no additional fans are necessary.
The Lian-Li PC-Q37 is one of the most gorgeous ITX cases ever made, being made entirely out of aluminum and tempered glass, although unfortunately the tempered glass panels are held in place by male thumbscrews rather than more convenient female. But at $199.99, it is objectively overpriced and you are paying largely for the name. Still, it has no real competition. It completely outdoes all previously mentioned ITX cases in build quality and should cost much more than them, just not this much more since you can get a similarly built but larger ATX case for even less. The PC-Q37 does not come with fans.
It is a unique design, geared largely around cable management. The tempered glass front and left side panels and wider design make for an unmistakable appearance. An SFX power supply is mounted on the right side of the case, vertically to intake air from the right side panel, totally separated from the motherboard compartment. Thus, the motherboard compartment has nothing but core components and potentially fans or a thin top mounted double radiator, and maybe even a thinner bottom double radiator as well.
Storage drives are mounted behind the motherboard tray on the PSU side, using very high quality metal trays with rubber. The bottom and top vents are filtered. The graphics card will either pull air in through bottom intake vents, or be fed by slim 120mm fans (optional but recommended). It can be equipped with two rear 80mm exhaust fans.
Lian-Li PC-Q39G
The Lian-Li PC-Q39G is a bigger version of the aforementioned PC-Q37. The MSRP is only $10 more, making it $209.99. It can fit any known GPU, a custom water cooling loop, has good airflow and the build quality ought to be stellar. Its stylish front panel distinguishes itself from its little brother, the PC-Q37. Gorgeous case once again making notable use of tempered glass and aluminum.
DR ZĄBER SENTRY
The DR ZĄBER SENTRY is marketed as a console-sized PC case. It is the smallest case that can fit a full sized graphics card, and perhaps the ultimate LAN case. The price is steep at $235 and it is not yet available, but keep an eye out for it if you want the smallest possible gaming PC case. Personally, I plan to build an extremely powerful PC in it, show it to console gamers, and induct them into the PC gaming master race world.
Official Product Page
Official IndieGoGo Page
Lian-Li PC-O5SX
Grossly overpriced, much more so than the PC-Q37, but we have to recommend the Lian-Li PC-O5SX. It is one of a kind, magnificently built and absurdly priced at $279.99. It is a very slender case with a large clear tempered glass window that showcases most core components, not just the motherboard but also an SFX power supply. The graphics card is the star of the show, being mounted vertically and connected to the motherboard with a ribbon cable. This case is also available in white in addition to black pictured above. It, and its two bigger brothers, the PC-O6SX and PC-O7SX, pioneered the use of tempered glass along with Lian-Li's DK (desk case) series. Unfortunately, all Lian-Li cases with tempered glass side panels use male screws to secure them, far less convenient than female.
Airflow is not a strength of the PC-O5SX, but it does support a thin 240mm top radiator, mounted onto a radiator bracket. What vents it has are filtered as well. It can also be wall mounted. By all means, it is a case meant to be showed off.
DAN Cases A4-SFX v2
The DAN Cases A4-SFX v2 is one of the most attractive ITX cases ever made. It has to be the second smallest ITX case that can fit a full sized graphics card, with the smallest being the aforementioned SENTRY. But the A4-SFX v2 can fit even larger graphics cards, much larger CPU coolers, and has much better airflow. Unfortunately it is limited to two stores, both in Europe, so availability is extremely limited. The other downside is its steep price at £249.99.
Official Product Page (Store links at the bottom)
Micro ATX Case Recommendations
Micro ATX Case Recommendations
Micro ATX (mATX) is a compact form factor, larger than ITX and much smaller than ATX. Truth be told, there are not that many mATX-only cases worth considering. Also keep in mind that most cases support form factors smaller than the ones they're rated for; most mATX and even ATX cases support ITX for example.
Corsair Carbide Air 240
The Corsair Carbide Air 240 is a $89.99 Micro ATX case available in black and white. It is short and stout, noticeably wide in fact because the power supply mounts on the right side, opposite of the motherboard compartment. This makes for better cable management and neatness, and shrinks the motherboard compartment thus improving airflow and airflow efficiency slightly.
However, the Air 240 is poorly built, its body being made of a very cheap matte plastic with plastic vents, and it squeaks and creaks like an old house during a thunderstorm. Its functionality and airflow are very good, but for roughly the same price we suggest going either ATX or ITX (see our recommended cases for each). ITX is smaller and more transportable but has less features, while ATX is bigger and has more features.
Phanteks Enthoo Evolv mATX Tempered Glass
The Phanteks Enthoo Evolv mATX Tempered Glass is a soon to be released case, priced only at $129.99. Incredible deal for a case constructed of a thick, solid steel chassis, thick anodized and sand blasted aluminum body, and two even thicker tempered glass side panels with some black tint to only showcase the finest parts of your PC. We do not have hands on experience with it yet as it isn't released, but we have extensively used the ATX version. They are essentially the same, just different sizes. All Evolv models are available in several different colors.
This is actually an improvement upon its bigger ATX brother in that the side panels are hinged rather than secured by thumbscrews, which should be even more convenient.
It is a looker. Like a Lian-Li case, it has perfectly straight lines and a nice sense of symmetry. The front panel, which pulls off with a tug and is secured by plastic pegs and struts to avoid metal on metal contact, is shaped in an unmistakable way. There is a button that changes the color of the RGB power LEDs, which have ten different color options.
Like its bigger brother, it is one of the only cases that succeeds in every aspect we talked about on the, "What to look for?" page. Stellar, high quality and sleek look that exudes engineering expertise and pure quality. Some of the best cable management and ease of use of any case, just remember that you cannot access power supply cables from the left side of the case, only the right side. Built-in cable routing, fan hub, top radiator bracket, easily accessible and washable filters, front and top radiators (front radiator wouldn't sacrifice PSU shroud either due to it having a removable portion), you name it. It includes all the fans you need as well. The only real problem comes when using top mounted radiators, as they will have trouble venting, but the issues aren't severe.
For an mATX case, the Evolv mATX Tempered Glass is sure to have it all. A non tempered glass version exists already, but currently costs even more despite the lower quality acrylic/plexi window. Wait for the tempered glass version.
Lian-Li PC-O6SX
All of our criticism and praise for the ITX PC-O5SX carries over to its big brother, the Lian-Li PC-O6SX. The main criticism is its price of $289.99, totally unjustifiable for Lian-Li. The PC-O6SX is simply a larger version of the PC-O5SX, supporting a Micro ATX motherboard but only an SFX power supply still. The added space is useful for water cooling. It is a case that will immediately draw attention and exudes quality, but not value.
ATX and Larger Case Recommendations
ATX is the most common form factor, bigger than all previous ones. In this section we will recommend cases that have at least ATX support. Some support bigger, so for those that do we will specify.
Phanteks Eclipse P400S Tempered Glass

The Phanteks Eclipse P400S Tempered Glass and the Silent Edition represent tremendous value at $89.99 for the Silent Edition (which has sound dampening foam) and $79.99 for the non silent edition. It is a steel case (chassis and all body panels, unparalleled for the price and size) with a lightly tinted tempered glass left side panel.
The internal design is basically the same as the Evolv ATX, minus the top radiator support. Flawless cable management, good airflow (doesn't come with many fans however), and it comes with various goodies such as an RGB LED strip which is controlled by a button and is synchronized with the exterior case lighting, as well as a built-in fan controller, extra dust filters for the top panel fan mounts, and optional plastic plates with sound dampening foam to cover up the top fan mounts if not using fans in that location.
For those on a tighter budget, the regular P400 opens up as an option, the main difference being the lack of a tempered glass side panel.
NZXT S340 Elite
An good value at $99.99, the NZXT S340 Elite is an affordable mid tower case with excellent cable management and a tempered glass window. The front is plastic while the rest, besides the tempered glass left side panel of course, is steel.
The build quality is a bit worse than the above Phanteks P400S TG which costs $10 less, and the S340 Elite comes with less goodies, so really the only reason to buy the S340 Elite instead is if you prefer its looks. Both lack top radiator support but do allow for front radiators. The S340 Elite allows for one top fan, while the P400S TG allows for two. Cable management, ease of use, overall functionality, and airflow in the S340 Elite are all superb.
For those on a tighter budget, the regular NZXT S340 is an option. It lacks a tempered glass left side panel and a few accessories, but is tremendous value for the money.
Corsair Crystal 460X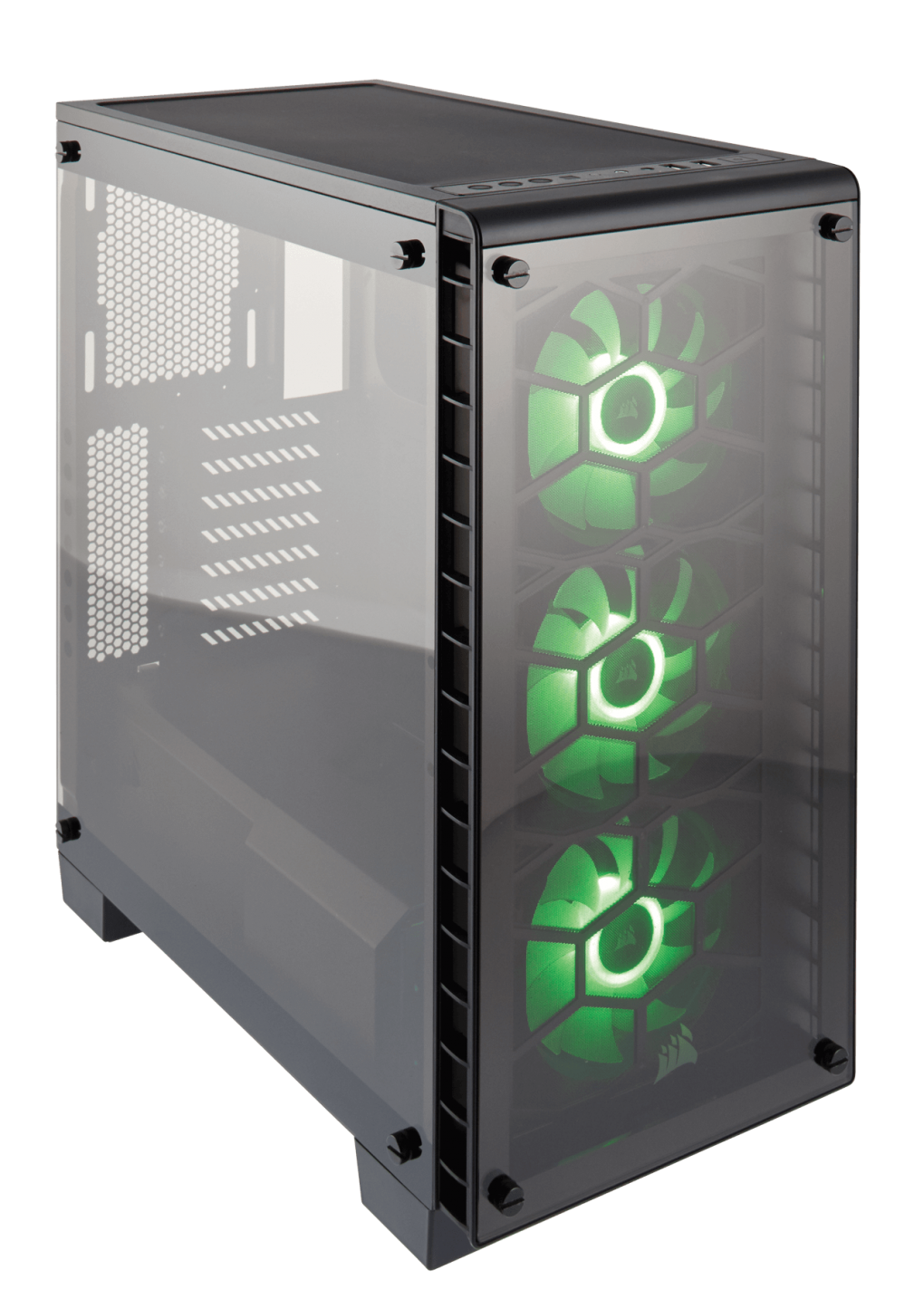 The Corsair Crystal 460X is the image of a modern, more affordable case at $139.99 for the model that comes with three Corsair SP120 RGB LED front 120mm intake fans, or $119.99 with an AF140 red LED front intake fan and AF120 rear exhaust fan.
The modern popular computer case can be summed up as: Tempered glass, RGB LEDs (the fans to be more specific), PSU shroud or compartment (shroud in this case), and minimal plastic. These things are the future. Tempered glass shows off hardware and is extremely solid and durable, RGB LEDs are the most customizable and suits anyone and everyone (since they can also be turned off), and plastic is lower quality material that should be avoided. The 460X uses a steel chassis and panels (albeit rather low quality, not close to the likes of Phanteks), and two crystal clear tempered glass panels (left side and front).
Another staple of modern cases which you should have noticed by now (due to virtually every case so far having it) is the mounting of storage drives behind the motherboard tray, cleaning up clutter. Thus, in the main compartment of the 460X you see the motherboard and its components (including graphics cards), RGB LED fans, and the power supply shroud.
Airflow is fantastic, a front to back wind tunnel, especially for the model with three front fans already included. It can fit both top and front radiators, and a front radiator only sacrifices half the plastic PSU shroud. As usual the PSU intakes air through a filtered bottom vent, and the front vent is filtered as well. Cable management is outstanding, this case is amazing especially for the price.
Phanteks Enthoo Evolv ATX Tempered Glass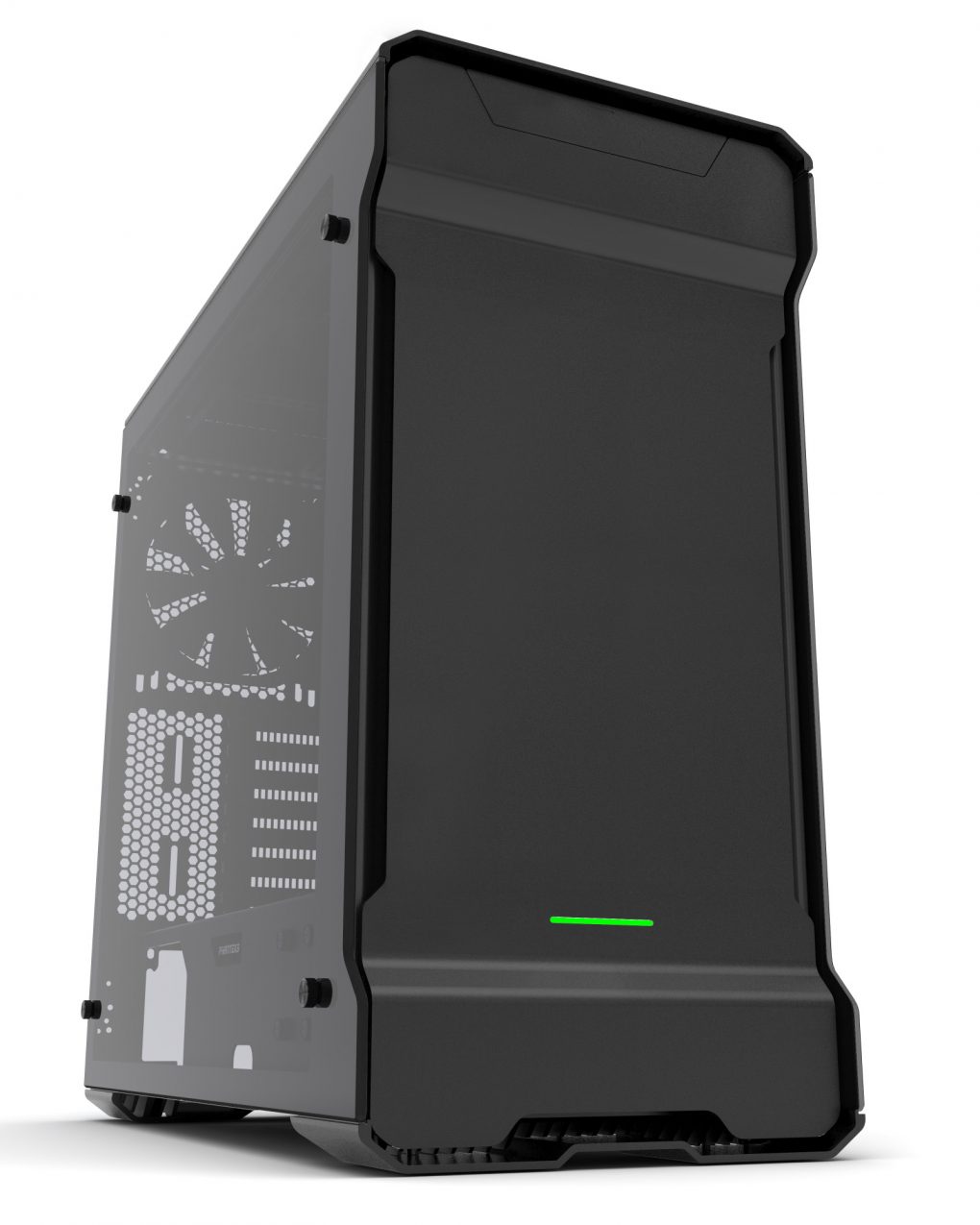 The Phanteks Enthoo Evolv was one of the more influential case lineups in recent years, for their outstanding build quality that surpasses most $300+ cases, their all-around exceptional functionality (they can do everything you can imagine essentially), and their industry leading ease of use. Now we recommend the ATX Tempered Glass version, which is available in a variety of colors and costs $189.99. No need to get the non tempered glass version as you would not be saving much money anyway, and we have already explained how inferior acrylic/plexiglass is.
This is a case we have used time and again due to it excelling in every area. The steel chassis rests underneath a 3mm thick aluminum body and two lightly tinted tempered glass side panels that are even thicker. The front panel is easily pulled off to reveal a big washable dust filter and two very quiet 140mm intake fans. It is true that the front panel mounting mechanism of the Evolv isn't quite as good as many Lian-Li cases, but nonetheless it is sturdy enough and avoids metal on metal contact with the use of plastic tabs. Like the other Evolv models, it has RGB LED power LEDs with ten different colors.
The interior is clean enough to eat out of. A full length PSU shroud reveals your power supply's sticker, for better or worse. It has a removable section for front radiators, where one can fit up to a 280mm or 360mm radiator (including large ones, even an EK Predator 360 which is an abnormally long unit). The top steel radiator bracket is held in place by five screws and can easily accept up to a 280mm or 360mm radiator once again (well, 360mm is not so easy). The Evolv ATX can actually fit up to E-ATX motherboards. The Evolv is known to raise temperatures for components connected to a top mounted radiator, due to the lack of proper ventilation, but the issue isn't severe from our experience.
Cable management is perfect, and the default case wires are once again routed neatly. Every intake vent has an easily accessible and washable filter, and it allows for a great balance of airflow and silence. For example, I personally use this case and it is barely audible unless right next to it. I upgraded from a Corsair Carbide Air 540, which kept my graphics card 4 degrees cooler but was many times louder with its whirling duo of 180mm intake fans in the front. Still, more top ventilation would be ideal to keep those CPU temperatures down when using top mounted radiators.
Like its mATX little brother, but even more so due to greater possibility of future expansion, the Evolv ATX Tempered Glass can easily be your final case purchase.
Lian-Li PC-O11
The Lian-Li PC-O11 is another do-it-all, end all be all case that supports up to E-ATX motherboards. It is a new release, with a shocking low price (relatively speaking) of $239.99. For all the space, water cooling potential, functionality, and all aluminum + tempered glass build quality, that's almost a steal.
Like most Lian-Li cases, this aluminum statement piece has a breathtaking brushed finish, with the only exception being the front and left tempered glass panels that are about 5mm thick and crystal clear. It supports a trio of both bottom (intake) and top (exhaust) fans; not the most efficient or quietest airflow method but more than sufficient. Due to its size and mounting capabilities, it is an outstanding water cooling case, being able to fit a 360mm radiator on the bottom, top, and front all at once. A front radiator won't really see much in the way of airflow though, and shouldn't be used before top and bottom radiators.
The PC-O11, like its little brother the PC-O10, is unique in that you can mount graphics cards normally, or vertically like the PC-O5SX through PC-O7SX. This little bit of modularity makes it even more appealing.
An ATX power supply is to be mounted behind the motherboard compartment on the right side, breathing in fresh air through a filtered vent on the right side panel. Once again, a compartmentalized design, for superior cable management and neatness and ease of use. It also contains more storage mounting options than you can imagine.
The price is not yet confirmed, but the PC-O10 already has a surprisingly reasonable price for Lian-Li with minimal "Lian-Li tax" (contrary to the rest of the PC-O lineup) which bodes well for the PC-O11.
In Win 909
The In Win 909 is truly one of the most beautiful cases ever made, and one of the best built. At $399.99 you had better believe it! It is monolithic, a true full tower supporting up to E-ATX. The internal design is far from the best ever, but one of the most unique and certainly interesting. It is made up of four compartments; one for the motherboard and graphics card, one above it for storage drives (and filled with missed opportunities), one behind it where normally there is no case (designed to hold up to a 360mm radiator), and one on the bottom for the power supply.
It is filled with design flaws (that affect functionality, not build quality) and has next to no objective advantages over the Lian-Li PC-O11 which is bound to cost less, but the looks, build quality, and decent water cooling support are enough to turn heads. The chassis is high quality aluminum, and it features a unibody design in which the bottom, front, and top panels are one piece of 4mm thick brushed aluminum. It has dark tinted tempered glass side panels that are 5mm thick, and it is available in both black and silver.
It is a barebones case with no fans or noteworthy features besides one little LED strip. Cable management is decent, but could be much better especially since the motherboard tray is filled with so many large, unnecessary cut-outs. The top compartment has riveted hard drive cages and a 100% solid compartment separator, losing much of its value. The only intake is at the lower front of the case coming from the lower parts of the side panels. It is filtered, and two 120mm or 140mm fans can intake air from these vents, but it isn't exactly high airflow case. It should be used with a custom water cooling loop.
While the Phanteks Enthoo Evolv ATX Tempered Glass and Lian-Li PC-O11 excel in both form and function, the In Win 909 is serviceable in function and excels only in form. Keep this in mind.
Extreme Cases for Extreme Systems
There are those who seek to use multiple 420mm – 480mm radiators, over two graphics cards, or even subzero cooling with TECs. All the cases listed so far aren't exactly ideal for such enthusiasm. For those interested in going all out in their pursuit for overkill, we suggest Mountain Mods, CaseLabs, and LD Cooling cases, as well as the MBX MKII.
They lack tempered glass, but are all aluminum aside from their window, and the larger ones such as the Mountain Mods Ascention, CaseLabs Magnum series, LD Cooling PC-V8 and PC-V10, and MBX MKII can hold pretty much anything you can think of and then some.
That's all we have for our case recommendations. We will keep this article up to date. Feel free to leave feedback in the comments below!