The computer case is often an overlooked aspect in PC building. It is not uncommon for one to question the value of a $200 case, or even a $100 case. The case is the enclosure of the entire PC, and whether the subject is aesthetics, ease of assembly and configuration and expansion, functionality, cooling, or noise, the chassis is extremely important.
In this article we will talk about the importance of a computer case on these aspects of a computer and more, and then recommend several cases based on price and form factor (e.g., ITX, mATX, ATX). The case industry is evolving before our eyes, and some cases are clearly superior to everything else in their price ranges or even above.
Let's start by addressing the question, "What to look for?" on the next page.
What to Look for in a Computer Case
The computer chassis is very important for many reasons, listed below.
Functionality and Expansion: You need a case that can support the hardware you desire. If you want to use large CPU coolers or water cooling then you need a case that can fit them and conveniently support their installation, removal, and expansion. Start small and grow into a bigger, more powerful PC? You need a case that can support the expansion, say from one 240mm all-in-one liquid cooler to a custom loop with two 360mm radiators. This all depends on the case. There are other aspects to functionality as well. Perhaps you need a transportable PC with hot swap bays for quick, easy removal of storage drives. Perhaps it needs a lockable side panel as well. You'd then need a case that is appropriately sized, with an easy way to carry it, and with hot swap bays and a place to secure the side panels with a lock. Or maybe you want to build a flashy PC that acts as a light show? You will want a case that easily supports mounting LED strips, perhaps with a few steel interior components (namely power supply shroud and radiator/fan brackets) on which you can mount magnetic strips (which are far superior and more reliable to adhesive).Some cases are very modular, which can cause durability concerns but also introduce a new level of functionality and ease of use. This could refer to things such as being able to install SSD and hard drive mounts and cages in several different places, a case supporting regular ATX and inverted ATX motherboard orientation, and more. There are so many things to consider with regards to functionality of a computer case.
Ease of Use: Convenience in PC assembly, disassembly, tweaking, and expansion is a blessing. The more convenient, the better. Some cases are so much more convenient than others. You should seek a case with ample space for cable management—hiding cables so that they are out of sight, for better looks and airflow (better airflow leading to less noise too). It should be easy to access, install, and remove storage drives, fans, dust filters, radiators if water cooling, the power supply, graphics card, and all other components as well as the case's body panels. Ideally, the case's built in wires for power/reset buttons and LEDs and such would either be pre-routed or easily routed neatly. A power supply shroud can hide cables, but cable management is easiest when the power supply has its own completely isolated compartment like in the Lian-Li PC-O11 series. A case should have a large cut-out in the motherboard tray for easily installing and uninstalling CPU coolers, and a case should have lots of holes for cables to pass through, wherever necessary (in front of the motherboard, along the top and bottom). Ease of use can extend to modding as well. The less rivets used to hold the case together, the better. It is better to use screws and blue thread locker so that the case can easily be fully disassembled and assembled. Easily removable body panels helps immensely too, for painting and such.As you can see, there are many factors that contribute to a case's convenience or inconvenience. Try to get a case that overlooks as few as possible while meeting the rest of your needs.
Airflow: Graphics cards, processors, and their heatsinks and radiators run warm or hot, and need ample cooling. The more straightforward and unobstructed the airflow, the better. Thus, cable management can affect it as well. A wind tunnel is ideal; front to back is most common (front intake, rear exhaust), and Silverstone pioneered the 90 degree rotated motherboard design with a bottom to top wind tunnel (the most effective airflow method). Remember: MORE FANS DOES NOT MEAN BETTER AIRFLOW. It's more about fan placement and airflow direction. Also remember that heat naturally rises, so exhaust fans/vents should be placed higher up. Do not overlook air pressure within the case. More intake than exhaust results in positive air pressure, which means air passively leaves the case. Whereas more exhaust than intake results in negative air pressure, in which air and dust passively enter the case. Positive air pressure is better.
Dust Protection: Dust ruins aesthetics and can raise temperatures. A case needs dust filters, and they should be both easily accessible and washable for obvious reasons (they require maintenance). Even so, they aren't enough on their own. Periodically you should open your PC and dust it out with compressed air and microfiber cloth.
Noise: A quiet PC is a lovely thing to have. Less distracting for when you're working, gaming, or trying to sleep in the same room. Those who have not gone from a loud PC to a PC that is barely audible cannot imagine how rewarding silence is. Airflow contributes to noise; the more efficient airflow (that is, airflow that keeps temperatures down with as few fans/low RPM fans as possible) the better, the less dust the better. If using air cooling in a case that is too large will need fans with more airflow, which means more noise. How open the case is or isn't also affects noise, as does the thickness of the body material. Some cases use sound dampening foam to reduce noise levels. A case with extremely open ventilation, such as the In Win 909, will be louder.
Durability and Build Quality: Some amount of durability is needed from a case, so that its material doesn't wear out over time. This is most important for cases that are transported often. The less plastic, the better. If you want a window, it should be tempered glass rather than acrylic/plexiglass. Tempered glass is far more sturdy and difficult to smudge and scratch, while acrylic/plexiglass smudges and scratches easily and both the smudges and scratches are extremely difficult to remove. Plus, tempered glass is far more clear and aesthetically pleasing, such that there is no way around it! If a case has moving/removable parts and panels, you will want to ensure the mechanisms for them are reliable. Lian-Li has mastered this art more than anyone though in recent times their quality has declined after a change in ownership. Also, let us not forget the finish of the metal. Some finishes, like sand blasting, make for a more durable coating that isn't easily smudged by fingerprints or scratched. Aluminum should be anodized and then finished in such a durable way. Build quality is of course related to durability, but is not necessarily one and the same. You can have a case that is built like a tank but has an unattractive finish, or body panels that attach to the case in a way that is sturdy but not ideal. You can have a solid case with somewhat misaligned panels, resulting in ugly and unprofessional looking lines that aren't straight; this plagues the majority of cases so choose wisely.
Aesthetics: Everyone has their own taste, so look for a case that is most aesthetically pleasing for you. Cheap materials, like matte plastic panels (see Corsair Carbide Air 240 and 540) or plexiglass/acrylic windows, are always less appealing. They make it obvious just how cheaply made the case is, not something one would want to display. Thus, build quality is related to aesthetics. A case with well aligned panels will produce straighter lines and look more appealing and professional. High quality materials and finishes like the 3mm anodized, sand blasted aluminum employed by Phanteks looks so much better than cheap materials like plastic or SECC.
So these are some of the crucial factors when shopping for a computer case. All should be considered and weighed against each other. Thankfully, there are several cases in virtually every form factor that don't make any compromise! Let's move onto recommendations now.
ATX and Larger Case Recommendations
ATX is the most common form factor, bigger than all previous ones. In this section we will recommend cases that have at least ATX support. Some support bigger, so for those that do we will specify.
Phanteks Eclipse P400S Tempered Glass

The Phanteks Eclipse P400S Tempered Glass and the Silent Edition represent tremendous value at $89.99 for the Silent Edition (which has sound dampening foam) and $79.99 for the non silent edition. It is a steel case (chassis and all body panels, unparalleled for the price and size) with a lightly tinted tempered glass left side panel.
The internal design is basically the same as the Evolv ATX, minus the top radiator support. Flawless cable management, good airflow (doesn't come with many fans however), and it comes with various goodies such as an RGB LED strip which is controlled by a button and is synchronized with the exterior case lighting, as well as a built-in fan controller, extra dust filters for the top panel fan mounts, and optional plastic plates with sound dampening foam to cover up the top fan mounts if not using fans in that location.
For those on a tighter budget, the regular P400 opens up as an option, the main difference being the lack of a tempered glass side panel.
NZXT H510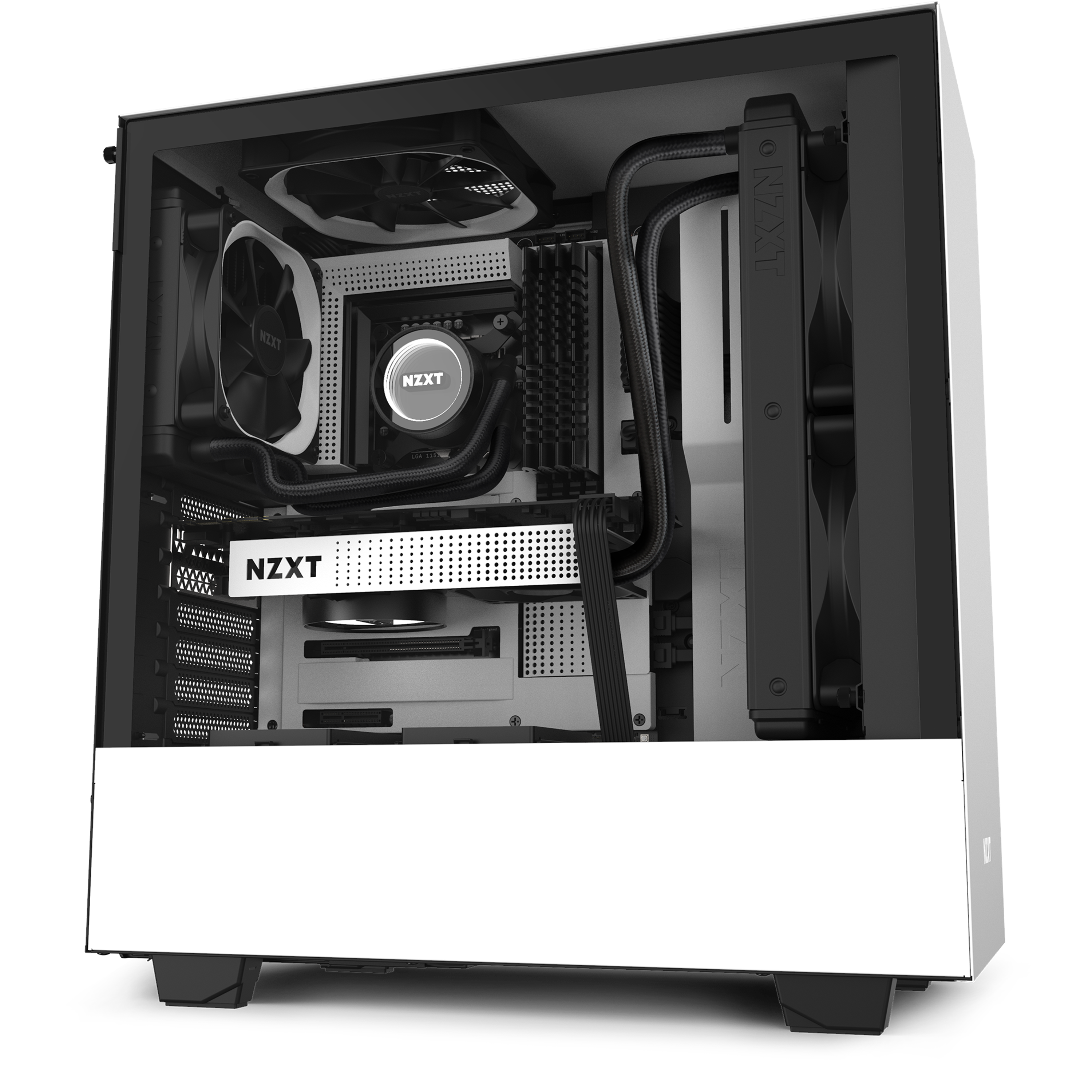 A great value at $74.99, this case ultimately has a similar layout to the above P400S and so many other cases. Front intake, rear and top exhaust, bottom power supply compartment. The price, build quality, and cable management make the H510 very appealing.
Lian-Li PC-O11 Dynamic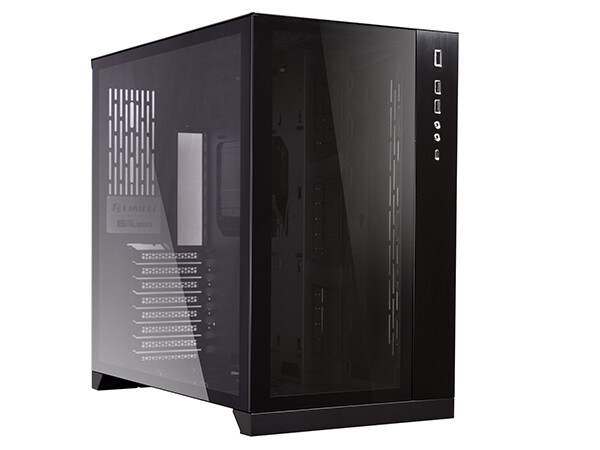 The PC-O11 series of cases quite simply has the best layout of any mid tower or normal sized full tower. The power supply compartment on the right side, the water cooling potential, the compact size of this one, the cable management is all so good. Even the airflow is solid with its bottom to top wind tunnel. This is a compact case yet the cable management embarrasses most super tower cases and it can comfortably hold two thinner 360mm radiators. It's available in multiple colors like most cases here. At $140-150 it is a steal.
The only downside is build quality – Lian-Li is not what they used to be in this category. You get typical thin metal panels here (except for the tempered glass), the tool-free mechanisms aren't as robust as they used to be and the metalwork just isn't on the same level as Lian-Li of old.
Lian-Li PC-O11D XL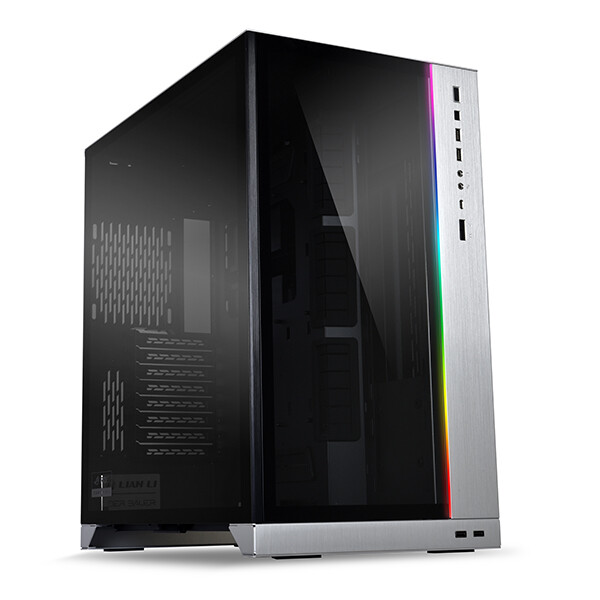 Big brother to the PC-O11 Dynamic, get this if you want more serious water cooling. The build quality is a bit better than its little brother but ultimately still not on the same level as the Phanteks Enthoo Evolv or older high end Lian-Li cases, but then again you won't be tossing it around so it is a worthy compromise. At $230 this is a decent value.
Extreme Cases for Extreme Systems
If for some reason the PC-O11D XL isn't enough for your extreme system then the best options are the Corsair Obsidian 1000D or Phanteks Enthoo Elite. They're hard to get nowadays, but their functionality is insane.
That's all we have for our case recommendations. We will keep this article up to date. Feel free to leave feedback in the comments below!