Well here we go! another SSD series from OCZ, the Vertex 4. Now you may be thinking, with SSD speeds as good as they are now days, how is the Vertex 4 any different? Well probably the biggest answer to that question is the addition of the new home-brewed Indilinx Everest controller. Up until now, the Vertex lineup has been powered by the SandForce series controllers. Since the SandForce controllers have a long history of bringing in massive performance, it will be interesting to see how OCZ's controller stacks up.
In this review we will be looking at the 256GB model which according to OCZ's website, brings in a whopping 560MB/sec read and 510MB/sec out. This along with 90,000 IOPS random 4K read, and 85,000 IOPS 4K write, tells us before even testing the drive that we should see some pretty impressive numbers from the start. The Vertex 4 comes in four verieties: 64GB, 128GB, 256GB, and 512GB. MSRP is $279.95 USD.
Features and Specifications
Like mentioned on the page prior, the OCZ Vertex 4 is equipped with OCZ's own in-house controller, the Indilinx Everest. This is no doubt the biggest difference when comparing the Vertex 4 with any other prior version. We will discuss this controller in detail on the next page and hopefully answer some questions you may have especially the advantages or disadvantages over the SandForce controller. But one thing is for sure, from what we have found, an SSD is mostly limited by the performance of the controller.
Here are the detailed specifications for this particular SSD taken from OCZ's website:
Performance numbers per capacity:

| | | | | |
| --- | --- | --- | --- | --- |
| Performance | 64 GB | 128 GB | 256 GB | 512 GB |
| Sequential Reads1 | 460 MB/s | 560 MB/s | 560 MB/s | 560 MB/s |
| Sequential Writes1 | 220 MB/s | 430 MB/s | 510 MB/s | 510 MB/s |
| Random 4k Read IOPS2 | 70,000 IOPS | 90,000 IOPS | 90,000 IOPS | 95,000 IOPS |
| Random 4k Write IOPS2 | 50,000 IOPS | 85,000 IOPS | 85,000 IOPS | 85,000 IOPS |
| Maximum IOPS3 | 85,000 IOPS | 120,000 IOPS | 120,000 IOPS | 120,000 IOPS |
Reliability/Protection:
| | |
| --- | --- |
| MTBF | 2 million hours |
| Data Path Protection | ECC corrects up to 128 random bits/1KB |
| Data Encryption | 256-bit AES-compliant, ATA Security Mode Features |
| Product Health Monitoring | Self-Monitoring, Analysis and Reporting Technology (SMART) Support |
Environmental
| | |
| --- | --- |
| Power Consumption | Idle: 1.3 W Active: 2.5 W |
| Operating Temperature | 0°C ~ 70°C |
| Ambient Temperature | 0°C ~ 55°C |
| Storage Temperature | -45°C ~ 85°C |
| Shock Resistance | 1500G |
Compatibility
Serial ATA (SATA)
Fully compliant with Serial ATA International Organization: Serial ATA Revision 3.0.
Fully compliant with ATA/ATAPI-8 Standard Native Command Queuing (NCQ)
Operating System
Windows XP 32-bit /64-bit; Windows Vista 32-bit / 64-bit; Windows 7 32-bit / 64-bit; Linux; Mac OS X
Additional Features
| | |
| --- | --- |
| Performance Optimization | TRIM (requires OS support), dynamic and static wear-leveling, background garbage collection, Indilinx nDurance 2.0 Technology to extend SSD lifespan |
| Other Performance Features | Ndurance 2.0 Technology (Reduced Write Amplification without Compression, Advanced Multi-Level ECC, Adaptive NAND Flash Management) |
| Service & Support | 5-Year Warranty, Toll-Free Tech Support, 24 Hour Forum Support |

OCZ also includes a 5 year warranty with the Vertex 4.

Indilinx Everest
Indilinx Everest is the new controller which powers the Vertex 4 which is basically the 'brain' of the SSD. We mentioned earlier that in the past OCZ has always used the SandForce lineup of controllers which weorked very well with the sucess of the previous Vertex series from OCZ. Honestly, to date, there is not a whole lot of information available about the Indilinx controller compared to the piles of info we have on the SandForce.
So, what do we know? Pretty much all the information that OCZ cares to share with the rest of us! Most of it comes from a detailed press release foundHERE. But at a quick glance, things look pretty good.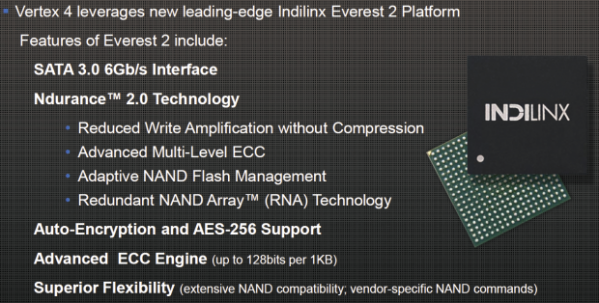 Performance Optimization
The Everest 2 SSD controller architecture features sequential bandwidth of up to 535 MB/s, maximum random I/O performance of up to 120,000 IOPS, 4K random read performance of up to 95,000 IOPS, and random write performance of up to 85,000 IOPS. In comparison to OCZ's previous Everest SSD controller generation, the transactional performance is doubled under typical use case scenarios such as managing and creating commonplace data such as MP3s, JPEGs, videos and digital camera RAW files.
In addition to this industry-leading transactional performance, the Everest 2 SSD controller reduces latency to 0.043ms for read operations and 0.026ms for write operations, yielding an improvement of approximately 80 percent over the previous Everest SSD controller generation. This latency reduction accelerates access to data, and hence, application system performance.
Extending NAND Flash Life
Extending the life of NAND flash memory for MLC-based SSD requires a highly intelligent controller that can analyze and dynamically adapt to increasing NAND vulnerabilities as the flash cells wear or process geometries get smaller. The Everest 2 controller, featuring Indilinx Ndurance 2.0 technology, is designed to radically extend NAND flash memory life while providing enterprise-class endurance even when commodity-grade NAND flash is used. Ndurance 2.0 technology suite includes the following capabilities:

Advanced Multi-Level ECC:
The advanced, multi-level BCH ECC engine with progressive error correction adapts to the specific error characteristics of different NAND devices. The programmable ECC engine achieves an effective correction power of up to 128 bits per 1KB of data while significantly reducing the uncorrectable bit error rate (UBER).
Adaptive Program and Read Algorithms:
Proprietary and vendor-specific program and read algorithms are applied, ranging from internal voltage shifting to sophisticated signal processing techniques that minimize NAND flash deterioration, reduce disturbances that affect adjacent flash cells, and improve data recovery.
Redundant NAND Array™ (RNA) Technology:
This option safeguards against catastrophic NAND flash failures and uncorrectable data errors by generating parity data information and striping it across multiple NAND flash cells. RNA provides RAID-like protection that enables data to be divided and replicated amongst multiple NAND flash devices within an OCZ SSD.
• Reduced Write Amplification without Compression:
Lower write amplification is achieved by concatenating multiple write requests from the host while minimizing wasteful copy back operations of unaffected data sectors. This approach virtually eliminates excessive programming and read operations while preserving precious program/erase cycles without the need for performance-degrading data compression.
Advanced Feature Set
The Everest 2 controller technologically surpasses all other SSD controllers in the industry through an advanced feature set that includes:
Broadest NAND flash support, including 1xnm and TLC
Up to 8 NAND flash channels with up to 16-way interleaving per channel
Up to 535 MB/s transfer rates when using synchronous flash
HyperQueueing™ and Native Command Queuing (NCQ), with a queue depth up to 32 commands, and algorithms to optimize the order in which read and write operations are executed
Up to 8Gb (1GB) of 800MHz DDR2/DDR3 DRAM cache support
Multi-Level ECC with 128-bit correction capability per 1KB of data
RNA Redundant NAND Array to protect against catastrophic NAND flash failure
True end-to-end data path protection performs data integrity checks at every juncture where data is transmitted, received, processed and stored to ensure that corrupted data will be detected and not propagated
Power fail protection and optional Supercap support prevents data loss in the event of a power failure
Auto encryption and AES-256 encryption to protect and secure data
Additional flash management techniques such as TRIM, background garbage collection, dynamic and static wear-leveling and advanced flash defect management

The Everest 2 SSD controller platform will be implemented in future OCZ storage solutions with the first being the OCZ Vertex 4 SSD. The Vertex 4 SSD will be available through OCZ's global channel in a wide range of capacities and is ideally suited for demanding computing and workstation environments.
A Closer Look
The Vertex 4 is packaged nicely featuring some nice attractive design work on the package esterior. Inside you will see that everything is bundled nice and tight, eliminating wiggle-room which could cause damage during shipping.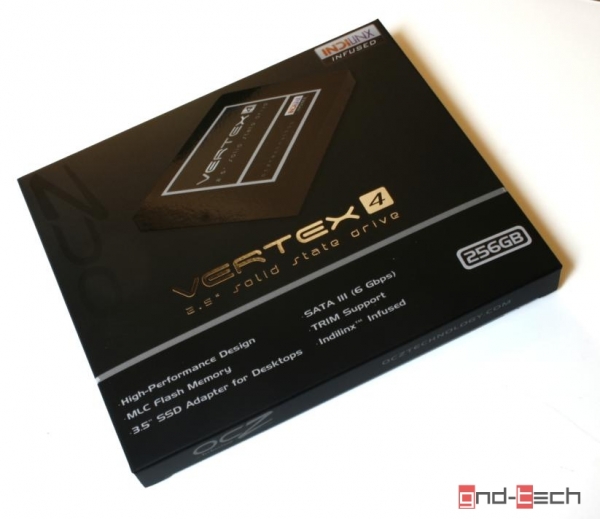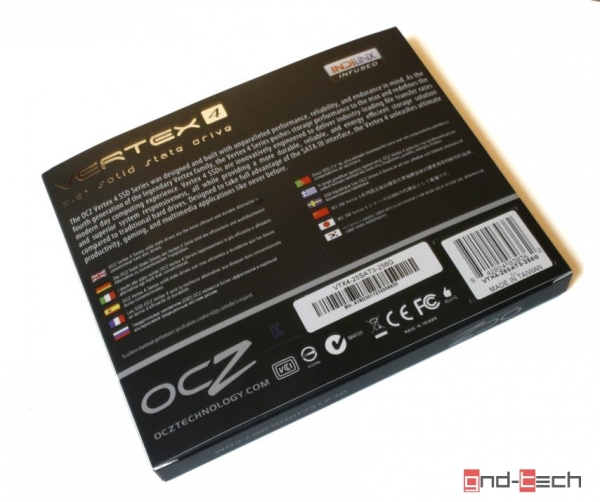 Upon opening the package, you'll notice the SSD packed into its custom fitted foam shell. Included also are your warranty information, the usual "My SSD is better than your HDD" sticker, a mounting bracket for 3.5″ configurations and mounting screws. The SSD is tucked away in an anti static bag to reduce electronic shock damage. We have always been impressed with the level of care OCZ uses when packaging their solid state drives.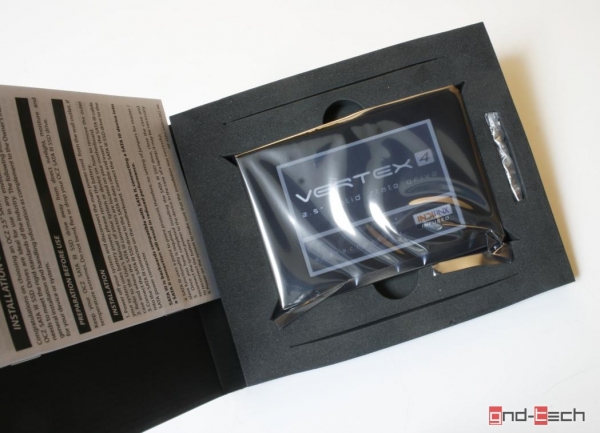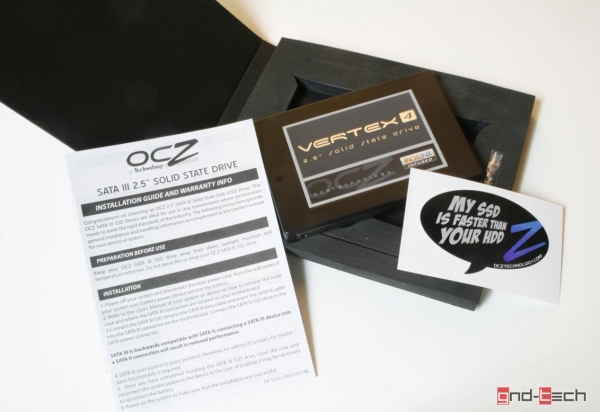 The Vertex 4 looks pretty much standard to any other OCZ SSD. The typical gray color scheme sport the Vertex lineup also with the addition of the Indilinx Infused logo. Yeah, the overall look is pretty bland, but lets face it, you don't buy solid state drives based off what it looks like. Overall, the solid state drive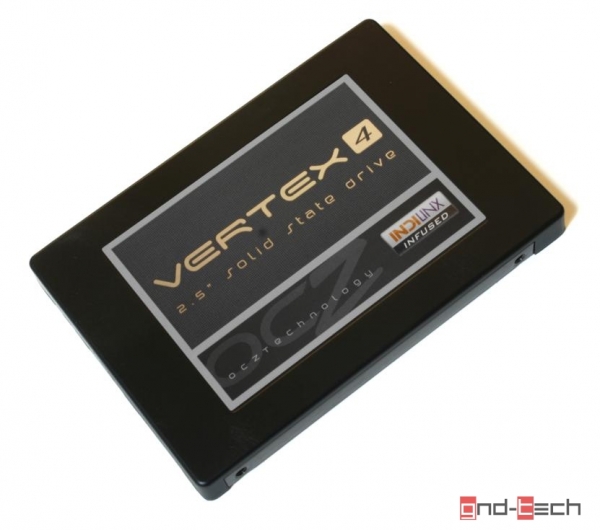 Nothing too amazing happening on the reverse side of the drive. Just your basic technical information sticker slapped on a rather nice brushed metal surface. The four screw holes on the bottom are for mounting the SSD to the included metal bracket if you chose to mount this into a desktop in a 3.5″ drive bay.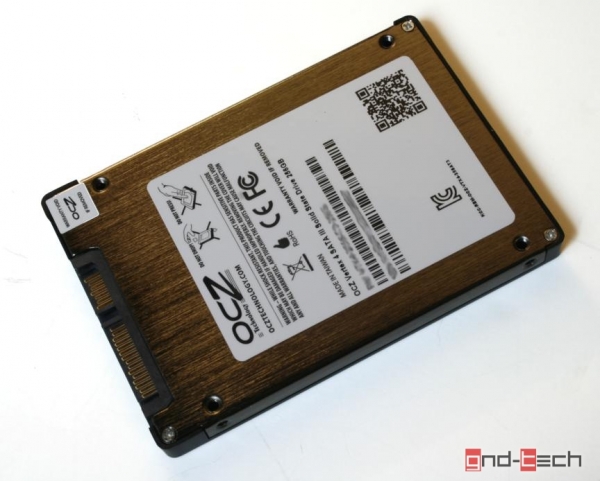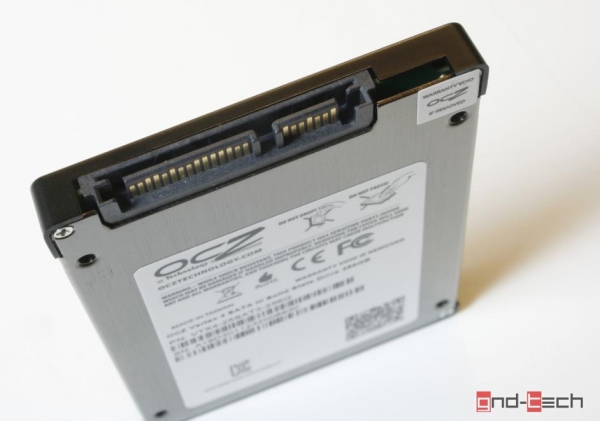 Here we have the included mounting bracket as we mentioned earlier. OCZ was kind enough to include a nice set of screws to help you get the job done.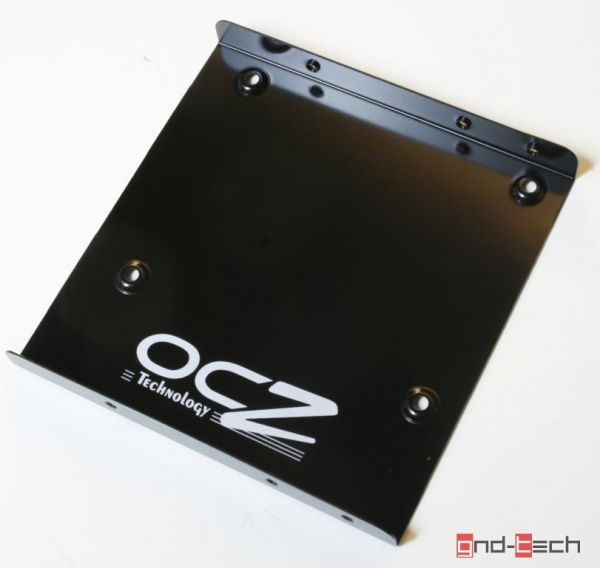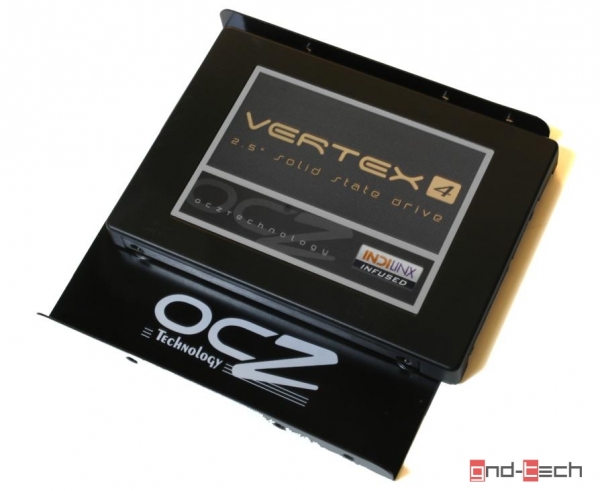 Inside we find the single PCB with all the internal components installed. What probably stands out most is the Indilinx controller chip. Surrounding the chip are all the OCZ branded NAND flash memory chips.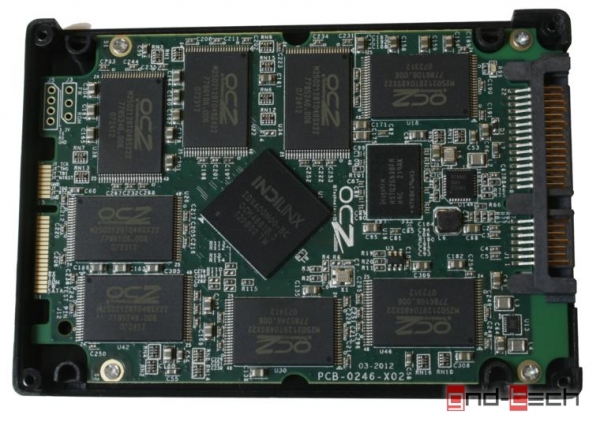 And on the back of the PCB we find more NAND memory chips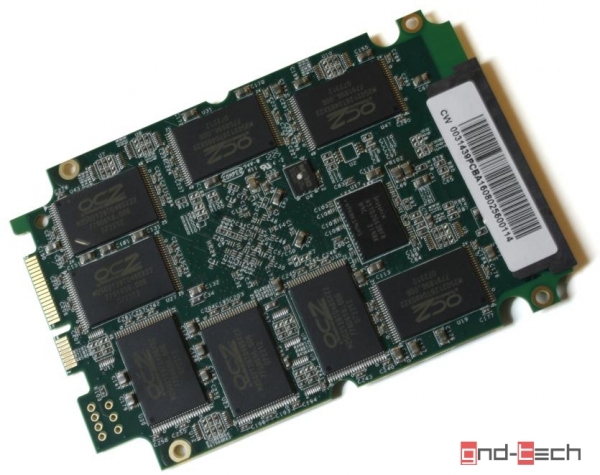 The overall look and feel of the Vertex 4was impressive. The plastic and metal housing did not give off any feeling of cheapness. It had a good amount of weight to it to make it feel like something you are glad you spent your money on. Plus it really makes the drive feel like it achieves a higher level of quality when it is packaged the way this was.
Now that we've seen what we are working with, lets start crunching some numbers!
Performance and Testing Results
Testing Methodology
The OCZ Vertex 4 was tested in full SATA 6 mode using a supported motherboard to maximize the performance of the drive. To measure performance we used several benchmark applications geared towards measuring drive speeds or transfer rates. The applications include Crystal Disk Info, HD Tune, Atto Diskmark, Crystal Disk Mark, and HD Tach. The firmware for the Vertex 4 was updated to the latest version running 1.5.
The system used was a SAGER NP5160 notebook in full SATA6 mode.
Installation
Installing the hard drive is about as straight forward as it gets. When installing into a desktop, provided you don't have a SSD mount in your case, the bracket allows you to mount the drive into any 3.5″ drive bay. From there it is just like installing a typical HDD into a computer. In a notebook scenario, of course installation will vary depending on what you are installing it into, but the Vertex 4's size and screw configuration will match whatever 2.5″ HDD you currently have in your system. So you should not have to worry about any hard drive incompatabilities.
Testing
CrystalDiskInfo

The first program we used after installing the drive was CrystalDiskInfo. This handy program doesn't really benchmark the drive, but rather gives you basically all the information you could ever want in a nice easy to read layout. From this program we can see useful information and also confirms that we are indeed running in SATA6 mode.
HD Tune
For our first actual test we used a program called HD Tune. This handy program comes with a vast array of testing features. To kick things off we started with a good ol' fashioned read/write benchmark
For the benchmark read test we were able to just under 300MB/sec for maximum read speeds.
On the transfer speed tests, we were able to get the drive moving a little bit faster. This time upwards of 417MB/sec.
Atto HD Benchmark

Atto HD Benchmark is another great benchmark utility. It measures drive performance incrementally and gives results in a nice easy to read format.
Numbers looking quite a bit better with the ATTO benchmark utility. Read Speeds maxed at about 434MB/sec while write speeds surprisingly surpassed read speeds topping at over 501MB/sec. Not some thing you normally see on a SSD benchmark since writing is always a bit more complex than reading when it comes to NAND flash memory.

HD Tach

HD Tach is another hard drive benchmark utility that uses a sequential read test similar to that which we used in HD Tune.
After a number of benchmark runs, HD-Tach gave us the worst result so far maxing out at 205MB/sec read.
AS SSD Benchmark
Another lightweight no-nonsense program used for measuring drive speeds at different incraments.
Sequential reads proved to be the best with this benchmark measuring at 467MB/sec read and 352MB/sec write. Based on all the results, this program puts out a calculated score which in this case the Vertex 4 achieved 837.
So what do all the numbers mean? It's hard to make sense of SSD transfer speed results from different programs because they are all… well different. Basically all this proves is what the drive can do under different scenarios. Each program benchmarks a little bit differently. Exactly how different we will never know. This is why we did not reach the Vertex 4's rated speeds of 560MB/sec read and 510MB/sec write. To achieve these speeds you need to hit a perfect set of circumstances under the right conditions. Maybe there is some obscure benchmark program out there that will hit that speed, but it is impossible to tell.
Conclusion
The Vertex 4 is a solid buy for anyone looking for a high performance SSD. We are always impressed with the care and attention to detail OCZ uses when it comes to their products. To start, the packaging is very careful and efficient. The overall look and feel of the drive is exceptional, and the fact that OCZ includes a mounting bracket is just another reason to upgrade to the Vertex 4. The performance was good though we did not hit full rated speeds of 560MB/sec. But, overall the numbers were impressive and we are excited to see where the new Indilinx Everest chipset takes us with future products with OCZ.
The only draw back we could find with the Vertex 4 is the price. With an MSRP of 249.95, it is a bit on the high side compared to its competition. But it is likely you could find it for cheaper if you kept your eyes open.
Appearance – For an SSD it is really hard to fail in this category. However, overall appearance of the drive and the packaging was great. 25/25
Construction – Probably one of the drives strongest atributes. The overall construction feels amazing. It is solid, and has a nice bit of weight to it to give it a higher sense of quality. 22/25
Performance – Performance for the Vertex 4 was overall very good. We did not come close to the maximum rated speeds, but we explained why this happened on the previous page. 21/25
Functionality -This SSD does exactly what it is suppose to do and does it exceptionally well. With this drive you get an array of features that not only extend enhance performance, but also extend the overall life of the drive. With all these modern features packed inside a conveniently sized package we will give this category a perfect score of 25/25!
Overall: 93/100
The Vertex 4 is a solid buy