Not all gaming chairs are alike and today we're going to be taking a deep dive into one of E-Win Racing's offerings to see what makes their gaming chairs unique and if they live up to the Hype. Currently, E-Win offers an impressive lineup of unique gaming chairs in unique styles, materials and colors, however today we'll be looking at the E-Win Racing Champion series chair themed in black and white.
This particular gaming chair, unlike many we've reviewed in the the past, is the first we've gotten our hands on that is wrapped in a soft-durable cloth material. We're hope you're as excited as we are to dig in and we'll see how this new material holds up compared to the traditional leather wrapped gaming chair!
Packaging and Assembly
The E-Win Champion series gaming chair was shipped from the US and arrived just a few days later to our undisclosed test facility. As you can see in the images below, the chair will require a little bit of assembly, but is overall well packaged. Parts are well isolated, from one another and there is not a lot of room for parts to shift around. While there was mild damage to the outside packaging, the chair arrived in perfect condition!
Once everything is unwrapped and removed from its packaging, you'll get a better idea as to how this chair will go together. Easy to follow instructions are provided.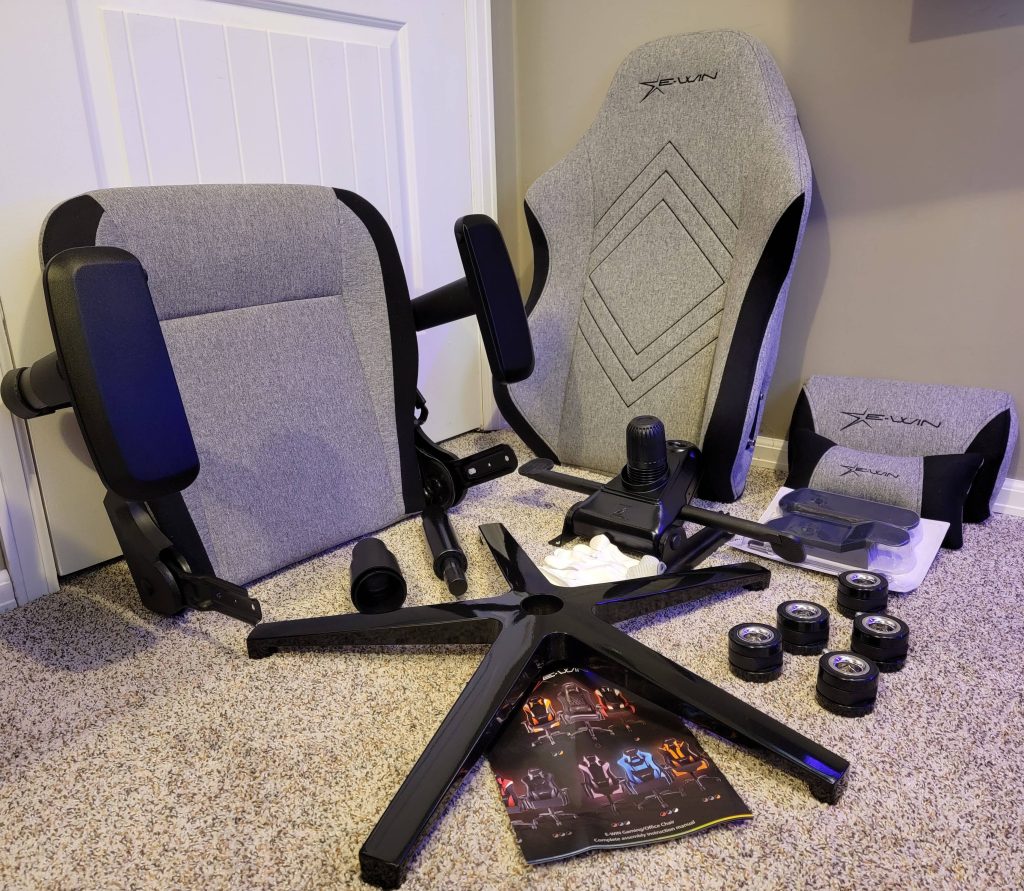 E-Win provides all necessary parts, tools and even an extra screw or two in case one goes missing. When assembling the chair, we did not need any additional tools other than what was provided in the packaging.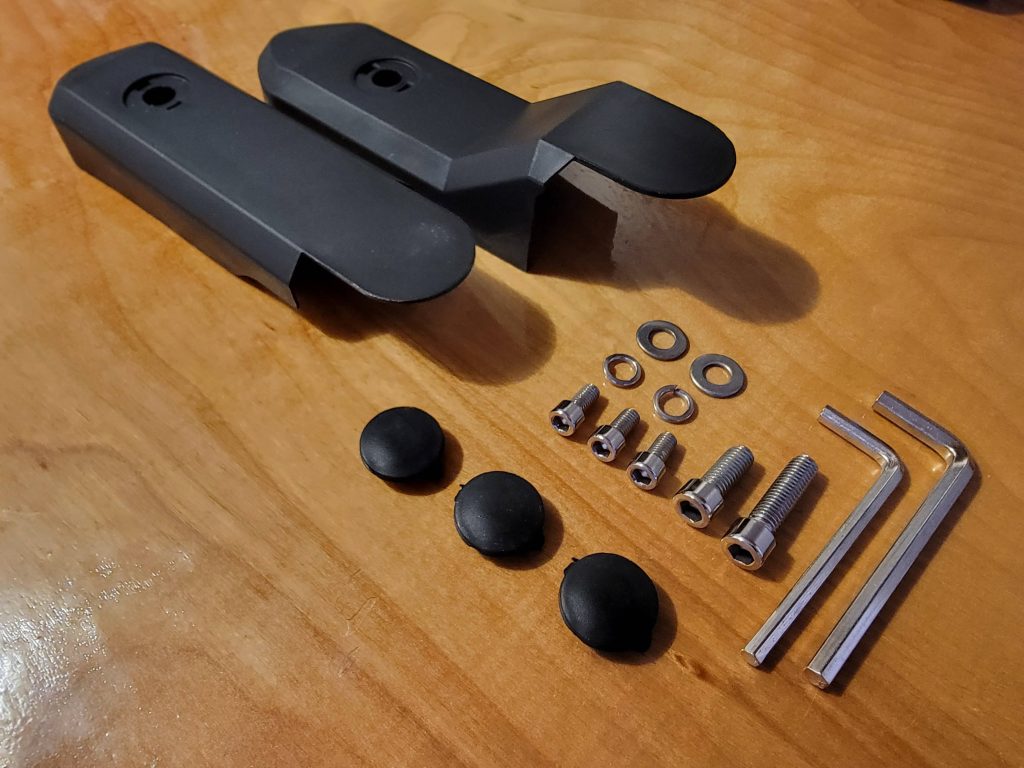 A Closer Look…
Before assembling the gaming chair, let's take a closer look at some of the parts while we have a chance! The casters are quite interesting compared to other chairs on the market. According to E-Win, these are "Hub-Less" casters and come in several colors. They feature full ball-bearing internals and spin freely and smooth during our tests. Personally, I really like the look and think they add a bit of character to the chair.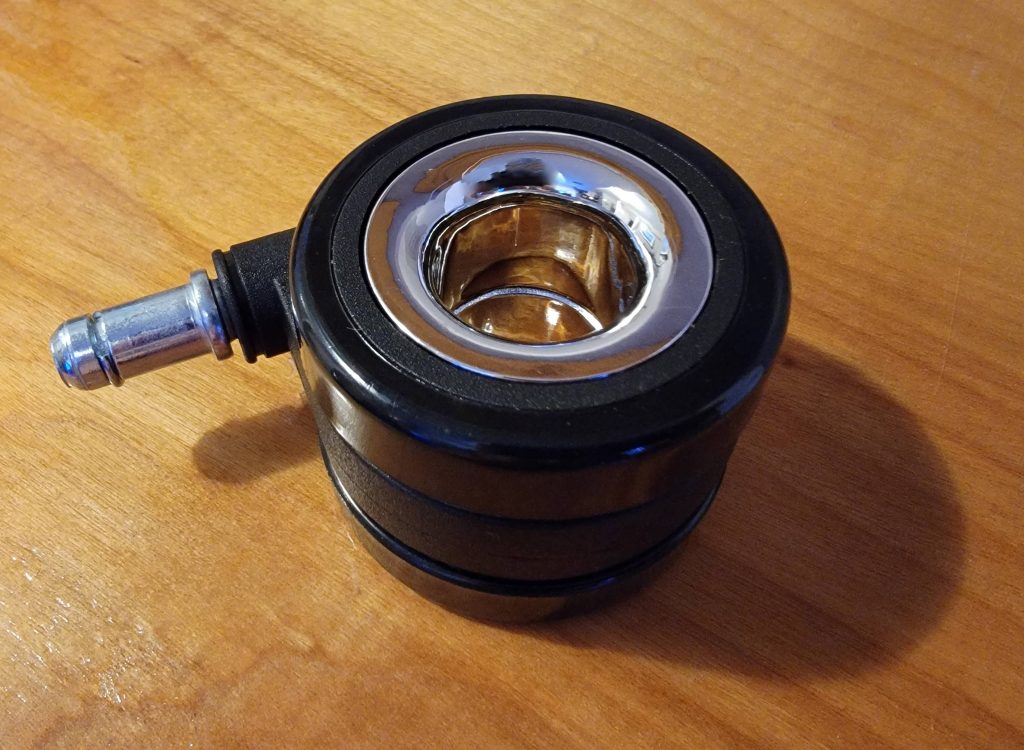 Moving on up to the metal base, we can see that it is a single piece of casted aluminum power coated in gloss black. It has a bit of weight which gives off a good quality feel when compared to some others we've seen. Often times, this part can be constructed out of plastic, so it's good to see E-Win leaning towards quality with such an structurally important part of the chair which makes sense considering that this heavy-duty gaming chair can support up to 550lbs.
Next, let's take a look at the base or the seat of the chair. According to E-Win the base (and back) is constructed using cold-cure foam which is much more durable and dense compared to traditional foam. According to their website, cold cure foam is "High Resiliency foam engineered to be 2 times heavier than regular foam per cubit foot, inching it near the realm of memory foam. The elasticity of the foam helps prolong the comfort life of the chair and adds to the overall durability of the product."

Under the base are elastic supports to provide a bit more cushioning and comfort. The base plates which support the chair upright and connect to the piston mount (we'll connect later) appear to be quite durable and are secured using large hex bolts.
The base plate attaches using the four pre-installed bolts which need to be removed first before attaching the base plate. Be sure to check the orientation before securing it to the chair's base cushion by looking for the "Front" text and arrow.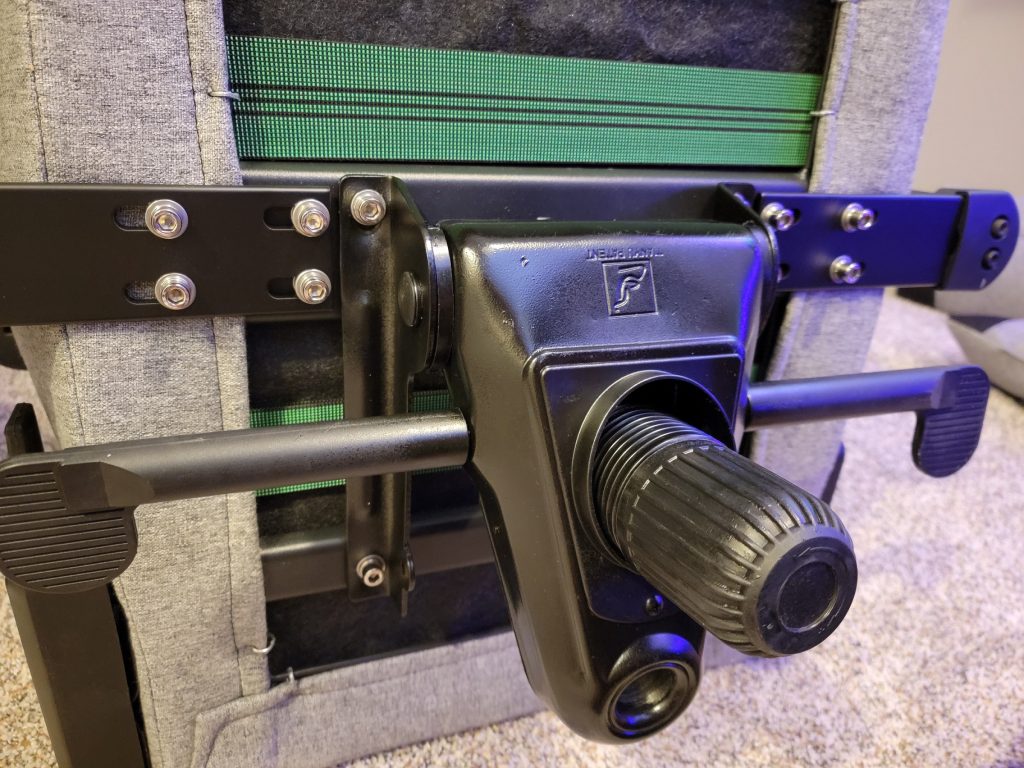 At this point, the chair base can be attached to the piston, which is then attached to the caster support. These parts just slide in and are secured into place once you sit in the chair for the first time.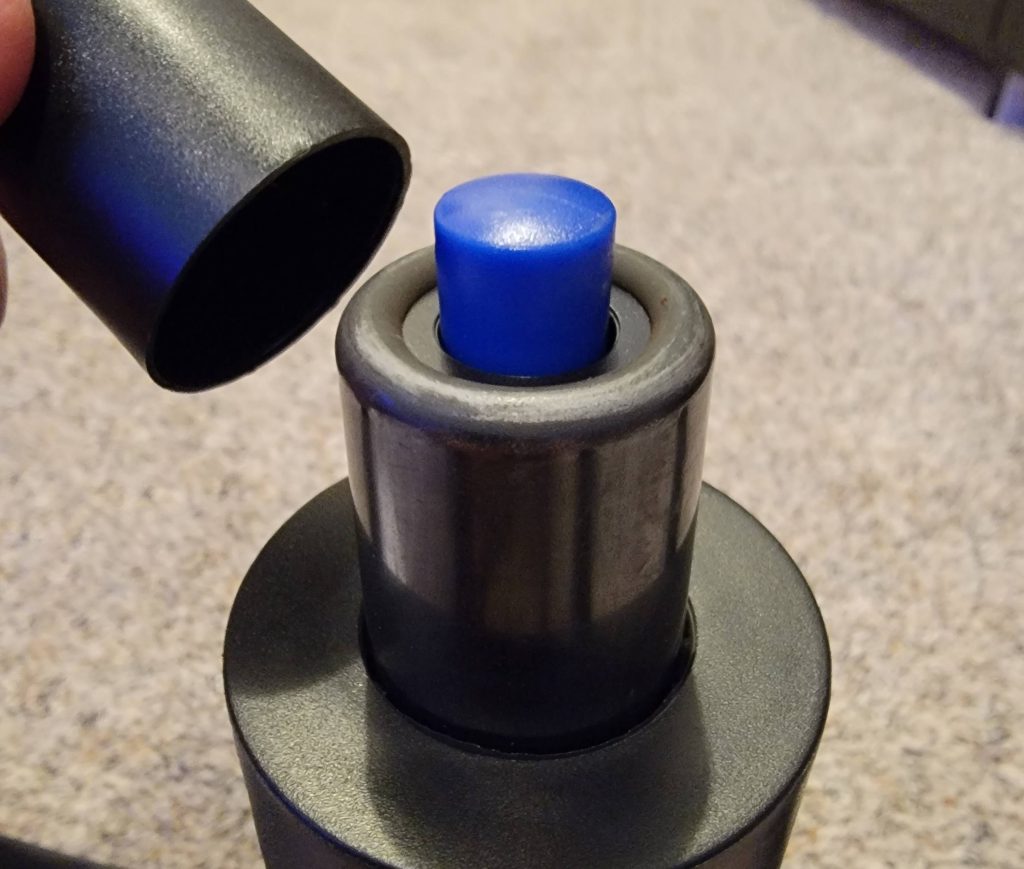 Overall, assembly took about 15 minutes from start to finish. Some parts can be difficult to lift and position so it might be helpful to have a buddy on standby just in case.
Exterior Review: Finish & Construction
With the chair assembled, let's take a closer look at the cloth fit and finish! Personally, I absolutely love the black and white color scheme. This will fit well with almost any gaming "battle station" or home office. The cloth definitely provides a unique look compared to the construction of most gaming chairs on the market.
The overall feel is soft, but textured. It definitely feels a bit more higher quality than some other chairs we've reviewed in the past. Though time will tell, I'm sure this particular finish will stand up to years and years of abuse.
The included pillows are a nice touch. They are made from the same material as the rest of the chair's cushions and add a bit of character. Mounting them is a bit more awkward on this chair as there really is no mounting option on the bottom pillow. I found that simply placing it there would cause it to fall over when standing up.
When it comes to the gaming chair's overall construction, there is not much to say other than it is definitely well built. After sitting in the chair and shifting around, the chair was firm and planted and didn't make any noise at all.
Probably one of my favorite features are the "4D Armrests". As the name implies, the armrests feature four directions of movement which can be used to personalize the chair to the individual. These can be twisted at an angle, brought up and down, side to side and front to back.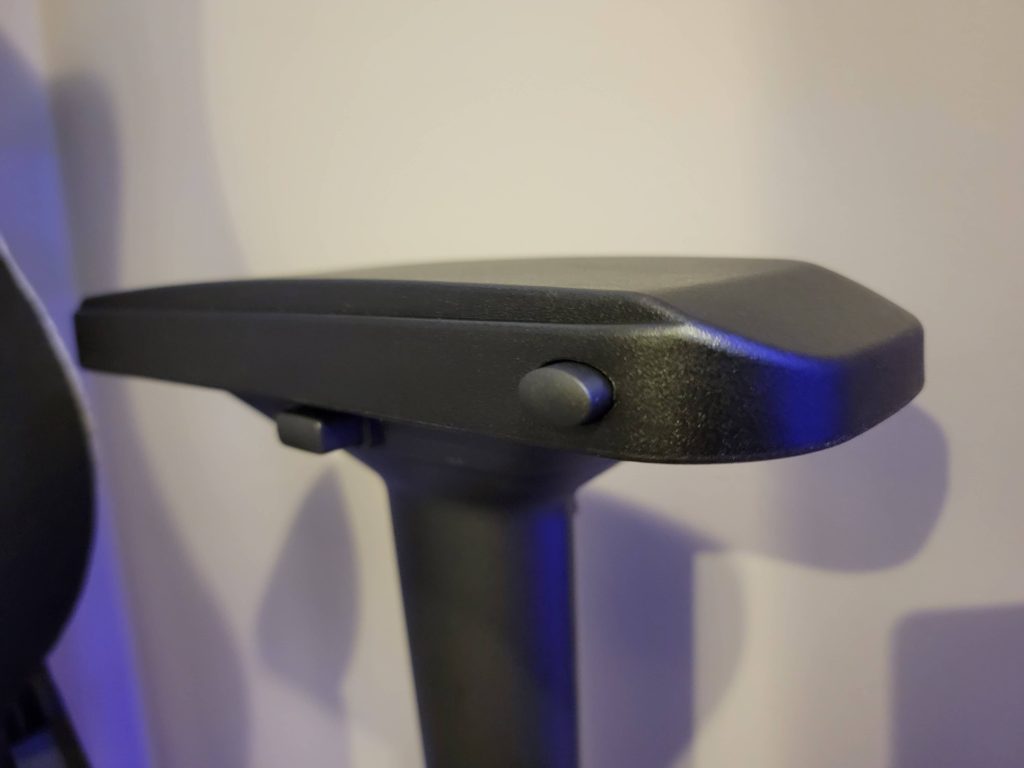 Other controls for the E-Win gaming chair include overall height adjustment and back tilt which can be engaged with the side lever which resembles the e-brake of a car. The tilt can be pretty extreme, so take caution when activating the side lever!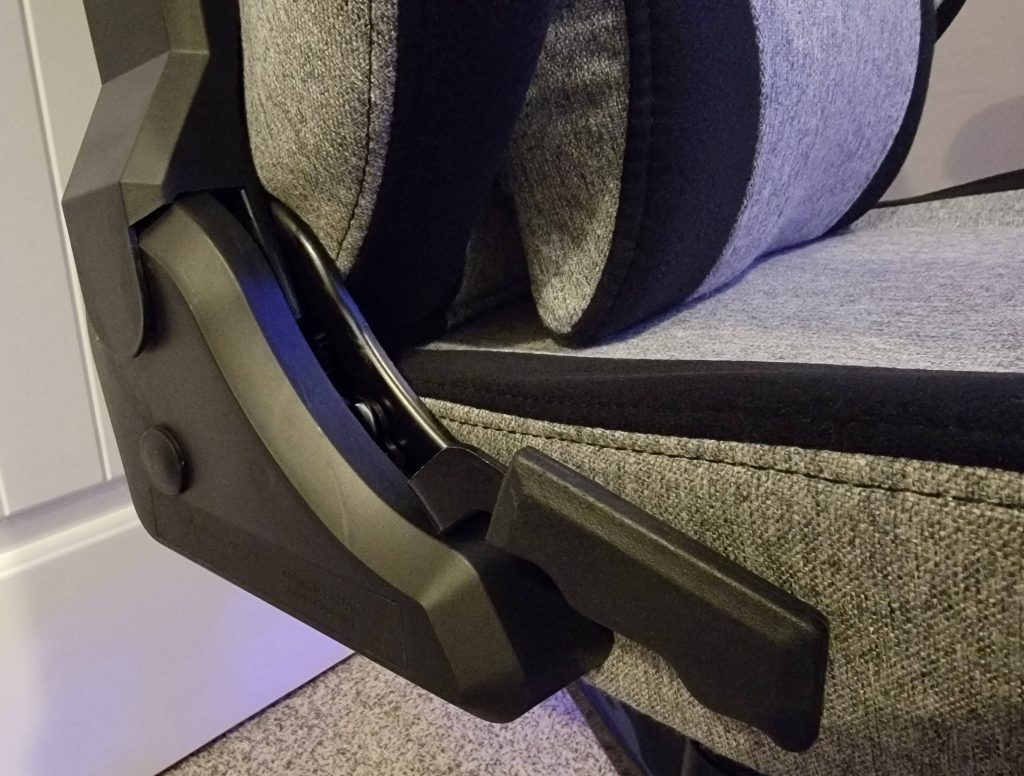 Next, let's talk comfort. This wouldn't be a proper review if we weren't actually going to use the product. In today's work-from-home environment, your chair is probably going to be the most important purchase to a home office or gaming battle-station. Not just from a looks perspective but for overall health.
Personally I work (and game) from home so I spend a lot of time in my office and obviously sitting in my chair. I tested this chair for an entire week before writing my thoughts. The chair provides excellent back support. Compared to my old chair, the back pillow helps with lumbar support so I found my posture a bit straighter as it forced me to sit upright. The foam is comfortable and while working or gaming I found I could sit for hours before needing to stand and stretch.
Overall, I love the shape of the chair and the support it provides. If I could rate this on a scale of 1-10, I'd probably put this as an 8.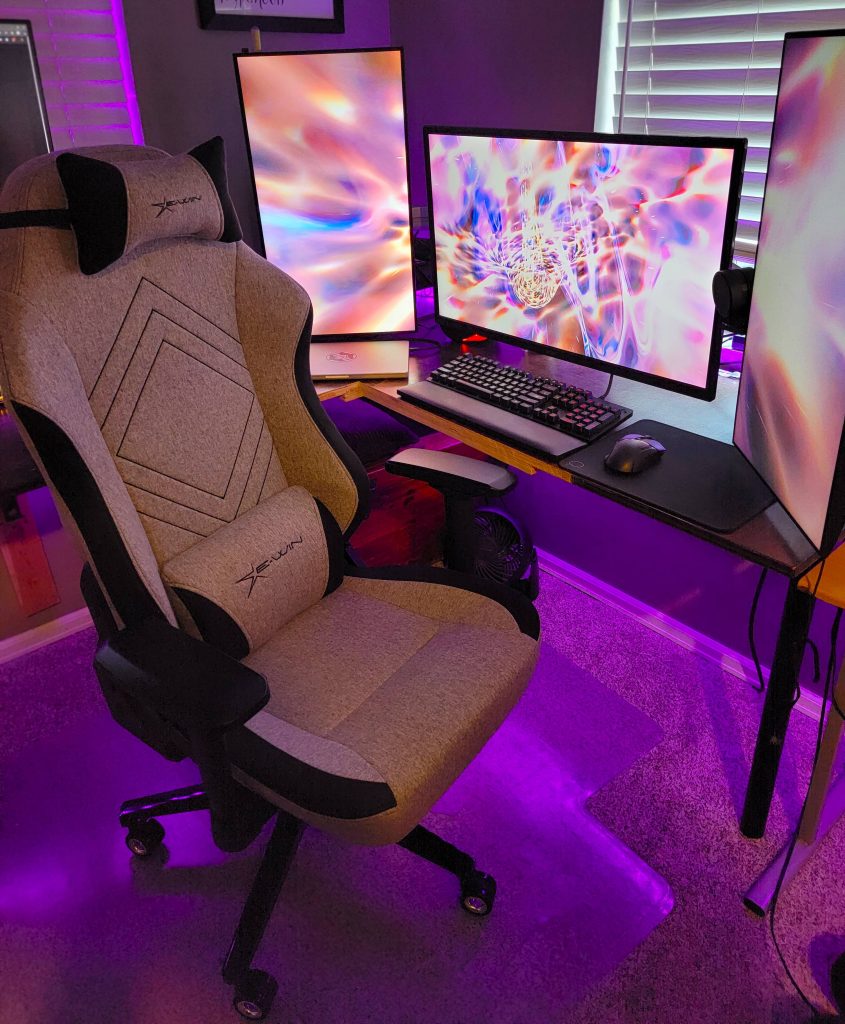 Final Thoughts & Awards
From packaging to finally taking a seat and adjusting the controls for the first time, it was clear that the E-Win Racing Champion Series gaming chair was a quality-driven product. At no point during the review were we concerned with the overall quality of any part or assembly process.
The chair's construction is impressive and we absolutely love the cloth black and white design. E-Win's attention to detail from the new caster design to the stitching the cloth seats, convinces us that they know what they're doing and know what we want in a quality chair.
Overall, if you are in the market for a high end gaming or office chair that will last for years and not break the bank, we highly recommend the new E-Win Racing Champion Series gaming chair!  All things considered, quality, price, durability, and ease of construction, we are pleased to present the Champion with the GND-Tech Diamond Award!
Please visit E-Win Racing's website for further details, and don't forget to use code "GND" during checkout for another 20% off!