[Sticky]

Show Off Your Cable Management!
Great job, can you show us a view of the right side open so we can see how you laid it all out?? Please thanks.
Posted : 19/06/2009 10:17 pm
I totally stole this idea from the EVGA forum member dieman566 😳
Anyway, post a pic of your cable management job. Feel free to comment on other people's rigs and give suggestions if you have any 🙂
Here is my rig, using the CM ATCS 840 case. I should re-route the GTX 260 cables. That large black cable was not passed through the cut out, so that modded 120mm fan can be zip tied to it.
There are more cut outs in the top of the 5.25" bay.
As long as the cables are out of the way, I'm happy.
Posted : 19/06/2009 10:17 pm
My PC has gone under a major makeover, and it's still a work in progress. I have four more Cooler Master R4 series 120mm blue LED fans coming tomorrow. So here is a little update for now.

By boredgunner, shot with Canon PowerShot A590 IS at 2009-08-26
I installed a new PSU (Antec TruePower New 750W) on the top this time (you can choose top or bottom in my case). Cable management is much nicer than before. The review on my PSU will be here in less than an hour, I need 30 minutes to torture it first :yahoo:
Too bad the 6-pin PCI-E cable going to my 9800GT is too short.. I would have used the cut outs. Same for the fan connector in the optical drive bay, but I'm still happy.
Posted : 19/06/2009 10:17 pm
Let me know what you think!
Posted : 19/06/2009 10:17 pm
Guys i am very proud of my rig, and as you can see below it has taken me some time to get it looking like this
[ATTACH=CONFIG]366[/ATTACH]
Posted : 28/10/2010 9:39 am
at least your speakers are nice. =/
Posted : 28/10/2010 9:48 am
Posted : 28/10/2010 9:56 am
I felt show ashamed of the above picture of my rig i'v just gone and bought a Phantom case. Didnt take to long to take out the guts and clean and it even worked first time round.. now i just need that 450GTS to put in it, pictures tomorrow 🙂
Btw how come on edit my picture shows up, but when i post it shows a link?
[ATTACH=CONFIG]367[/ATTACH]
[ATTACH=CONFIG]368[/ATTACH]
Posted : 29/10/2010 2:54 pm
Sweet! Keep us posted. 😀
I'm not sure, I see pictures instead of a link. Might that it just needed a refresh?
Posted : 29/10/2010 6:39 pm
My most used (and newest, even though it's more than a year old and with some components that are up to 4 yrs. old, lol) PC, Projekt NBOX's cable management may not be the best, but it works just plain wonderfully.
To give you an idea of my system's airflow needs, here's my cooling setup: I have a front intake LED fan, 120mm, that blows air thru the HDD rack, and to the VGA cards. Next I have a bottom 120mm fan that sucks air up to the bottom 8800GTX, and upward. Also, there's the top 80mm exhaust fan that pulls hot air away from the RAM and the other warm air that flows upward from the front intake and bottom intake fans. After that, there's the Zalman CNPS9700NT CPU cooler, which y'all know what that does, lol. Behind it is another 120mm fan that pulls the hot air away from the 9700NT and pushes it out the back of the case. The most important fan, besides the 9700NT's, is the Yate-Loon D12SH-12 on the side panel, which is forcing cool air from outside, directly amongst the dual 8800GTX's. That's the most obvious one in the pix, besides the top 80mm and 9700NT. All are Cooler Master, aside from the Yate-Loon one and the Zalman CNPS9700NT. And now, my pix: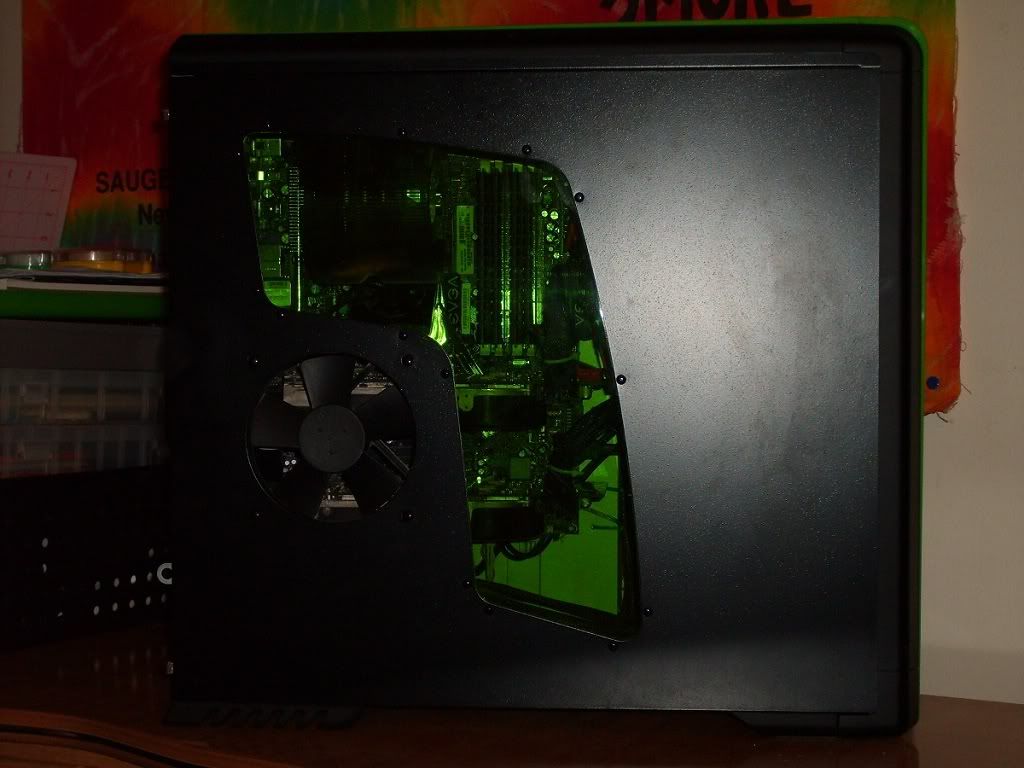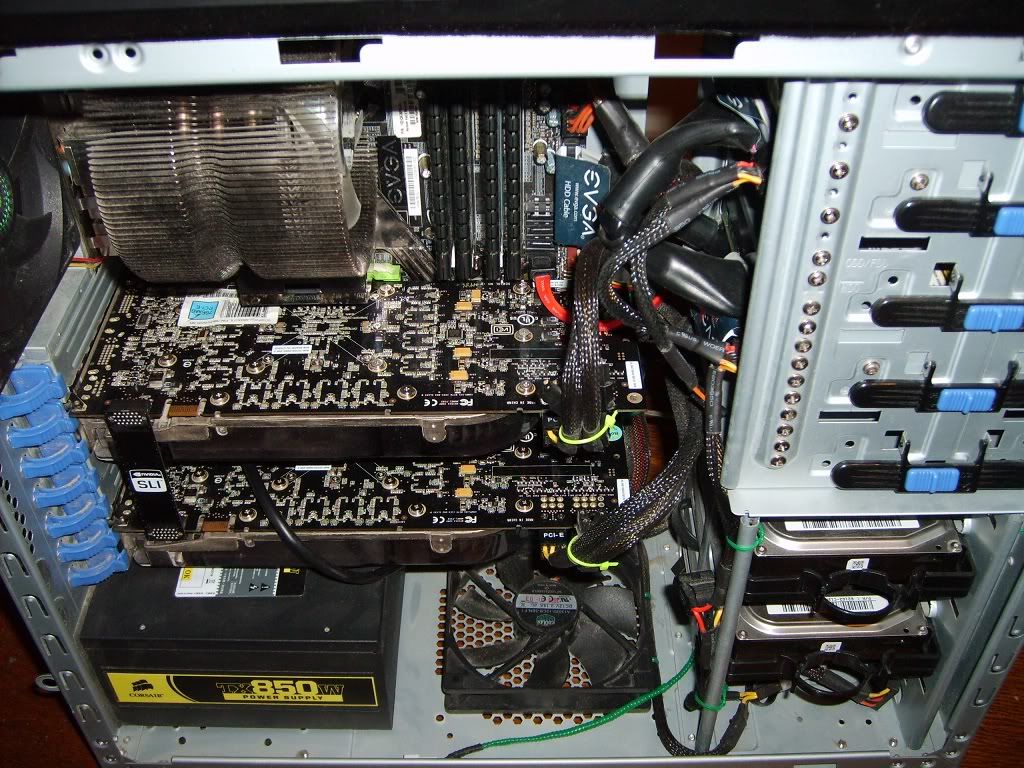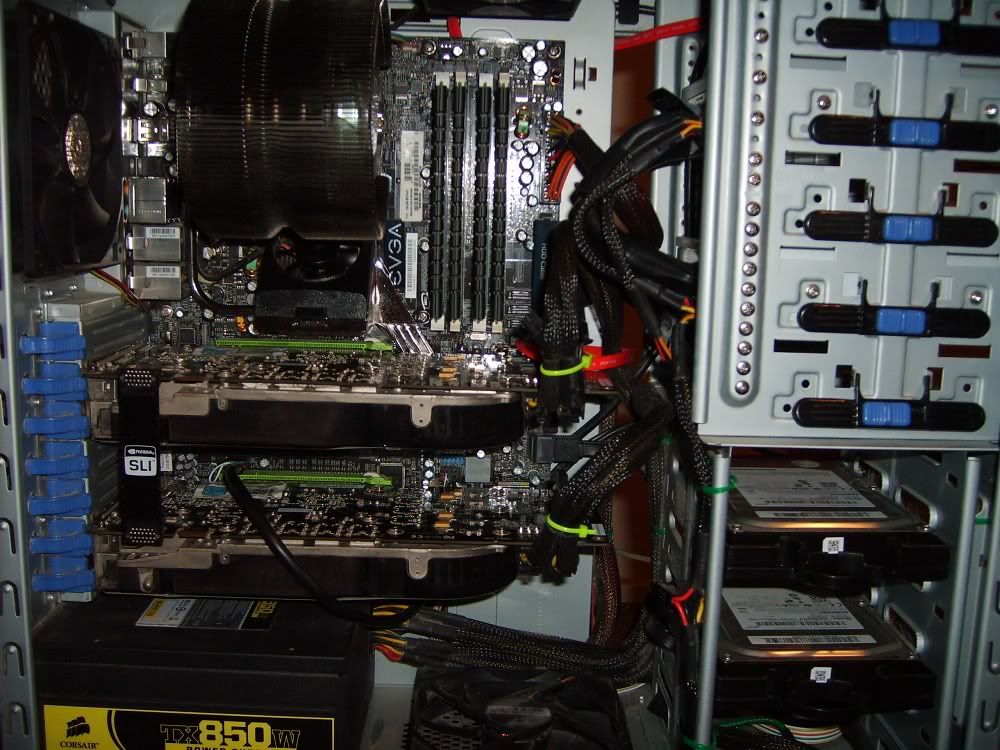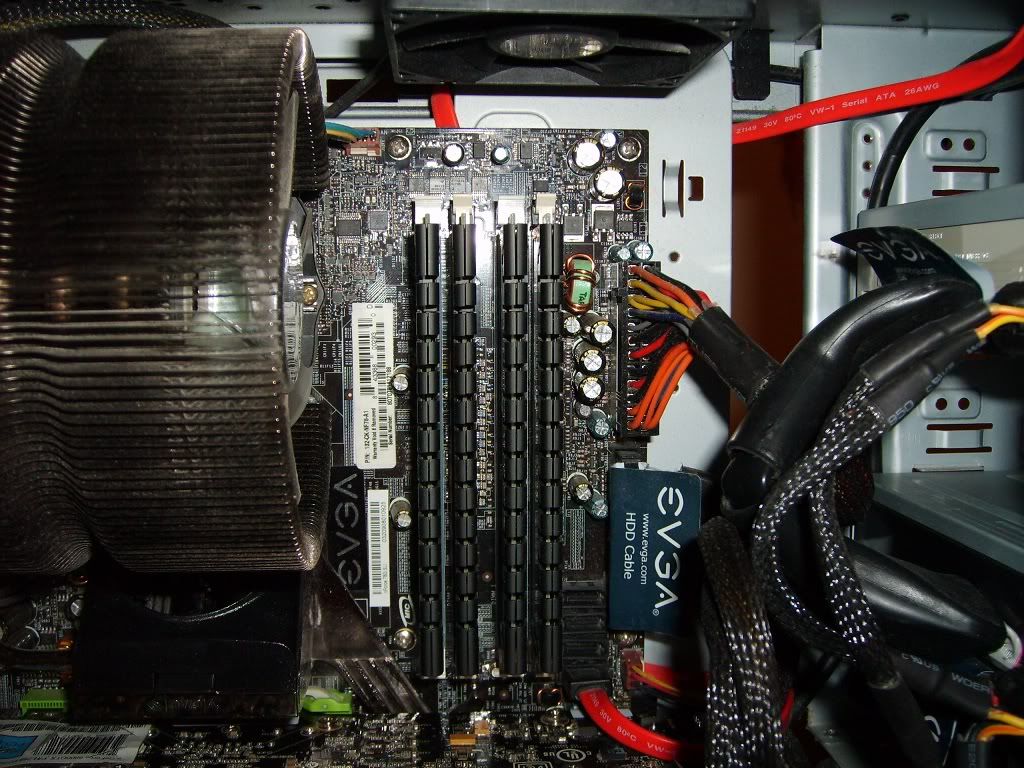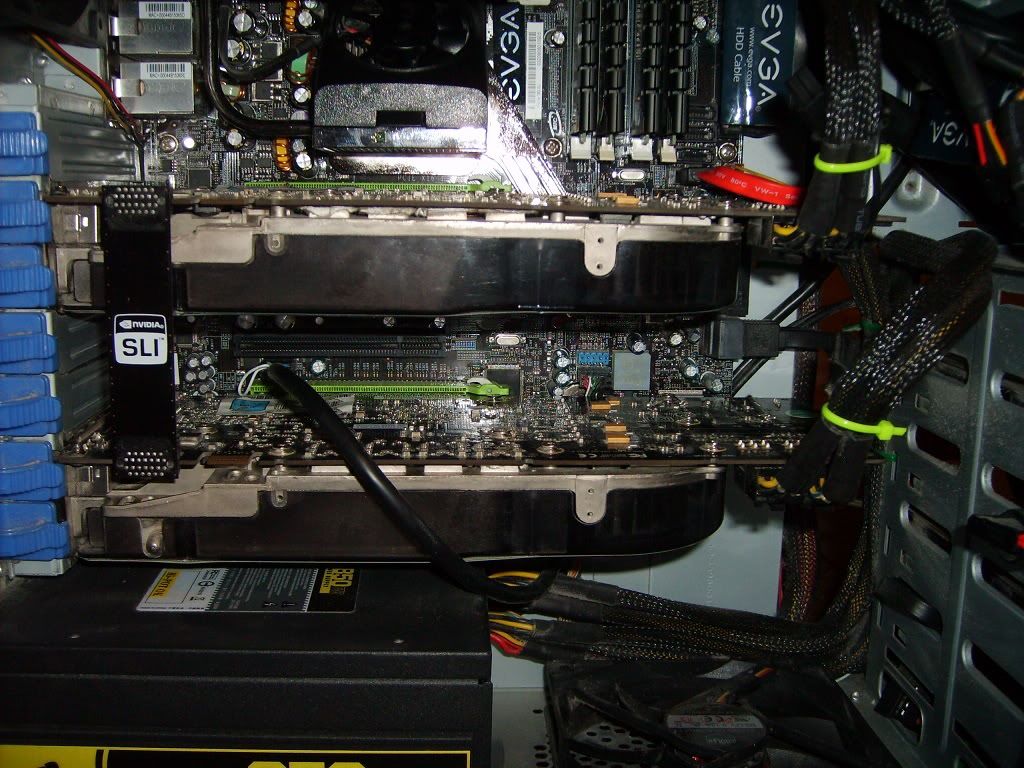 I dare not show the outside cables, lol, like the monitor, etc., a lil too messy cuz it's in a temporary spot at the moment.
Posted : 09/06/2011 11:44 pm
Nice attention to detail! Very clean 😀 +REP
Posted : 09/06/2011 11:55 pm
@strudinox 75533 wrote:
Nice attention to detail! Very clean 😀 +REP
Thanks, much appreciated. It's obviously still a work in progress, due to the fact that I'm currently laying out designs for "case enhancements", now that the 1 year warranty is up :), but as I said, it works wonderfully with it's current air flow setup.
Posted : 10/06/2011 12:35 am
May I claim the "Cable Management King" title:

Posted : 10/06/2011 3:27 am
Wut? that doesn't even look like it's possible 😯
..... but it is.
Excellent work!!
+REP
Posted : 10/06/2011 8:32 am
😯
How...?
You can't have everything plugged in! I have the same PSU...What case is that? And where is the 4(8) pin CPU Connector??
Posted : 10/06/2011 8:48 am